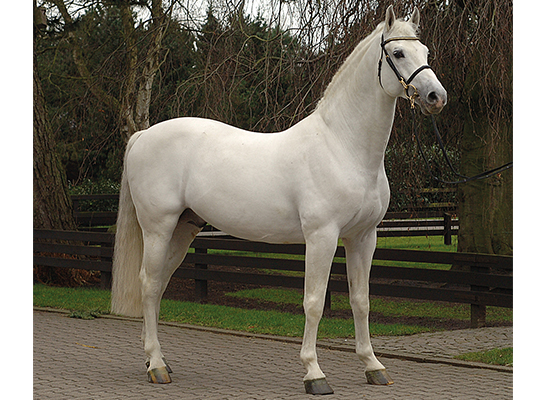 1991 165 cm Grey
Breeder: Matthias Kahler
Owner: Stall M. J. Hell
Licensed in 1993 in Neumünster
At his performance test in Adelheidsdorf, Calido came fourth out of 53 in his group with a score of 129.05 but he was first in the jumping standings with 140.40 and 9th in the dressage rankings on 114.30. His jumping scores included a score of 10.
In 1996 he won 22 showjumping classes up to intermediate level.
Calido was the standout sire in the jumping at the 2004 Bundeschampionate, siring the winner of the Five year old jumping championship, Coster (out of a mare by Carthago) and the reserve champion, Clintwood (Limerick), with a third representative, Celine making it through to the final.
Calido is another representative of that enormously influential Holstein C line of Cor de la Bryère with no influence from the other C line of Capitol. In the words of the famed Dutch breeder, Jan Greve, this is selecting the 'careful' Holstein C line, not the 'power' C line.
But then again, Calido might be getting quite enough power and attitude on his dam lines, since they feature a double cross of the Ramzes son, Roman (and it should be noted that Capitol I also strongly carried the blood of Roman's sire, Ramzes).
Calido's dam, Baroness, is by Coriander, who despite his jumping breeding made something of a name for himself as a dressage horse with Wolfgang Schade. This is not entirely unexpected since his grand-sire, Calypso II although primarily a jumper also produced horses with great rideability. Baroness is also the dam of the licensed stallion Black Incipit (an advanced showjumper) as well as the intermediate jumper, Cantango.
Through his sire, Cantus, Calido also carries the refining blood of the great Thoroughbred sire, Cottage Son through his son, Consul. Consul was the sire of the World Champion dressage horse, Granat.
Calido is a great-grandson of Cor de la Bryère, and there are another two crosses of that great French contributor to Holstein breeding on his dam line through Constant (by Cor de la Bryère, and the sire of Chin Chin) and Calypso II, another own son of 'Corde'.
There is further Thoroughbred refinement on Calido's dam line with the blood of the Thoroughbred, Anblick, through his son Aldato, who was the first stallion in Holstein to open up the possibility of breeding world class eventers.
In the 2016, Hanoverian Stallion book, Calido is recorded with progeny earnings of €3,239,248 with 1328 progeny competing – 1259 in jumping, with 220 at advanced levels. He has an FN jumping index of 150 and a dressage ranking of 1097. On the basis of the Hanoverian mare and auction tests, he has a dressage score of 102 and a jumping rank of 156.
Calido I is the sire of 27 horses with winnings of more than €15,000. The most successful has been Coupe de Coeur (out of a mare by the Landgraf son, Lincoln) three-time German Champion under Rene Tebbel, and Ludger Beerbaum, who is the winner of €538,456. The next most successful is Cashmoaker with €110,619, then Cash, with €105,046, much of it earned with Marco Kutscher in the saddle.
Calido I was represented by three of his offspring at the Beijing Games: The two Japanese representatives, California with Taizxo Sugitano and Cayak DH with Eiken Sato, as well as the Swiss pair of Pius Schwizer with Nobless M.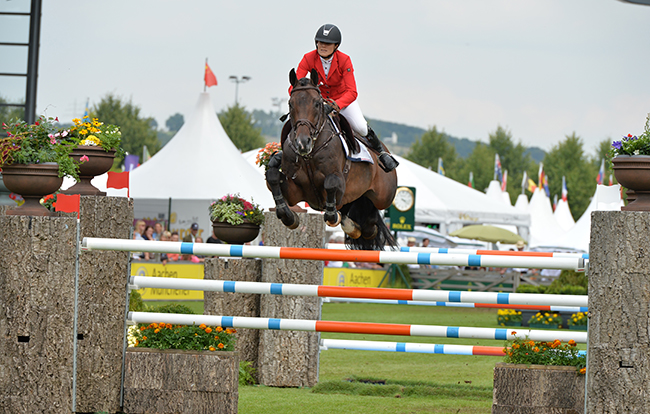 Representing Calido at the 2015 Europeans at Aachen – Caleri II (Leonid) and the Czech rider, Zuzana Selinkova
Calido is the sire of more than 50 licensed sons.
Calido appears on the 2015 German FN top liste, with a jumping value of 148 (0.98) and a dressage score of 107 (0.98). His Hanoverian breed value for jumping in 152, with a dressage value of 102.