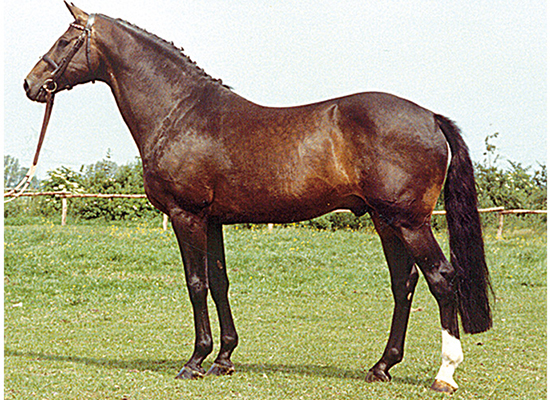 1968 – 2000 169 cm Brown
Breeder: T. Essayan
Stood at Siethwende from 1971 to 1984, Zangersheide 1985, Elmshorn 1986 to 1988, Sollwittfeld from 1989 until his death in 2000.
Cor de la Bryère is the stallion that revolutionised jumping horse breeding. His name is the one astute breeders like to see, especially on the mare line, for 'Corde' tends to give great form over a jump.
His sire, the French Thoroughbred, Rantzau, was bred to be a jumper being a descendant of the enormously influential Bay Ronald. Rantzau was by Foxlight by Foxhunter by Foxlaw by Son-In-Law by Dark Ronald by Bay Ronald.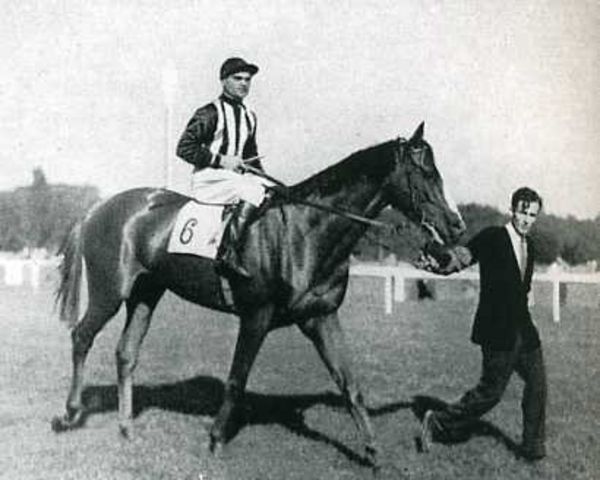 A serious racehorse, Rantzau was the third ranked three year old of his year – in nine races between 2000 and 3000 metres, he won two and was placed five times.
Purchased by the National Stud, he arrived at the stallion depot of Saint-Lô on January 5th, 1951.
Of Rantzau, the stud inspector noted: 'good front extension, remarkably built through the shoulder and fore-arm, long haunches, this classy stallion of rare nobility, also has low-placed joints and covers ground.'
According to Pascal Renauldon, in his article, Cor de la Bryère, a gift from heaven (Z Magazine, February 1998) Rantzau had an unfortunate reputation:
"Rumours were going round about this smart-looking and harmoniously built stallion with his rather steep shoulder. Rantzau offspring were difficult horses, one said. When De Villeneuve became director of the state stallion depot Saint-Lô, the Thoroughbred was seventeen and had never served more than three mares per season."
"According to the June 1980 edition of L'Eperon:
'His sons Nez de Cuit, Prince and Quelqu'Un were presented to the selection purchase committee, but were not used by the depots in Saint-Lô and Le Pin because Rantzau allegedly produced difficult progeny. In the end it was the riders – who travel more than breeders – who discovered that these horses were far from useless, to the contrary in fact, they proved great sport horses. Only then Rantzau's popularity began to grow… but by that time he was 20 years old! People talked about Rantzau as if he was wild animal, but he was not. As long was his offspring were handled at an early stage, halter-broken and cared for, they would not be difficult at all… Rantzau did not acquire the reputation of a first-class progenitor, but most of the breeders who ran him down at the time would have been only too happy now if they had used him.'"
However, Jean Delannoy, in the 2000 edition of the Annuaire du Cheval de Sport et d'Elevage, tells a somewhat different story:
"Traditionally, the National Stud sent stallions with big frames to the South of the Manche to alleviate the effects of the soil which made animals with a 'reduced size'. Little by little, big-bodied brood mares were found in the Avranchin, which were often somewhat heavy and would cross beautifully with a handsome Thoroughbred."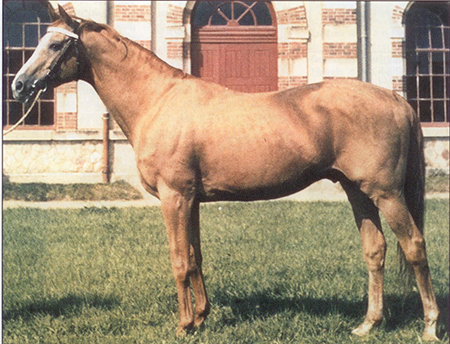 Rantzau, close to the end of his career at St Lö stud
"Rantzau was purchased for 4 million old Francs (around 70,000 present-day Francs), the inspector commented: 'good front extension, remarkably built through the shoulder and fore-arm, long haunches, this classy stallion of rare nobility, also has low-placed joints and covers ground.' (1951 – notes in the Saint-Lô files). Therefore with a very beautiful conformation, haloed by a prestigious racing career and a serious pedigree with many strong points, Rantzau was a royal gift to the breeders who used the Avranches station."
"They were in agreement with this, and contrary to legend he bred quite a bit. Between 1951 and 1962 he bred between 40 and 49 mares a year. In those days French state stud stallions were only allowed to breed 40 mares a year, plus the National Stud director's cards used by him 'in the interest of breeding'… In 1971 he covered his last book of mares, with five foals the result. In twenty years of breeding he covered 772 mares at an average of 38 mares a year for 179 fillies and 194 colts. His fertility of 50% was regarded as normal for the time, shows that he was well esteemed by many breeders who were heartened by his get's show performances." (page 372, Annuaire 2000)
Out of his third crop, the foals of 1959, he produced Medrano (out of Gitane D by Lludeac) who was 18th of the 5 year olds in 1961, and went on to represent The Netherlands in Nations Cups in the 1960's.
In 1964, Medrano won at Rotterdam, while Lilas Blanc (out of a Misti daugher) was a winner for Belgium, and a Thoroughbred, Cour d'Appel (out of a Foxlight / Cor de Chasse mare) won for Spain at the CSIs of Madrid, Barcelona and Biarritz. It was in 1964 that Labrador C left Michel Pelisser and went to Bertran Mirabaud who took him to 3rd in the rankings of aged horses, behind the Olympic gold medallist Lutteur B and team silver medallist, Kenavo D.
In 1965, Nageur (out of Harmonie by Beau Reve) won at Lisbon for Portugal and Pascha du Bourg won all the Italian CSI for Spain.
In 1966, Labrador C, now with Gilles Bertan de Balanda, was 6th in the rankings of aged horses, while Radar II at the age of five was winning CSIs for Italy with Piero d'Inzeo.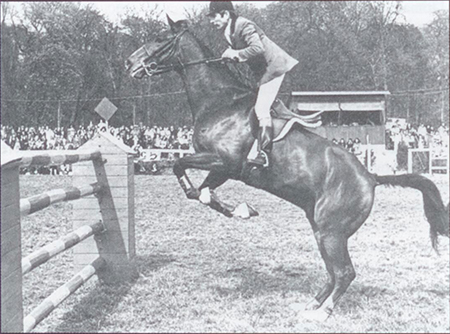 Echo De Chavron, one of the best French horses, then one of the best in the world for the US team. 
By 1964, Rantzau had moved into 3rd place on the ranking of aged sires of jumping horses, behind Lutteur B and Kenavo D, and the next year he moved into 2nd place with progeny jumping with success all over Europe, and held that second place until 1969. In 1970 he moved down to third place behind Ibrahim and Furioso, but the next year he moved into first place on the jumping rankings, as well as being in 5th place on the sire of eventers rankings – he was even ranking in the 20s as a sire of dressage horses.
As late as 1976, when he had been dead for five years, Rantzau was still 3rd on the jumping sires rankings, by 1980 he had moved into 4th place. He remained for many years one of the leading sires of broodmares.
Rantzau produced 26 licensed sons who in turn produced 17 sires.
Jean Delannoy concludes: "Little by little, rumors dominated: 'Rantzau doesn't breed well', 'Rantzaus are terrible'. We have seen that his breeding career was well developed. In the years 1960-1970s, his get were sought after by riders… who were rarely able to buy them, as the military were getting them all!"
"People who knew the Rantzaus (Marc Hoissin, Michel Pelisser, Remy Thault, Emile Esnault) remember horses who were sometimes sensitive, but perfectly usable. They were cold to the girth when being broken and the mares in heat could be very susceptible. They needed to gain confidence and it was necessary to completely dominate them, but without brutality. Often stiff and strong, with straight hocks, a tight back, they were very generous, sure of themselves and cold to the leg. Even today it is easy to recognize a Rantzau descendant because of their chic look, occasional black leopard spots, sometimes white hairs and their famous straight hocks."
(Annuaire du Cheval de Sport et d'Elevage 2000)
On the dam side, Cor de la Bryère was royally bred, out of Quenotte B, by Lurioso, a son of the most influential Precipitation son, Furioso. In French jumping circles, Furioso had been a sensation, siring the 1964 Olympic gold medallist, Lutteur B and the world showjumping champion of 1968, Pomone B. Lurioso was himself a sire of international showjumpers.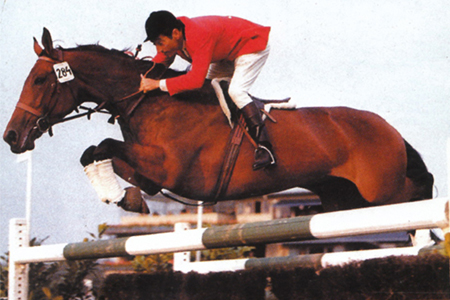 Setting the jumping world alight – Lutteur B &  Pierre Jonqueres d'Oriola
Cor de la Bryére's grandam just escaped a trip to the abbatoirs. She was one of a group of mares whose owner died with no heir. The neighbours took care of getting rid of the breeding stock with most of them going to slaughter. Let Pascal tell the story:
"Two mares escaped premature death. One was called Hirondelle du Bois Margot; we find her name in the pedigree of Pomone B, Allegro (another fine international showjumper), Fair Play III and therefore in Narcos II and all his offspring! The other was called Vestale du Bois Margot and was sold to a certain Mr Lenoir in the province of Sarthe. A lucky man, as she would be the grand dam of Cor de la Bryère. Vestale enriched the world with a great number of foals whose offspring would prove themselves in the sport. An example is Laimone (Hubert Bourdy), a daughter of Popof xx and Taquine (by Ourvari) and a granddaughter of Vestale. Liamone's dam Parisienne (by A'C'T'Heure) produced by Day and Night xx, the mare Déesse d'Avril, who develop an international career under Eric Wauters. In short, a remarkable female line. Quenotte (by Lurioso) was born in 1960 and Cor de la Bryère was her first foal."
Xaiver Ribard was one of the first French breeders to stand a private stallion in competition to the state stud department. He stood at his Normandy stud, the Furioso II son, Brilloso, who was the sire of a number of competitors and stallions, including Livarot, sire of Souviens Toi III.
"Ribard bought colts to rear these up as breeding stallions. One day he saw a tiny bay, which he bought straight away. 'I liked his conformation and breeding, it was a great colt.' Ribard recognized a future stallion, even though its high-blooded conformation did not fit in with the popular type at the time – a time when one believed that power was impossible without body."
(Z magazine, February 1998)
The local authorities did not like the colt, and in 1970, the selection committee of the Haras du Pin visited his owner, Xavier Ribard and suggested 'that is not breeding stock, he's too much of a sport horse. Better geld him; he'll make a useful gelding.'
"Ribard was disappointed but the world did not stop turning. Business continued and he leased, for example, his stallion Urioso to Alwin Schockemöhle. At that time, six years after the victory of Lutteur B at the Tokyo Olympics and four years after the victory of Pomone B at the Buenos Aires World Championship, breeding Europe was crazy about Furioso xx… Alwin, member of of the Oldenburg studbook, had leased Urioso, but would present him for selection in Holstein. As he went to see some horses in Normandy he asked Maas J. Hell to come along. Ribard remembers the following: "They asked me if I could show them some other stallions. I had another four, which I showed them on the side of the road, as they were stables 10 kilometres away. They immediately pointed at Cor de la Bryère and asked if he was for sale, Because I had just received the advice to have him gelded by the director of Haras, I sold him there and then. He left in February, together with Urioso."
"For Bfrs 420,000 / NLG 23,000, the Germans bought a stallion that would, later in Holstein, grown into the stallion of the century. 'It was not an abnormal price. Nowadays it would roughly correspond tp Bfrs 490,000 / NLG 26,700. I must add that the horse did not show himself very well that time; it was January and he was not in great condition, he had no shine on his coat and wasn't shod. I was offered the chance to let him go and I had been deeply disappointed by the view of the director of Haras barely ten days before. I was on the point of having him gelded. Although he had a distinct stallion behaviour, he was very well-mannered. A horse like that is more easy to sell nowadays."
Urioso did not leave much that is worth remembering in north Germany. He bred for two seasons and his career would soon be over.
When Cor de la Bryère arrived the breeders were suspicious at first. Germany was not really waiting for what, apparently, was not wanted in France. But Hell trusted his gut feeling that told him 'this is it', this stallion will upgrade our slightly heavy native stock, a population in which power, carefulness and bascule are already firmly rooted, but in which this stallion could improve technique.
"But then, at the end of the winter 1971, Maas Hell insulted a Holsteiner studbook delegation who refused to buy the rough colt. The stallion had been rejected by the French and this did not inspire the committee with much confidence. At his wits' end, Hell offered to keep the stallion for his own account and sell him to them after, when he passed his stallion test. That argument fell on willing ears, and a couple of days later the gentlemen agreed. When the colt arrived at Elmshorn, however, they had not exactly laid out the red carpet for him. He was nevertheless stationed at Siethwende. Gradually the suspicion of the breeders disappeared – they had given him no less than 70 mares to serve in his first season. In that same year Cor de la Bryère had to do his performance test. There he showed that he had all the qualities that are desirable in a good sire – in an era in which the sport was not a selection criterium. The breeders watching the performance of the stallions, saw an 'eager worker with a lot of energy and a golden temperament. An intelligent and alert horse that displays above average jumping potential besides – technique and manner were perfect, he completes the jump well, had a fast foreleg and an excellent use of the back,' according to the committee report.
Cor de la Bryère was on his way to being one of the greatest stallions of all times, and he was not only a sire himself, but a sire of sires.
The full brothers, Caletto I, II were stars, as were the quintet of brothers, Calypso I to V. In the jumping arena, his handsome grey son, Corrado has been a star for Franke Sloothaak, while Cordalmé Z with Gilbert Böckmann has also been successful at international level. Both went on to become influential sires.
Out of the 70 mares in his first season, Cor de la Bryère produced four colts that went on to be licensed.
He was a stallion of great vigour, and as late as 1977 served a full book of 111 mares.
Although best known as a sire of jumping horses, Cor de la Bryère was also the sire of Corlandus, a World Cup Dressage Champion in 1989, and his sons Calypso I and Calypso II have proven useful sires of dressage horses. Former German Olympic team member, Chacomo ridden by Alexandra Simons de Ridder was by Calypso I, as was Alexandra's other FEI star, Champus.
In the WBFSH ratings for 1992/2001, Cor de la Bryère is ranked 18th with 28 points earning progeny, but there are a staggering 20 own sons on the rankings: Calando I, II, IV; Caletto I, II; Calvados I, II; Calypso I, II, III; Cantares, Carneval, Carte d'Or, Casanova, Cavalier Royale, Cinzano, Constant, Contact, Corrado I, Cortez 679, Cosinus. There are also 12 grandsons of Cor de la Bryère in the standings – not to mention important stallions like Carthago and Burggraaf – who are out of Cor de la Bryère mares.
Here is Romedio Graf von Thun-Hohenstein in his book, The Holsteiner Horse, commenting on Cor de la Bryère's form over a jump:
'When the goal was to join the exciting powerful jumping ability of the Holsteiner with a sophisticated skill, combined with an ideal bascule, sooner or later a stallion such as Cor de la Bryère had to be selected. The arching back, like a taut band of steel combined with the super elastic end gives limitless, but always expedient, springing capability to the natural dynamics of each effort. Add to that ease of riding, marvelous disposition, and a floating, highly balanced canter. These qualities are absolutely to the benefit of young horses, who will no longer have to pay with premature breakdowns caused by jumping and showing solely with a raw, crude jumping talent.'
And perhaps it was a case of a stallion being in the right place at the right time – French equestrian journalist, Bernard le Courtois is firmly convinced, that left in France, Cor de la Bryère would have simply confirmed the original assessment of the French selection committee.
According to Bernard: "Some stallions cross very well in a particular situation. For example, Cor de la Bryère. He was exceptional in the 70s in Holstein because he was a horse that was very quick with the front legs. He did not have the power on the back side, but he was a very electric horse, with the blood of the Thoroughbred, Rantzau, and mixed with the heavy Holsteiner mares, he was fantastic. But when we tried to breed Cor de la Bryère with the French mares, we had rabbits. Cor de la Bryère needed a very strong mare, and we didn't have this kind of mare in France."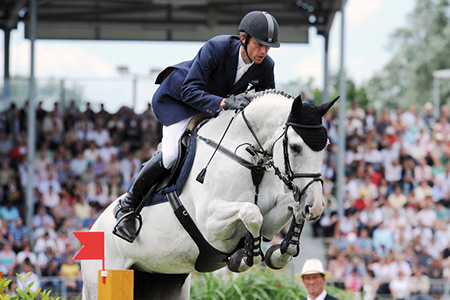 Silver at the Europeans in 2009 for Corradina
In the French annual review, Monneron 2007-2008, Bernard le Courtois has gone through the FEI list of the top 2515 best showjumpers to compile a stallion ranking of the top 75 stallions, based on CSI winners. He finds that, after Almé, Cor de la Bryère is the most influential sire. Corde himself still holds 51st place on the rankings with 6 CSI winners – and that 14 of his sons make up 19% of the 75 best stallions in the world.
The most successful of these sons is Corrado I, who occupies 23rd spot with 11 winners – with four sons of Corrado also featuring in the top 75: Corofino is 30th with 10 representatives, Coriano – 43rd with 7, Indorado – 43rd with 7, and Clinton – 64th with 5.
Cor de la Bryère's influence is also transmitted via the full brothers Caletto I & II. Although Caletto II does not make the top 75, he is represented by his sons, Caretino (24th with 11 winners) and Calvaro (65th with 5). Caletto I himself, is in 65th place with 5 winners, and is represented by his son Cantus (30th with 10). Cantus is the sire of Calido I who is in 19th place with 12 winners.
Another Cor de la Bryère son, Calypso II is well represented on the top 75 through his son, Contender, sitting in 5th with 28 representatives.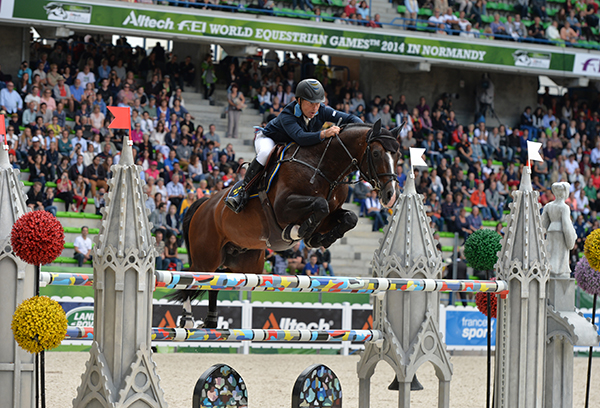 Casall and Rolf-Goran Bengtsson, 5th at the Worlds 
At the 2014 WEG in Normandy, the stallion with the most representatives was the Cor de la Bryère great grandson, Cornet Obolensky who was represented by a total of seven representatives. In all  the Cor de la Bryère line provided 24 of the contestants in Caen, the most successful of which were the great grandson, Casall (5th) and the great great grand son, Cornet d'Amour (6th). the influence of the French colt that no one wanted lives on and on and on…