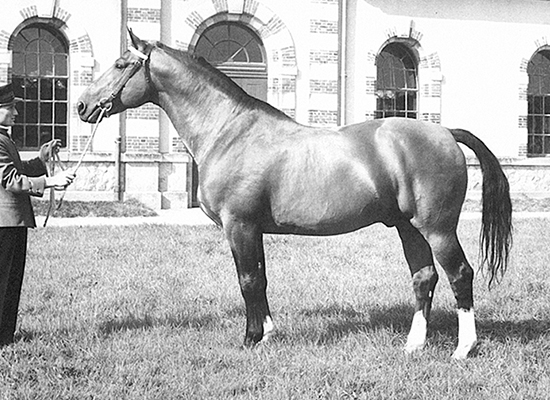 1952 – 1973 16 hh Bay
Breeder: René Haize 
Ibrahim is again one of those stallions who was shunned at first, only to become hugely popular far too late – in his case, after his death. Born in 1952, Ibrahim is out of Vaillante, and by The Last Orange (born 1941), another sire initially shunned by breeders.
Once again, we find the hand of the master breeder, Alfred Lefevre at work. In his tribute to Ibrahim in Breeding News September, 1999, Pascal Renauldon tells the story:
"Who else but the almost legendary horse trader Alfred Lefevre was the first to discover Ibrahim? But even this man, who could smell a good horse a mile away, had no idea that the animal would become one of the greatest sires in the history of horse breeding when be bought the colt from his breeder René Haize for 500 francs ($80). The transaction took place at the local in-hand show in Caen, where Ibrahim's dam Vaillante claimed a ribbon."
"Ibrahim, born in 1952, would be the first noteworthy product of the mare of Mr Haize. She further produced another State stud stallion (Mersebourg x Gagne Si Peu) and a number of mares, all by Gagne Si Peu (Ultimate xx). They all turned out to be good dams. Her early flirtation with The Last Orange, one of the first stallions that had to convince breeders of his qualities, was more of an adventure in her otherwise staunchly traditional breeding career."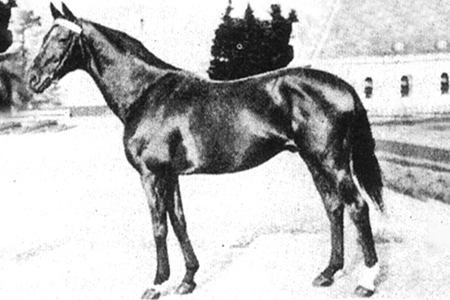 The great Thoroughbred sire, Orange Peel
"I should add that the director of the St-Lô State stallion depot at that time, Mr De Laurens de Saint-Martin, had views that were far from conventional; almost bordering on clairvoyance. He invented the SHR (rural riding clubs) societies that organised local competitions and, thereby, caused Normandy breeding to flourish again. De Laurens did anything to persuade the breeders of Sainte-Marie-du-Mont, who were averse to novelties, of the qualities of The Last Orange. Most of his arguments were derived from the pedigree of the stallion. The Last Orange (born in 1941, stationed at St-Lô from 1945-1952) was a descendant of Eclipse xx, Matchem xx and Herod xx; three prominent XVIIIth century upgraders of the Normandy breed. Sire of The Last Orange, Orange Peel xx (born 1919, stationed at St-Lô from 1924-1940), who can be considered the progenitor of the modern Normandy horse, left 19 licensed sons in the breeding area."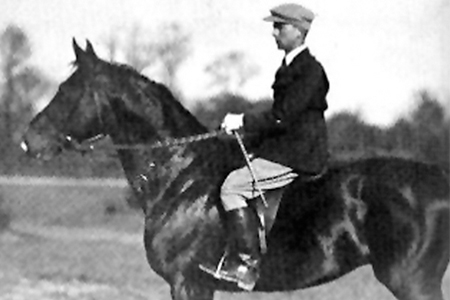 The Last Orange 
"Ibrahim grazed in the green Normandy pastures, at Alfred Lefevre's son-in-law's, before starting his series of purchase inspections at in-hand shows, where he claimed three first places and the title of champion of his age-group in 1956. Alfred Lefevre then sold him for 8,000 (old) francs ($1300) to the State stud St-Lô, and Ibrahim was stationed at Sartilly. "He is unquestionably the best stallion I ever sold," admitted Alfred Lefevre, when I interviewed him in 1986."
"In the archives, I found an impressive article, written the day after the death of the stallion by one 'Armoricus' with a flourish and skill rarely found in equestrian publications; almost tempting me to look for another profession!"
"The description in this article about the conformation of Ibrahim is worth as much as all the photographs put together, and denies the words of General Blaque-Belair, quoted in the same article as saying: "A good photograph is worth as much as any text…" Armoricus paints a literary picture of the great stallion that brings him alive before your eyes:
Ibrahim clearly distinguished himself by his remarkable conformation and the silhouette he passed on to his sons, but especially to his daughters – has determined the cast of the 'improved Normandy horse'. Although a solidly built type, Ibrahim's shiny bay coat displayed very fine, almost orange dapples, that revealed his noble blood. He had the presence of a king, a beautifully proportioned head, with big eyes, emanating controlled power. In fact, everything about him was big, from his elegantly carried, long neck, smoothly merging with long withers into a supple back. Other qualities were a well-angled shoulder and impressive musculature. Even standing, he covered a lot of ground; strong and powerful upper legs with low knees and hocks, short, broad cannon bones. If he had any faults, maybe his hocks looked a little soft, like many of his kind.
"This is a portrait of a showjumper, displaying its power and low-set joints; a modern horse. Armoricus continues:
Ibrahim produced more daughters than sons, almost without exception bays, which to some denotes quality. "The latter is typically a remark from an era before breeders were led by BLUP statistics and other mathematical formulae."
"Ibrahim, however, was not liked by the Sartilly breeders. His first crop of three-year olds, born in 1957, mainly attracted foreign buyers because of their type. In that same year, 1960, two of his sons were exported to Switzerland, and a two-year old son to Belgium. But that was not enough to convince the stubborn Normandy breeders, who only considered Ibrahim fit for their cob mares (Normandy draught) and, in Normandy that was a sign that a stallion was in disgrace. Ibrahim covered 40 cobs between 1956 and 1966 and, in 1961, his lack of popularity had reached the stage that he could no longer produce any sport horses at all."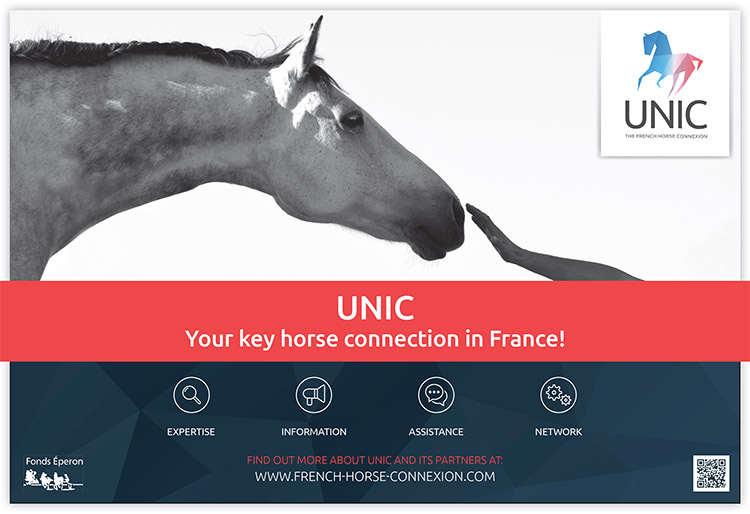 In 1965, Norvale, a mare from his first crop started to compete internationally with Jean-Michel Gaud, followed soon by Petit Prince C with Alain Navet and Quo Vadis with Michel Raoul-Duval.
Still breeders were reluctant to use Ibrahim and it was only when his progeny dominated the jumping finals at Fontainebleau in 1970 that he achieved real recognition. At this show, his youngsters won in-hand classes, while his four year olds – Alcazar D, Aurore C, Azimut, Arteban and Almé – dominated the jumping finals. His son, Val de Loire B won the five-year-old class. Val de Loire was then sold to Spain, before being purchased by Melanie Smith and became one of the first successful Warmblood jumpers in the USA.
Even today the influence of Ibrahim is strong. At the finals of the 2003 Cycle Classique in Fontainebleau, in the 4-Year-Old final, 219 youngsters started, with 112 double clears. Eight stallions sired more than one horse that went double clear: Urbain du Monnai (Narcos II x Monceaux xx) – 6 double clears; Apache d'Adriers (Double Espoir x Felix xx) – 5, Cacao Courcelle (Jalisco B x Mersebourg) – 3, Drakkar des Huittins (Narcos II x Feu Sacré) – 3, French Cancan (Quidam de Revel x Uriel) – 3, Papillon Rouge (Jalisco B x Centaure du Bois) – 3, Rox de la Touche (Lord Gordon x Fantaisiste) – 3 – and all eight of those top stallions descend from Ibrahim!
The influence of Ibrahim was felt again when the WEG returned to his birthplace in Normandy. The stallion line of Ibrahim provided an astonishing 36 entries in the showjumping, through Almé and Double Espoir. Most descended through Almé with the most influential representative his grandson, Baloubet de Rouet with five. Diamant de Sémilly from the Grand Veneur line, was represented by four.