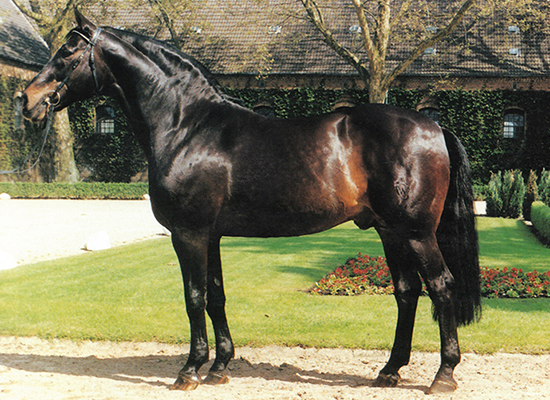 1972 -1999 168 cm Brown
Breeder: Werner Münch
Polydor was approved in 1974 and stood at the Westfalien state stud until his death in 1999.
Polydor's dam, Fata Morgana, was by the Hanoverian stallion, Früchlicht (by Fruhsport) who sired Hermann Schridde's Ferrara and Bernd Schulze-Brüning's Ferradi.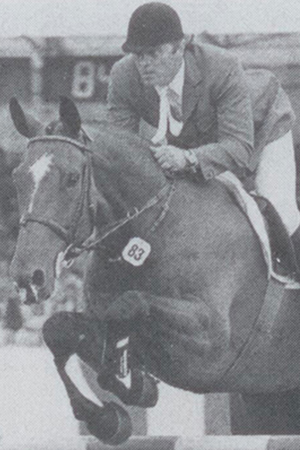 Thomas Frühmann and Porter
Polydor's first international jumping star was Porter, ridden by Thomas Frühmann and fourth at the European Championships in 1987, before being sold to Markus Mändli. In America, Gutsy Monroe was a success with Rodney Jenkins – while back in Germany, Pamina took Otto Becker into the team for the WEG in Stockholm where they finished in 5th place individually in a silver medal winning team. Pamina went on the win the rich Calgary Grand Prix and the German Classic in Bremen before being sold to Italy.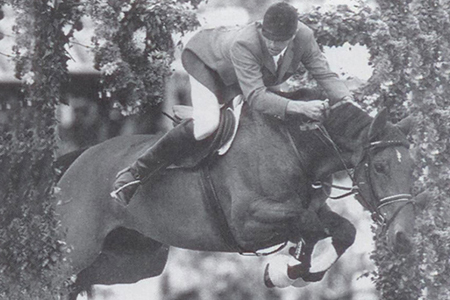 Otto Becker and Pamina
Otto Becker also enjoyed success with Argellith Bellenuit, while in England, Michael Whitaker's Two Steps was good enough to be crowned WBFSH Horse of the Year 1994/95. In Holland, Polydor offspring were also popular – Jan Tops had La Silla, while Bert Romp rode Burg's Pretty Woman.
Beat Mändli rode Positano to team silver at the Sydney Olympics – Positano was finally retired in 2006 at the age of 17, having won $878,936 despite an injury plagued career.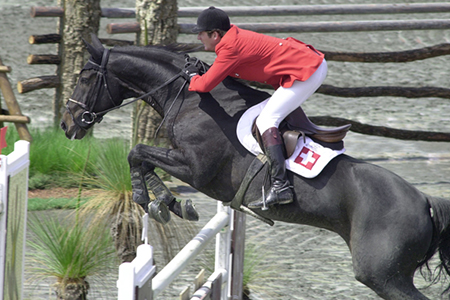 Beat Mändli & Positano
There are more to come since Polydor bred right up to his death, although in latter years the quality and volume of his semen became less reliable. In the last few years he stood at Warendorf there were a number of mares who instead of having the name of the stallion they were destined to breed with chalked on the door of their stable, had a '?' – this designated those mares whose owners wished to breed to Polydor, if and when, semen was available.
In 2006, Pilgrim (born 1995, out of a Weinberg mare) jumped successfully with Bjorn Nagel, while Sören Pedersen enjoyed success with Polly (out of a Parcours mare) while the licensed stallion, Pontifex (Polydor x Dialekt) jumped well with Lutz Gripshöver. At the World Cup finals in 2006 and 2008, the Libero H mare, Libertina, out of a Polydor mare, was a superstar with Jessica Kürten. The black stallion, Potsdam (out of a Goldstern mare) continues to attract mares at the State Stud in Warendorf.
On the Monneron survey of the top 75 jumping stallions in 2006, Polydor comes in equal 34th (equal with some very distinguished sires: Cento, Galoubet, Apache d'Adriers, Capitol, Chin Chin, Narcos II, Quito de Baussy and Sandro)
On the WBFSH standings for 2008, Polydor was in 15th place before dropping out of the standings the following year.