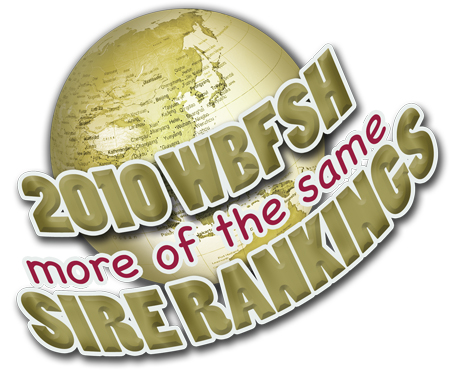 By Christopher Hector
I live in fear that the magazine layout artist will call up last year's article on the WBFSH Sire Rankings, instead of the most recent one, and no-one will notice the difference. Truly there has not been a lot of movement at the top. Darco heads the jumping standings for the fourth year running, Jazz tops the dressage for the third year in a row, while Heraldik xx heads the eventing for the second time, after ranking second in 2008.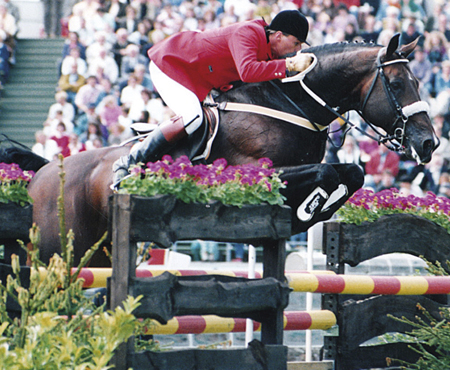 Darco – number one yet again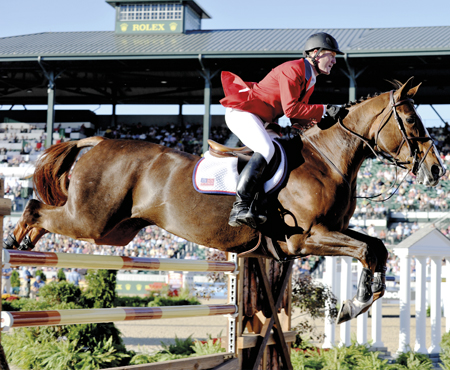 And still producing winners like Sapphire… 
Indeed there has been no newcomer in the top four jumping spots: Quidam de Revel drops from second to third, Carthago is up from third to second, while Caretino is fourth yet again. Strangely Nabab de Reve has dropped from fifth to seventh, although we can confidently predict that after the performances of his offspring in Kentucky he will be moving up on the 2011 standings.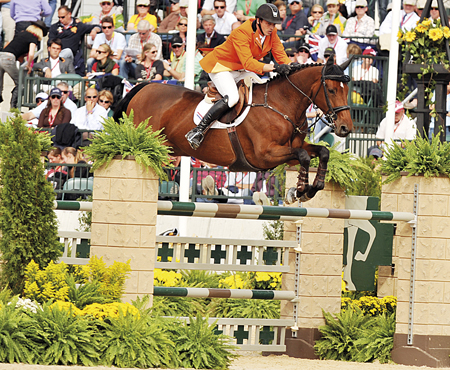 Walnut de Muze, another by Nabab de Reve at the Lexington WEG
The big mover is Baloubet du Rouet – rocketing up from 19th to fifth. Heartbreaker moves  from 9th into 6th, while Kannan who didn't even make last year's top 30 bounces into 8th. Mr Blue moves from 11th to 9th, sadly after his too early demise, while Quick Star is up from 21st to 10th spot. That extraordinary sire, Contender even in the twilight of his career, moves up into 12th from 18th, while Corland climbs from 25th to 14th. Concorde is moving down, 7th to 17th while Libero tumbles from 6th to 18th.
There are a few big names dropping out of the top 20. Animo plunges from 8th to 40th, while his son, Andiamo who was not on last year's top 30, comes up to 20th. Calvaro dives from 10th to 28th, Voltaire from 12th to 24th, Burggraaf, 13 to 26, and Calvados, 16 to 22.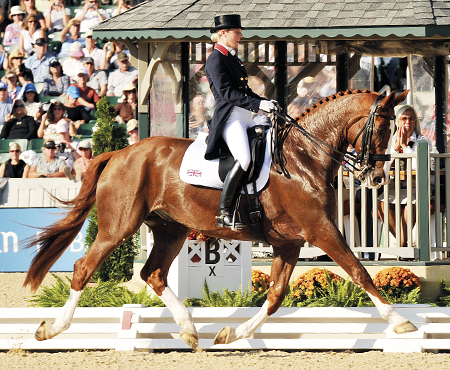 Mistral Horjis pushes Michelino up in the standings 
The dressage sire rankings are also pretty static. Michellino moves up from 20th to 4th, thanks to his spectacular son, Mistral Hojris, his only representative in the top 50, while De Niro who was not on the top 30 last year, moves into fifth slot, again with only one representative in the top 50, Annabel Balkenhol's Dablino. Rubinstein slips out of the ten to 11th, while the Swedish stallion, Master tumbles to 18th. Otherwise the top ten are the usual suspects: 1st. Jazz, 2nd – Donnerhall, 3rd – Rohdiamant, 6th – Gribaldi (up from 10th), 7th – Weltmeyer, 8th – Florestan, 9th – Welt Hit II and in 10th – Ferro. New to the top twenty are Alabaster and Fidermark, while Sandro Hit almost makes the 20; he is 21st in his first appearance in the top 30.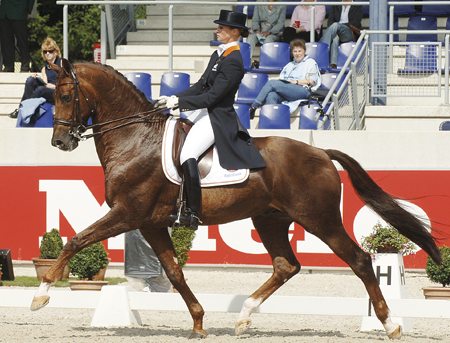 Jazz – number one again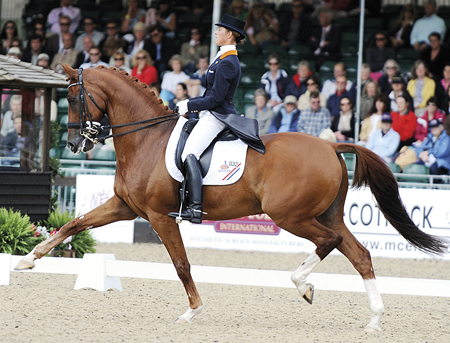 Thanks to performers like Parzival
Once again, it takes far less progeny to make it on the dressage rankings than the jumpers. Jazz is in first with 17 international performers, compared to Darco with 69, and there are two stallions in the dressage top twenty – Fidermark and Lorentin I – with just three performers. The stallion with the least number of progeny on the jumping top twenty is Nonstop with 11. The average number of performers for the jumping top ten is 49.3, while the average number of performers for the top ten dressage sires is 9.9.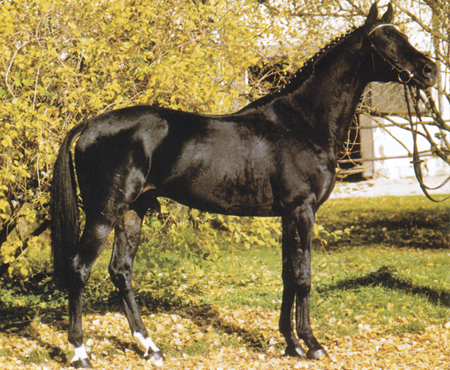 Number one eventing sire, again – Heraldik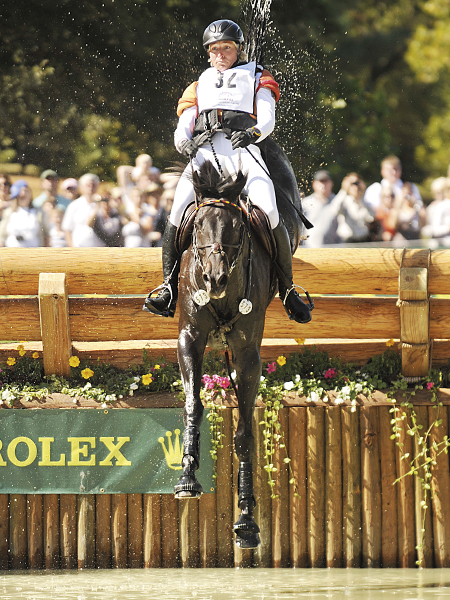 With great progeny like Butts Abraxxas
The Eventing Sires have much greater representation: Heraldik xx heads the table with 36 progeny on the standings, followed by Master Imp with 35, Cruising with 19, Cavalier Royale on 27, Fines with five, Primitive Rising with 17, Fleetwater Opposition with 9, Voltaire II with three, Puissance on 16 and Jumbo with 19. Still only two of the top ten sires have two in the top fifty horses on the standings, while the rest have only one top fifty representative, with the exception of Puissance whose top points earner, Sir Percival II is in 84th on the standings.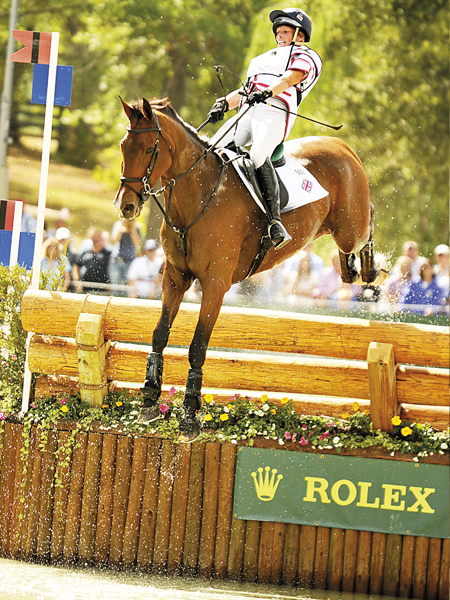 Cavalier has 27 representatives, including Mary King's Imperial Cavalier 
Of the top twenty stallions, almost half are Thoroughbreds: Heraldik, Master Imp, Primitive Rising, Blues Traveller, Muhayaa, Stan the Man, Grosvenor and Eighty Eight Keys, while three are Irish bred: Cruising (out of a Thoroughbred mare), Puissance (by Imperius xx) and Jumbo (whose sire's dam was a Thoroughbred and whose dam is by a Thoroughbred).
Number one eventer – and WEG gold medallist – La Biosthetique Sam FBW – by Stan the Man