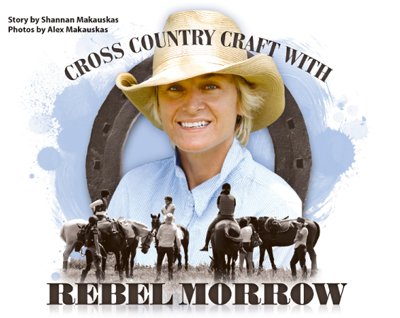 Story by Shannan Makauskas
Photos by Alex Makauskas
Competitive fixture on the Australian eventing circuit, Rebel Morrow, is as Aussie as they come – genuine, hard working, and determined to succeed in a tough sport. Many remember her partnership with Oaklea Groover, the horse that took her to the 2004 Athens Olympics, where they finished 11th, the highest placed Aussie. But in a sport where performance is a duet, not a solo act, trainers earn respect based on how they got there.
After graduating from high school, Rebel managed to campaign four horses while working full time at the local meat works, Kilcoy Pastoral Co, chopping and packaging meat to fuel her hobby. After four years in an environment where most workers don't last a year, she saved enough money to train full time and make riding her profession. Rebel's put in the hard yards, and she was passing on this experience at the Fig Tree Pocket cross-country course in Queensland to a group of four riders with a range of problems.
Meryn Cooper was riding an exuberant, off-the-track Thoroughbred, Whataway (Woodman / Dawn of Light) who tended to get strong, often charging at the fences and then stopping at the last minute. It didn't help that a wicked wind was whipping through the trees, inciting creaks and cracks that were being mistaken by her five-year-old gelding as something more sinister.
Rebel said if your horse runs at the fence, ride transitions to get their attention: "Walk him to the fence and make him stand in front of it. Then have another go in trot, but if you feel him tuck his bum under and go to take off again, walk to it, halt and bring him back around."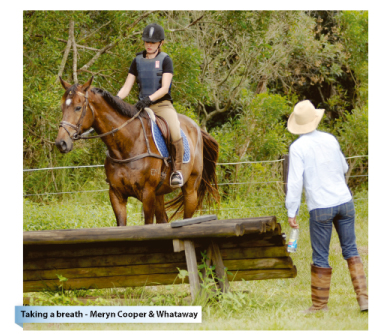 "You could make him go over it, but he's only going to leap over it, and it's going to be ugly. Sure, that might happen on the day of the event, but we're schooling, we want to change the way he thinks about approaching a fence."
The idea was to get the horse back on the aids and listening to the rider, rather than panicking. This meant riding the transitions as you would in the dressage arena: "Sit down, heels deep, and walk him to the fence. As you're pulling up, don't ride a desperate screech to walk, think of how you do a downward transition, it's the same aids. Use your knowledge from the flat on the cross-country course. You don't just come out here all-guns-blazing and then pull on the brakes. You want to keep his neck soft and not have his head up in the air."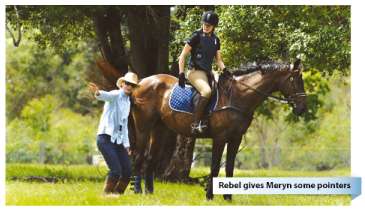 When your heart's pounding in your ears, it's difficult to think logically. Which is why Rebel reminded Meryn not to get lost in the moment: "I'm sure you'd just love to pull him up, but that's only going to keep him revved up. Get him thinking, get him listening and responding to the aids. If you just sit there pulling on his mouth, he's only going to get worse."
"In your approach, start to think about half halting, bringing him back in trot. If you have come back to walk, make sure you walk in straight and ask him to drop his nose down into walk, so he doesn't look like a lama."
After several attempts, the combination was making progress: "Good, he's looking much better in his whole outlook now, and he's actually listening to the aids!"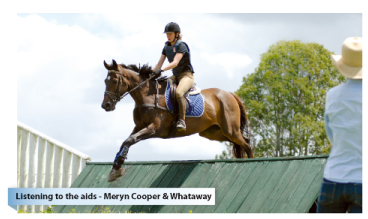 At the water jump, Whataway's blood was back up and he was refusing at the last minute, Rebel's solution? "Make him stand in front of it, don't just turn away, but be polite and steady about it, because he knows he did the wrong thing, so you've got to be careful because he might panic that you're going to get after him."
Rebel's theory is simple when it comes to dealing with a legitimate refusal: "I know the horse, so I know he's not doing a dirty stop, he's genuinely scared. When that's the case, I always let them stand in front of the jump. When you do that you can feel them breath, relax, they take it in, and they look at it, and it gives the rider a chance to regroup."
Making the rider more tactical in their second attempt: "If Meryn had just turned and come at it straight away, she would have been more irrational, more upset, and she wouldn't learn anything from it, the horse wouldn't learn anything from it. Pausing gives the rider a chance to think about what they're going to do. Otherwise, she probably would have come at it kicking and smacking, this doesn't make it a positive experience for the horse and he's not going to want to do it again is he? In competition a stop is bad, but in training there's more to it, it's an opportunity to read the horse and train them to get over it."
It's natural to want to avoid a stop, and this time Meryn bustled the horse over the jump…
"Don't over-ride it now, that was all too much, we want him to feel relaxed over the fence so he enjoys it. Instead of using the whip, use your hand to give him a little slap. I do it with the young horses until they get used to it, then you can take the whip again, because you're having a few stops, so you are going to need the whip at some point. You might go out next time with the whip in your left hand, so you can actually use your right hand as your slapper, then he won't over-react so much."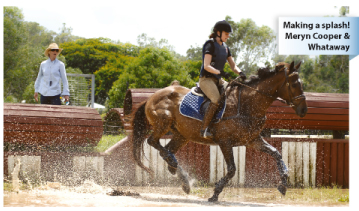 "Don't start riding to the fence like you think he's going to stop, you're fiddling on the reins and you're getting defensive. If you start jamming, he's going to get anxious and start thinking, Meryn's really nervous there must be something wrong, then they get on edge. Let him take you to the fence, stay in your two point position with your legs wrapped around him, and give him a squeeze when you want to take-off, if he stalls there, then you've got to cowboy up and get him over it."
If your horse continues to be strong, Rebel said the solution could be sought in a change of tack: "I'm a believer in finding the right bit for a horse. If they continue to be too strong, I use a bigger bit, so my aids can be delicate. People are always boasting about their horse being snaffle mouthed, but if you're swinging off his head and he's got a snaffle mouth, that defeats the whole purpose. I'll go up a bit, but I'll only tell a rider to use a stronger bit if they are responsible in how they use it."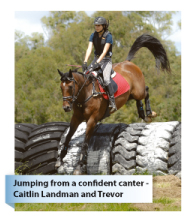 As I watched the group of riders make their way over the jumps, there seemed to be no strict formula on how to approach it – some cleared it from a bold canter, some from a trot, and some even cleared it from a stand still. The point is not to be fussy about the pace, as long as the horse is poised for take-off. Rebel instructed the group on how she likes to approach a fence:
"I don't want to be holding the horse off a fence, that's not how you enjoy a course. I want to set the canter and let the fences come to me. When I'm schooling, I like to trot whenever they start to over-jump, or get too exuberant, because a horse can trot over anything as long as you go with it."
"A lot of people think you have to canter, or need a bit of speed to get over a fence, but it's important not to mistake a fast canter for a confident canter, you can do it in trot. Trot can be a confident pace, as long as you allow them forward, the horse will get over it. But a backwards trot, that's a drama."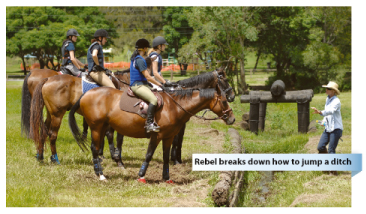 The riders shared a common problem when jumping the ditch: "You don't need a wild open canter, you just need a positive canter. A fast canter causes a panic and a flat jump. We just want a positive canter, there is a difference, and it's up to you to feel that difference. Don't mistake an arrogant ride for an elegant ride."
When it comes to jumping, it's about making each fence a positive experience: "It's about keeping the horse confident. Then it doesn't matter what the situation is, they'll feel secure. If you have to take off from slippery ground, or uneven footing, the horse might not be happy about it, so you might have to really close your leg around them and nurse them through the next fence, they'll let you know how they feel."
"They can have a stop because they're not sure about the footing at a fence, but if they get over it, and it wasn't easy, you know they'll come to the next fence thinking, I didn't like how the ground felt underneath me so I'm wary of this next fence. That's what makes a good rider, someone who can feel what's going on with the horse and act on that information."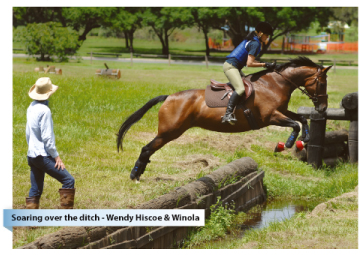 "The worst thing we can do is sit on their mouth right until take off, we're not pulling back on the contact, we're keeping the contact, and that keeps horses positive in their approach. If you pull back to a fence, it makes it awkward for you to sit on and it's uncomfortable for the horse."
You don't want to have loops in your reins either: "Don't drop your contact in your approach. You have to keep riding them into the contact, and then relax your hand forward over the fence, there's a difference between throwing the rein at them and relaxing the rein forward into the fence, feel it."
Rebel also made a point of getting riders to open their rein to turn, rather than pulling back on it: "You need to open your turning rein so the horse stays forward in the turn, if you pull back it just turns their neck and locks them up through the body, then you lose the momentum and you distract the horse from the jump. An open rein is an allowing rein, it gives the horse a direction to follow."
Riders with a habit of pulling back on the rein to turn often come unstuck jumping combinations. This was the case when we reached the stair fence, a triple combination with two strides between the first and second fence, and three strides to the third. Rebel warned the group: "On an incline like this, it only takes a grab on the rein to turn their neck and add a half stride. That's enough to cause you to come in deep and lose your momentum, then the horse is either going to make an awkward jump, if you're lucky, or lose their confidence and stop if you're not, then boom, there's twenty penalties because you pulled on the rein instead of opening it."
"You're always out in front with your hands and not restricting the horse, we want an allowing hand, not a restricting hand." And while practising: "Take note of your canter on the way in and how that affects the stride through the combination, start remembering that sort of stuff so you can read a course."
Rebel encourages learning by observation: "Not all riders will watch others, but the ones who are tuned up and want to learn will, and you learn so much from watching someone else do it. I got told once that teaching was only ever going to improve my riding ability, I didn't want to get my level ones (Instructor qualification), but I did it because you get so much out of watching what happens when a rider does this or that, and how the horse takes a fence from different approaches."
The rider's job is to make it as easy as possible for the horse to clear the fence, and when the fence is going up a hill, that means keeping your weight forward and out of the saddle. Rebel warned the group: "Don't sit back coming up a hill because you'll make it harder work for the horse than it already is, and you'll make them stall. Stay parallel to the hill and go with the horse so you're not behind the motion, you're up there with it."
Staying with the horse, even when it's going wrong, is vital: "You can't fall to pieces, if the horse is scrambling over the jump you have to keep your mind on the job for what happens after. It's better to go with him, you've got to ride your way out of the action, because on course, if we fall to bits, it's all over."
"If you drop your stirrup, you have to keep going, because that's what you would do if it happened on the day. Yes, it's not the best ride, but you have to cope with it in a competition, so learn to cope with it in training. It's too easy for us to say, 'Oh no, that wasn't 100% perfect, I'll do it again.' We all want to be perfect, but sometimes you just have to learn to get on with it, get the job done, and make the most of what the course throws at you. Never say die, stay positive, look forward and keep going."
A surprising point Rebel had to make several times throughout the lesson was that it helps to look at the fence: "Believe it or not it's a recurring thing with so many people. Before I went to the Athens Olympics I trained with Michelle Lang-McMahon for a year, and I had a habit of dropping my eyes, I'd already competed Internationally and I still had this terrible habit. It wasn't until I had someone there drilling it into me daily that I changed it, and it's small things like that which have a big affect on the quality of your jump."
Which is why Rebel believes a rider needs to do the hard slog at a working stable if they want to be serious: "Most riders might have a lesson a week, and for the rest of the time they are riding on their own. If that's only a half hour lesson, that's only two hours a month with someone watching you, that's not enough time to make new habits. Training full time with someone is the only way to do it. If you can't cope doing it full time, you're not going to cop it as a professional eventer anyway."
"People often ask how I did it, and the answer is I wanted to do it. I worked from daylight to dark, you have a goal and you live and breath it. You have to, it's a cut throat sport and you can't forget that, if you don't put in the hard yards someone else will, and they'll take your opportunity."
Rebel wants to make the most of the opportunities she has left: "Life is short, I think when you get over thirty you realise that, before I thought it was endless", she said with a laugh.
Which is why Rebel's focus is shifting: "I'd like to have a few horses that have already been started so I can move them up to the level I'm good at doing, I really love riding the four-star tracks." This means downsizing to a smaller property: "I don't want it to be a factory, I just want a few really talented horses."