As published in The Horse Magazine, September 2011 Issue.
Story – Chris Hector Photos – Roz Neave & Peter Orr
Originally from Western Australia, Christine Bates is the professional's professional. She is the sort of rider who gets a tune out of every horse she rides. She was very close to a team spot with her first star, Masterprint and now she's back. Christine's the future is looking very bright – she has an all-star team of three very different individuals, and seems headed for that spot in an Australian team that has – just – eluded her in the past…
You've got a team of three exciting eventers at the moment, and they have all moved fairly fast through the grades – how do you plan a program for horses like that?
"Obviously each horse is different but I do have a basic training method that I use for all the horses. The first thing to teach them is that they have got to go forward. Nine times out of ten, most racehorses are already thinking forward, that's a good thing. The Warmbloods tend to be a little more backward thinking, they are not naturally as forward. I think that is changing, the Warmblood breeding now has a lot more hot blood in it than it used to, but they definitely think differently to a Thoroughbred."
"Thoroughbreds are very predictable, they don't vary too much whereas the Warmbloods are such individual creatures that they are very different, and they are not as predictable to ride. At Melbourne 3DE, I thought I had really nailed Adelaide Hill for the dressage, he warmed up super, he went in, the trot work was fantastic and then BAM! I get a change in my counter canter, which is something he has not ever done, and you just go – where did that come from? I am still trying to work out why, one, I couldn't feel it coming, and two, why he did it. That's where the unpredictability is with them… they manage to throw things at you when you least expect them."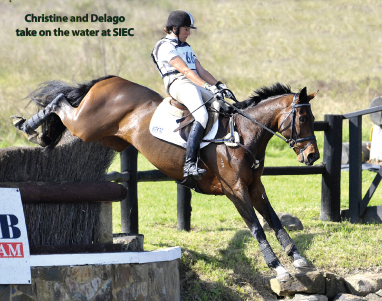 "My Thoroughbred, Delago, he performed in the test exactly how I thought he would, everything he did was predictable and correctable, and for me, that is the difference. I have been riding Thoroughbreds since I was 12, so I've grown up, my whole career, riding Thoroughbreds. I love Thoroughbreds and it is only in the last five or six years that I have started to ride the Warmbloods, and I think that I have to get better at riding them and I need to get to know them better to work out how to get the best out of them, to get them to try for you the way a Thoroughbred does."
"Delago first came to me in May 2009. The owners sent him to me for some schooling, to re-educate him so they could ride him around their farm. He was here three days and he was basically on the bit, he was quiet, he moved away from your leg, around your leg – I said to Matt, this horse is a freak! I've never had a horse that has come from racing to schooling and just picked it up so easily. I think the thing with Delago is that everything you ask him, he finds easy. He also has that temperament that he wants to learn, and always gives you 110%. That's a huge part of being able to move a horse up through the grades quickly – their attitude."
"He was only with us for three weeks and the owners took him back to their farm. It was bye bye Delago and I was quite upset by it because I really thought a lot of him. February 2010, they rang and said, he hasn't done anything since you last rode him, do you want him? I picked him up the next day, and two weeks later rode him at Scone in an Introductory – which he won."
"What was remarkable was that after one day back, he was back on the bit and after two weeks, he was jumping around a 90 centimetre course at home. The weekend before Scone he went to Jump Club and jumped two or three rounds,  60, 75 and 80 centimetre showjumping tracks, and he did it like he'd done it all his life."
"That is quite unusual, to have a horse that is quite so level headed combined with the trainability AND flash. That doesn't happen so often! I was able to keep putting the pressure on him, and he kept getting better. He didn't ever find the pressure an issue, if anything he is better under pressure. If you just flop around on him, he is a Pony Club horse – that is what is nice about him, you can drop him back and say, it's allright mate, chill out. You can just pop along on a loose rein, and he will."
"He did three intros, he then did the Young Event horse class at Sydney – and won – three Prelims, I think he did five Pre-Novices, and then he went one star. He had four one star starts by the end of 2010 and then had a spell over Christmas, came back in and did two one stars, and won both of them very easily. Then I made the decision to step him up, more because he is such a naturally brave horse that I found he was being a little bit disrespectful of the fences cross country, and I didn't want him to lose that respect for a cross country fence."
"Stepping him up into two star did a few things. It made him realize that the fence are there to be respected, and when I say 'whoa' it means 'whoa', and when I say 'go' it means 'go'. But it also allowed him to find his scope, and he has just improved his jump so much. He really stepped into his own in two star, he has been so competitive this year, that I have no doubt that he will step into three star and be competitive."
"He'll probably do his first three star at the SIEC event at the end of July, and we will aim him for a three star three day event at the end of the year. Maybe Lakes and Craters at Camperdown, the other option is to take him to Puhinui in New Zealand. I've been to Puhinui a few times, I think it is a great course. Yes, it is expensive but I think from a selection point of view there is probably more weight behind a Puhinui result than there is a Lakes and Craters result."
"At the moment I guess he is not really considered a London Games prospect, but I do believe that if he keeps improving the way he has, we could find ourselves at Sydney next year, all of a sudden, maybe in contention for London – he'll be eight years old, and there have been lots that have gone to the Games younger than that. He is so brave across country, and he seems to have really improved on the flat. I think he is going to be very competitive in the dressage, he showed that at Melbourne – he's got good changes and all his lateral work is really good. He should step into three star and still score just as well. For me it is just consolidating his showjumping, and that has probably been his weakest phase. But as I've said, every time he felt comfortable in a grade, I've pushed him up and stepped him up a gear. It would be nice for him to actually consolidate a little bit and be allowed to get better in the showjumping and not have me cranking him up all the time.
Do you do much showjumping showjumping with them?
"Not really. I would like to do more, but with the business, and our son, William, it does make it hard. In the lead up to Melbourne 3DE, I was away six out of seven weeks, doing one day events, so there really isn't a lot of time to go showjumping, and if I do have a spare weekend, I want to spend it with the family. I am lucky to have Sam Lyle based here, so I am always under Sam's watchful eye, and I still have regular jumping lessons with George Sanna, and through the NSW Squad Clinics, we have regular showjumping coaching – we've had Rod Brown this year. I am probably not getting to as many showjumping shows as I would like to, but I make sure I am getting good showjumping coaching."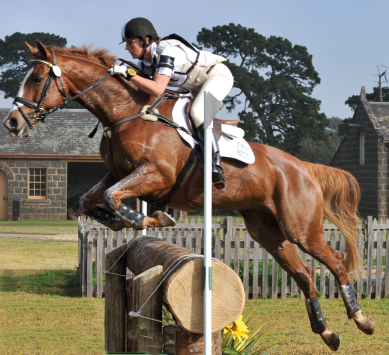 Above: On Adelaide Hill at Melbourne 3DE
With your Warmblood horse, Adelaide Hill, what was his progression like?
"In a lot of ways he has been a very long, slow project. Beth Turner sent him down to us in July 2005, he was not quite three, and it was like getting a wild brumby! You couldn't get near him to catch him, if you did get near him, all he wanted to do was kick you. It took Matt and I two years of handling and trying to break him in, before I even stepped on him. I don't think I sat on him until November 2008. That was a pretty scary day when I got on him, he had already put Matt into hospital twice… he cow-kicked Matt and got him in the knee. Matthew is a very experienced breaker and for a horse to get Matt once, it has to be pretty quick and naughty, to get him twice, is unbelievable. The second time I was there, and it shocked me how fast, and quick, and athletic, the horse was."
"There was definitely talk in those two years that we should put him down, that he was dangerous… of course, you couldn't pick up his back legs, there were lots of issues with him. But we had freejumped him, and while I wouldn't say he was a freak, as in an airy, scopey looking jumper, but I have never seen a horse that was so watchful, and so careful, and never let himself get wrong to a fence freejumping. That was probably the one thing that kept him alive."
"Having had Newsprint, helped. He was very quirky and working with him made me realize and understand that it was a lot about trust and confidence. Probably if I hadn't had Newsprint, I would never have persevered with Adelaide. To this day, Adelaide still lives in a halter. He is absolutely fine to catch when he is in work, and if he has more than two weeks off, you can't catch him in the paddock unless you take food. If we get a new staff member, they cannot catch him at all for the first month they are with us."
"He is absolutely beautiful to handle now. He is great to shoe, great to clip, you can clip his ears out without twitching him, you can do anything with him – he is actually a big, soft teddy bear. He still does the odd surprising thing, walking him to the trot up at Melbourne, I had the leg strap crossed over at the back and he didn't like it…  you can pick it, he gets a look in his eye, and the ears go back, and you go, there's that wild horse again, but 99.9% of the time he is a really lovely quiet horse, and most of my girls end up falling in love with him because he is a big sook. He is certainly the extreme example of taking it slow and taking your time, but once I got on him, he started the season at Intro and finished it a one star horse."
"Once Matt got Adelaide to the point he could ride him, he was actually good to ride. It was all the on-the-ground work that he really hated – like lunging, I don't lunge him with a lunge rein, I just use my voice, because he thinks the lunge rein is going to get him. He would never let you go on his right side to brush him, you could only brush him on the left. Same when you rode him, he'd go really beautifully to the left, but you couldn't get him to go to the right because he didn't want to look at you out of his right eye, he always wanted to look out of his left eye. Matthew did such an amazing job on him that by the time I sat on him at the end of 2008, it didn't take long to have him ready to go to a show."
"I still remember his first show, he went through the finish flags in the showjumping round and then jumped over a tiny little sand patch. He is very aware of what is going on in front of him, that is why he is so careful, he is so watchful. For a Warmblood he is extremely athletic, extremely quick. It is also a bit of his let-down, he is conscientious that when he makes a mistake, he really gets flustered. At Melbourne in the dressage, he did the flying change out of the counter canter, I corrected it, but when I went to the simple change, he was like, but you just told me to stay in left canter. He thought he was doing the right thing, he wasn't being naughty."
"I've been working with Brett Parbery this year, and he thinks the horse is really talented on the flat, it is just going to take a little time."
When will it be time for him to move up another grade?
"He'll go to Sydney three star. I ummed and aahed as to whether I would put him in the three star at Melbourne, he was qualified, but I was concerned that at the beginning of the year, he was still struggling to make time and I am so competitive that I didn't want to go to Melbourne in the three star and not finish in the top couple. When I got down there, I really did like the look of the three star course, but then when we had so much rain, I think I made the right decision just running him in the two star. Because he is such a careful jumper he is not particularly fond of that wet, slippery going, and I think he could have started over-jumping in the three star and maybe given himself a fright. He is a horse that I work really hard keeping him confident. I think Sydney three star will suit him and I hope to at least finish in the top three."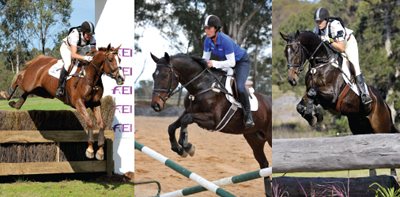 L-R: On Adelaide Hill at SIEC, A relaxed schooling session at home on Lord Windsor, Already out and winning! Christine Bates and Lord Windsor across country.
Tell me about your Lord Windsor horse?
"He came off the track at the end of last year. I did about a week's work with him. He was different to the other two. I picked him up from the track and by the time I got him home, he was an absolute quivering, sweating, neurotic thing – and I thought, I don't think he's going to be any good. Matt rode him the first day, and said it's a lunatic. He ended up having a couple of days off, Matt rode him again, he was better. I said, let's just give him another couple of days, which we did, third ride, he'd really chilled out – I actually got on and rode him and really liked him. There was just something about the way he moved. I think we might have given him a little jump over a couple of cross rails, he looked okay, not anything amazing."
"Then Matt and I, we went on holidays and had about seven weeks off. Came back, and he went into work about the middle of January. The spell had done him good, he had grown  and filled out a lot, so much so that Matt didn't even recognize him when he was tied at the stables getting shod. He really had changed a lot, and the same when you rode him – he is quite sharp compared to Delago but very trainable and tries really hard. Every time we jumped him, he just kept getting better. The difference between him and Delago at the same stage is that Lord Windsor is very scopey and happy to use his scope, I just have to work a little more on his technique, whereas Delago was always quite techniquey but didn't really have the scope."
"Lord Windsor won his first Intro on some ridiculous dressage score – 87%  or something. I only gave him two Intro starts and then he did the Young Horse class. It was quite funny because Intro showjumping is only 85 centimetres, and we went to the Young Horse class, and it was nearly the size of a Pre-Novice showjump round and he jumped that fantastic. So when we went to do the Prelim that weekend, it felt quite small. I think he has done four Prelims, and his next start will be Pre-Novice. Pretty much the same plans as I did with Delago last year, and hopefully, we'll finish the season with him as a one star horse. We'll see whether we can get him to Melbourne two star next year, otherwise the one star. When they start as six year olds, you can put more pressure on them, they are more physically mature than a four or five year old, and provided they've got the brain to cope with it, you can move them along."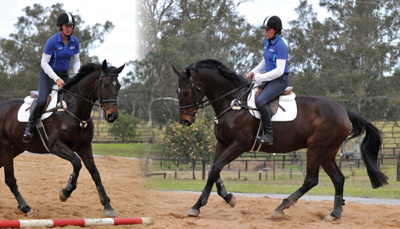 How do they tell you if they are not coping?
"For example, Delago, the last week before Melbourne, I didn't think he was jumping quite as well as he had before the World Cup. He had all of a sudden got very fit, so he was jumping out of his skin, but I could just sense there was a little worry in there, just in his general nature, I wouldn't say he felt cooked, but the feeling 'I'm on edge, I'm really fit and I've had a big six months this year' – that's why I want him to have a really good break. I hadn't planned on running him hard and fast at the World Cup at SIEC, but we were leading so the competitive side of me came out. He stepped into two star and had big performance very quickly,  probably when he wasn't quite ready for it, but he shows what a good horse he is by always giving 110%. You get to know them. It wasn't that he wasn't coping, but he didn't feel as confident and happy and relaxed about it all. He deserved the break he is having – that was my big decision, not to try and get him ready for Sydney three star, I don't want to lose that spirit of him giving himself to me every time. A horse that is confident is a horse that will always try for you, and give their best, and you can run them too hard and too often and break that in them."
"I don't know what happened to him on the track, but he obviously decided to cope by refusing to jump out of the barriers with the other horses. Every horse has a point where they say, I can't cope, and when he has done so well this year, I don't want to keep putting pressure on him."
"Adelaide Hill is a little different. He is so confident in his own jumping ability, he never questions what is put in front of him. He probably struggles more on the flat. He has long straight back legs so it is quite hard for him to engage and sit behind. I can feel when it is time to back off, he gets stressed and loses the forward thinking… Each horse has a different pressure spot where they say, I'm not coping."
"Lord Windsor is a young horse, he did five events, five weekends in a row. Normally I wouldn't do that, but it just happened that I was going to the shows and wanted to take him. He too has had a spell, he was just getting a little trickier on the flat – more because he had got so fit doing all those events. Everything has got to be about them wanting to work for you, and giving their best all the time."
It really is going to be an exciting coupe of years watching this talented rider and her team, and seeing just how far they can go…