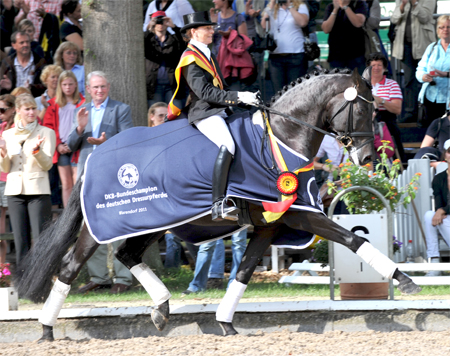 All the great shows have their own special quality, an atmosphere that hits you anew each time you walk through the gate. I guess the special quality at the Bundeschampionate is that it is so completely unpretentious:  a series of arenas set up in the woods and open spaces that surround the German Olympic Training Centre. There are no flash VIP areas, no fireworks or light shows, not even much by way of prizemoney: win a dressage championship and you are euro850 the richer. There are just simple temporary stands, uncovered, if it rains you get wet, when it gets hot you get burnt – and it can do that in the same day in the German autumn, and horses, horses, horses, and thousands of people who are passionate, and ever so knowledgeable, about breeding and conformation and bloodlines and what makes a good horse.
It is the perfect place to get your eye in. Here you see not one product of a particular stallion, but three, four, half a dozen, you can start to appreciate the qualities of that particular sire and the direction of Warmblood breeding in Germany, and right from the very first horse in the Six-Year-Old Dressage Class, Arietta (Abanos / Lancier), what hits you is just how 'typey' and modern the horses are. The mare looks like an elegant Thoroughbred, although she bends her hock like very few Thoroughbreds can.
And the riding has changed. Stefanie Wolf rides Arietta so quietly and tactfully, they pick up a score of 8.2 and we will see them in the final. The older style of presenting horses at the Bundeschampionate is not entirely dead, the next horse, Bacchus von Worrenberg (Belissimo M / Calypso II) is very tense, and no wonder, the rider, Martin Christensen is leaning back and spurring into a fixed hand, they score 7.4 with the three judges awarding a 6.5 for submissiveness, the score that recognizes the correctness and harmony of the training. However the combination does raise another interesting bloodline speculation, the number of dressage horses with jumping blood on the mother line: running quickly down the list we find Coriograf B, Wanderkoenig, Prestige Pilot, Cordial Medoc, Velten Third, Wanderer, Carpaccio, Classiker, Silvio I, Lancer I and Ravallo. It would seem that breeders are learning that a certain amount of 'jump' on the bottom line can help in the production of the modern dressage horse.
The quality keeps coming, Franz Joseph is a most attractive brown stallion, by Florencio out of a Coriograf B mare, and shown with class by Ralf Kornprobst. 8.5 for the trot, 8.5 for the canter (which reminds you just what a wonderful canter Florencio had), 8.5 for submissiveness and 8.5 for general impression, but just 7.5 for walk, and it is apparent right from the start that the judges are going to be tough – very tough – on any weakness in the walk. Franz Joseph will make it to the final on 8.3.
Along with their successful horse breeding program, the Germans seem to be able to breed an endless succession of petite and polished equestriennes, like Anna-Sophie Fiebelkorn who shows the liver chestnut stallion with heaps of chrome, Callaho's Benicio (Belissimo M / Velten Third) to perfection. It is such a cute picture, fabulous bend in the half circles, great half passes, a huge unhurried trot, marked over-track in the walk and a great canter. 9.5 for the trot, 8.5 for the walk, 9.5 for the canter, 8 for submissiveness and 9.5 for general impression. A total score of 9, and they will go into the final in second place.
Uta Gräf's Damon Jerome (Damon Hill / Guy Laroche) may not be the prettiest pony, but the chestnut gelding is big and powerful, although, like his dad, a little high behind. The horse is really on Uta's aids, so rideable, and with such great rhythm. The judges love it: 8.5 for trot, 9.5 for walk, 8.5 for canter, 9.5 for submission, 9.5 for general impression – all that adds up to a 9.1, and pole position for the final.
Christoph Koschel's gelding, Don Bettino (Don Primero / Painter's Row xx) is another horse with a very good trot and an even better walk. They too join the early leaders on 8.4, with a 9.5 for walk.
The Florencio offspring seem to all be wonderfully engaged behind and Freak Blue Phantom OLD (out of a Feinbrand mare)  also looks very rideable for Kristine Möller. 9 for submission and another 8.3.
FS Demirel (Dimaggio / Hill Hawk xx)  teamed with perennial Bundeschampionate star, Jana Freund, picks up an 8.2 for a polished show.
It has not been a great day for the well-known stallion owners. The Pape's stallion, Harmony's Fiorano (Rousseau / Rotspon) freaks out in the arena where he can't see the other horses, and he is eliminated, while the PSI star, Sarkozy (Sandro Hit / Weltmeyer) looks great all the way to the rein back, where he jacks up and won't go forward for even a rider as accomplished as Eva Möller and a 5.5 for submission drags them down to 6.9 – they are going to have to star in the Kleine (small) final if they are to make the big final. It is a big risk putting your stallion in the Bundeschampionate – five minutes in the ring can be the difference between a full book of mares, and…
Soliman De Hus (Sandro Hit / Donnerhall) was purchased by the French businessman, Xavier Marie after he won the Hanoverian Licensing, but a deal with the State Stud Celle saw him stand in Germany for three seasons. This year he has been taken out of Celle to concentrate on his competition career with Christian Flamm, under the guidance of Hans-Heinrich Meyer zu Strohen. This is one Sandro Hit that is not out behind, and he is shown brilliantly by Christian, the horse has lovely rhythm and is genuinely relaxed. 9 for the trot, 7.5 for a bit of a Sandro Hit walk, 9 for canter, 8 for submissiveness and 9 for general impression for a total of 8.5 and they go into the final in 3rd spot – although they will all start on zero in the final.
The S line dominated the horses that qualified for the Six-Year-Old championships. Sir Donnerhall provided 8 while his sire, Sandro Hit qualified 7 and Stedinger, 2. Then there was a  fine representation of the 'F' line: Florencio produced 5 and  Fürst Heinrich, 3. Then follows:  Belissimo – 4; Don Primero – 3; Hochadel – 3. Then there were six stallions with two qualifiers: Dimaggio, Don Schufro, His Highness, Hofrat and Rousseau.
Again we have to be careful just using numbers, although there were 15 'S' line representatives qualified in the Six-Year-Old class, twelve actually competed, one went so badly that it retired before finishing the test. The eleven that competed scored an average of just on 7.3 (slightly below the class average of 7.4 – and it would have been lower if I could think of a way of counting the retiree) – with three qualifying into the top fifteen.
The others to make the cut in the Six-Year-Old class were: Schöne Aussicht OLD (Sandro Hit / Donnerhall) – 8.1, Sergio Rossi (Sir Donnerhall / Rosenkavalier) – 8.1, Diamonds Head (Don Schufro / Dalheim) – 8, Wilson Pickett (Wolkentanz I / Ravallo) – 7.9, Diamond Child RB (Dancing Dynamite / Brentano II) – 7.8 and Rembrandt WS (Rembrandt Royal) – 7.8.
We are back on day two for another full-on test of concentration in the Five-Year-Old Dressage class. It starts at 9am and 59 horses later, finishes at 4.30pm. Once again Camp Sandro Hit dominated the qualifiers with nine Sir Donnerhalls, three by San Remo and eight by Sandro Hit himself. Then came Fidertanz with four, and Damon Hill and Don Frederico with three each. There were nine stallions with two representatives each: Breitling, Desperados, Dimaggio, Florestan, Rascalino, Rotspon, Royal Blend, Rubin-Royal and Stedinger.
Because the starting list is in alphabetical order, with the first letter randomly drawn, the class started with eight representatives of the Rubinstein line, and lead to the inevitable conclusion that R is for Rappe (German for black) and R is for rideable. What a lovely naturally well-balanced group of horses they were.
The most successful was Royal Classic by Royal Highness out of a Florestan mare. The pedigree is pretty well a history of dressage breeding in Hanover: Royal Highness is by the Rubinstein son, Regazzoni (out of a Werther mare) and out of a mare by Dream of Glory (Donnerhall and Pik Bube) out of Weltlady (Weltmeyer / Lanthan). And once again on the mare's side we see a dash of jumping athleticism. His dam First Lady is by Florestan out of a Landadel / Calypso II / Graphit mare. Ridden by Yvonne Reiser, the black stallion is loose through his body and the contact is wonderful, the rider hasn't moved a finger, and it is no surprise to see the trainer Hans-Heinrich Meyer zu Strohen watching keenly from the corner of the arena. 8.5 for each of the three paces, and submission and a 9 for general impression for an 8.6.
The only other R representative to go through to the final is Richthofen (Royal Blend / Wolkentanz) – one of four to just make the cut on scores of 8.
The Sandro Hit line is more successful in this class, with six making the cut. The most successful is Dorothee Schneider's Showtime (Sandro Hit / Rotspon). This is obviously a good cross, it is just amazing that the stallion is dark brown not black, but he can really move and Dorothee is such a pro even if she does look so tragic as she actually rides the test – it is only at the halt that the smile lights up her face. 9 for trot, 8.5 for walk, 7.5 for canter, 9 for submissiveness and 8.5 for general impression, for an 8.6 total and fifth place.
The gelding, Sans Souci by the Sandro Hit son, Samba Hit I out of a mare by the star Holsteiner showjumper, Levisto, finishes in equal 6th on 8.4, with another grandson, Sir Fashion (Sir Donnerhall / Rosenkavalier) in 8th on 8.3, followed by another Sir Donnerhall, Simply Nymphenburg (Weltmeyer) in =9th on 8.2. Also on a score of 8.2 are Amore San Remo by San Remo – the Sandro Hit/Donnerhall cross again – out of a Lord Sinclair mare, along with Sunday NRW, by Sandro Hit out of a Donnerhall mare.
But really the 2011 Five-Year-Old class belongs to the F line. Way out in front on a score of 9.2 is Fürstenball OLD (by Fürst Heinrich out of a Donnerhall mare – but still with that touch of jump, the grand dam is by Classiker by Calypso II by Cor de la Bryère). This is indeed a glorious horse and shown by another real pro, Ines Westendarp, there is a lovely clean walk but the horse is getting rolled over a little in the canter, and the trot looks a little slow behind (don't believe me, look at the photograph). Which just shows how wrong I am, and what a liar the camera is, since the judges post a 10 for trot! An 8.5 for the walk, a 9 for the canter, 9 for submissiveness, and 9.5 for the general impression – total 9.2.
In second place is an own son of Florestan, Florentinus V, out of a Londonderry mare, ridden beautifully by the American, Jennifer Hoffmann. This is a big, impressive stallion with a lovely trot, a very secure walk and an excellent canter, he is attentive and obedient, and it is no surprise that he scores  9s for submission and general impression. 9.5 for trot, 8 for walk, 8.5 for canter for a 8.8 total, and second place at the end of the day.
Isabel Bache is one of my favorite riders, she rides with such flair, and is always ready to go for it. This year she pilots the mare, Fairytale (Fidertanz / Quattro B) into third place on a score of 8.6, with a 9 for submissiveness.
Fidertanz is by the Florestan son, Fidermark (Werther) who died way too young. The equal sixth placegetter, Flynn PCH is by the Fidermark son, Falsterbo (Brentano II) – interestingly, both stallions feature sons of the Westfalien stalwart, Frühling on their dam lines.
Flynn is shown with style by Marcus Hermes, which I guess is not hard to do when you are sitting on something quite so flash as the liver stallion with heaps of chrome. It's a great test: 8.5 for trot, 8 for walk, 8.5 for canter, 8.5 for submission, and 8.5 for general impression.
Once again it occurs to me that in some respects German horse breeding is in deep trouble. Despite the fact that he actually competed at Grand Prix level, despite the fact that with very few progeny, he made it to the Hanoverian dressage stallions topliste, Falsterbo could not attract a commercial book of mares. Perhaps it was because he stood at the same station, Hengststation Meyer, as His Highness (Hohenstein / Donnerhall), whose sole claim to fame was that he won a licensing and sold for a record sum as a two-and-a-half-year-old. His Highness attracted heaps of mares before his untimely early death. I guess Germany's loss is America's gain, since Falsterbo is now standing in the US, and from what I read on the breeders' forums, the American mare owners are delighted with his foals.
The point is underscored with the =14th place to Devina, by Dacaprio (by the Donnerhall son, Davignon out of a Caprimond mare) out of an Akzent II mare, with a score of 8.1. Jens Meyer also stood this stallion, and again, despite the fact that he scored well on the Hanoverian breeding values, and sired a Bundeschampion – Dejavu – he too was not commercial, and also made his way to the USA. Sadly the trend of rushing to breed to the latest licensing champion, or Bundeschampionate winner, means that some of the really fine proven stallions just don't get mares.
Also representing Donnerhall in the final are Der Felix (Damon Hill / Diamo), =9th on 8.2, De Champ (Daddy Cool / Caprimond), = 17th on 8 with Darnell (Don Frederico / Rotspon).
Rounding out the 17 Five-Year-Old Finalists, we have Hofliebe (Hofrat / Wie Weltmeyer), =14th on 8.1 with the Trakehner, Amadelio (Lehndorf's / Lauries Crusador xx), and in 17th La Lopez (Lord Loxley / Boss) on 8.
It is quite striking the number of finalists in this class who are by Young Horse stars. Fürst Heinrich was a Five Year old World Champion, Fidertanz was a Reserve Champion Three-Year-Old at the Bundeschampionate, Royal Highness placed 6th at the World Championships for Five-Year-Olds, Sandro Hit was, of course, a World Champion and a Bundeschampion, Samba Hit I was reserve champion Three-Year-Old stallion at the 2001 Bundeschampionate, Sir Donnerhall was Five-Year-Old Dressage Champion at the 2006 Bundeschampionate, Damon Hill was World Five and Six-Year-Old champion and Lord Loxley was Five-Year-Old Dressage Champion at the 2004 Bundeschampionate. It is perhaps also interesting that of that group of stallions, only Damon Hill has gone on to be a genuine Grand Prix competitor.
Let's play with the calculator again. The average score for trot of the 59 competitors, was 8. The eight 'F' line horses, had an average trot score of 8.5; the nineteen 'S' line entrants an average of 8.15; the thirteen 'D' line horses, an average of 7.69, and the eight 'R' line horses an average of 7.6.
The average score for walk was 7.5. Once again the Florestan line comes out on top with a walk average of 8. Next best, the descendants of Donnerhall, 7.73 followed by the Rubinstein line with 7.44, and I guess it is no surprise to find the Sandro Hit line rated last for walk with an average of 7.24.
The average canter score was 7.7. Once again, the 'F' line comes out on top with an average of 8. The 'R' horses averaged 7.81, followed by the 'D' line on 7.65, then the 'S' line with a 7.63 average.
The Germans have been complaining that they have had no summer – just rain. Well, they get their taste of summer on the Saturday for the final of the Six-Year-Old dressage horses, like 30 plus, and seriously sunny.
Luckily the judges are on the ball because the first horse out, Freckle (by the Florestan son, Future, a licensing winner in 2000, out of a Gribaldi mare) is really putting together a very stylish show – clean, athletic, relaxed. And the scores reflect the quality: trot – 9.5, walk – 8.5, canter – 9, submissiveness – 8 and general impression – 9.0 for an 8.8 total. Later at the Seminar debrief in the evening, one of the participants comments on the high knee, slightly less behind, action of the gelding. Master trainer, Jurgen Koschel is not worried – 'we like that 'Holstein' knee, it means there is a chance for the piaffe and the passage'. And what is the opposite of 'Holstein' knee? "Trakhener."
The next horse out is 25% Trakehner, Hightime is by Hochadel (by the Trakehner stallion, Hohenstein, out of a Donnerhall mare) out of a Walt Disney mare. The young stallion is shown brilliantly by Annemarie Finger, relaxed, fluid, easy, no rushing, no tension. They score 8.5 for everything to finish in equal 6th.
Once again, the 'big boy' Christoph Kleimeyer is showing his chestnut Hanoverian gelding, Diamonds Head (Don Schufro / Dalheim) tactfully. An 8.1 will leave them in =9th at the end of the day.
The next horse out is a charming black stallion, Sergio Rossi (Sir Donnerhall / Rosenkavalier) shown by Kira Wulferding, and it is nice to see the Vorwerk saddle blanket back in action. Mrs Vorwerk may have sold her famous stud but it is great to see that she still has an interest in the sport. I love the horse, he is so balanced, up in front, lovely shoulder in and half pass, and he is one of the few to handle that yucky transition to walk right in front of the C judge. Excellent walk pirouettes, lovely canter and good changes. An 8.5 for the walk, an 8 for the canter, an 8.5 for submissiveness, 8.5 for general impression, but they kill him with a 7.5 for trot, with Christoph Hess commenting at the end that the judges thought he was slow behind. They end up in 8th on a score of 8.2.
At the debrief, I ask the panel, why he was punished for a trot that was far better than his father's when he won the Five-Year-Old title back in 2006? Had the criteria changed, or the judging improved? Finally Dr Schüle owns up to have been on the panel when Sir Donnerhall was champion, and says that they were also worried about his hind end action.
Jana Freund's FS Demirel (Dimaggio / Hill Hawk xx) is another handsome stallion with a great trot, but he gets a bit strong to her hand in the canter, and the changes are a bit sticky. They end in 11th.
Ralf Kornprobst's second ride, Franz Joseph (Florencio / Coriograf B) is such a handsome stallion, his rich mahogany coat gleams in the afternoon sun, and once again Ralf is riding beautifully, the point of his spur scarcely touches the horse's side, his legs are breathing on the horse's sides. The judges award a 9 for trot, but a 7.5 for walk, 8.5 for canter, 8.5 for submissiveness and a 9 for general impression. They finish in 5th place on a score of 8.5.
The next horse into the arena, Callaho's Benicio has real charisma, and the rider, Anna-Sophie Fiebelkorn has that star quality. Anna-Sophie has recently conducted clinics in Australia for the Hanoverian Society, and while in the past, we've had a few 'experts' who seem to acquire their towering reputations somewhere mid-flight between Frankfurt and Sydney, Anna-Sophie is the real deal (besides, any girl who smokes cigars has my vote!)
The stallion is green, this is just his third show, and he has a little freak on his warm up, Anna-Sophie keeps her cool, gets him sweetly back although she confesses at the debrief that she was a little worried: "With a stallion, you never know really what is going to happen, it took a little while, and then he relaxed again."
The trot is so big, so unhurried, the walk is also huge and loose, and he is so soft to the ground in the canter and comes back till he is nearly cantering on the spot. Christoph Hess whose job it is to relay the judges' scores, and the reasons for the scores, is having fun. He asks the crowd, What do you want for the trot? TEN, they yell. Okay ten, and the walk, 9.5? NO TEN! Okay ten. Add a 9 for canter, a 9.5 for general impression, and an 8.5 for submission.
At the debrief, Dr Schüle was quizzed about the horse's head being tilted in the trot – how could this be ten? He explained that the mark for the pace was for just that, the pace, the head tilt dragged down the submission mark.
They finish on a total of 9.4 and the question is, can the first round leaders, Uta Gräf and Damon Jerome, better that?
But there are a couple more flash ponies to come. Christoph Koschel's Don Bettino (Don Primero / Painter's Row xx) is a leggy, handsome chestnut gelding, and the work is smooth and honest, even if Christoph does get a little airborne himself in the flying changes. But wow, the style of show at the Bundeschampionate has changed so much, now the accent is on a test that is quietly correct. 8.5 – trot, 9.5 – walk, 9 – canter, 8 for submission and an 8.5 for general impression. 8.7 will leave them in 4th place.
Soliman de Hus (Sandro Hit / Donnerhall) is just so correct for Christian Flamm. Impulsive, accurate, impeccable contact, Christian is another who rides on the calf not the spur. There is a change that looks hard work and they fall out of the big canter on the long side. It's a nice horse, maybe a super competition horse, but he lacks that stallion extra something… 8.5 for trot, 7.5 for walk, 8.5 for canter, 7.5 for submission, 8.5 for general appearance: 8.1 for =9th.
Damon Jerome (Damon Hill / Guy Laroche) is a very different type from his dad, perhaps they were very careful to give him tall mares, but he is also a little high behind like his sire. Uta Gräf certainly has him fine-tuned  and everyone else but me, thinks it is a right-down-to-the-line contest with Benicio, but for me it is no contest. The Belissimo stallion oozes young horse charm, where for me, Jerome is not like a young horse at all, more like a medium horse that has been well schooled for a couple of seasons, there is no freshness, no joie de vivre. Still the judges love it: 9 for trot, 9 for walk, 9.5 for canter, 9.5 for submissiveness, 9.5 for general impression – 9.3 and they go into second place just 0.1 behind Benicio!
Just to prove the point about the fickle German autumn weather, the next day, the final day, dawns all wet and cold and we pack the coats and jumpers, after about an hour it decides to go into hot and sunny mode and we start the Five-Year-Old Dressage final in a blaze of sun and heat and we are praying for a little cloud cover – like they say, be careful what you wish for…
The competition starts on a high note with Sunday NRW (Sandro Hit / Donnerhall) ridden for the Westfalien State Stud by Anja Wilimzig, oh so cute in her uniform. Once there were lots of styley uniforms at the Bundeschampionate, but the State Studs seem to be going through a difficult time right now. There were no State Stud stallions in the Riding Horse classes, and only Anja in the two dressage championships. The stallion is an elegant calm creature. The day before the Stud director, Susanne Schmitt-Rimkus, had made the point to me, that the 'S' line stallions could work well with the calm and rideable Westfalien base; certainly it seems to have worked this time around. The stallion is so on her aids, so nicely into the hand, all the way to the circle on the lengthened rein, and he grabs at the bit and whoosh there go the submission marks for one second of naughtiness: 7.5, still there is a 9 for trot, and 8 for walk, an 8.5 for canter and 8.5 for general impression and they finish the day in =6th.
Tessa Frank's Simply Nymphenburg (Sir Donnerhall / Weltmeyer) is simply the sweetest, most honest gelding and the judges pay the consistency: 9 for trot, 8.5 for walk, 9 for canter, 9 for submission, 9 for general impression, that's an 8.9 total and good enough for the bronze medal.
Bailador de Amor is by the Grand Prix maker, Breitling out of a Dimaggio mare, and even with the mega-experienced Johannes Westendarp in the saddle, he is never going to be a Young Horse class star, they finish in 11th place on 7.9, but looking at the horse's power and strength, and taking into account his breeding, if you had to bet your life savings on which of the finalists is going to go Grand Prix in the next four years, this is the one you would bet on, which kind of raises the question of just what  qualities these classes are supposed to reward?
The mare, La Lopez (Lord Loxley / Boss) gives Christine Nolden such a pleasant ride and earns the reward: trot – 8.5, walk – 9, canter – 8, submission – 9, general impression – 8.5, for  8.6 and 4th place.
Amore San Remo (San Remo / Lord Sinclair) also gives Daniela Waxenberger, a nice ride and Christoph pays tribute to the 'happy horse'. With 8.2 they finish in 8th.
The Don Frederico offspring may not be the prettiest horses in town, but they do look so honestly rideable, and Klarissa-Alexandra Liss' Dirty Dancing (out of a Rodgau mare) is anything but dirty. Score of 8, for =9th.
I like Royal Classic (Royal Highness / Florestan) and Yvonne Reiser better than the judges do, the black stallion just looks fun to ride. Still they too score an 8 to share 9th.
Sans Souci is by Samba Hit I out of a Levisto mare, and he looks nothing like either of them, still the raw-boned chestnut is a real athlete and Rudolf Widmann finishes in 5th on a score of 8.5, but 9.5 for submission.
It is now pouring rain and we huddle under our umbrellas as parts of us get soaked. Even in the pouring rain, the Falsterbo son, Flynn PCH (out of a Walt Disney mare) shines. Apparently he is owned by a wealthy American lady, a long time backer of Hubertus Schmidt. The horse is being shown by Hubertus' bereiter, Marcus Hermes, with the hope that he may be a Grand Prix ride for Hubertus in the future. Certainly the flashy liver chestnut has scope to burn and looks super rideable. I think the judges are mean (maybe they can't see through the downpour?): 8 – trot, 9 – walk, 8 – canter, 8 – submissiveness and 8.5 for general impression. A total of 8.3 for =6th but hopefully we will see him before too long in the big sport with Hubertus.
In the teaming rain, the American rider, Jennifer Hoffmann is doing a wonderful job on Florentinus (Florestan / Londonderry) but then again the stallion looks so willing to please, and bears out my little mathematical exercises on the strength of the F line in all three paces: 9 – trot, 9 – walk, 9 – canter, 9.5 – submissiveness, 9.5 – general impression, total 9.2 – only Fürstenball to come, can he go round that?
Fürstenball (Fürst Heinrich / Donnerhall – that is a double cross of the great D since Fürst Heinrich was out of a Donnerhall mare) is really the most attractive stallion, a beautiful head, and what goes on inside the head seems to be very pleasant too, he looks so easy for Ines Westendarp to show. He is calm and relaxed and that lets him show his paces to the best. Even in the rain this is a stunning performance. 9.5 – trot, 10 – walk, 9 – canter, 9 – submission and 9.5 for general impression to take the title with a score of 9.4.
It's time to go back to the press room and try to dry out a little, but nothing can really put a dampener on this amazing event. Suddenly you realize that your five days at Warendorf have flown… still there is always next year to look forward to.
Words: Chris Hector
Photos: Roz Neave