A Clinic with Princess Nathalie.
Danish dressage star, Princess Nathalie zu Sayn-Wittgenstein has been coming to Australia on a regular basis since 2008. The intervening years have been good ones for Nathalie as she has consolidated her position as one of the world's leading dressage competitors, and thrilled thousands of spectators with her quiet, horse-friendly style of riding. In Australia, she has a solid core of rider/fans who quickly book out her clinics, organised by fellow Dane, Pernille Hogg.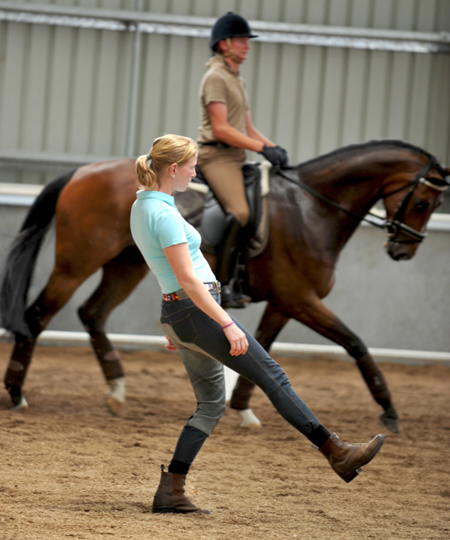 This time round I sat in on two clinics; one with a 'first timer' –
Jason James
– and his Weltmeyer gelding,
Gnotuk Wilson
, the other with an old hand at Nathalie clinics,
Maree Tomkinson
who rode two horses, her stallion,
Rodrigo
and the mare,
Diamantina
.This story starts with the usual disclaimer: You are not going to discover anything startling or new in the following paragraphs – good horsemanship is not like that. Nathalie's training and teaching philosophies are the product of a lifetime spent training with some of the best in the business, namely Kyra Kyrklund and Klaus Balkenhol. Currently Nathalie trains with Kyra and her husband, Richard White, and while she has decided to rest Digby from the current World Cup season, Nathalie has her sights firmly set on London and the Olympic Games.It is all the more amazing then to find Nathalie hard at work in the big indoor school at Oakwood in Victoria, Australia, demonstrating that the exercises don't have to be complicated to be effective. Jason and Wilson are on a twenty-metre circle, going forward, coming back.
I remarked to Nathalie later just how complicated dressage was, you had to ride the horse forwards and then ride them back, wow, rocket science…
(Nathalie is laughing) "For some that is really, really boring, but if you can't go forward and come back on a circle, or on a straight line, you won't be able to do it in the movement. I like to first be able to do that before I go into the movements, otherwise I find you start destroying a movement."
I am not being entirely flippant because it was also the lesson that Edward and Hans Peter were giving at Equitana, it is surely the only lesson, go forward, come back…
"Yes, in a proper and honest way where you really feel, yes, the horse has come back onto the hind legs – it is more thinking you want to balance them back onto the hind legs, so you can then go forward again."
All the real elements of dressage are there – straightness, acceptance of the aids, contact…
"Absolutely, with this horse in particular, it is rather straight, there are other horses that when you bring them back, they want to get crooked, this one stays fairly straight, so I don't have to concentrate too much on that. At the moment, Jason has to concentrate a little more on getting the right reaction coming back and then getting the right reaction going forward from the hind leg."
"I like the way this horse reacts, some horses when you bring them back just go up and get passagey and slow behind, with this horse you can see when you really get him on the hind legs and shorten him up, you get shorter, quicker steps, more honest steps really. You don't want to bring a horse back and it just goes into passage, because there again it is avoiding taking the weight on the hind legs. When you get the right reaction, then you can really send the horse forward again, and really get the reaction out of the hind leg. You have to feel that the hind legs can separate and move apart, the horse has to feel that it can separate those legs and go forward."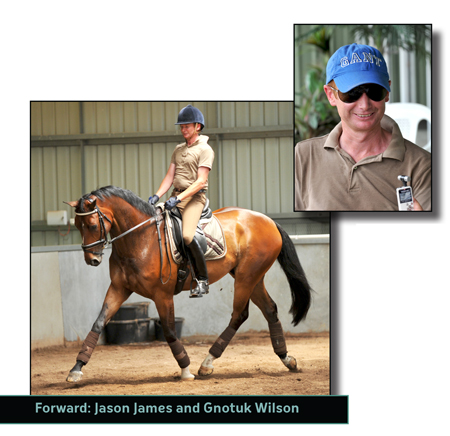 And the same with the rider, you were pointing out to him that he had to be able to separate out the various parts of his body and use them independently…
"Yes, because the horse tends to be a little unsteady in the contact, and then he gets Jason to lean forward and go with him, instead of Jason just sitting and saying 'hey this is the contact, but you are not pulling on me, I'm just staying here and keeping your hind leg going'."
But they are always asking us to surrender our position, that's the horse's job…
"Yes, that's the horse's job. We feed them every day, but for one hour a day they have to work."
And that is just was Jason and Wilson had to do, work, concentrating on every step:
"Activate the hind legs, but stay sitting, activate with your legs but also with your seat. Now come back, come back, nearly walk – there that's it – now go forward."
There was no rest even in the rest periods:
"Walk, but when he starts to play with the bit like that, send him forward into your hand. With a horse like this you have to give him something to work on all the time otherwise he is not engaged enough."
Of course, it was more of the same in canter:
"More forward, relax your seat but stay sitting on his hind legs. You want to feel his hind legs pushing off the ground. Now back, back, back, nearly to walk – now forward. Don't take your foot forward, your foot has to stay under your seat bones."
The halt was no exception:
"You want him to relax in halt but as soon as you put your leg on, switch on and go forward. When he goes into trot, just give him one more touch with your leg to let him know you really want him to go forward. When you are going forward and coming back, ask yourself was it the reaction I wanted? If you are doing it halfways, then you are always compromising with him."
And that is the message – good dressage is simple, but never a compromise.
Jason is just so enthusiastic about his lessons with Nathalie:
"I haven't been doing dressage for long, this is my second dressage horse. The first one it was a bit hit and miss, and make it up as we went along. I watched some people and thought, 'oh yeah, maybe I could do that'. The horse was generous, I was lucky."
What were you expecting, coming here and having the lessons with Nathalie…
"I knew I had an issue with his submission. I always had a problem, if I went forward getting him to come back – he'd just reef the reins out of my hands and I was in the launching position, ready. It was really good to get that straightened out."
"In the first lesson, it was so different for me, I was a little slow on the uptake, especially sitting on my bum, but Nathalie told me to roll my heels and that made all the difference, suddenly I thought, that's actually quite easy. It was great."
But Nathalie and I were talking about it, it's really not that complicated…
"It's not rocket science, but no one has ever said that to me before. I'm quite a visual person, so that helped when she said, roll your heels like you are in a wheel chair – thank god I'm not in one, I thought he might put me there when he was four, a couple of times he really scared me."
He was going forward much more crisply by the second lesson…
"Heaps better, it's good to be able to put on leg and know that he is going forward instead of backwards or up in the air because he can go quite high if he wants to."
So where now?
"I'd like to think he's got the brain to get to Grand Prix. I like his trot, he flows and it feels nice now, but he was a slow  starter. The first few years, he was really out of control, what he is doing now, he has only been doing for the past six months – the first eighteen months were just scary."
"Although I was pretty used to riding the launching position because I used to show hacks and they were Thoroughbreds and fed up to the eyeballs. They can be lame and on the wrong leg and still win, as long as you stay on them, and they are pretty."
Are you enjoying the slightly more objective judging system that comes with dressage?
"Yes, I actually judged at the Hack Council Horse of the Year last weekend. A few people had a fright because they thought they just had to turn up to win, and I thought I'm finished with this anyway, so I just picked the best horses! I don't think I'll be asked to judge again."
Off went one very happy rider…
After lunch it was Maree's turn. The previous day she had ridden her stallion, Rodrigo, today she was bringing her mare, Diamantina. It had been some time since Nathalie had worked with the mare, so she was looking forward to seeing her progress, but as with all her riders, she also felt that Maree had to ride more forward:
"The big issue with Maree is to keep the forwardness in the movement, that she doesn't ride backwards – she has to think of riding the horse forwards to be able to bring it back. If you ride back and back and back, then you really have nothing to bring the half halt through. Think forward to get back."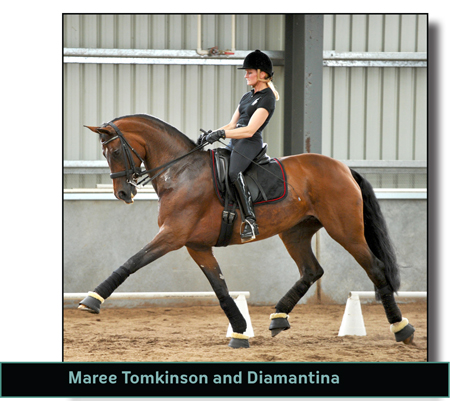 Is that an Australian fault or a worldwide problem?
"It's a global issue. Everyone at one point or another does it – I've been in the same position – you are just riding backwards and backwards, you forget to give gas again, it happens."
To solve that you need someone on the ground…
"Just to remind you – ride forward again. Then once you realize, oh shit, I've been riding backwards too long, then you can ride forward."
That's where Kyra and Richard come in, how often do you need one of them on the ground?
"It depends. I've just had a week with them with two younger horses. I felt I really needed that intensive week so we could work on them. Normally Richard will come to my stables for one and a half days, and you can do a lot in one and half days, but to really come through, you need a little bit longer. I guess I need that help normally once every month or two, it depends on how the competition calendar looks."
Nathalie is quickly reminding Maree to give after her half-halts:
"When you've done a half-halt really try to let go again. Slightly shorter reins so that when you give you have your hands above the withers. Let go in front, and if she runs away, then another half-halt. Think of balancing her on the hind legs, not of holding her on the hind legs. Let go in front and balance her with your seat."
Then one of the most interesting points of the working session – the point of bending the horse to the inside is to give a more effective half-halt with the outside rein…
"When you bend her on the inside it is so you can really bring her back on the outside rein. I know it sounds weird but it works. Only bend her to the inside when you want a half-halt on the outside, otherwise keep her straight."
"When you put your leg on, think you are trying to get her stomach and withers up without pulling her neck up. Be careful that her neck doesn't come up in the half-halt. The energy should come over her back and forward, not just up and lost."
Diamantina is tossing off effortless one-times changes…
"They are super one-times changes, but have her neck down, even if you have the feeling her head is between her front legs – really down – and when she is there, give your hand and let her stretch down. The changes are good, you just need a little bit more control of the neck. You have to be able to say – down, down, down, but continue making the changes."
It is exciting for Australian dressage that Diamantina is showing such talent for piaffe and passage, and no doubt a special experience for Ree to have a rider as experienced as Nathalie to advise her…
"You have to think quicker in piaffe. Don't think in her rhythm, put the leg on and get a reaction. Not the whip, leg – two or three steps forwards, then back."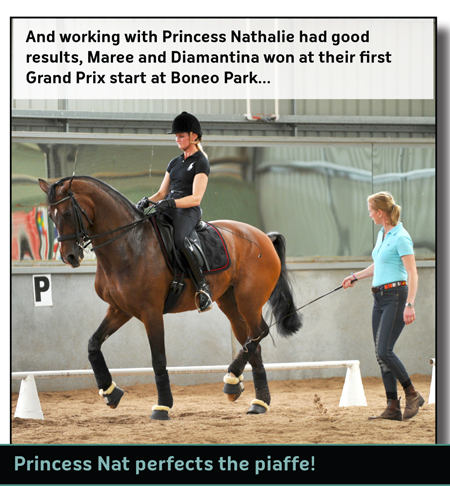 Like Jason, Maree leaves the riding hall a happy camper:
"This is the third clinic I've done with Nathalie. I think for me, it has been the best one, because she knows more about the horses and where they have come from and where they are going. It is incredibly valuable when you have some consistency with the trainer."
All the good trainers say much the same things…
"They do. It's about being quicker: quicker with your reactions, quicker with your responses, getting the horse a little quicker off the ground. Getting the horse a little more reactive to your leg, reactive to your aids."
Does it help that you know that Nathalie is currently one of the world's top competitive riders?
"100% – it is really fresh in her mind so she can then pass it on to others. Also she does it in a very good way. It's true that most trainers are the same, I've just been to Equitana, and seen Edward Gal and Hans Peter Mindenhoud, we had the Ton de Ridder clinic at the Nationals, and it is all the same, but Nathalie has a particularly good way of getting the message across."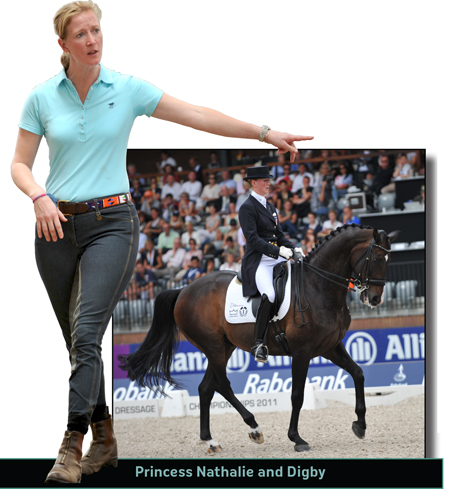 The good news for Australian dressage is that Princess Nathalie is continuing her Australian clinics in 2012. 
For information contact Pernille at catago@bigpond.com