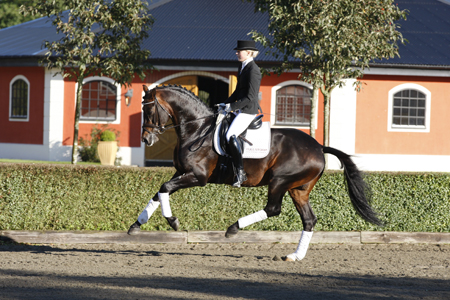 The stallion, Ampère is perhaps the perfect example of the multi-national reality of today's breeding world. Born and bred in Holland, owned by an American, and based in Sweden at the dressage stables of Jan Brink…
Not only based in Sweden, but the most used stallion in Sweden last season with 141 mares, reversing the customary Swedish focus on breeding jumping horses, although the next three most popular stallions are all jumpers: Cabachon (Casall), Cohiba (Chacco Blue) and Corlensky (Cornet Obolensky).
Ampère is also a wonderful example of how the Dutch have taken jumping lines – mainly from Holstein – and forged a new style of dressage specialist. Consider the fourth line of Ampère's pedigree: the Selle Français Le Mexico, the Holsteiner Farn (twice), the foundation sire of the modern Westfalien jumpers Pilatus (sire of Pilot and Polydor), another Holstein great, Landgraf, and the Cor de la Bryère son Carneval. In the third line we find another of the Holsteiners that shaped the Dutch Warmblood, Amor.
It is then, something of a triumph of breeding, that such a mix should produce such a refined, modern type of horse and in the process transform the emphasis from jumping to dressage.
Ampère is by Rousseau, another multi-national. He too was born in Holland in 1998, but since 2006, has stood in the United States, after two seasons at the famed German stallion station of the family Pape.
Rousseau is by Ferro, an international dressage competitor, and out of a mare by Roemer, another stallion exported to America, where after a jumping career in The Netherlands, he morphed into a Grand Prix dressage horse.
Rousseau's dam, Zsuzsa, was a true family horse. Rousseau's breeder, Jos Haak wanted a competition horse for his daughter, and a brood mare for himself. The mare's previous owner worried that she would grow too tall and put her up for sale.
"I went to look at her and liked her immediately because she looked like a real horse," Mr Haak recalled in an article by Karin Karlas in idsi breeding. "So, I bought her and bred her right away as a two year old because I hoped that being in foal would stop her from growing, Nevertheless, she grew another two inches and ended up being 17 hands tall."
"Zsuza was a big mare with a slight Gelder look, although she was very fancy. She had a great temperament but was afraid of small things like umbrellas. However, when my daughter got married, she rode Zsuza in her wedding dress and the mare didn't mind at all."
She could also move: "She had incredibly good cadence and balance in the trot; she always moved the same way: with nice regularity and she never took a wrong step. Besides that, she was a mare with beautiful long-lined conformation and enough size and bone."
She was bred to the Thoroughbred, Saros, and the Ramiro-son, Architect before Haak's daughter, Carla had her turn, and rode her through Z2-level dressage.
The first two foals were not great, but bred to Ferro, she hit the jackpot: Rousseau. Mr Haak liked what he saw: "I knew right away he was a world class horse. In fact, I walked from the barn into our kitchen and said to my daughter: I've never seen such a beautiful foal as the one that's lying in the stall."
Rousseau has had a spectacular career. He was purchased for the American stud, Hilltop Farm with the highest bid at the first annual KWPN sale – 300,000 guilders – and later sold on to Harmony Sporthorses. He easily passed his performance test with an overall '8' for dressage ability. He was Dutch national champion as a four year old, and reserve champion the next year.
Rousseau represented The Netherlands at the 2003 World Young Dressage Horse championships in Verden, where he was second. He was immediately licensed in Hanover, Oldenburg and Westfalia.
At the 2006 KWPN Stallion show, Rousseau was represented by 11 sons from his first crop, the most of any sire that year. His son, Wamberto was champion of the licensing before he too was sold to Harmony Sporthorses, where he joined his sire in the stallion barn. He went on to win his performance test in the United States in 2007, but like his dad, does not seem to have done much after starring as a youngster.
The following year, the Rousseau bandwagon was in full swing when another son, Zagreb – later named Blue Hors Zack – was named champion stallion, and topped the sale when he was bought by Danish stallion master, Esben Møller.
And yes, the following year, another son, Ampère, made it three in a row, and he went on to pass his performance test with record high scores.
By 2007, Rousseau had the highest dressage index of any of the KWPN stallions, 181, with many of his daughters starring at the mare shows. He was also starting to gain recognition in Germany where his son, Fiorano was the premium stallion at the Hanoverian licensing and then topped his performance test at Münster-Handhorf. Another son, Fürst Rousseau, also topped his performance test.
His son, Ampère adds to the mix two more of the golden threads of Dutch dressage breeding: Flemmingh and Amor.
When the famous Dutch breeder, Wiepke van der Lageweg purchased Flemmingh as a colt in Holstein, I am sure he had jumping on his mind, certainly that is what his pedigree would indicate, and sure enough at the performance test in Holland, one of Flemmingh's three scores of 9, was for jumping, and when he was advertised in the 1992/93 edition of The Leading Sires of The Netherlands, he was pictured over a jump. But it turned out that his progeny excelled in the dressage arena, and Flemmingh became one of the most important of the early dressage sires in Holland. Two of his stallion sons – Krack C and Lingh – were members of the Dutch dressage team, and his qualities as a dressage sire were even recognized in Germany, where in 2009, his son Fairbanks, was champion of the Oldenburg licensing, and sold to American Hanoverian breeder, Doug Leatherdale for a sale-topping price of €250,000 to stand at Hengststation Meyer.
Ampère's dam is a grand-daughter of Amor who was imported from Holstein at the age of three. Since Amor lived from 1959 to 1990, he was enormously influential, and Dutch pedigrees are dotted with his name, often several times on the same pedigree. The famous Dutch breeder, Huub van Helvoirt, based his breeding program on two Amor mares – producing amongst others, the great sire, Jazz, on this mare base.
Ampère's first crop produced five sons who were selected for the KWPN Stallion licensing in 2012 and they were a lovely line of horses – really stamped with the mark of their sire. Three of the Ampères were approved for performance testing, with Excalibur (Ampère / De Niro / Lord Sinclair) one of the seven into the championship.
Dutch equestrian journalist and breeding expert, Dirk Willem den Rosie nominated the Ampères as the stand out group of the 2012 stallions:
"We thought we had lost Ampère but we haven't because we've seen a couple of his best sons here. It shows that Holland has the ability to draw the best lines and the best genes to its population. Although we lost our Ampère, now we have a couple of sons to equal him – maybe they are even better than him."
Certainly Ampère is much appreciated in his new home in Sweden. According to Jan Brink: "One of his greatest strengths are his amazing gaits with great movability, a lot of air, always uphill and with his hind-legs very well placed far in underneath his stomach."
"His offspring seem to have inherited his great gaits as well. Considering the fact that he is still so young and his first crop are just this year getting old enough to be tested as breeding stallions it is quite unique that he has already three approved stallions in the KWPN. Further to this one of his foals was sold last year at the Vechta auction in Germany, for not less than 200,000 EUR – a record amount for a foal, which I believe speaks for itself. I myself have never seen a foal move with such gaits. Even on the two weeks old foal on our webb tv from our stallion show you see an Ampère foal already showing sequences of a great canter with his hind-legs well placed far in underneath the stomach so I believe that despite his young age the pattern seems to be very good gaits with great freedom of movement."
(Check Ampère and his progeny at the Brink's stallion show by visiting www.tullstorp.nu/en )
And what sort of mares fit best with the stallion?
"When looking at mares and bloodlines I believe that his great gaits can be an asset for all combinations. However, it should be kept in mind that he is of medium size so depending on what size you wish for the offspring, it can be an advantage to take a medium or large mare."
The official KWPN report on Ampère's progeny notes:
"A uniform collection of riding type foals with more than sufficient development and more that sufficient rectangular-shaped conformation. The trot shows good stride length and very good body use. The foals pick up the canter easily and show good stride length. They move uphill with abundant balance and carriage, and they collect well."
And the breeding recommendation?
"Ampère can benefit dressage horse breeding by passing on very good movement. He is best paired with long-lined mares with long and correct front leg conformation."