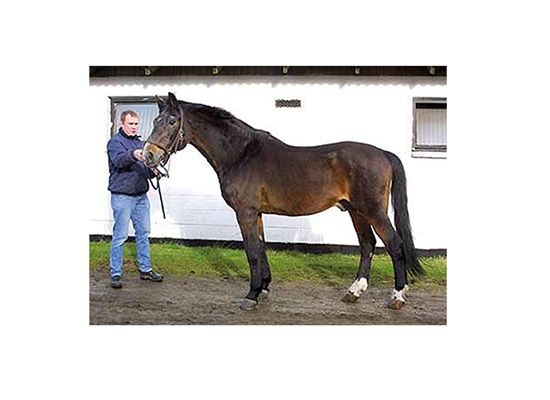 1972 – 2003 165 cm Dark Bay
Bred by Priess Stutteri, owned by Georg & Klara Møllebjerg, Herning, Denmark
Approved Danish Warmblood 1975
Things were just a little different in Scandanavia when May Sherif began his career, and became the first Danish stallion with an international reputation. May Sherif lived all his life in Denmark, except for a short period breeding in Finland in 1987. His breeding is a real mix: Trakehner, Holsteiner, Thoroughbred, Trakehner, Hanoverian and Swedish Warmblood!
His sire, Elizar is a Swedish Warmblood. Elizar's dam, Eliza was imported to Denmark from Sweden, in foal to Unikum who was by the Thoroughbred stallion, Traumgeist.
May Sherif's dam, May Kignaes is by the Hanoverian stallion, Securius (by Sender from the influential Trakehner line of Semper Idem) out of a Holsteiner mare, Marinka. May Kignaes is also the dam of two other stallions, May Black and May Star.
Despite competition from imported German and Swedish horses, May Sherif won his performance test for the Danish Warmblood Society in 1975. May Sherif started out covering around 150 mares a year, a very high number at the time. They were mainly Oldenburg mares of the older type associated with the smaller of the two Danish Warmblood associations of the time, the DLH (this group later merged with the DSA which had mares more of the Hannoverian and Trakehner breeds, to form the current DV – or DWB, Danish Warm Blood in English.)
Despite the fact that he went on to compete at Prix St Georges level, May Sherif lost popularity after a few years at the top and he did not cover many mares in the 1970's and 1980's. However by the end of the 80's his value became apparent and the number and quality of the mares he covered improved. Not that this was an unmixed blessing as he seems to have crossed better on the old fashioned mares who came to him in his early less popular days, and was less successful over the more modern mares that came to him once he was fashionable.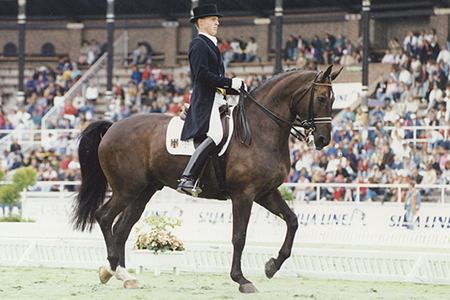 Andiamo and Sven Rothenberger
In 1988, he had two of his progeny competing at the Seoul Olympic Games, Andiamo, then ridden by the Swiss Otto Hofer, and Matador with Kyra Kyrklund. And suddenly May Sherif was not only popular in Denmark, but he semen was being sent all around the world.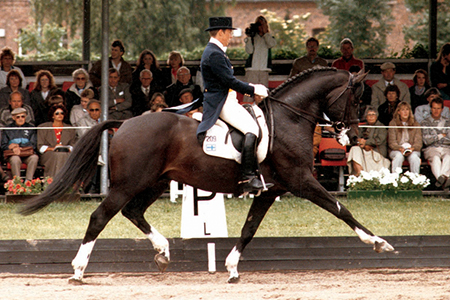 May Sherif's greatest son – Matador with Kyra Kyrklund
Matador went from Kyra Kyrklund to the Japanese rider Yoshinaga Sakurai, who took him to the Olympic Games in Barcelona. Then the Japanese owner leased him out to the Böckmann Stud in Germany, before he returned to Denmark and the stable of his sire, where he died in 2002.
Most of May Sherif's Danish foals born in the 1990's were exported to dressage riders all over Europe, including such well known names as Austria's Sissy Max-Theurer.
All May Sherif's best horses all seem to have come in his first five years of breeding. Aside from Matador (born 1978) and Andiamo (born 1977) – both of which went on to win World Cups – he has had only two more international dressage representatives: Venetia (born 1979) who represented Austria at the 1993 European Dressage Championships, placing 12th with Peter Ebinger, and Mester Mouse, born in 1980 a member of the British Dressage Team at the 1996 Atlanta Games with Joanna Jackson. Another son, May Invest was an international showjumper for the German couple, Peter and Helena Weinberg.
According to Per Høst-Madsen, the press officer with the Danish Warmblood Association: "May Sherif horses have always been very difficult to ride. They have a very difficult temper and it is typical that they never win at beginner level competition, but when it comes to the Prix St. Georges level and higher, then they start to win. A May Sherif horse needs soft riders with much patience. That also made two factions among the riders and bereiters: one group consider the offspring to be wonderful and talented and the other hates them, mainly because they could not force the May Sherif horses in the training. Softness and patience was necessary. If you reach the soul of a May Sherif horse he will fight for you and to his utmost to serve you. They really have the fighting spirit built in. Mares with May Sherif as father or mother's father are still very popular as broodmares. The best results have been achieved on mares with a high percentage of Thoroughbred – 50% or even more. May Sherif is not used so much anymore because he is a little old fashioned in type, but most competition dressage riders are interested if May Sherif pops up in a pedigree."