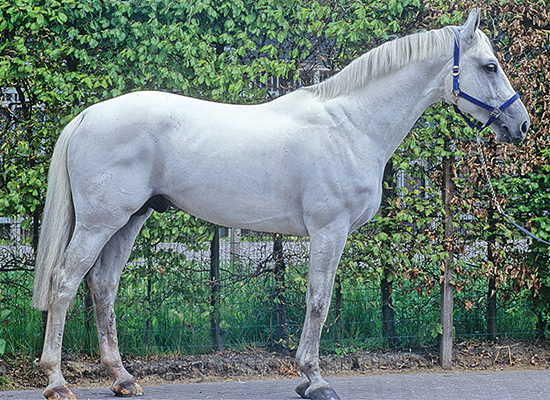 1988 – 2006 Grey 1.68 cm
Breeder: H. Potze
Mr Blue was initially not selected by the KWPN Stallion Commission to go to the performance test, although the official reason seems lost in the mists of time.
When I visited the stallion at Stal Burg back in 1996 and interviewed his owner, Sjors Burg, he told me that the stallion had been rejected because he was a 'roarer'. Whatever the reason, when Mr Blue started to star in Grand Prix competitions, he was licensed, and then to complete the process of re-habilitation, was posthumously awarded Predicate status at the 2011 KWPN stallion show, five years after his death in 2006.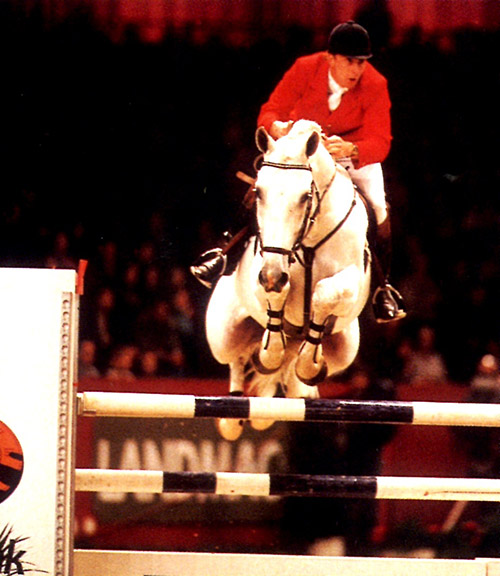 Mr Blue and Bert Romp at Maastricht 1997, where they were 2nd in the Grand Prix behind John Whitaker and Grannusch
Perhaps rejection runs in the family, since his sire Couperus was 'exiled' to Indonesia after producing a mere 24 foals in Holland, and as the Indonesian climate is not very sympathetic to horse breeding, only produced a few foals there.
Interesting too that Mr Blue's dam sire, Oldenburg (Imperial) was also exiled to the new world, in his case New Zealand. The stallion was bred by Georg Vorwerk, by his Anglo Arab stallion, Inschallah out of a Weinstern mare. In Holland, as Imperial, he sired Zucarlos, who competed at the Barcelona Games with American, Jay Hayes. In New Zealand, Oldenburg was the sire of Internet who was 7th at Burghley 3DE.
As a foal, Mr Blue caught the eye of Philip Wagelaar who each year acquires a couple of colts to prepare for stallion selection:
"I had bought several foals at once, and Mr Blue was one of them. He seemed like a good sport foal, but not an immediate eye-catcher for the stallion selection, although I always had a lot of faith in him. He was a special horse on the ground and had a lot of jumping talent, plus he came out of a really good line."
(Quoted in Mr Blue: Outstanding Sire Awarded Keur Predicate Posthumously, idsInternational, August 2011)
When Mr Blue was five, Bert Romp started riding him and bought a 50% share in the horse. When he was six, the breeder, Sjors Burg, bought a share in him from Romp, and soon the horse was making his mark as an international jumper.
The pair were second at the 1997 European Championships in Mannheim, and second again the next year at the World Cup Final in Helsinki. In 1997, the KWPN approved Mr Blue as a stallion, but the breeders were not interested in the horse, and in 1998, Burg and Romp sold him to the United States, where he again competed with distinction, first with young rider, Elisa Hass, then with Katie Monahan-Prudent, and later with her husband, Henri Prudent.
With Bert Romp in 1996, Mr Blue was 2nd in the Grand Prix of Zuidlaren, Maastricht, Amsterdam, Geesteren and Eindhoven, and the pair were second in the Nations Cup in Rotterdam. In 1997, they were first at the Grand Prix of Berlin, Hachenburg, first in the Nations Cup at Aachen and won the Masters at Stuttgart. In 1998, they won the GPW at Paris Bercy. With Elisa Haas, he won the Amsterdam Grand Prix in 1999, and in 2002, carried Katie Monahan-Prudent to victory in the Nations Cup of Rome.
Sjors Burg was a successful businessman, but he was also a thoughtful breeder he lamented the passing of the old system of one farmer with his couple of mares:
"In my opinion, that was a good selection method, because the farmer had the horses and they had to work. When the mare did not work well or did not have the power there was just one solution, and that was meat, no alternative. Then we moved to a different idea for the selection of mares, thinking in a Dutch way, that the right mare is a beautiful one. The conformation is more or less all we had in mind, then if we saw that the horse could move as well in hand, that was a good one. But that didn't prove anything at all, to just be beautiful, and that was in my opinion, the beginning of the end."
"If we are to be successful breeders, I think we must have mares and stallions who have proven themselves first in sport, then breed. It is not first breeding then nothing, it is first proven at work, and then breeding."
For Sjors Burg, Mr Blue was a real find:
"A young farmer owned him and he had a problem. The stallion was jumping so high that the man kept falling off. So he said, 'I will sell you 50% because I cannot ride him'. So we own 50%."
He told me about Mr Blue's initial problems with the licensing commission:
"Mr Blue was not approved because when he was two years old, he had a wind operation! But now the possibility is that because of his success in showjumping, he is so extraordinary, that they will take him as an approved stallion. But because we are the owners, we can breed with him."
"Mr Blue was selected for Atlanta, but we felt because he is eight years old, it is nice for the team but as owners, with the climate in Atlanta, he is too young, it is too dangerous."
He retired after a season with Henri Prudent in 2003, and was sold to the GFE breeding syndicate in France, and for the first time, covered a decent book of mares.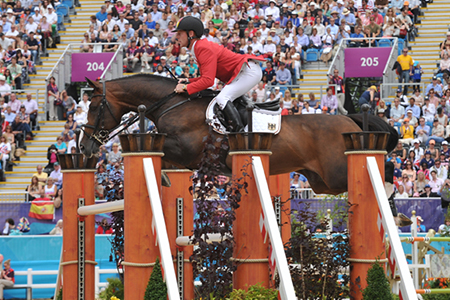 Plot Blue and Marcus Ehning 
The results have been exciting. Plot Blue (out of a Pilot mare) who carried Marcus Ehning to victory in the 2010 World Cup final in Geneva is perhaps the most successful but other Grand Prix competitors include: Casper van Spieveld (Capital) and Jos Lansink, Okometa (Wolfgang) with Jurgen Stenfert, Maikel van der Vleuton's twosome, VDL Groep Parmala Douche (Voltaire), winners of the Grand Prix of Amsterdam, and VDL Groep Sapphire B (Grand Veneur), BCM Van Grunsven Simon (Polydox) and Jeroen Dubbeldam, winners of the Calgary Grand Prix and 3rd at the 2011 World Cup final and now competing successfully with Beezie Madden, Blue Curacao (Dark d'Amour) with Marilyn Little-Meredith and VDL Groep Santana B (Almé) the winner of the Grand Prix of Gelderland with Leopold van Asten.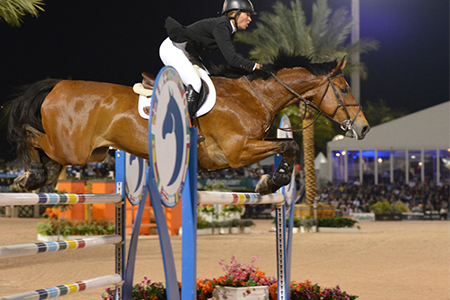 Simon and Beezie Madden 
Two of these international jumpers, VDL Groep Sapphire and VDL Groep Santana B, were bred by Sjors Burg – and both of them out of his French mares – one Grand Veneur, one Almé – which vindicates his view in 1996:
"I went to France because there I could trace the families. You look at the wonderful book of Arnaud Evain on the French mare families, and all the information is there. The German Holstein breeders have more or less the same system. So you can find the families where horses are produced who have done a lot, with good movement as well. We went for the top blood lines in France – Ibrahim, Almé, Jalisco, Quidam de Revel, Narcos."
Mr Blue's daughters have shone in the Dutch mare inspections. Thirty seven have been accepted into the Studbook, and more than half of them boast a conformation predicate: eight ster mares, six provisional keur mares, three keur mares and two elite mares. Twenty two of his daughters have earned the sport predicate and 13 the PROK predicate.
(My thanks for Charlotte Dekker of the KWPN for this explanation: PROK stands for Project Röntgenologisch Onderzoek KWPN (Project Radiographical Research KWPN). The breeding purpose of the KWPN states among other things that it wants to breed healthy horses. The predicate PROK is awarded to mares that comply with the radiographic conditions of the studbook. For the breeder this entails that his mare has good bone quality and is therefore able to pass on a good basis to her offspring. The studbook has acknowledged veterinary surgeons throughout the country who can make X-rays. When the X-rays have been judged and approved of by an independent KWPN-committee, the PROK-certificate can be given.)
Arie Hamoen, the Chairman of the KWPN Stallion Selection Committee, explained the reasoning behind the kuer award: "One condition for the keur predicate is an index of great that 140 and a reliability of more than 85%, and Mr Blue more than meets this condition. In addition, he scores about average for his ability to pass on conformation."
Over in France they are equally enthusiastic. Arnaud Evain is one of the directors of the French breeders' group, GFE, and it was in their ownership that the grey stallion spent the last years of his life.
What do you think were the qualities that Mr Blue gave his progeny?
"Brain, brain and brain. On our farm my wife, Henriette, has been breeding for forty years now. She started with mares with jumping ability, then we tried to fix this jumping ability by using good stallions and checking the offspring in the sport. Then we worked on conformation, to combine this jumping ability with the best conformation and now we work on temperament. We know that most of our mares produce nice horses, and now we ask, will this stallion make more rideable horses than that one? It is the concern of many breeders, to produce horses that are going to perform."
"To perform today you need scope – not as much as 30 years ago – you need careful horses with blood, and clean and blood generally makes horses a bit spooky, so now we have to combine careful and blood with temperament, for the showjumping, and that was Mr Blue's number one quality. That is why you see so many Mr Blues in good quality, international competition… that is why you see so many amateurs riding Mr Blues… you see many people moving up in their international career, thanks to a Mr Blue horse."
"I wouldn't say he is bringing the cutest head, he doesn't produce the cutest mover, not the loosest mover or the loosest free jumpers, but when you see them when they are six or seven years old, they just enter the ring, keep their balance, keep their canter engine clean."
He was operated on for his wind, does he throw horses with wind problems?
"I have never heard that. Wind is a problem that can occur for many reasons, including just a small sickness. I have never heard that he produces wind problems, he doesn't seem to have any pre-disposition to that."
Where do you think he got his quality, because basically his pedigree is not very exciting, the Dutch thought so little of his sire that they gave him to the Indonesians…
"I think they sent his father to Indonesia after he bred for one year so before they saw the foals. I think they just had a nice offer and accepted it. I don't know if Couperus would have been a good stallion or not, we'll never know. The breeding is not bad, if you look at his dam line, you see many good winners, it is just a small family. A bit like the family of Quick Star, in his family there are not many winners, but the proportion of winners in a small family is quite good: with his family you cannot fill a page of a catalogue, but the few you know, they are good enough."
Was there a particular sort of mare that Mr Blue worked best with?
"Mr Blue's weak points in terms of conformation were breeding sometimes horses that were a bit short, good bone but not the supplest movers in the world, so the mares we were using with him were mares with blood, supple movements, and even when they were not very strong in the skeleton, that was fine because Mr Blue was bringing this base of strong horses."
Would he have been as successful in Holland or did he need the French mares?
"He needed the French mares because he was just the opposite of what the Dutch are looking for. They look for the exterior, they look to the type, and he was not accepted because his type was not good, and then when he came back after his sport career, his owner was not from the group of the stallion owners. We were lucky to buy the horse for GFE because France was the best market for him: in France for a long time we have been paying attention to the quality of temperament in competition for our sport horses. Now he is one of the most popular horses, and I have offers for the last straws I have from Dutch and Belgian breeders every day – now they realize that they need that in their breeding as well – but don't try and tell them…"
Mr Blue may well have produced a worthy successor – his KWPN stallion son, Zirocco Blue VDL, out of Licorne des Forets by Voltaire. Born in 2004, the stallion has had a spectacular start to his jumping career with Jur Vrieling. In 2012, the pair won the Grand Prix of Copenhagen, and were members of the winning Dutch nations cup teams at Gijon and Copenhagen.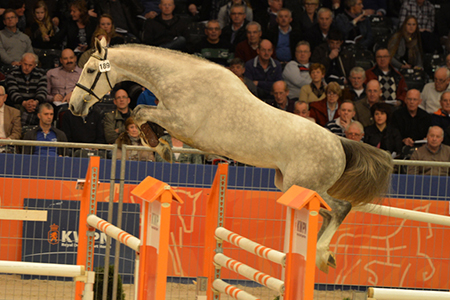 The influence lives on, a Mr Blue colt at the 2013 KWPN licensing 
On the WBFSH jumping sires rankings for 2013, Mr Blue is in 8th place – up from 19th the previous year. On the KWPN breeding values for 2014, Mr Blue is in 12th place on the rankings of stallions with a reliability over 90% with a value of 142 (91%). He has 385 horses in the Dutch studbook, over the age of four, and of these, 142 (36.88%) have made it to the competition ring.
On the 2015 rankings, Mr Blue has dropped to 28th place, with by far the most of his points accumulated by Simon and Zirocco Blue, still he has 20 representatives contributing to his points total.
On the 2015/16 KWPN breeding values, Mr Blue is in =11th place on the rankings of stallion with a reliability of 90%+, with a value of 143  (93%). In Holland he has produced 477 progeny over 4 years old, with 205 registered for competition (42.976%).
Ten years after his death, Mr Blue is in 14th place on the KWPN breeding values for 2016/17, with a jumping value of 139. He scores 104 for conformation, 98 for loose movement and 109 for freejumping. In the Dutch book he produced 499 progeny over four years, with 223 competitors – 44.68%.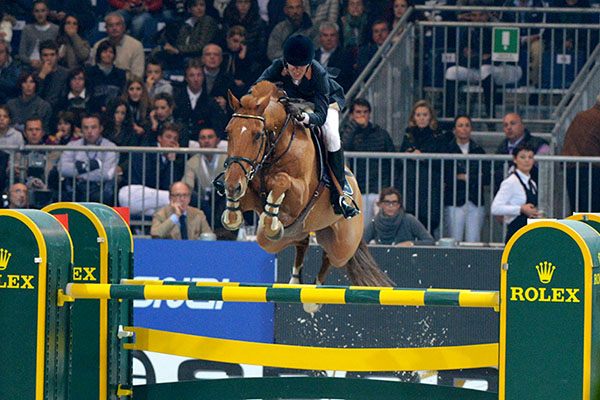 Luciana Diniz and Bluebuster 
On the 2016 WBFSH jumping stallion standings, Mr Blue is in 40th place – his most successful points earner being Bluebuster (Fleuri du Manoir) who competed with Luciana Diniz before going to the Russian, Valdmir Tuganov.