German showjumping ace Otto Becker has taken on one of Germany's toughest jobs – coach of the showjumping team at a time of turmoil and crisis! When he decided it was time to retire his great showjumping horse, Cento – still at the top at the age of 17 – Otto Becker started thinking about himself, he had just turned fifty, was it time for him to change course?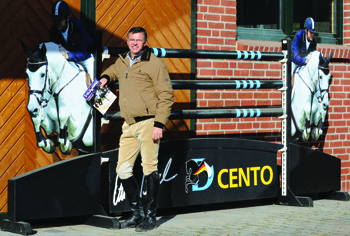 "I became the Germany coach after the Beijing Olympics. The previous trainer, Kurt Gravemeier said his contract was finished and he didn't want to do it again. They were looking for some-one, and lots of people said I should do it, and I was thinking I had turned 50, it was not my plan to become coach, but on the other hand, we had said farewell from the sport to Cento during the WEG at Aachen, he was 17 but still at the top – two months before he won a Nations Cup with the team – and this was the right decision. So I started to think if maybe it was a good moment for me to retire, on the top."
"I had had a very good year, I had won six Grand Prix, so I thought maybe it is better to retire now rather than after a couple of years, when you are frustrated because you are not going so well. I had super years, I had won a lot, I was satisfied with my career. I thought this is a good chance to finish my career at the top and at the same time have a new challenge. I knew it was difficult times after the Olympics but whenever there were problems I was not afraid to deal with them, this is my way, so I decided to do it. I was lucky. I had started out as a wine maker and my hobby of showjumping became my passion, and I love the sport, and now I have the chance to work together with the best riders in the world at the top level."
Otto was following in a family tradition when he started jumping:
"My father was a rider, a national rider up to 1.40/1.50, we always had horses in the family, so I grew up with horses. We lived an hour from Frankfurt, in south Germany. I started to ride there. I was an amateur, at home I worked half as a wine maker and half riding."
But suddenly the big break came when Otto was offered the plum job, working with Paul Schockemöhle:
"At home I rode in a few international shows, but my real career started in 1989 when I went to Paul Schockemöhle's place. This was another level, I started riding international shows and championships. I had better opportunities, better horses, better shows. It went quite quickly. In that first year I rode at the European championships, the following year, the World Equestrian Games, that was when my real career in the sport started."
"From 89 to 92 I worked with Schockemöhle, then after the Barcelona Olympics I left and went to Warendorf, and started my own business. In 1997, I went back to Paul, half and half and I was there until 2004. Then in 2004 we started our own stables here."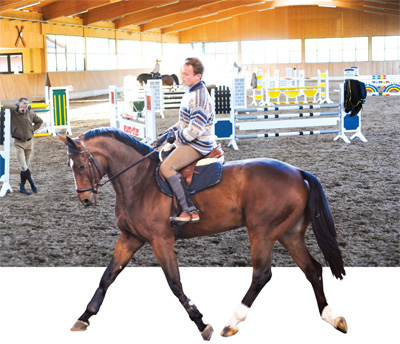 Our 'own stables here' is a state-of-art equestrian facility with a magnificent barn set in landscaped gardens, a huge outdoor, and wonderful indoor arena…
Would you describe yourself as a naturally gifted rider, or were you one of the riders that had to think and work to get there?
"I am more of a natural rider with natural feeling. I had to work a lot on my own and always tried to find a way to fix things. I think I work in a natural way. For sure, I try to think a lot and to improve, but I think I am more a natural rider."
Are you a theoretical coach or a coach that is more practical?
"More practical. I am not so good in the dressage I must say, more the jumping and the course. Okay all my horses, they did what was necessary, but there were other riders who could ride better dressage, but I think I have a good feeling for rhythm and this helps a lot. I took time with all of my horses and I built them up, and I think there was always a good confidence between the rider and the horse."
Has your style changed in your time in the sport?
"No, I always had a good rhythm and I think right from the beginning I rode in quite a modern way."
Is there a German style of riding – like the American style?
"I think our style of riding is different, there is more dressage, more control, the Americans – not the good ones – but the majority, they ride more forward. They never think when you have five and a half strides, you have the choice five or six, they always go in five. In Germany I think there is more basic work, more dressage work. Okay now they are coming closer, the German riders are more modern and the Americans learn more control – the good American riders they have control but in America it is more head up and more forward, and in Germany we try a little more head down, more dressage, more control."
And now the horses are more Thoroughbred, does that change the style?
"Definitely, in the last 10-20 years, it changes a lot with lighter horses, which is why our way of riding is a little closer to the Americans. Before we has this heavy horses, and they needed more dressage than the horses now. For me, and my way of riding, this new style of horse is good, because I always rode like this. I rode all sorts of horse, but I always liked the Thoroughbred. I think also the course building changed, everything is much lighter, and that changes everything…"
And yet Cento came from a power line, from Capitol, not so much Thoroughbred?
"Yes, on the outside he might be the older type, but inside, he was like a Thoroughbred, that is why he was so careful, right till the end, and so sensitive. Inside he was like a Thoroughbred."
How old was he when you started riding him?
"I rode him once when he was five, then we agreed that I would get him when he was six, at the end of the year. I rode him for twelve years. Because he was so sensitive, when he was seven he went quite quickly and it was a big surprise when he won a big stallion class in France. From the beginning, whatever the course, he was most times clear. But with him I really took time, until he was nine or ten and he was consistent at the really big shows."
What was the secret to keeping him going in such a long career?
"When I was sure he was good, I took time, even if it took a year longer. I had the feeling he was not ready, finally when he was ten, he was really consistent. Before that he was good. but I had the feeling he was a bit weak and it was too early, so I took time and waited… With all my horses I took time and gave them the chance to grow up."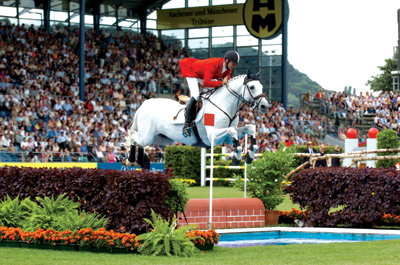 Have you ridden many of Cento's progeny?
"Yes, they are all the same, they need a little more time, but then in the long run, you have them longer."
Are there any particular mares Cento works better with, any particular bloodlines…
"Not so much bloodlines, but mares with some blood, Thoroughbred."
Do you see any big changes coming in the sport of showjumping?
"Not big changes… for the German team it is difficult to keep winning so much because the rest of the world is closer. There are a lot of other nations competing, and buying horses in Germany, and they have learnt to ride the horses. There are a lot more good riders than before all over the world, so it is nearly impossible for Germany to win as much as in the past. When you look back at the past 20 years, and how many medals the German team won, it is amazing."
"The biggest changes have been in the last ten, twenty years, from the bigger more heavy horses to the Thoroughbred."
What can the course builders do? They can't become more technical?
"It's a good question – after Hong Kong, we said, the cups should not be so flat any more. It was too much when you touch a pole and it falls, you should be able to touch a little bit. For the course builders it is difficult because the standard is so high, there are a lot more good horses, a lot more good riders. At these big shows, it is tough, all over the world. In the past it was just two or three countries."
Is the sport better now than when you started?
"It is better now. In my opinion everything is more professional now. With the vets, with the feed, with the transport, with the riding – it is now a professional sport and the standard is higher. When you look at the courses in the older times, maybe one or two fences were bigger, but now the material is much lighter and it is much more technical. When Alwin Schockemöhle won at the Olympics there were big fences, but he had time between the fences, there were no technical problems. It has changed a lot."
Has it got too extreme, that you yourself are worried that you are feeding one of your horses a special feed because it has an allergy and that might be breaking the doping regulations?
"There are two sides. Now the analytic methods are very sensitive, and they find very small quantities, but when they do find stuff in the food, it shouldn't be there. For the horse, we need rules. When the horse is lame or there is a problem, the horse should not be ridden and should not go to the show. On the other hand, a horse is an athlete and it should be able to treat a horse like an athlete. We are responsible for an animal and we should accept this responsibility. At the same time, it should be treated like an athlete, still we should not take a lame horse to a show. The analytical methods are so sensitive now, and we have to live with that, we have to improve in all the levels. So when there are so many different special feeds on the market, then we should be careful – okay it should not be on the market if there is some illegal substance, but we too must be better, we must know more about what we give our horses. It's a process that keeps going. You have to check what is right and what is not right."
For a long time in Germany, the team has been dominated by a few very great riders, is there a new generation of jumping riders waiting in the wings?
"We try to build them up. When you have riders like Ludger Beerbaum, Marco Kutscher, Meredith Michaels-Beerbaum, they are world class and so it is hard for the young riders to be on the same level, but this is our future. This year we have started and we are trying to give the new riders chances, like Thomas Mühlbauer, he was super in the Europeans, he was fifth, he had the chance and he took it. It is the same Carsten-Otto Nagel, he took silver at Windsor. We want to give everyone a chance. I know we need the experienced riders, and we also need the younger riders, but those younger riders have to put a little pressure on the older riders."
You are running special clinics for the younger riders?
"We start now in winter when we have more time, it is too hard in the summer season with the show season. We provide information, special training in dressage, about nutrition, about horse care, and we hope they improve."
Is it very hard for the young riders to get a good horse because the horses are so specialized and so expensive and the top riders have sponsors who will spend millions…
"For sure this is a problem. Not just for the younger riders but for all the riders. We have good breeding here, and lots of international riders and buyers come and spend a lot of money – and the German breeders have to sell because it is business. But we have to try and keep more horses here. Even a world class rider without a top horse, has no chance. But for the young riders it is even more difficult – the biggest step is from young riders to senior. Normally they need a couple of years before they make it, so that is difficult enough, but if you add the horse problem, then it is doubly hard. That is why it is good to have this group for the Prospective Riders to help them. We also have this new category, under 25, and there are special classes for them at the big shows – so we see them – and they can ride with the good riders. So our system is, up to 21, then 21 – 25, and the best of them are in our Prospective Group where they get special training."
"Three weeks ago we had a meeting of all the German trainers to try and improve the whole system. We have to make sure that our riders learn dressage, how to work with the owners, with the press, sponsors, feeds… there are many things. In my time if I rode a course well, and I was good to the fences, that was okay, but now that is not enough, there is a lot more to learn and do, and manage. That is why so many riders – dressage and showjumping – come to Germany to learn this management, because we have a good system, and we have good shows here. They came here and learnt, and that is why the standard world-wide is so much higher, now we have to make our system even better, so it fits to the present."
Looking to the WEG in Lexington, can you win gold?
"It is like this year at the Europeans. We were one of the favorites, we have good riders and horses, and for sure they will be hot for Lexington. But you saw it at the Europeans, three rounds, and in the second round with the last rider, we could be first or we could be sixth, this shows how close the competition is. For sure on a good day we can win a medal but there are seven, eight, nine other nations that can also do it. Ten years ago, there were three nations, now you have eight or nine. If we have a good day, we have a chance, but there are other nations that are very strong."
There are still unresolved issues between the German Federation and some of the top riders, but you get the feeling that Otto Becker's relaxed, practical style of management should help get the German showjumping machine back on track… and maybe, even in time for Lexington.