Jo Bridgman is legendary in the eventing world, she is the 'come to' person for many of the world's top riders when they are looking for New Zealand Eventers.
She helped Andrew Hoy find Kiwi, sold her own horse, Bandolier – who she'd ridden in the New Zealand team at the World Championships in Kentucky 1978 – to Lucinda Green and he was then ridden by David Green as Mairingi Bay. She sold Eyespy to Mark Todd and the pair went on to win individual bronze at the Sydney Games. More recently, Jo sold Parklane Hawk to William Fox-Pitt.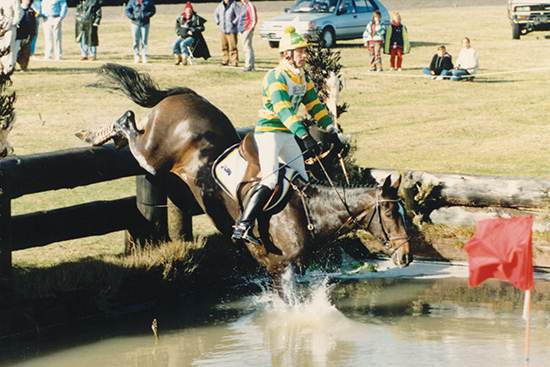 The first horse Jo found for a client – Kiwi and Andrew Hoy. Not a bad start!
It really all started with Kiwi, and more of less by accident…
"Andrew came to stay with me, and there was this Thoroughbred next door by Old Soldier, a famous old jumping line. The lady was a dressage lady and she was a bit scared of the horse. I said, come on Andrew, we've got to go and look at this horse… She wanted like five grand for the horse, back then that was like fifty grand! He's like, I'm not paying that, come on let's go and look at it – I bet you it jumps."
"It was a really nice type, we got it back to my farm and free jumped it, it had never jumped before and it was really cool. I said, Andrew you've got to buy this horse. Nah, I'm not paying five grand. You tight arse, you've got to. He ended up dealing with her direct, and charming her, and he got it for two or three grand."
"He took it back to Australia and I went to stay with him at Albury, and I was the first person to jump it – I jumped a log on him. We went out hacking, and he said, jump that log. That was its first jump."
"I guess how it all started was I sold Trumps to the Italian eventing team. It was a lovely Imperial Seal horse, at bit big for me, I was showjumping him because I'd stopped eventing at that point. He was an amazing jumper and a beautiful mover. I remember Trudy Boyce saying to me, what did you sell that horse for? I told her, and she laughed, you are joking Jo, its worth three times that, why aren't you selling them yourself, you've got all the contacts. That really inspired me – that's all I want to do, I'd love to do that."
"My first big order was from the Mexicans, I sold them six horses, it really started happening after that, people heard that I did it and started coming to me…"
Some of the good ones?
"Gawd! Where to start. Parklane Hawk, I really enticed William Fox-Pitt to buy that horse. I went to England, sat down in his lounge, made him sit down and watch it. I said 'it is too expensive but you need to look at this horse, this is a really good horse.' He sat down and he watched it all and he went really quiet, then, yes I really like that horse but get back to me when the owner gets more realistic on the price."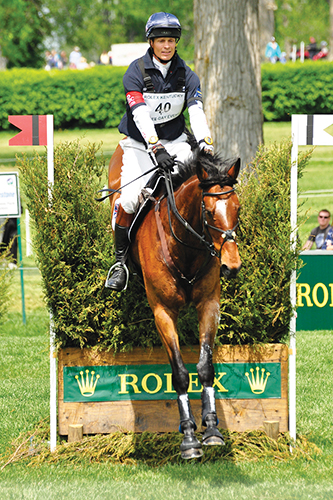 Winning at Kentucky Rolex  – Parklane Hawk and William Fox-Pitt
"Parklane Hawk is by Grosvenor, he was off the track. It was a bolter on the track apparently. It was bought to produce as an eventer, and the lady who bought it, gave it to Mathew Grayling. He nearly gave up on it at one point but he persevered and did an amazing job on it. It was a tough horse, very tough, but the rest is history isn't it. He got it to three star level. When it was only eight he took it around the World Cup class at Kiki, and that was the video I had to show William. It went really fantastic that weekend."
"That was its last actual event, and by the time I went to England and showed him the video and got it vetted, it was quite a long time, so the horse hadn't been competed for months and at its first start in England with William, it actually did a rotational fall. It was so fresh and full on, that it went up some steps and there was a house at the top, it was supposed to be one stride and it bounced it and chested the house and flipped over and threw William – clear thank god – and proceeded to gallop around the truck park. I actually saw videos of other horses going cross country at that event, and you could see Parklane Hawk galloping cross country, reins flying, in the background."
"After that William realized the horse needed a bit of tough love and he took it to an event about every four days for a while, just to get to the bottom of it, then it is was fine."
"I think almost always those top horses have been quirky in some way, they are just a bit more out there. You could almost say, it won't be a top horse unless it is quirky at some point in its life – they just need that edge. It's like the top athletes… Andrew Nicholson."
People say that the day of the Thoroughbred has gone…
"No. Absolute crap. Like Jonelle Price when she was out at Christmas – we won't look at anything that's not 75% Thoroughbred, don't even show us… When Zara Phillips came out she wouldn't look at anything that wasn't full Thoroughbred. Even Stuart Tinney has said to me in the past that his ideal horse would be a Thoroughbred but you just can't find them, and he does really suit riding Warmbloods anyway, he's such an amazing rider he is able to squeeze everything out of them. Look at the results, Thoroughbreds like Promise and Lush, they are New Zealand Thoroughbreds that have done well recently. Look at the dressage scores they are getting now, they are pretty hard to beat. They've got really good later in their life, I think it is just a strength thing with their backs, their muscles. Thoroughbreds aren't bred for dressage, they are bred to gallop, and it takes a long time and correct training to develop that strength through their backs to do the more advanced work."
Are you a bloodlines snob?
"Not a snob but it certainly does make you sit up and listen if you hear certain names. I sold a four year old the other day out of a Grosvenor mare and it was easy to sell because it was out of a Grosvenor mare. It was a very nice horse, but when I looked up its breeding I went OH! – that's a good marketing tool, people do know that name and generally they are very nice horses. That holds hard those good old breeds, they always shine through, In the Purple, Westminster, Dusky Hunter, Head Hunter…"
Do you like to see Hula Town?
"At one point I remember looking back at the old 3DE event programs at Taupo and there had been so many Hula Towns competing, I don't love them but they have been a good consistent breed for eventing.'
Do you like to see Aberlou somewhere there?
"That's fantastic, it is just a tough good old amazing line."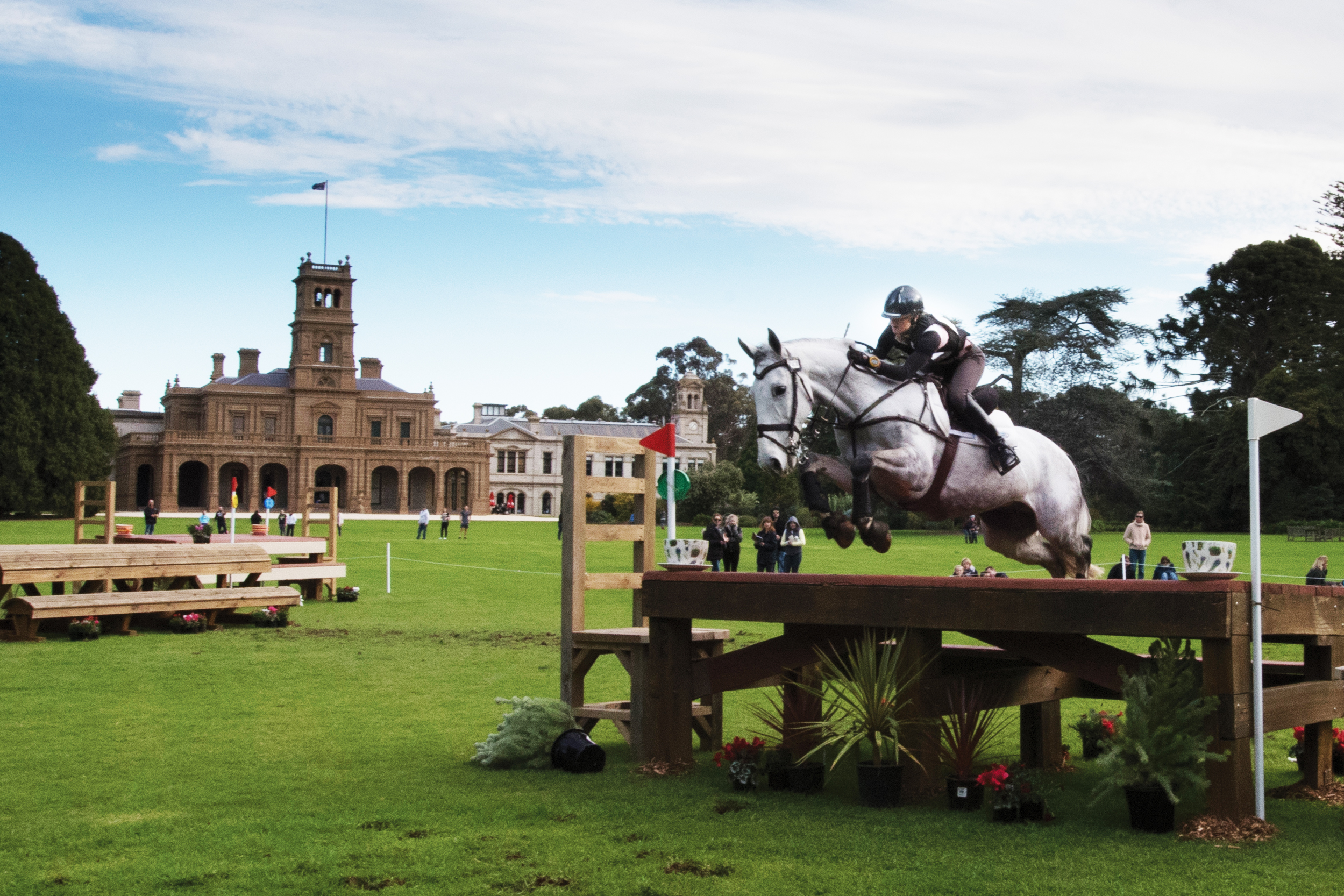 Kirby Delamont and Topper II at Werribee 3DE – the grey was bred by Jo by her stallion Grasshopper out of a Brilliant Invader mare. Photo: Kele Maher
What do you look for?
"It depends on who I am looking for. I get juniors, amateurs, riders wanting a horse coming off ponies, you've got to be really specific. Kids who have been riding ponies, that first step onto a hack – that is not going to be their Olympic horse. But then of course, my favorite is finding for the top riders. I'm always on the look out for that horse with upper level potential, four-star potential horses really excite me."
Looking at the horse's standing up – is that important to you?
"They have got to be a nice model of a horse there is no two ways about it, they've got to just have the body. I can't explain it, I don't even know what it is I like – they've got to take your eye. A horse can have a plain head, it can be a bit skinny, but it can still take your eye, and I am sure that it is athleticism that gives it that… I'm not talking white socks and pretty face, I'm talking about when they get moving, there is an athleticism which takes my eye. That's really important – some horses are just athletes and you see it when they move. I like a really kind eye, they've got to have a good eye. It's that generosity that makes them. And they've got to have a good brain, no matter how fancy they are, they still need a brain. I'd rather have a horse with slightly less talent and an amazing attitude and brain, than something that is super and incredible and just doesn't want to be generous. They have got to want to do it. And they have got to have good feet, especially if they are Thoroughbreds."
---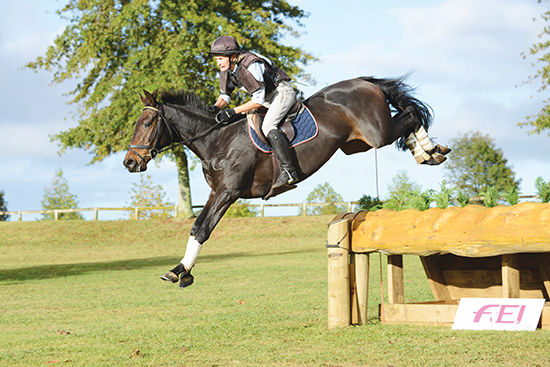 JO THE COMPETITOR
"Bunny Hop the mare in this photo (photo: takeamoment.co.nz) has interesting breeding, 7/8th TB. She is by Grasshopper, my stallion ( just put to sleep 4 weeks ago sadly). Grassy was by the German import to New Zealand, Oldenburg (by Inschallah). Grassy's dam, Inca was by Dusky Hunter (Head Hunter) out of Carabuss a top steeplechase mare."
"Bunny's dam Sophie was out of my good Brilliant Invader Thoroughbred mare and by Le Roux who was sold to USA as a Grand Prix showjumper with Butch Thomas. Le Roux is by Silent Hunter (Head Hunter) out of Roulette, a famous old Grand Prix showjumping mare. Roulette was out of Ribbon another famous old Grand Prix showjumping mare."