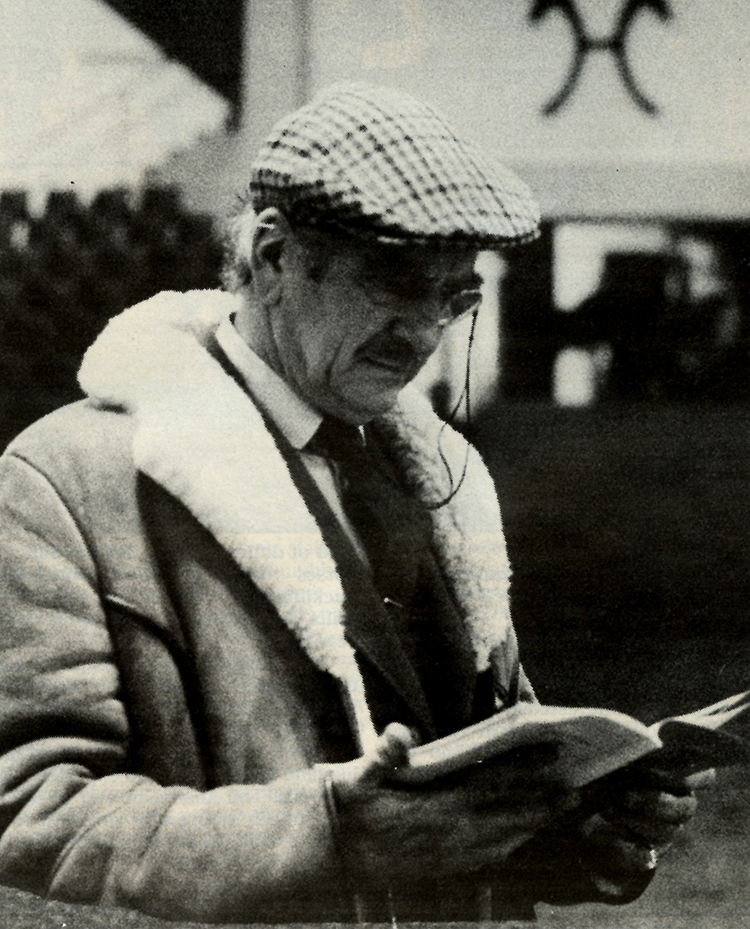 Kalman de Jurenak was one of a number of very talented instructors who came to Australia from Europe at the end of WW2, for a while he was assistant national coach, before he returned to Germany to take charge of the riders at the famous Verden Auction. These days, Kalman has once again returned to Australia…
---
There were a number of gifted horsemen who arrived in Australia after the Second World War, and commenced the long and tortuous process of translating the Classical Principles into the language of the New Land. lt must have been a frustrating and heartbreaking process at times… but the rewards are now increasingly obvious as a new generation of Australian riders shows the benefit of learning from those few brave souls who made the transition from the riding halls of Europe to the bush of Australia. One such horseman was Kalman de Jurenak.
What brought a Hungarian trained riding instructor all the way to Australia?
"Originally I came to Australia as a migrant from Hungary after the Second World War. I arrived in 1950 to make a new life. I nearly went to America before I came to Australia- but in 1949 Hungarian Officers still couldn't migrate to America, and I was still a reserve officer of the Hungarian Hussar Regiment. The job that I was going to accept was the position Bert de Nementhy later took!"
"Australia was a very beautiful country. I started life here on a big station, but after a couple of years I moved to Perth where I was again working with horses."
"In Europe I trained with the Hungarian Cavalry. I had also ridden quite a bit in Germany. I really was perhaps more interested in jumping but I had become interested in dressage early in my career, when I had the opportunity to have lessons with Otto Lorke."
"It is still hard to say which interests me more. The older I get and the more I look back, the more interest I have in dressage. Now in Germany I am very much more involved in dressage – that is one of the most important aspects of German riding today."
"It was so different when I came to Australia in 1950. At first I felt a little bit lost. When I started, after I had finally made a school for myself at Darlington, I had to advertise for customers. My advertisement said 'I take in difficult horses to correct'!"
"Difficult horses to correct in Europe used to be horses that had been ridden incorrectly, were on the forehand, or something like that… I anticipated that kind of difficult horse. But the difficult horses that I got were unrideable buckjumpers! I had a few very nasty spills, and I still feel those spills thirty years later."
"In Australia dressage was non-existent. It was the same in England. They have a tradition of hunting, which is a fantastic old tradition of riding, but in dressage, England had just as little experience as Australia. The Australian way of riding was entirely riding after stock… it took quite a while to awaken an interest in dressage in Australia."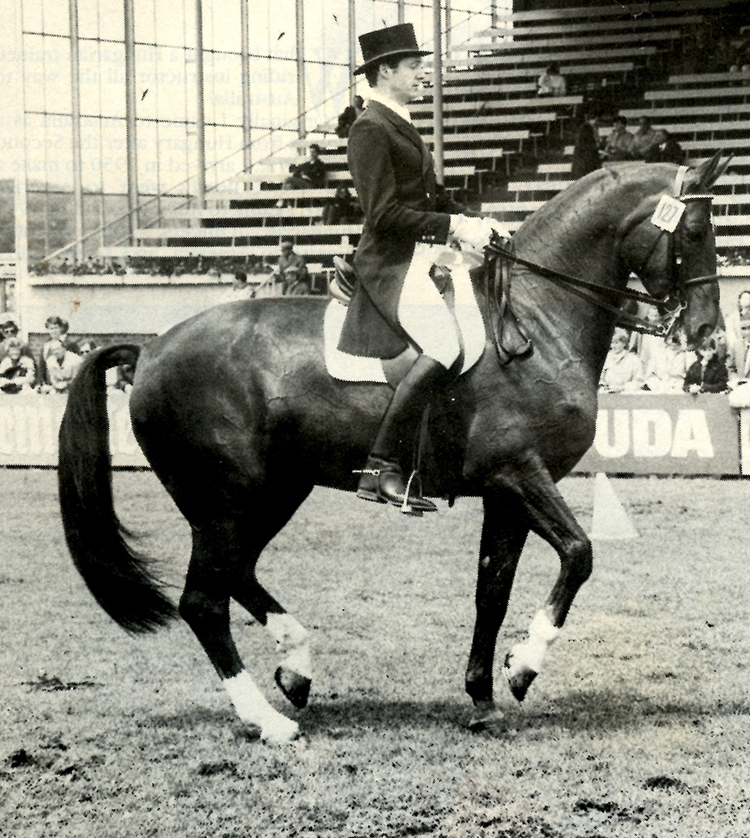 WEINGART AND DR UWE SCHULTEN-BAUMER – This is another fine horse to be purchased at the Verden action. His breeding is Windhuk/Grande/Duellant.
"Franz Mairinger came to Perth and it was through his interest that I took a job with the Equestrian Federation and moved east in 1959 to become a coach with Franz Mairinger at Bowral. I was in charge of the showjumping."
"I very much enjoyed my life in Australia, and I am an Australian citizen to this day. I went to New Zealand for three years, before I was invited back to Germany to take over my present position."
"I am the trainer for the Hanoverian Society in Germany, and I am stationed in Verden. Verden is the marketing and training centre of the Hanoverian bred horses of Lower Saxony. It is a very big complex with a large permanent staff of qualified Bereiters. We are producing the selected outstandingly talented young horses to go to the two auction sales, one in April and one in October."
"Part of my job also involves the breeding programme of the Hanoverian horse outside Germany, and that involves me travelling to England, Canada, America and Australia and New Zealand. I am actually involved in many different fields. My main involvement is in the schooling of the horses at Verden."
"We are quite separate from the performance testing of the stallions. That takes place in Celle, or Adelheidsdorf, and that is a government responsiblity. Where I am based is controlled by the Hanoverian Breeders Association. We work very closely together – as a matter of fact I was only recently in New Zealand with Dr Bade from Celie trying to buy some young thoroughbred colts to be introduced into the breeding programme in Germany."
"We have 15,000 registered Hanoverian brood mares in Germany and 250 registered licenced stallions. The stallions stand at Celle at the Government Stud. During the breeding season they go out to the breeding stations and the mares are transported there when they are in season. Every member of the Hanoverian society is in fact a part owner of Verden." (article continues below)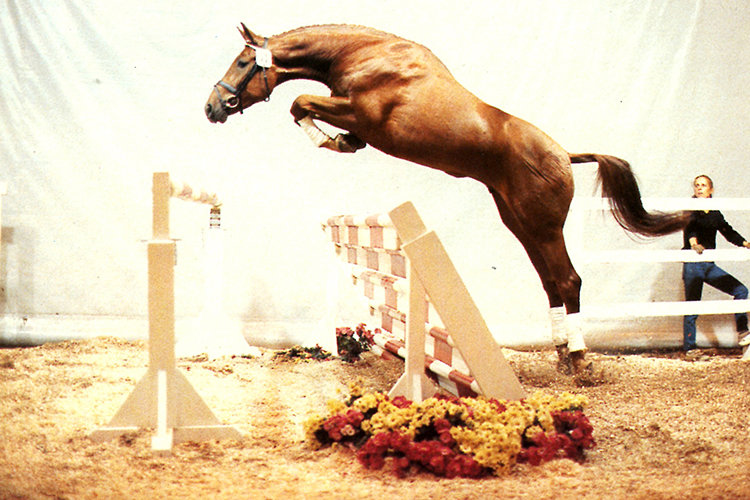 The horse jumping free! The Hanoverian stallion, Generoso by Gropius.
"Every member of the Society is eligible to market their progeny through us. But we are only interested in the outstanding and very talented young horses. So twice each year a commission goes around to inspect the three and four year olds. Sometimes we have from 1000 to 1500 young horses presented to us, out of which we may select 100 to 120 to come to Verden and be schooled."
"The horses that progress – and we pay a lot of attention to temperament as well as movement – those outstanding horses we offer for sale, as three, four or five year olds. The rule is that every horse in the auction has to be in our school six weeks before to be schooled by our professional staff. But if the owner is a horseman and rider himself, he may break him in and ride him for two or three months before the last six weeks."
"The very best horses the owners usually give to us well before the sale and we break them and get them ready. Even though it costs the breeder quite a deal of money, he will get so much more for his horse when it is professionally presented and schooled. So we have some horses for only six weeks, but we have others for five months before the sale."
"The horses fetch very good prices. 8000 German marks starts the sale. At last year's sale the top price was OM 120,000 – or in Australian dollars, S60,000 -while the average price at the sale was OM 22,935. The market is tremendous, very much more than we can produce. It is not just German buyers at the Sale, but the whole world at that last sale, 36 horses, or almost 30% of the whole collection was sold abroad."
"A very large percentage, probably 80%, of the top horses in the world today is either Hanoverian or part-bred Hanoverian. Top horses like Slibovitz, Oeister, Aramis – all Verden horses, all from our establishment."
"The Hanoverian breed was fostered by King George 11, who was Prince of Hannover. His aim was to produce a perfect cavalry horse. In 1985 we celebrated 250 years of breeding. King George started the State Stud, and from then on there was a Registry… the horses were not just bred, but also selected and tested."
"The origin of the Hanoverian horse is a native horse of the district of Hannover. No one is quite sure what that horse was… some people say Cleveland Bay – well it may be that there was some Cleveland Bay blood involved but nobody can prove it – because no register existed. We can say that it was a native horse of the area of Lower Saxony. King George then introduced quite a lot of thoroughbred blood to refine these native horses. Since then other breeds have been introduced, like the Trakehner, again with the aim of refining this original Hanoverian horse. The modern Hanoverian is a completely different type."
"Once they had to be a utility horse, a farm horse in peace time – a riding horse in war time. Today we are not interested in a farm horse, we are only interested in a top riding horse – so they have become very much more elegant horses. The horse that we are presenting to all the world at Verden is exactly like a thoroughbred. The same type of quality, maybe with a little more substance."
How's that for conformation – Werther, by Wendekreis – one of Ferdinand's most famous sons.
"Naturally we are concentrating on the movement and jumping ability – horses for showjumping and horses for the dressage arena. The stud book is both open and closed. It is a closed stud book entirely on types and bloodlines. For example, the Government in Celle, has Hanoverian stallions, several Thoroughbred stallions and Trakehner stallions, and occasionally an Arab. The Arab is not so often used now – previously one or two Arab stallions were introduced. The Thoroughbred has been introduced to refine the Hanoverian and put more quality in – exactly the same with the Trakehner."
"If the Thoroughbred stallion has performed on the race track where he has won really top races, carried over nine stone in weight, has never been broken down, that is a performance test of a Thoroughbred stallion. But we are thinking about making certain changes. The stallions that can pass that test are worth millions of dollars and everyone wants them in the racing world."
"Therefore the Government is considering putting in very well-bred Thoroughbreds on steeplechasing or staying lines, and performance testing them the same way that the young Hanoverian stallions are performance tested. Tested for eleven months in dressage, showjumping, cross country and so on. He can qualify through the performance test and then go into the breeding programme instead of qualifying through racing performance. That is an experiment that may take place – and for that experiment we were looking to New Zealand."
"During the breeding season from January to the end of July the stallions are not ridden. But when they come back they are ridden every day – remember that they must all have passed a performance test. They are very gifted stallions, some of them are doing Grand Prix dressage. So the government sends our stallions all over the world to do performances."
---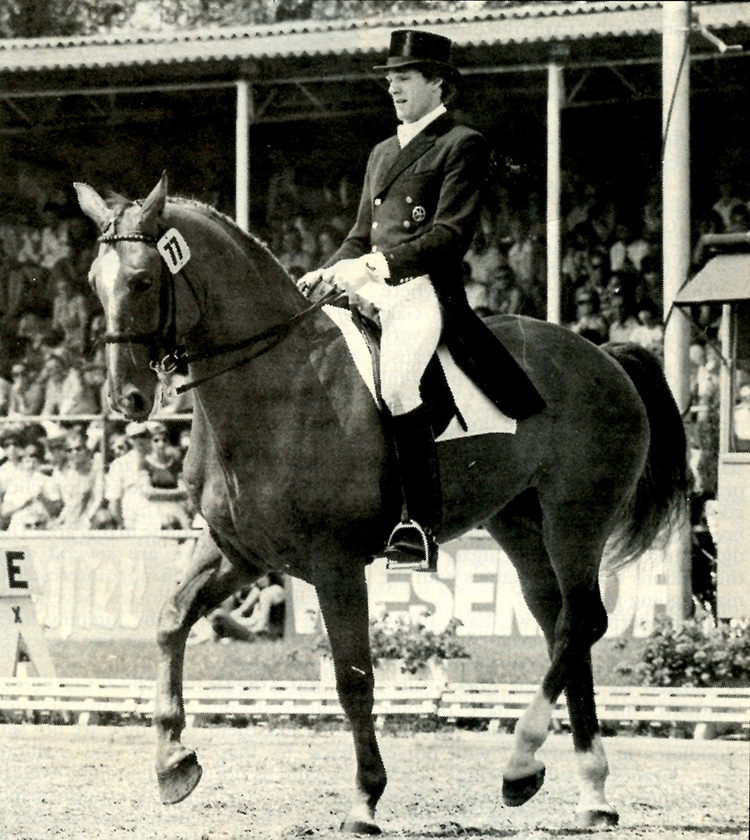 THE HANOVERIAN DRESSAGE HORSE – Slibovitz and his rider, Dr Uwe Schulten-Baumer have arguably been the most successful combination in the history of the competitive dressage, but at one stage it looked as if the chestnut gelding was headed for the jumping arena. At the Verden sale, because of his talent for showjumping, Slibovitz was grouped amongst the heavy showjumpers, and the very gifted jumping rider, Gerd Wiltfang was interested in him. But it was Dr Schulten-Baumer who bought him, and success was almost immediate! At the age of six he won his first Intermediaire, and at seven he placed in the Grand Prix. At the 1978 World Championships, Slibovitz was one of the Gold medal winning German team – and gained an individual silver medal – and again in 1980, after the Moscow boycott, won team gold and individual silver at Alternative Olympics – again at Goodwood. Slibovitz's success were recognized when the Hanoverian Breeders Society celebrated its 90th Anniversary and awarded Dr Uwe Schulten-Baumer the Golden Rider Pin of the Association.
---
"I just came back from Calgary where four of our stallions gave a Gala Performance. The performance is very popular throughout the world because it is done in the very beautiful traditional Hussar uniform – 250 years old. In Calgary they were doing piaffe, passage and so on. The schooling of the stallions is very thorough, they are very precise and their temperament is very good, so it is no problem combining the breeding with the performances. They did a Guard of Honour at Calgary and all the stallions stood like statues with the mares going past them."
"In modern times we have had a number of exceptional stallions. Earlier on the jumping world was very much dominated by a famous horse called Gotthard. His progeny have become one of the most popular jumping bloodlines in Germany – with horses like Grande still siring great showjumpers. Then in dressage a horse that has had tremendous impact is Duellant, one of the dominant stallions. Then in modern days we have the legendary Absatz who has really produced unbelievable movement and beauty."
"Looking at the pedigree of a foal we can see the horses that are more likely to succeed in dressage and the ones that should make showjumpers. We have multi-purpose lines as well. But you can say with several lines – 'Don't try jumping because they are not bred for it'. On the other hand we have several bloodlines where you say – 'It could be both'. They have enough movement as well as lots of jumping ability."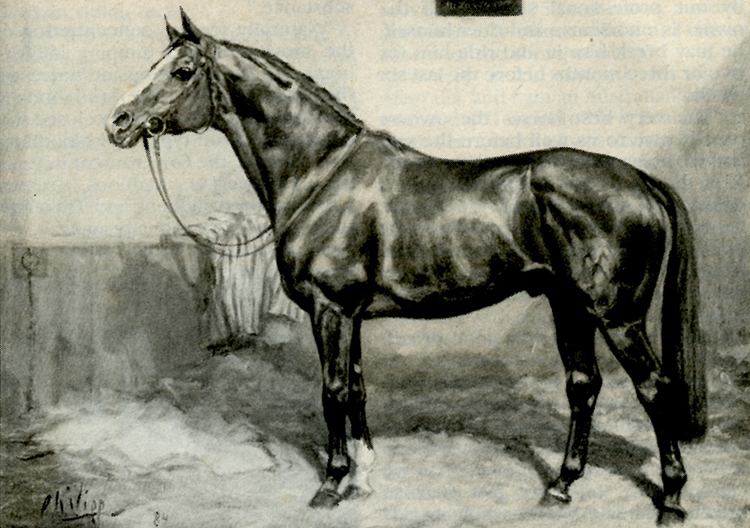 ABSATZ – one of the great modern sires of the Hanoverian breed
"It is up to the individual breeder to decide which stallion he will send his mare to. But due to the selection of which stallion goes to which area – and this selection is made by Dr Bade at Celle – there is a good deal of influence on the direction of breeding. We try to send the same stallion or stallions back into the same breeding area as much as possible, so long as the stallion clicks well with the mares. That way we have a continuity of bloodline in that area. Due to tradition, there are several areas which are very much more interested in breeding dressage horses. Several are more interested in the jumping lines. Naturally the stallions are selected accordingly."
"But if the Dr Bade finds that certain stallions do not click, or the breeders don't like them, then they are not sent back to that area. If the stallion's progeny is not good he might even be gelded – even though he is performance tested. The mare owner can take her to another stallion if he wishes, but then he might have to travel a hundred kilometres more."
"We have been quite successful in establishing the Hanoverian in countries other that Germany. Australia and New Zealand are very privileged countries – they are the only two countries in the whole world where the Thoroughbred mares are fully accepted in the breeding program. The Australian and New Zealand Thoroughbred mares can breed with an imported Hanoverian stallion and the progeny will be branded and registered Hanoverians with us in Hannover. In every other country, they are only branding and accepting foals from Hanoverian mares therefore they have to import both mares and performance tested stallions."


"It was my long term ambition always while I was working in Australia and New Zealand, that we should breed Hanoverian horses – but not a pure bred Hanoverian! Everybody has an ideal in life. My ideal of the perfect horse is the Thoroughbred, which I like very much, calmed down with the temperament of the Hanoverian. It is a mixture that is particularly successful for dressage – giving this very much wanted movement into a Thoroughbred type of a horse. To my mind, New Zealand and Australia – if they carry on the breeding programme correctly – will have a tremendous advantage… today, all the world's top riders are looking for that sort of horse."
"I think the success in Australia so far has been quite reasonable, but I think Australians always have one very big problem, they always want to achieve everything yesterday and not tomorrow. You have to understand that you are starting a breed with something of a handicap – and that handicap is that you have a very small number of stallions available for the programme, and in the beginning the mares that were used were not always of the best type. The breeding will only succeed with very, very top quality mares – and eventually we will need a little more variety in the stallions. I think the start has been good I have been exceptionally impressed also with the New Zealand breeding programme."
"Unfortunately in many parts of the world it has become fashionable to breed smaller Thoroughbreds – which of course we do not want in our breeding programme. In New Zealand they are still actively breeding staying and steeplechase lines, therefore more good mares are available."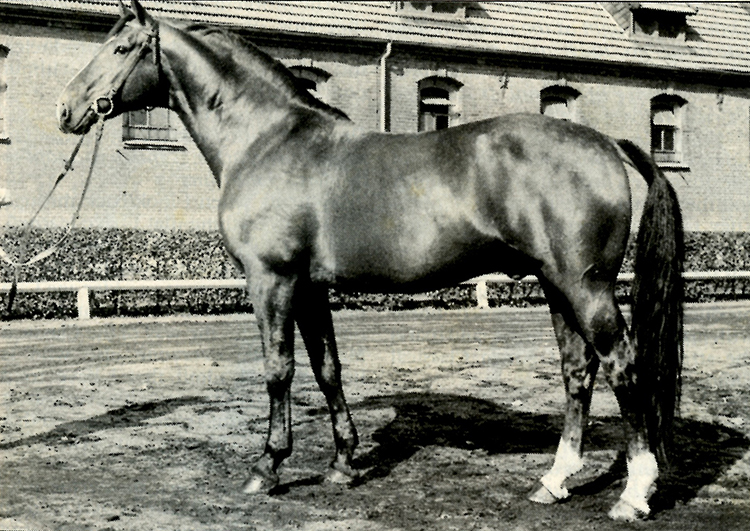 ADERLASS – by Absatz. Born 1969.
For some years now, an American stud has been licensed to import frozen semen from the Hanoverian stallions in Celie. Has the experiment been a success?
"Yes and no. There are a lot of problems involved – by and large there has been a relatively small amount bred by frozen semen. It is not as easy to do this as it sounds. Also it is very limited, it is one agency. I have myself branded several of the progeny in America. I do not think that it is the answer in Australia, because I do not think it will ever be permitted. The Hanoverian Society would not permit it. In America it was an experiment with one agency, and I think it will continue there because once you promise something you cannot take it away… but I think it would be the subject of much consideration before it could happen again. I don't think that either in Australia or New Zealand the time will ever come that they will permit it."
"I think it would be a very great disadvantage to stallion owners and that is another reason for not permitting it – also it is very difficult to control, a lot of doubtful things could come out of it."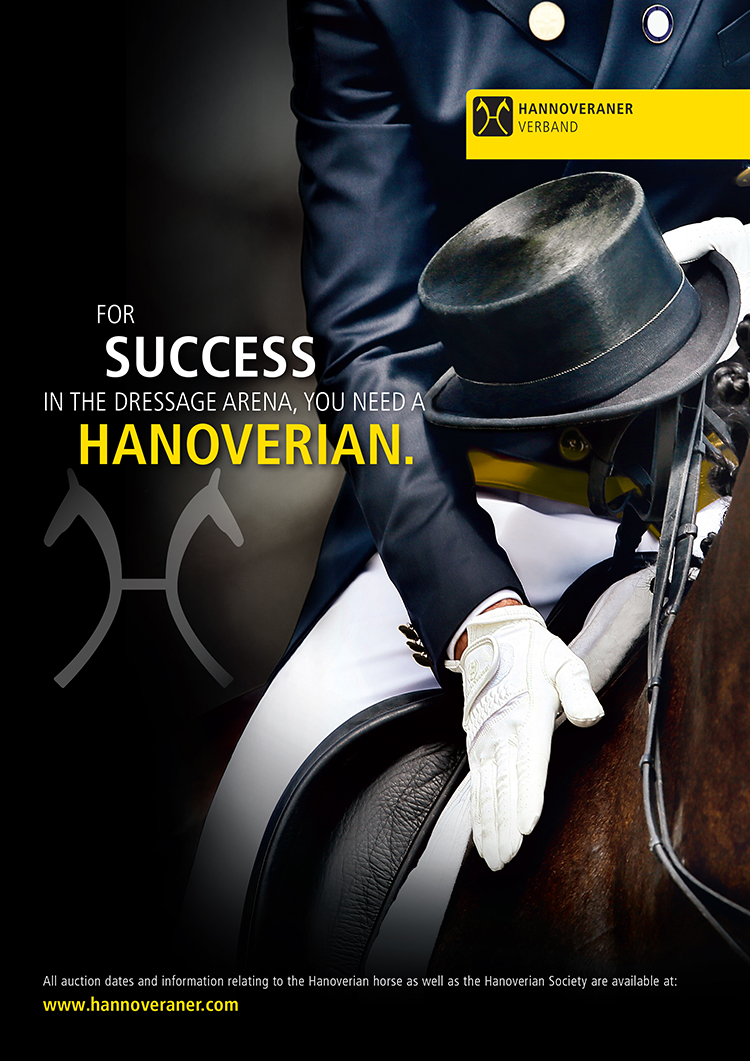 Locally bred stallions cannot be performance tested – what is the future for them?
"Theoretically you could send a stallion over to be performance tested – but that performance testing project would cost so much that you could buy two performance tested stallions for the same cost. It is not practical."
"Secondly, consider it this way. We have fifteen thousand registered mares in Germany, out of these, there are four and a half to five thousand who are eligible to produce stallions. Out of those 4,500 mares we have about 1500 colts each year. Out of that 1500, four to five stallions reach the stage where they are Government recognized performance tested stallions. That is how rigorous the testing is. Now compare the number of Hanoverians in Australia and New Zealand, it would be most unlikely to produce a stallion – and even if it does happen, it is most impractical."
"Out of 1500 young colts, about 100 will get to the stage where they are presented to the Licencing Commission in Verden where they are licenced on conformation. Out of that hundred perhaps forty will be knocked back, perhaps sixty will be licenced on conformation only – but they cannot breed yet. They are selected to go into Adelheidsdorf for eleven months of performance testing."
"A stallion that is undergoing the performance test will be watched every day and an official report will be written from the trainer in Adelheidsdorf and that will be taken into consideration. Then every three weeks the trainers are changed so that every stallion has equal treatment."
---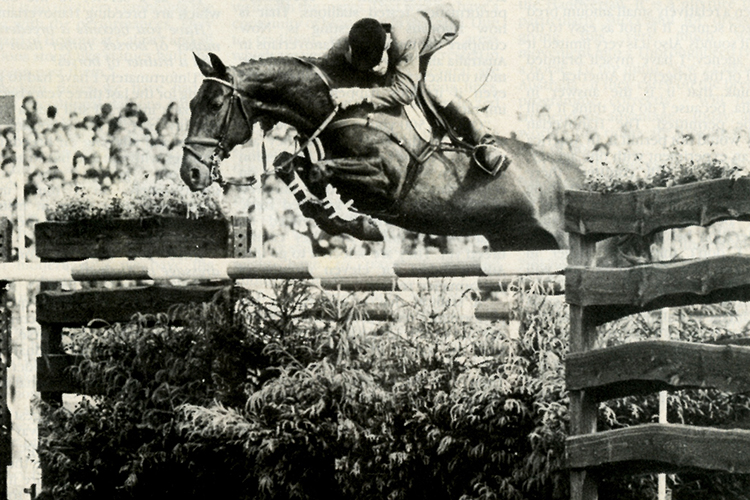 The Hanoverian showjumper – There have been many famous showjumping horses of the Hanoverian breed, but perhaps none more famous than last year's European Showjumping Champion – Deister. After collecting his third consecutive European Championship Gold Medal, rider Paul Schockemöhle paid tribute to the fourteen year old gelding: "Deister is the clever one. He is so careful. If he does have a mistake it is mostly rider error. He wins in spite of me!"
---
"They are tested in dressage, in showjumping – first freejumping, then under the rider, then cross country, then the correctness of the gait at walk, trot and canter. It used to also be in harness but that has changed because we are getting less and less demand for harness horses."
"After eleven months these stallions will be tested by selected, top riders in showjumping and dressage, and they give a report on the rideability of the stallion. In the final days they are tested in walk, trot, canter and cross country – covering so much distance in so many minutes. For example they must do three and a half miles of strong gallop, after that two veterinary surgeons listen to heart, lungs and so on."
"Then there is a dressage test – again with a commission judging. A showjumping course with twelve fences, with one double, one treble and in and outs, again assessed by showjumping experts. All these reports are fed into the computer, and if the horse fails in one of these subjects, he cannot be a stallion- he will be gelded."
Or sold to Australia?
"Unfortunately with some of the ones that do not pass the test they are sold overseas. This is very unfortunate – but what can we do, it is a free country? These horses go overseas and then they are described as a purebred, performance tested Hanoverian stallions! The horse might be licenced, but licenced only on his conformation, but not licenced to breed."
The Hanoverian Society pays for you to go around the world classifying mares?
"Yes, as a service to the countries which are breeding Hanoverians."
Have you become a breeder and a maker of horses, rather than a rider and a trainer of horses?
"Unfortunately I have had to give up riding for the last three years because of my back injury… I still ride a little bit, but my part is the schooling of the horses and advising on breeding. One changes with age and has to accept it. I am not getting any younger, unfortunately, so I must use my experience now more in instructing and breeding, rather than the practical part of riding."
Have you kept in touch with dressage in Australia?
"Unfortunately I haven't seen any Australian competition for quite some time. Occasionally when I come back I give a two or three day course. I think in the schools I see some gradual changes, from what I have seen the riders still are a long way from international dressage standard."
"The way I see it the biggest problem here is that you are so far away from the active competition of Europe. I think it is only possible to improve the general standard if you can compare it – not to the average rider- but to the top rider."
"There is no way that I want to say that if you are in Germany you only see beautiful riding – because it is not so. In Germany it is like any other country. There are some very good riders, but there are also some very bad riders. If you go to some small local shows, there may be fifty Intermediaire horses, but not every one will go very attractively or well. But the horses that are going well are going outstandingly compared to the rest of the world. I think you are handicapped in deciding which way you should school."
"I do think with absolute conviction, that you have enough attractively sitting riders here in Australia, quite a few people that I worked with lately have an attractive position. But they do not understand the schooling methods. Horses will advance to elementary or medium level then everything bogs down, they cannot finish the process because the basics do not correspond with the highest level of classical riding. That basic principle that the horse shall not be put on the forehand, but will be ridden from behind. That is your major problem."
"People either want to do everything into a floppy rein, on the forehand going longer and longer. Or they want to pick the horse up and pull everything from the front backwards, and push everything from the back end out, and not be able to put the horse correctly together in a frame."
In Australia there seems to be two schools of thought at the moment The 'let them go long and relax first' school and the 'take the contact and push the horse up' school. Is this also the case in Germany?
"No, in Germany I think we have a rather different problem. Quite a lot of our riders are a little bit too demanding, and they restrict the horses too much. They produce the movement because they are very strong riders, but they lose out on the relaxation… that is no good. But the good riders and the top trainers, produce a beautifully relaxed horse with magnificent movement -and that is the strong point of German Classical Riding."
"The problem in Germany is not that they ride on a loose rein on to the forehand, it is that they are producing too much force of movement without concentrating on relaxation."
You trained with one of the greats of Dressage – Otto Lorke – have you had to alter those teachings much to adapt to modern conditions?
"Actually when I look back through my life, everything that I have learned, from the moment I was conscious of learning about riding, from the time was about sixteen, now at an older age I am more and more convinced that there is only one way… the way of the Classical Masters. Like everyone else who is honest I will admit that I have tried several short cuts, and with every short cut I am more and more convinced that it is a failure. The only way is the way I learned fifty years ago."
It seems that every instructor who comes to Australia claims that his way is the way of the Classical Masters – and yet some of them have very different methods of working a horse. What is the essence of the Classical Principles?
"I think that I can answer very clearly and very simply. If a young horse is gifted – and that is the only sort I am interested in for dressage – and the walk is correct, the trot is correct and the canter is correct, and the horse is progressing without losing his walk, trot and canter through the whole of the training schedule, then I will accept this as the true classical and correct way. If the horse loses the correctness of any of his paces, I don't care how much the trainer says he is training on the classical principles, I don't believe him. All three paces should be improving if the schooling is correct."
"It is very simple to make a mental picture. If the horse is correctly built, the rider will sit in the middle – in front of the rider should be a circle, and behind the rider should be an equal circle, and these two circles should be close together. That is schooling. With a young horse the circles are naturally larger. But if we close the front circle down and the back becomes larger, the horse is irregular, immediately irregular. Or if the hind circle comes smaller and the front longer, he is again irregular. The art of schooling is to keep the circles together correctly. When the circles are the shortest in the front and back, the horse will automatically go in piaffe and passage. If you can school to that principle then the work is classical and correct."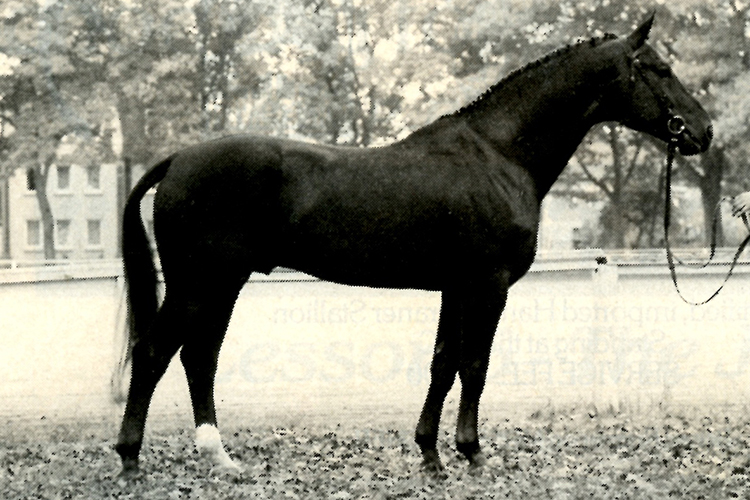 One of the younger stallions – World Cup, by Woerman
"There are different instructors who come with different ideas and principles. Ok, I accept this because there are many ways to skin a cat, and if the skin comes off without a hole in it, you did a good job. But if the schooling is incorrect then the end result will be incorrect. If you watch international dressage competition, and you see not one, but many beautiful horses – horses like those of Dr Klimke – and how correctly these horses are going. You look at Marzog, it's a beautifully produced horse – watch a horse like that and then you can compare it with a wrongly schooled horse. Then you realise how very important all those principles are in the schooling and that you cannot believe in those principles."
"We must look at the movement of the horse. When I look at the trot, I look at the horse by himself without the rider to see if he carries himself in balance and rhythm. When he trots in rhythm he does not get faster every stride, he uses the looseness of his elbow, and has a nice rhythmical stride, absolutely diagonally correct, from his hindquarters."
"We can categorize two different ways of going in the trot. One is a little more round in the action, which I personally quite like so long as it stays in absolute rhythm. Then there is a trot which comes more from a flatter movement of the shoulder. Both can be correct but I have personally found that a little bit rounder action is an advantage later on in collected trot, and a tremendous help in piaffe and passage, and a help in extended trot. The horse with a little flatter action can easily do what you call in Australia, pointing of the toe. It is harder to round that flat going horse up in collection, but they are both very correct."
"In the walk we can make absolutely no exceptions, the horse must be in four time beat, regular and at least stepping over the hoof falls when he is on a loose walk. The walk is absolutely crucial since even though I have said that with the classical schooling all the paces must improve, there is one slight, little exception. Once a horse becomes very collected, the gait that could suffer the most is the walk – so if I haven't got that amount of free walk to start with, later on it could become dangerous when we come to collection."
"In top dressage the walk is tremendously important and carries double the marks. No dressage rider who is interested in going to the top can afford to neglect the walk."
"Again we must look to the canter. The canter must be always uphill. If he canters downhill into the ground that horse will always have tremendous difficulties when he comes to one tempe changes. Everyone used to worry about flying changes in Australia, when I was here it was taboo to do a flying change with a four year old horse – it was absolutely wrong. Well, I consider it absolutely right! A four year old horse that is well balanced and cantering correctly, if he is cantering in a paddock by himself, he will do a flying change. If he can't do a flying change in the paddock, I'm not even interested in him. That four year old horse, once he carries himself, can do a flying change under the rider without any problem… but it is not really a flying change, it is a change of leg. If you ride the young, well balanced horse forward, and you ask him out of that forward stride to change, you make the suspension of the horse larger and he does a change of leg. Every young horse should do that. If you try that with a horse that is going downhill he will not change without a lot of effort, but each time you need to change on a particular tempe it will be another problem – and he will never do one tempe changes. The uphill canter, the canter where the horse can sit on his hocks is as important as the walk and trot."
"The true flying change comes when the horse starts to slow the beat and increase the activity, then the change of carriage through the air is an absolute diagonal change. That is very visible, the horse starts the change from behind then going to the change in front. With the change of the young horse, it is equally starting from behind and in front. The stride has not been slowed down, it has been enlarged to give enough time in the air for the change."
It was one of those conversations that could last forever. Kalman de Jurenak is very much the all round horseman. There can be little doubt that the future development of the Hanoverian breed – both in Germany and Australia – will benefit greatly from his wisdom and experience. It is strange to think that the Hungarian entrusted to train one of Germany's premier breeds of horses should carry an Australian passport!