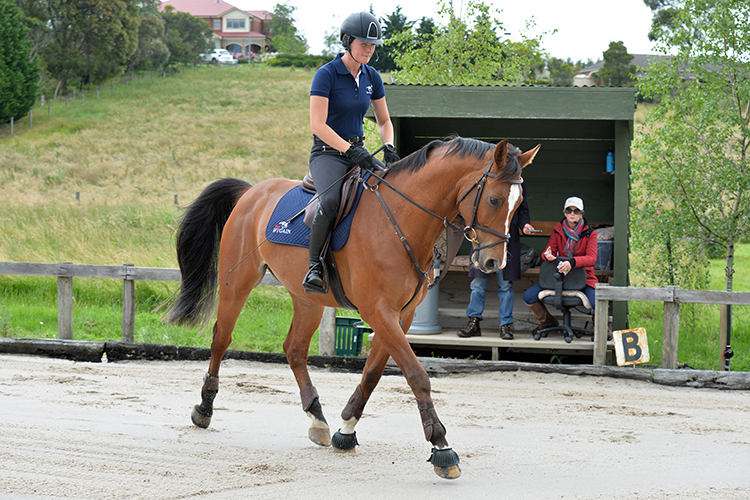 Victoria can count itself twice lucky that the incredibly talented coach and trainer, Michelle Strapp, has now been joined by daughter, Amy – fresh from six years of working with some of the best in Europe…
Story by Chris Hector and Photos by Roz Neave
Amy lost no time finding the horse that she hopes with take her to the top: Yalambi's Isaiah bred and raised in WA at Yalambi Stud by Rory Hovell. Ike is a four-year-old.
It was a job to sit on the fence and watch the three of them, quietly putting the building blocks into place… As always, the work was simple, brilliantly simple.
"With this young horse, we've been concentrating on acceptance of the bridle. Working on a nice even contact to both sides of the horse's mouth. He's actually got a beautiful mouth, if anything, it's a little too fine, so we are making sure Amy keeps him forward to the two reins."
"The other issue was getting him to accept leg, because he just didn't understand leg, he actually worked against Amy's leg. He felt Amy put leg on, so he thought he'd just push Amy's leg away, a bit like any young horse would in a herd, they push each other out of the way, and he is quite a strong minded horse."
"We did quite a bit of ground work when we first got him because he was a little pushy on the ground, so more ground work just to get his mind working with us."
"He's just started his turns on the forehand, and his leg yields…"
Why did you buy him?
"I loved his character when I walked in. I loved his type – he naturally stands underneath himself, and even though he had no education, he'd just been broken in, he just cantered off as if he was balanced. He's a baby horse so for sure he gets out of balance, but he could just canter off with Amy, and she felt like she didn't have to do anything, and in a lovely natural balance."
"When he gets excited, he canters as if he is going to jump 1.50m, just naturally. He had that in him, he was a little bit excited the day we tried him out, I just loved the natural canter. We did put him over a few little fences and all he wanted to do was get off the floor. We really haven't done a lot of jumping with him since we've had him, we've just been trying to get him to accept the aids, because I think he is the type of horse that unless you take your time in this first six months, he could easily work against you. He's very smart, after he'd been in the arena for about a week, he said 'I don't think I want to do this arena work', he'd canter along and do pigroots against Amy's leg, trot and kick at the leg. He's starting to settle into being a real man now, he's not such a kid, 'I'm actually starting to listen to what Amy is doing'."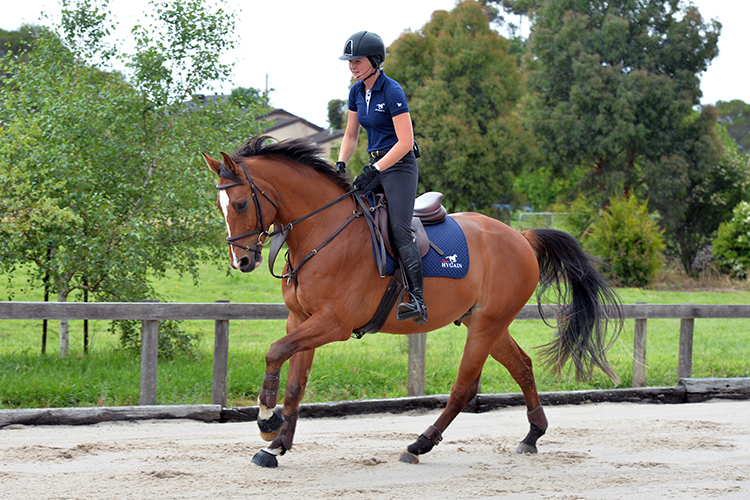 "It's been interesting working with Amy because she's had a job for the last six and a half years in Europe, only getting on difficult horses. So when she gets on a young one here, her first reaction is that it is difficult, but it is not and I have been trying to tell her, he just doesn't understand. He's a clean canvas that is naîf, so you don't approach it with the attitude, this horse is naughty, he just doesn't understand and it is a matter of you being smarter than he is, and finding the best way to get the desired response across to him. So Amy has just been changing her ride a little bit, she's very good riding the difficult ones, but this one needs a slightly different approach."
"See now she is just slightly getting him to yield off her inside leg. When Amy starting asked for leg yields she kept using leg, using leg, and I said he's not yielding – a horse is only yielding once he moves from the leg. Even if a horse goes sideways, if you are kicking him, he's not yielding – it is only yielding when you can do it with a relaxed leg, because then the horse's body is soft, and he is accepting the aids. It shouldn't be difficult. He should give his body to her once he understands leg, and once he understands leg then he will just soften his body to her."
"Sure we want him a little longer, and a bit lower, and we are working on that, but his frame is better now. Because he gets himself so collected and up, he often starts a bit short…"
At this point Ike decided to try a few pigroots just to liven things up:
"Forward, forward – that's why you don't want the faint hearted riding young horses. Amy is happy to let him canter, get forward and off his back, let him use his energy in a natural, positive way, he's got a lovely canter so why not enjoy it?"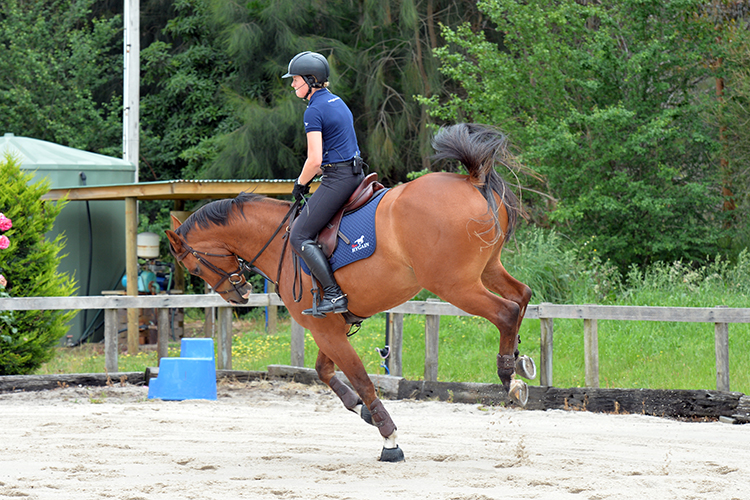 Ignore the shit?
"We don't ignore the shit so as when he pigroots with Amy its a backward thinking, so what she does is stick her leg on and she goes forwards, and she doesn't clash aids. It's important that when she does it, she doesn't pull him in the teeth at the same time. So it's a definite, you feel my leg, we go forward, but you are going to go. It's got to be consistent and clear to him, and no clashing of aids, because he is a really smart horse." (article continues below)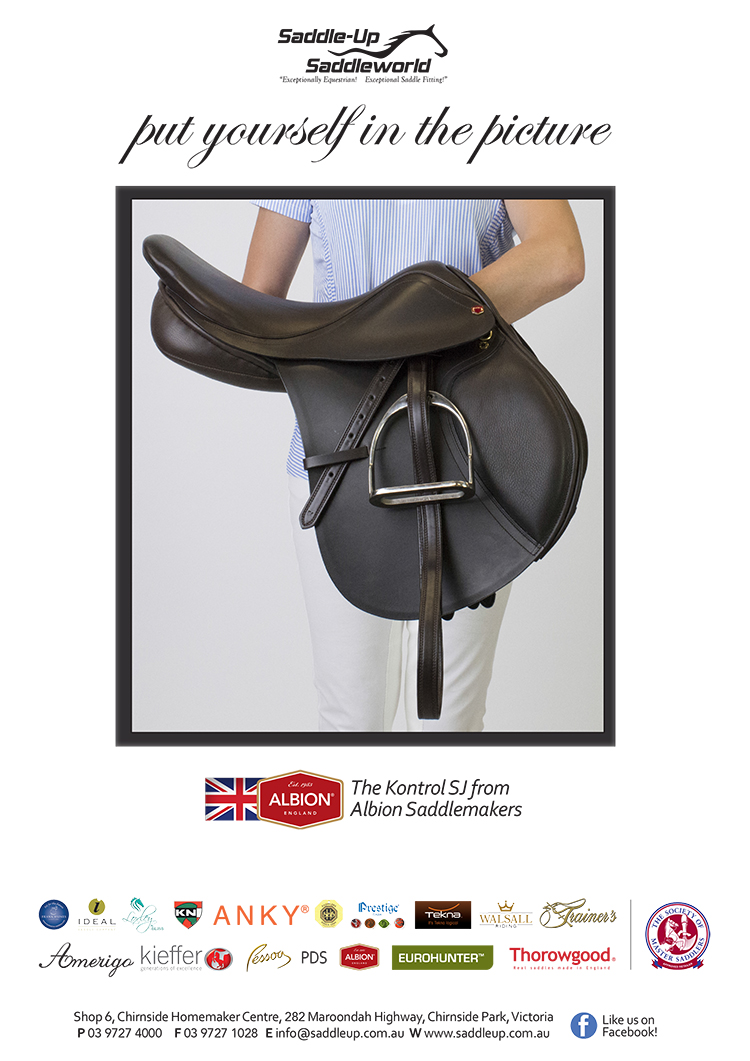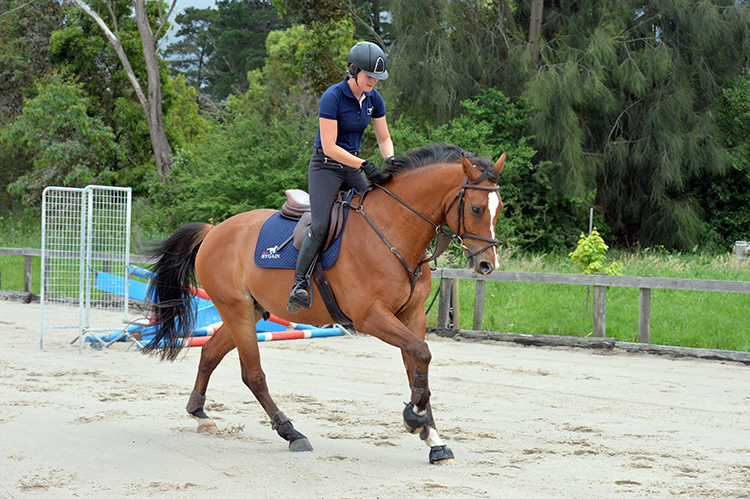 "You can see now, he accepts the bridle, and now he is accepting her weight in the saddle, now get up a bit again. Try to encourage him deeper, and follow, every time he comes up a bit, encourage him deeper and follow. This horse has got such power in the canter, why suffocate it at this age? Ask him to come back with your voice, take your time and encourage him to get deeper as he comes back, that way he is collecting himself. Amy has to show him the way, he doesn't know where to go. That's the hard part, teaching that feel, she's got to show him where she wants him, without shutting the front door."
"Gradually back, that's perfect, now follow, now follow. For sure, you can see that he wants to run a bit, but why strangle him, why not just find the pace. Now a little shoulder fore, just the leg, he doesn't need the spur, use the tools you've put in – just smooth, relax your hands, you've got him, relax your hand again, follow, he's there on your leg and you don't have to manhandle him. Good, give him a little walk."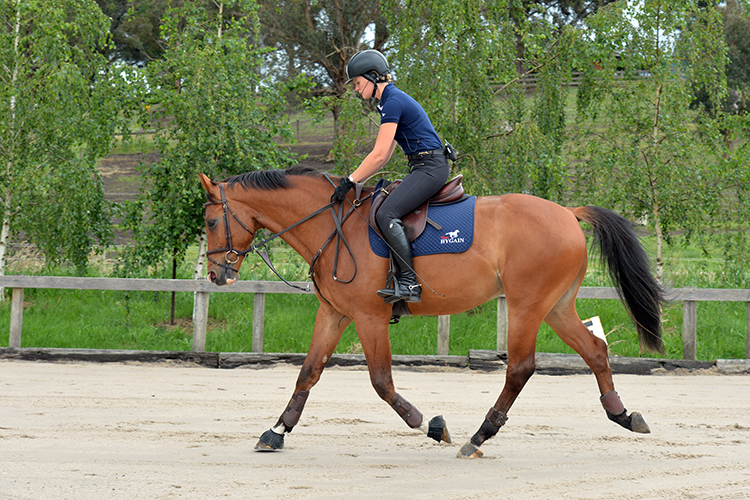 How many days a week do you work him?
"Five."
Do you hack him out?
"It is too dangerous around here. I know it is great if you can hack them out, but many times in my career I haven't been in a position to take the horses out for rides, I think that if the quality of your work is to keep the horse in harmony, and you are trying to teach the horse correctly, they don't get sour. For them, it is not being in an arena or being on a ride, it's that horses learn from a very limited amount of discomfort and a greater amount of pleasure. Then they are in harmony. I don't think it has much effect on the training, we might change some days, just do walk and trot, when we taught him leg yields, we didn't canter at all."
"I guess now it's time to show the beginning of his jumping career. We call it our cavalletti training, a few little baby fences but jumping is not our priority. We did our first lot of jumps last week – he thought they were very scary." (article continues below)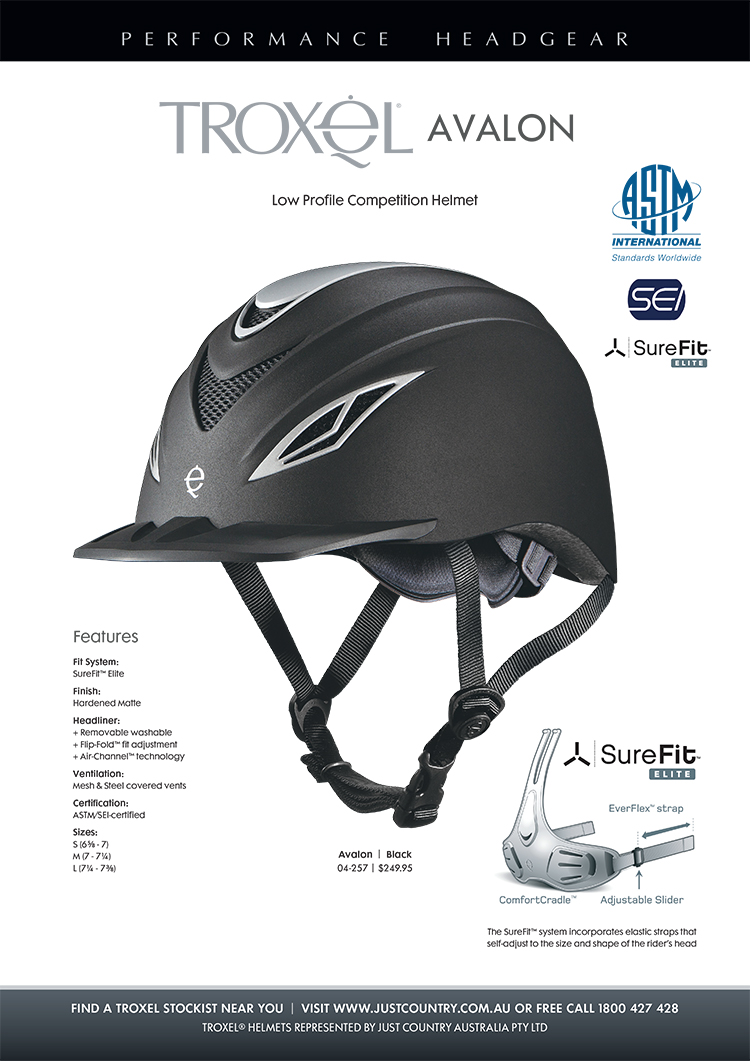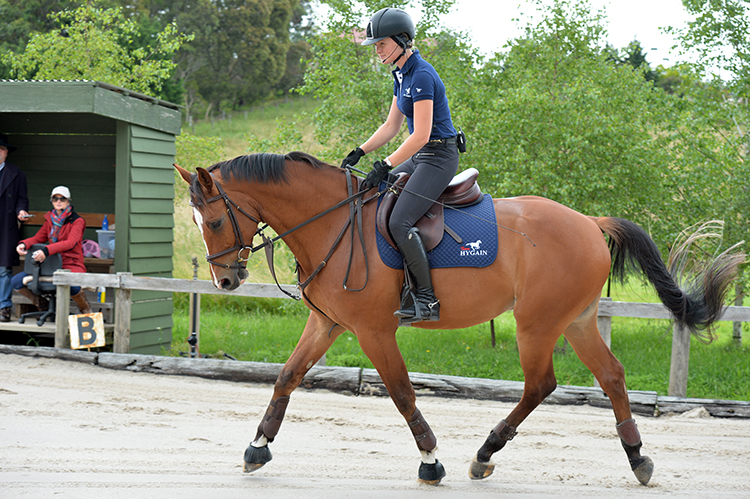 "Trot the first one, and then canter down to the second. He's got a good blend of blood, he wants to go, he really wants to go. Okay he has a play and a kick up, but he's got a sensible brain. Super, easy, that's really good. I like his character. I like the looseness of his jump, even though he's not giving anything spectacular room – we've seen him do that – but I like the looseness of his shoulders. I love his canter, there's just this airy looseness about the jump, he's playing."
"You can see he is quite brave about the jump. He's learnt to jump from one side to the other. When we have that much more adjustability, the jump is going to be nothing – you could put it up to a 1.05m, it's not going to make any difference.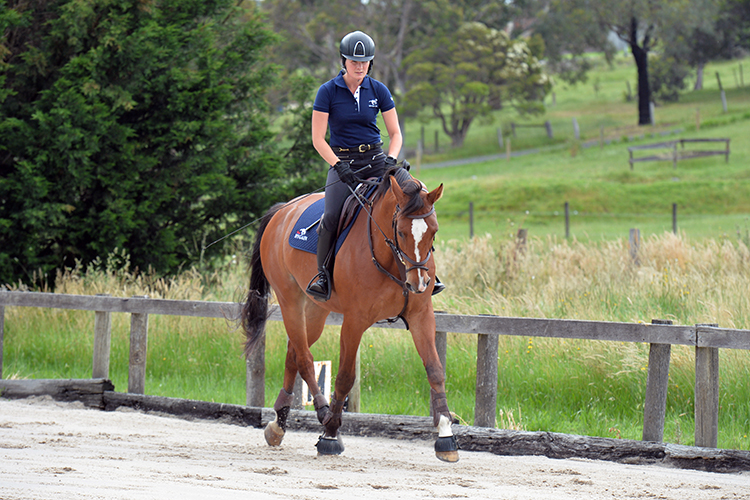 Or an Olympic horse…
"Or an Olympic horse, but let's give him the good start. I don't need to know he's a champion to train him. I think that's the problem, everyone wants to see if they have a champion at this age, and they'd be jumping him over that oxer, and I can tell you, if you asked him to, he'd really jump that oxer, but what we are trying to do is produce this individual horse into the best horse this horse could possibly be. Is it going to be a champion? Who knows?" (article continues below)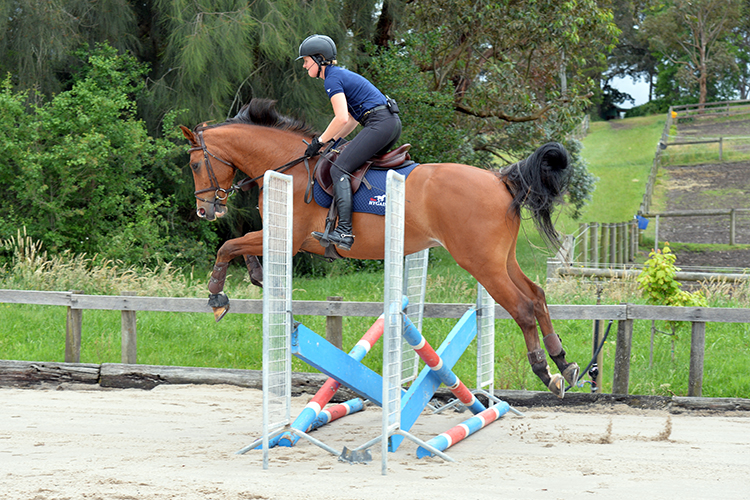 The only depressing thing is that there are about four times 365 days before you really find out…
"But that's what trainers that are horse lovers like Michel Robert, love, they love doing this work. It's what I love too, I love bringing up a horse correctly. All the advanced work is just the basics, more sophisticated."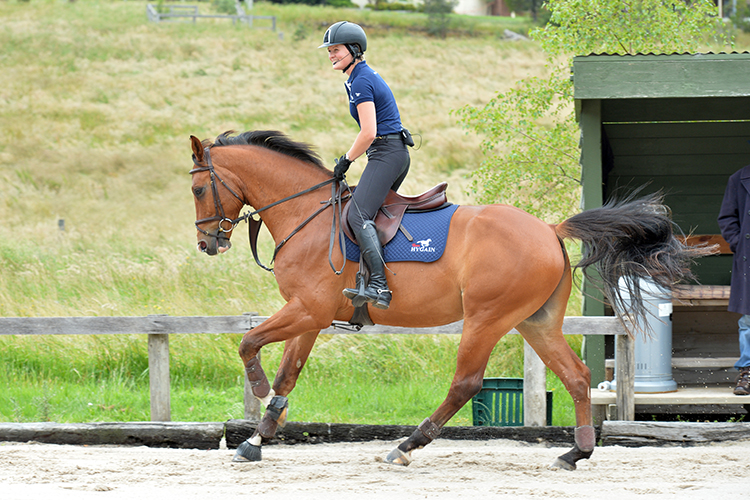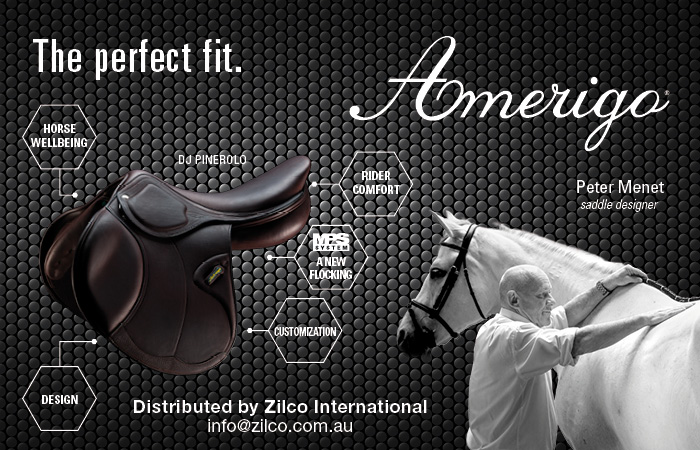 ---
AMY AND ISAIAH – IKE
Was it love at first sight?
"Oh it was! Rory brought him into the round yard for free jumping first, as soon as he came in – with this face, straight into the canter, snorting and straight to us, oh yeah, this is the one. As soon as he saw a pole, he has that snap, soft and the wither just went snap, completely easy, he didn't over jump it stupid, didn't do anything stiff, he just went snap every time, and looked confident and happy with himself afterwards."
"I messaged Mum from the round yard and said, I've found it! I'd looked around England and Holland. I'd been searching before I came home and I hadn't really found one. I messaged Mum from the round yard but I said, Rory hasn't given me a price yet… I was nervous from then on."
I did see a video you sent to Michelle of one you were looking at in Holland, and the poor thing was so tuned – it must make a difference that you can buy here in Australia, and the horses have not only been well raised, but they haven't been tricked and terrorized…
"It's the genuine article and you can see it also by the fact that he didn't over-do it, it was just such a soft, elastic jump. When they are 'prepared' they are stiff, you see it. They come in and they are really suspicious and they go stiff and way too high, it's not a natural jump. It was nice buying Ike, Rory was very genuine, he had lots of young horses and they all looked very genuine."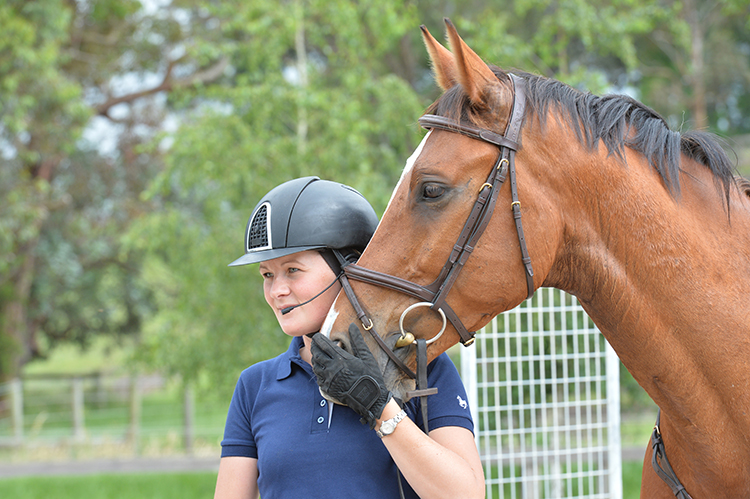 Six years riding difficult young horses in Europe, what awful thing did you do, that you had to do that?
"NO I learnt! I learnt so much. And it wasn't so much that the horses were difficult as you had pressure from owners to rush them – so then of course, it is difficult because if you have something with talent and character and you say, a month into being broken, you must go to a show, and you must jump. Then you have to manhandle them around because they are spooky and they don't know what they are doing, they haven't had time for the correct education, and you must get results or you lose the ride. You do what you have to do to get the horse around the course, then hopefully the owner gives you the time to educate them properly."
It must have been a bit of a shock after growing up with Michelle who is so…
"Classical – yeah there was a bit of shock / horror, but I saw it as an opportunity to learn. And it's not that we ever did anything rough, when a horse comes to me and a big guy has been riding it in a pelham, I can still take all of that off, and put a snaffle on and use the things Mum had taught me. I could take what she'd taught me and put it in that European situation and find a blend, keep the owner happy and the horse is learning something."
Who were the riders over there that you watched and learnt from?
"Everyone teaches you something, even the bad riders. I tried to put myself always as a small fish in a big pond. Instead of looking to jump big tracks and get a name, I tried to get in places where the senior rider was someone I really respected, and I'd be the second rider, because I wanted to learn."
"My first job was with the Saudis, as their dressage rider. Their leading rider was Khaled Al Eid – I think he won a silver medal. A beautiful man, humble, gentle, kind, took his time with Presley Boy and all his horses. Loved his riding."
"When I was working for them, I would ride horses for Nelson Pessoa after work. Nelson was based there, and he saw me working, and I would watch him in my lunch breaks and watch him teaching. I'd stay behind and pick up poles for him, and one night, he said, do you want a ride. I started jumping his horses and he taught me so much."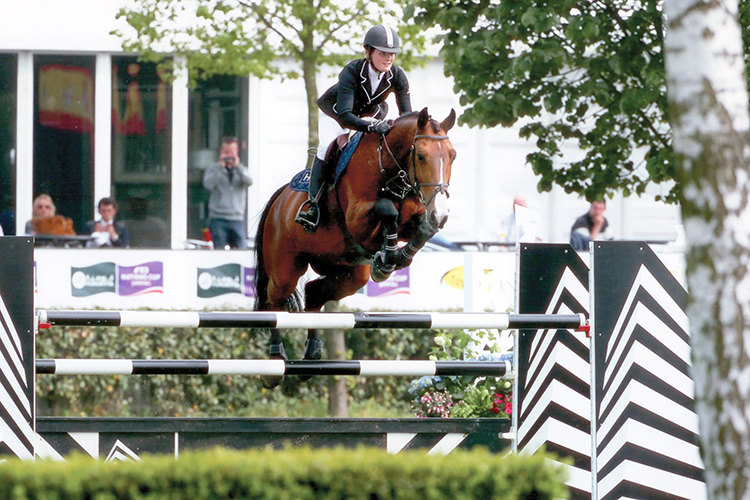 Amy and Fantastique of the Lowlands competing in Europe
"I went from there and rode young horses in Germany. I loved the style of their young horse classes, that was brilliant. Then I spent some time in South America teaching and riding a few bigger tracks."
"Then an owner in Belgium hired me and I had a string of horses from baby four year olds through to 1.45m horses and I got to compete at a few bigger shows. While I was there I went to Jos Kumps, he is a brilliant trainer and did all the flatwork for Baloubet, he works very closely with Nelson Pessoa. In that situation where I didn't have a senior rider, I found myself a good trainer. I spoke to my owner and I said, I'd love to work for you but I want a trainer – I'm not going to try and do it by myself. I learnt heaps from Jos Kumps."
"There were a lot of different experiences. I spent a little time with Marcus Ehning so I could watch and learn. When I was at shows, I'd pick up poles for Penelope (Le Provost), or anyone I could see. Hi can I pick up a pole? There were always opportunities to learn."
Why come back?
"I'm late twenties now, I'd got to the point where I want my own horse, where I can do it right, and produce the horse all the way. As long as I was working like that in Europe, I'd only get horses up to 1.40 / 1.50, if you want to break into 1.60m senior classes, it is better to bring on a horse yourself. But like you said, I came from a very classical trainer, I'd seen a lot, and I wanted to come back to Mum and produce horses, take our time and do it the correct way and see what they are capable of."
"The minute I started riding here again, Mum saw all the little holes in my flatwork and I'm really happy to get back to her and fix all the little things that I've picked up. There's always things to learn."
Just a long time until your baby is ready to hit the big time…
"We've got two from Rory and I am ready to go. Get them around the 1.45ms then back to Europe with them. It's going to take time to do it properly, but that is part of the journey."
---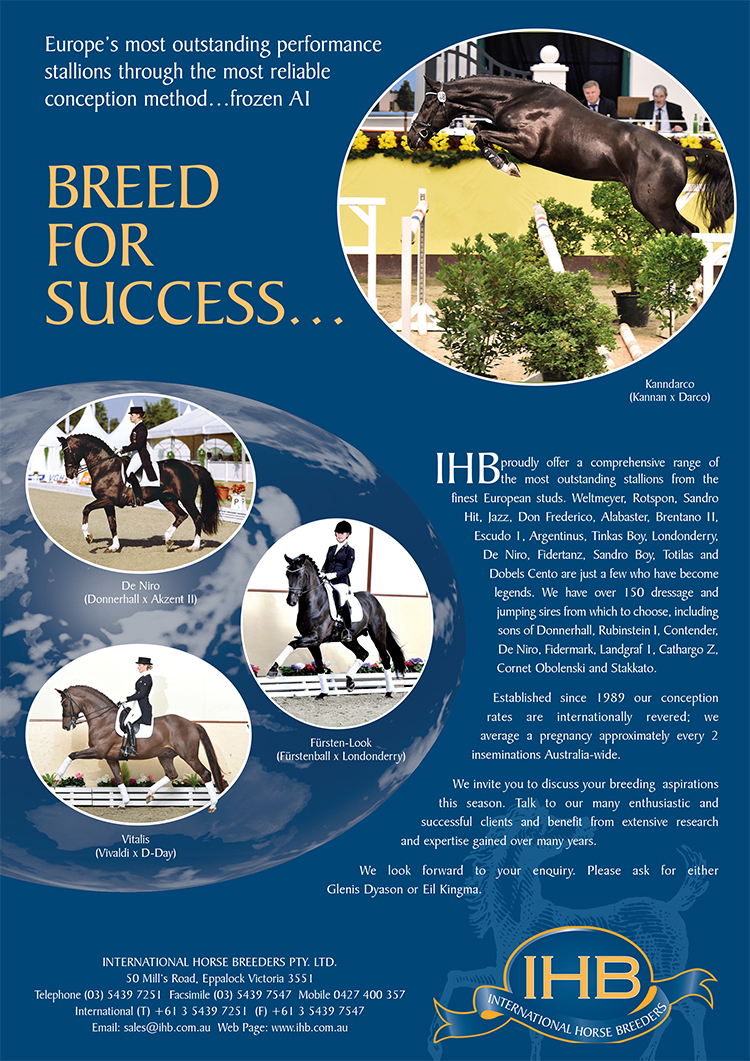 Breeder Rory Hovell backgrounds us on Amy's new horse…
Yalambi's Isaiah is by Cooper van de Heffinck (Caretino x Landlord x Athlet) out of Faith van d'Abdijhoeve (Heartbreaker x Randel Z x Siegfried).
Faith van d'Abdijhoeve is an 11 y old Belgian warmblood mare by Heartbreaker out of Ginette van het Carelshof by Randel Z. Ginette is also the mother of one of our other top mares Quelle Damme van de Heffinck (by Quidam de Revel) who represented Australia at Jerez WEG 2002.
We bought Faith from Hubert Hamerlinck at the Van de Heffinck Studfarm. I'd seen her previously as a 3 year old and had loved her as she was not only a Heartbreaker mare, which I'd wanted, but she was also from Quelle Damme's mother. Faith was a lovely pretty type with Quelle's same beautiful big eye. She could seriously jump and had a much better balance and canter than Quelle Damme, and Quelle had jumped the World Championships. However on that trip I'd also found the 3 year old stallion Carpino Z, who we went for instead, but he's another story!
I went back to Van de Heffinck a few years later and asked if Faith was still there, as I desperately wanted a Heartbreaker mare, and she was such a lovely individual. The farmer that owned her was actually getting out of breeding so she was available for sale. Faith vetted perfectly and then came the decision of who we should to breed her to?
I asked Hubert who he thought was his next top stallion and best choice for Faith and his answer was his young stallion Cooper van de Heffinck (Caretino x Landlord x Athlet). Cooper had just sired the top stallion at the Westphalian licensing Captain Cooper. So Faith was put in foal to Cooper as part of the deal and exported to Australia and the resulting offspring was the very flashy gelding Yalambi's Isaiah.
Before coming to Australia Faith has had two foals that are now jumping in international 1.50m classes in Europe: Ima van d'Abdijhoeve by Concept van de Heffinck, and Jana van d'Abdijhoeve by Baloubet du Rouet. At Yalambi, Faith has given us fantastic foals by Cooper, Carpino Z and Cassini Rosso. We're very excited as this year Faith is expecting a foal by Cardento VDL, and we will then breed her back to our own Incognito VDL.