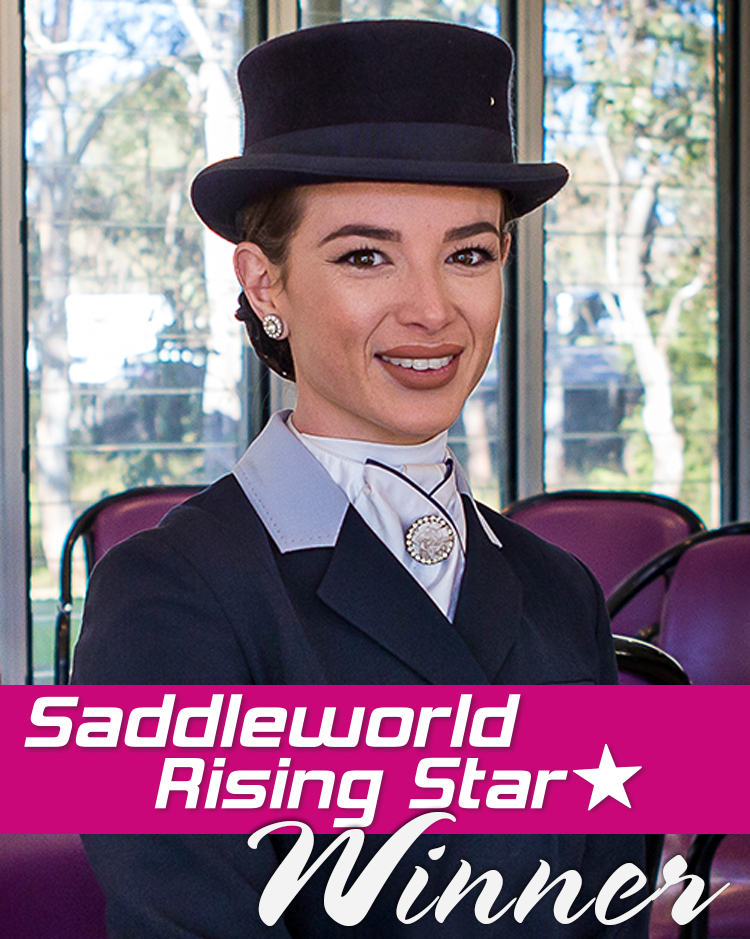 Amy Reilly is the Saddleworld Rising Star of 2016.
The competition recognised one rider each month from March 2016 until December 2016, and Amy was the 2016 winner.  Amy is a dressage rider, and chose the PDS Carl Hester Euro Pro Saddle valued at $4,395.00.
Rebecca Ashton catches up with the 2016 Saddleworld Rising Star and finds she closer to her Grand Prix goal. Amy and her Danish bred Michar, have continued their winning streak since I last caught up with them at the Australian Youth Dressage Championships in July last year.
They took out the Victorian Youth Dressage small tour championships with some impressive scores of 68.2% in the Prix ST Georges and 67.3% in the Inter 1.
"Michar was really good. I had never been to Boneo before so it was really nerve wracking but it turned out to be great. We then stayed for the Classic, which was a bit scary, being in the open classes with all the "big people". The weather was just horrible on Friday; the arenas were underwater. Michar can be a bit spooky so with all the tents going up and the cyclonic weather, I was wondering whether I would get in the arena alive! We had a few mistakes but he was great. That was our first CDI so I was really happy.
"After the Australian Youth Championships last year, we went to the Wagga Championships and were small tour champions there as well. Now he's closer than ever to Grand Prix, all the work is there, I'm just sitting on to for a bit until I'm really happy with it. It's such a big jump between small and big tour and I'm a perfectionist, so I really want it to be right. I'll try the A and B tests next which will be both exciting and nerve wracking.
In September I bought a pony, so I have two now. He's a13:2hh palomino and only 6 years old,. He's never done any dressage, but I've taken him in four tests so far he's scored over 70% in three of them so I'm thrilled. We took him down to Victoria, just for experience. It was such an eye opener for him, his eyes were on stalks, but he was so brave.
"I was so excited to win the saddle (her prize from Saddleworld for being the Rising Star). I got a call from Brett at Hiscocks/Saddleworld the afternoon we were leaving for Boneo. I thought Mum must have ordered something. Then he told me he had some good news and that I had won the saddle. I can't remember the rest of the conversation I was so excited."