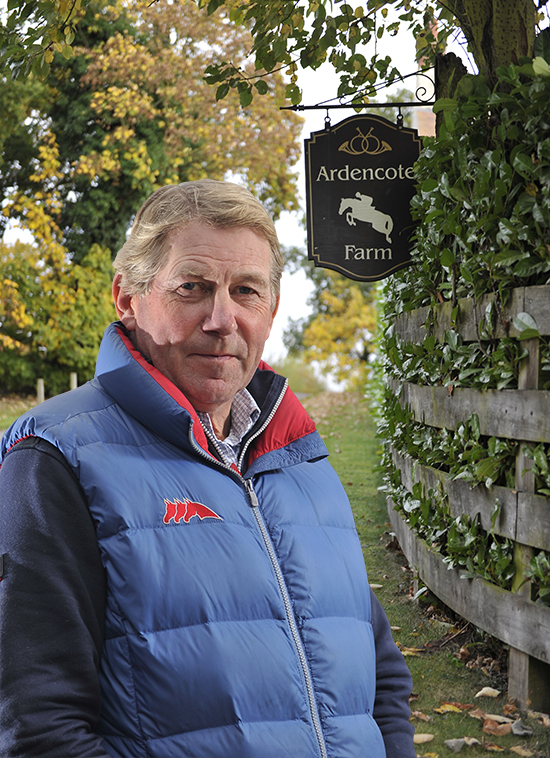 Story by Bernadette Hewitt
Driving up to the village (which ought to be renamed Skelfield as it's all about Skeltons), through the Warwickshire countryside, it takes a couple of phone calls to the only British show jumper ever to win individual Olympic Gold to negotiate the route through winding country lanes. Past the gallops where Nick's son Dan trains National Hunt racehorses I ask a young girl on a racing snake if this is the way to Nick's. It is, she says with a smile. I spot two very familiar-looking faces and realise I am in the right place. There at the gate is Mark Beever, Nick's groom of 37 years. We share a laugh before he heads off aboard Big Star for the majestic creature's daily spa treatment at the racing yard.
Leading up to Christmas there'd not been a day since Rio when Nick hadn't had some sort of Olympic duty to perform; medal parades, interviews, award ceremonies, more interviews. It's something his partner, US Olympian Laura Kraut didn't quite 'get' as in the US all that's over in two days and everyone goes back to normal life. For Nick Skelton, however, in winning Britain's first ever individual Olympic Gold for show jumping in Rio at the age of 58 he did exactly what London 2012 called for as a legacy. Inspire a generation? Nick's inspiring in ways more than one. In his local market town of Alcester he's regularly stopped by people who tell him he's inspired them to take up cycling, walking, whatever they fancy. People relate to his achievement, even if they've never been near a horse. For medal parades it became a convention for Nick to be paired up with Amy Tinkler, GB's bronze medal winning gymnast at just 16 years old. Nick laughs: "Everywhere I go they put us together, we're like Morecambe and Wise now"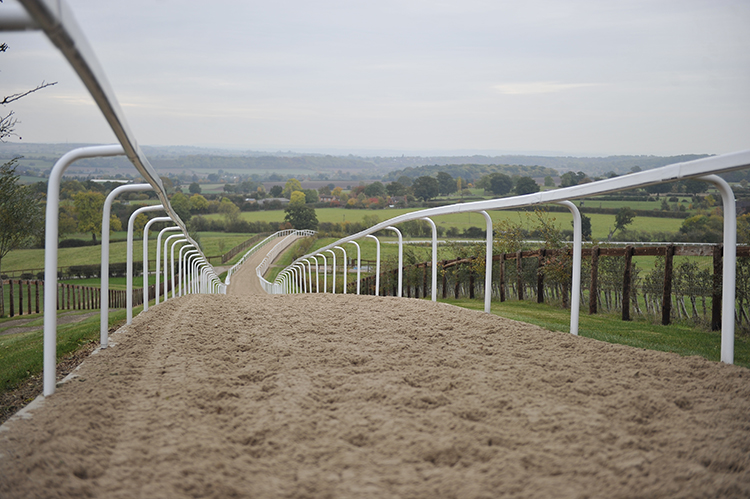 There are only two Olympic Games Nick hasn't ridden at since his team silver debut at the 1980 Alternative Olympics in Rotterdam. One was Los Angeles in 1984 when his professional status denied him eligibility. The other was Sydney 2000 during which he spent nights watching all kinds of obscure sports, unable to sleep. Well, sleep's difficult with a titanium hoop screwed into your skull. He's had numerous injuries and a new hip, but the freak accident that demanded five months in the so-called 'halo' was thought to be the end of his career. Fourteen months later, however, came the diagnosis that the broken ligament between his spine and brain had mended. Nick Skelton was back. The British tabloid press at the time had a field day. Headlines abounded about the 'bad boy's come back'. Stories about Nick decking former mentor Ted Edgar, and Nick being decked by Harvey Smith, let's say it was a little alcohol-influenced, you'd have thought the guy was some out of control rock star. But the guy behind those headlines is now a national treasure. And he's very much in control.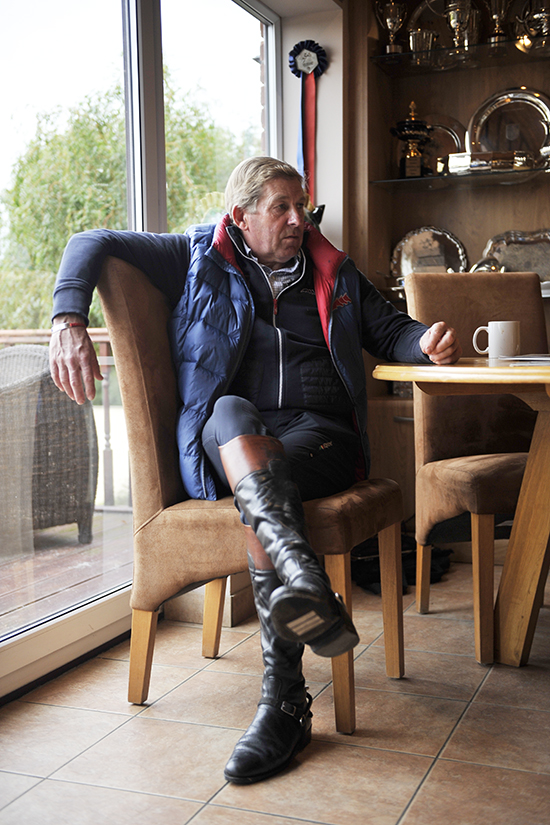 The indoor barn is immaculately tidy. Nick likes things tidy. Just off the barn corridor one side is an 'almost restaurant' and kitchen – super light and bright – which looks over the outdoor school, complete with terrace. Not always so tidy in the kitchen maybe, but the opposite when we sit down to talk in the beautifully appointed office. Nick's Ridgeback Elsa settles down to listen in. She's gorgeous. Yep, it's tidy. So many iconic trophies all organised, yet so many more awards have come in since Rio. "We'll never be short of shelves though," he laughs.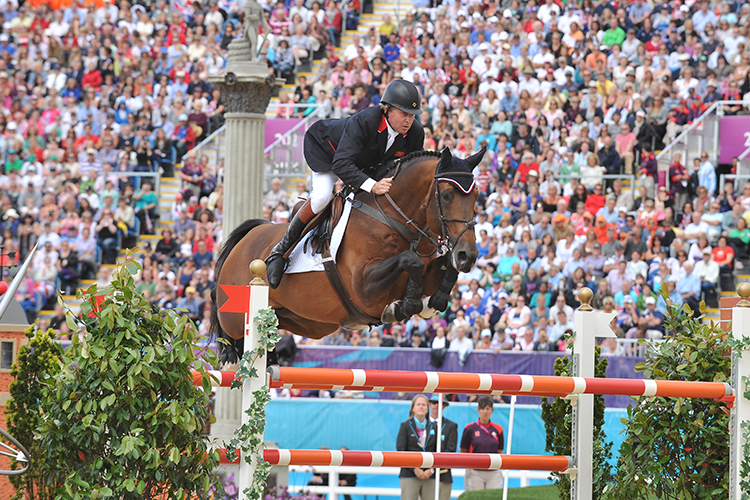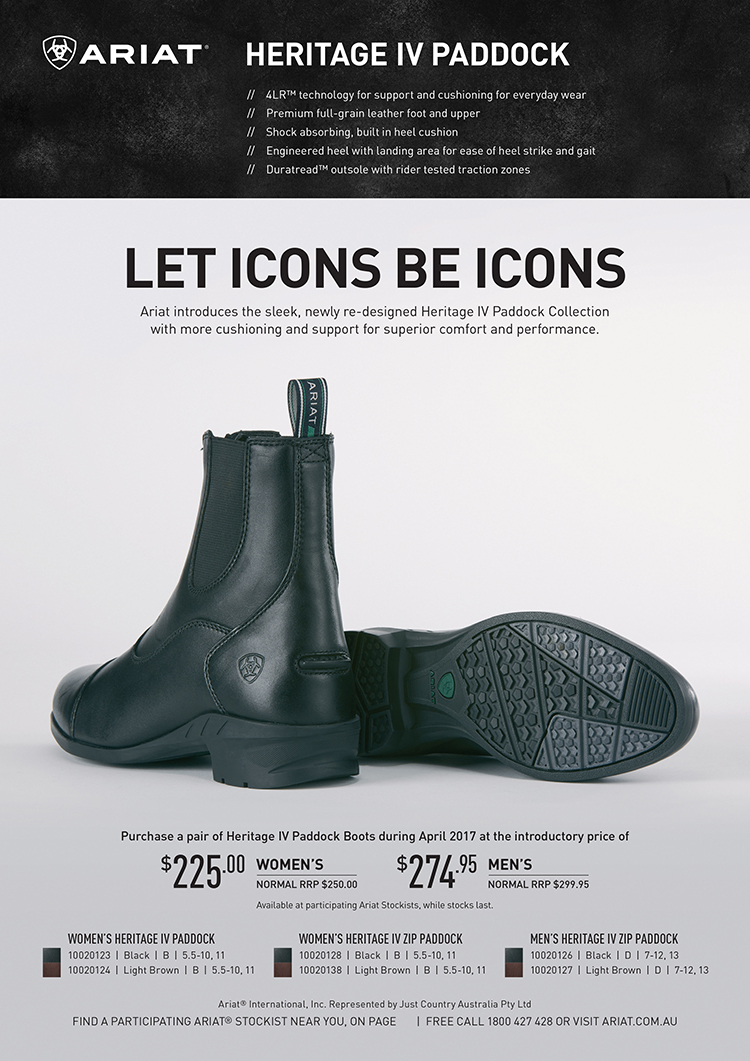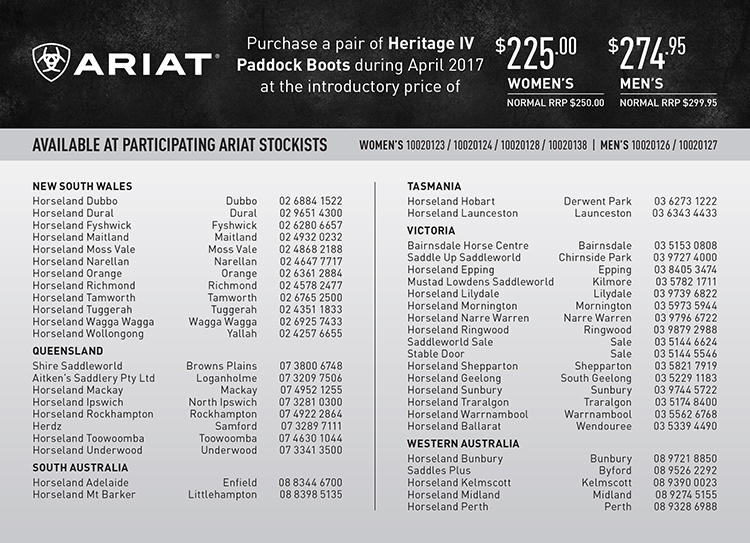 ---
In the New Year Honours List Nick was made a Commander of the Most Excellent Order of the British Empire, a CBE in short and a step up from the 'Officer of' he received from the Queen after the London 2012 Games where he led the Brits to team gold. Another trip to Buckingham Palace to go in the diary then. There have been many and as the Queen enjoys talking horses and racing there are good chats involved, although when I say Carl Hester loved the canapes Nick laughed: "They couldn't have used a loaf of bread in the whole lot!"
Nick's travelled the world to jump, but lives just half an hour from where he was born. His Dad, David, lives next-door-but-one, and is up every morning at the gallops with his copy of The Racing Post. Nick himself tries to split his time between the jumping and racing yards. When at home he's up at 5.50am and at the gym for 06.30, currently in Stratford until the purpose built gym is completed at the racing yard, then he joins his Dad at the gallops to watch first lot before returning the jumping yard for 9.15. He rides Big Star of course, but the legend that he only rides his Olympic partner these days isn't quite accurate. On the day I visited he'd ridden four having been left with the task of schooling and jumping his partner Laura Kraut's horses, before their departure to a show on one continent whilst Laura was on another.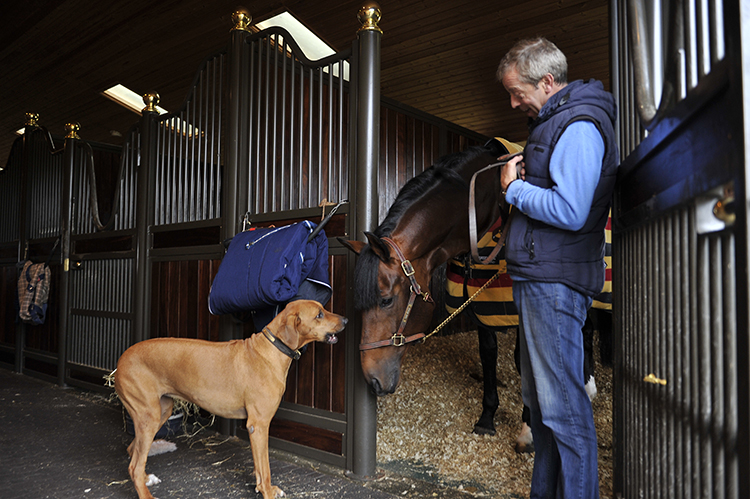 And then there's the coaching. It's not teaching. Nick says emphatically: "Laura does all that, I'm not a teacher." But as a coach, well there is a typical understatement going on here. He's been pretty amazing at helping other riders in a low key way over the years, but post–Rio he coached Olympic Gold Medal winning cyclist, turned jockey, Victoria Pendleton and Flat racing legend Frankie Dettori for a celebrity challenge class at Olympia before Christmas, which raised money for the Injured Jockeys' Fund. Also joining in was another legend, the former champion jump jockey and a great mate Sir Anthony 'AP' McCoy who later returned to Nick's to jump Big Star for a magazine article. Wow that was interesting. Big Star's not jumped much at home, and given AP's used to speed, well, it ended in AP reaching for Big Star's reins for the Tokyo Games (Yes it was only banter!). Nick's going race riding in April at the Cheltenham Festival, taking part in a charity flat race.
Nick tends to train horses rather than riders. He explains: "We do a lot of jumping with the racehorses, as to my mind you can't jump them enough. It's all about jumping at speed and jumping them a lot is our secret really." The schooling arena is at son Harry's yard. Lots of poles, telegraph poles, hurdles, barrels and all sorts of jumps fences on sand and on grass which, when Nick remarks "is too firm at the minute" makes me think it'll be quite a while in the English winter, even if we don't have snow.
It's the racehorses we're talking about here, and there a lot of them. Dan's the trainer, but  Nick says: "We do a lot with the young ones to get them rideable. So once they're going at 35 mph, there's not a lot to be done to change what they're doing. So I think if you can place them in the right place it helps. We do flatwork with them, lots of schooling." He adds quickly to give his sons the credit: "Dan and Harry do that. If I'm here I watch, if I see anything that can be helpful, but they're very, very good at what they do." They are indeed and the next Skelton family accolade in Nick's sight is a serious win, the Cheltenham Gold Cup, with Dan the Trainer and Harry the jockey. I'd not lay odds against that happening, sooner rather than later.
Article continues below: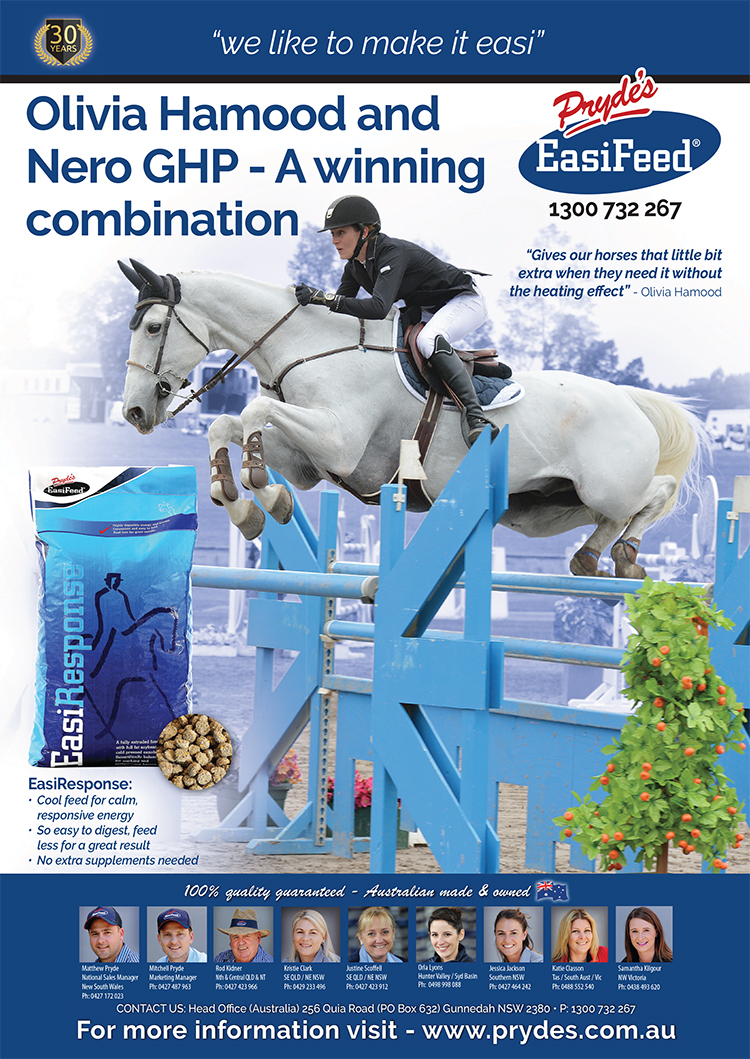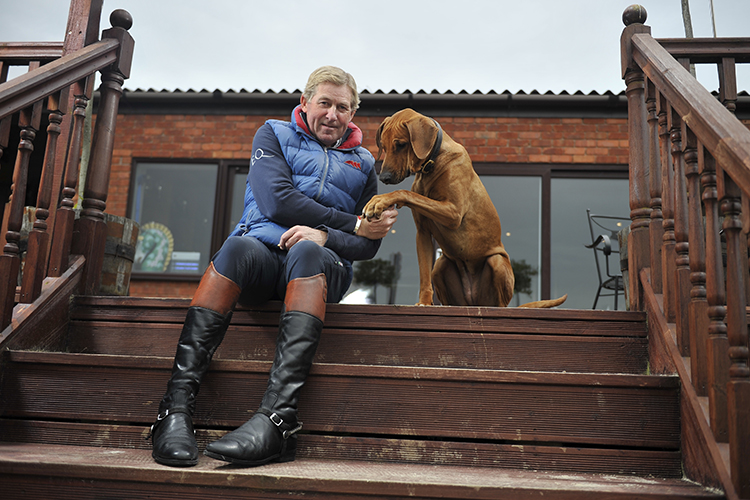 While Dan's talent lies in training, and attracting some of jump racing's top owners, including John Hales who bought Arko III for Nick, Harry could have followed in his Dad's stirrups but was set on the jockey route from his early teens. Nick's pride is obvious. He's helped his boys with a leg up, but they've inherited a work ethic and use their talent. "They work well together as a team, we all do, and we're a close family. We're all there for each other. If I'm schooling Big Star and Dan comes in the yard, he'll watch. We're all a big team effort."
Rio
"If I didn't mess it up I knew Henry (Big Star) wouldn't. He very, very rarely has a fence down. When he hit the middle part of the combination on the first day it was my fault. But I think he was rusty at that height as he hadn't jumped a course like that since Aachen 2013, when he won the Grand Prix. That jump off in Rio was his eleventh round that year. I don't think I could have done that with any other horse, brought him back with so little competition work. It takes a serious horse just to train him like that at home. It'd be like training a Gold Cup winner without having a race. It takes some balls to do that and you need a class horse to do it with. I don't think I'll have another horse I could do that with."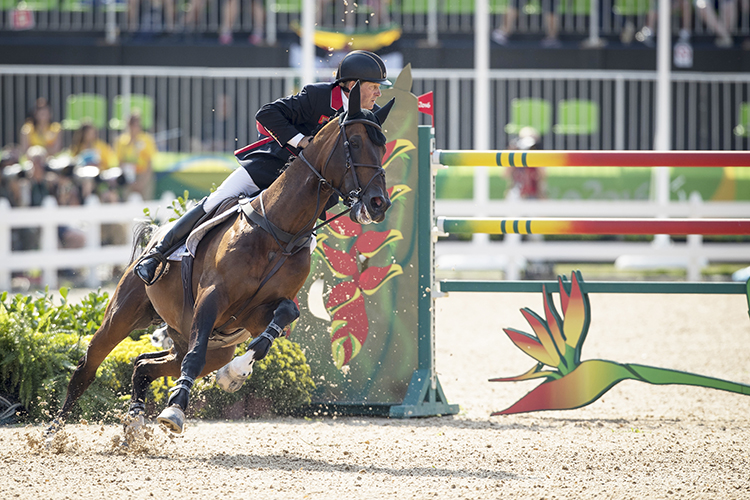 Nick and Big Star at Rio
Watching the final round at home on TV, I talk about this feeling I had, knowing he was going to win. He laughs. "I didn't think that till Eric Lamaze went! Eric wins so many classes on that horse (Fine Lady 5). I wouldn't say it was an Olympic horse, but he's an amazing rider. He got everything out of her, and that horse did a great job. I think in the end it was probably meant to be from all those years before and getting so close in London, Athens. It was my time.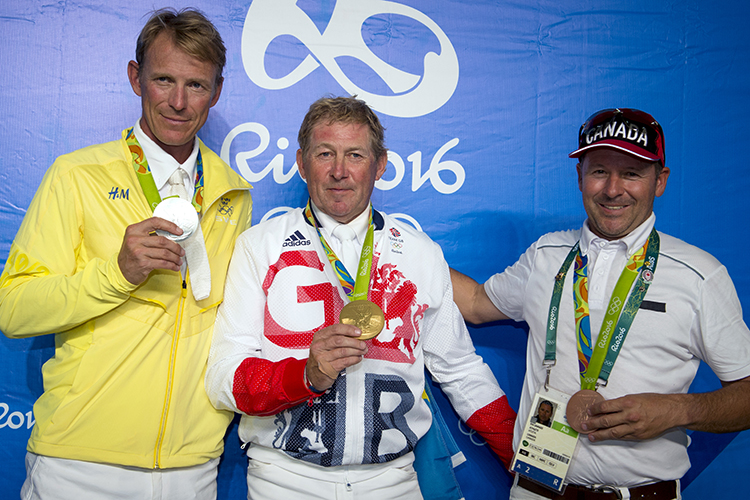 Gold for Nick at Rio, Peder Fredricson – Silver, and Bronze to Eric Lamaze
While the remaining riders jumped, Nick stayed on Big Star. "Normally I get off, go and watch, but by the time I came out the next one was in, so thought there was no point. What was I going to do about it? I might just as well sit and listen to the crowd."
It seems surreal that Rio was their first jump off against the clock since their Aachen in  win, the first time Nick had taken Big Star in the ring in nearly two years. That's partnership for you.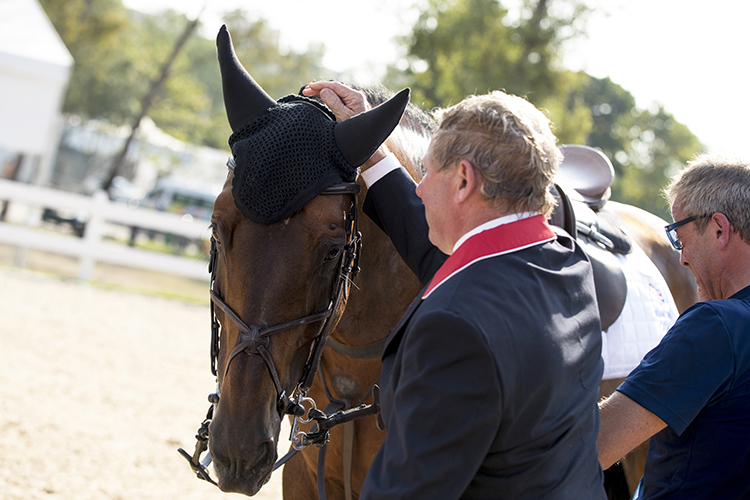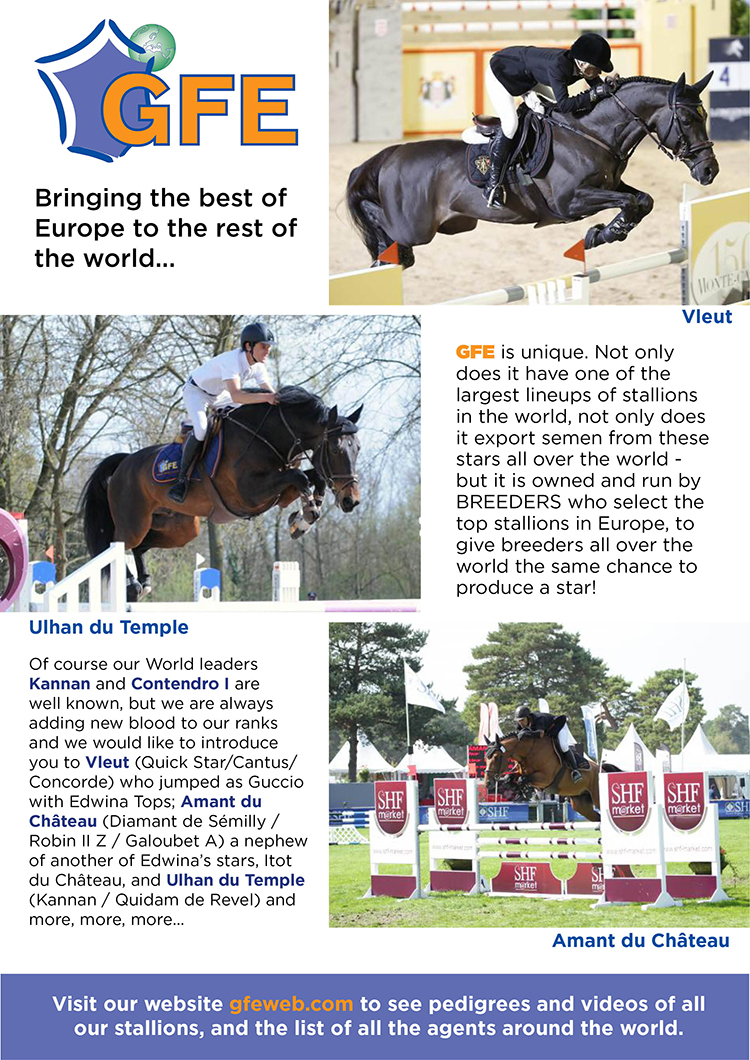 A bit about the sport and the future
"Lottery funding has made a huge difference to us as Team GB. In 1980, as a country, we won a few medals and gradually got better and better, so to come second in the medal table behind the US, I don't think that would have happened without lottery funding. It proves it's working. Rowers, swimmers, cyclists, they're getting funding into their sport so they can be fully professional athletes training for a job. It's a bit different with us as we're in partnership with a horse, and if you haven't got the right horse all the funding in the world isn't going to make a difference. But, saying that, we do appreciate it, it helps a lot with vet work and getting yourself fit and stuff like that."
Then there are the owners. There were offers, huge ones, after London, but Gary and Beverley Widdowson 'are amazing owners' who 'luckily' didn't want to sell. Nick's known Gary since the two were on the junior team together. They became lifelong friends. Nick is philosophical about losing horses over the years, but it's ironic Gary wanted to buy the one he really wishes he hadn't lost, Top Gun, who helped Holland win team gold in Barcelona. Nick, being loyal, said he'd promised the horse to Tony Elliot who eventually put his whole string up for sale when he ran into money problems. Oh for the benefit of hindsight!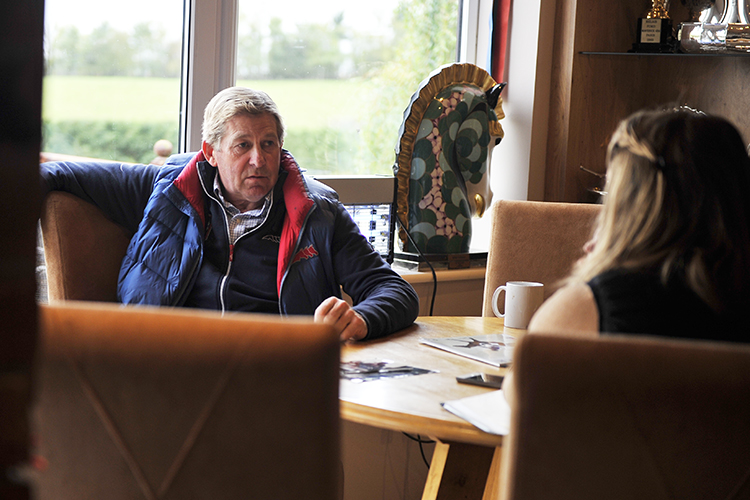 From the end of 2015 Nick made it perfectly clear he was only going to ride Big Star from then on. "My body takes some looking after; aches and pains, my back, hip and god knows whatever. That takes a lot of work, as I said two hours a day at the blinking gym! To be honest when I was riding other horses I didn't feel comfortable on them, didn't feel confident. Whether it's age or fear of falling and hurting yourself – because you know if you fall it's going to hurt before you hit the floor because you're brittle – so if I'd ride a young horse at home I'd be riding it too strong to make sure it wasn't going to do anything. There's no point riding like that, you might as well give up. Every rider has a different feel, at different age, and some riders probably never feel that at all, but I do. But I don't have that feeling at all on Big Star, not at all and you can see that. I've had lots of falls, not just the neck, and when you know it's coming so try to save yourself that's worse. When you're younger you hit the floor and bounce." He laughs.
Mind you, that day he'd jumped four horses at home! He'd also bought a six-year-old he has confidence on, a mare he thinks very highly of. So whilst he's said he'll stop competing when Big Star retires he's still intending to produce a few more: " Yes, I would like to get a couple of young horses and try and ride them, produce and train them for the next level and after a couple of years move them on. I think I could do that with ones I like. For example I saw the mare in Holland, tried her and liked her instantly, which is a good omen. I think she's going to be really good. She's really quiet, placid, and beautiful to ride. She's six but she rides like a ten-year-old. She's got an old head on her."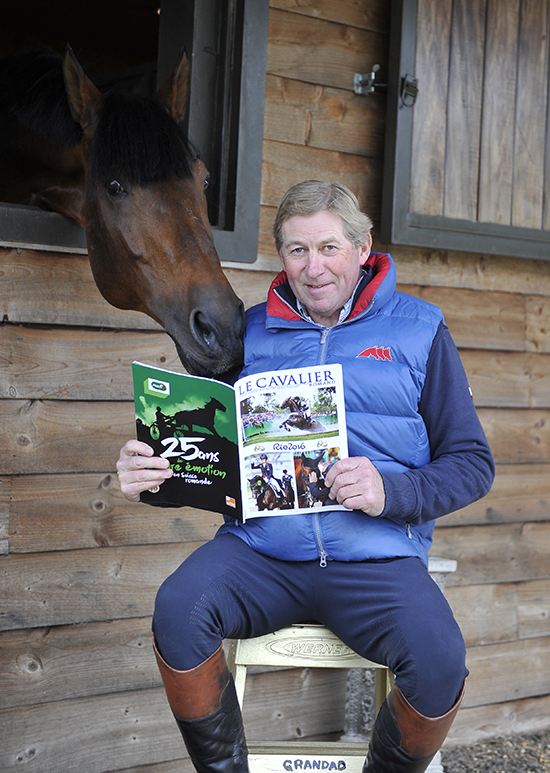 There's still that thorny old question, where are the young riders coming up? Nick, the Whitakers, yes there's Ben Maher and Scott Brash, Jessica Mendoza, but when it comes to it, Nick and the Whitakers with a combined age of 174 in Rio are still the stalwarts. "I think some young riders are bad pickers of horses, they go off and buy something they think is right and it's not. Experience tells, but it is horsemanship. It's difficult for young riders today. They want success, to get up the computer list, and the only way to do that is to jump a lot. If you haven't got many horses you've got to jump the ones you've got, to get to the better shows, and that is a problem.
"I'm not bothered about going up the list. It doesn't matter to me, as I'm really doing it for pleasure now; going to help Laura with her horses and students, stuff like that. Being No 1 in the World is not my life. Younger riders like Joe and William Whitaker, they want to be number one and rightly – if they haven't got that drive at their age, they shouldn't be doing it – so they've got to get out there. You need good horses, and to get good owners you've got to put yourself out there, and be approachable, put yourself about in a manner that you can talk with these people.
Article continues below: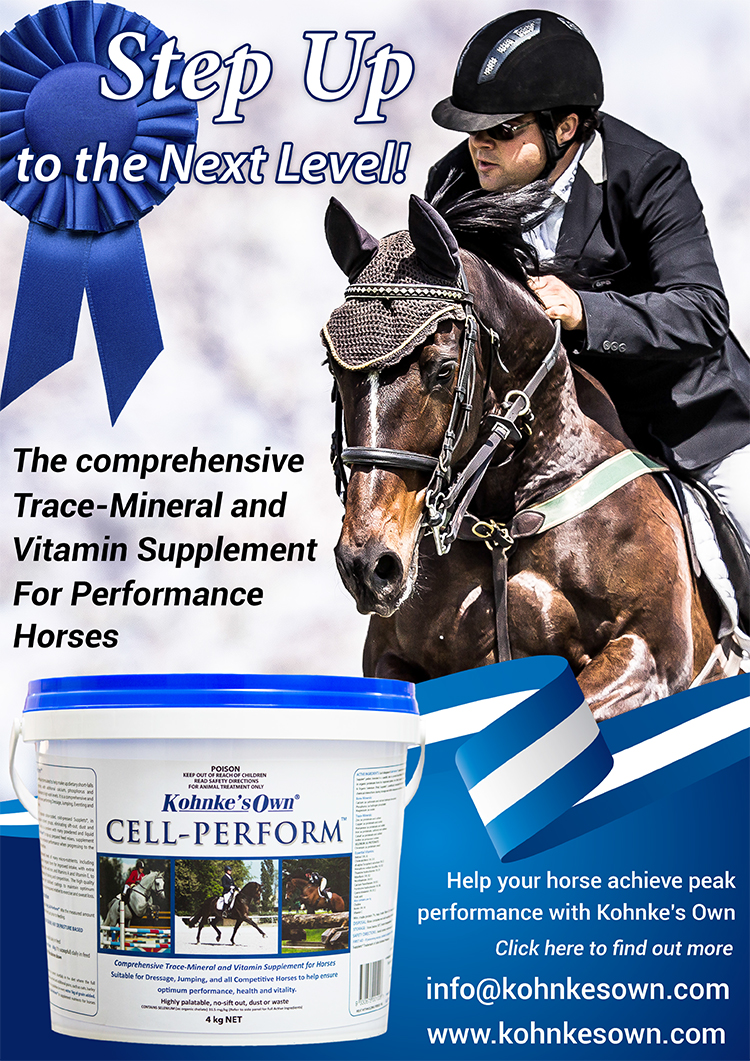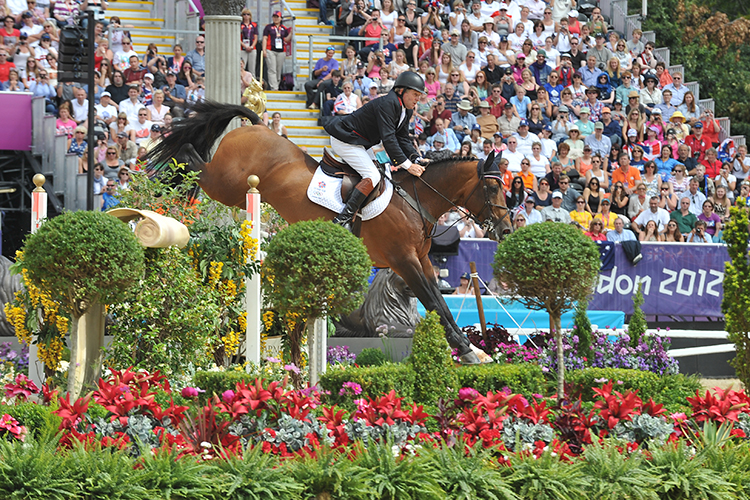 Big Star
By Quick Star (who made Meredith Michaels-Beerbaum's name) out of Nimmerdor mare, Jolanda, he's royally bred. He's not actually that big at 16.2, but 'Henry' has incredible presence. At home he's very laid back, lazy even, although he can have the odd 'fresh and mad' day, but in the ring he's a totally different character.
As Nick puts it: "He lights up when he gets to a show. He neighs, always, when he goes into the arena and if he didn't, I'd think there was something wrong with him. You really need to know him, to know what he's like – of course you do with all horses – but I've had him for eight years and I know him inside out. And he's always been the same, as a young horse he was like he is now, just young. He's the most amazing horse, a once-in-a-lifetime horse."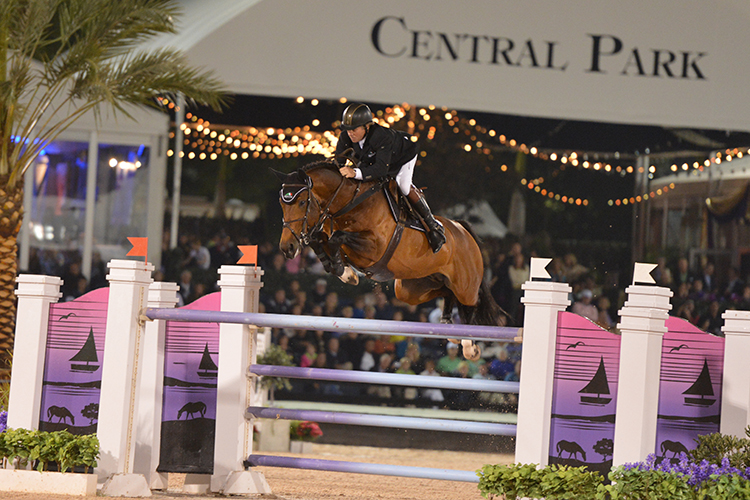 He doesn't jump a lot at home, but the former champion National Hunt jockey Sir Anthony (known as AP) McCoy had the chance to ride Henry over fences for a magazine article. His biggest worry was stopping. Once Henry powers up…
Laura Kraut, Nick's partner found him. She was preparing for the 2008 Beijing Olympics via training in Holland, and arrived a day early. There was a show nearby; she decided to drive up there. She spotted a horse with an incredible jump, ridden by an American who lives in Holland. Asking was the horse for sale the answer was yes, but only to a good rider, and he's expensive. Laura called Nick and said he had to come buy this horse. A couple of days later he did just that.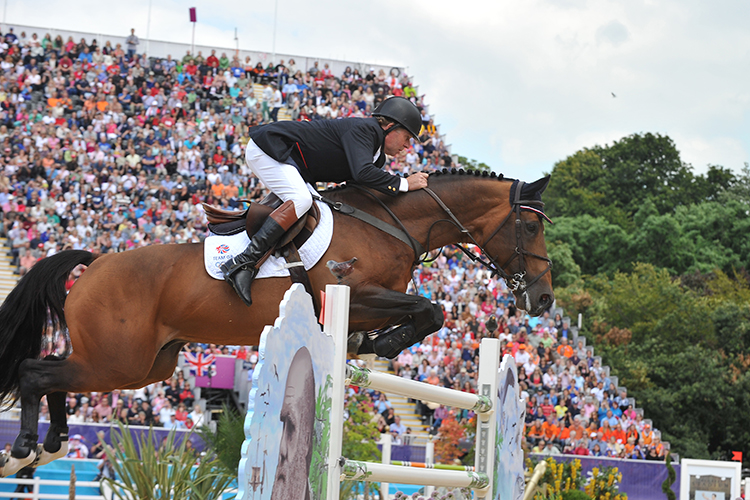 Reminding Nick about watching that final round of his in Rio, feeling not 'edge of seat' but just glued to something almost magical about to happen, he laughs again: "Everything Big Star does, he does with a lot of enthusiasm, that's part of him. People go and watch him jump, the riders go watch him jump it's his actions, his character. He's a creature of habit. Then look at him now, laid back, quiet in his box." We did. Every word Nick speaks rings with such affection for this horse.
Article continues below: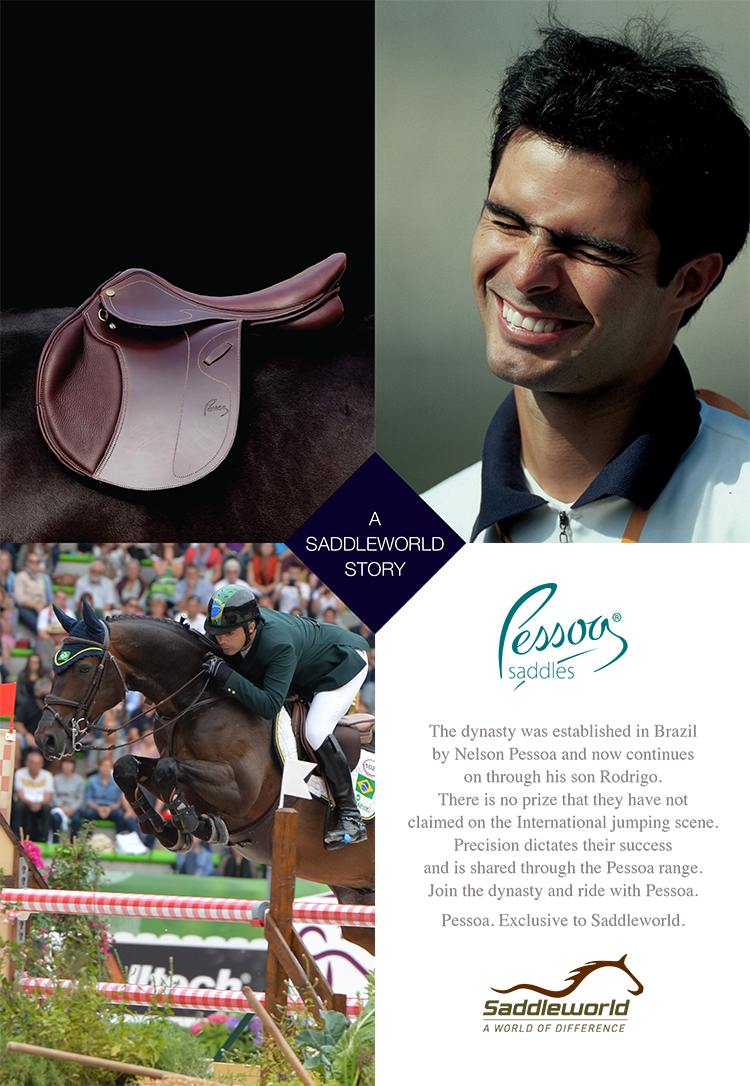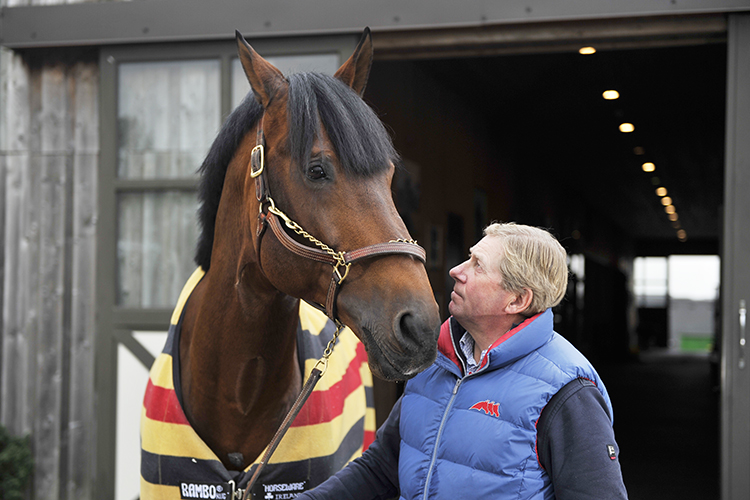 Big Star's welfare is top priority. When he twisted a joint the week before CHI Geneva, and then was pulled out of Britain's big Christmas celebration show, Olympia. On slow work he still paraded at Olympia before heading off to Twemlows Hall, hub of Stallion AI Services, for his other career, breeding. As the Number 1 show jumping sire in the world that's important. He is stabled next door to the now 23-year-old Arko III, Nick's Athens ride and world number one show jumper from 2004-6. Who can tell what conversations these guys have over hay? And with Jaguar Mail just one down?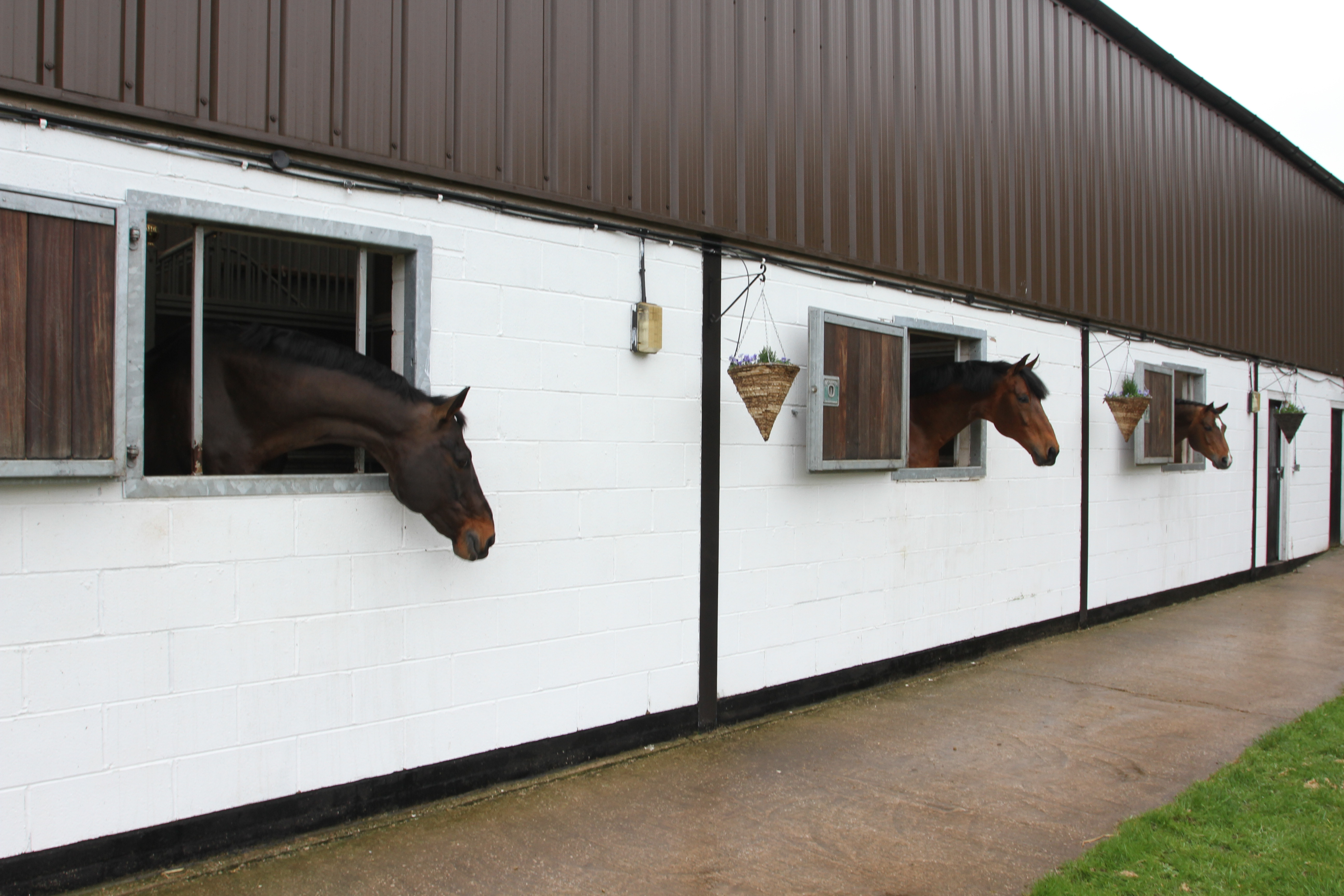 Arko, Big Star, and Jaguar Mail / Photo: Stallion AI Services
Big Star will be home mid-February and back into work, ready for the next instalment in an extraordinary story. Now that the final four horse swap has been dropped from the World Championship format, who knows?
---
PHOTO CREDITS
Nick at home photos: Clement Grandjean
Competition photos: Roz Neave
Rio photos: Dirk Caremans