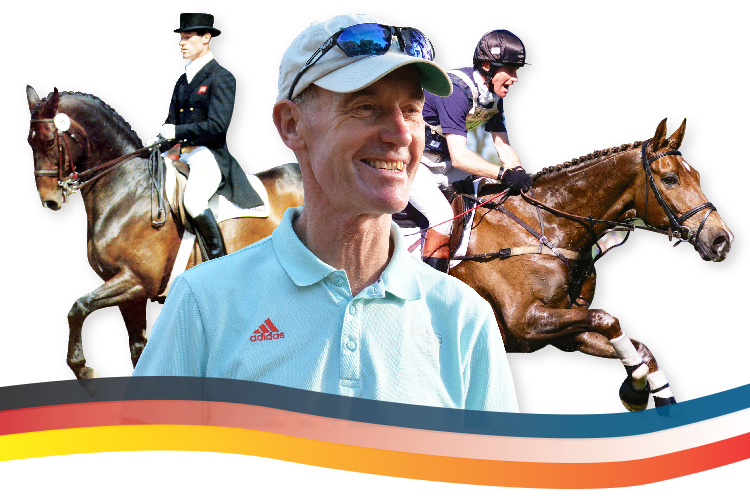 An interview with Christopher Hector
Photos – Roz Neave, Julia Rau and archives…
---
Is CB headed for his next success?
It's now official, Christopher Bartle, eventing super coach, after leading the Germans to two Olympic gold medals (three if not for Bettina Hoy's blonde moment in the showjumping at Hong Kong) and one silver, has left the mighty German team to take over a consistently under-performing British team. This is the first part of a long ranging interview that began at Pau**** and continued on at Adelaide****. I have left it largely as it happened, since Chris is such an interesting guy with so many fresh ideas, and he also has a very elegant way of expressing himself. – CH
---
Do you think it is more of a challenge in the UK, and for that matter, Australia, for a coach to work with a group of riders who all have different methods and philosophies, from very good to seriously wacko, where with your Germans they came nicely trained out of a very specific program…
"I think there certainly is an advantage in Germany,  they do have a good basis – I'm not saying that doesn't happen in GB, it does, and what you've got to take in, is if a rider gets to the stage where he or she is of interest to the squad, then conventional or whacko, they clearly have talent and performances, and it would be a mistake to ditch all that, and say, right now you are under my tutelage, and you've got to change everything that you have done."
"Clearly what I've got to see is why did their success happen, how far can it be further developed and be produced more consistently. I want to work very much with the existing trainers, and not somehow take over. That system has worked very well for me in Germany – that was one of the first statements I made to the squad in Germany when I started, you've got all these good trainers in Germany, why aren't you using them?"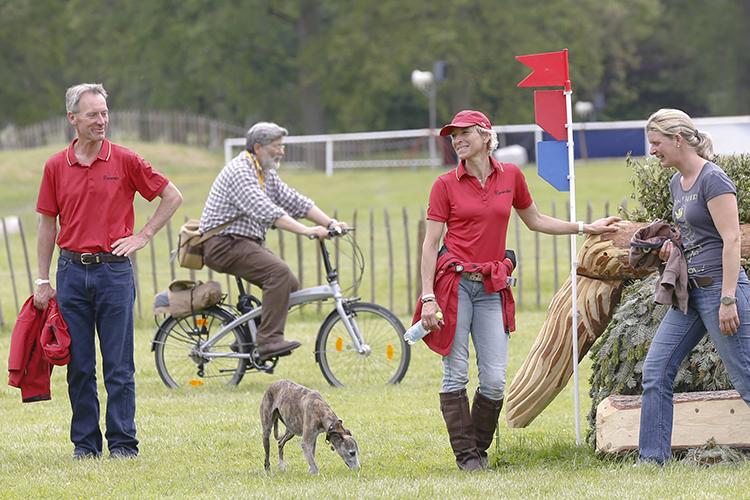 Christopher walks the course with Ingrid Klimke – in the background, famed equestrian photographer, Jacques Toffi cycles to the press room…
"At that stage, the eventers felt themselves separate, they more or less trained by themselves, and then they spent weeks, months in training camps with the team trainer – in a totally artificial situation away from their homes, and I don't think that worked particularly well. So we changed that, Hans (Melzer, team manager) and I, and used a much more flexible training model, and very much working with the riders' own trainers."
"Some riders clearly had very good trainers, and some needed direction to find the right trainer, and as you are well aware, there is a dressage trainer that is right for eventing, and there is a dressage trainer who is not so good for eventing. You need someone who can combine the various elements of eventing, into the package. If I get the job with the British team, that's what I want to do, work with the trainers, put across my philosophy to the trainers, and clearly to the riders as well. I want a triangular situation where I am the coach overall with the individual riders and their coaches."
read on below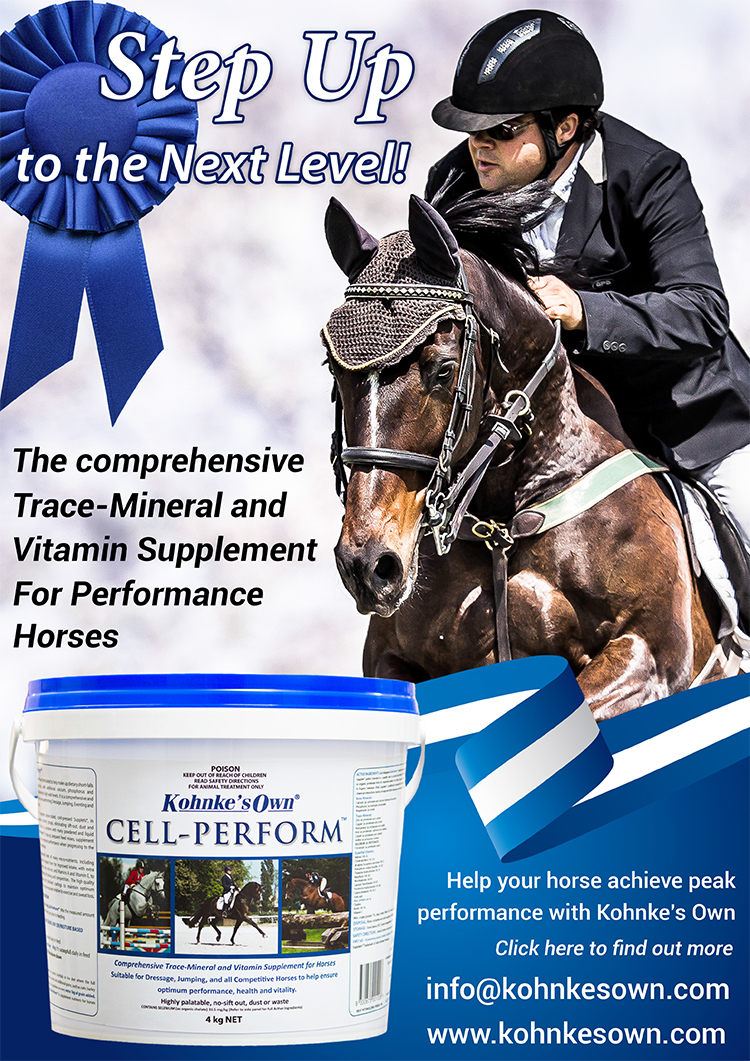 Was it scary sixteen years ago to take up a position in Germany where they have such a strong tradition of their own? It was much more formal then, than it is now…
"It's scary to think that it was sixteen years ago. Certainly in my little sphere, we got rid of the 'Herr' and 'Frau' the day I arrived and it was Chris and Rudi and Hans and co. There is still that discipline, an old fashioned-ness about the Germans that is a positive. They come up and shake hands, and don't quite salute, but there is no sloppiness and I think that is a good thing – it makes them from a training point of view, good to work with. There will always be some people who question what you say, and I don't mind that at all, that's a good thing. Blind faith is the wish of some trainers, but it is certainly not mine, because once the riders are out there, they have to think for themselves."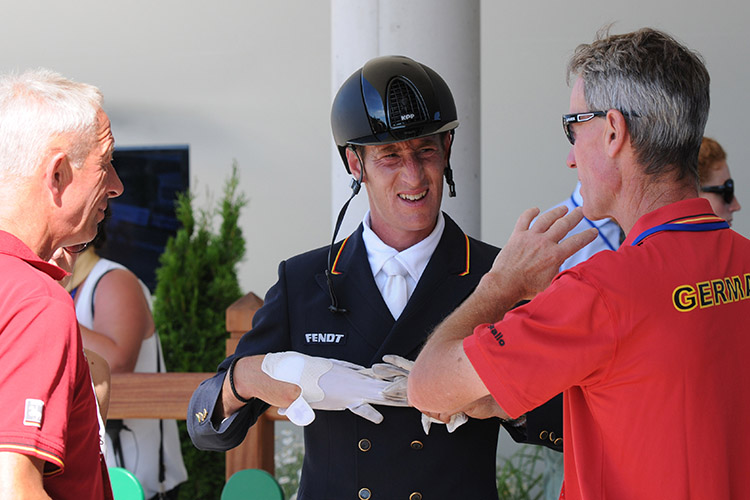 The team, Hans Melzer and Christopher de-brief Dirk Schrade
When you started with the German team, clearly they had good dressage scores, but they tended to fall apart cross-country…
"Actually when you go back to the statistics, and this is me bragging at the moment, I was training the dressage for the Brits at that time, and for five or six years, the Brits were always in front of the Germans after the dressage. The Germans needed to lift their game as far as dressage was concerned, and I had very good allies there in terms of, particularly Ingrid Klimke, and Hans Melzer, who were very pro trying to improve the dressage."
When did you first lay eyes on this slightly square, slightly balding, rider from the south of Germany…
"Don't be too negative, he's a charming guy. Michael and I get on really well. He is clearly an amazing talent. You've probably seen the photo of him at the age of ten that was sent to St Georg magazine for George Morris to critique. It's an amazing picture because you can see his confidence and his eye, even at that point. I met him in 2003, that was when I first saw him in competition – he had some fairly old fashioned Warmblood horses at the time. He definitely had that winning attitude but he was fairly rough at the edges, even though he clearly had that winning streak about him. That was partly because of the type of horses that he was riding at the time. From 2003 to 2009, my rôle was much more keeping an eye on him, taking every opportunity when I saw him at competitions to compliment him and give him ideas as to what could be better, to motivate him to think, basically the team trainer thinks you are a rising star – that's important for any up-and-coming rider or athlete."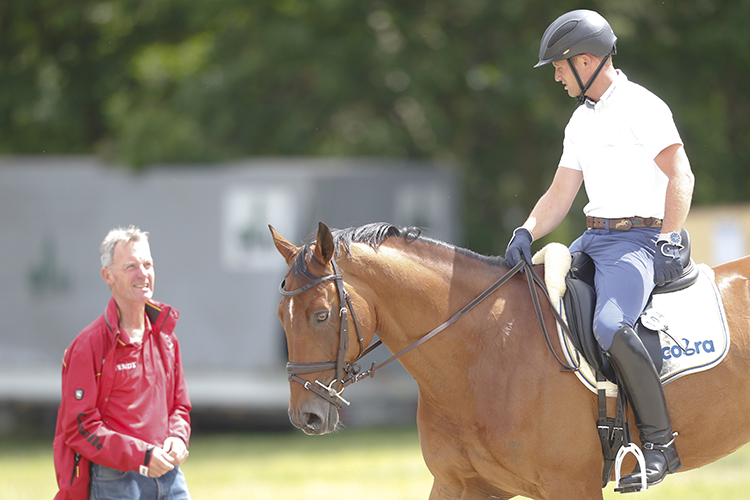 Christopher and Magic Michi and Sam…
"I can't say I had any formal involvement in his training until he joined the squad in 2009 and even then, through all that period from 2009 to 2016, my rôle is very much as an extra to the team the Jung family already has, his mum and dad, and the home team. I don't try to take over in any way but try to channel my ideas and information as much through his dad as I do directly to Michael."
Now Michael is riding horses that are generally 75% blood – who effected that transformation?
"I think it was partly by accident and clearly by design in the sense that they could see that the type of horses they had before were not the right ones for the modern sport. As you well know, landing on a superstar is not easy and is often by accident. In the case of Biosthetique Sam it was purely by accident, not a horse that any of us would have put our hand up at the auction to buy. FischerRocana is one that they sourced locally and that was probably more intentional, they went looking for a horse and found her. The idea of having more blood became more clear to them in those first seven years or so. They were getting results, but the Warmbloods were breaking, and just didn't have that class. I know Michael is looking for more horses right now…"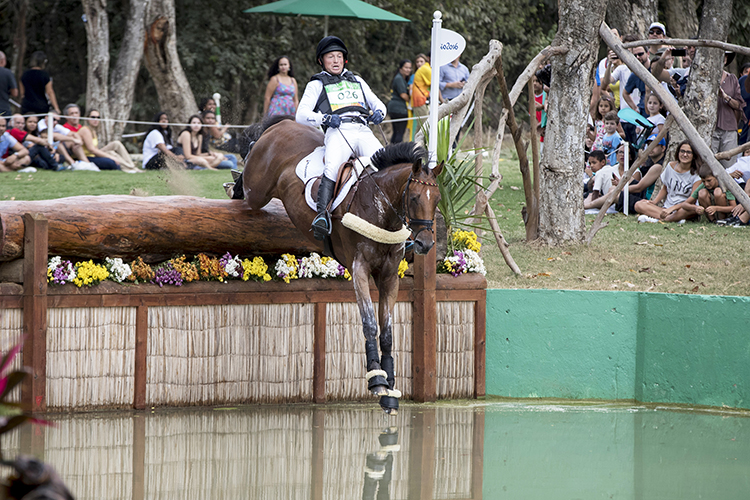 'We will get there' says Michael Jung – on course at Rio
Four four-star horses in stable…
"But we all know what the sport is like, in equestrian sport you always have to be looking to the future."
Have you ever seen him ride as rough as he rode at Rio?
"I wouldn't say how he rode at Rio was rough. At an Olympic level it is technically four-star but it was really three-star, but star levels don't really count at Olympics. It was an Olympic track and at the end of the day, it was a really clever track, despite all the negatives one could say about it. The fact of the matter is, Michael had to fight for it, it wasn't just a style competition, and the fact that he can move from being a stylist to making it happen, is what sets him apart from the rest. Yes, I would criticize a rider who was unfair to his horse, but not a rider saying, YES WE CAN and YES WE WILL…"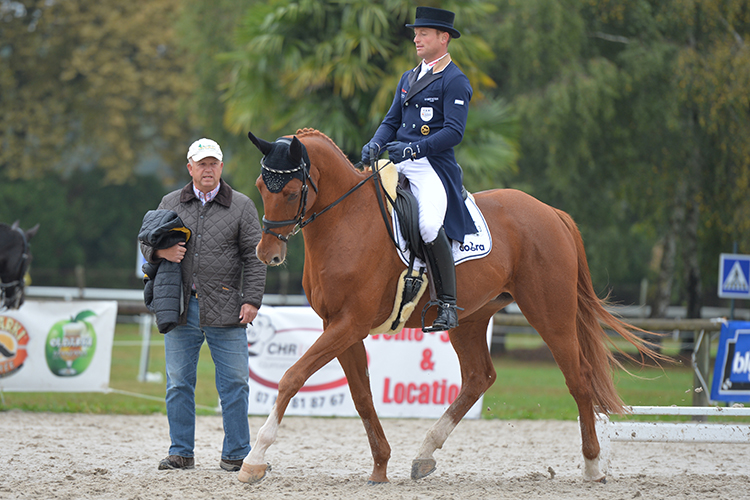 The Jung team – father and son,  Joachim and Michael working with Takinou
He was saying it fairly definitely…
"He was saying it definitely, but that was what his horse at that time needed. You had to believe, and if you don't have that, you can tick all the boxes and you can follow all the rules about how to sit correctly and ride, but if you don't have that extra yes, we can attitude, then at the critical moment, you will lose it."
I understand that Hans Melzer's innovative strategy for Rio was that he was going to send his best riders out first and blast the opposition out of the water – it didn't quite work that way…
"It was a good plan at the time (he's laughing) – I think it was an excellent plan, then sadly Sandra (Auffarth) made a little mistake going into the water, lost her position for a split second, and that was critical. That's what made that course so interesting because you couldn't afford to make a mistake.  If Sandra had gone out first and achieved what I hoped and expected, we would have blown the other teams out of the water."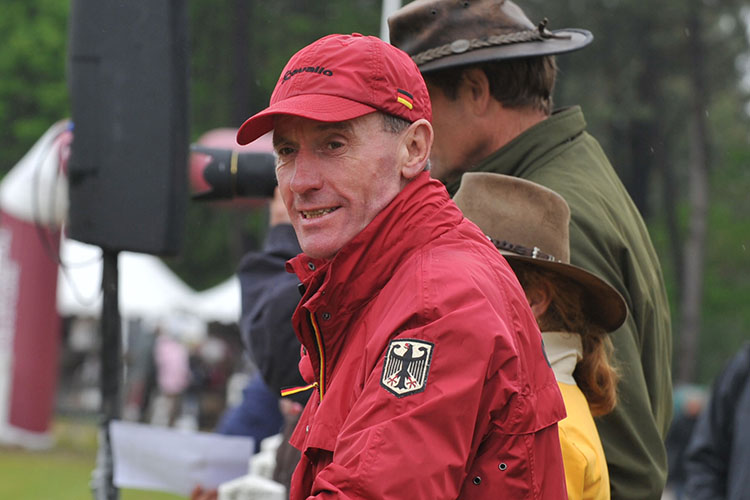 "The great thing was that Michael set off with his typical attitude, and mine as well, we don't play safe just because that has happened, we just ride how we planned to ride. Clearly Michael has to make the decisions from fence to fence as to how his horse is going whether he goes the quick way or the long way, he makes that decision at the moment, knowing what the goal is. Certainly our strategy at that moment was that we were still on target to go for gold, not to play safe."
The French were playing safe…
"They played safe with their third and fourth riders but it is not my attitude, or Michi's attitude, nor Ingrid's. Sure you have to make some decisions and my one regret is that I didn't tell Ingrid to go long at the last water, but there we go, it is easy with hindsight."
---
Christopher Bartle – A History
Were you an odd man out when you started eventing, because it was the era in which a leg yielding on the way to the Hunt was considered adequate dressage training, and anything more dangerously liable to ruin the horse cross-country and you were coming from an academic and very serious dressage background…
"That's right. My mother was very academic and translated a number of the classic dressage texts from French, and Hans von Blixen-Finecke, who was my primary trainer, had been an Olympic Three Day Gold Medallist in 1952 on Jubal, and the other horse he trained, Master Rufus, was ridden by Henri Saint Cyr in the dressage and also won a Gold Medal. Incredible. So that was drummed into me as a kid, that dressage is clearly a sport in its own right, but that dressage comes from the French word, dressur, which means to train, and all the movements we do in dressage have a rôle in equestrian sport outside dressage."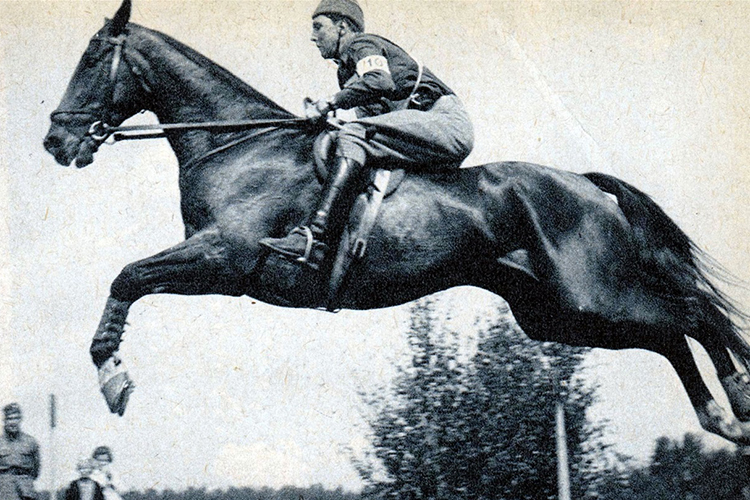 Hans von Blixen-Finecke on his way to Gold
How did your mother become so involved – translating some of the great classic works…
"You could either say it was boredom that pushed her in that direction – because she'd sent us all off to boarding school and she wanted something to do – but she was also clearly a very intelligent person and for her, horses were not just about going off hunting, the typical Yorkshire equestrian scene. She always had an enquiring mind, you didn't do something because you were told to do it, you had to understand, you had to keep asking the question: why?"
"I well remember my mother's interest in the 'why' taking her into physics to understand the principles…"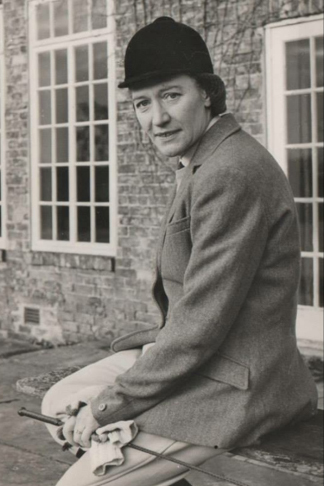 Christopher's Mother…Nicole Bartle
Did she go to France?
"My mother was from Belgium, she was a fluent French speaker from the French side of Belgium. Because of the war, my mother never had the opportunity to pursue her equestrian ambitions, so it became more of a hobby than pursuing her passion as a professional. When we were kids, she went to Nuno Oliveira, one of her first mentors, and he was again, someone who was not just wonderful, but an out-of-the-box character. Then she met Hans von Blixen-Finecke somewhere, and they hit it off really well because he was very much a thinking rider and trainer. He had the same attitude of mind, it wasn't a case of just doing things because of tradition, you had to be able to answer the question – why?"
Were you genetically coded to become a rider-cum-trainer?
"Probably yes in that sense, in that I ended up with horses as a way of not getting a proper job. I finished an economics degree and every year after that my mother used to ask me when I was going to get a proper job, I'd say, next year."
"To a degree it was force of circumstance that took me down the coaching / teaching road, because I had to finance my competition aspirations, but at the same time, it was something that I really enjoyed: being able to answer the question 'why' and explain it better to my pupils. I've had the opportunity over the years to have lots of 'guinea pigs' – pupils, both horses and humans, who I could experiment with, and each one of them contributed something to what I know now. One never stops learning, so you could say that even now, the people that I help, are also my guinea pigs to a certain extent."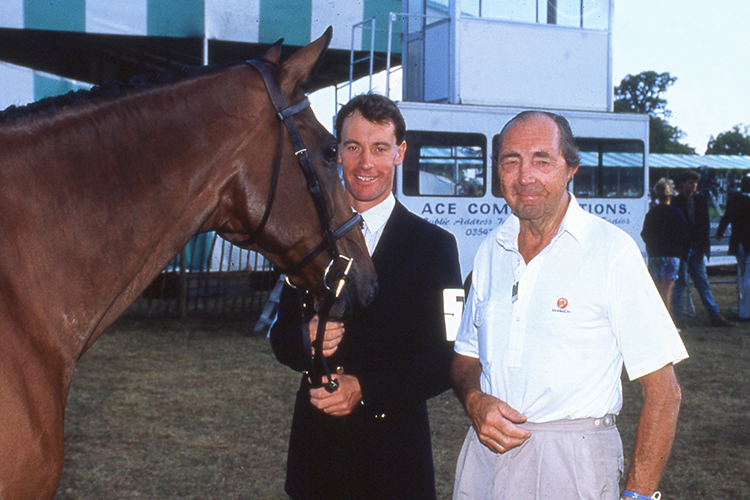 Christopher and Hans von Blixen-Finecke
You ended up riding in the Grand Prix dressage at the Los Angeles Olympics, was that just because your eventer was better at dressage than eventing…
"It probably was an accident. Wily Trout was an eventer, and quite successful, then four weeks before he was to go to Burghley, he tweaked a tendon, and in the nine months it took to get him back and in the process of bringing him back, I got bored of doing normal work, and decided, why can't he do what the dressage horses do? I worked on his flying changes, he seemed to have a talent for piaffe and with the guidance of Hans von Blixen-Finecke in particular and his motivation we started to get there. It was also going to Goodwood one time and seeing Reiner Klimke on Mehmed, and being inspired by what Reiner did, but also thinking I can do what the other ones are doing. For a horse that wasn't bred to be a dressage horse – in those days, horses were just horses, they weren't born to be dressage horses or showjumpers, or eventers – he did really well. Sixth at the LA Games…"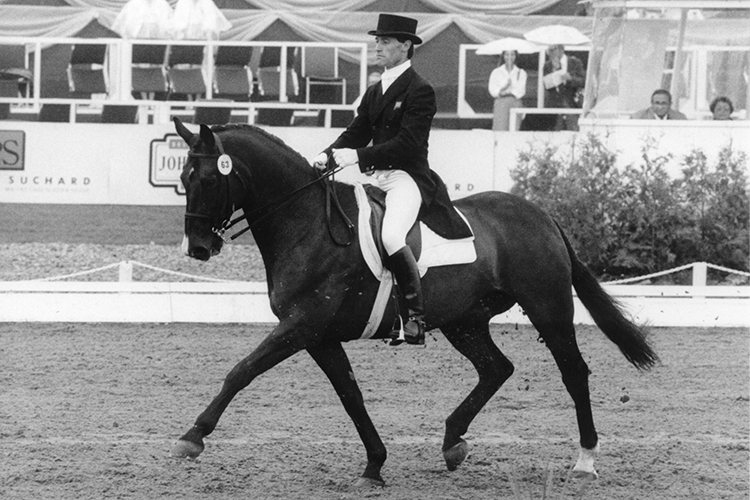 The eventer turned Olympic Grand Prix competitor – Wily Trout
In those days were you an eventer having fun doing dressage, or seriously a dressage rider…
"The thing about dressage is that it is only fun to win, so it was a challenge to get to the top of the mountain, and getting Wily Trout there was quite an achievement , but I was frustrated I hadn't got to the top of the mountain on the eventing side. The next mountain was Badminton…"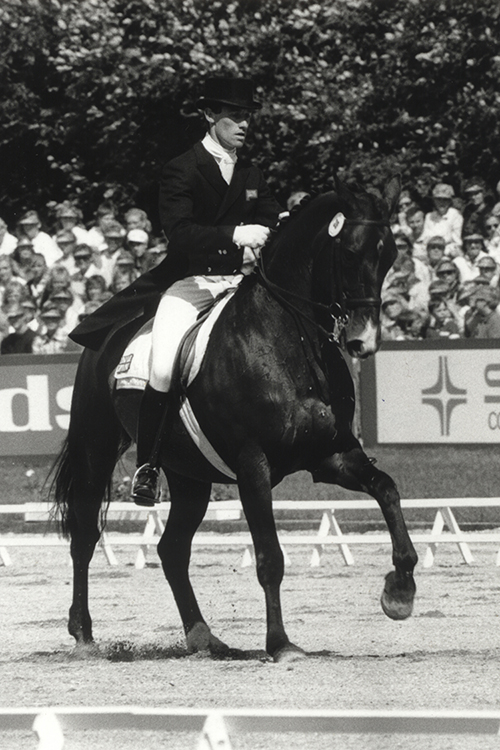 Wily Trout
And the hero this time is Word Perfect – where did you find him?
"A dealer's yard. We were stopping the night, attending another event in the area and as one does in a dealing yard, you start putting your head over stable doors. Word Perfect came out, and something attracted me to him. He had a very 'blood' looking head, he was probably only three quarters Thoroughbred. He was out of a mare, that if you saw her, you would never believe she could breed a Badminton winner. He was bred more on the jumping side, he was a very good jumper, that's what attracted me, when I popped him over some fences."
"I took him home, and regretted for a year, having bought him. I got frustrated with him because he wouldn't jump a ditch. I'd spend an hour trying to get him over a ditch, he was frightened of them, so I gave him to my wife, Alison, and she played around with him for a year and he turned from an introverted horse with no self belief to one who was clearly enjoying life, and I took back the ride from Alison, and he went from Novice to three-star in one year."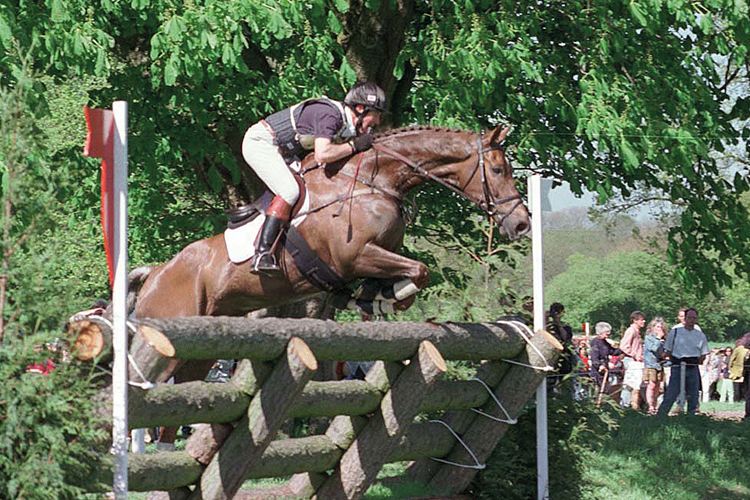 Christopher on his way to winning Badminton with Word Perfect
Keep an eye out for part two…
---
Christopher Bartle was also an Olympic dressage star and he is a great dressage teacher. Enjoy this vintage series that will take your horse to Collection and FEI Level tests click 
Read about Hans von Blixen-Finecke here: http://www.horsemagazine.com/thm/whos-who/von-blixen-finecke-hans/