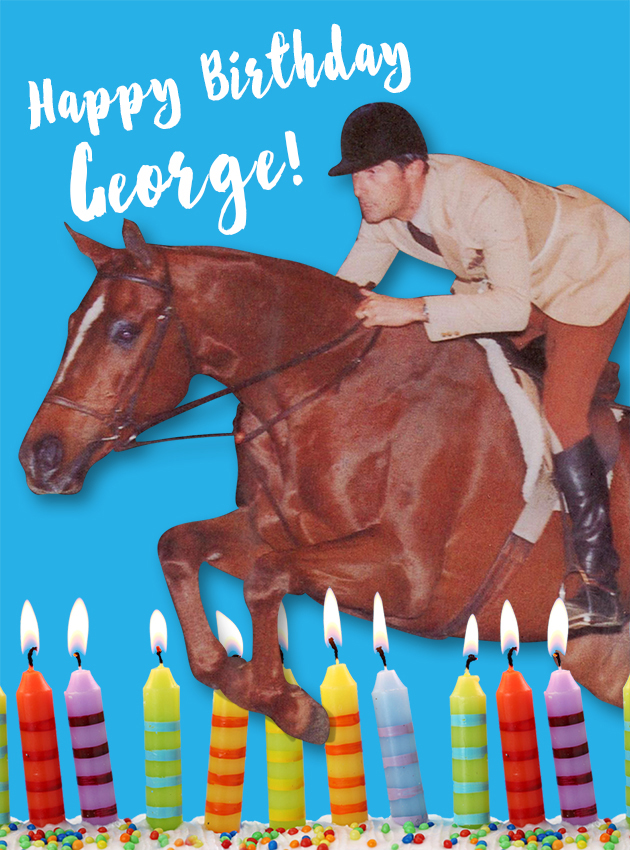 Words – Christopher Hector
The photos are from the book UNRELENTING by George H. Morris with Karen Robertson and used with permission of Trafalgar Square Books (www.horseandriderbooks.com).
Celebrating George's birthday, it's also the beginning of a week long celebration of George Morris and the training philosophy he has so eloquently espoused over the past half century…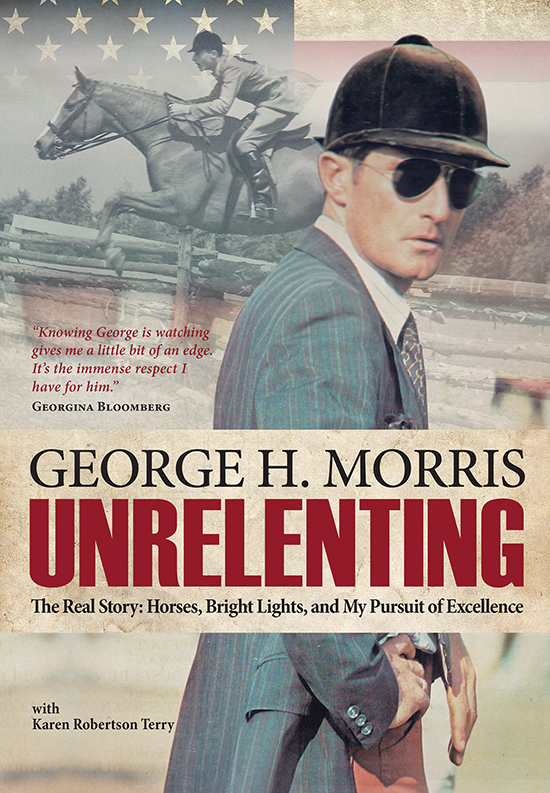 George Morris' book, Unrelenting, is like the man – astonishing! The darned thing is over 400 pages long, and took up a fair slice of my Christmas 'break', that is when I wasn't flying to Sydney, to watch the great man in person with his best ever team of Aussie pupils, at Vicki Roycroft's stables.
My friendship with George goes back to 1987 when he kindly autographed his classic Hunter Seat Equitation, "For Chris, A good 'watcher'." Thirty years later, the inscription on Unrelenting reads: "Christopher – A great friend who gets 'it' and isn't afraid to say it… Thanks"
George Morris has never made any secret of the fact that he is gay, but as one of George's star pupils, Chris Kappler points out in his forward, 'Some will find it surprising to meet George as a fast-living playboy, who, in a time when it was not accepted by many to adopt or pursue a gay lifestyle, comes out in a way that allowed him to abide by the strict boundaries of his professional life, while still exploring his creative, tempestuous, spontaneous self.'
Gay but not exclusively so, and George at the age of 78 still relished the thought that the Wellington social set suspected that he was having an affair with his writing assistant, the 'drop-dead gorgeous' Karen Robertson Terry, when she moved in to work on his book.
Indeed the book comes with a warning: this book is a candid portrayal of my life. Innocents and those faint of heart or closed of mind may wish to proceed no further.
At one stage in the book, George estimates that he has had something like 10,000 sexual encounters, and while each and every one of them does not make the pages of Unrelenting a fair few do – beginning with his dalliance, at the age of 19, with movie star, Tab Hunter.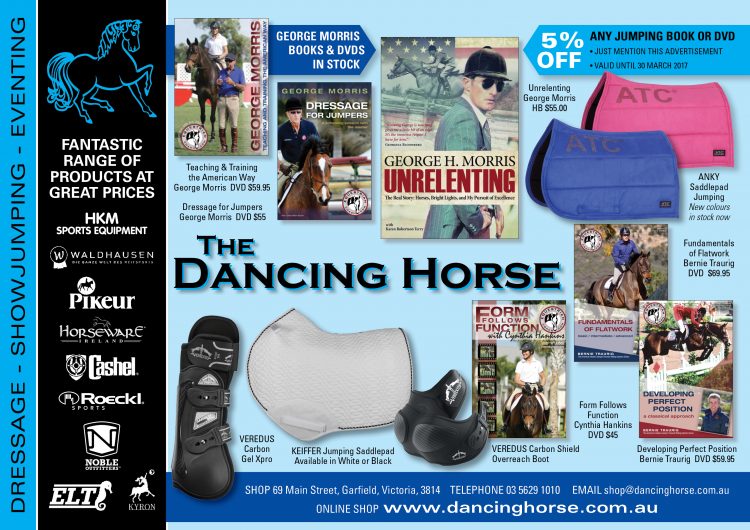 For more information go to The Dancing Horse
George was born into a life of luxury and privilege, of 'old' families and glamorous country houses, of hunt clubs and horses – and he soon discovered one of the passions that was to dominate his life. He was lucky in that he met a very great teacher in Gordon Wright. George was desperate to ride but he was also a timid and fearful rider, Wright had the answer:
For my first lesson I was instructed to get on an old school horse, Silver King. He had probably foundered and wasn't good for much more than slow gaits and tiny fences, but it was the perfect way for me to relax and start at the beginning, learning Gordon's methods. He started me from scratch. literally from a standstill on Silver King, and taught me basics like keeping my eyes up and focused ahead. His very methodical and technical approach rebuilt my riding and my confidence.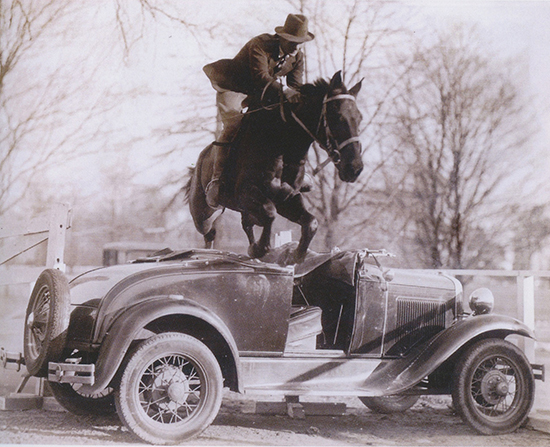 George's great teacher, Gordon Wright
Soon George was competing in equitation and hunt seat classes with Gordon's help, but his friend Victor Hugo-Vidal introduced him to the next great mentor in George's equestrian development – Bertelan de Némethy:
One day Victor told me he'd heard of a man from Europe training horses down at the Rockefeller's barn in Westchester County and took me down there to watch him. Peering into the schooling ring, I immediately noticed the foreign horseman's class and sophistication; he wore gloves and longed horses in side reins. He worked horses with snaffle bits doing basic dressage and gymnastic work over cavalletti. It was a different kind of horse training than we'd ever seen before. Victor and I would sit by the hour and watch him work horses.
The article continues below the ad…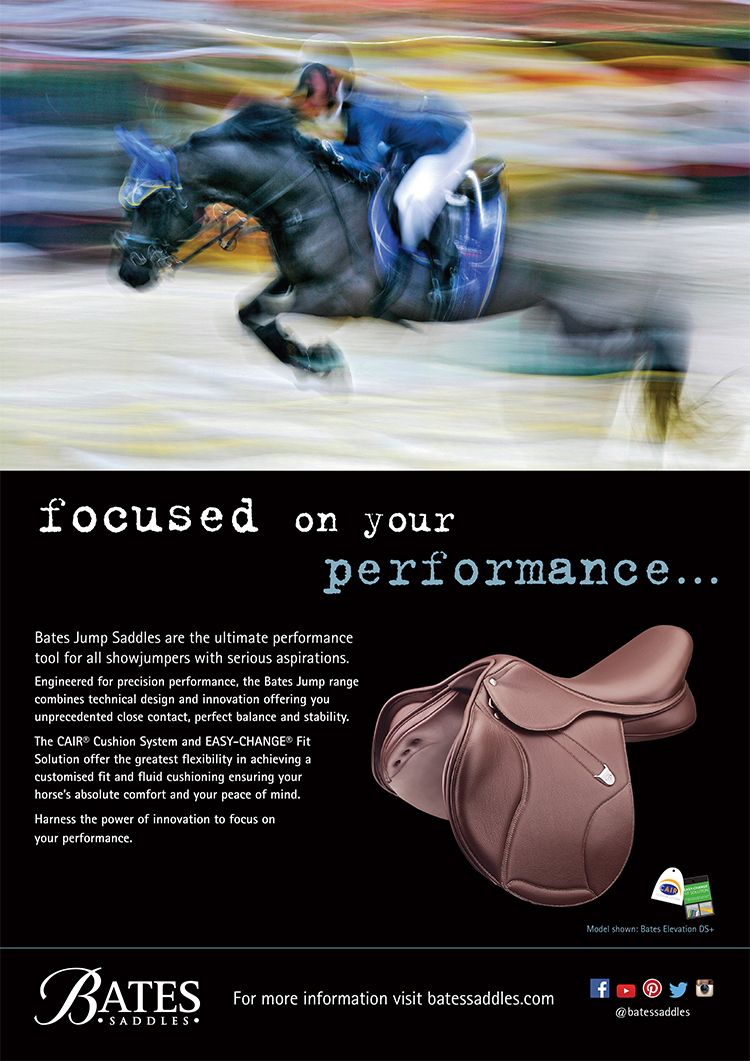 For information about Bates Saddles, click
In 1952, George won the prestigious Medal and Maclay equitation class at Madison Square Garden, and already some of his life long obsessions were in full flight. One of the great things Karen Robertson Terry has done is collect dozens of quotes from friends, students and associates of George. Winifred Gray was too young to go to Madison Square Garden, but remembers 'waking up the morning after he won the Maclay and seeing his picture in The New York Times. Then just as I was finishing the article, the phone rang and it was George calling from New York. He said, 'I won!' I told him I knew it and that I'd just read all about it in the paper. And he replied, 'Oh I haven't seen the papers yet…' and after a pause, 'Winnie, look at the picture carefully for me.' 'Yes?' I said. And completely serious, George asked, 'Are my heels down?' 'Yes,' I replied earnestly, 'Yes, George, your heels are down.'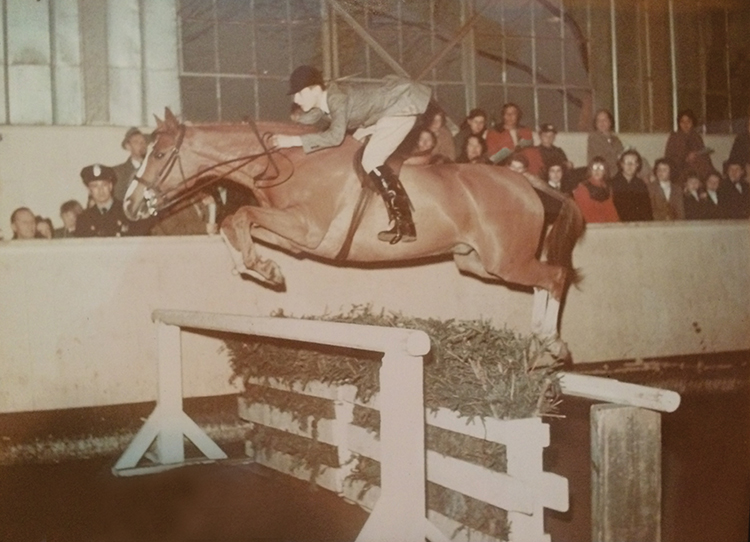 Riding Game Cock in a Junior Olympic Jumper Class… and yes his heels are down
Unrelenting, George's recently published autobiography provides a fascinating glimpse at the American jumping scene, precisely at the moment when the new American style, which was to dazzle the world, was emerging…
Christopher Hector continues his review of the book:
Really George's equestrian education must have taken place in a golden era of American equitation with some of the most brilliant teachers ever assembled on hand.
When de Némethy decided George needed to 'learn how to sit', he was dispatched to German dressage trainer, Richard Wätjen:
'I wasn't sure what Bert meant; I was already quite successful at shows, and I didn't quite know what was deficient with my seat. It didn't take long for me to understand. I took War Bride to Mr Wätjen's stable in Bedford, New York, for two months and trained with him. Richard Wätjen was revered above all others as a god among horsemen because of his incredible seat and position on a horse. The German school is, of course, very focused on the development of the seat. I worked with Mr Wätjen on and off the longe line, usually without stirrups, and worked War Bride the entire winter with side-reins to get her to soften and be less high- headed.'
The great German stylist of the seat, Richard Wätjen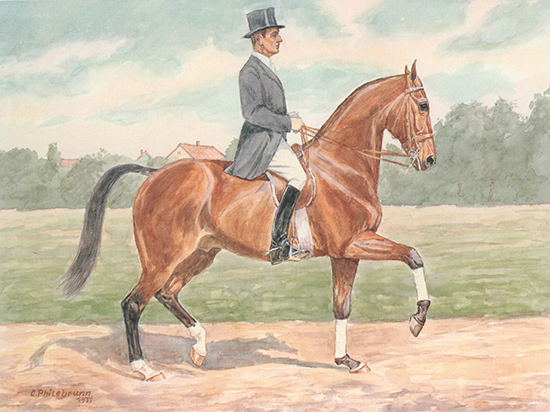 'Many decades have passed since I outgrew riding with draw- or side-reins but at that time in my riding education, it was a good experience to work on my seat, connection and feel… As usual, Bert had been right and my time there was an integral part of my education. Exposure to the German school of riding was invaluable.'
Very early on George found himself 'magnetically drawn' to teaching, and his six-year-old cousin, Whitney Ann Harvey was amongst the first of his guinea pigs:
'The riding lessons were terrifying. One exercise stands out as a least favorite. George would tie the reins at the withers of our ponies, remove our stirrups, and blindfold us. He would then lead each pony to the side of the ring where three fences were set up. He would hit the pony with a crop and we would jump the fences we could not see! If we didn't do it perfectly we would have to repeat the exercise over again. Years later I broke my arm during this exercise when my horse went one way and I went the other.'
'George was unpredictable and a perfectionist. He was also by far and away the best riding instructor anyone could ever wish for. We won many blue ribbons and enjoyed being part of the horse world for a number of years.'
---
Advertisement
Diamond B Farm presents the next step – Baluga (imp)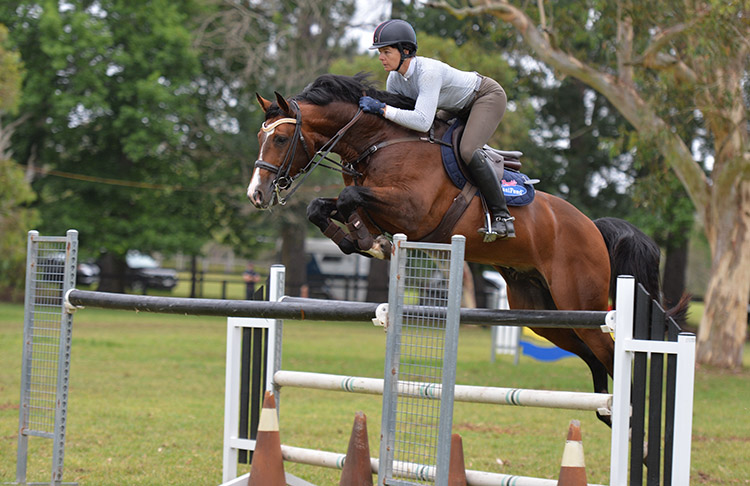 By Balou du Rouet, the best son of the great, Baloubet du Rouet. Baluga adds the legendary rideability of the Calypso II line. Baluga brings to the table a tremendous mind, quiet, intelligent and very very rideable. He is already competing at Grand Prix level – his progeny are only four but exceed all expectations.
For information contact Diamond B Farm – www.diamondbfarm.com.au

---
On his first trip as a competitor to Europe in 1958, George was well placed to observe the differences in riding style.
'The American jumping style was startling to see in Europe in those days and even an uneducated spectator noticed the difference. At that time, there was no opportunity to watch show jumping on television and the crowds at the shows were often seeing an American ride for the first time. The typical European rider rode with a straight back and deep seat, pulling the reins with sometimes hard hands in an effort to get deep to the base of the fence. As the horse left the ground, a rider would often throw his body and kick his lower leg back with a huge, visible effort. Imagine watching a dozen or more riders with that rough style, then watching a rider entering the ring, picking up a gallop with a softness of hand and seat, and seemingly floating around the course like water streaming over stones in a riverbed. Those watching were inevitably struck by the beauty of that flowing, soft style with the rider positioned quietly forward and the horse freed to make his best effort. Not only was it beautiful, our American style was effective, and we gave the Europeans a run for their money.'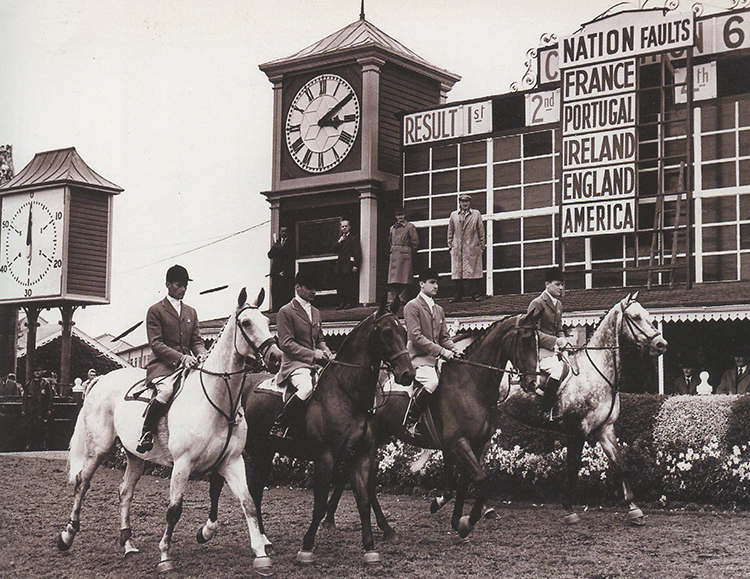 The US Team in Dublin 1958 (left to right) Bill Steinkraus (Kasar d'Esprit), Frank Chapot (Diamant), George (Night Owl) and Hugh Wiley (Master William)
From the book UNRELENTING by George H. Morris with Karen Robertson and used with permission of Trafalgar Square Books (www.horseandriderbooks.com)
Traveling with de Némethy was to travel in style. The male riders were invited to an evening at the McKee Barracks in Dublin, and George who had three tuxedo jackets with him, white, powder blue and black. "I dressed in my powder blue jacket with black trousers and walked down the spiral staircase to meet the others. Bert, standing in the lobby in black tie, took one look at me, pointed his finger up the stairs and simply said, Up! I said nothing, did a turn on the haunches, and headed back up to change into my black jacket.
Two years later, George was back in Europe, this time preparing to ride in the Olympic Games in Rome, and George learned something about the trickery that goes on at Olympics:
'I learned everyone pays attention when it comes to the host team trying to take a home-field advantage. Frank Chapot told me that he saw exactly the same course as the Olympic course set up forty-five minutes out of Rome at a training stable. Perhaps the Italians had a little bit more time to train over the Olympic course than the rest of us! It's hard to say for sure, but I learned over time that there are always politics and funny business at the Olympics.'
George was once again battling with his nerves:
'The night before the individual class I didn't sleep for even a minute! I paced and fretted all night in the living-room area of the hotel, wearing down a pathway in the carpet. The first horse was slated to go at seven in the morning. there was no qualifying in those days, which meant every rider from every country rode in the individual competition. I finally gave up completely on sleep and before dawn walked down to the Piazza di Siena.'
'I walked into the Piazza as dawn broke over the stadium, which was lined by tall thin cedar trees and thick grass soaked through from the morning dew. I stood at the in-gate and looked out over the course for the individual show jumping event. The size of the fences was absolutely staggering. In those days, Olympic jumping courses were significantly bigger than even the largest Grand Prix courses, even the Grand Prix at Aachen. The course, to me, looked positively unjumpable. I thought there was no way I would get around. My order in the class was very early, and I knew the turf would be slippery still from the dew and the sun would be coming up over the hills right into our eyes. But there was nothing to do but try my best, even if it was an impossible task. A feeling of dread followed me as I prepared and warmed up Sinjon, convinced the day would be a disaster.'
George got round with 12 faults and was amazed at the cheering from the crowd, until de Némethy told him, he was the first with less than 40 faults. In the end, the locals, the d'Inzeo brothers took gold and silver, with David Broome just edging George out of a bronze medal by one fault. George and Sinjon then were part of the silver medal winning US team.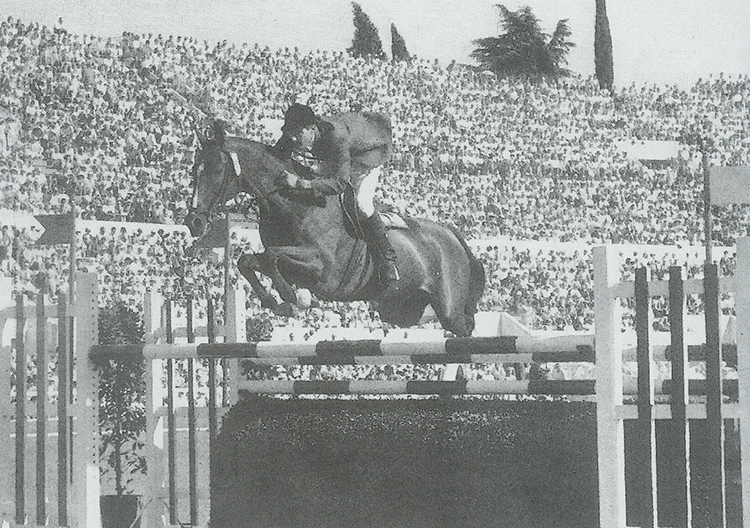 George and Sinjon at the Rome Games
From the book UNRELENTING by George H. Morris with Karen Robertson and used with permission of Trafalgar Square Books (www.horseandriderbooks.com)
---
Home, George realised he wanted more, and walked away from horses to a life in the theatre, joining the school at the Neighbourhood Playhouse:
'Theatre school was a totally new life for me. We had dance class, acting class, improvisation, and voice lessons. We also took fencing, worked on costumes, props, and sets, and learned about the technical running of a stage production. The Playhouse was a very comprehensive school. Some of my classmates regularly worked out at a gym and I started to do the same after school. Since then I've always been someone who makes fitness a priority; I still go to the gym regularly today.'
The George Morris VOICE is a fearsome thing but it is interesting to learn that it did not come naturally:
'As a teacher, my voice has always been a central part of my identity and livelihood and people tell me it's my voice that sets me apart at any horse show. But you might be surprised to know that my voice has also been the cause of massive stress and anxiety at times in my life. As a teenager, I was teased about my high-pitched, boyish voice and I retrained myself to speak with a deeper more masculine voice when I grew up.'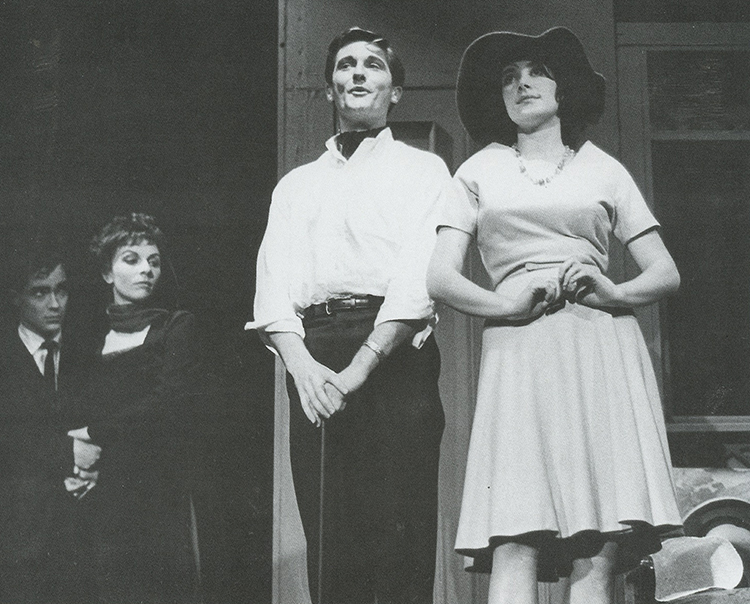 George with Beverly 'Boobs' Rubin on stage
From the book UNRELENTING by George H. Morris with Karen Robertson and used with permission of Trafalgar Square Books (www.horseandriderbooks.com)
At Theatre school, George learn to enunciate and project his voice and had many big roles, often singing roles in musicals, but then: 'All of a sudden, one day, there was a line in a play that started with an 'h' sound and when I went to speak, no voice came from my throat, just empty breath – the sound completely stuck in my throat.'
Decades later George leant that there was a tiny gap in his vocal chords, that fatigue caused it to crop up, then anxiety caused it to worsen. George stayed another year in the theatre, and mostly his voice was fine but 'Always in the back of my mind – and discouraging me from reaching for stardom on stage – was the voice issue. Adversity in your life is often a blessing in disguise.'
Before long, George Morris was not only the most influential of American coaches, but his fame had spread to Europe, and he was soon attracting pupils over there. One of the first was the Swiss rider, Thomas Fuchs:
'I first saw George in 1979 showing in America, and I remember seeing him schooling horses in the morning and he was always in the counter-canter. I thought, well he must know he's on the wrong lead and be doing it on purpose! We had a really hard time with the shows in New York, Washington and Toronto, that year. The Swiss team was always last in the Nations Cups. I talked to George a little bit and then organized a ten-day clinic in Switzerland that following year with all the best riders in our country. We became friends and he came back to show a bit and teach for many years. What happened after was that people started laughing at us because we were counting strides and measuring distances on courses and we rode with longer martingales, all because of George's teaching. In the early eighties nobody measured, so this was really new to us. Good German riders were laughing at us, but then we started to place better and better at the shows. We had quite a few good European Championship results.'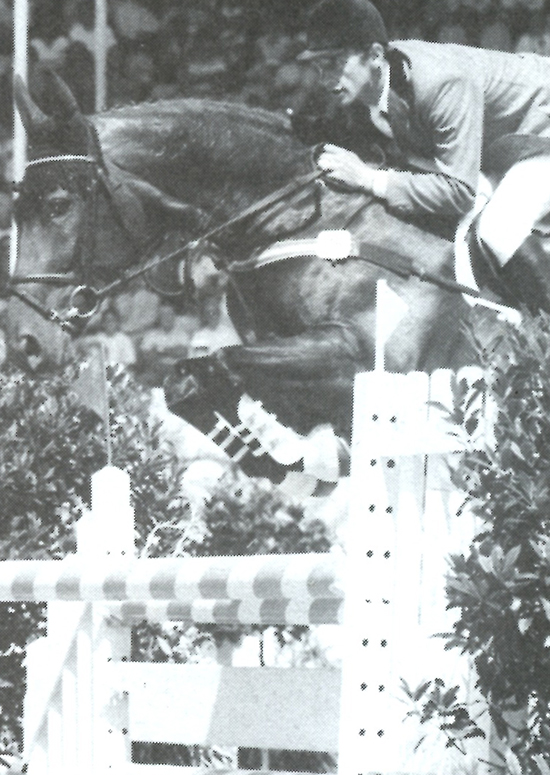 Thomas Fuchs and Diners Dollar Girl
The gold medallist at the Los Angeles Games, Touch of Class, was another that slipped past George. One of his students David Boley turned up with a 'little, hot, 15.3 hand Thoroughbred mare off the track.' They tried her, and George delivered his verdict:
'David, this mare has no scope. Send her to Vince Dugan the horse dealer and let him do something with her. She's no hunter and certainly doesn't have enough scope to be a jumper!'
The next time George saw her, Leslie Burr was in the saddle, in a Low Preliminary Jumper class, the ring 'had a little pond with ducks in it at the far end. For the entire show, Leslie couldn't get that mare to go down to the end of the ring because of the ducks! She'd jump around the top half of the ring, and would never go down to the bottom. It's hard to believe it was the same mare that went to the Los Angeles Olympics.'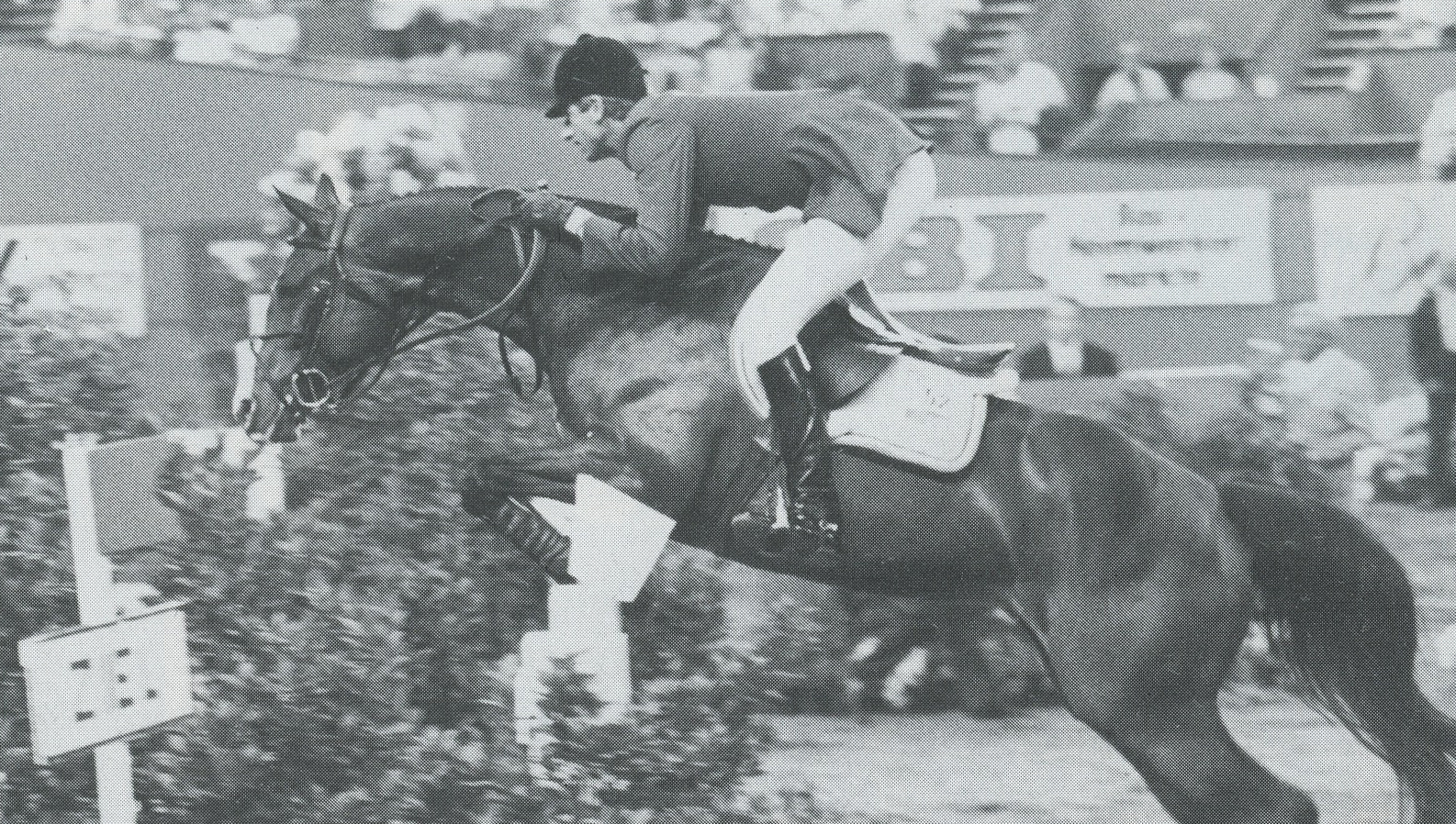 Joe Fargis and Touch of Class
Bert de Némethy not only revolutionized jumping riding, he also turned around course designing:
'Before the Los Angeles Games, Olympic show-jumping courses were diabolically large and a completely different sport than the courses at Grand Prix level. It was a total bloodbath! The fences were a foot higher and two feet wider than any Grand Prix, even the Grand Prix of Aachen. When you see the fantastically beautiful jumping courses at today's Olympic Games, know that it was Bert de Némethy that delivered us into that world. When he designed the courses in Los Angeles, he flipped course designing on its head in one fell swoop. Always obsessed with the strategy of course building from basic gymnastics to Grand Prix, Bert was a genius in the creation of the most complex test of horse and rider. He knew how to challenge the scope, strength and guts of a horse and rider while also testing intelligence and quick thinking when it came to precision, speed, turns and judgement. Bert de Némethy single-handedly took Olympic course building from the historically huge, solid and dangerous to the extremely technical, varied courses we see in international championships today.'
Read on for Armand Leone's tribute to George…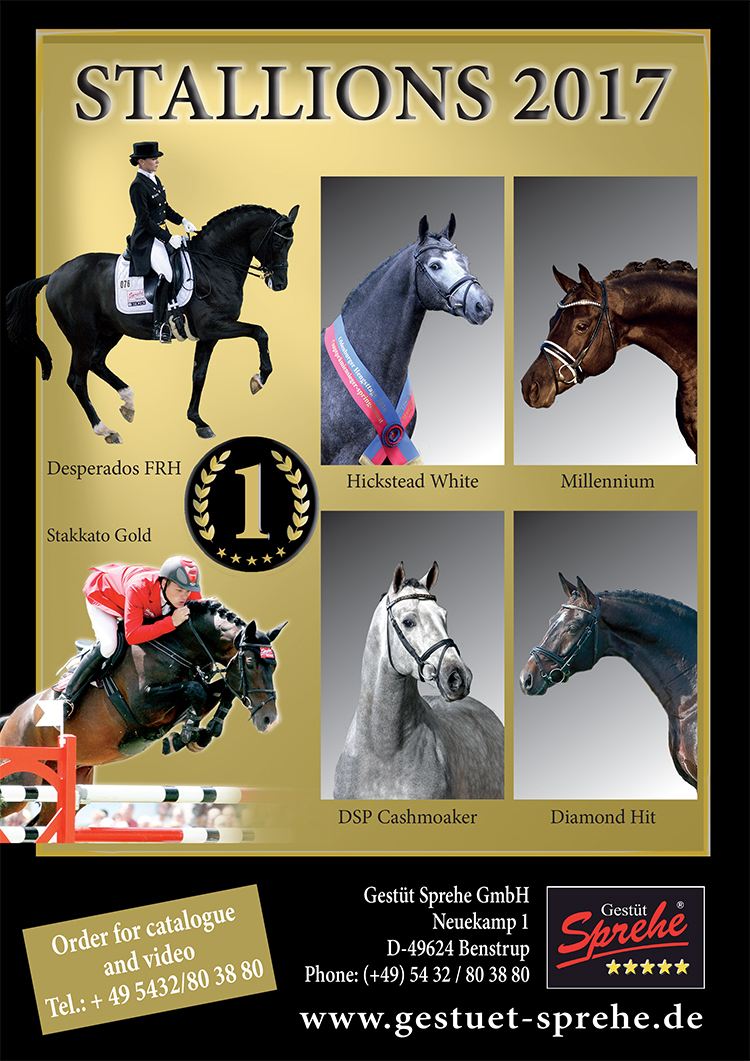 Despite missing out on Diester, Armand Leone pays fulsome tribute to George's role:
'George's biggest contribution, in my opinion, was how he developed so many great women riders. One of his greatest talents was helping riders overcome stage fright. George had to overcome it himself. It was very simple: you make a plan, your work on that plan and focus on it, then you don't have time to be nervous! He was able to address and understand both the psychological fear of making mistakes, which most everyone has, and the physical fear of being hurt. He was able to inspire riders to rise above their self-imposed limitations and insecurities. He pushed students out of their comfort zone and instilled a certain drive and aggressiveness in women in particular, to enable them to become the world's greatest generation of riders – the Katie Prudents, the Leslie Burr Howards and the Melanie Smith Taylors. When you think about it, George was very central to women excelling in the sport of showjumping during a time when women were still redefining their role in our country.'
It was a two-way street, Katie tried to help George out when he made his return to top level jumping in 1988 when he rode Rio to victory in the du Maurier Inrternational at Calgary, at that time the richest show jumping class in the world:
'George and I joke about that day, because I was trying to help school him in the warm-up ring before the second round of the du Maurier. I was talking through some of the lines on the course, and George was so focused on what he wanted to do in the ring that he barked back to me, 'Stop it, I can't listen to this! I know what I'm going to do.' And he was right. He was in the zone. The second round was a lot of pressure but he rode it beautifully. After he won, I told him he was just the absolute worst student, talking back to me like that.'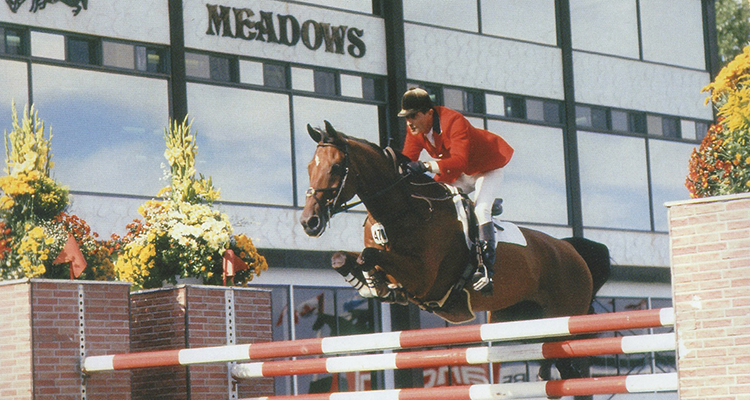 George and Rio win the Grand Prix of Calgary
From the book UNRELENTING by George H. Morris with Karen Robertson and used with permission of Trafalgar Square Books (www.horseandriderbooks.com).
American dressage coach, Robert Dover based himself for a while at Hunterdon and he and George would endlessly discuss half halts.
'I put George on my Grand Prix dressage horse more than once. Even though he wasn't as practiced in a classical dressage seat because he was always riding hunt seat and the jumpers, within five minutes he could do the entire Grand Prix on my horse. It didn't matter if it was an easy horse or a hard horse. He'd ridden with top dressage people in his life and he had such a strong feel that he was able to look very good. He delighted in the advanced movements: the piaffe, the passage, the pirouettes, the tempi changes – all thrilled him.'
And it would seem George was something of a match-maker, Robert again:
'I rode up one day into the arena at Hunterdon. It was a very hot day and some riders were jumping inside to get out of the hot sun. There was a young guy setting up jumps in the arena that caught my eye. I rode right past him and up to George and asked, 'George, I just have one question: who in the hell is THAT? He said, 'That's Robert Ross and he's here from California for a clinic.' Later that evening, I promptly invited myself over to George's pool party the next day. And that was the beginning of a twenty-seven-year long relationship with Robert Ross. Now we're married.'
George admits that being gay was not entirely easy:
'Today it's quite different in that being gay is very accepted, but the feeling of being stigmatized – being an aberration from the norm – never stops, no matter how respected you are in your field. Despite my unapologetic stance that I'd held onto since the late fifties, I've struggled through my entire life with not feeling entirely comfortable in either straight or gay society in America. Most often, I feel at home with certain special people in my life or groups of friends who seem to strike the balance between the two worlds with intelligence and open-mindedness.'
George was one of the selectors of the team for the first ever WEG in 1990 and in the middle of a huge dispute as to whether Debbie Dolan or Anne Kursinski should be in the team. Eventually Anne was selected and a law suit ensued and the equestrian community sadly divided. It lead to an entirely objective selection system – which just did not work – before a combination of objective and subjective evolved as Anne Kursinki explains:
'During Bert de Némethy's era as Chef d'Equipe, the selection of the team was always subjective. This system worked because the pool of horses and riders who the experience to compete at international level was so small. This system continued when Frank Chapot took over. However, as the pool of riders grew so did the problems of selection.'
'Looking back, perhaps things did need to be shaken up a little bit – not necessarily how the teams were selected, but just in transparency of the process. Everyone wants to have the best team they can but some people felt they were in the dark as to how decisions were being made. Of course, the lawsuit itself was a result of strong feelings that the decision was unfair, specifically for the Stockholm team. However, I think that reaction was partly due to a lack of understanding about how the decision was made and why.'
'The whole shake-up resulted in almost complete objectivity in the selection process for years afterward, to avoid the appearance or accusation of any unfairness. We had some very good teams in those years, but there were also instances where using objective scoring didn't produce the best possible team.'
'There are always factors that come into play over the months leading up to a big event. Today, we have a great system where there's objectivity to create long lists of candidates and some subjectivity as well in the final choices. It's all spelled out and there is excellent communication about the process. In the end, subjectivity can be used as long as its defined carefully how, when, and why it's being used.'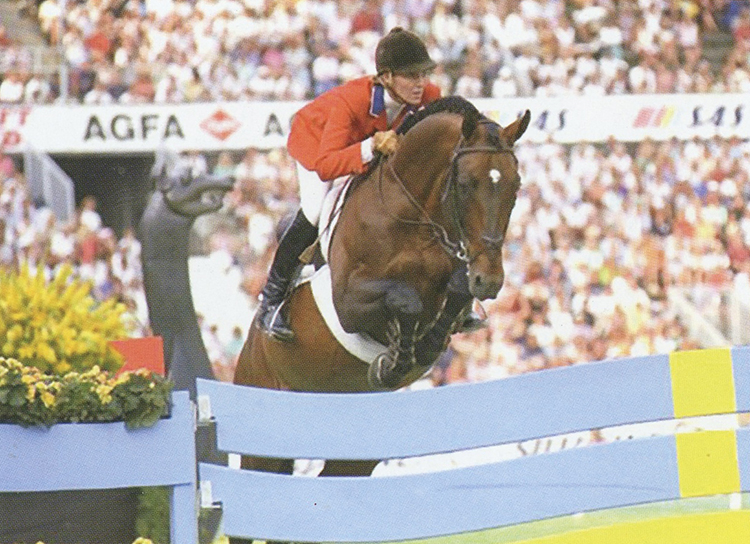 Ann Kursinski and Starman at the 1990 WEG
From the book UNRELENTING by George H. Morris with Karen Robertson and used with permission of Trafalgar Square Books (www.horseandriderbooks.com).
George Morris will not tolerate slackness. Chris Kappler recalls:
'I recall George came home from Europe and it was one of the first times I'd been on my own for a while running Hunterdon without him around for support. Running a barn isn't easy: George joked to me once, 'If it weren't for the clients and staff, it would be an easy business!' That being said, I'd lost a grasp on the grooms and standards had slipped a little. The grooms were maybe a little above themselves and the clients were showing up not quite on time for lessons. When he returned, George was absolutely brutal in the barn, on the grooms and the clients, reasserting his authority over the entire place. The whole staff dug in and worked in a very somber mood in response to George's toughness: this went on for a week or more. Morale got pretty low. Then one day, he brought in a framed sign and propped it up on the front of his desk. It said, 'The beatings will continue until morale improves.' It was classic George! Just when things were really starting to look like the dark cloud would be there to stay, everyone laughed about the sign and things lightened up a little bit as we went back to work as usual. It was just what was needed. He knew what it took to rein everyone back in, but he also knew when to release the hold and when his point had been made.'
'We had a great twenty years together, George and I, and we've remained very close ever since. His ability to stay current in the sport is pretty amazing. He stays sharp, brings in new people all the time, and wants to learn from other people's perspectives and disciplines.'
George is also an acute critic of the way in which show jumping is going, what he calls the pussification of the sport, where the tough natural obstacles are thrown out to make it easier for very rich, not so good riders, to get around on the horses the mega-dealers have prepared for them. It's not really a new new trend. Back in 1984 at the WEG in The Hague:
'Pierre d'Oriola (who was the only rider to win the individual show jumping Olympic gold medal twice, in '52 and '64) drove from France to watch the WEG. His comment to me was something to the effect of, 'They sit down in the saddle too much, the fences are all the same, and therefore all the courses are the same and the spectators get board. I'm leaving the show.' I was surprised to hear someone put it so bluntly, but I couldn't have said it better myself! That was the direction show jumping had been going in for years, and we've continued on that trend ever since. For most shows, the arena is very much the same and the fence material is the same. The courses are familiar. The riders, for the most part, are behind their horses too. The old champion hit the nail on the head over twenty years ago, and we've still facing the same challenge.'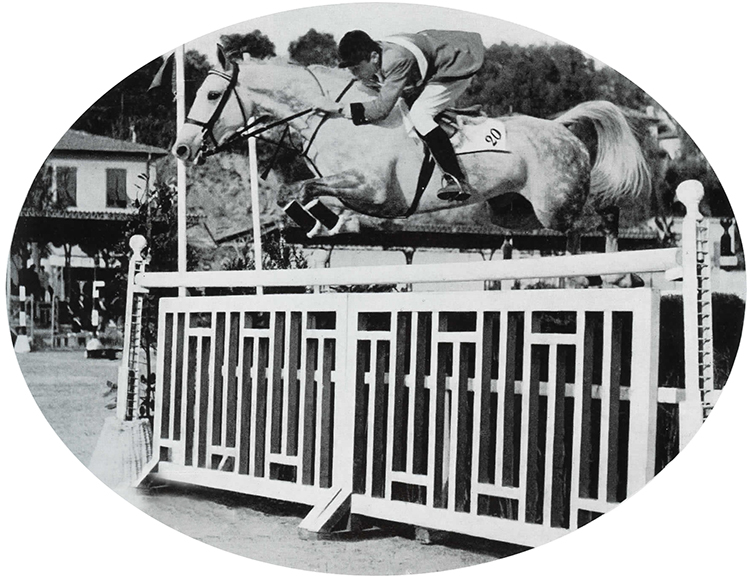 Pierre d'Oriola = showjumping has lost its way…
There is no doubt that the Sydney Games were a resounding success, but there is equally little doubt that the arena surface was a disaster:
'At each of the Olympic Games I had attended from Rome in 1960 to Atlanta in '96, the footing was by and large acceptable. Montreal was one exception to that rule, but Mexico City, Munich, Los Angeles, Seoul, Barcelona, and Atlanta all managed to produce safe, quality surfaces for show jumping. That's why it's such a mystery to me why the footing in Sydney was so poorly done. It consisted of loose sand over a hard, concrete-like surface. Horses would try to set themselves at the base of a jump and when they tried to push off, they would slide. The feeling of instability lead to the horses jumping defensively and not extending themselves in their take-off. They also couldn't trust the footing on the landing side of the jump and the horses pulled their hind end down more quickly in an effort to get all four feet on the ground.'
I could go on with the quotes, but really it's time for you to rush out and buy your own copy of Unrelenting, but I will finish with one last tribute from McLain Ward:
'First and foremost, George is a horseman and a horse lover, and for him, horse sports are his life's pursuit. That's the kind of person I want to be in the trenches with, and in my view, it is a key to George's success and to his popularity – not just among the masses, but among the top athletes. George is not just preaching from the sidelines: he is someone who lives and breathes horses, day in and day out. As a boy I knew who George was and even though I wasn't one of his students, he absolutely influenced me. George set the tone for what the modern teaching system was in the United States and around the world. I've always taken it as a great compliment that even though I wasn't one of George's students, others feel I have embodied and followed his system. George's dedication to excellence and striving to improve and win is something you only see in a handful of people in the sport. Riders like Beezie and myself take that philosophy to heart. In our sport, where methods are constantly evolving, George's approach of staying true to classical horsemanship while being open-minded with a desire to learn and continue to improve is one I emulate. There's a balance – you have to be open-minded to evolution and improvements while appreciating the classical base of correct riding and horsemanship.'
For myself, I have enjoyed almost thirty years of friendship with George. He has always been so wonderfully generous with his time. In Rio when I was in a flap that my showjumping story was going to be weak, he took time out from managing the Brazilian team to meet me in the press room, and save my day.
Happy Birthday George…
 George Morris at Mt White – the Master takes a clinic with some super talented riders… NEW AND EXCLUSIVE
---

Offer stallions to take you to the top, performers at the top themselves and their progeny are out there winning too – Ring Helen Chugg – 0438 274 170
Vivant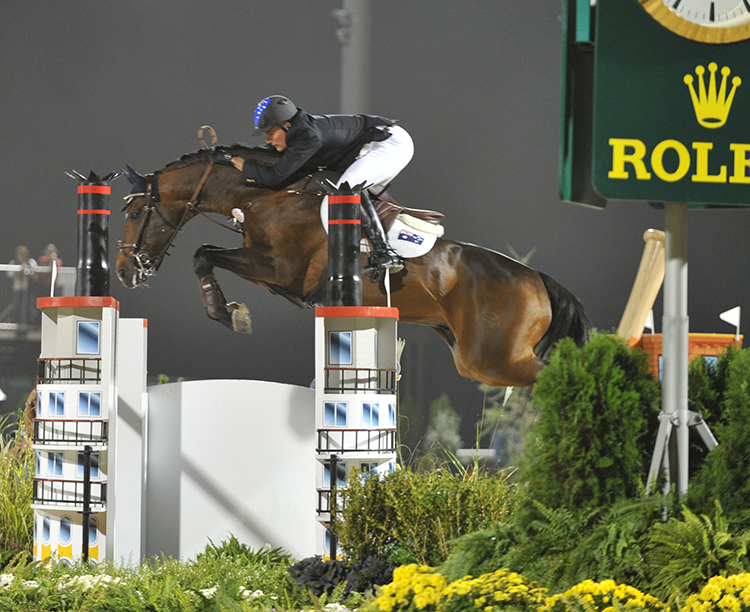 Conquistador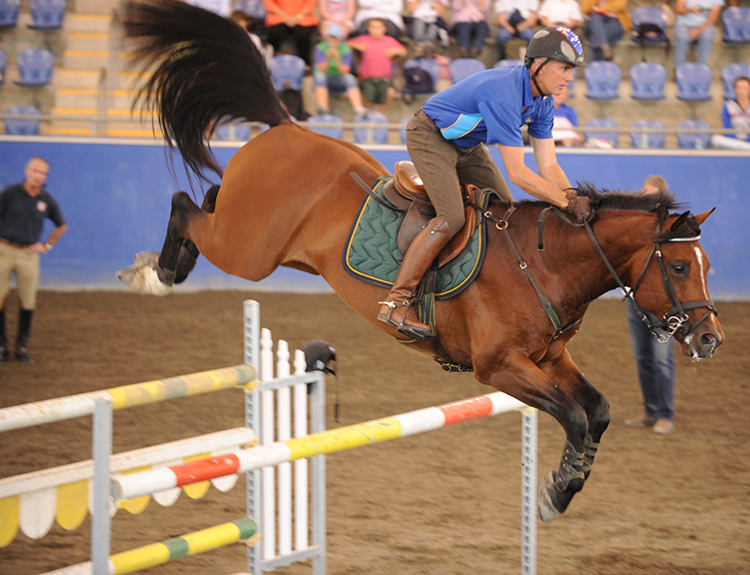 NEW and EXCLUSIVE: George Morris – It's simple, it's just not easy
---
Back in 1988, I wrote my first GM story – here it is:
http://www.horsemagazine.com/thm/2017/02/george-morris-teacher-genius/
Settle back to enjoy George taking a clinic – click
But there is still more wisdom to be had try –
http://www.horsemagazine.com/thm/2010/07/george-morris-and-the-ultimate-learning-curve-part-2/
In fact there is a whole file of GM articles, just check out his entry on our Who's Who