Little did I guess back in 1993, when I first met him, that twenty three years later, I would still count this mega-talented dressage trainer as a friend – Jean Bemelmans is one of those special people who make you feel good just seeing him walking towards you.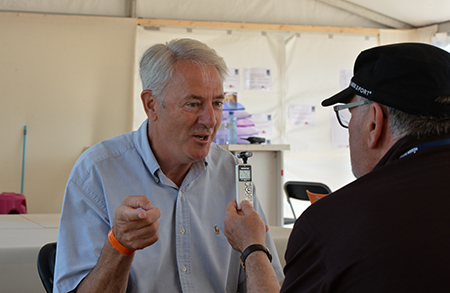 Jean is not only wise, he is also a very funny guy. The last time I saw him was standing behind the grandstand at Rio. Jean had heard that there was ice-cream in the VIP tent, did I have a pass to get in? No, Jean, you are a poor trainer (he was after all the official coach of the French team) and I am a poor journalist – no space for us with the VIPs. Just at that moment, one of (if not the) power brokers of FEI dressage walked by. There Jean, you could ask XYZ for a pass. Christopher, you can only do so much for an ice-cream.
Here is that first interview:
---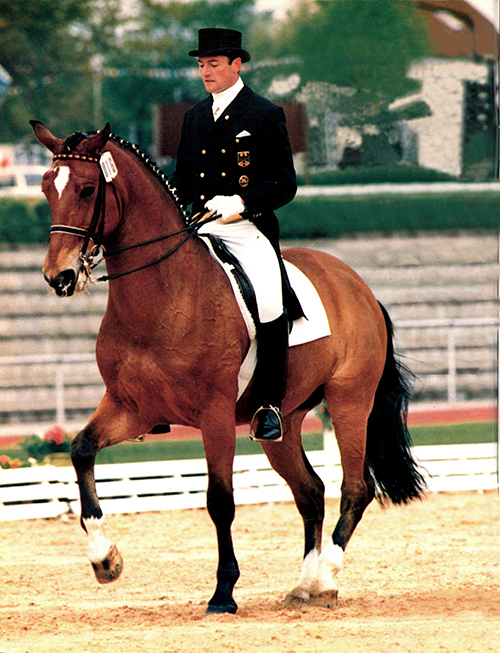 Jean Bemelmans is one of the most respected trainers in Germany. Recently, Jean and Jo Hinnemann, have been appointed assistant trainers to number one, Harry Boldt. Jean is a stylish, light rider and when you meet him, he is that sort of person. Very warm, very gentle, very sincere – he is a pleasure to interview.
"At the moment I am based in Krefeld, near Dusseldorf. We have a training stable with twenty-five horses. About four horses of our own, and the rest come from our customers. We train the horses, and the riders together, or sometimes we also ride the horses for our clients. I see myself as both a competitor and a trainer. I compete myself because I enjoy competing – I enjoy more working every day with a horse if I know I have a goal, to go to a show with that horse. I always like to go to shows and see if it is right what I am doing at home."
"It is my profession. Nicole Uphoff is an amateur, just like I am an amateur, we have the same amateur license, but Nicole Uphoff is sponsored, while I must train horses and train riders, the riding is a little bit my pleasure."
Jean grew up in Belgium and when he was seventeen moved to Germany:
"I couldn't speak German, so I worked one year in a stable as a groom to learn everything. Then I did my National Service training in Belgium, and came back to the professional school of Mr Robert Schmidtke – there was Bubi Gunther, Willi Schultheis and Robert Schmidtke – they were the three great trainers of their day. This is twenty years ago."
"I worked in several dressage stables for two or three years, then I met my wife and we started our own stables together."
read on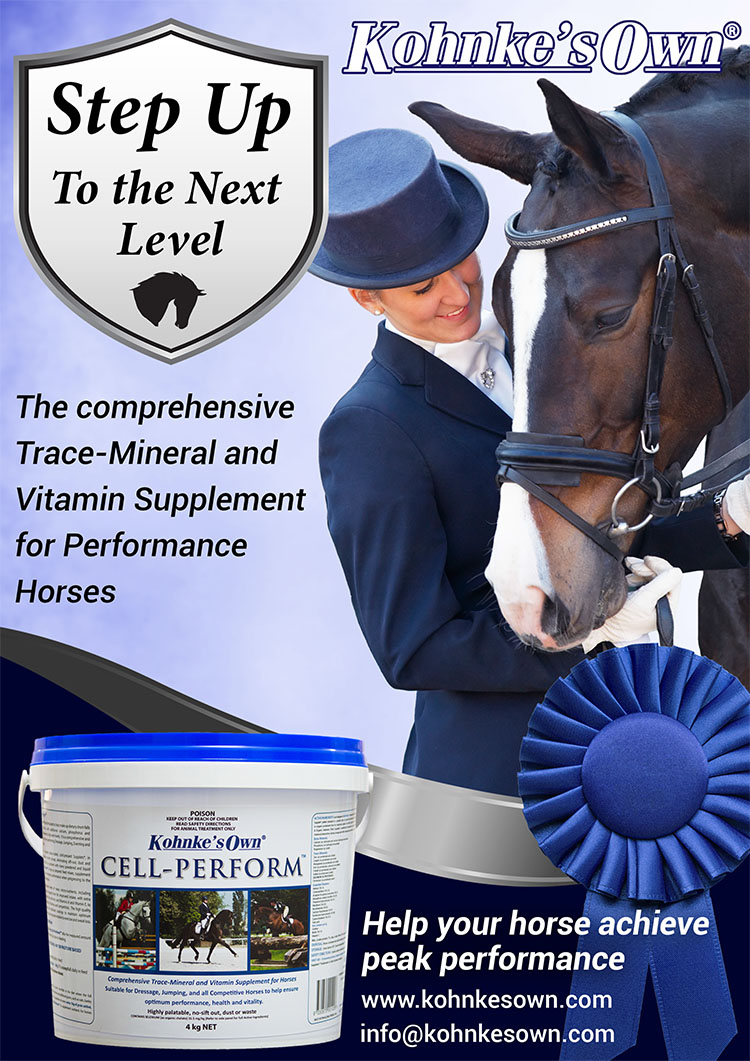 There is much talk of the new light style of dressage contrasted to the heavy old-fashioned style, do you think this is the truth or is this a myth?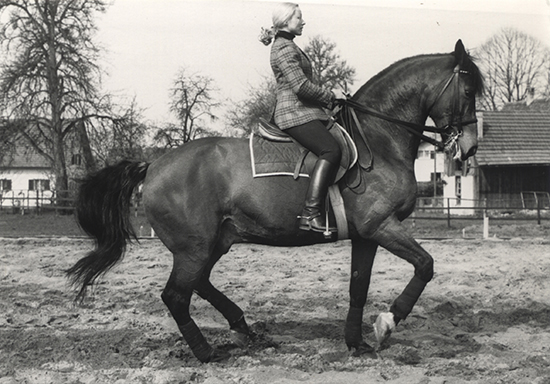 A few years ago we had Granat as the top horse, and he is the heavier type, but after Granat the horses came lighter and lighter- read on below…
"I think it always depends a little bit on the top combinations of the day. A few years ago we had Granat as the top horse, and he is the heavier type, but after Granat the horses came lighter and lighter- there was Ahlerich, then Marzog, now we have Rembrandt- horses of the light, Thoroughbred type. I personally think it is much easier to have a good picture when you are on a 'blood' horse, a horse of the Thoroughbred type, than on a cold horse. If you are riding a cold horse you have to do a lot of work on this horse, and that doesn't look so nice. It is easier to look better on a sensitive Thoroughbred horse, but it takes a little bit longer to get this lighter type of horse ready. Nowadays all the breeding is in the direction of the Thoroughbred."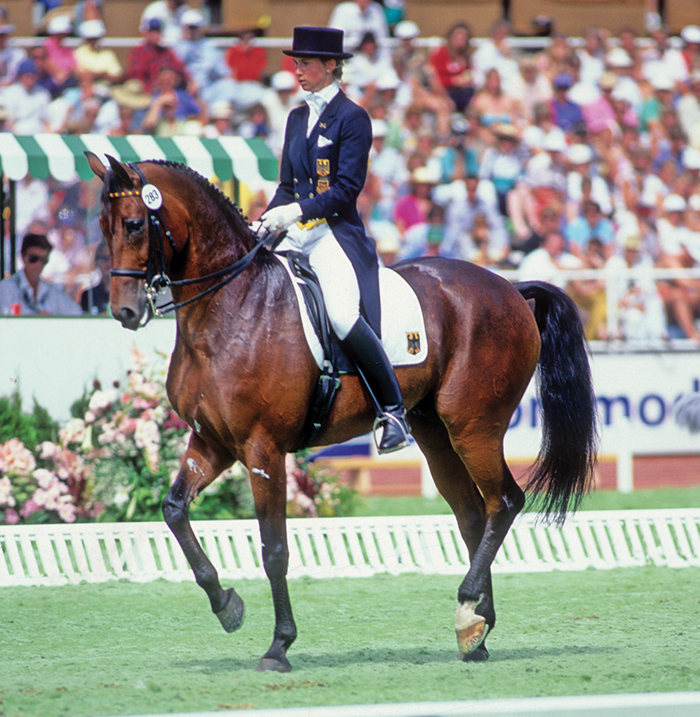 Rembrandt
"People now want to see more of this light type of riding in the ring. When I was with Mr Schmidtke we had a little bit of both – we had some Thoroughbred horses in the stable that were very sensitive and light, and we had some colder horses. I think if you want to learn riding it is maybe better at the beginning to have a horse that is not too sensitive. Through a little bit of force you come to the feeling in your riding, no one is born with feeling, the feeling comes from years of riding and riding. For me it was a very good combination that we had horses of both types in the stable."
"It depends on the horses that your clients bring to you. I would of course love the choice of a Rembrandt, but you must ride what you have in your stable."
read on…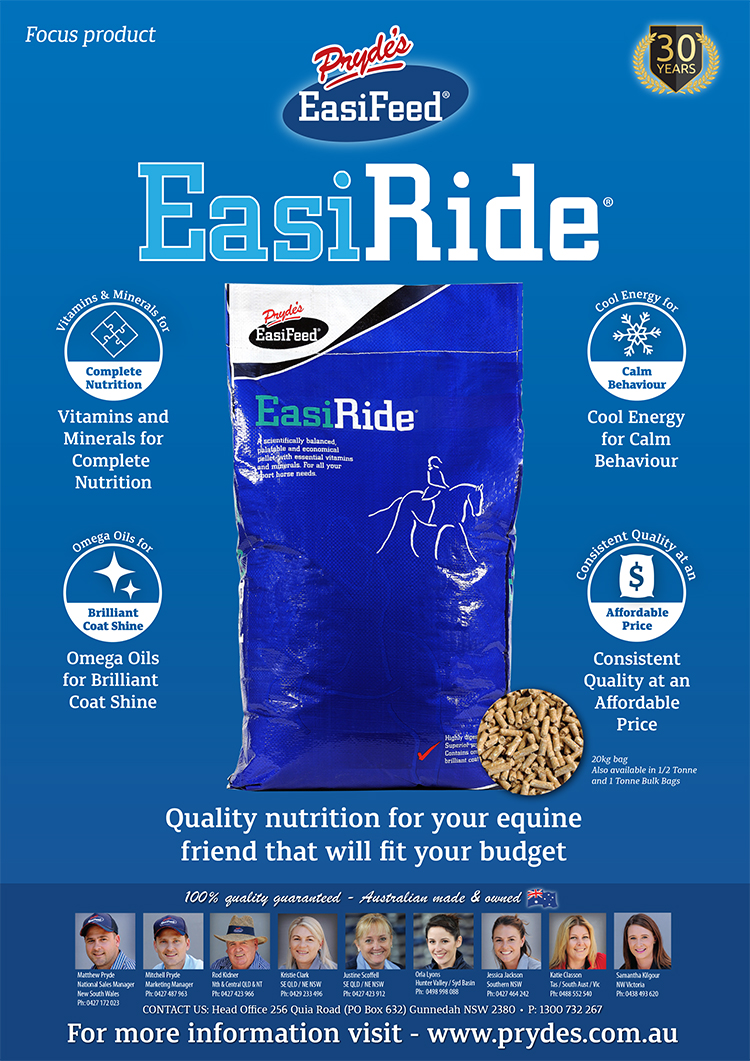 The horse you rode at Aachen this year, Fair Play, he is a very elegant style of horse…
"I think this is the modern type of horse that people want to see. You just sit quiet, and keep your hands together, and everything looks light, the horse is working under you with no pressure. I have had this horse in training for one year now, he is a ten-year-old stallion. He is very talented in the piaffe and passage."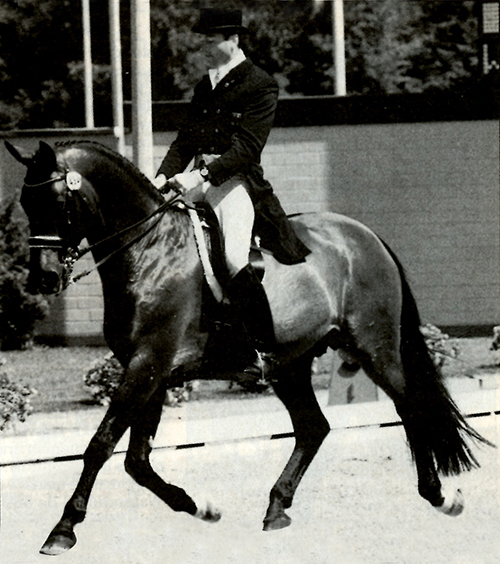 One of the great videos of all time is the sequence on 'The Magic of Dressage' when you are riding Angelino out in the field, doing the most beautiful steps of piaffe…
"Angelino is now twenty one. We still have him in our stable. He was not so well last year, something was wrong with his liver and he became very thin. My wife is very close to the horse, and we tried everything to get him right again, and now I hope that he is over his difficulties, and we will have him with us for a long time. Angelino was my top horse. I was the German Champion with Angelino, and I twice won Dortmund – I won against Ahlerich, and Marzog and Corlandus. I was riding as a professional at that time so there was no chance of going to the big international shows. After Angelino there were some nice horses, like Amazon and America, but they didn't have this top quality that Angelino had."
"I learned a lot from Angelino. The goal was a very high goal for me. If I had set the goal a little lower I might have been happy with Prix St Georges, Intermediaire 1 – but with Angelino I said 'I want to go to big shows, I want to ride Grand Prix'. So this improved my riding because you have to make a much greater effort to compete at the highest level."
Do you think a rider like yourself who is also a trainer, needs the help of a trainer himself?
"Yes I needed help all the time – and if I had a top combination now, I would also need help. When I was riding Angelino, I went many times to Harry Boldt. Maybe once a week I went to Harry because I had a big problem in the Grand Prix, he didn't want to do passage. He could do one tempi, piaffe, but there was no passage."
"I would go to Harry and say 'Oh please help me Harry' and he would say 'Every horse can learn passage. You don't know if it is going to be a good passage, that is up to the nature of the horse, but every horse learns a passage, good or bad. For certain he will learn passage.' And that gave me hope. You need always somebody to give you some tips and say 'don't give up'. Harry helped me a lot. Now it is a bit easier because at home my wife helps me. She has won three Grand Prix and she is a very good rider, she helps me."
"Also we have a new arrangement in Warendorf. Harry Boldt is only the trainer for the team, then there is Jo Hinneman and I, who are assistant coaches – so the three of us work a little bit together. Harry does the big shows, and Jo Hinneman and I make the clinics in Warendorf. Every fourteen days we take turns to give the clinic in Warendorf – I do one clinic, then fourteen days later, Jo Hinneman does a clinic. We work with some of our squad riders, and with riders from the provinces, the best riders from each district. It is also for professionals, the best professionals need a little bit of help sometimes and they can come to the clinics."
You said that it was hard to get the passage with Angelino – was there some special exercise that Harry Boldt told you to do?
"With Angelino it was hard to say at this point when the change came, it was training over one or two years. We tried everything but the problem was Angelino was a bit of a cold horse, he was an old type. He looked so nice but he was not so hot. To begin passage you need a certain tension, a healthy tension. I did piaffe and then I wanted to go forward in passage, what I got was a relaxed trot! We tried every day, every day. I think it finally came from training trot-passage, trot-passage, so that he learnt there was something other than collected trot. Trot, increase the tension in the collected trot, then one day he did passage and after that the passage was his best exercise because there was a great difference between the collected trot, which was very normal and the passage which was very high… the difference was so marked. So I learnt never to give up, just to go on and on, and keeping trying."
Since then of course, Jean has gone on to great success with the Spanish team, and more recently the French team at the Rio Games. You'll find lots more of Jean's wit and wisdom if you visit his who's who page below: