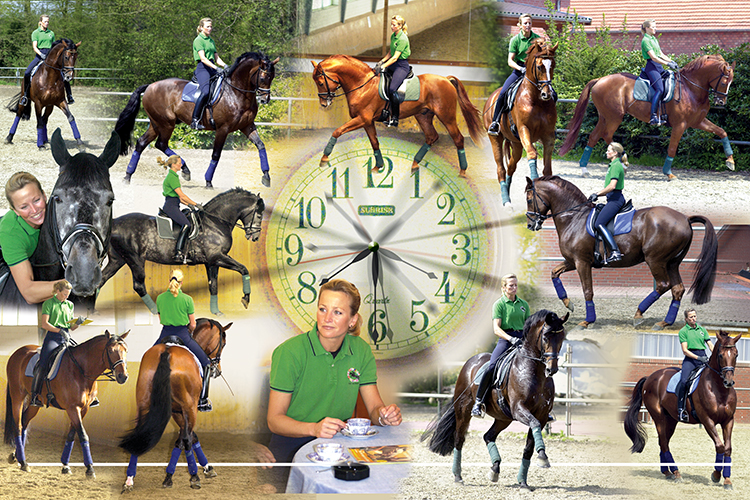 Words by Chris Hector and photos by Roz Neave
When Lisa Wilcox was based at the Vorwerk stud in Germany, it was always an inspiration to visit and see her working with the stallions, share a visit…
The German dressage fans are having to come to grips with the fact that quite a few of their Grand Prix competitions are being won by an American, Lisa Wilcox, riding a team of stallions from one of Oldenburg's largest and most historic studs.
Georg Vorwerk was one of the great breeders, and an adventurous one, not afraid to travel to France to find great stallions like Furioso and Inschallah. His daughter, Gudula, is also an innovator and the Vorwerk stud, under her guidance was one of the first to tap the emerging market for dressage horses.
Certainly Mrs Vorwerk struck it lucky when Rubinstein, partnered with Martina Hannover, went within a whisker of making the German Olympic Dressage team. He was one of the first of the new style of breeding stallions who also held their own in the competition arena.
Mrs Vorwerk was also prepared to look beyond her own borders when she went in search of a rider to replace Martina, and found her in former US eventing rider, Lisa Wilcox, who discovered dressage when she married a US based German Grand Prix rider/trainer – before moving on to Germany to hone her equestrian skills.
Once again, it is a move that has paid dividends for Mrs Vorwerk. Lisa Wilcox and Rhodiamant missed out on a place in the American team for Sydney when a qualifying show lost its COl status (don't ask it is one of those American 'objective selection' things) but is well and truly in line for a place in the team for next year's World Championships in Jerez. Riding Rhodiamant's little brother, Royal Diamond, she took out the six-year-old title at last year's Bundeschampionate – and with a string of top stallions competing at FEI level, Lisa is riding high.
So how does an American end up riding some of Germany's most expensive stallions? In an earlier interview, Lisa suggested that the crucial ingredient was 'luck' – that she, Lisa was the right height, and in the right place, at the right time.
Watching her work at home you realise that an awesome ability to focus is probably the more important factor. When we arrived at 8.30, we were just in time for a cup of coffee with Lisa, at four o'clock, seven horses later, it was her last for the day. Throughout that time, the concentration was total, responding to each horse as an individual while at the same time working through a very defined system that she has developed with her Spanish Riding School trained instructor, Ernst Hoyos.
Her first ride was Regal Dancer and he was about to step out in his first test – which is why Lisa was reading the test book and muttering to herself as she traced out the pattern in the indoor school at a walk. She put down the book, picked up the rein and was straight into canter, a nice round canter, and a very nice flying change, the session had only just begun and Lisa was already asking for a very short canter, really making the horse take the weight on his hindlegs, and into a training pirouette, a very small volte making the horse bring his front around his hindquarters. Aside from the occasional slow, deliberate lateral flex, Lisa's hands do not move, they are absolutely quiet and still. Now she is tightening up the pirouettes… we've gone IS minutes and still not a single step of trot!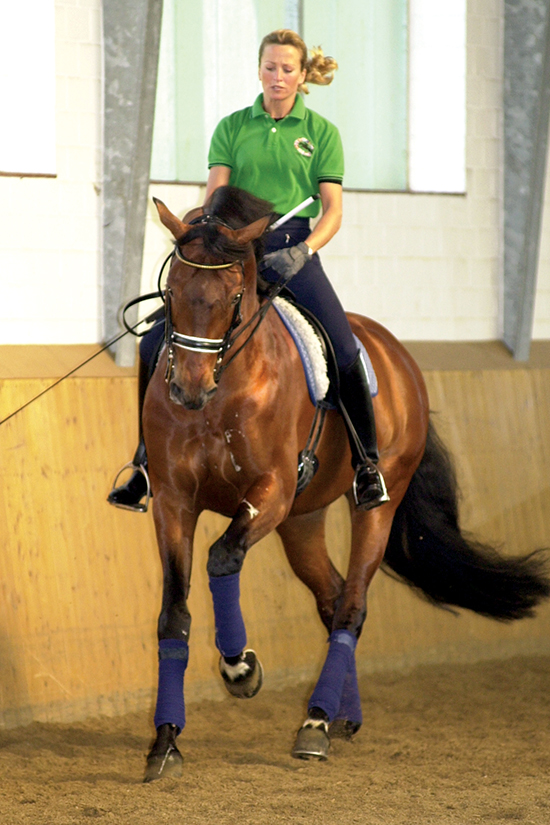 Regal Dancer
According to Lisa, Regal Dancer is not the fastest learner:
"It took 'Richard' forever to learn about the double bridle – I even took him out on trail rides to get him used to it. It might take him longer to learn than say, Royal Diamond, who is super quick, but when he learns, he remembers. It is a mistake to start comparing horses, you can't get mad at him for not being so fast to learn."
next came a young Royal Diamond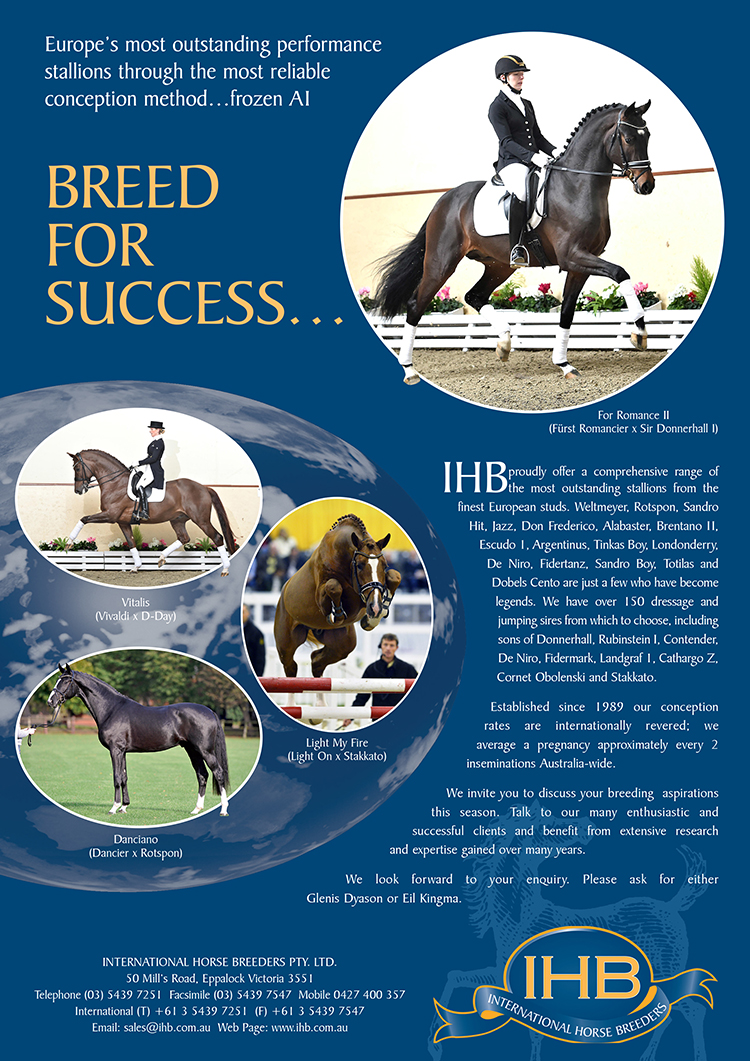 Next in the ultimate fast learner, Royal Diamond aka Roy the Toy Boy – and a little tip for riders from Lisa. When Roz's camera flash goes off in the Royal Diamond's face, he takes absolutely no notice: "You see it so often at horse shows, the riders look at what they think the horse will look at. Don't do it!"
Again, after a period of walk, Lisa has Roy straight into canter. This time she is working the young stallion in a snaffle, 'I don't need a full bridle until two days before the show…' and again the rider is asking very early on for a real shortening in the canter, winding down the circle making the horse use his inside hind leg, and collecting through the corner.
Lisa rides with an absolutely classical seat and never ever sacrifices her position, always deep, centred, demanding that the horse carry her – and in the half passes she is exactly in the middle of the saddle. The grey throws off a series of dead straight flying changes, he misses one change, and Lisa immediately circles, and starts the diagonal again.
"That was my fault, I hear my trainer's voice big time – SIT now."
Royal Diamond gets his two times perfectly and Lisa releases him into a relaxing deep canter.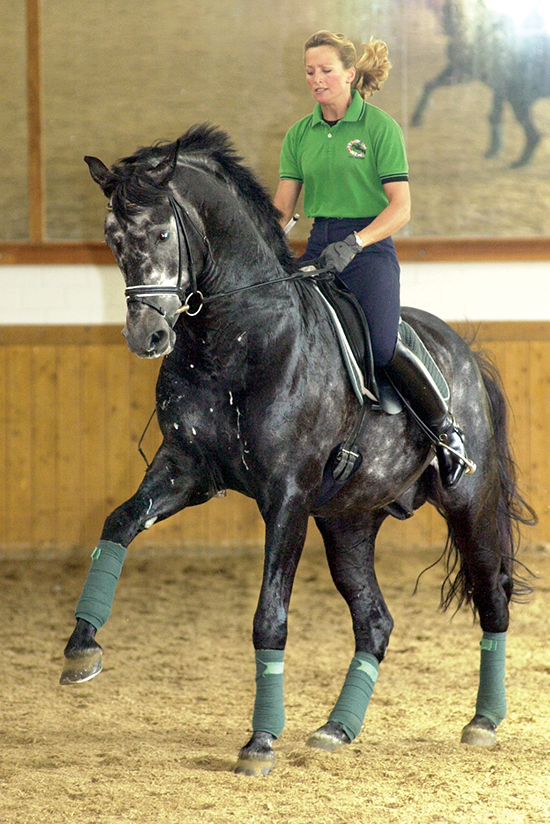 Royal Diamond
A little refreshing walk and it is into trot, loose and deep, getting that lovely balanced look:
"The goal every day is to work like you want it in the show arena – then showing can be fun, you don't have to be stressed, and neither does the horse. Today we did more canter, yesterday it was more trot. I want to keep him fresh and happy. Sometimes at show after a test I'll put him on a long rein, and you can imagine him lighting a cigar and saying- It wasn't all that tough."
For Rozier, to the photographer's delight, we move to the outdoor arena, although perhaps it is not entirely to the rider's delight, since there is a little band of mares on the other side of the hedge, and Rozier thinks it might be fun to join them. "You can't blame him for being a stallion, that's his job," says Usa, and proceeds to get him delightfully soft and round, showing some lovely one times changes before they are off for a burn down the long side, then the medium change at X comes up so sweetly, and the horse is back, so collected it is almost cantering on the spot. Lisa even halts right next to a mare: "I let him look a little. He's so polite about it and it is not interfering with his work I want him to feel happy."
Rosey is moving from extended trot to passage back to extended, trot to passage, ending with a rising trot deep and round. "He's doing Prix St George but he is a horse that will really like Grand Prix."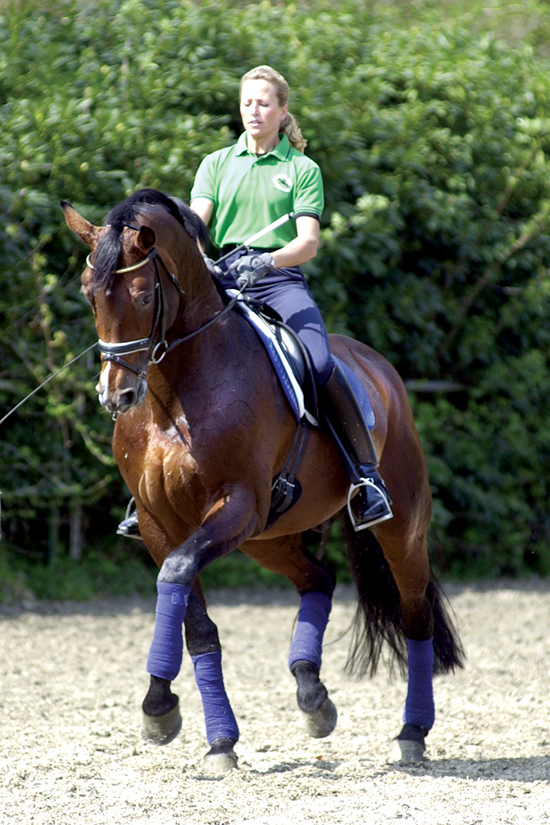 Rozier
From an FEI competitor to a real baby – Raoul is just back from his 100 day test where he was 4th with 122 points at the Neustadt-Dosse testing station.
"It's just my second ride with him, I just want to relax him in the indoor. He plays with the bit and pushes his tongue down. I think they must have been using a sharp bit on him, so I've gone to a fat double broken snaffle. You can't blame the riders at the testing station, they have such a short time to get it done. He's got used to just being with the other guys, now he has to learn about mares and foals again. Most important is that he has got to learn that even when he thinks he doesn't want to do something, he's got to. Got to learn that I am the boss. That's why I am keeping him deep, I'm giving him lots of direction and security."
"I ignore what he is doing. I talk to him; I use a lot of voice with young stallions. If you pressure them with your seat, they react negatively, if you relax your seat, they relax. I know when I get to this corner he is going to react, but I'm staying ahead of him in my thoughts, that's how you can help a young horse."
And sure enough, as Lisa croons, 'it's fine, it's fine' young Raoul goes smoothly through that 'bogey' corner.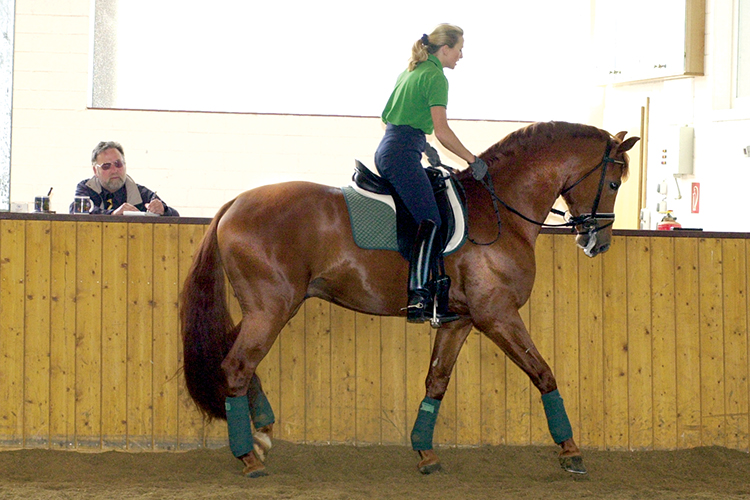 Raoul
"By giving him the reins it relaxes the muscles in his neck, instead of tensing the muscles. I don't make any change going into the corner. I am careful, watching but I don't do anything different with my body. I stay relaxed but on my toes so I can react quickly if something goes wrong, but I don't want him thinking – what's she doing with her body?"
"This young stallion has done his performance test, but he is not licensed. We believe in him, and he'll be licensed through the sport."
On to another youngster, but one that has been in work for a somewhat longer time – Roadster, a son of Rhodiamant and out of a Furioso mare.
"My aim in this session is to work on the quality of the trot. I want more expression and a steady contact – when he came from the 100 test, he had a bobbing head."
read on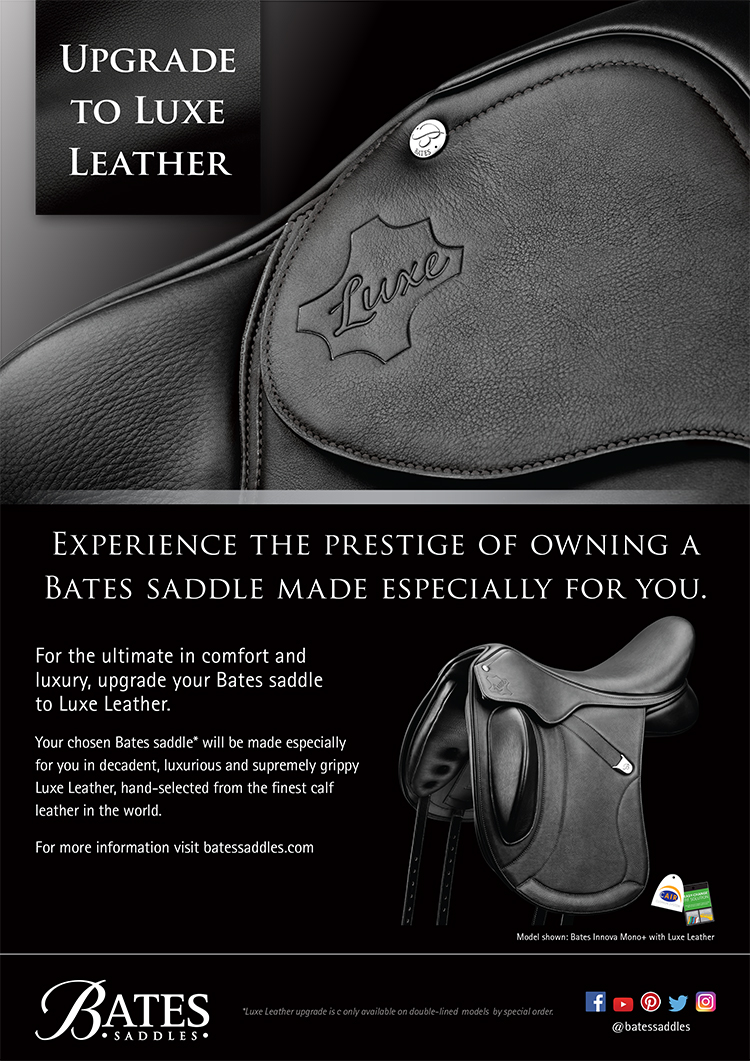 In the canter, Lisa is aiming 'not for collection, just a little bit less free' and keeping him in a shoulder fore position to increase the activity of the hindleg and to get him to carry himself more. Even in the rising trot, Usa has the horse slightly angled from the wall, and you can see him taking the extra weight.
"Lots of young horses are wide behind in the trot, I don't want to let him go wide behind, that is why I am building on his strength and teaching him to carry himself. I do lots of transitions from medium to working trot on the circle. Lots of little half halts on the outside rein. He is teaching me things about his father – I learn things from him I can use on Rohdiamant."
Roadster certainly has his dad's flamboyant trot!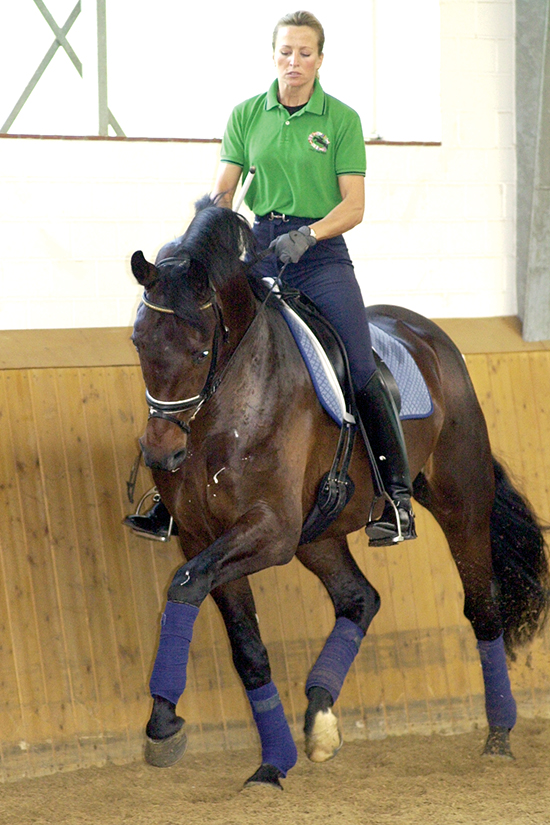 Roadster
"The trick with stallions is to get as stubborn with them as they are with you – and to have time. You must be able to say, I can't finish until I have corrected that."
Friedenfurst is eleven and a serious FEI competitor.
"Now I want more expression in the piaffe and passage and in the one tempi changes. Fritz is seriously tall and I look tiny on him."
Lisa is – surprise – quickly into canter on Fritz, winding in the circle – "I want to increase the activity of the hind legs, I don't want him to get any slower in the collection, I'll do lots of small circles, but not ask for pirouette. I want him to learn to keep cantering."
And canter he does, and now it is pirouette time, lots of pirouettes, one after another, not just singles, double pirouettes and more double pirouettes.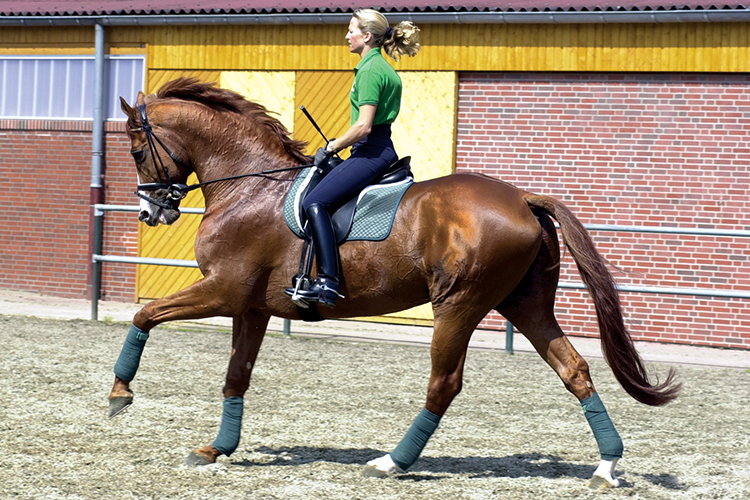 Friedenfurst 'Fritz'
"See now he's in that steady rhythm and it is oom papa, oom papa instead of dat-dat-dat."
A lovely pair of pirouettes and a line of super ones finishes the canter work, and it is into a huge extended trot, back to passage, and some lovely piaffe, a little advancing but clean, even and rhythmic.
"I want him to go forward in piaffe. He is only 11 and he is not strong enough to stay on the spot. Eleven is not old in the life of a Grand Prix horse. I let him go forward even in a test at a show, I want him to enjoy going to the show, not to get stressed. The most important thing is that it is even. You have to be careful not to put him out of rhythm, you must be supportive. Work him in a rhythm until he is settled in that rhythm, then ask for expression – otherwise you are never going to get an even rhythm."
"He is so happy showing off. At the Trakehner Gala, the more they clapped the bigger he got! I didn't know whether to laugh or cry after that one… Holy Cow!!"
So out comes another of the Vorwerk stallion stars, Relevant 'a big guy with a big eye, and he can see all those mares!'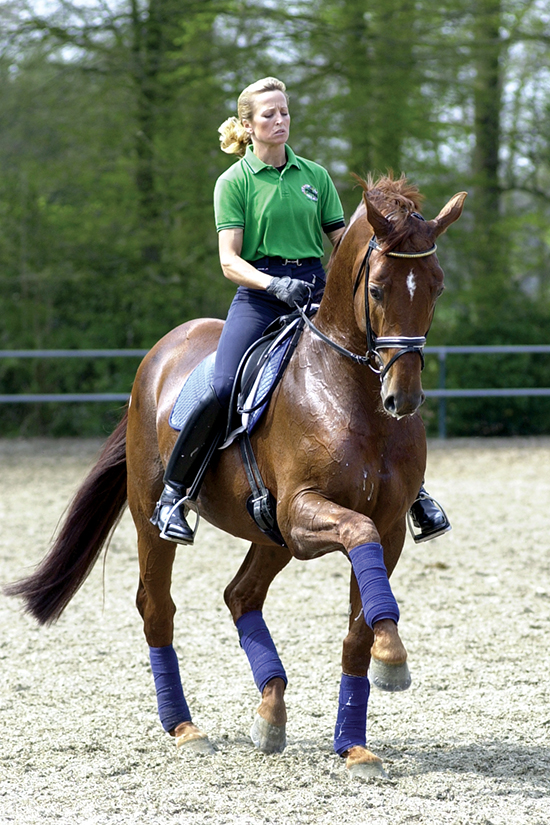 Relevant
"This horse is just a pinch further along. You can stay more on the spot with him – in fact he gets to be a bit of an over-achiever after piaffe and passage, so again, I have to get him to relax."
"I am working with him on getting his one times changes straighter, his twos are pretty good … I am so lucky that all the horses I ride are breeding stallions and are not going to be sold. Going into the WEG at Jerez, I've got Rohdiamant, Relevant and Friedenfurst."
Once again you can't believe how cool and elegant Lisa is, still as focussed as she was when she started out about seven hours ago. Lucky she has such a wonderful attention span because her sixth ride, Rohdiamant is a bit of a lad, especially on the outdoor arena where he can show off to the girls. Lisa just laughs and lets him play. To make things worse, things are hotting up in the car park as the local farmers arrive with their mares to be bred – it's Wednesday, and the stallions are open for business Monday, Wednesday and Friday…
"In a situation like this, getting his attention goal number one."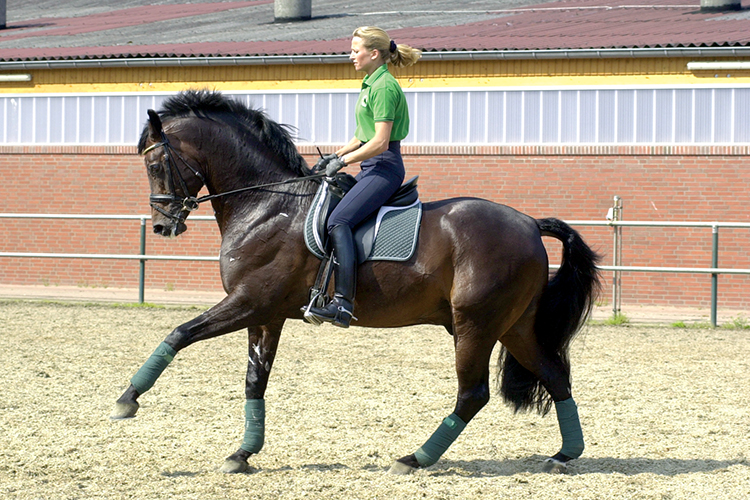 Rohdiamant
After fifty one times changes in a row, across the diagonal, through the corner, across the diagonal again and through the comer, and into a double pirouette, you figure she probably does have his attention. A little bit of walk, some piaffe and passage and into that amazing extended trot and back to piaffe.
"He has made the others so much easier to ride – I don't have to think half as fast with them … "
Lucky Lisa is giving two of her younger horses the day off, she may be looking as bright as she was when she started, we are starting to wilt. Time to sit down with a reviving cup of coffee, and get out the voice recorder.
The awesome thing is your concentration….
"It's training. When my instructor, Ernst Hoyos came for the first couple of months, I left the arena with a headache, and I only had six horses at that point. It was exercising my concentration, I'd have to go to bed at the end of my meal, because I was finished. I've built that up over two and a half, three years. Being able to concentrate on every horse, the entire time, and knowing exactly what I have to do on every horse, and keeping organized."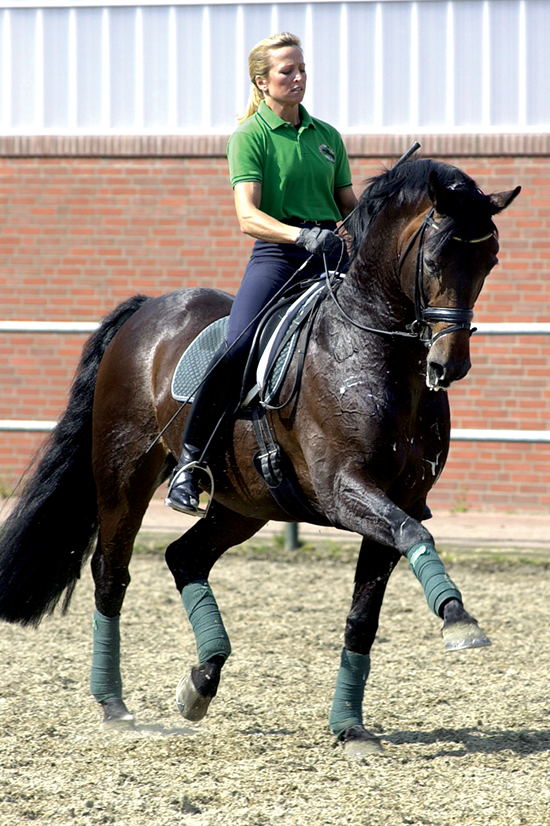 You say that even when he is not working with you, you can hear his voice?
"When I make a mistake, right away I know what it was, I know exactly what it was."
That was an interesting concept, how your stomach is important in getting the right rhythm in passage…
"That is part of what Ernst is teaching about using the seat. If you think about putting your stomach in a forward position you are automatically putting the horse before you. If I suck my stomach in, my shoulders roll forward, and the horse falls on his face. But by keeping my stomach forward, and the horse before me, we get the result… and my stomach…"
Strong?
"It's unbelievable. And that's what keeps the position. You said 'oh you haven't changed your position the entire day', it's the strength, it is my stomach muscles. And my stomach muscles support my back muscles."
But you don't hollow your back?
"No, you just push your stomach out, you don't do anything different, it's just a way to think to yourself, keep yourself in a forward position. It's part of a very distinct seat that Ernst Hoyos has brought me from the Spanish Riding School. It is really sitting loose – and that's why I carry a whip all the time- so that I can just relax with my legs, and let them hang there. I try not to press a lot because the more I press the deader they are going to get to the leg. The less I come with my leg, the more electric they are when I do come with it. I use a lot of weight, stepping into the inside stirrup to get bend. I'm still in the centre of the saddle, I just sink more weight into one seat bone, but I am sitting straight. You don't see it, but instead of having to come with my inside calf a lot to get bend in the ribcage, I can sit deep and step, literally step into my stirrup, and because of my weight, the reaction is that they go away from it and they bend. And if I don't get that reaction soon enough, like with the young horse Raoul that I was working today, doing a lot of circles, I step then in rising trot on the inside stirrup, change directions, step in the other stirrup, to get him to learn to bend with my weight."
read on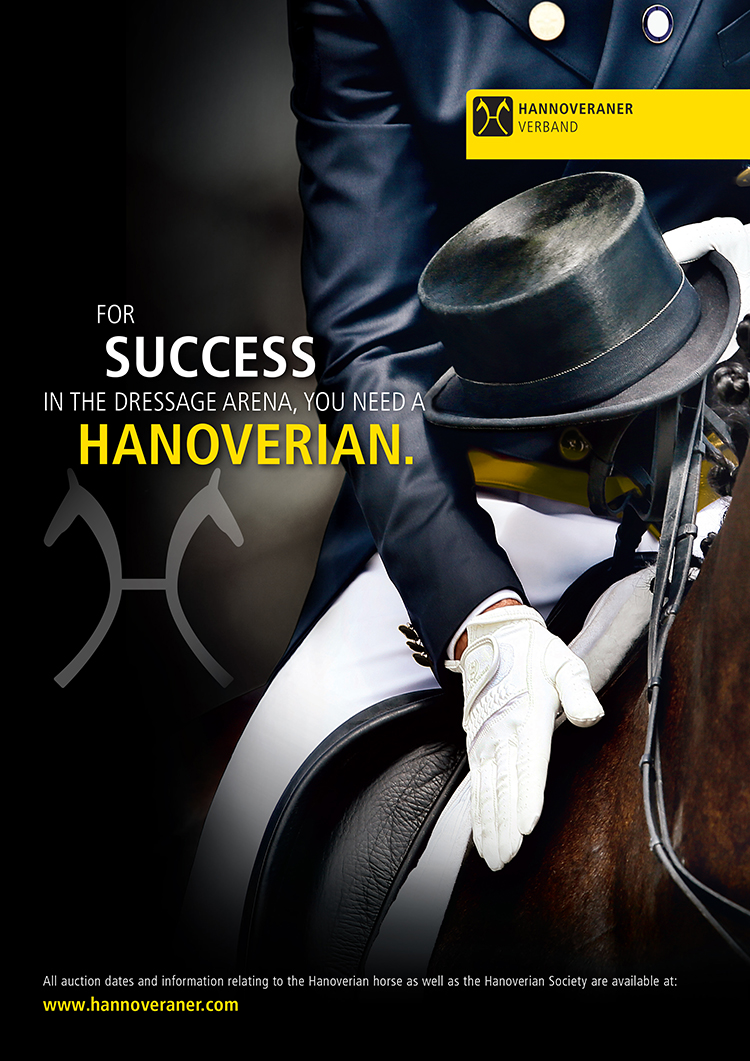 Do you think it is the influence of the Spanish Riding School, through your instructor, that you move so quickly to shortening work in a training session?
"No, I do that because you only have so much in the battery – that's the horse's energy level. Some people spend a lot of time at the beginning, long and low, draining the battery, then you want to get to the stuff where it's really needed, and the battery is half empty. Also you are dealing with their character, they are tired and not so happy about doing what they are doing because they are running on half-empty. I'd rather soften up through transitions, forwards, backwards, this is my softening, and at the same time, I'm activating the hindlegs. Then I can get more quickly into the harder work, when the horse is at its best. You have to remember my horses have been on this program, so they know what they are doing, and they are fit, I wouldn't recommend it for everyone, I built them up to this level. But you will notice that what I did with Roadster and with Raoul, that was very different, they are building up in the same direction, but they are not ready yet. My goal is to use the energy at the right point, that's what keeps them happy about what they are doing, if they are strong enough and fit enough to do it. If I wait until they are tired, and say 'okay piaffe and passage' they go aaah, and I'm going to feel it, and their ears won't be quite as… they have to have fun doing what they are doing. I have to teach them, but at the same time I want them to have fun. When I go into the arena, people say 'wow! It looks so easy'."
But you were saying sometimes it isn't easy, sometimes there's a tonne in your hand?
"Sure, but when it still looks easy outside, I'm happy about that, that's riding, that's my job. Grin and bear it when it seems like it is unbearable but the point is that the horses are never going to be the same, I'm going to have great days and I'm going to have other days. But it has to look the same all the time. I've got to present my horses to the best of their abilities and I can't let the world see he is a little strong. That's part of it, grinning and bearing it, and even when you say 'shoot, he's not so good today' but anyway, that's the sport."
When you did your pirouettes, you almost always did one and a half or two pirouettes, never just one…
"It's because if I come in and I notice I don't have the right rhythm, then I keep going until I have it. Then I get 'dee dum dee dum dee dum' not 'dum dum dum'. If I have the rhythm from the beginning to the end, then I get out. If I only ever do one pirouette, then they learn do one, and get out. They have to be on the ball – does she mean one, or does she mean one and a half, or is she going to do two. They've got to wait for me to lead, and that's part of it- there's no point in getting into a routine with them because they are smart, they are extremely smart, and they get ahead of you in their thoughts, and I've got keep them waiting for me. When's the cue, when's the cue, when am I allowed to leave the pirouette/ But mostly I wanted to wait until I got the rhythm I wanted and then let them out."
Where did you find your instructor?
"Martina Hannöver was here, and working with Jo Hinnemann. Ernst used to do a lot of work with Jo Hinnemann. They would go together, it would be like 'load up your horse and go to Jo and Ernst' and they would work together, one would ride and one would work on the hand. And you would watch your horse being worked by two professionals, then they would switch, and the other one would get on, and the other would work underneath. They would work like 20 horses in a day those two guys! Jo had some things to do, and so he sent Ernst up here in his place to work with Martina, and that's how the relationship got going. After I started here and Jo was getting involved with Holland and had so little time, Gudula said 'I think I will call Ernst' – and thank god. It was the best thing that could have happened to me."
You don't use your hands much except for that little bit of lateral flexing and softening?
"It's a combined thing, I do a half halt straight to soften him in the throat latch, vertically, and just a small half halt laterally. More I don't need otherwise I'd pull him out of balance and out of his rhythm, and I would have a rhythm mistake, in a half pass or whatever. I have to be able to do the smallest softening, that's the magic so that in a test, nobody sees. I come into a corner and I notice 'oh god he's hanging on an inside rein' and if he is used to being ridden this way, then I just need the bare minimum, and I can get the effect that I need without the judge going 'rhythm mistake in half pass' That's why I am a firm believer in do what you would do in a test, at home every day, and then the tests are going to be that much easier. Keep on a really strict system. And what I want in a test, I ask for exactly that at home. There are no misunderstandings for the horse. He knows exactly my aids, softening aids, and he's prepared, in a very short distance, I can get him pretty soft without anybody seeing. The most important thing is that I don't bring him out of a rhythm."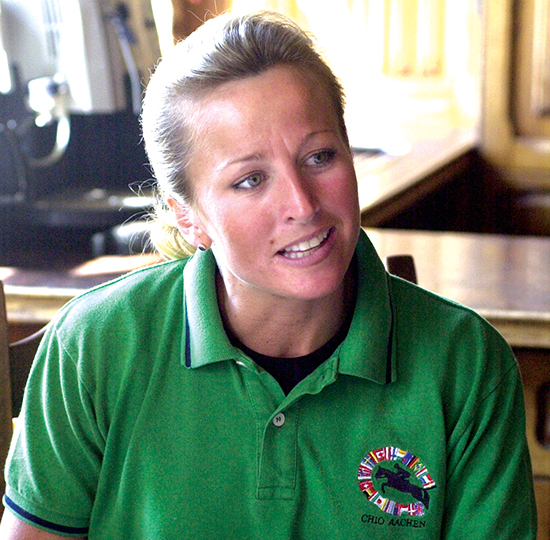 Do you go into a working session – say like the first one with Regal Dancer- with a plan? I had such-and-such a problem with him yesterday, so today I'll focus on…
"He was actually pretty good today, I had more trouble with him yesterday, today he was pretty good, I was happy with the results of yesterday's work. Today you noticed that I read my test through, and today I prepared him for things that will be coming at the competition this weekend. Doing these pirouettes on the centre line, and things like that. What I was doing today was a lot of transitions, because I wanted him to be able to come back, go forward, come back in a test situation. I want him to get used to expanding and contracting in a test situation, and that's what I worked on today."
You don't have anyone helping you from the ground?
"My trainer, Ernst Hoya is coming next week, he comes for three or four days every two weeks. Other than that, I'm on my own. I've got my mirrors, and I've got discipline and his voice in my ear. I hear him all the time; it's a funny thing. Even when he's not sitting here on the bench, I hear him. This stuff is going through your head and as a rider, you have to have that self discipline every single day to get to the level we want – up there in the international sport."
Is that hard for you – you are the only dressage rider here on the stud, doing it on your own?
"No not at all. I have my system, and I like not being interrupted by another system. I don't have to watch something else going on, I'm just into what I am doing. It is very interesting to watch other riders at a horse show that I do. I sit down at the arena, you look, and you get ideas, and you talk to your trainer. At home I know I have my system and I'm not being interrupted, I can concentrate completely on what I am doing."
When you came to the Vorwerk Stud, you had previously ridden in a 'normal' training centre – suddenly you were riding stallions followed by stallions followed by stallions… did that take some adjustment?
"No, it's just when you are riding a stallion being aware that you are on a stallion and being sensible about the things you do. Other than that you are dealing with basically the same problems you have with any horse, except you saw today with a character like Rohdiamant, when there are mares nearby and they start whinnying, that adds a bit to my working day, getting their concentration 100% of the time."
Which is largely a result of the rider concentrating 100% of the time – which also probably gives an entirely wrong picture of Lisa Wilcox. Off a horse, she is far from serious – in fact she is a very warm, very friendly and very funny individual – but on a horse…