Story – Chris Hector
Photos – Roz Neave
Back in 2010, Ton de Ridder was not only the guest rider for the young horses, but he also conducted the Master Class, here is our report at the time:
Ton de Ridder's first series of behind-closed-doors clinics in Australia produced mixed reviews from the riders, and the move to appoint him National Coach seemed to be put on hold. At DJWTS he was certainly acting like National Coach, and spent much of his time sitting at the table with selectors and high performance panellists. This time his clinic was in full public view, and I must say, I was impressed. Very impressed.
De Ridder had carefully planned what he intended doing with each horse and rider, and he got the job done clearly, and swiftly. So often these clinics can fall in a heap when things go wrong and the clinician tries desperately to get it all fixed up. Ton was on top of everything from start to finish.
The first combination was Emmie Schmul and HP Welcome.
"This horse has natural cadence. When my wife was showing Chaccomo, sometimes the judges would say 'this horse is tense' but it wasn't tense, this was the natural quality of the horse…"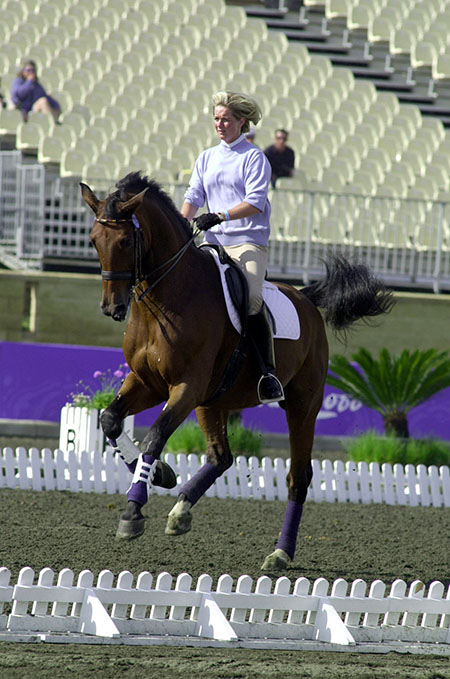 Chaccomo at the Sydney Games, and he was such a wonderful horse, here is another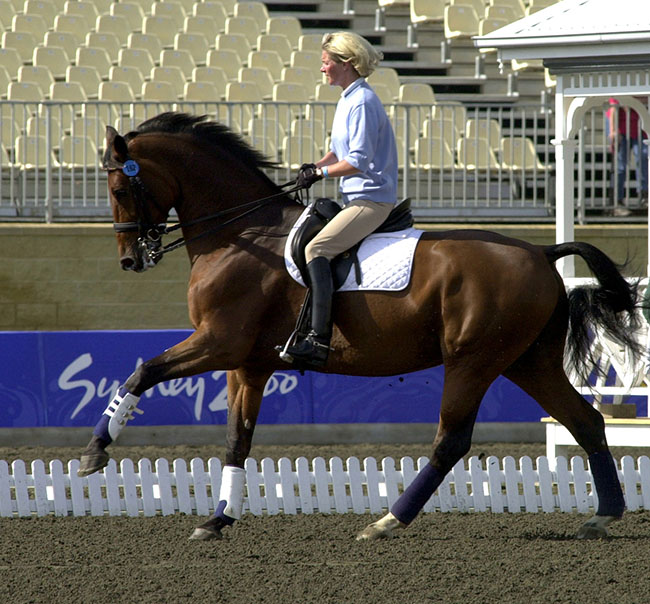 "At home when you are training, sometimes put on a pair of white gloves, and when you look at the video afterwards, you will see the movement of your hands…"
Although some hand movements were desirable: "On the short side, show the horse is not tense by putting both your hands forward, and look in the faces of the judges and smile. They like to see lightness."
"In the shoulder in, keep the quality and show medium trot in shoulder in. It is very good education for your horse and teaches him not to get lazy and to keep the rhythm. Now in rising trot, make the horse really long and deep, and keep the cadence, keep the upward forward tendency of the front legs and the amazing activity of the hindlegs. Now sit into the rhythm of the trot and shoulder in – especially with younger horses, don't do shoulder in for too short a distance. Don't tell them, do this, then, do that, give them a chance to do one thing you are asking at a time and give them enough room to learn it."
"Someone asked me, my horse doesn't stand at X, what can I do?
At the end of the session, ride the horse out low and deep, out of the arena and into the field, then come back to the arena. Ride to X and stop, stand still, sit on him, then get off, pat him and take him to the stable. If you do that every day, when he gets to the competition, he thinks, oh it will be the same."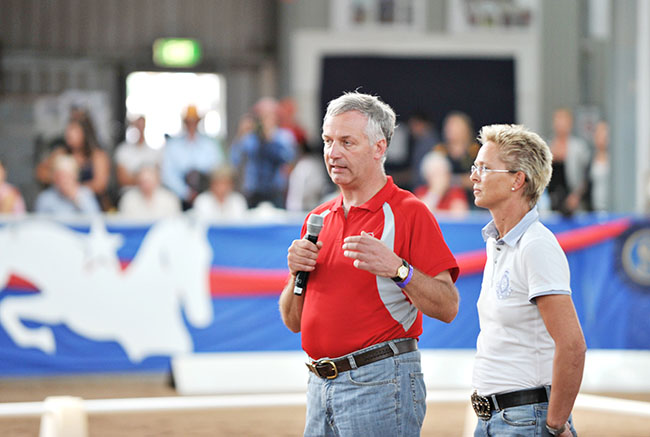 Ton with Lone at DJWTS
Point made, horse and rider out and in comes another…. Georgia Heythorp and Jaybee Kallista. Now last year, when poor Monica Theodorescu was very ill and couldn't do her master class, Danish international dressage star, Lone Jörgensen, who travels regularly to Australia to teach at Boneo Park, was plucked from the audience at the last minute to be the 'master'. This year, Lone has been sitting just a few tables away from me, and I've been wondering who is going to have the smarts to recognize her and in some way involve her in the proceedings. Yep, it's the street-smart Ton, who, as her pupil rides in, calls Lone up to join him in the ring, telling a nice little story about how when his wife's Chacamo was appearing on the scene, so was Lone's Kennedy, and how they had helped each other and worked together. Lone explains that Georgia has been riding Kallista for 18 months and that they are working through the flying changes and aiming for a Prix St Georges start soon.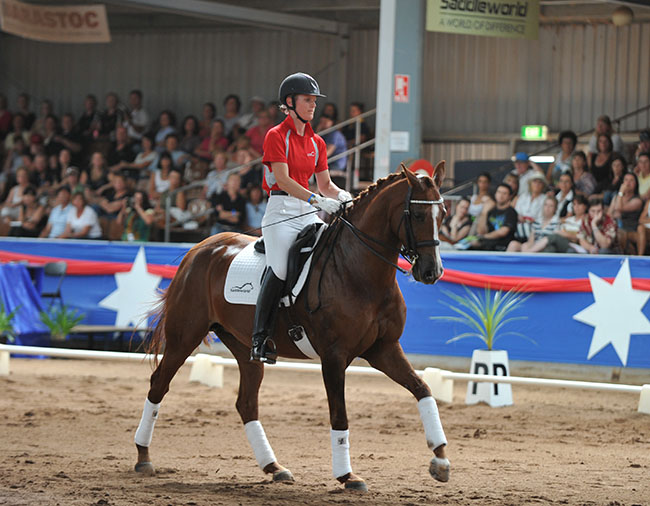 Georgia Heythorp and Jaybee Kallista
"Okay," says Ton, "With the other horse we worked on trot, now some canter", and he sets out to answer a different query, the horse gets excited on the diagonal – what can I do?"
He has an interesting exercise, riding not on the diagonal but from a stride or two out of the corner, to a spot a stride or two before the opposite corner, through the corner, across to the other corner and round again, with no change of lead. Once the horse gets settled, then do it again with three simple changes on each line. Once the horse is settled, ride the flying changes. It is a nice simple thoughtful exercise, aimed at improving the changes, and the canter…
"When we talk about the points for flying change what are they for? Straight? Straight neck? Uphill? Change on the aids? No – the most important thing is the quality of the canter before and after than the quality of the flying change."
And the lesson finishes making the point perfectly, with a series of changes on the centre line, with the horse really waiting for the aids.
The third rider is Maree Tomkinson and Diamantina, fresh from their victory in the Wagners Saddlery Prix St Georges.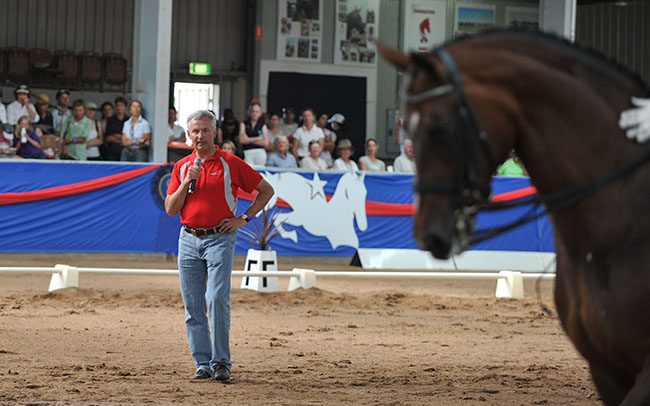 "I am happy to see Maree again with this pretty looking, happy looking horse… today we will work on some exercises for the St Georges test."
Ton is getting Maree to use the whip on the mare's shoulder and getting a super response… "Just touch very softly. With the first reaction she might get a little upset, now touch again."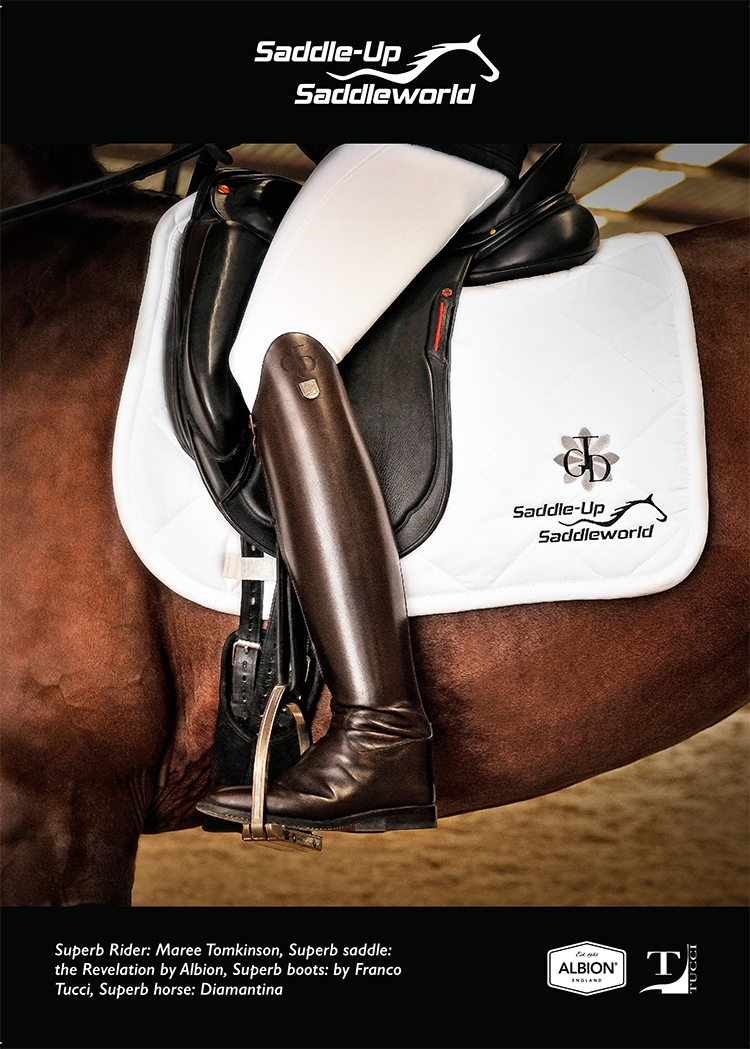 Ton is getting Maree to vary her canter: "Collect, collect, now forward, more forward, collect more. When I was a boy and I would go to church on Sunday morning, maybe on Saturday evening we had a bit of a party, then our old priest would preach his sermon, always in the one tone of voice, well it was easy to fall asleep. We as riders should not be like that old priest, ask for a reaction, don't stay in the one level, ask – then silence, ask – then silence. Someone asked me, my horse doesn't react to my leg, should I take a whip? That's completely wrong, make a plan, and ride like this…" Thanks Ton, we've got the message, and in comes Emma Flavelle and Northern Meara.
"When I was watching the Grand Prix, it was a bit hot, I was a little sleepy in the sun, then I saw Emma and her horse, and I was really awake! This horse shows even in his working trot, high quality for piaffe and passage."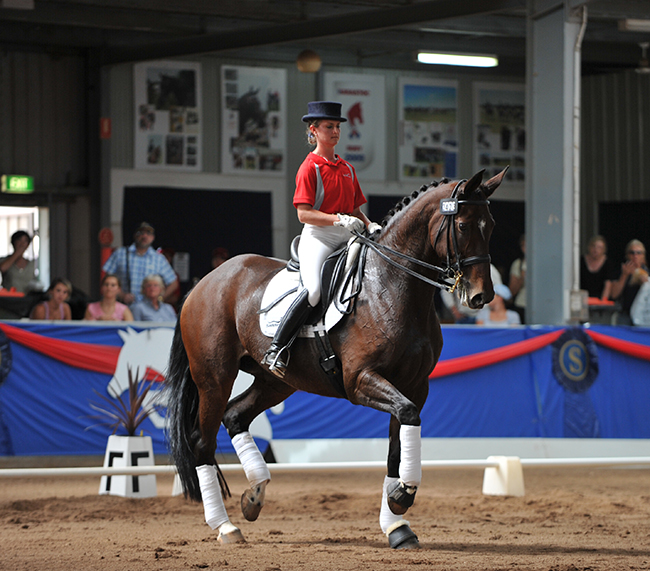 Emma goes to passage on the short side.
"No, never do anything on a short distance, after the corner go to passage not on the short side. Ask more in the passage, ask a little shoulder in. This is super passage, it gets better and better. Okay it loses a little rhythm but there it is better. Now on the diagonal, a few half steps, play with your little finger – half steps means piaffe a little forward. THERE! It is important with these exercises to stop before it is too late."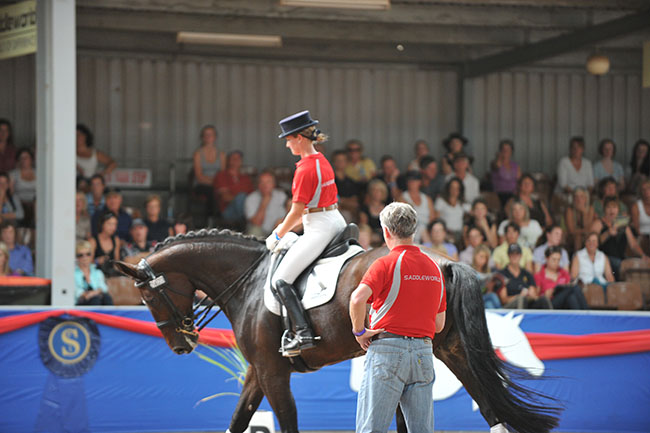 It's the same with master classes and this one has been just right, thoughtful, analytical… refreshing. The dreaded dressage ladies have swallowed up and spat out the last couple of individuals foolish enough to take the coaching job, but they may just have met their match with this dude. I still don't think that there is a one-coach-fits-all for a country as large as Australia but if Ton sees his rôle like that of Germany's Holga Schmetzer, part diplomat, part liaison with the rider's individual coaches, part show day management, then he might just make a difference.
UPDATE: It would seem that our prediction at the time was accurate, Ton has been a powerful force for the good as a team manager and helper to our riders – it is no wonder that there is a groundswell of support for him to be re-appointed to the position…