Part one – Working with Johan Hamminga and Jennifer Sekreve at home
Our first training session when we last visited Jen and Johan was with an old friend, San Siro, a horse we'd seen develop from a three-year-old colt to a competition horse gearing up for his first Prix St Georges. In this training session we are working with a new face, the six-year-old Rhodium stallion, Ferrero, (out of an Olivi mare). Jennifer rode him last year at the World Championships in Holland.
Jennifer and Johan are sure that this one will go Grand Prix, but Ferrero was not always easy. "He was hard to break in," Jen recalls, "After a break I always lunge him and he bucks and bucks. Hopefully he is going to be a good boy today."
Johan has taken up his spot in the corner of the arena, and the work is underway:
"Make him a little more different in his stride and in the frame. Shorter / longer, otherwise it is too simple. Train, train means change, change – bigger strides, smaller strides, okay and out."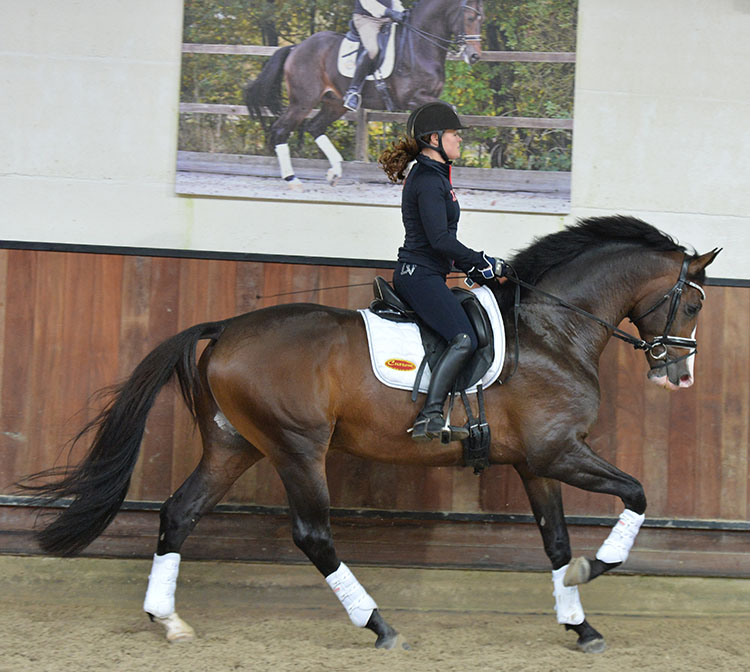 "Change the neck position, looser topline, bigger strides, ask a little more self-carriage."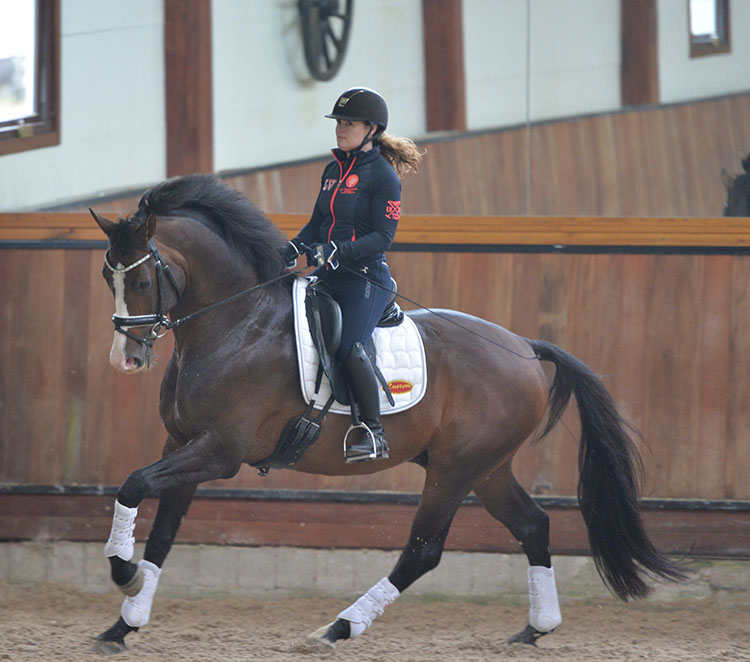 much more below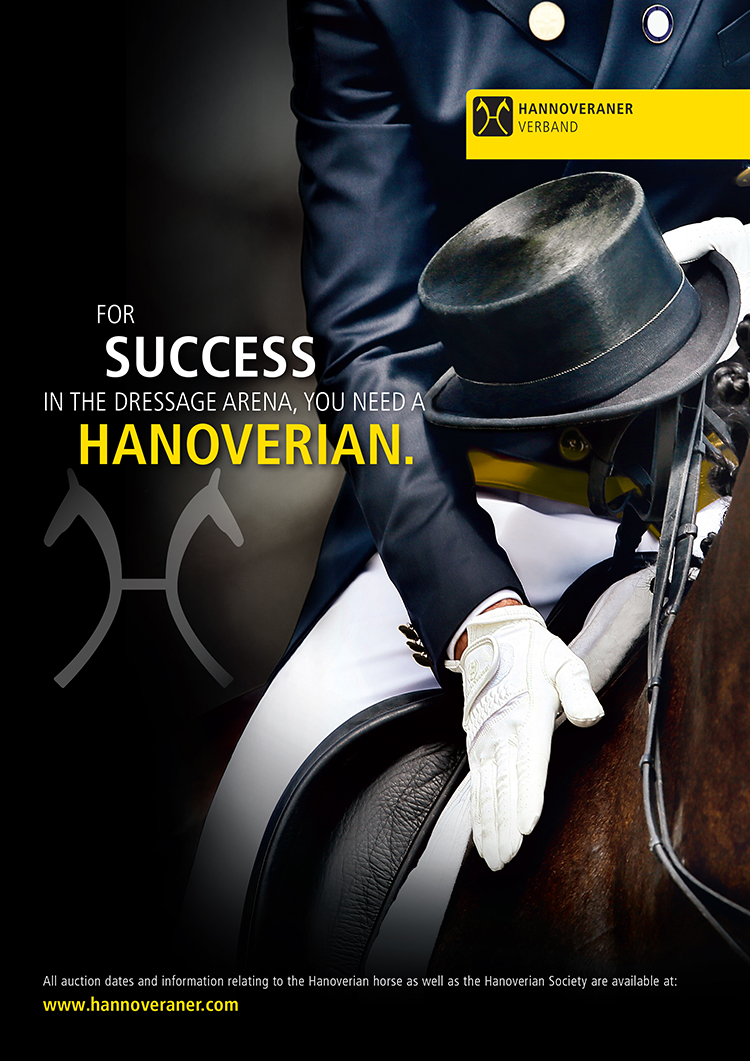 go visit www.hannoveraner.com
And with this young stallion we are quickly into the canter work, and already the horse is being asked to use his body in travers in canter: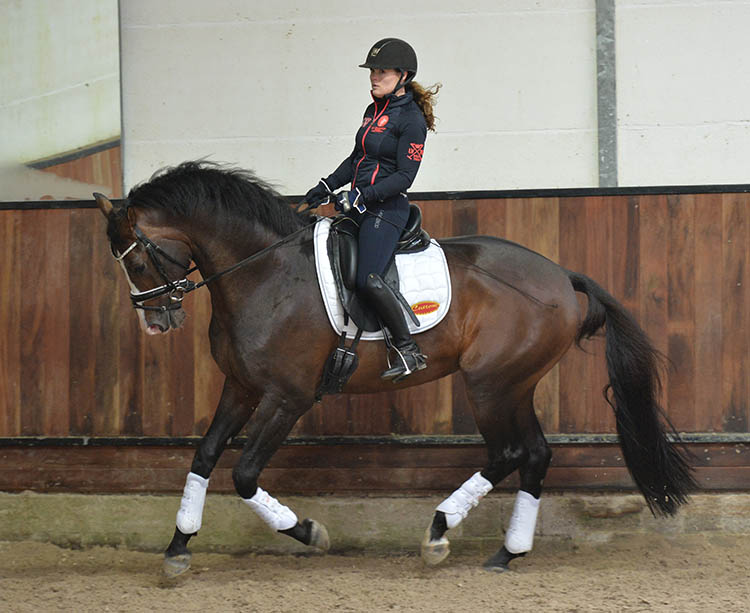 "And you get a transition that just melts from the canter to the walk.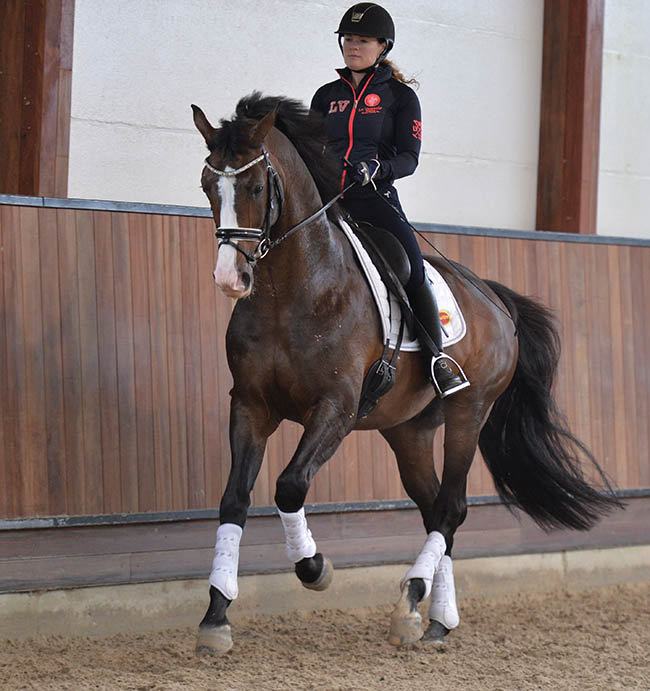 Always in this hall, the aim is to balance the horse.
"Now ask him to go deeper with his neck, and now he stretches his top line because the hind legs carry more weight. Now ride him a little more forward or he loses the rhythm and puts the hind legs together – there, now he carries more weight and stays in the rhythm."
"I find it better to often have short, intensive moments – ten or fifteen minutes – not longer, then a break to allow the muscles to recover. If you want the horse to carry more weight, then you need time for muscle recovery."
read on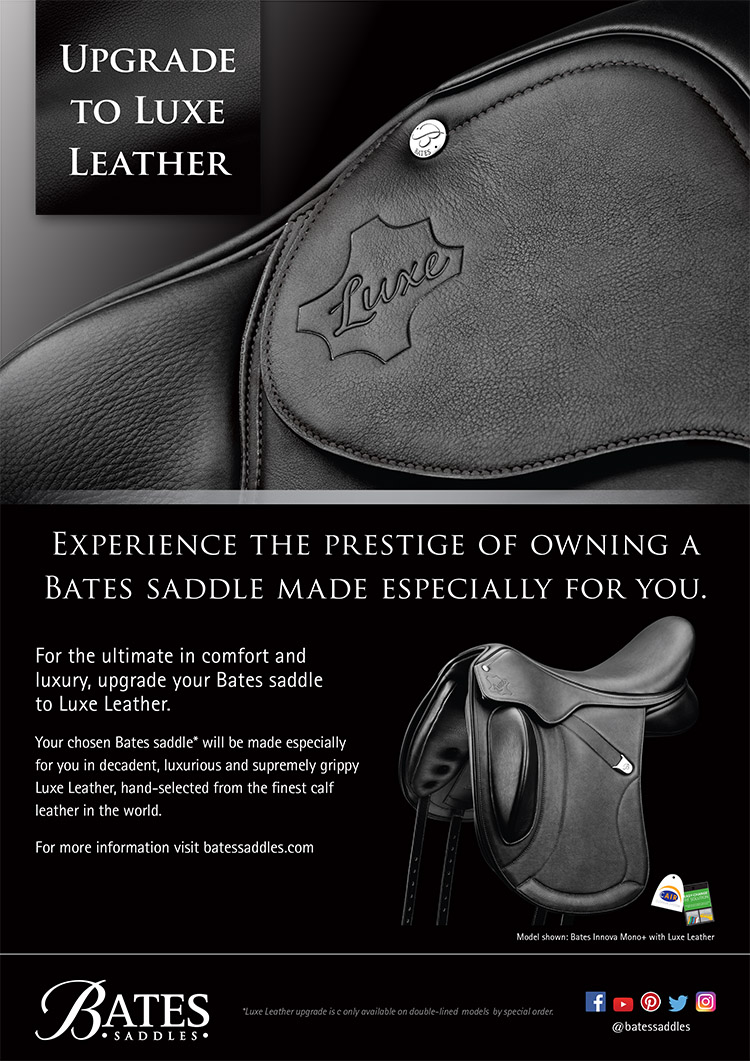 Find out more at  http://www.batessaddles.com
"We must listen to the horse. Collect a little, and if he becomes stiff in his top line, go out. Now it is good, he carries more weight but he has the same neck and has become shorter behind."
"You should always feel that you can change the neck position. Is he on the bit? Is he following my hand? In all the neck positions – longer, deeper, shorter, the most important thing is to follow the rider's hands. Too often horses are ridden mostly shorter, and they don't want to follow the rider's hand."
"In the counter canter, ride small tempi changes so the counter canter develops the same stride length as the normal canter."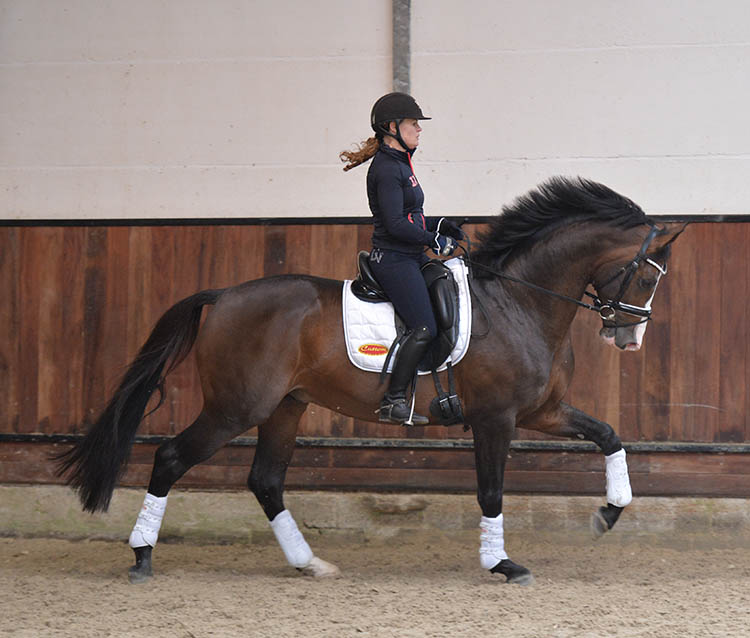 "It is most important to realise that the topline is not one muscle from the ears to the hocks. There are different muscles that you have to train – the neck, the wither, the back, the loins, the croup and the hock. The muscles of the hind legs are connected directly behind the horse's ears, if the topline muscles are not trained, the hind legs cannot move correctly."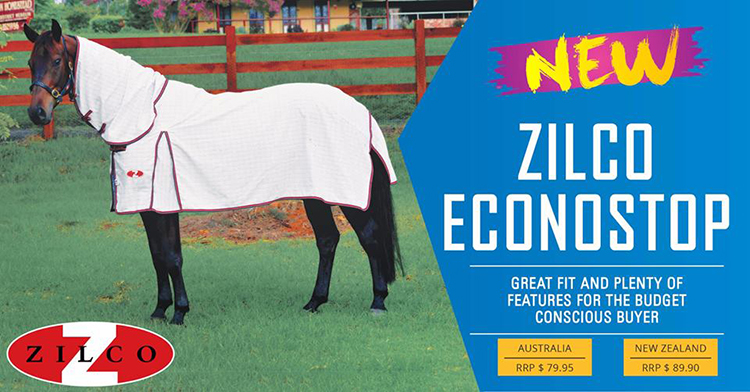 This mega-talented six-year-old is already showing a few short steps:
"Use your whip on his croup, just touch him, so that both legs are even. Make him straight and soft on both reins, touch with the whip on the croup. Brave! Out!"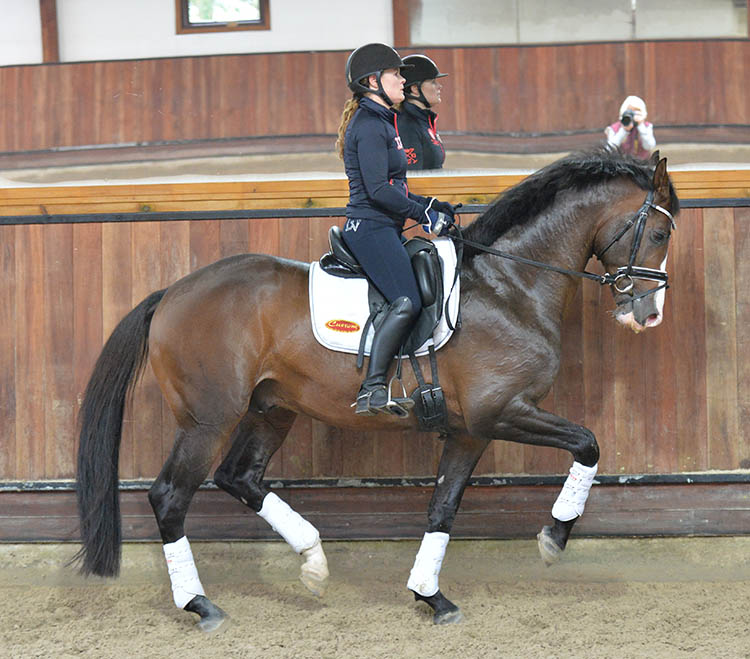 "Now the horse is in a better frame. His nose is on the vertical and he can use his hind legs under his body. Now when you give the reins with this loose topline, he is bigger in the steps, more cadence, more rhythm, more balance. It doesn't matter that he is a little lower in the neck, the shorter movements will bring the poll up. Start in a lower position and bring up the poll, that is the best way."
Training the half pass, Johan is firm that sideways comes before bend.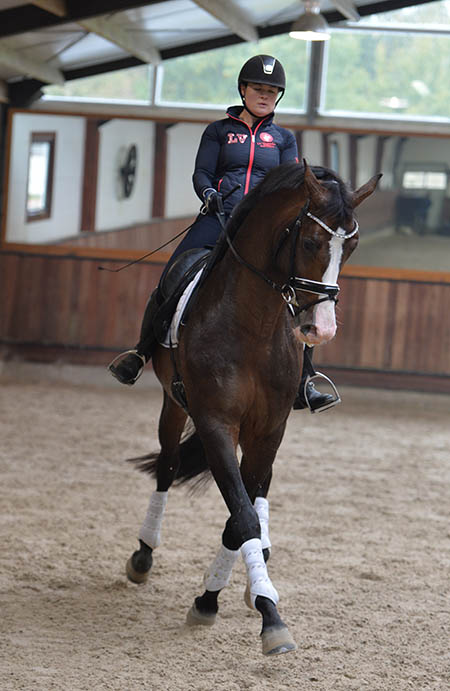 "When he is going sideways straight, make a little bending. First straight and sideways and then bend and bend – now he is lovely and bent into the movement. First he has to want to go sideways, then make the bend. Let him give on the inside rein, make more contact with the outside rein."
"And now when Jennifer gives the rein, you can see that the muscles are more developed on the top of the neck out of the wither."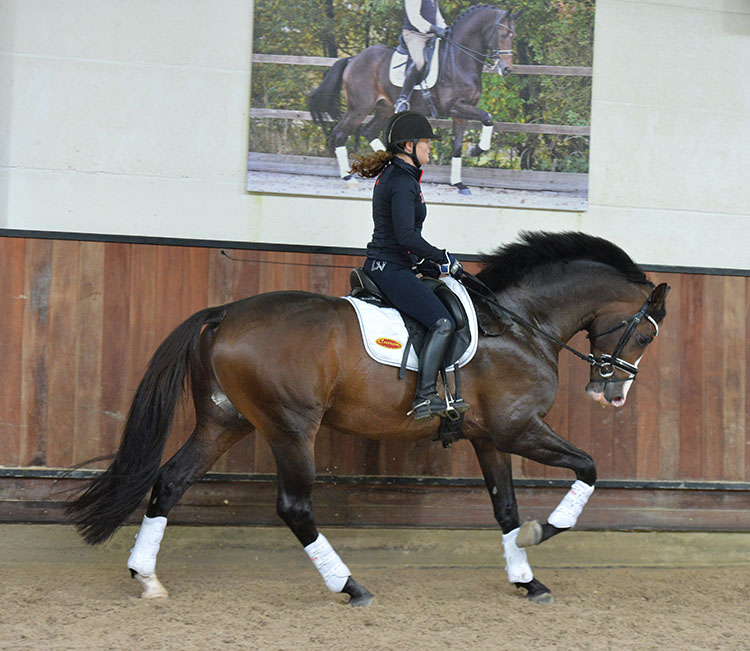 Once again, the work has been oh so logical, gently progressive, once again, the horse leaves the arena with a smile on its face.
Next – Germany meets Holland at a Trainers' Seminar and Ferrero and Jennifer take part.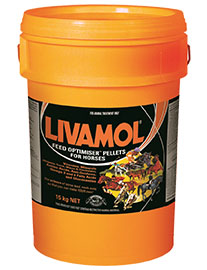 I asked Jennifer, How did the Trainers' Seminar with Johan and Sven Rothenberger go?
"Ferrero is really special, he really wants to give his best. He's very sensitive. He needs a lot of work or he gets too sharp and too sensitive. He was great in the Trainers Seminar. On the Friday evening before the Seminar I had to ride in the championships, and it took me like 45 minutes to warm him up for the test and in the test he was quite spooky, the arena had a blue wall, and he saw his own shadow on it, so he was really sharp, too sharp for the test – but we went well enough to make the freestyle, so later on that evening I warmed him up again, another 40 minutes and rode the freestyle. Then he was really good. After that there was a prize giving, so it was three times back and forward from the stables to the arena."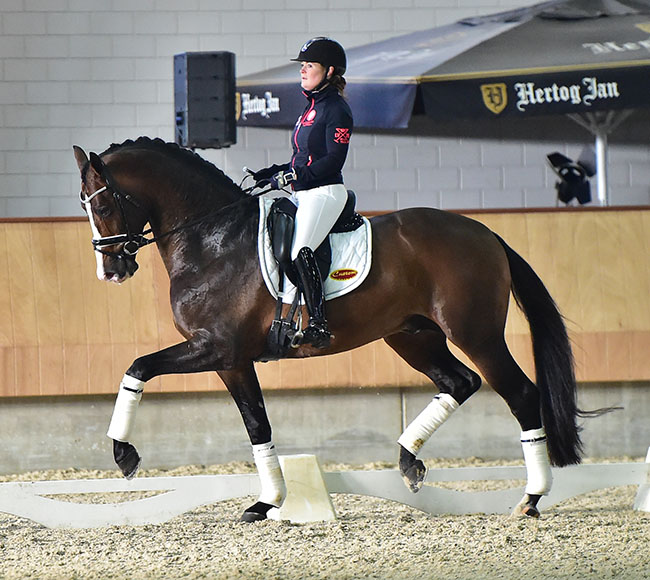 "In the morning at the seminar, I thought I'd get on him and feel how he is and if he feels okay, just walk a lot, and if he needs work, I'll give him some work. But he felt great right away. So I walked him a lot, and then we went into the ring. We were in there for 45 minutes, and he was nearly perfect. I was really enjoying the ride. It was quite special because usually there is something that I think, oh I could have done that better, or that was not so good, but he was so good, he was so nice on the two reins, and I could just concentrate on sitting really nice, and every aid I gave, came through – he was so full of power, and relaxed, at the same time. For 45 minutes he was really going and concentrating on me, so nice and sensitive on the aids, it was really special I think."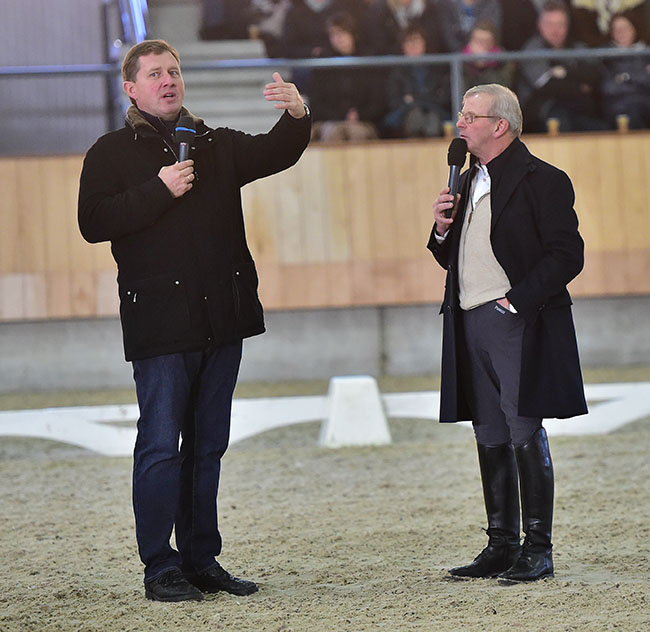 The seminar was conducted by Johan and Sven Rothenberger. Sven was enthusiastic about the progress that had been made:
"I was asked by the Dutch Federation whether I would like to make a seminar together with Johan – I said yes, for sure, because I really like the way Johan is working the horses. I think he is a traditional trainer, which is also my line on what riding should look like, and the way training should be. Johan and I had some discussion before the Seminar on what we would like to show, what we thought were the weaknesses in training where perhaps we could help a little bit to put the trainers on the right track."
"I just wanted to give my feelings about training to them: what means suppleness, what means submission, and especially, what means frame. Frame is a big thing for me. They asked me at the Seminar, how should a horse look when it is coming towards you? I said to them, if you meet someone and they are looking you in the eyes, a little bit proud, nose up, not arrogant, but someone coming to you, giving you their hand, with a very positive attitude. That's the way a horse should come to you – when he enters the arena, he should say, hello, here I am."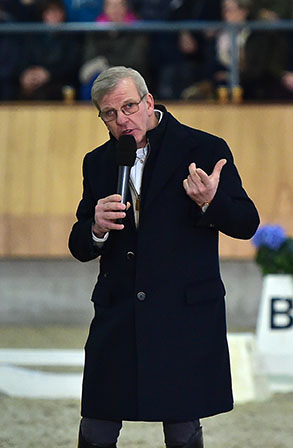 Had you seen Johan teach before?
"I saw him teaching in Ermelo when he trained the young horses for the World Championships. I like the way he teaches, when he gives lessons, you know that he has read a lot of books. It's not just his feelings, there is really fundamental knowledge."
Is this the way forward for Dutch dressage, a return to traditional training?
"Everyone is using the words 'classical' and 'traditional', and I don't want to be the one who is telling the Dutch what to do. They are coming out of a very long, successful period of competing and training. I do think that every trainer in every country, has to take care with the frame of the horse – that we get the horse supple in a nice frame. It is really important that we ride the horses from behind towards the hand, not that we pull and kick. First of all try to ride them from your soft leg up to your soft hand, and they carry their head, themselves."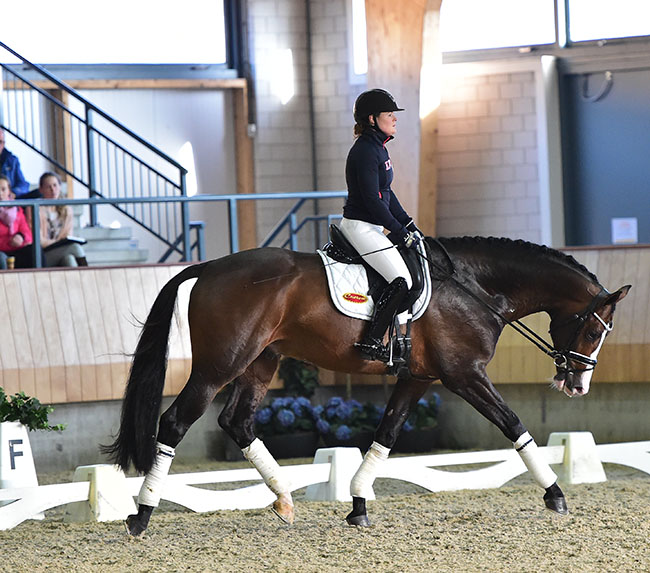 "Very often you see that the harmony is very far behind and this is something we should work on. I think in Rio you saw that this is the way it should be, and that you get high marks when you do it like that. The times have changed, the judges don't want any more that it is only piaffe / passage, they want to see a full package of suppleness, with a good submission and a good frame. That's the solution for the future, that's what the judges want and I agree 100%."
---
DUTCH RIDING TRAINING – Johan's view:
The Dutch team did not go so well at Rio – do you need to start all over again?
"In 2015, it was a very successful team, and in 2016, it was not so successful, so of course we have to look to another way. One of the most important things was we lost our coach, Wim Ernes. He was the captain of the ship, and he was steering in the right direction. But when the captain became ill, the ship was not steering on the right course. That was a problem, and another was at this moment we don't have the really good horses. We might have two or three, but not six or seven at that level with a high potential. In the coming years we have to look for younger horses and we have to train them with younger riders, and train them to a higher level, and make a new team for the big championships."
In the end, the path of Sjef (Janssen) and Anky (van Grunsven) was not the right path…
"They did a lot of good work of course, but theirs is not the only way, and it is a way of training that is not for every horse, and not for every rider. They did a very good job for dressage in Holland and all over the world, but there are different ways to Rome."
Your own training is much more in the classical way…
"Yeah… but I am also training in a deeper, rounder neck position, but the way to come there is different. You have also seen that sometimes my horses are behind the vertical – but behind the vertical is not a problem when you can stretch him, and the horse is connected there, and he can follow your hand, then there is no problem. There is no problem when your horse is bending from behind and carrying his weight on his hindlegs THEN you can stretch him a little more and then you can bring the neck into a lower position – but THERE HAS to be a connection."
"When he is behind the vertical and he has lost the connection, then you have a big problem. Then he has lost the connection in the muscles of the topline, then he loses his hind legs and then you are on the wrong way."
Are you hopeful that dressage in Holland will find a way?
"Yes, we have good horses, and the Dutch Equestrian Federation have good people to bring the coaches together with the riders and the horses, and make a good path for the future. I think so, I hope so, that things in the future will be much better…"
---
ADVERTISEMENT
Vitalis – one of the Dutch stallion stars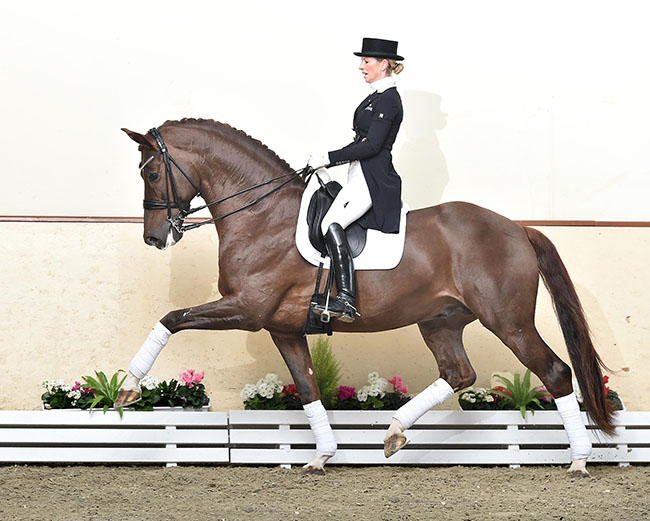 Available in Australia from International Horse Breeders – 03 5439 7251
or visit the WEBSITE