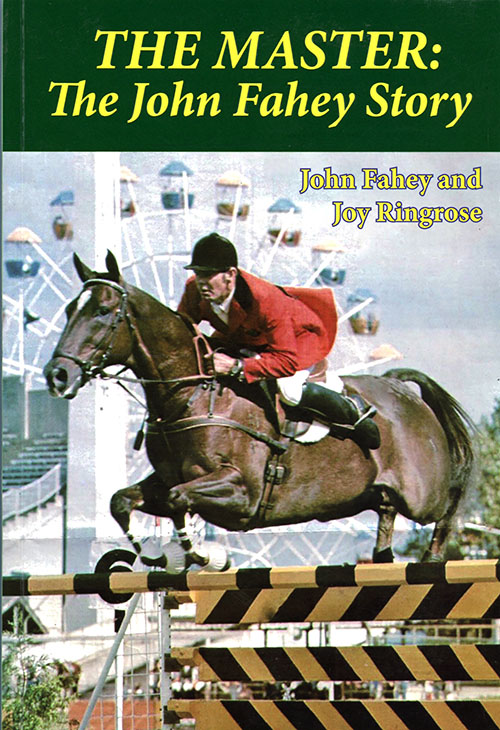 Chris Hector reviews: The Master: The John Fahey Story by John Fahey and Joy Ringrose
This is an amazing story of an exceptional horseman, a story so well told that it leaps alive from every page. John Fahey is the quintessence of Aussie horsemanship, the kind they don't make any more… alas.
As for his father before him, horses were both work and play. Essential tools in the day-to-day business of taking care of cattle, of farming the land, of getting from A to B. A rich source of play in everything from smoke the cigarette races to jumping to bush racing and campdrafting…
Yes gentle reader, in those far less politically correct days in the 1940's, Tom Fahey competed in a race requiring contestants to gallop to the end of the arena, dismount, light a fag, then re-mount and ride back again. In those days, jumping was the Hunting Event, three or four fences around the arena, to be jumped twice. The score was out of 50.
"Twenty five points for the horse's conformation and twenty five for qualification, which was speed and control. Riders were also given a score out of ten for each jump. Each jump had a steward. Pulling a rail meant points taken off at the jump steward's discretion. The steward would signal to the judge if a horse had touched the jump. He would touch his hand for a tip in front, which meant a loss of two points; and touch his ankle for a touch behind, the loss of one point."
Tom taught John's pony to lie down so he could get on, and at the age of three he collected his first ribbon.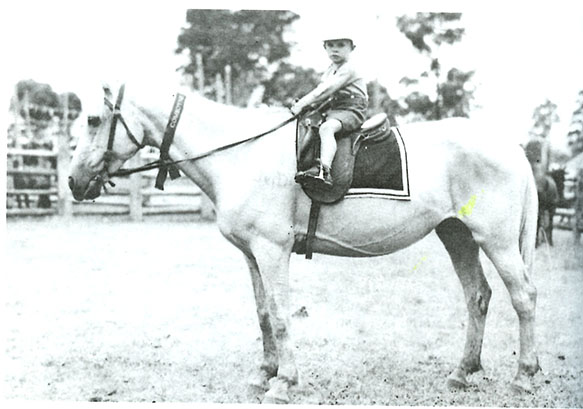 It's blue – John and Goldie at Wingham show, 1947
By the time he was four, John was helping his Dad muster cattle, at one stage being left to hold the mob together while his Dad and a mate went in search of strays – they returned empty handed in the late afternoon, the four and a half year old ringer had been keeping his cattle together for eight hours!
And of course, Tom taught John how to break horses: "He taught me to be patient, which I think is one of the most important things when you are breaking in horses. You can be firm, but you don't want to be hard. You don't want to be cruel. Some horses will accept it and go to what you want them to do easily and others will get a little bit sore in the muscles and start to resist. The more they start to resist, and the more you try to get them going, the more you create a habit. Dad said if you get a problem with a horse after a week or so, take the gear off him and put him in the paddock for a week or ten days. Let him forget everything, let him get over his soreness, bring him back and start again, and usually nine times out of ten the horse will do whatever you want him to do."
In a time when it was common to cut the corners of the horse's mouth to make him 'light', John worked out that he could teach "these horses how to steer and go with just a head collar on. I eventually put the reins onto the bit and the horses just mouthed up beautifully. They weren't sore, they were very tractable, just mouthed up lovely… You just had to be soft, especially with Thoroughbred horses."
read on below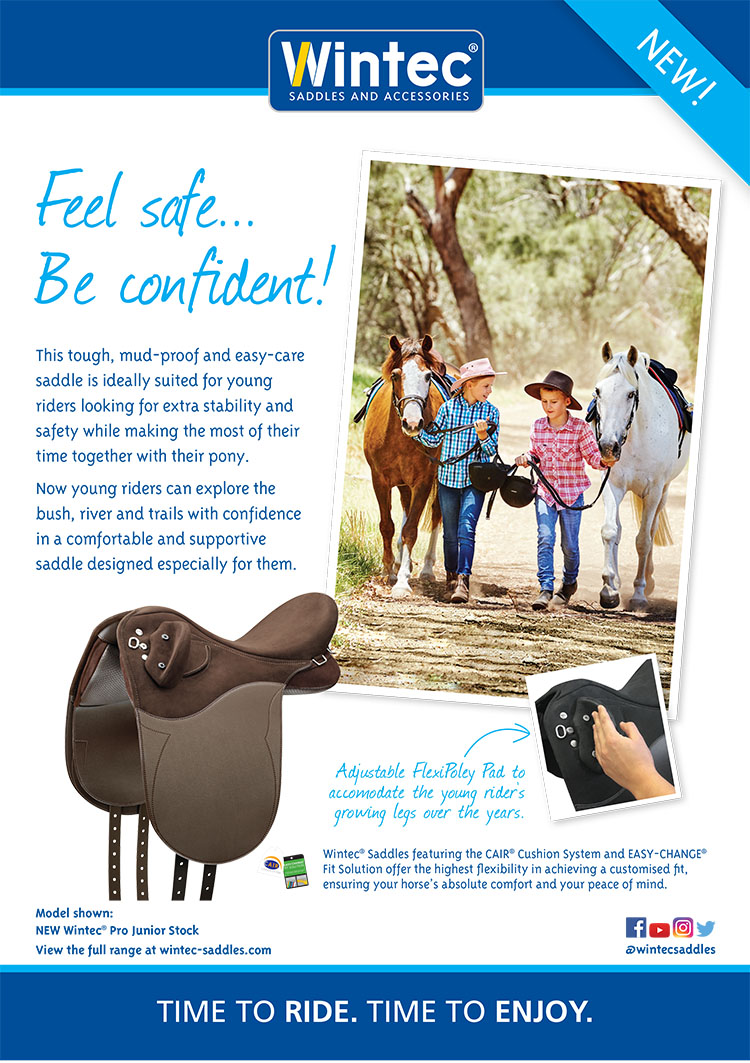 Out showing, the horses were expected to be versatile: "At Taree Show I went in the Pony High Jump on Miss Luke. If you couldn't jump six foot it wasn't worthwhile going in the Pony High Jump because they nearly always went up to six foot. We jumped that height and won the class. The Dad went out on her a couple of hours later and they won the Maiden Campdraft."
John left school at the age of fourteen and a half: "When I left school Dad said, 'You've got to learn to work. Here's a mattock and a brush hook.' I was set to cleaning areas around the farm. Dad had a good friend who had a property with a lot of lantana and bracken fern growing on it. He needed a hand. Dad said I could go and work for him, but he added 'Don't take what he offers you.' He was offering three pounds a day. I told him I would start for four. He agreed."
"I used to ride a little horse, and put it in a paddock halfway up the mountain, getting there just on daylight. I worked from daylight to dark, then would ride home in the dark…"
One of the themes in this book is the clashes with authority, particularly the ham-fisted, authoritarian, and half witted EFA (now EA though it seems really only the name has changed), but he also had his problems with Sydney Royal, they kept trying to make rules to stop John winning so many classes, but he would just enter extra events.
"I won every event there that could be won with my pony Valentine. He won Station Pony eleven years straight, he won Polocrosse Pony; Pair of Pony Hacks; he was Reserve Champion Pony Hack; Round the Ring Pony Hunt, a showjumping event, and won the World Championship Campdraft."
In 1950 the horse that would bring John international fame, Bonvale, was born. A natural jumper, he terrorized the neighbourhood, jumping out of paddocks at will. The Faheys purchased him in 1956 for five hundred and fifty pounds.
Alas perhaps for the future of Australian showjumping, John decided that dressage was not a possibility with Bonvale, but he certainly could jump, twice clearing 7'2″ with 15 year old John in the saddle.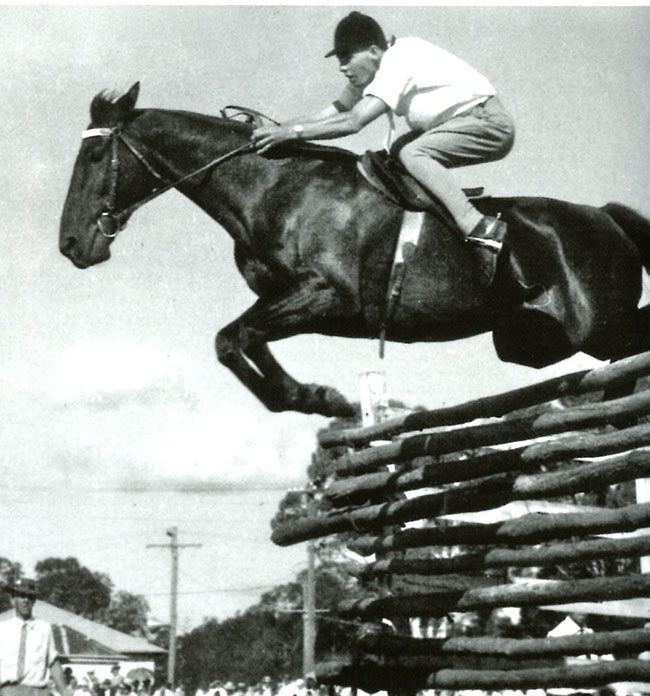 John and Bonvale winning the high jump at the 1958 Taree Show, jumping 7'2″ –
 Photo from The Master, reproduced with permission.
more follows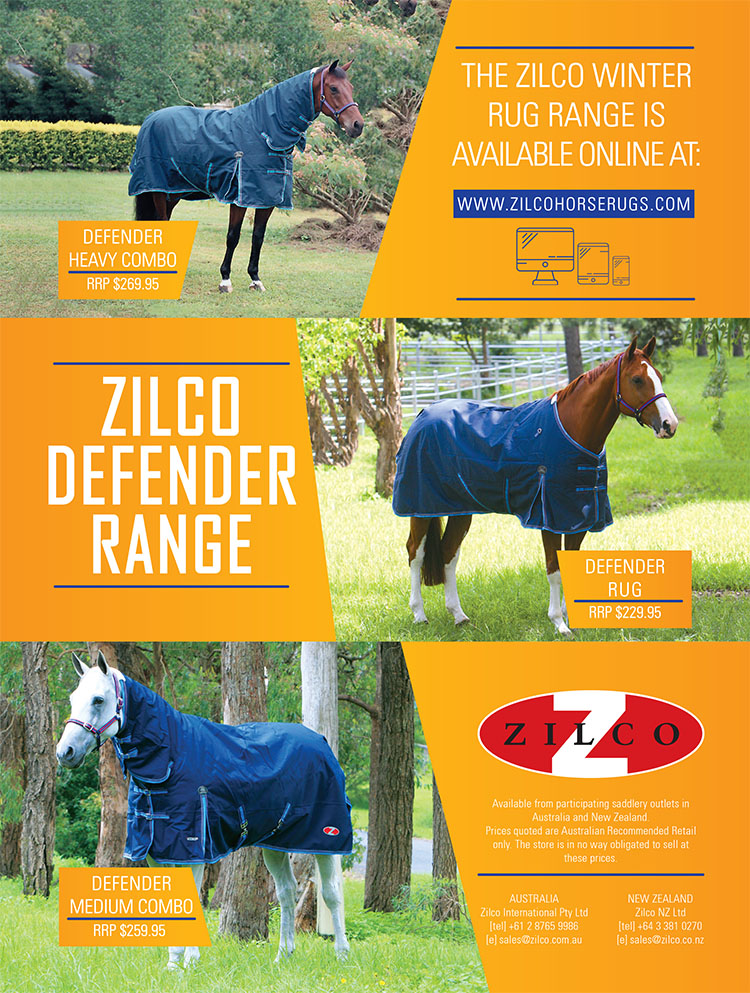 Horizons expanded and John and Bonvale competed at Brisbane and Melbourne Royal shows. No doubt Tom Fahey was a knowledgeable horseman, but some of his solutions were less than classical. "Tom observed that Bonvale had a habit of dropping his offside hind leg, which sometimes caused him to pull a rail. To counter this problem John shifted his weight to the left when going over a jump. This caused his right leg to kick up. To stop this from happening John tied his right leg down to stop his body from moving too far to the left. John did this for many years when competing Bonvale."
In 1964, twenty year old John riding Bonvale won the final Olympic selection event, at the Sydney Royal Easter Show and suddenly the country boy was in the team to go to Tokyo for the Olympic Games.
read on below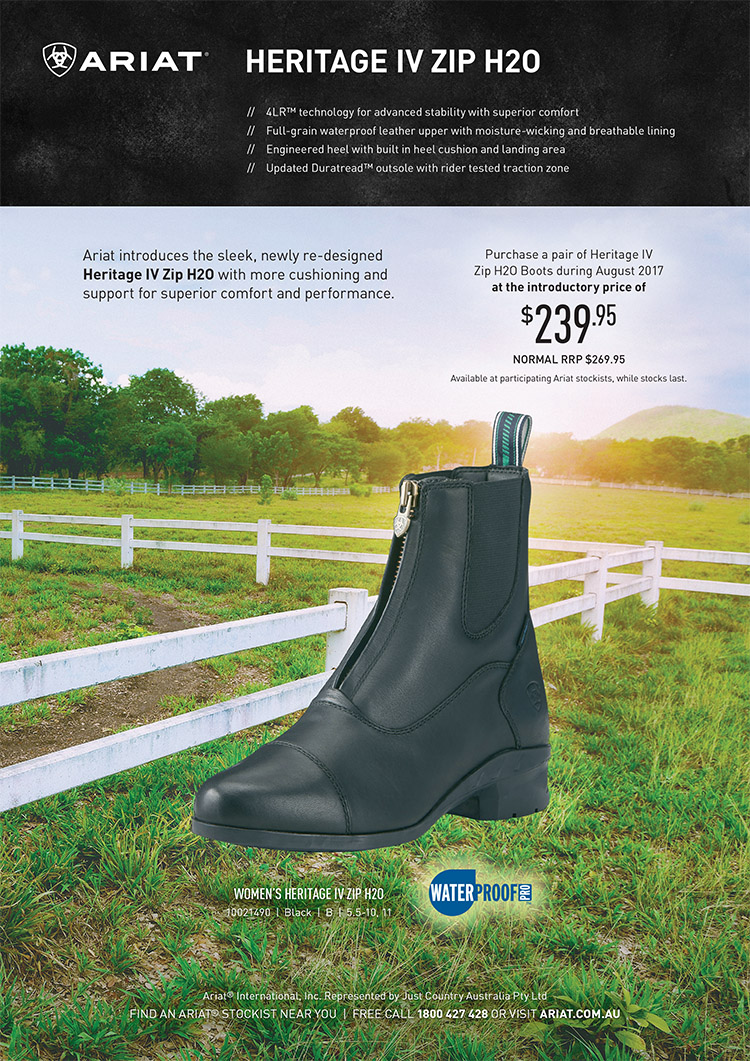 "I was almost twenty-one. Training to go to the Olympics was a great privilege. Just after the Australian Championships a short list-team was selected: Bud McIntyre (Hyem), Barry Roycroft, Peter Winton, Stan Fear, Kevin Bacon and myself. We trained at Bowral in NSW where two Europeans, Franz Mairinger and Karl Jurenak were based. They were two professional instructors employed by the EFA."
Sadly for John, and again, perhaps for the future of Australian jumping, John was not able to take part in Kalman's dressage sessions because Bonvale wouldn't trot, and John spent flatwork training time sitting under a tree watching on…
It was time for the EFA 'aristocracy' to enter the picture. John made the 'mistake' at a training show of beating Bud McIntyre, on her team horse, Coronation, riding his second string, Rocket. "James Barnes, the president of the EFA, came to me and said, 'You're not to ride that horse ever again against the Olympic team horses.'"
After the eventing team's gold medal performance at Rome, the eventers and their entourage were to fly to Tokyo, while the showjumpers enjoyed the rigors of sea travel. Luckily for us, young John was a dutiful and talented correspondent, and his letters give us a unique feel for the young man as he set out on his first great adventure:
"By gee it was hard, seeing you all standing there, waving us goodbye. I will never, ever forget it. It makes me realize what a Mum, Dad and sister mean to me. I lost some tears, Couldn't say how many. When we got out of sight Kevin (Bacon) and I went down and had a big SCOTCH to revive us."
At the actual Games, the EFA once again 'starred'. "On the day of the event each member of the team was presented with a sheepskin saddlecloth, a luxurious item, for their Olympic appearance… John sensibly objected to using this untried gear. He had asked to try out his saddlecloth before the event and was told, 'No, we have to keep them clean and fresh for the competition.' John believes this determination robbed him of a silver medal."
The pair were clear to the 12th jump, when the saddlecloth moved back "and as Bonvale went to jump the water the saddlecloth came over his tail and just took his attention." Two fences down. Crucial faults as it turned out because John and Bonvale ended after the two rounds, equal third with Britain's Peter Robeson on Firecrest, and then missed out on the bronze medal when he lost the jump off…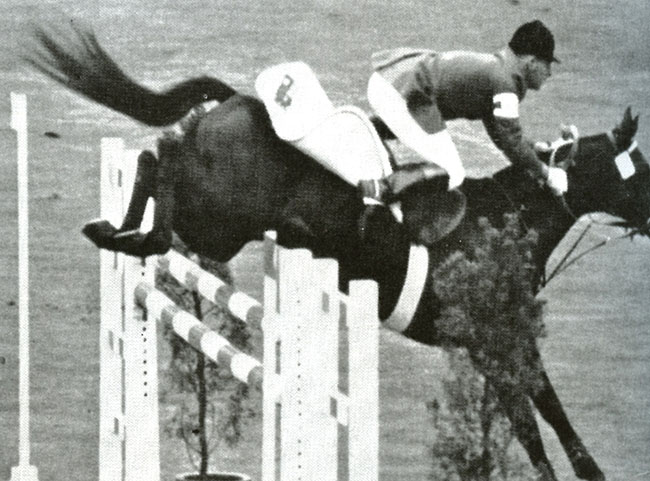 There goes the saddle cloth – J Fahey loses out on a silver medal…
Photo from The Master, reproduced with permission
After the Games, John headed off to England and quarantine, sharing the ship, and the accommodation when he got there with Bill and Barry Roycroft. John and Barry did not get along, if John is to be believed, Bill and Barry did not get along, still the Brits jumping circuit gave John Fahey another option to show that he could mix it with the best in the world, and how!
read on below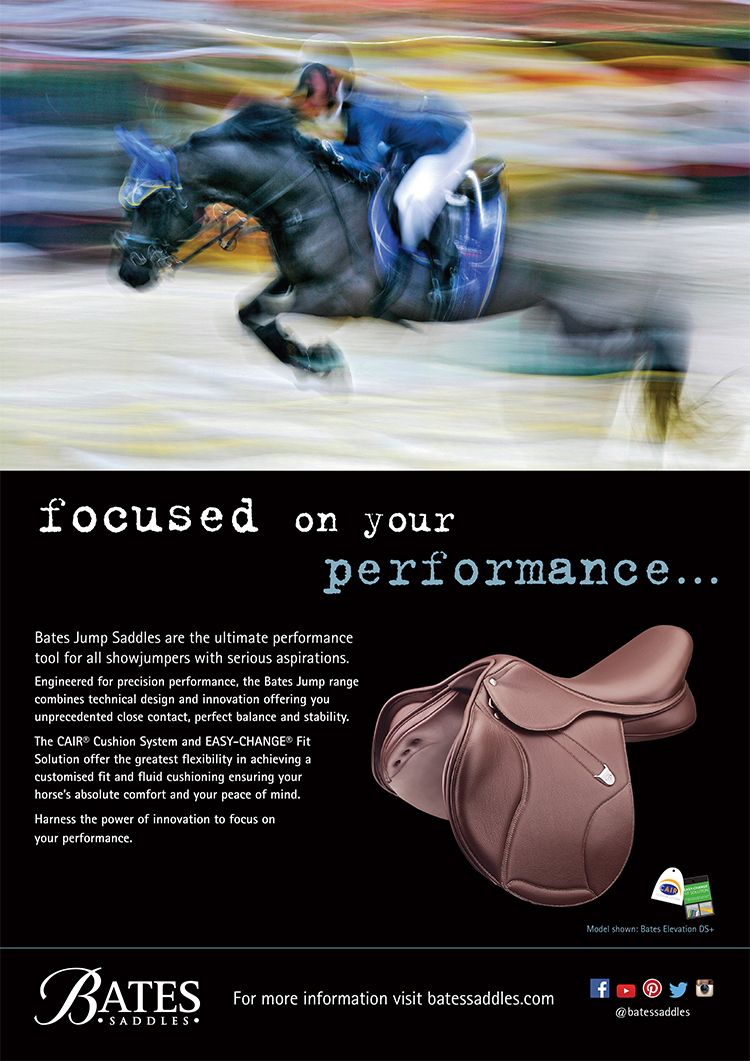 At Hickstead, Bonvale collected firsts on the first three days, and seconds on the last two – by winning an international competition three days running, John and Bonvale established a record that is yet to be matched. A championship win (over 1.83 metre fences in the jumpoff) at the Three Counties Show followed then a win in the Puissance over a 6'1″ wall and a 5′ by 5'7″ spread…
At the end of the season, Bonvale had accumulated eight wins, four seconds and five thirds. Barry Roycroft, the youngest of the team, won five with Genoe, with three seconds and six thirds. Bill Roycroft had once again demonstrated what a consummate horseman he was with results in top level showjumping (on his eventers), in steeplechasing and two top level eventing wins. Peter Winton's Brahmin, who missed a start at the Games and was the least experienced, ended with a win and two seconds.
Time to go home. And time to pose a question. How is it that the Australian horses at this time were so competitive, and would be right through to the mid-70's, and would then drop so far behind the rest of the world? In Kalman de Jurenak we had a trainer with the same experiences at Bertelan de Nemethy, yet de Nemethy was able to produce a team of perfect stylists – while our Australians, lead by Kevin Bacon, were throwing themselves wildly out of the saddle. As William Steinkraus, the ultimate stylist in de Nemethy's squad, remarked, I would have been sad never to have seen Kevin Bacon ride, but it would have been better for the horses…
I cannot imagine de Nemethy letting a Kevin or a John ride in one of his teams until they fixed their position – perhaps an American deference to learning (and the legacy of a French and Italian influenced Cavalry School that only closed in 1948) made for a receptiveness to the classical principles that would lay the basis for continued improvement…
The trip back to Australia was another adventure, brilliantly chronicled by John, and yes, there was another major EA stuff up. John had left his horses in New Zealand, flying back to Sydney – 'That was a bad mistake'.
Despite promises that there would be experienced horse handlers on board, there were none. Bonvale got down in his very narrow stall and was left there for three or four days: "He had scars on his hip and his side where he had been lying. It was all scalded. Also his legs were lacerated. He never grew hairs back on his hip and carried these scars until the day he died."
But wait, there is worse to come…
The horse was stuck in Melbourne for another two weeks while his trip home was organized. "During that time not only was Bonvale not treated for his injuries, he was also neglected by being underfed."
When John and his father collected him in Maitland: "He was so undernourished and scarred. We didn't think he would be able to survive the journey home. Dad and I drove as fast as we could to get him home that afternoon. We unloaded him at the house, and as soon as he was unloaded he lay down on the front lawn. I propped him up with bales of hay, and he lay there for two days before he was able to get back up onto his feet."
Three riders were selected to go to the Mexico Games – John, Sam Campbell and Kevin Bacon. Once again the team was disadvantaged when EA decreed that they should not compete in the months prior to the Games for fear of injury, while the other nations had been competing in the weeks prior to the Games.
As it turned out Australia finished in ninth place, but worse, Bonvale had damaged a check ligament, as was revealed when it snapped when John jumped him at Madison Square Garden.
John was frantic with worry about Bonvale. The heiress Marion Du Pont offered to take care of the horse at her property but, you guessed it, the EFA said, no, the horse was to travel to Canada with the rest of the team. A twenty four hour road trip. Then on to England, where they finally managed to get Bonvale's injury properly treated, and after eight weeks of expert treatment the lumps in his leg were down to a reasonable size.
The team traveled on to Germany where Sam Campbell's April Love starred and John's second string, Maestro picked up a couple of placings. Back to England, more placings and off to Australia. Maestro and April Love stayed in the UK, with April Love going on to be selected as a reserve for the 1972 British team.
You'll never guess what happens next…! Bonvale did his quarantine in Melbourne, then – another starring EFA act – disappeared.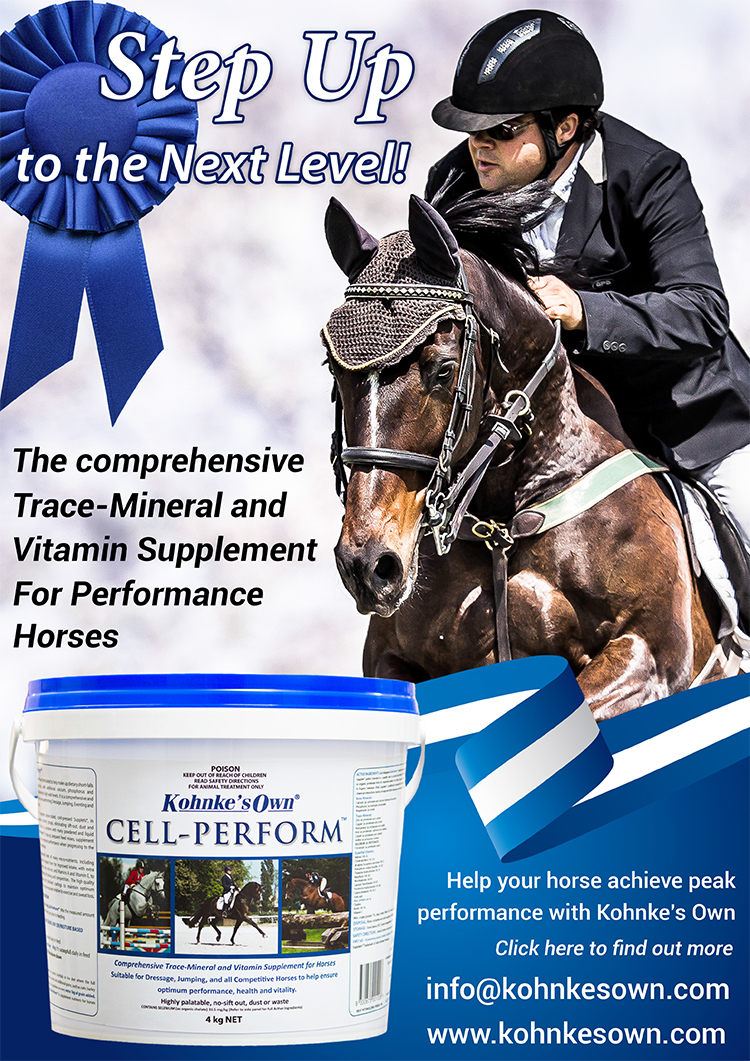 "It took me weeks and weeks to find out where he was. We sent numerous letters and made numerous phone calls and the answer was always the same, 'The horse is in transit.' Eventually I was at Newcastle Show when a friend of mine who had been to the races asked, 'Has Kevin got Chichester back yet?' when I replied 'Yes' he said to me, 'There's a black horse over at the Broadmeadow Racecourse that looks like your horse.' I went over and sure enough, it was him. They hadn't even notified me to tell me where they had dropped him off. He'd had no feed or water for days. I asked an old man there how long he had been there. He said, 'A couple of weeks, and no-one has come to pick him up.'"
The horse almost died and finally pulled through. The EFA refused to help with the veterinary bills on the grounds that the horse had become sick while back in Australia.
After a couple of months, Bonvale recovered sufficiently to jump clear at a local show, but he didn't feel quite right, and John retired him on the spot.
The next section of the book delivers chapter and verse on that legendary horse kidnapping and subsequent helicopter chase and shoot out on the Nullabor as Kevin Bacon attempted to make off with Billie Slater's horse. Want to read that? Buy the book.
1972 and John was once more selected for the Munich Games with his new Australian champion, Warwick, when a new EFA lease was thrown at him at the last minute. If the horse was sold, all expenses were to be deducted from the price, okay said, John, but then there was another clause, 25% of the price would go to the EFA:
John told the EFA, "No! There was no way in the world I was going to give the EFA 25% because they hadn't contributed anything to the cost of me producing the horse."
The lease was further refined to ensure that the EFA bore no responsibility for injury to the horse, that the EFA could decide what competitions the horse entered outside the Olympics AND they wanted the power to put other riders on the horse – and take control of veterinary treatment over and above the wishes of the owner. The lease made it clear that the EFA was not obliged to transport the horse back to Australia, but that the horse would be either sold at auction or sold to the highest bidder within twenty-four hours of the finish of the Games.
Not only did John say no, Kevin Bacon let it be known that he intended to retire Chichester to Australia, and would not be signing the contract. The EFA then announced that no showjumping team would be sent to Munich because the horses were 'not up to international standard'.
Chichester had already proven that untrue on the European circuit, and Warwick was about to, with a vengeance. John, who had paid his own way to the UK, was soon jumping Warwick on the British circuit and beating horses bound for the Games in the process. After he was crowned Leading Rider of the Show at the Bath and West County show – which also happened to be an Olympic Trial for the Brits – John saw the vice president of the EFA, Sir Alec Creswick sitting in the stand.
"I met him as he was coming out of the grandstand and I asked him about my chances of representing Australia in Munich. He said, 'Sorry son, I can't help you. You'll have to eat humble pie.'"
In Germany, John finished third, behind Warwick Rex and Alwyn Schockemöhle, the combination that went on to win gold at the Games.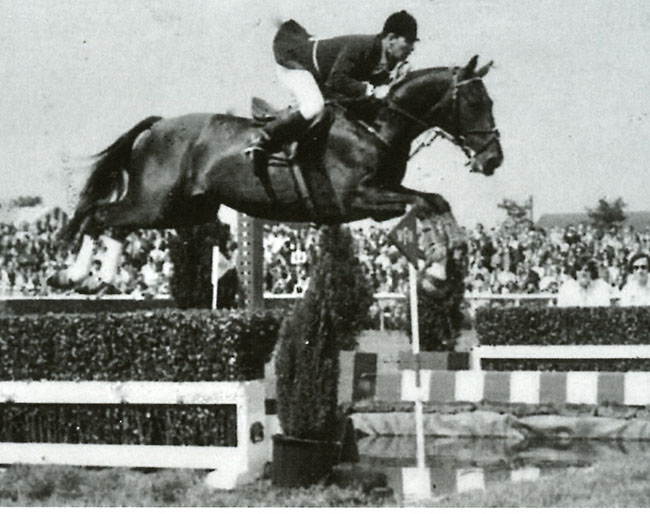 John and Warwick competing successfully at the Oxfordshire Show
Photo from The Master, reproduced with permission
"At the show I met the Australian Ambassador who said, 'I'll see you in Munich.' I explained why the EFA wouldn't let me go. He asked to see the contract… On seeing it he said, 'Nobody could sign this! I'll write to the EFA and the Olympic Federation and see if I can get you there.' He did just that, and sent me a copy of the letter. He didn't even get a reply from either body!"
John and Warwick starred in Dublin, Amsterdam and Olympia. They were genuine and proven medal chances, but with his first child on the way, John sold Warwick to Tony Newbury who rode the horse in Nations Cups teams for Britain, and headed home.
Back home John decided to turn professional – remember this is in the 'amateur' days when talented riders like Art Uytendaal were denied the chance of Olympic participation because they OPENLY made their living out of the sport.
"I was absolutely disgusted with the EFA at the time, because I had been sitting in Europe with an Australian Championship horse, had been to two Olympic Games, and had the best chance of going really well for the country. The horse was jumping brilliantly in Europe, and Germany and in England. I didn't get there (to the Games) so I was pretty upset, pretty annoyed with the EFA. When I got back I wrote a letter telling them that I had had enough of the politics of the EFA, and of being an amateur, so as of this day I was going to get some sponsorship and I was going to be a professional. It was not long after that that they changed the rules."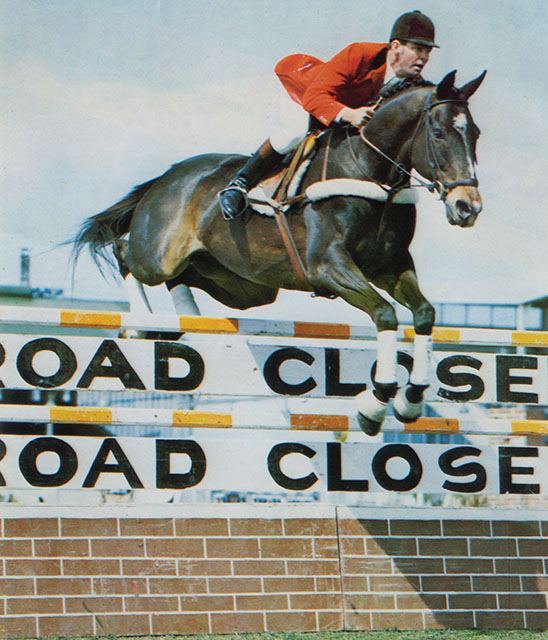 Australian Champion in 1978 with The Fall
There were to be more horses, many more, but never another that looked truly international. Tony Barlow (yes, John got his sponsorship after turning pro) Sorrento was unbeatable on the Australian circuit but John himself, acknowledged, the gelding was not an international contender. Sorrento was bred by John's father, Tom, and was rich in the heritage of the Australian stock horse – by Master Luke out of Bay Lady, he carried Radium blood on both sides.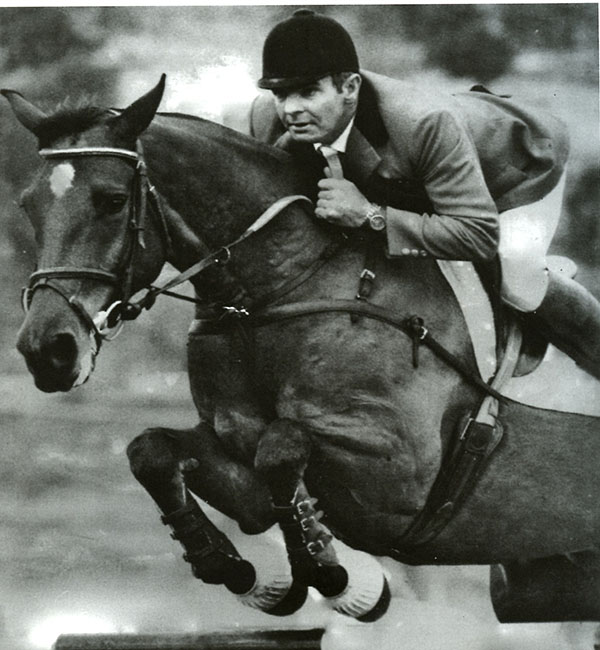 John and Sorrento – the horse dominated the Australian jumping circuit
Photo from The Master, reproduced with permission

At first John was unsure about the little gelding, but by the time the horse was eight, and 16 hands high, he was ready to go and won his first World Cup in 1986. Sorrento won the Olympic Trial for the Seoul Games in 1988, but John decided that the horse was not of Games standard. He also declined an invitation to compete Sorrento at the first WEG in Stockholm. Sorrento won the World Cup Pacific League in 1991, and this time, went to the final in Del Mar and proved John's earlier assessment, they finished 33rd. Still no horse was ever so successful on the Australian World Cup circuit – 19 wins! Add to that, the Australian Grand Prix in 1988 and the Australian Championships in 1993. The horse was retired in 1997 and the rider, retired five years later.
more follows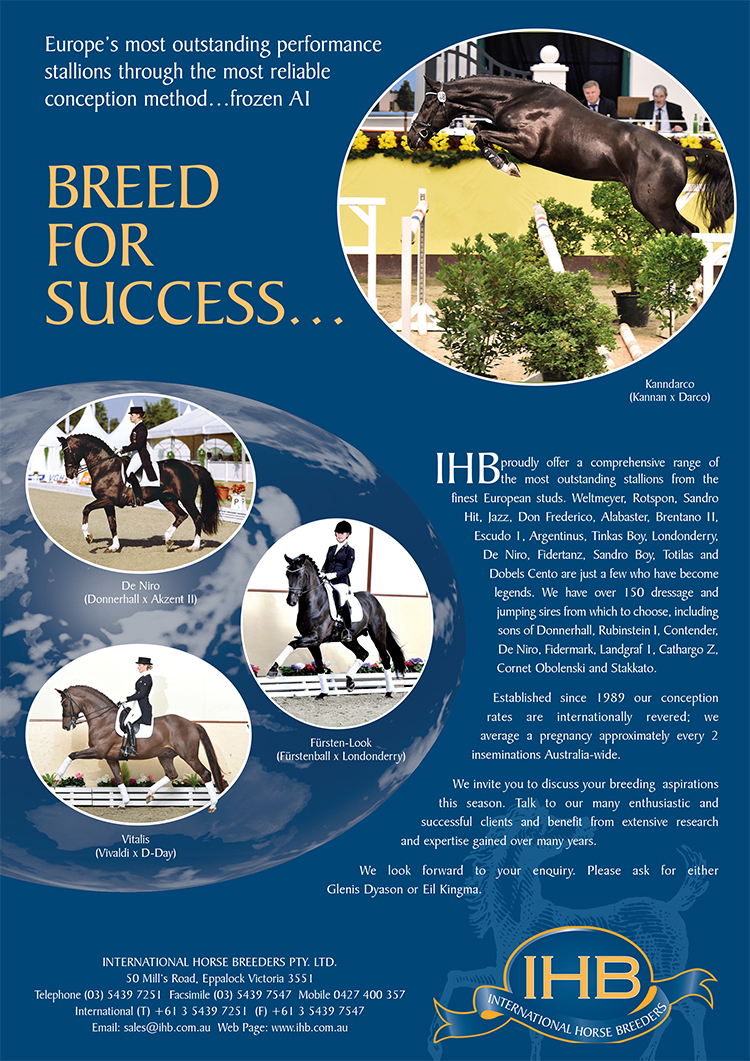 It really is a puzzle. Throughout the 80's, WA swindlers, Laurie Connell and Alan Bond poured millions of other people's dollars into showjumping, not just in the West but also in the East, where the only lasting legacy was killing our still best ever show at Wentworth Park. The prize money had never been higher, the shows never as glamorous, or so tasty (one major sponsor ran a fish wholesaling business), and since Bond owned Channel 9 for a while, the media attention never as gushing – and all the while the standard of the horses and riders grew less and less competitive on the international stage. Or maybe they just stayed the same, while the rest of the world got better, and better and better, as the Australian riders enjoyed the good life, stars in their own little pool of self adulation. Dressage? Who needs Dressage? Look at Sorrento, another glass of champagne please, and pass the oysters.
Obviously this is not the whole picture, by the end of the 80's George Morris was winning a group of dedicated pupils who very soon found that good flat work was very much the basis of good jumping And in the mid-80's Goerge's star pupil, Vicki Roycroft with Apache had a great season on the European circuit before the horse was sold to Alan Bond,  but aside from Apache (a freaky Thoroughbred), and to a lesser extent Mr Currency, Eros and Jox, who all went well enough flying flags other than ours (sadly right now Caracas, Aussie born and raised, and trained by Jamie Kermond is also following this route) it was not until the emergence of Laurie Lever's Drosseldan and Chris Chugg's Vivant (and later, Chris and Gabi Kuna's Crystalline), almost 30 years later that Australia again produced jumpers that were internationally competitive. All three Warmbloods, and purpose bred, two of them in Europe.
Perhaps the tide is turning, at this year's Sydney Royal, seven of the horses in the Grand Prix had a European campaign under their belt, and the cream of European breeding is available right here in Australia…
It is a measure of a book like this that it not only entertains, and it does that richly, but that it provides us with the chance to reflect on what might have been, and how it could have been done better.
Of course John Fahey's life – and the book – doesn't end with the retirement of Sorrento. There's more, a fascinating discussion of campdrafting, training racehorses, John's own journey in the direction of chiropractic and alternative therapies, and the Warmblood breeding program of the next generation of Faheys. Buy it.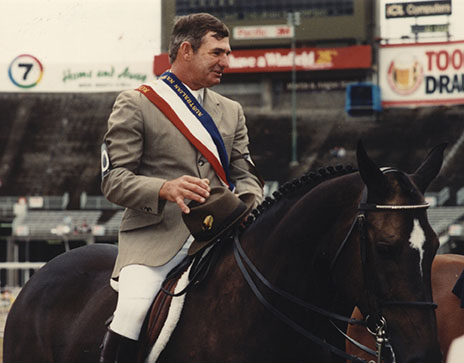 Champion Gentleman Rider at Sydney Royal with Tony Barlow Focus
Copies available from www.rosenbergpub.com.au or sales@rosenbergpub.com.au or phone 02 9654 1502