This month's Saddleworld Horse of the Month, is the Young horse Champion of Champions from Dressage and Jumping with the Stars, Iresias L (Johnny Johnson to his friends). Christopher Hector interviews his rider and trainer, Gina Montgomery…
How did you meet up with your very lovely horse?
"For a little while now, we have been searching the internet trying to find a young stallion and we missed a few, just because of the distance between here and there. Well actually, it was my best mate, Lisa MacDonald who did the hard yards trawling the internet, studying the breeding and she loves Dutch horses and tried to steer me in that direction. We have owned horses together forever, going back to our show horse days."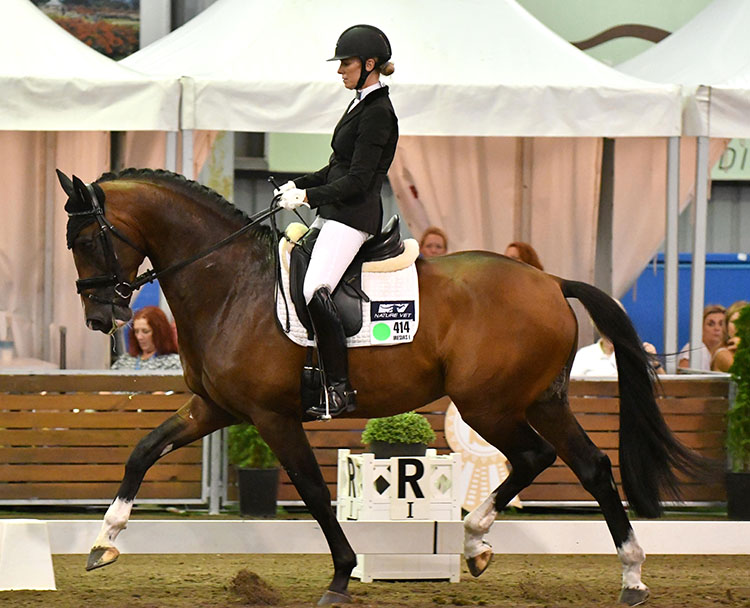 "Last year we decided to get on a plane and go searching, and Johnny was one of the first ones we saw…"
"When we saw him it was quite funny. We were at Platinum Stables, where Kirsten Brouwer is – he was actually her boyfriend's horse. He's a showjumper, and they bought him as a foal."
"We were looking at some of the other stallions, and there was this one horse that was going a bit crazy in the crossties up the other end of the stables, and I thought, god, I hope I don't have to look at that one because it looks a bit nutty."
"Of course, when we finished looking at the ones we were supposed to look at, they started walking us up to this guy, and I thought, oh great! The second we got with him, he relaxed and behaved himself. The boyfriend explained that he had only ever been on the truck twice before and that this was only his second time away from the property and he was just a bit nervous and scared. He said, do you mind if I lunge him for a minute…"
"He put the jump saddle on and the second he went around on the lunge, he was completely relaxed. I just liked him because even though he started out quite hyped up, he switched off very quickly. He rode him for ten minutes and I hopped on in the funny little jump saddle, and I instantly clicked with him. He was just a really really nice horse to ride."
He's brilliantly bred, by Johnson out of a Ferro mare from a famous mare line…
"Brilliantly. We'd been looking at a Johnson twelve months earlier and missed him, when we saw his breeding and his mother line, it was all the breeding we wanted. Ideally when we first went there we wanted a Dutch stallion over a good German mare, I get a bit worried sometimes that this guy is full Dutch, whether us Aussie riders are good enough to ride them, sometimes they are a bit hot and sensitive, but I did have such a good feeling from him, that I rang Sarah Hanslow who was looking for a stallion, and said, I really like him, and he is a really good price – what do you think? Sent her a little video footage and she said, yeah."
"He arrived on the ninth of August, he has been brilliant, as has the Bordeaux stallion we bought at the same time. I've got a two-horse float and they are next to each other the whole time. They mated up in quarantine and stayed mates. When they arrived, I gave them a day off, and then lunged them five minutes each way and rode them straight away. To be honest, they have been really fantastic."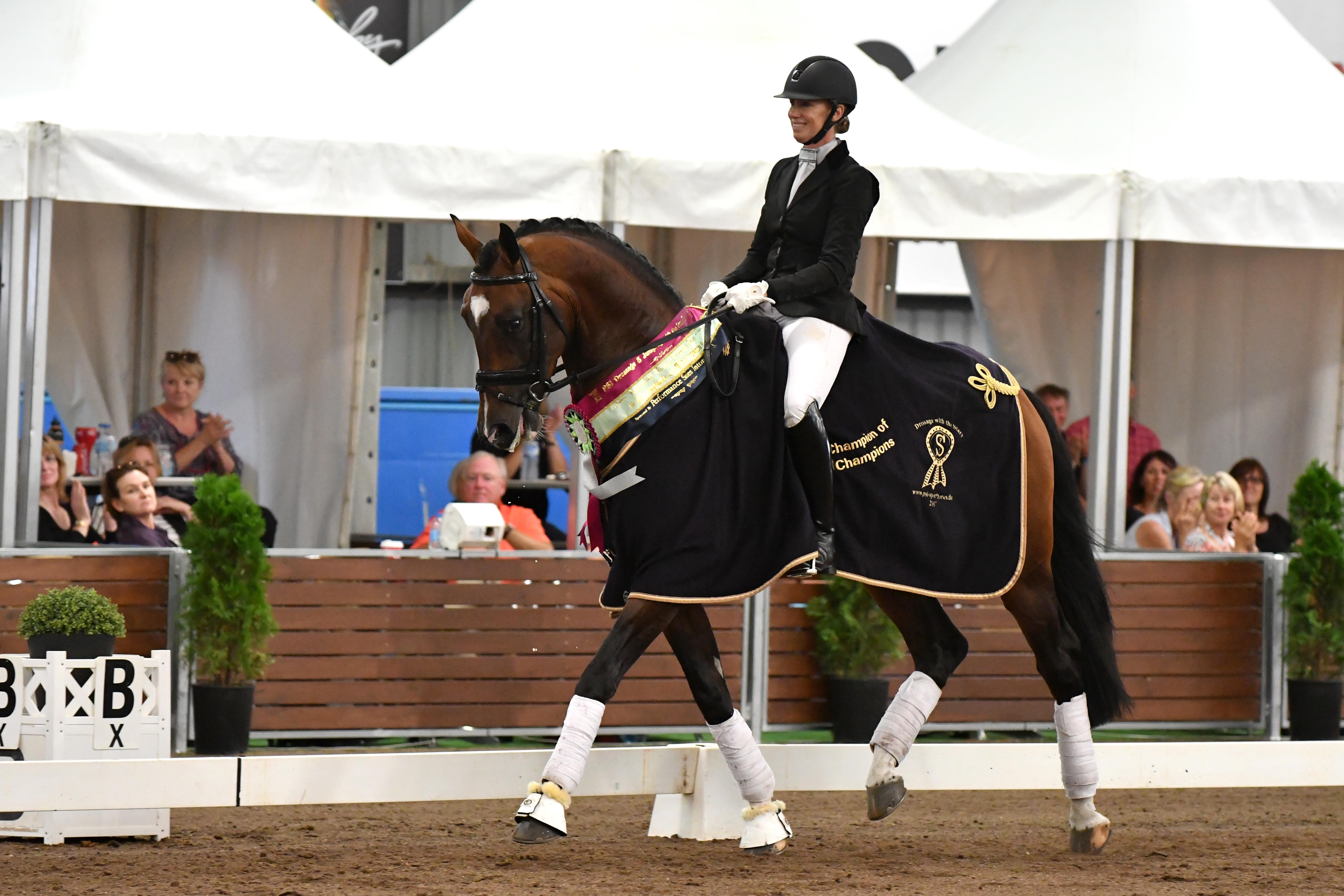 "The Johnson is a definite boy, he knows what it is all about and he's already interested in the girls even though he hasn't done any serving yet. We were a little concerned, not about the rideability but whether us being girls, and getting old, whether we could manage him on the ground. In my stables with all the horses that are here, he is completely fine but as soon as lesson horses drive in, he's like a watch dog, screaming and carrying on. So we've done a lot of work with him on the ground, trying to socialise him and he is just getting better and better."
"The first time we took him to Clarendon for a training day, was a bit terrifying, his reaction when he saw the other horses, and we were worried if we would ever be able to switch that reaction off. We've had some good help from Aaron Quinn, who was with Kristy Oatley for years, and the last couple of years, he has been working with Ulf at PSI. He just arrived back in Australia with perfect timing, he met us at Clarendon and pretty much pulled him into line. He worked with him two, three days in a row at Clarendon and it was a massive turning point for him."
"So Johnny Johnson has just been getting better and better since then. I just make sure I take him out places all the time. I go to different places and ride."
Is he going to combine a riding career with a breeding career?
"That's the plan. The idea was always that he would stand and pay his air fare, get a little bit of money back that way. There is always the option to geld him if it is not working out, but we will try it."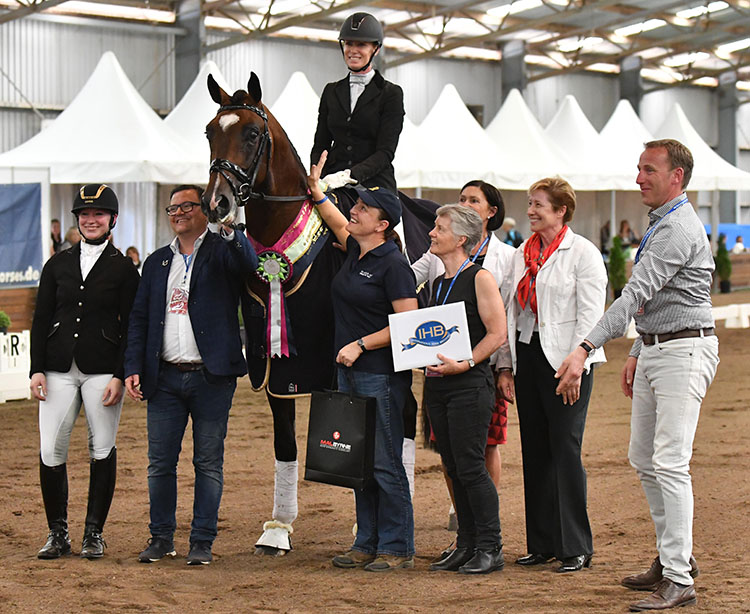 Does he give you the feeling that he can go all the way to the 'big sport'?
"He's got such a good brain, so rideable, so trainable, so brave. I haven't trained a horse all the way to the top before, but he ticks all the boxes so far. It's a long way from here to the end, but the few people who have had a ride on him, and who have worked with him, say he feels like he has it…. hopefully."