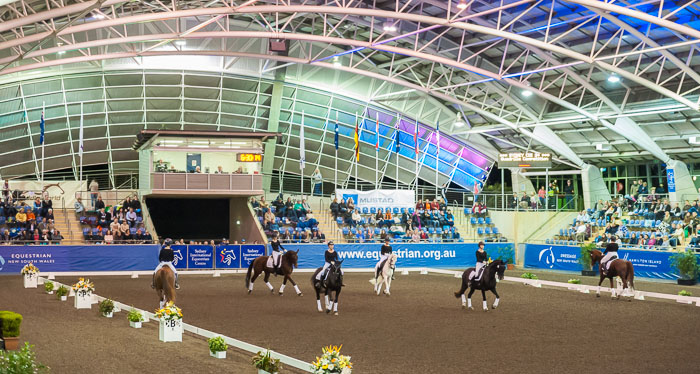 Photo – Franz Venhaus
Suzy Jarratt reports from the Sydney International Equestrian Centre
An international event at an international venue with international judges – and international horses, too? There were a few.
Several combinations would do well in overseas small tours but when it comes to horses and riders who could hold their own at a major European or American Grand Prix, it's another story.
It has always been so but a lack of international big tour contenders did not detract from the success of this annual event – it was one of the best. Toni Venhaus and her team should be proud.
There were many competent performances; pleasant interludes; a Forum hosted by one of Germany's Freestyle experts, Katrina Wüst; positive interaction from overseas judges who avoided dispensing cocktails of platitudes and pleasantries, and there were some good scores. On many occasions it was a male rider who dominated the top spot on the podium……….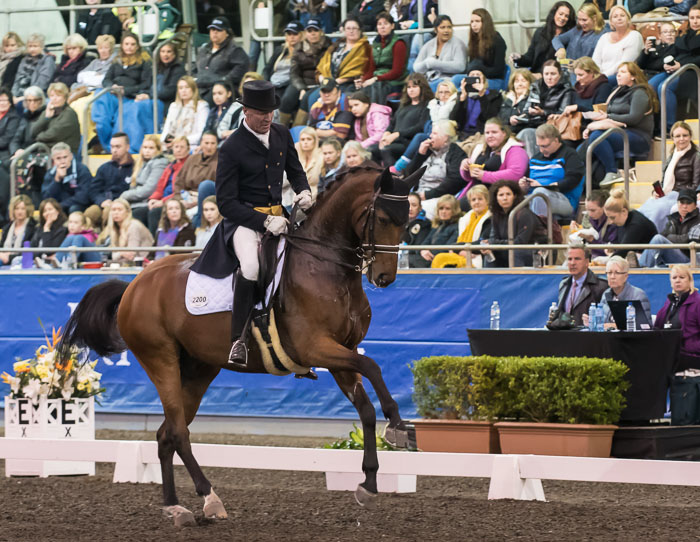 Winners in the GP, Matthew Dowsley and Adloo Richard – Photo – Franz Venhaus
The weather was perfect for each day of competition and Saturday's GP Freestyle night was a sell out – standing room only, and a packed VIP area. Waiters worked tirelessly catering to the many and various needs of diners – vegetarian, vegan, no nuts, gluten free, fish only, there was even a demand from a customer that her food not be contaminated by other cooking containers – it was suggested she brought along a sandwich.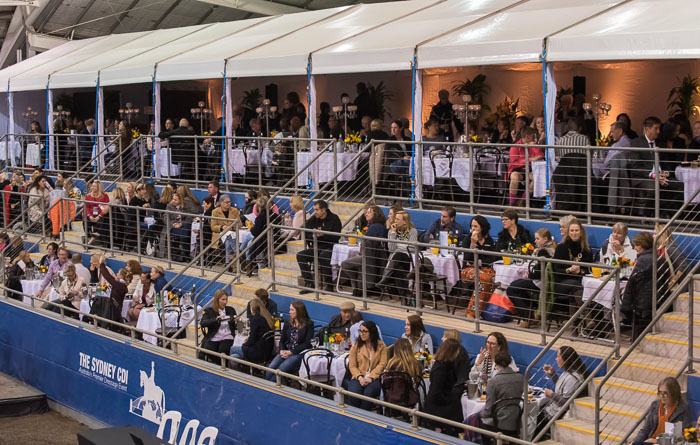 Photo – Franz Venhaus
One of the diners was Australian TV personality Tracy Grimshaw (she's very partial to fish) who had travelled to Aachen CHIO with Judy Dierks, a rider who has been at the forefront of competitive dressage for many years. Judy had a great CDI riding the Newhams' Diamond Star (by Diamond Hit). She placed third in both the Grand Prix (68.260%) and the GP Freestyle (71.825%) and won the Special (69.216%). Her daughter, Daniella, also performed well on the Rapsons' Rosetta and Emma Youngman's 5-year-old Revelwood Desmond. Daniella's own horse, Solo Feliz, was scratched from the small tour due to a mouth abscess caused by an impacted hay seed – very disappointing for both rider and spectators as this stallion is truly of international quality.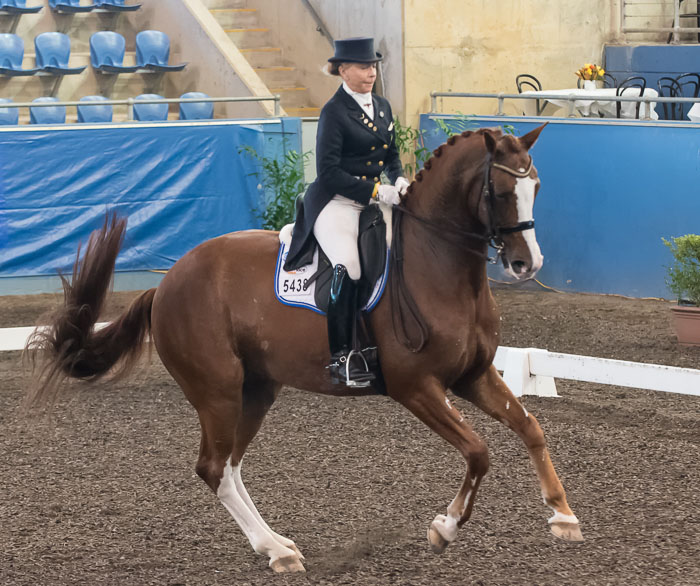 Judy Dierks and Diamond Star – Photo – Franz Venhaus
Tracey was exuberant about the Saturday evening.
"It was a fantastic night and the indoor was packed to the rafters. The first two days had been a tussle for the first three placings. It was a showdown between three of our most accomplished riders with an incredibly strong field hungry to knock them off.
"I love horses. Because they do most of the physical work you have riders ranging in age from teenagers, like Mary Warren, competing with Olympians. Men going toe to toe with women. Tiny girls up against 6'4″ blokes with neither at an advantage or disadvantage because of that.
"What other sport but equestrian offers that?"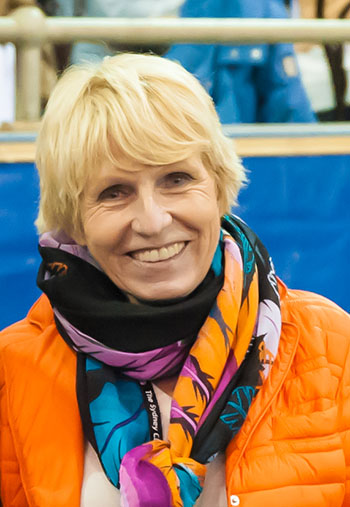 Photo – Franz Venhaus
The chief judge for the night's event was Katrina Wüst who has invented a new system of judging GP Freestyles (the traditional methods were used in Sydney). She explained the structure during a Forum held at SIEC on the Sunday to judges, riders, coaches and spectators.
"I'm delighted we had so many people," said organiser Sue Cunningham. "Katrina detailed the benefits riders would receive from a more objective approach to evaluating the difficulty of movements and transitions."
In the morning Wüst presented power points and film footage and in the afternoon created brand new freestyles for three riders and their horses.
"The audience was treated to a total revamp in 30 minutes for each horse," said Cunningham. "New lines, new entries and dramatic finishes.
"Assessing the Degree of Difficulty has always been a subjective element of the marking of a Grand Prix freestyle test and the audiences and media are demanding more transparency as to how these marks are reached.  Simply speaking, the new method is built into the computer program which mathematically assesses the movements and/or combinations of movements and arrives at a figure which is then included in the final artistic marks as the Degree of Difficulty."
The idea for this new system, which was used recently at the FEI World Cup in Omaha, began to develop eight years ago
"I was with the task force in 2009," Wüst explained to THM. "I was working with people from gymnastics and ice skating which have 'D' (Difficulty) judges who do nothing but sit outside and look to see whether the difficulties the athlete has announced beforehand are being kept. So it came to my mind that riders should indicate what they want to show in a floor plan before they begin their test.
"We have many hidden difficulties (that are not obvious to spectators): halt to passage; halt to extended trot; piaffe to extended; we've set up a catalogue noting all the movements which can be done in a difficult way. We've identified all transitions which are beyond the level of the GP test. In the GP we have walk – passage, canter-passage but we don't have halt-passage.
"We've set up a list of twenty transitions and the rider can choose from these."
'We' being Wüst and Daniel Gohlen an I.T. whizz and app designer who was also at the CDI.
One of the aspects of this concept which appeals to international event organisers and spectators is that announcers and broadcasters are privy to the riders' floorplans and can commentate accordingly: – 'Carl's now coming towards X and will execute a 360 degree piaffe pirouette'; 'Charlotte's approaching the centre line and is going to do 20 flying changes on a 10m circle'; 'look for Edward's transition from halt to passage' and so on.
All very well if the event is being broadcast and the commentator's voice doesn't intrude on the performance. At SIEC there's no T.V. coverage so how can there be an engagement with spectators?
Maybe prior to a test the announcer can pre-empt the performance by describing over the PA system some of the movements to expect from the rider's floorplan.
"That would be a good idea, said Wüst. "It's important to involve and sell the sport to the public."
more follows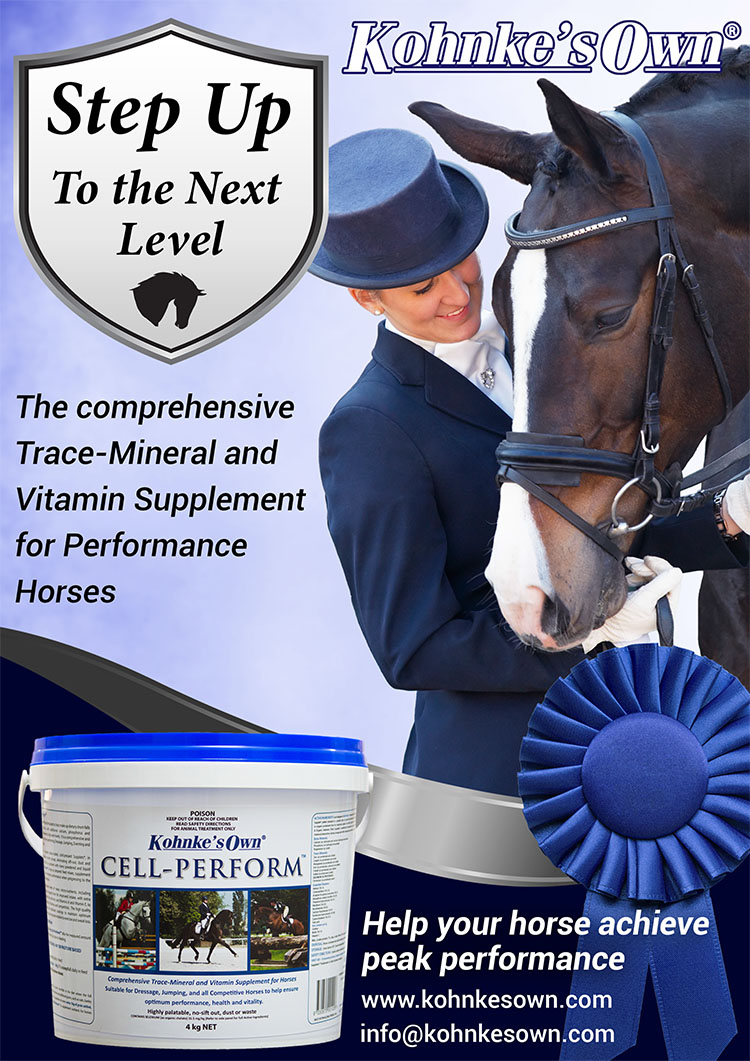 And what are her feelings about judging generally?
"I think the method we have now is the best possible; it has weaknesses but we shouldn't touch it, educate the judges and engage in discussion. As Churchill said 'democracy is the worst form of government except for all the others'.
"The weakness are that we're human beings. There are biases – each of us has them. And it's not so good when the FEI asks for the draw according to what ranking the riders have – those not so highly rated riders are placed at the beginning and the good ones at the end which supports this bias.
"We have to try to deal with this in the fairest possible way. Riders have their biases, and spectators too 'the next three riders aren't interesting so I'll have coffee and come back in half an hour' – that's also a bias. But we have to deal with and try to minimise them."
It was suggested by some commentators that Laura Graves and Verdades performed better than Isabel Werth and Weihegold in Omaha.
"I judged that test and I can understand that the public liked her better, it's a very impressive horse. The GP is composed of 35% piaffe/passage transitions and this is one of Isabel's highlights. She made a mistake in the two tempis and wasn't as impressive in impulsion, but her collection was better than Laura's. And the same goes for Carl Hester and Nip Tuck who were third. The horse isn't the best mover in the world but Carl's such a brilliant rider he really made no mistakes and everything was done where it should have been. All three horses were really well ridden.
"At Omaha we had spectator judging and there was a wonderful new stallion from Holland named Cennin ridden by Madeleine Witte-Vrees. He made a big mistake at the very beginning – from halt he went into extended trot then broke into canter. The public was low on this horse as bad judges once used to be – make a mistake at the beginning and you never get a high mark for the rest of the test.
"I remember the bad judges who did this when I was competing. For example, if you did a bad halt at the start you never got a high mark for anything. I hope that's changed."
This THM reporter remembers seeing Werth run backwards at the Olympics in Hong Kong, yet she still won silver.
"You must understand the philosophy of our sport – you can compensate. A test lasts six minutes. You make a big mistake but you can try to compensate by being better in all the other things.
"In showjumping they say you cannot compensate – I don't think it's fairer than dressage. You can have the nicest rider on a happy horse and it catches a rail, and another horse is kicking, rushing and touching every rail but none of them fall down and he's the winner.
"And you can't compensate when you're running a hundred metres – have a bad start and you're never going to win; the same goes for skiing.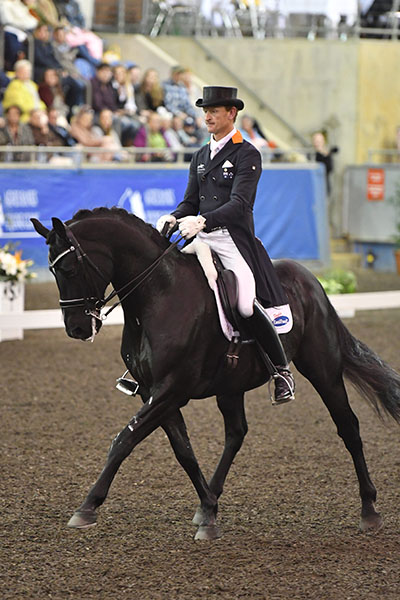 Brett Parbery and Weltmieser – Photo – Julie Wilson
"Like your Brett Parbery and Weltmieser who came second in the GP. He was on first – I liked him he was my winner. He knows how to compensate and I rewarded him."
"We (the judges) had some differences in this test as I had the eventual winner (Dowsley/Adloo Richard) in sixth place but it didn't stop this combination from coming first."
"We work as a team, that's very important. Even if a judge has a rider on 15th, 8th or 1st the outcome is correct."
"I have tried the Hi/Lo scratching system – but this takes away the only judge who might be right. If I'm the only one who can see something from my position and am taken out because I alone have given a four or a nine, it would intimidate the others."
"Judges have to give clear comments, interact with competitors and it's important he or she has been a rider, and can communicate on the same level."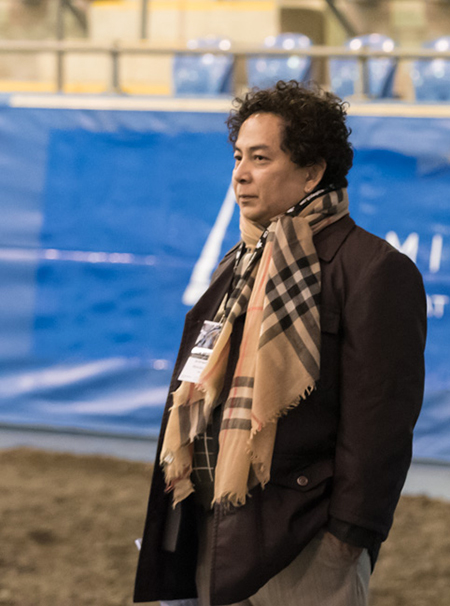 Vittorio Barba –  Photo Franz Venhaus
Back in the mid-nineties Vittorio Barba, an FEI 3* judge from the Philippines, won medals in South-East Asian Games with Ulla Salzgeber as his trainer. He still rides today when he's not designing clothes for his Barba fashion label, and travelling to horse shows.
A man with a penchant for bow ties and vibrant waistcoats, his first memory of horses was not pleasant.
"I cried a lot when they perched me on top of one; obviously I have got over that."
He coaches, trains, does a little showjumping and when he's at his Makati home in Manila's CBD he rides his pupils' horses in the mornings at the polo club.
"Dressage is a niche market in S.E. Asia where I judge," he explained," and the interest in eventing has waned."
"I also judge in New Zealand, America and have just come back from a small tour event in Biarritz."
"Europe leads the way because it has better horses, trainers and riders."
"At this CDI I judged on the first day the St Georges (CDI3*) – there were some good combinations – uphill, balanced, correctly into the bridle."
"I was on the side at B where you can see contact issues and engagement. There were a few horses which shouldn't have been in the class. They didn't have enough strength, engagement or collection and there were those whose extended trots were all up the front with nothing behind."
"You see the same problems all over the world," lamented the jolly Filipino who not only designs dresses but in the past created and manufactured the uniform for an Asian Games delegation.
"They were holding the Games in China so it was going to be cold. I wanted them to wear a scarf representing the country's colours but they didn't have the budget so they ended up with a shirt, jacket and pants, and wore sponsored shoes."
Barba, who is Imelda Marcos' nephew, has many shoes of his own – it must be in the genes.
"One can never have too many – or too much underwear," he gurgled gleefully.
While Barba was judging the Prix St Georges (CDI) in an outdoor arena the indoor hall was the venue for the FEI Intermediate 11 (CDI-U25). This was won by Katharine Farrell and her father's Luxor 118 (Londonderry/Argentina/Argentinus). They then went on to win the GP U-25 68.344% and the Under-25 GP FS with 72.34% (a 75.750% from Wüst at B).
Katharine, who is in her fourth year at the University of NSW, is doing a double degree in commerce and media. Her horse is of international quality.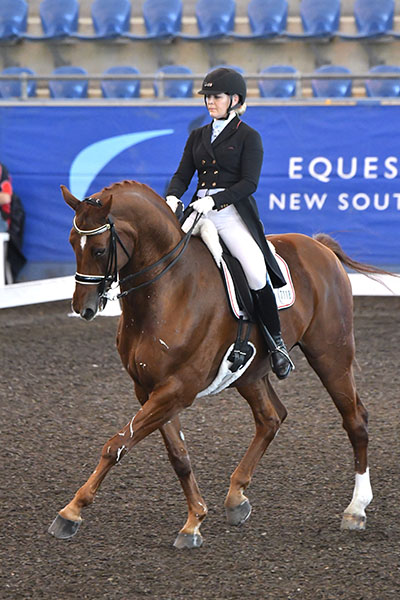 Katharine Farrell and Luxor – Photo Julie Wilson
"He was imported six years ago," she explained. "Daniella Dierks did some training on him when I was completing high school. Now I have regular lessons with Brett Parbery."
"I'd like to train overseas and would consider doing so if the time was right. This was my first Grand Prix and, hopefully, will not be the last."
Needless to say Katharine was a very happy 22-year-old.
more below
---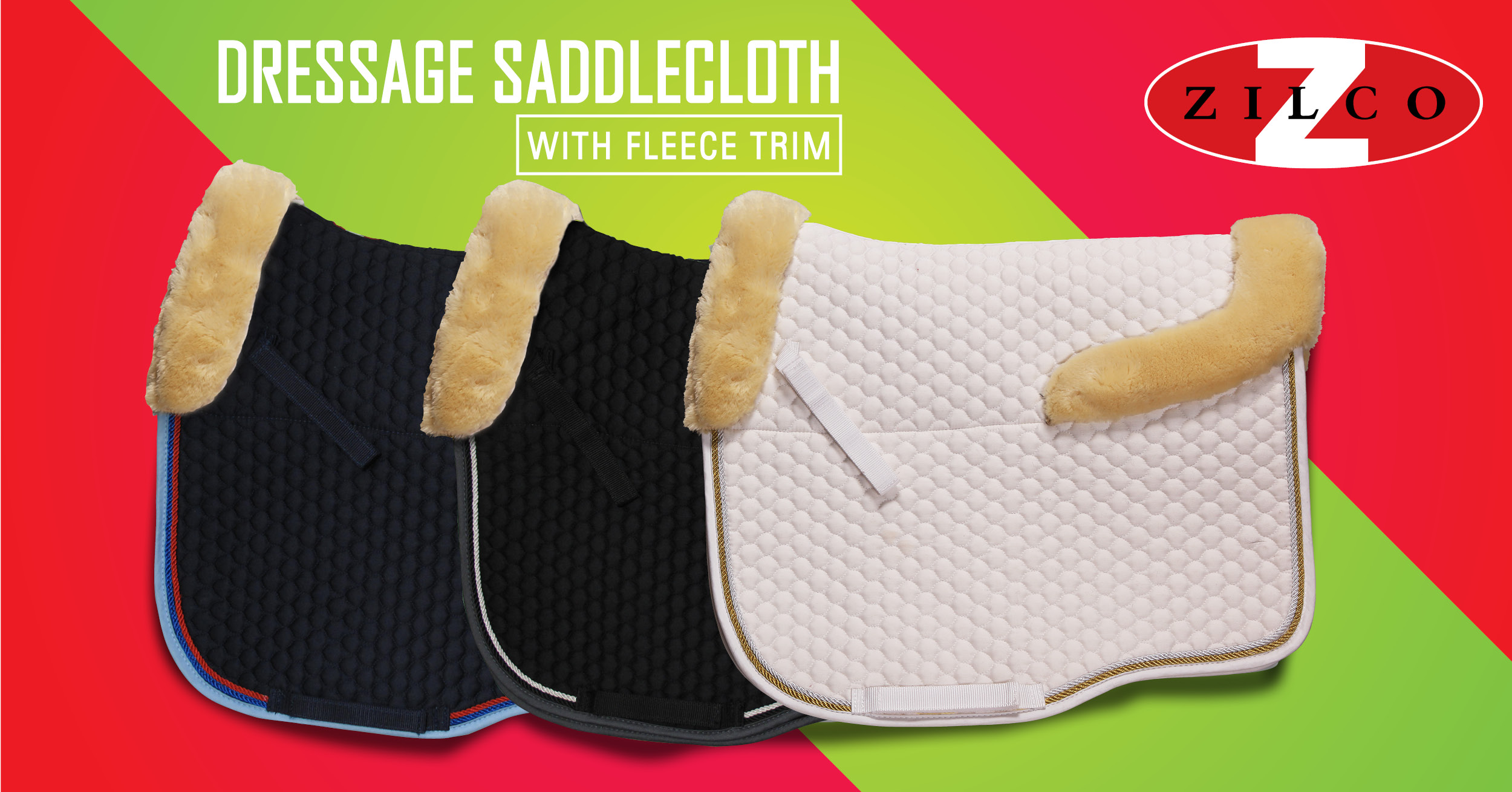 Dressage saddlecloth with Fleece trim (63cm wide x 52cm drop)
Quality cotton drill outer with diamond quilting.  Features two tone contrast rope binding . Lined with luxurious synthetic fleece underneath for the horse's comfort, and features fleece on the top at wither and around the back of cantle for correct saddle positioning of dressage saddles.  Available in: Black with White/Silver trim, Blue with Red/Royal trim & White with Gold/Silver trim
---
Columbian 3* judge Cesar Torrente was even younger than Katharine when he rode his first GP, he was 19. And later he twice won team gold at the Central American Games.
Today he travels to major dressage events around the world, and when at home in Bogota he runs a corporate law office.
Before arriving in Sydney he had no idea what to expect.
"It's very exciting being exposed to a group of riders I've never seen or heard of. When you go to the US or Europe you know about the people and what marks they get. Here we've no pre-conceived knowledge or ideas about the competitors.
"I've seen some of your riders competing overseas but they're the ones who don't live in Australia. I'm impressed with what I've found here. In your Young Horse classes you had many participants which you don't often see in South or North America. Last week I was in Tryon where the WEG will take place next year. There were no four or five-year-olds and only one 6-year-old.
"I judged the second round of the 5 year olds yesterday. In the first round some had got over 80% which has possibilities for the future, perhaps even going to the World Championship for Young Horses."
"Whether locally bred or imported, you have quality to work with here. If you don't have quality it doesn't matter how good your riding and training are."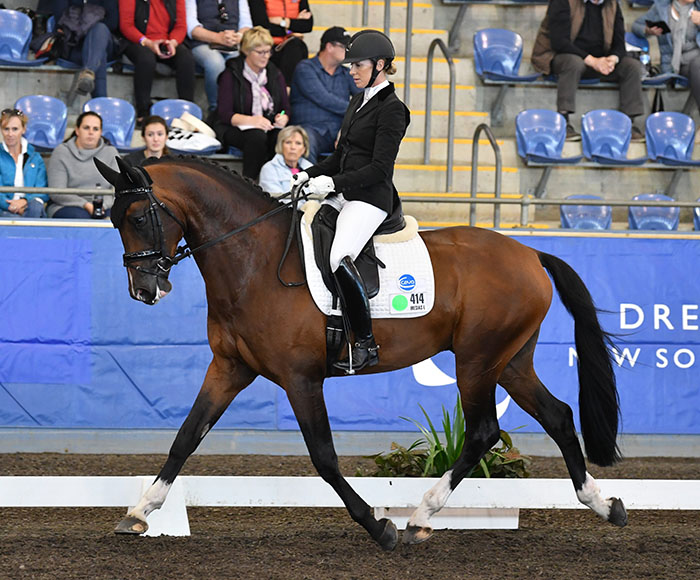 Gina Montgomery and Iresias L –  Four-year-old winner, and champion young horse, making it a double after his win at DJWTS… Photo – Julie Wilson

"I see you have started with the ponies and I think this is a wonderful way to promote the sport for the new generation. One always wonders why Germany is so successful – well they learn how to ride properly and compete at the lower levels with ponies, then they go on to junior and young rider classes. They have a wonderful basis and they then do well in under-25 GPs because they've started so well. Introducing pony classes helps the development of the sport."
(Yes indeed, Cesar, but most of the ponies here are ridden by grown-ups).
"Your country needs to foster good horses with good riders and maintain those relationships – that's what would help you at an international level."
(Yes indeed, Cesar, except that here when someone owns a good horse they tend to sell it, leaving the rider without a mount – maybe syndication is an option?)
"A month ago in Florida I was watching Olivia Lagoy-Weltz and Rassing's Lonoir.
Mary Anne McPhail of the USET dressage committee had decided to help Olivia keep her ride and bought half of the horse thus allowing the rider to continue with the same trainer. By doing so she was securing that combination as a future Olympic prospect for America.
"It would be good for Australia if something similar happened here."
(A wonderful idea, Cesar, but it rarely does.)
While all the international judges were presiding over countless classes there was one German gentleman who was watching from the wings.
Daniel Gohlen, the young man who worked with Wüst in the development of the new freestyle app, runs Black Horse – High Performance Software Solutions.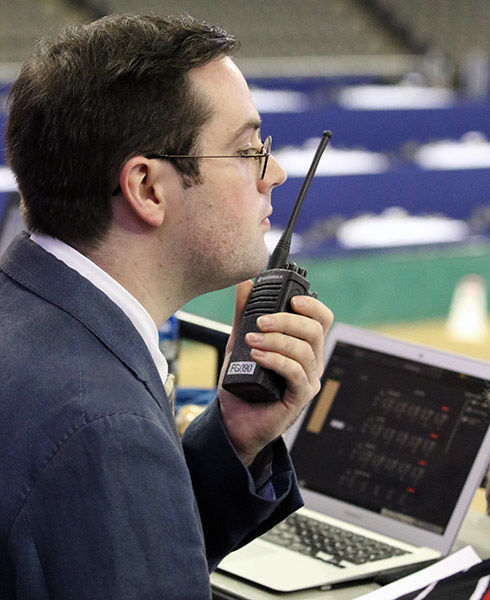 The 29-year-old is a Bavarian GP rider who has won at national level and is a junior level judge
"I'm here representing SAP, a high industry software provider, which has designed a new app allowing spectators to score competitions. Black Horse has been a partner with them since the World Cup finals and we'll be working together for the next four years.
"Audience scores don't influence official results, the focus of this app is stronger fan involvement and a more intense engagement with the sport of dressage."
(The FEI will be pleased – it is anxious to keep equestrian in the Olympic loop and is keen to generate global interest in all its disciplines. It would come as no surprise if it began lobbying for legalised betting on equestrian – TABs around the world would have special FEI windows for those wanting to bet twenty bucks each way on Edward Gal riding the 2.30 GPS in s-Hertogenbosch.)
Gohlen was also excited about his unique saddle blanket app.
"We'll present the prototype in a month or two," he announced. "There are a hundred pressure sensors in our saddlecloth and we precisely measure the weight distribution on the horse's back in real time on a smart phone. A trainer, for example, can follow how the pressure's distributed and he can tell his pupils when they're not placing their weight correctly. Plus there are beneficial medical aspects. It's important for saddlemakers to see how well a saddle fits; also you can try to identify where the horse is tense and on which side of its back. A leading veterinarian in Munich, Miss Blessing, is currently investigating how it can be used in her profession.
"The combination of the app and our blanket will, I'm sure, be enjoyable and exciting.
"It could be used at a show like this. The horses are in the arena and you can follow the weight distribution on their backs. A leading trainer can commentate on all this as they move around and that's another way of involving spectators. We've called it 'The Infinity Blanket'.
"I'm combining my knowledge of horse sports with computer sciences and I am very happy to be doing this."
more below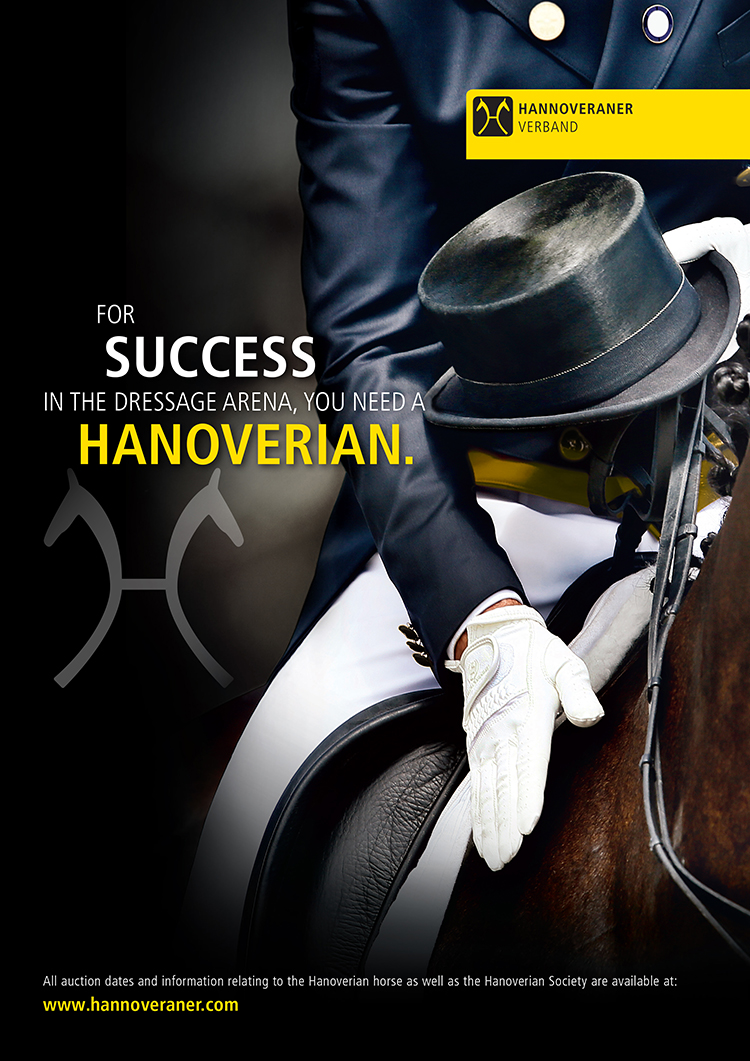 Brett Parbery, one of Australia's internationals based in his home country, was most impressed the SAP spectator judging app.
"Brilliant and it engaged the crowd," was his response.
He was also complimentary about the running of the whole show.
"The O.C. did a great job holding the combined training there on the Saturday. In this country these two disciplines go well, eventers are interested in dressage and they ran their events in between our dressage arenas. It added colour and movement without overwhelming proceedings.
"Also there were Freestyles happening outside on the top arena which was great because the music attracted the public. When you're running shows you need the people to move around the venue and through the trade village, you don't want them to just park themselves inside the stadium.
"Saturday's quadrille held in the indoor added some life and humour to the program and nicely prepared the crowd for the GP Freestyle.
"It was a great night. There was some hot competition and that's what the spectators like.
"When it comes to Small Tour there are horses here which would be competitive overseas – even Europe. They might not win but there'd be up there. I've seen a lot of shows abroad and good Prix St George and Inter 1 riding in Australia is comparable to what you'll see anywhere in the world."
"The big challenge is Grand Prix. There were seven scores above 70% in the Freestyle at the CDI. Experienced judges come out here and award us, say, 74%, while our less experienced ones give a 67%. This really damages the world wide perception of what we're doing here."
"It must be remembered that when we're judged by those from OS these scores are posted worldwide."
"I just wish the lesser experienced ones would help bring up the sport here. Yes, we've got to get better, let's not kid ourselves, and we have to continue striving to improve, but we're sick of being pushed down."
"Experienced judges read that a GP winner in Australia still gets below 70% – a score which could have been 71%. It damages the position here.
"I'm not pointing a finger at any specific person but for someone who eats, sleeps, breathes dressage every minute of every day and is committed to trying to take the Australian effort forward, it's heartbreaking seeing some of the low scoring when a really experienced judge has found in their wisdom to award a higher score.
"Anyway enough of all that. The Sydney CDI was a fantastic event and we all really enjoyed it."
 The overseas judges at the CDI consisted of Katrina Wüst FEI 5* (Germany); Christof Umbach 4* (Luxembourg); Jeanne McDonald 4* (USA); Cesar Torrente 4* (Columbia); Vittoria Barba 3* (The Philippines); Helen Hughes-Keen 4* (New Zealand); Linda Warren-Davey 3* (New Zealand).