Jock Paget is back in New Zealand after seven years in Europe, and already his influence is being felt on many levels. Jock not only won the Saddleworld Melbourne International 3DE, he was busy helping taking care of the Kiwi Young Rider team as well…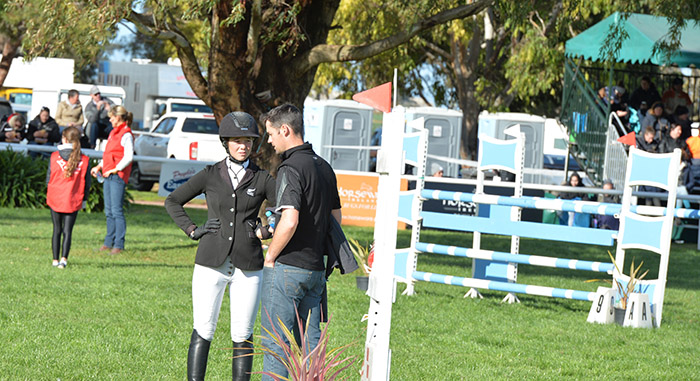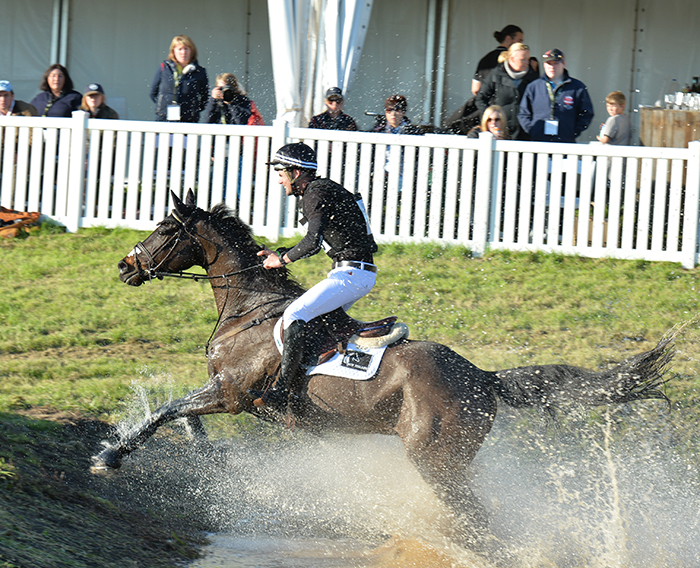 It seems you've got two rôles this weekend – riding in the Open team, and helping the Young Rider team…
"I've been employed by Equestrian NZ as the performance development coach, so I've been working with these young riders all year, and I'm the Chef for the Young Rider team. I worked with them before at Taupo a couple of years ago as Chef of the Young Rider team there. It's good to get another opportunity to work with them."
How much exposure do the young riders get to you?
"We have two squads. We have the development squad, and they get quite a lot of exposure – so I work with them in their own environment about once a month, and then at competitions, and as much as they want in-between. Then we have the ID Squad, at the squad schools and at the competitions they get support, and I try to get around and see them a couple of times a year in their home environment, as well."
It's a unique situation in New Zealand… We've had riders who have gone to the UK and gone well, but they have never come back to Australia while they were still competing at the top – but New Zealand has you, and Clarke Johnstone, back home and still at the top of your game. That must lift the standard…
"I hope so. I think it is important to have people in the environment that you are performing in, that make you extend yourself. If you can win on a 60, then there's not a whole lot of reasons to get better, but when you've got to fight for every point, then obviously the standard stays sharp."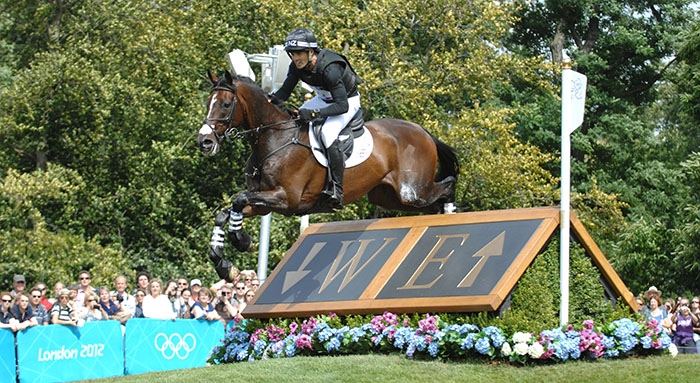 Jock at the cutting edge with Clifton Promise at the London Olympics in 2012, Jock discusses staying at the top next…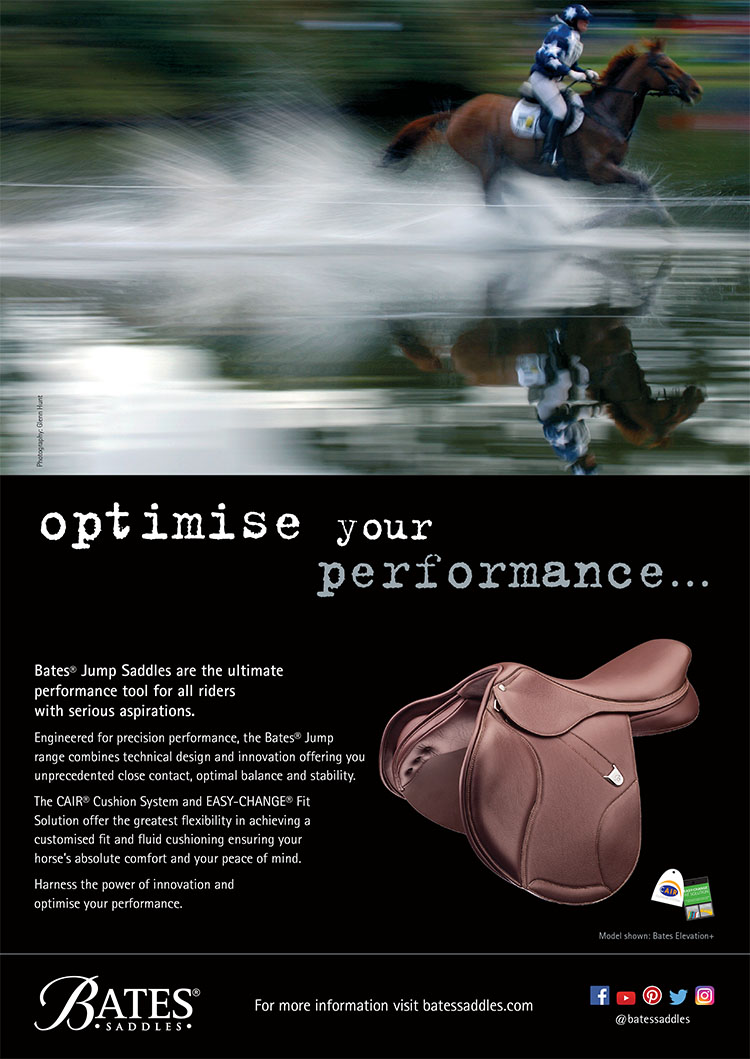 Is that going to be a problem for you and Clarke, keeping that cutting edge…
"I think it's a problem, whether or not it becomes our problem, depends on the discipline we can have. I'm happy now with our training and the way we perform. Clarke and I are going to work together at home and at competitions to make sure we do keep the standard up. We talk about it a lot and we know it is an issue, so it's our job to make sure we don't drop the ball."
How many years were you based in the UK?
"Nearly seven."
What do you think are the major things that you bring home from that period? What changes in your thinking, your training…
"To be honest, the quality of the work I was doing in New Zealand, before going to England, I can't say has changed a whole lot. I think that you learn to compete better. By that I mean, in Australia and New Zealand, it is easier to play things a little bit safer. Maybe more in New Zealand than Australia because you've got a lot of world class riders in Australia, riders that go overseas and do very well. So it is maybe a little sharper here than in New Zealand where we don't have the same pool of riders. You could do a smart test, and a good fast clear across country, and clear or one down showjumping, and probably win in New Zealand, whereas in England, you've got to do a mid-30s to high-30s dressage and then you've got to take all the risks cross country and pull it off, and showjump clear – because somebody else will. It just comes back to standards."

You look like one of those incredibly natural riders – there are some people, like Bill Roycroft, Mark Todd, who always look in balance, is that you?
"Not really because I feel like I've worked very hard to get where I am. I'm quite tall so I have to be very careful with my upper body and I'm quite a forward rider naturally, so I have to work to not get too forward – that's something I've had to think about a lot in my riding."
"I was trained by – in my opinion – one of the best horsemen in the world, Kevin McNab. I did my time with him and I still train with him and do a lot of work with him now. When I went to New Zealand, I started training with Eric Duvander, those two are very similar, a very classical way of training the horses and the riders. I think I've been very lucky with the people I've trained with. I don't think there are many better than Kevin McNab to learn to ride to a fence, he's the master of getting into two point and just traveling and jumping."
Kevin's another Tony Manca graduate, and they all ride well over a fence…
"Absolutely. They learn to sit still in front of a fence, and with that, comes a good eye."
At Aachen in 2015 with Clifton Lush
What is the future for you? Do you need to go to Europe before next year's WEG to tune up, or could you go to the States from New Zealand and be competitive?
"Where I am with this horse, we are very unproven, so I need to prove that the horse is good enough to go and deserves a spot in the team. I think I need to go to Adelaide and go well and I need to go to Badminton and do well, if I am going to take a spot. That would be my plan for him, and if all goes well, to the WEG."
"For Tokyo, I'd like to do my preparation and campaign from this side of the world because I do think it can be done, especially with our relationship with Australia, being able to come over here easily enough. I think Clarke could probably prepare from New Zealand, I don't think he has to prove anything now."
It's going to be tougher with the dumb decision, three in a team not four…
"Yeah, but again, we are all in the same boat there, you've just got to make the most of what you can out of the situation, there will be opportunity somewhere in it. It's up to the selectors now, they've probably got the most pressure."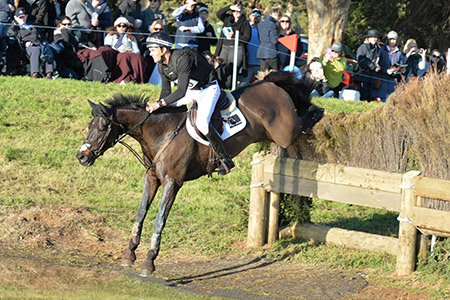 Tell me a little about Angus Blue, the horse you won Werribee on…
"He's a New Zealand Thoroughbred and I bought him as a four-year-old from Kate Cavanagh on the South Island. She'd taken him out and done some showjumping on him. She got him off the track – she's a very clever lady, she knew she had a good horse. I tried him as a four-year-old, and I remember cantering to a fence – at four years old you can't feel a whole lot, they are a bit weak and all over the place – but with him I felt like I could just keep putting the fence up. Other times you get on a young horse and you put it up three times and you get to a metre and think, okay that's enough, with him, I found myself at 1.20m and it was, okay he's done enough and he can obviously jump."
"I really liked him and we took him to England. He's owned by Joe and Alex Gianamore, great owners of mine in England, and we kept him there for about four, five years. He got to three star, did a couple of CICs and a CCI, and then we brought him back with me. I could only really bring one horse back and I wanted it to be a horse that was young enough that I could still have plenty of time with. I really wanted to bring back this one because I'd always had a soft spot for him."
What's his strength?
"He's not great at anything but he's just good at everything, if that makes sense. To me he is a very good eventer by being good at everything. He's never going to wow people when he trots by, but when he goes into the ring, he's got a certain elegance about him and he allows you to position him and ride a correct test."
"Cross country, he's cat-like, he likes to jump the jumps and he is incredibly fast. I never got anywhere near his top gear on the Werribee track. Showjumping, I typically have one down but I am looking for a clear round today because I need it (and they got it at Werribee). In two years, if he stays sound and just keeps cruising through the way he has, I think he's going to be an exceptional horse."
more follows
---
WOOF WEAR CLUB BRUSHING BOOT
As the UK's best selling general-purpose brushing boot, the Club Boot provides maximum protection from knocks or brushing injuries, yet comes in a large range of base colours, allowing riders to create an individual look. Made from 5.5mm closed cell neoprene, these boots do not retain water, so they remain light and flexible, even in the wet
Australia RRP $39.95, Set of 2 Stockist list https://goo.gl/oVfR1J
New Zealand RRP $42.90 Set of 2 Stockist list https://goo.gl/k8eEKy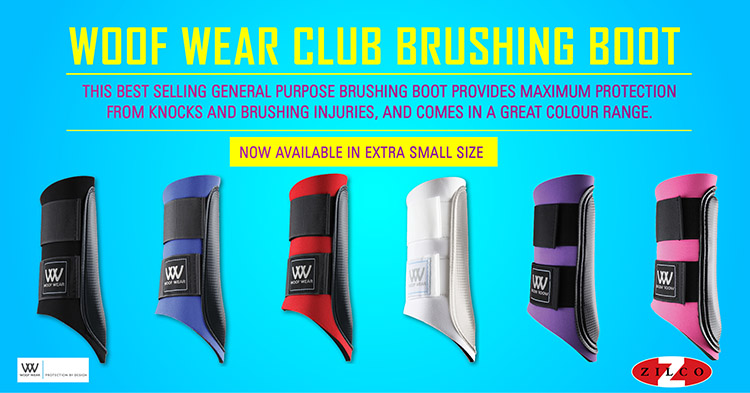 ---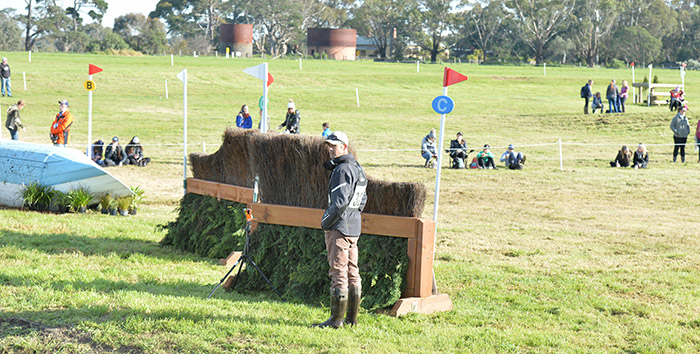 What did you think of the Werribee track?
"I thought it was a good three-star. It was definitely up-to-standard, had I got a track like it in Europe or the UK, I'd go, good, this is how it is. The questions were good. There was lots of variety, the distances were great. Ewan Kellett is very good at giving you a good distance to create the right feel. There were a couple of places where we had to gallop for 40 seconds without a fence, and then he gives you a distance to suit that at the end, so I think he's a clever course builder. Well positioned fences, plays with the terrain – it was challenging, it was a good course. I know the scoreboard looks like it was a bit easy, but if you look at the people who made time, they are all very good riders on good horses."
So what happens how – home to prepare for Adelaide****?
"I'll give my horse a break. I got him in December in New Zealand, he was a long time in quarantine. I wasn't going to bring him here, and Clarke put the pressure on, he said I'm taking my horse, so I prepare mine and Clarke stays home, but he has really stepped up. I'm glad I've done it. I need to give him a pat, put him away and let him relax for a few weeks, then I'll start preparing him for Adelaide."
Even five years ago, New Zealand eventing dressage looked pretty orangoutang but everyone who came out in your team here looked neat, focused, classy, is that because they have been competing against you and Clarke?
"The program in New Zealand has had a lot of effort put into the younger riders, and we are now starting to see that work unfold in the way that we hoped. I think all the credit has to go to ESNZ and the people who are making the program happen. Penny Castle, our dressage coach, has been grinding it out with these riders for the last few years – not just getting them through the next competition, she has been teaching them feel, she's been teaching them what on-the-bit is, what throughness is all about. She is very passionate and she puts the time in. She goes to places that lots of coaches wouldn't, because it is not as much fun. Instead of just getting through the lesson, she will make sure the kids have actually learnt something. She will put them on her horses, she's making sure these kids can ride."
"She did the same for me before I went to England, it was a real turning point for me, to understand what on-the-bit actually is. She is the master of that, and what you are seeing has been a very long project for Penny but it is starting to come out."
"Both of us were having a ball in the warm-up here at Werribee, watching all the kids come out and put their horses on the bit. They go straight, they go off the leg. Penny is a great horsewoman, she used to event, she rides Grand Prix dressage – a very competitive rider, she's been competitive here in Australia, and now she is a trainer, and she is our performance leader in New Zealand."
With that, dear reader, there was no other option, I had to interview Penny…
---
Are you coming to the World Equestrian Games in Tryon USA in September 2018? 
You can – for information go to: http://www.horsemagazine.com/thm/2017/04/travel-with-us-to-the-weg-next-year/
---
Meet the other secret Kiwi weapon, Penny Castle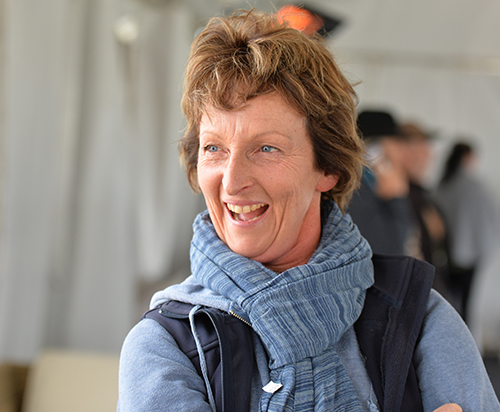 Every time I talk to a New Zealander about how is it the Kiwi riders are looking so smart in the dressage arena, one name comes up – yours!
"I think it is more a team of people, and since Hong Kong we've really worked hard to create the right program and putting the right things in place. As with any business or any sport, it just takes time, now we are getting our rewards. We just have a lot of good things in place, a lot of good coaches in the right place. We're all talking from the same page and we are starting to see the dots join together."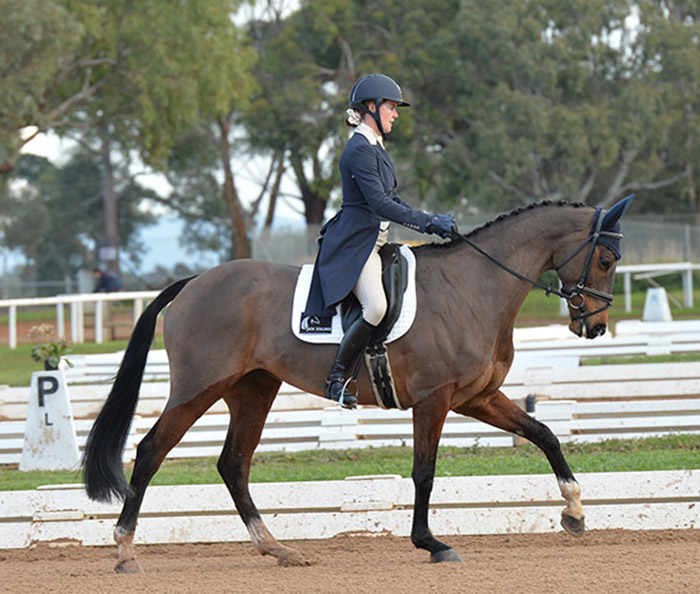 Virginia Thompson on Star Nouveau was fourth in the three star
Jock was saying that instead of just patching up the performance for the test, you actually try to teach your riders how to put their horses on the bit…
"That is a classic question of mine – Is the horse on the bit? If you are a rider with feel, or good instincts, you can truthfully say, no it's not. Another great saying we have is can you close your hand around the rein, and still finish the circle? In other words, if you close your hand, does the horse finish the circle and give, then you can give back to the horse. We are talking about real throughness. The kids are starting to understand real throughness…"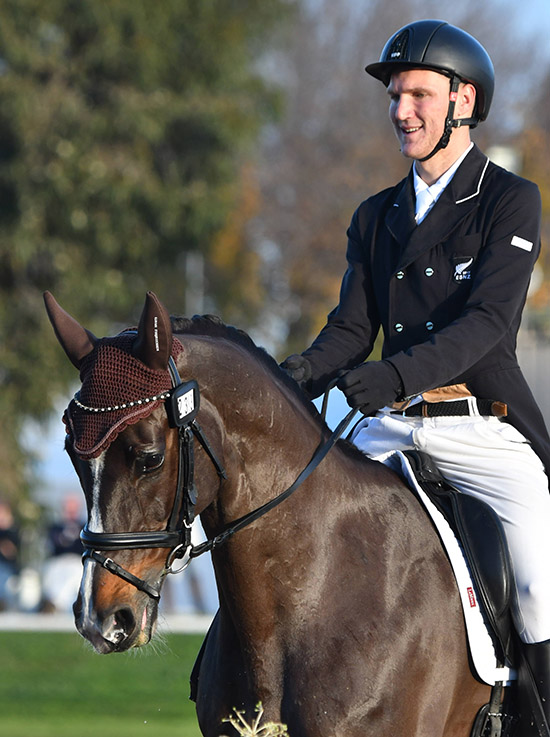 Jackson Bovill riding Visionnaire for New Zealand in the young rider team
But that hasn't been the style, certainly in Australia, eventing dressage coaching has tended to be more patch up, cover up, and I can think of a few of our top level riders who have never ever had their horse on the bit. It's an adventurous strategy, because there must be some kids going well, faking it….
"That's the standard you have to reach these days. Part of our program with the big guys being up on the top of the world in the UK, ESNZ has sent me up there every year and if you want to compete on the world stage, that's the standard you have to reach. So when I come back to New Zealand I say, this is the bar you have to reach and we either go there, or we fail. We are trying to lift the bar, percentage by percentage, every year."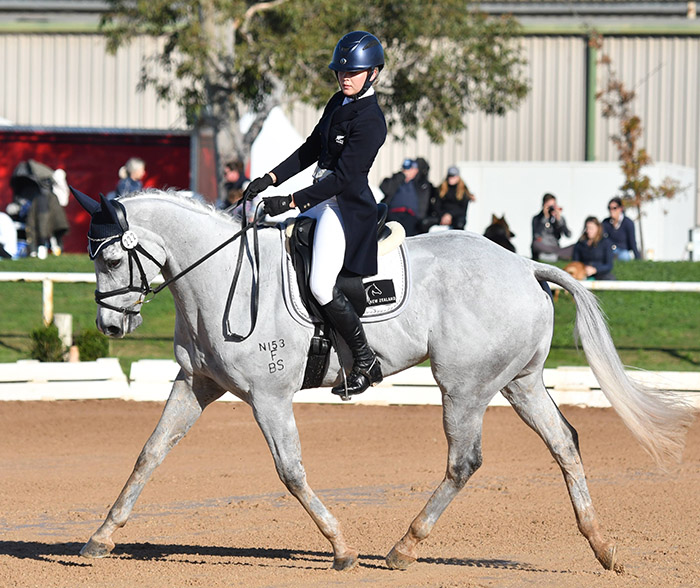 Vicky Cole-Browne and Eli for New Zealand
How long have you been involved in the eventing rider program?
"A long time, twenty years probably. I've helped most of these athletes, Jock I've done a lot of work with him. There are some really great up and coming young riders in New Zealand now that you haven't even seen, like Amanda Pottinger, she's another one."
She rides better flat than her mother?
"Tinks might not agree, but yes."
But not as good yet as her grand-mother, Tiny White…
"Tiny was gorgeous, one of my idols. I remember the first time I beat Tiny at a show, it was the highlight of my career, I was about twenty one, and I think it was only because I had a good day and she had a bad day."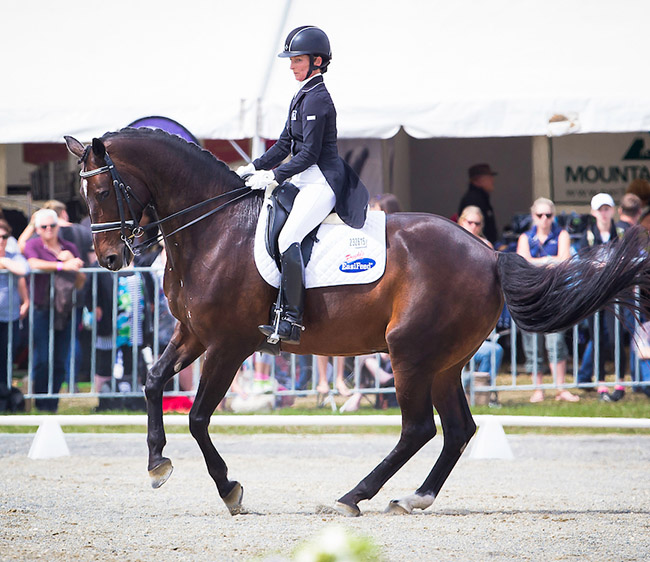 Penny winning the Grand Prix on Magnus Spero at the Horse of the Year
(Photo – Libby Law)
You compete Grand Prix, who have been your mentors?
"In the beginning in New Zealand, it was Tiny White, Eric Ropiha who I spent so many early years working with him. Gay Withers and Merran Hain, they were the people that I used to sit on the Normandy Bank and watch. Then, I am very like Jock, I am a very analytical person, whoever is at the top, that's where I go. I was at Edward Gal's for a while. Carl Hester is just so giving, every time I go to England, he can never help enough. The better the athlete, I've found, the more they help you. Eric Duvander and I were best friends and we'd just analyse dressage to death. We are always trying to lift the bar."
Dressage has become a lot nicer since Carl and Charlotte came to the top…
"Yes, and that's a little bit what we were trying to deliver at Werribee. Nicoli Fyfe one of our top judges, came into our camp at the beginning of the year and we did some quite tough performance judging. It's all about having the energy, plus the harmony, trying to get those two in balance."
I think it has happened in eventing dressage as well as straight dressage, we are not looking for that crazy, extravagant movement, more for harmony – Ingrid Klimke can come out on a pony like Braxi, with no movement, and win the dressage..
"As does Michael Jung with that one he had at the Worlds. That just gave me so much hope. Watching him at Caen, I thought, wow, if he can do that, we can do that too."
"I was so proud of all our athletes here this weekend, they produced pictures of polish and harmony. I was very proud."
It must be a real boost to your scene to have Clarke and Jock back to set a benchmark…
"It's fantastic, they've come home and lifted the bar right up here. You kids have not arrived just because you've won a couple of competitions. And I've been talking about it all the time with Jock, he's got to keep his bar high and not settle for what's here. We have to be super critical all the time. If it's a 7, how can we make that into an 8 or a 9. Having them home has lifted the professionalism, it's all positive."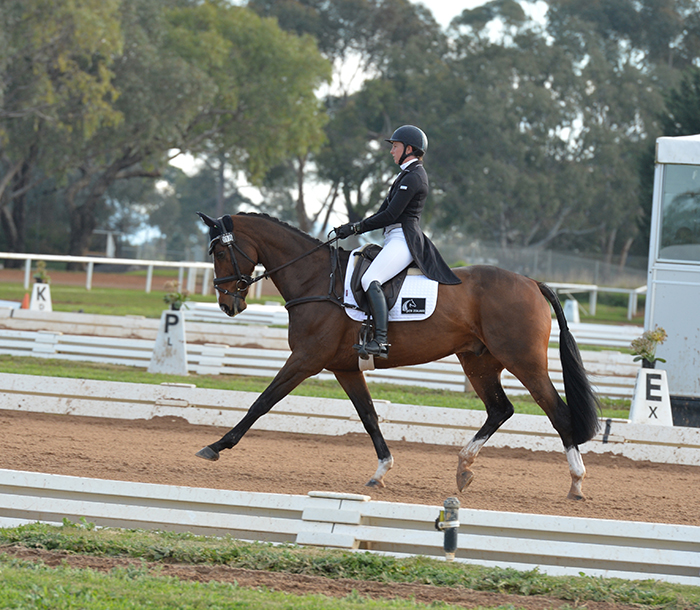 Members of the winning Kiwi team, and dressage, leaders, Samantha Felton and Ricker Ridge Pico Boo
I don't think it was helped a lot this weekend by the judges – there was no outrageous judging, they got it about right, but they could have given the good ones better scores, and punished the bad ones…
"As long as they are the same, that's dressage judging right around the world. I have my eye, and from where I was, I thought a couple of them were 42, 43, but it doesn't matter, the best came out on top but they could have been a bit more generous."
Are you paid by your Federation to work full-time with the riders?
"I'm part-time, I give a week a month. I go to key events, we have camps through the year, we have a lot of one-on-one at their homes. We are always evolving the program. Jock is employed there now, and there are another two coaches employed. We're part-time but we all work as a very tight team and it's all about bringing them forward."
---