A commentary by Christopher Hector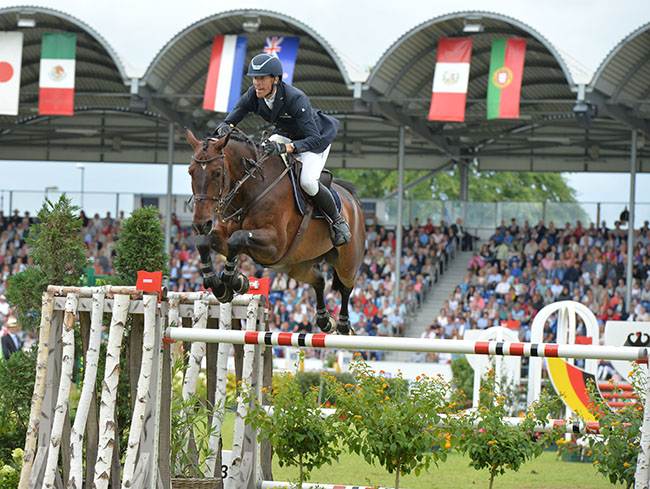 Representing Chacco Blue, Chacanno
The Jumpers
Most people would concede that Aachen is the de facto World Championships. Unlike the official WEGs, entries are decided on the basis of talent, rather than being restricted by nationality. On the hallowed turf and sand of Soers, it is truly the best of the best in battle, it is here that we find the bloodlines at the cutting edge.
So which stallions claim boasting rights? Chacco Blue (Chambertin / Contender) has 11 of his progeny in the ranks, and is the sire choice of a fairly accomplished group of riders – Guy Williams, Philip Weishaupt, Henrik von Eckermann, Eric Lamaze, Marco Kutscher, Maurice Tebbel, Ludger and Markus Beerbaum and Philip Rüping. Henrik von Eckermann's Chaccano (out of a Kannan mare) is currently (July, 2017) the highest ranked on the Horse Telex listings, in 63rd spot, with his best result this year at win in a 1.55 class at Madrid. You get the feeling that, like their dad, they are solid performers rather than superstars.
Then there are two stallions tied on seven – Kannan (Voltaire / Nimmerdor) and Casall (Caretino / Lavall I).
Kannan's rider list is again a who's who – Lamaze (with two), Allen, Veniss, Parot, Bost and Ahlmann – highest ranked competitor is still Bertram Allen's Molly Malone (Cavalier), ranked 32nd with €167,330.
It would be nice to know the number of mares Kannan has bred and the number covered by Casall, who, until this year was balancing highest level sport with breeding. The best ranked of his progeny at Aachen – with Ludger Beerbaum's Casello not entered – is Casello Z (Carthago) – top result at 3rd in a 1.60 at Antwerp with Piergiorgio Bucci.
Kashmir van Schuttershof (by Nabab de Rêve out of a mare by the Grand Veneur son, Tenor Manciais out of a Furioso II / Gotthard mare) was a genuine Grand Prix competitor with Philippe le Jeune, and he has an all-star lineup of six for Aachen, headed by the horse currently 3rd on the Horse Telex rankings with €357,707 in earnings, Kent Farrington's Gazelle (Indoctro).
There are three stallions with five: Balou de Rouet (Baloubet de Rouet / Continue), Cornet Obolensky (Clinton / Heartbreaker) and Diamant de Sémilly (Le Tot de Sémilly / Elf III). For Pleasure (Furioso II / Grannus) has four and his son, Forsyth (Dorian), one.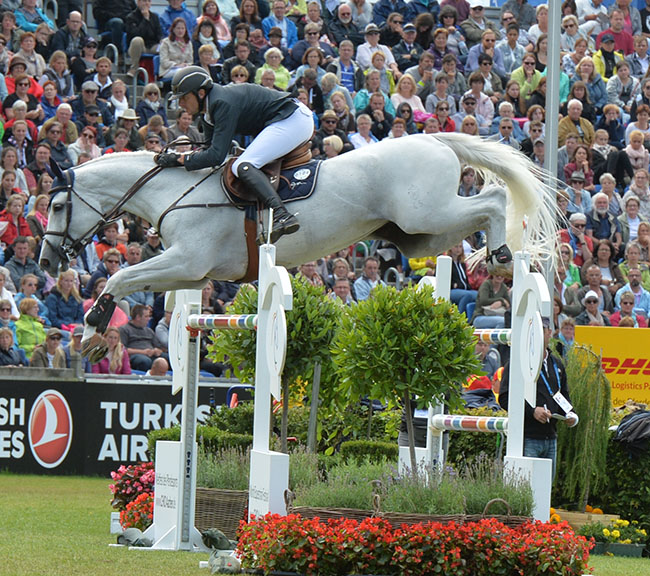 Coree by Cornet Obolensky with Gregory Wathlet
To round out our hall of fame, there are six stallions with three each on the Aachen list: Quidam de Revel (Jalisco / Nithard), Berlin (Cassini I / Caretino),  Clinton (Corrado / Masetto) and the sire of the current Horse Telex number one, H H Azur – Thunder v Zuuthoeve (a wonderfully eclectic mix, by Argentinus out of a Nimmerdor / Lord mare).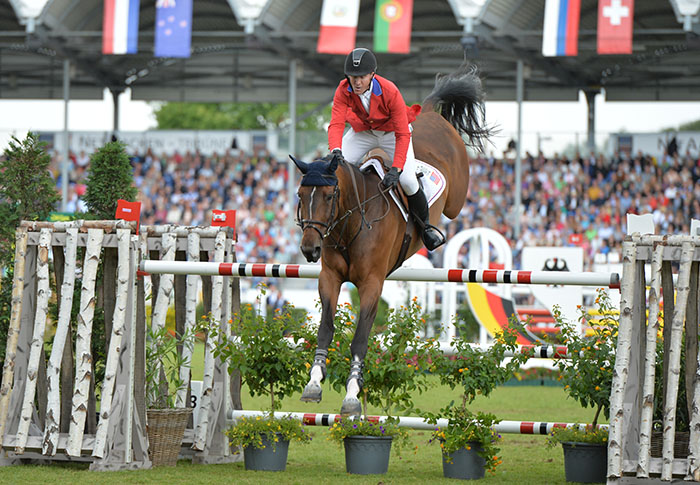 Mclain Ward's Azur, a mix of bloodlines
There are also two names that might not immediately spring to mind: Dulf van den Bisschop and Ultimo van ter Moude.
Dulf is by Heartbreaker out of a Libero / Grannus mare, and was proclaimed a BWP elite stallion in 2013. He was sold to the American stud, Pony Lane Farm in 2011, and since then has amused himself competing in Amateur Jumper and Hunter classes. The only FEI recorded result for the 14 year old in 2016 was a 45th in an under 25 GP with Giavanna Rinaldi. Still he is well represented at Aachen with H & M Harley v. Bisschop (Coronado) and Nicola Philippaerts, Hannah (Kashmir vd Schuttershoff) with Steve Guerdat and Ilton (Calvaro) with Robert Smith.
Ultimo van ter Moude (Capitol / Major de la Cour) is a true world traveler. Born BWP, licensed Selle Français, he stood for a while in France (as Ultimo Rouge), then traveled to America before returning to Holland at the age of 19 to stand at Stal Hendrix. As usual the website blurb tends to get a bit enthusiastic, and he is described as a successful Grand Prix competitor with Todd Minkus. Best I can find on the ever reliable FEI database was a 3rd in a 1.50 class at Devon 3 star, in 2009. The riders of his Aachen progeny keep that international flavor – France's Philippe Rozier, Britain's Guy Williams and Switzerland's Edwin Smits.

The stud book count sees 34 from the KWPN, 31 BWP, 30 Selle Français, 23 Holsteiner, 20 Oldenburg (4 OS), 18 Westfalien, 17 Hannoverian, 10 Zangersheide and seven for the sBs.
By the time we get to the really big one, the Rolex Grand Prix, the numbers have shrunk. Balou du Rouet now leads with three into the 40 that made the cut. Cornet Obolensky, Chacco Blue and Nabab de Rêve, all have two. For Pleasure has one, and his son, Forsyth, one, but let it be noted that both had clears in the first round – and there were only seven of those.
Fit for Fun showing how it's done in the jump-off for his sire For Pleasure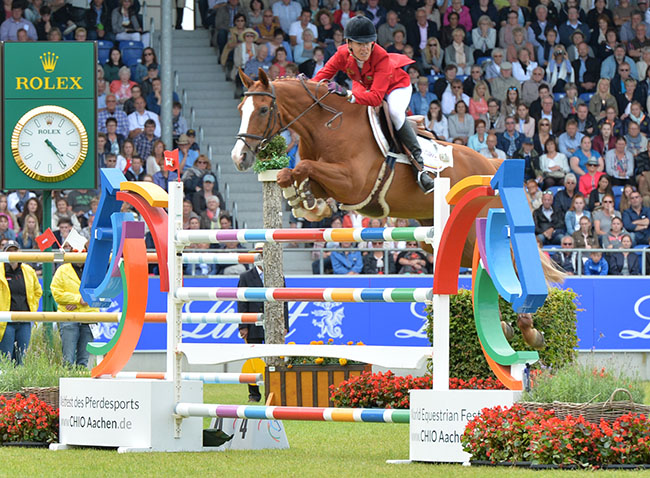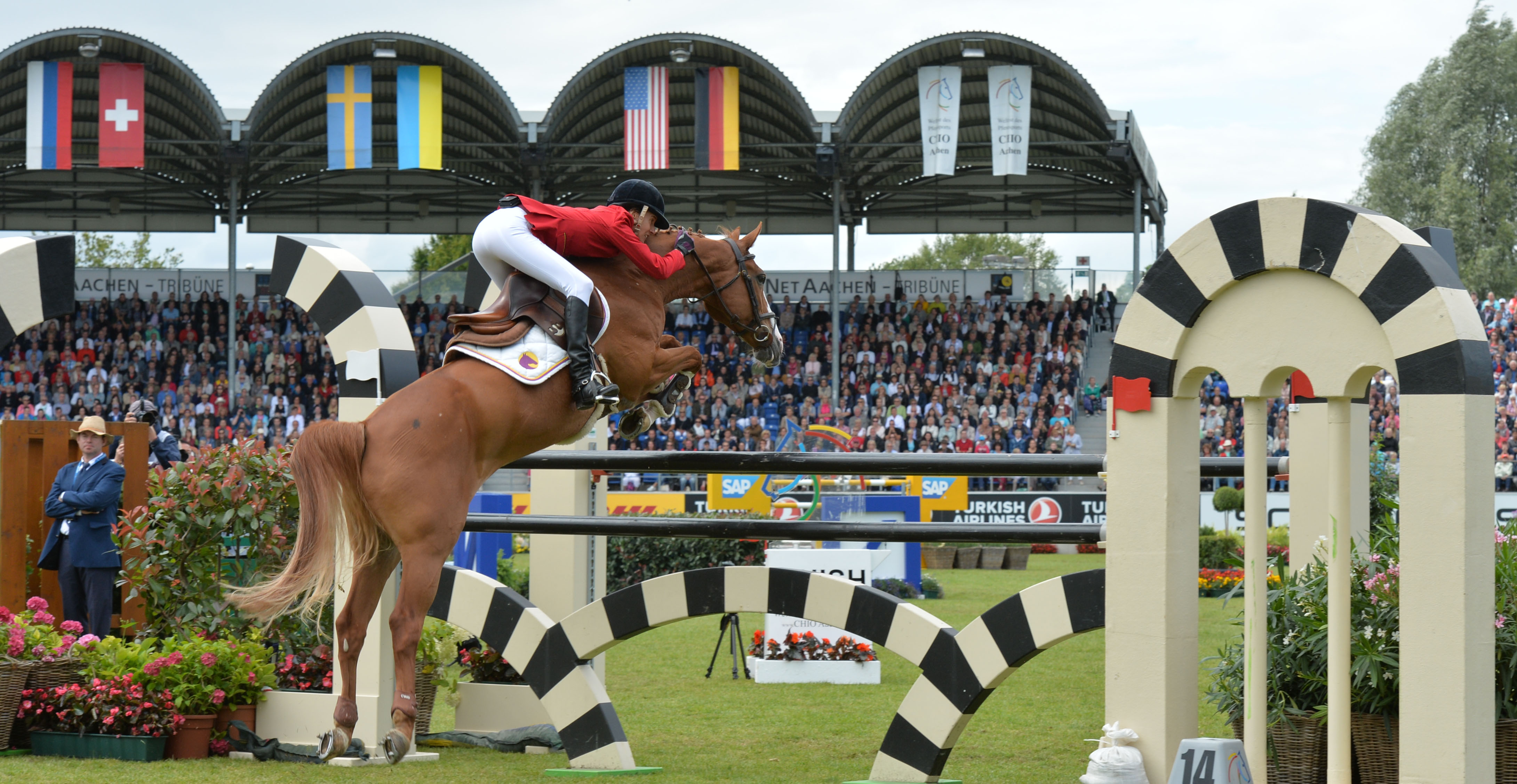 Luciana Diniz of Portugal, pleased with Fit For Fun after the final Jump-off
On the studbook front the BWP is in the lead with 8, followed by KWPN – 6, Holstein – 5, Westfalia – 4, Oldenburg 4 (one OS), Selle Francais 3, and 2 Hanoverians.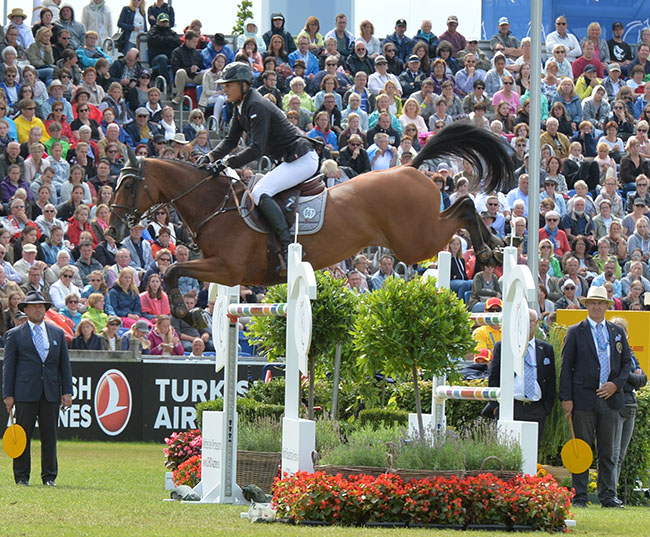 The final shoot out, Marc Houtzager and Calimero
In the end it was a four way shoot out: Marc Houtzager on Sterrfhof's Calimero by Quidam de Revel out of a Libero H mare, Luciana Diniz and Fit for Fun (For Pleasure / Fabriano), Laura Kraut and Zeremonie (by the Calido I son, Cero out of a Quick Star mare) and the winner, Gregory Wathelet's grey mare, Coree, by Cornet Obolensky out of a Liberty Life mare.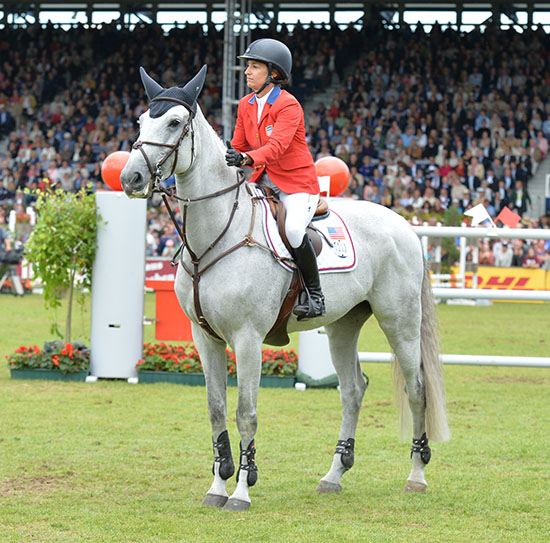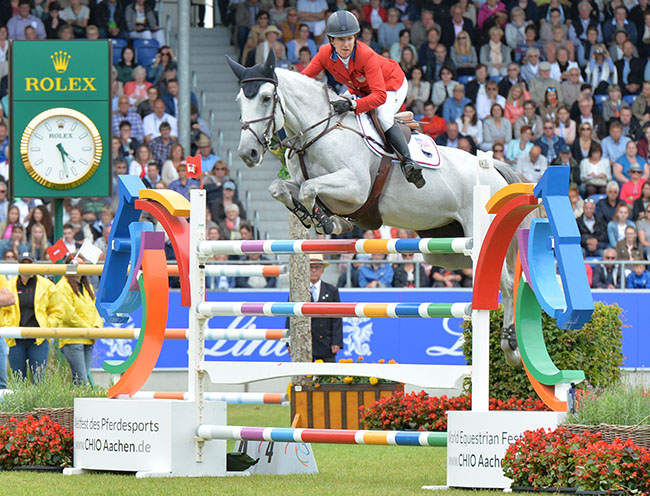 Laura Kraut's Zeremonie went ever so close to winning – the mare is by Cero, who has two crosses of Cantus, and is out of a mare by Quick Star.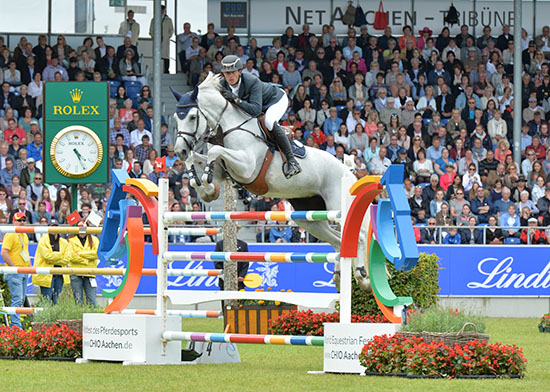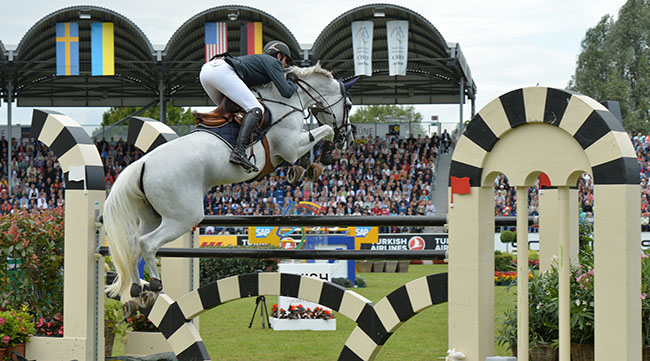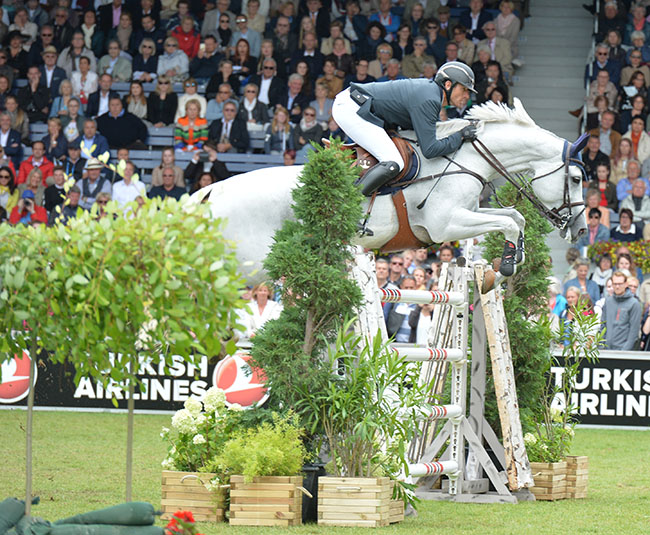 Fastest in the jump off, Coree 
And the winner was Coree, by Cornet Obolensky from a Liberty Life mare who is out of a mare by Furioso II – the French stallion imported to Oldenburg was hugely influential at Aachen this year, in showjumping and dressage… No wonder Ludwig Christmann says "The Furioso line is the most influential line in modern sport horse breeding." See the article
Eventing and dressage  breeding follows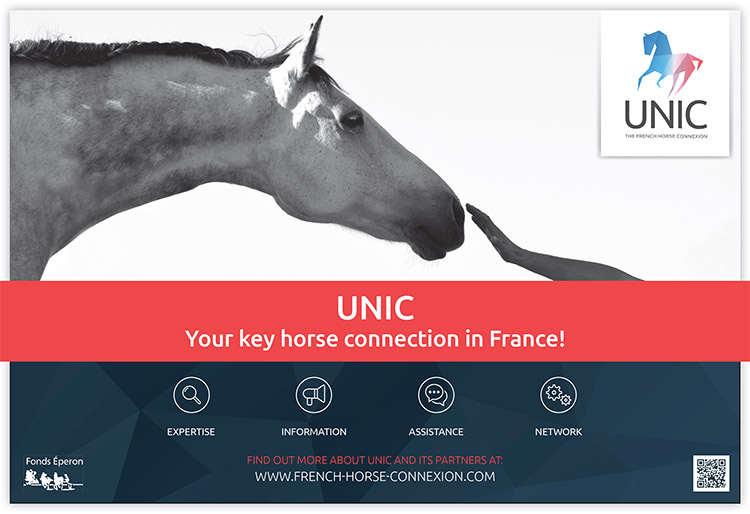 Eventing at Aachen
There's certainly no dominating sire in the Aachen CIC*** lineup. The greatest sire the sport of eventing has seen – Heraldik xx (Caramel xx/Cale xx) – is there with two, including the new face on the German team Hamilton (out of a mare by Furioso's Sohn, by that most influential of stallions, Furioso II). The gelding is ridden by 35-year-old Josefa Sommer, and bred by her father, Joachim, the former manager of the Hessen Verband.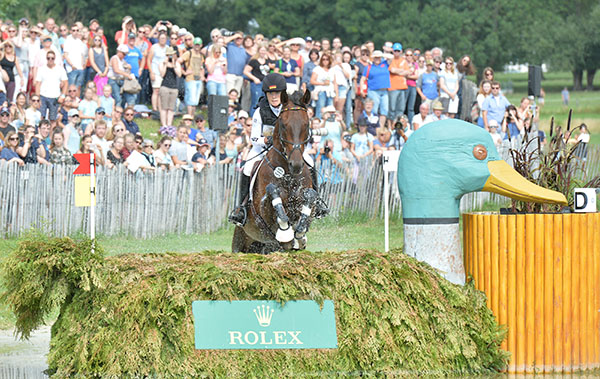 Hamilton, by the greatest sire of eventers ever, Heraldik
Really that is one of the attractive features of eventing. Riders can, and do, breed, break, and train their own. Perhaps none more spectacularly than the Australian rider, Katja Weimann, on her first trip to Europe and riding BP Cosmopolitan. The gelding was bred, broken in and trained by Katja, and is by a stallion, Triathlete aka Remi West Side Story (by the imported Hanoverian, Winterkönig out of a Thoroughbred mare) who Katja competed to three star level, and out of a grand-daughter of the first Warmblood stallion to come to Australia, the Holsteiner, Flaneur (Fax I / Markgraf) one of a group of super heavy stallions that the Germans – who were flat out infusing their horses with Thoroughbred – were happy to sell to unsuspecting Aussies.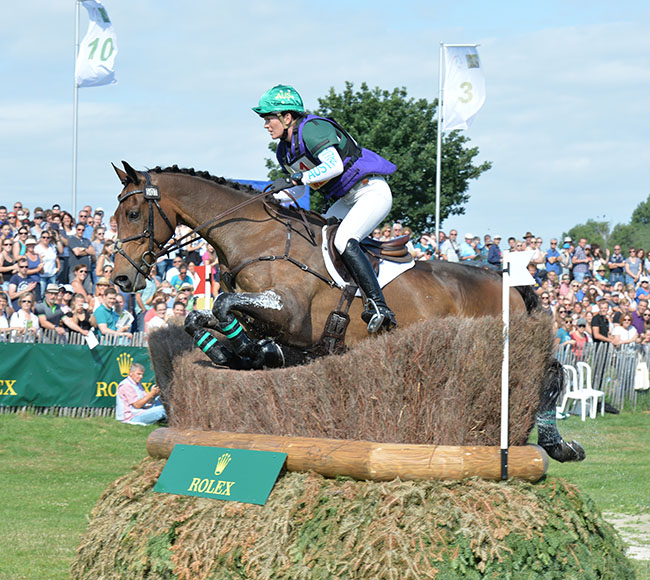 Cosmopolitan, bred and produced by Katja, a real Australian product with his sire bred by Remi Stud in Australia. Remi Stud also bred Under Discussion who won the CIC3* at Aachen with Christopher Burton.
The other stallion to sire more than one is the Holsteiner, Courage II, with Tim Price's Ringwood Sky Boy (out of a Sky Boy xx mare) and Oliver Townend's Ballaghmor Class.  Courage II was by Capitol out of Vamara (Cor de la Bryère / Liguster). Vamara was the full-sister to Cavalier Royale, another Irish based Holsteiner that was for many years ranked in the top three of eventing sires on the WBHSH list. Courage II stood at Kedrah House, for several seasons until his death in 2006.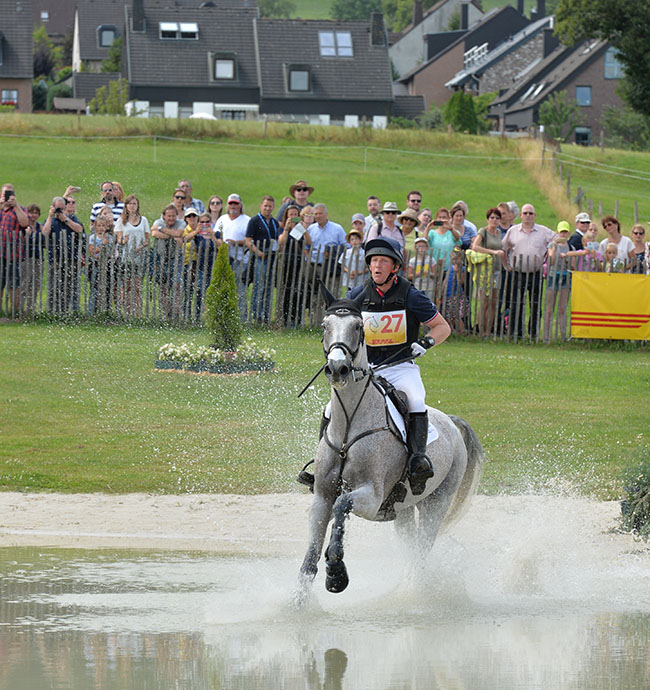 Ollie Townend and Ballaghmor Class
The results underlined the ongoing need for close up Thoroughbred blood if you want a top eventer. The winner, Ingrid Klimke's Horseware Hale Bob is 71.88% blood – being by the Thoroughbred, Heilkon out of a mare by Noble Champion who was by Noble Roi xx.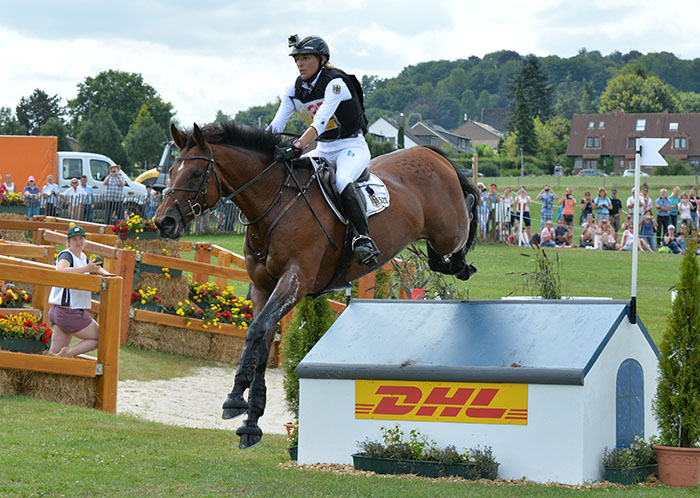 Hale Bob on the way to a win with Ingrid Klimke
In second place, La Biosthetique-Sam FBW is 76.17% blood, being by Stan the Man xx, out of a mare by Heraldik xx.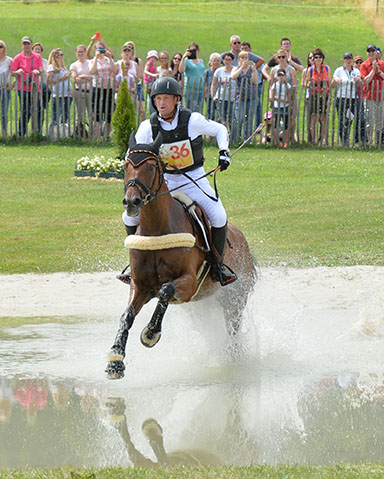 Michi Jung and Sam, part of the winning team for Germany
Shane Rose's CP Qualified is something of the exception to the rule. Imported to Australia as an expensive showjumping stallion, he was too careless for that job, and he tried several careers before he clicked with Shane and became an Olympic level eventing gelding. Qualified was bred in Holstein and is by Quite Capitol (a son of the Selle Français, Quidam de Revel out of the full-sister to Capitol) out of a Corofino I mare, and that gives him just 50.98% blood. Quidam is 65% blood but he has the reputation of pushing the blood from the third line of his pedigree through to his offspring.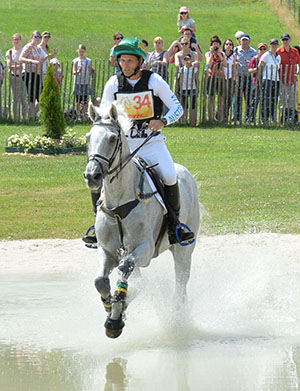 Qualified taking Shane Rose into third place
more follows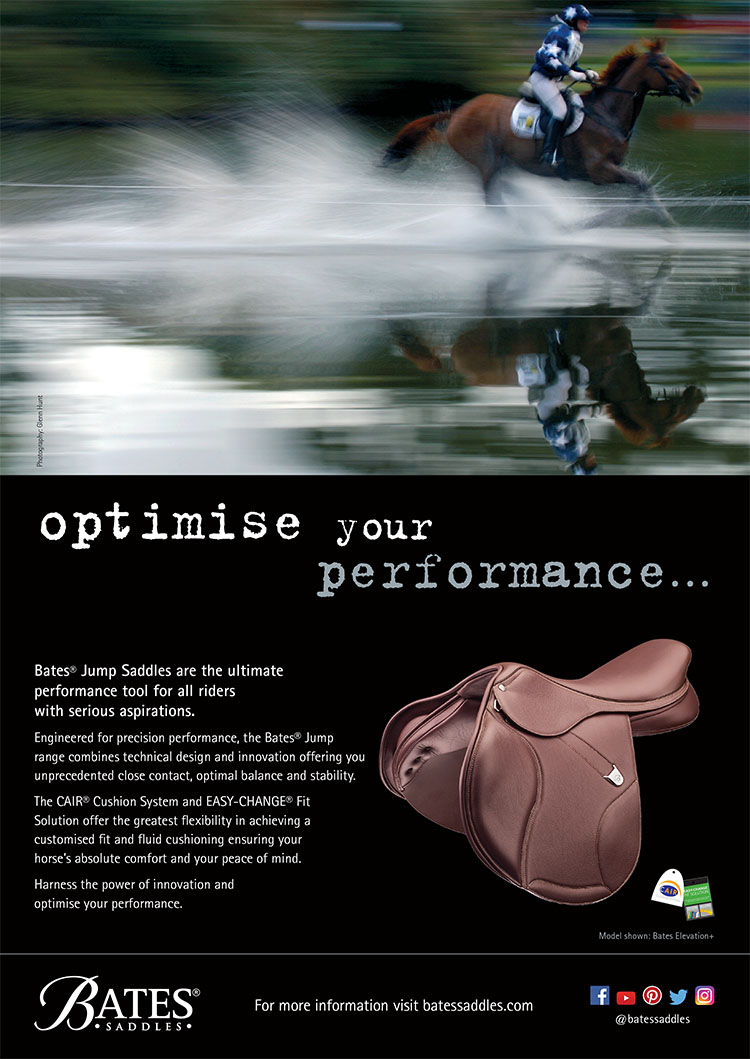 http://batessaddles.com
Opgun Louvo in 4th is by Shogoun II by the Thoroughbred Night and Day and out of a J'T'Adore mare, making him 79.69 blood. Fifth placegetter, Leonidas II (Landos / Parco xx) is Holsteiner branded but 62.11% blood, in sixth, the Hannoverian Nobilis (Nobre xx / Lemon xx), is 78.13% blood.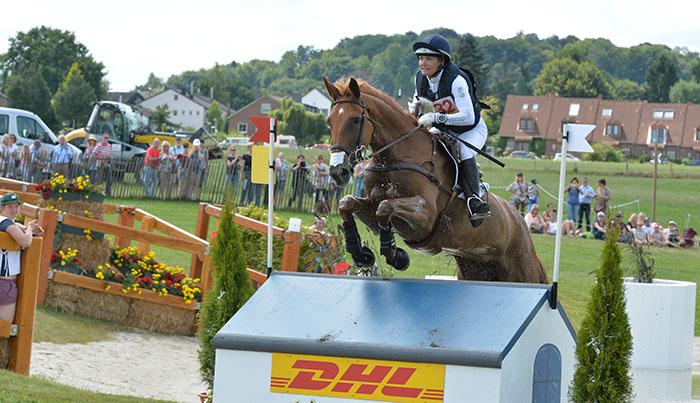 Demeter, by the dressage sire, Rubin-Royal
The seventh placegetter, RF Demeter is interesting. The mare is by the Dressage sire, Rubin-Royal out of a mare by Kanudos xx and only 46.29% blood. However, Rubin-Royal is a descendant of Harli Seifert's foundation mare, the eventer, Rudilore bred to the eventing stallion, Volturno.
Eighth, the Dutch bred Zagreb (Peron / Nagano) is only 38.87th, while nineth, the Irish bred Quarrycrest Echo (Clover Echo / Cavalier Royale) is just 45.9%. Rounding out the top ten we have Colani Sunrise, from the OS, jumping Oldenburg studbook. The gelding is 45.31% blood, being by the Holsteiner Chico's Boy out of a mare by the Hanoverian, Laudatio.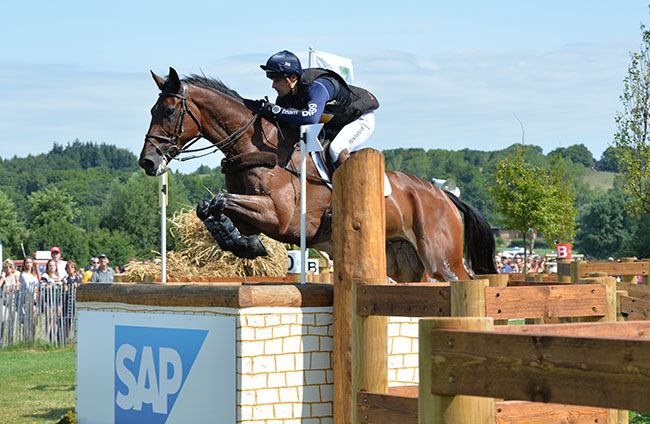 Zagreb, only 38.87% Thoroughbred
Dressage horses at Aachen
Once again entries in the dressage are dominated by Donnerhall (Donnerwetter / Markus) and his descendants, particularly his best son, De Niro (Akzent II). Donnerhall himself has only one in the Aachen lists, while De Niro has five. Donnerhall is the sire of five stallions – Don Frederico (Consul), Don Schufro (Pik Bube), Dr Doolittle (Lauries Crusador xx), and two out of Rubinstein mares, Donnerloh and Dressage Royal – all of whom have one each in the lists, while Duino is by the Donnerhall son, Donnerschwee out of a Sion mare.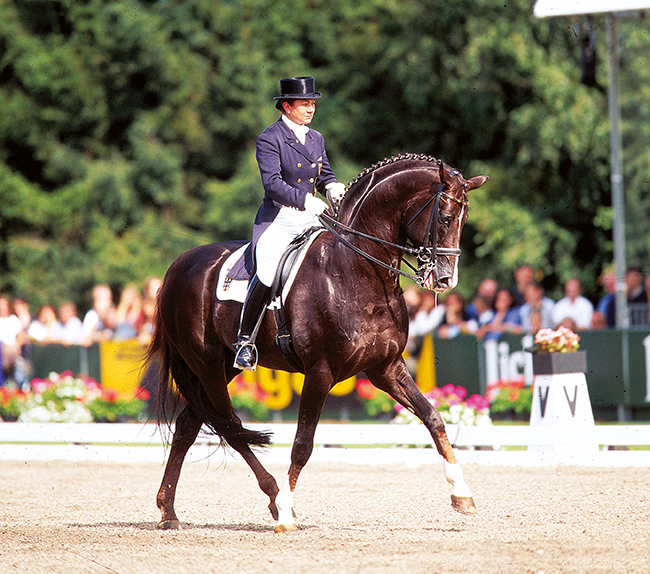 The 'D' factor – Donnerhall
De Niro is the sire of four sons – Danone (Weltmeyer) and Desperados (Wolkenstein II) each with two, and one each for Dancier (Lancier) and Donautanz (Caprimond). Grandsons are also successful – Day Dream (by Don Gregory out of a Goodtimes mare) and Diamond Hit (Don Schufro / Ramino). That's a total of 23 from the D line out of 89, just over 25% but the D factor will be much higher when we start to get to the serious end of the tournament.
Goerklintgaards Dublet (Diamond Hit/Ferro) and Kasey Perry-Glass
---
Many of these top European breeding lines are available from International Horse Breeders in Australia  – go to www.ihb.com.au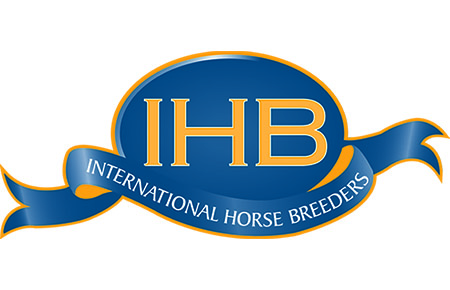 The Florestan 'F' line is hanging in there. Two by Fidermark (Florestan / Werther), and one by his son, Fürst Piccolo (Mephistopheles), one each to the Florestan sons, Florestano (Dinard L), Florett As (Urofino ) the sire of the deservedly famous Verdades and Future Cup (Disco Star) sire of Fabienne (Rubinstein). Fabienne was bred by WBFSH patron, Princess Benedikte, from a line that has produced the Small Tour competitor, Dolany, and her daughter, Nathalie's first star, Rigoletto. Princess Nathalie had been competing Fabienne at Grand Prix, but when she was appointed Danish coach, she gave the ride to 20 year old Victoria Vallentin. It's called class.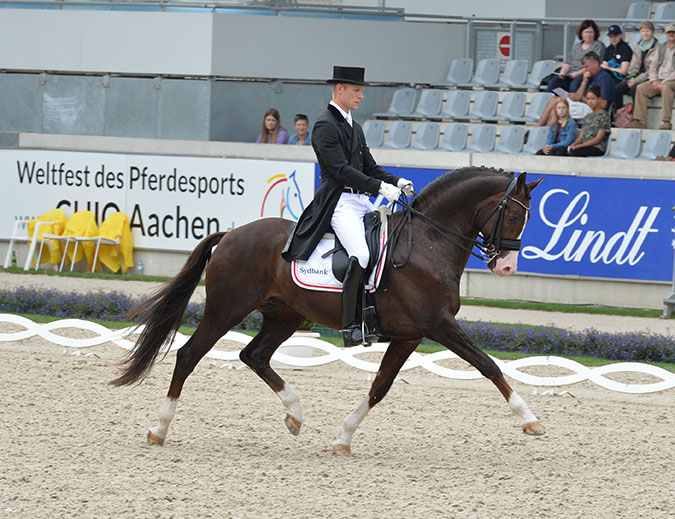 Daniel Bachmann Andersen and Blue Hors Don Olymbrio (Jazz/Ferro)
The Dutch star, Jazz (Cocktail / Ulster) has two, while his son, Johnson (Flemmingh) has three, and two other sons, Tango (Contango) and Olivi (Aktion) have one each.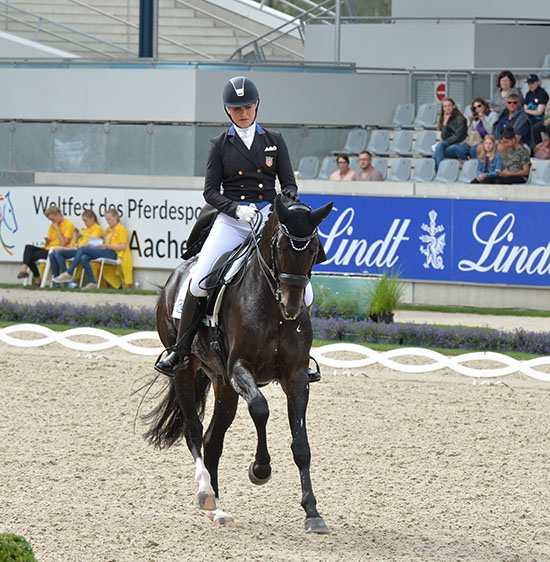 Salvino and Adrienne Lyle by Sandro Hit from a Donnerhall mare
Sandro Hit (Sandro Song / Ramino) is the sire of four, while his son, Stedinger (Landadel) has two.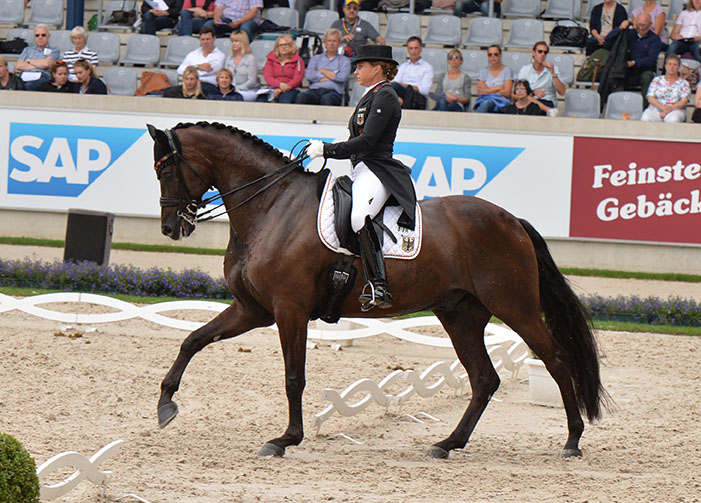 Dorothee Schneider and Sammy Davis Jnr, by San Remo from a Wenckstern mare
Rubinstein is represented entirely by his best son, Rohdiamant (out of a mare by the Anglo Arab, Inschallah), and his full-brother, Royal Diamond. Rohdiamant's son Rubin-Royal (Grundstein II) has three entries, while Rohdiamant's grand-son, Royal Hit, has one, as has Royal Diamond.
Hayley Watson-Greaves and Rubins Nite (Rubin-Royal/Limbo)
It is good to see that the Portuguese star, Maria Caetano is riding two Portuguese Lusitanos by Rubi (Batial / Xaquio CIP). Rubi was ridden at the London Games by Goncalo Carvalho, and he looked great, finishing 13th in the Special to go all the way into the Freestyle. I must confess my heart fell earlier in the week when I read the list of 'Spanish' horses that are to compete at the World Young Dressage Horse Championships, with only two out of nine of Spanish breeding, the majority being from the well-known Spanish province of Oldenburg.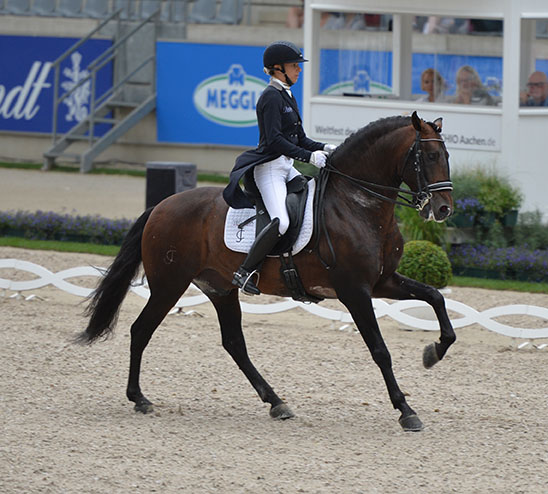 Fenix de Tineo and Maria competing in the Prix St Georges where they finished ninth
I asked Maria – Do you find it harder because you are showing Lusitano horses, and the judges are used to looking at Warmbloods?
"For me it is a pleasure to be able to show the horses from my country and to try to show them to the world of dressage because they are not so well known as the Warmbloods. In the beginning, like ten years ago, they were completely unknown, and they were strange for the judges' eyes but now I think we are in a very good time for dressage judging. The judge on what they see, and if the horse is supple, and going well, then I think we can get the points we deserve."
But you are riding quite a special type of Lusitano, you can still see in Portugal the very old type with not very good natural movement… You look for special lines?
"Yes. For example two of my horses are sons of Rubi, who was already a very successful horse in dressage. Of course I look for those special lines because we had a completely different selection in the past, bullfighting, working equitation, and now the breeders are trying to change a little bit, and I think they are doing very well especially as we have a very small number of mares compared to Warmbloods. I am lucky to have three Lusitanos who can compete internationally with the Warmbloods, and you can look at them, not as a traditional Lusitano, but as a sporthorse."
another Lusitano follows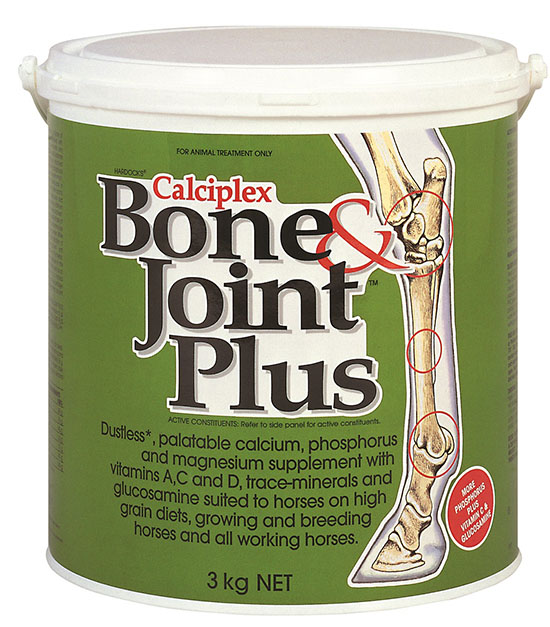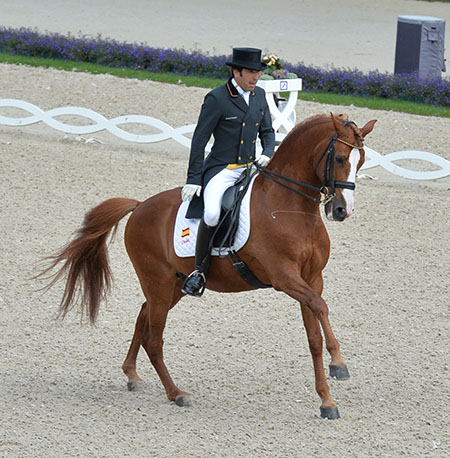 Another Lusitano of bull fighting breeding competing at Aachen, Alcaide, and Spain's Claudio Castilla Ruiz, finishing in eighth place in the 5* Freestyle and wowing the crowd. 
It turns out that Maria doesn't just ride these new dressage style Lusitanos, her father, Paulo is one of Portugal's most famous bull-fighting riders and has been instrumental in the development of the breed.
"I started breeding horses in the 1975. I was already a rider, a young rider, but I started very early. My uncle was a rider and bred horses and then I started by my self. I started by buying, in my opinion, some of the best mares Portugal had at that time. They were bull-fighting mares, Lusitano mares, but they were mares with the kind of movement that I looked for. The most important of these mares, and of all the horses of this time, was Quieta. I bought her when she was six years old. She gave three very important sons – Xaquiro, Altivo and Capote."
"Altivo was a fantastic horse, he could canter doing one tempi changes towards the bull, twenty flying changes and then relax perfectly. He had such nice movement, swing in the trot, he already was a dressage horse. So I started to breed with him – nowadays his genetics are still in dressage, for example his son Altaneiro is one of the best Grand Prix Lusitano horses competing in Spain. Then there was another son, Capote – he was bigger, with more 'blood'. I sold this horse to a very important breeder in Portugal – José Manuel de Mello. Altivo gave also an other important son, Jalisco, who went on to the Grand Prix champion of dressage in Belgium. He was one the first Lusitanos to make a real name in dressage. Everything came from Quieta, she was big for a Lusitano in those times. Super swing, a ground covering canter."
If we look at Maria's Grand Prix stallion, Coroado, he is by Rubi, whose dam sire is Xaquiro, out of Luxelia, who is by Xaquiro.
"My beginnings were with a classic master – Viconde da Corte – and he would always talk about the quality of the movement and the lightness of the horse, and that is why I chose this mare. This is the basis of my breed, and the basis of nearly all good dressage horses in Portugal."
When did you goal change from breeding horses for bullfighting to breeding horses for dressage competition?
"I have to say that it is not so different, because the capacity for collection, flexibility, the capacity to get energetic and at the same time, relaxed. I never looked for the Baroque horse, I always looked for Lusitanos that were a little bit stronger and more powerful, I think because my Master was more close to dressage than bullfighting."
"It's fantastic, now we have three or four bloodlines to work with, not so many horses, but it is working, we are making horses that can compete."
Were you tempted to follow the example of the Frenchman, Sylvain Massa of the Elevage Massa, to cross Trakehner stallions over Lusitano mares – some of the horses he bred are now doing quite well at Grand Prix….
"I think it can be a good idea but I have to wait and see, because it is easier to work with the genetic that we know very well and manage, then when we start to work with a genetic that we don't know so well, we have to be careful – but I must admit, I think it's a good idea. Maybe it is a long term project, not a short term project, but a good idea."
You are still breeding?
"I am and right now I have two young horses that I think can become very good Grand Prix horses, we shall see."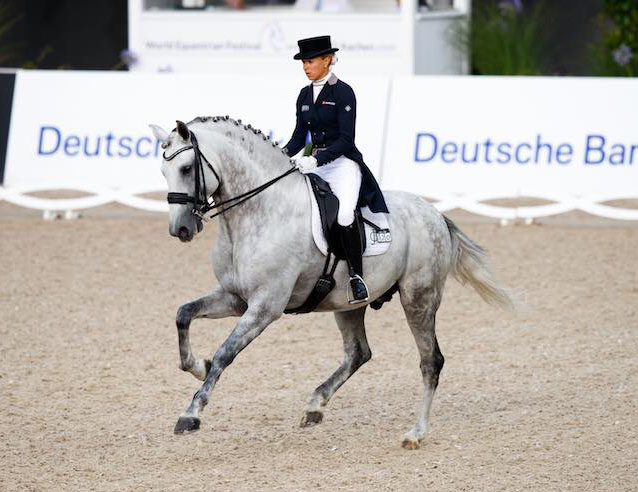 Second in the Four Star Grand Prix, Maria and Coroado, Photo Tomas Holcbecher
Maria had a good show, ending on a high note, second in the 4 star freestyle on Coroado with a score of 75.275, only beaten by established stars, Beatriz Ferrer-Salat and Delgado.
By the time we get to the five star Freestyle, the combinations in the first half of the draw are mainly dressage dressage bred: Kasey Perry-Glass' Goerklintgaards Dublet (Diamond Hit / Ferro), Marcela Krinke Susmelj's Smeyers Molberg (Michelino / Rambo), Hayley Watson-Greaves' Rubins Nite (Rubin Royal / Limbo), Severo Jurado's Deep Impact (De Niro / Rubinstein), Malin Nilsson's Bon Ami (Johnson / Fidermark), Patrick van der Meer's Zippo (Rousseau / Haarlem) and Emile Faurie's Lollipop (Lord Sinclair / Welt Hit I – essence of PSI). Then there is Olivia Lagoy-Weltz's Lonoir (by the De Niro son, De Noir but out of a Lord mare) and Agnate Kirk Thinggaard's Jojo AZ, by the 1.60 jumper, Ginus, out of a grand-daughter of Voltaire.
Looking at the top nine combinations in the second half of the draw, it's about half and half, established dressage breeding v wild cards.
Six have the sort of breeding you might expect. Three Ds – Patrik Kitel's Delauney is by the Donnerhall son, Dr Doolittle, out of a mare by Feinbrand (Furioso II once again),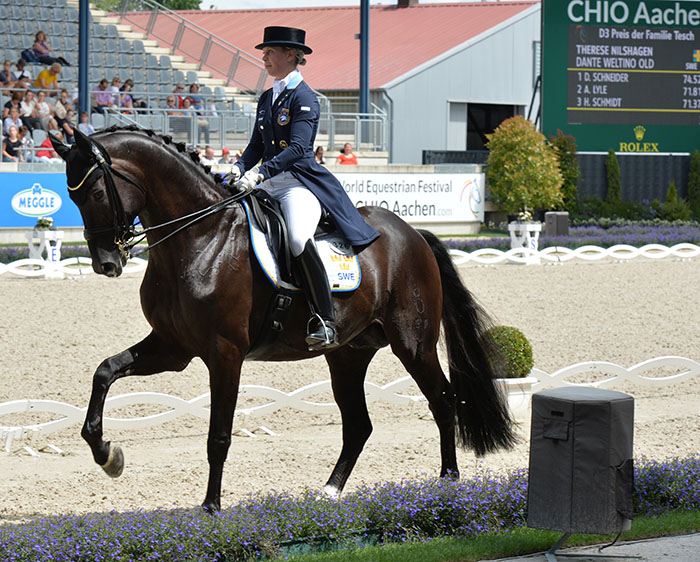 Therese Nilshagen's Dante Weltino by Danone (by De Niro out of a Weltmeyer mare) and out of a Welt Hit II / Noble Roi xx mare and Isabell Werth's Weihegold OLD (Don Schufro / Sandro Hit).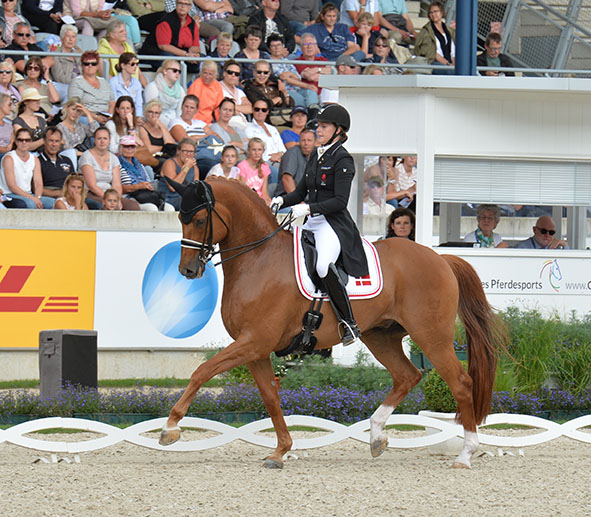 Then there's Atterupgaards Cassidy by the Trakehner, Caprimond (who topped the Hanoverian rankings for type throughout his life) out of a  Donnerhall mare.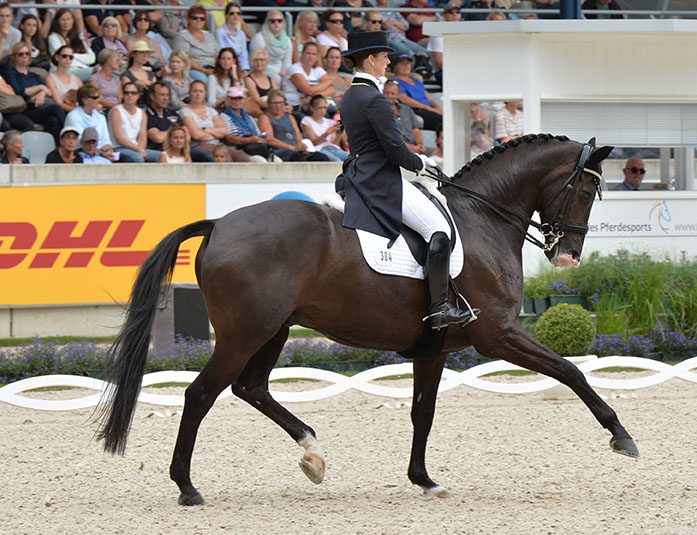 And from Holland, Judy Reynolds' Vancouver K (Jazz / Ferro).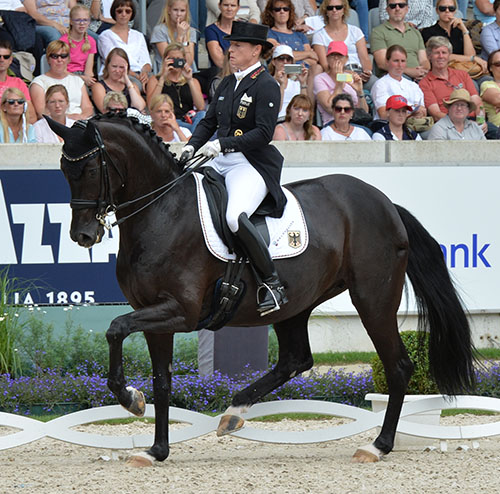 Isbell Werth produces an extraordinary performance on the Don Schufro daughter, Weihegold, and once again, I ponder just how it is that Donnerhall became such a dominating force. Luckily sitting next to me in the press row is Jan Tönjes who before he became a journalist had an honest job working with the Oldenburg Verband. Why Jan? How? His dad really only made one horse, his full brothers were duds…
"It has in my opinion, two reasons. First of all, and it is in the breeding, he is a very solid type of horse, with this third dam still belonging to the old Oldenburg Coach type. When he was certified, even then, people thought he was not the modern type. He had a bit a head, but always loads of expression in his eye, his croup was not the ideal but these coach horses were two things: they were eager to work every day, they had a super attitude, which always helps, rideability is always something you would associate with 'D' rather than 'W'. Plus, they had to stay sound conformation-wise. I can't say that Donnerhalls are the soundest horses in the world but look at some of the other lines – you buy them and then you keep them doing the job but not too much, with the Donnerhalls you can ride them, they are tough guys, and again, maybe you don't need to train them as much as the others, so they don't have the mileage with helps their soundness again. These are the two things that I think make the Donnerhall line the complete package."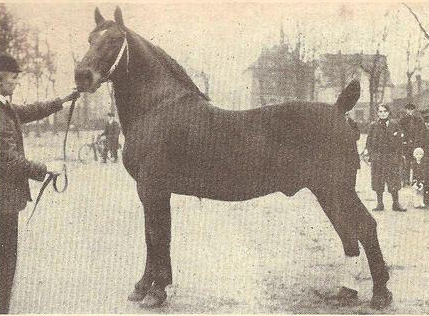 Gruson born in 1917. Donnerhall has six crosses of the stallion…
If you are interested in Sporthorse Breeding, this is the website for you – visit our Breeders Club to find a whole library of information – or check out our Great Stallions, the info is always being updated…