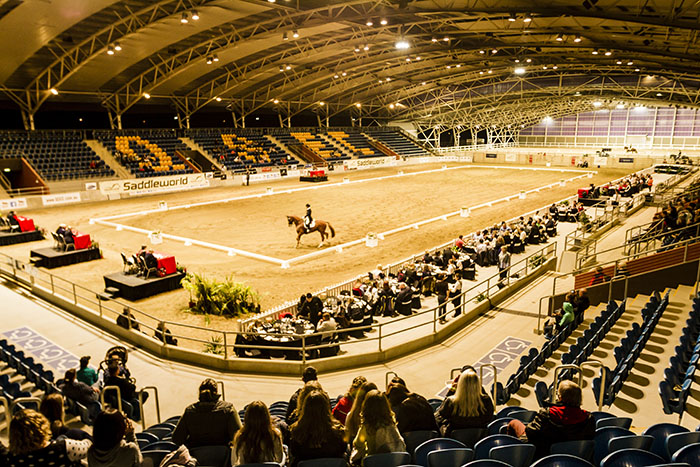 Liz Owens reports – Geoff McLean took the photos…
There is a lot about Queensland that is totally contrary to pleasant horse ownership – there is Hendra, Queensland itch, paralysis ticks and a climate that for 4 months of the year at least, makes riding almost impossible. The Brisbane CDI in July provides an opportunity to show all that is wonderful about competing and riding in Queensland. The Queensland State Equestrian Centre, QSEC, with accompanying stables, camping and outside riding opportunities is a wonderful venue – beautifully maintained and presented. The addition of the new expansive covered warm up ensures that any annoying mid-winter showers cause no interruption to proceedings and the climate is sublime – fine and balmy. The atmosphere is friendly and welcoming with Event Director Leesa Murray firmly at the helm attending to as many details as is humanly possible and being helped in no small part by stewards Cathie and Trevor Drury-Klein amongst others. Queenslanders are just so delighted to welcome interstate competitors that they fall over themselves to help visitors – it is a wonderful four days of competition. This year, we had a very special visitor Charlotte Dujardin…
The Charlotte Dujardin Masterclass was the brainchild of Leesa Murray – as if she didn't already have enough to do with the Youth Championships and the CDI. Leesa is one of those wonderful people that believes anything is possible with hard work and determination, which I suspect she needed in spades to negotiate a flying visit from the most awarded dressage rider of our time. It didn't seem possible that Charlotte would come to Brisbane to give a Masterclass for a day but Leesa made it happen. The VIP tables sold out in 12 minutes and the general admission was also filled. On the morning of the Masterclass, there was an unheard of Sunday morning traffic jam trailing from the Bruce Highway to QSEC. It must be the first time in Queensland's history that a dressage event has been the cause of traffic chaos.
Hundreds of riders submitted video footage of their horses in the hope of being selected by Charlotte's team to ride in the Riders XOXO Masterclass. In the end there could only be six, two of which are trained by Team Van Den Berg, so Mel and Tor must be doing something right.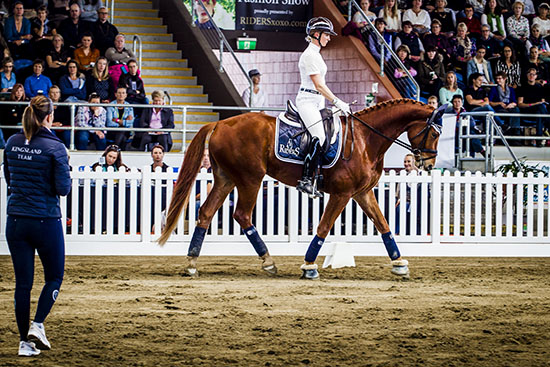 Tori and Elite Rob Roy
The class began with the 4 year olds. Recently married Tori Welch presented on Elite Rob Roy, another by the Queensland sire Riverside, with Deborah Oliver riding Highfield Bella Vita, an imported mare by Beltano. Gary Lung was the MC charged with trying to keep Charlotte on time but he was quickly warned by Charlotte that she had no intention of obeying his entreaties to keep to the tight schedule.

Charlotte opened by saying that she really liked riding young horses and she described her priorities in selecting the babies. They had to have a good walk and canter – and especially a good walk since this is the hardest to correct. She explained that it is easy to improve a trot and that she didn't go for the really massive moving young horses because the extravagant movement put too much strain on their joints and they frequently didn't stay sound long enough to go Grand Prix. She preferred the horses to just have a normal trot and canter with a temperament that would permit her to develop them. They also needed to be brave – a particular talent of Valegro apparently, who Charlotte said always stayed focussed completely on her so that she could ride for the highest possible marks. Charlotte admitted to not being a fan of stallions as riding horses. "Too much like a man," she said "opinionated, with their minds on breeding."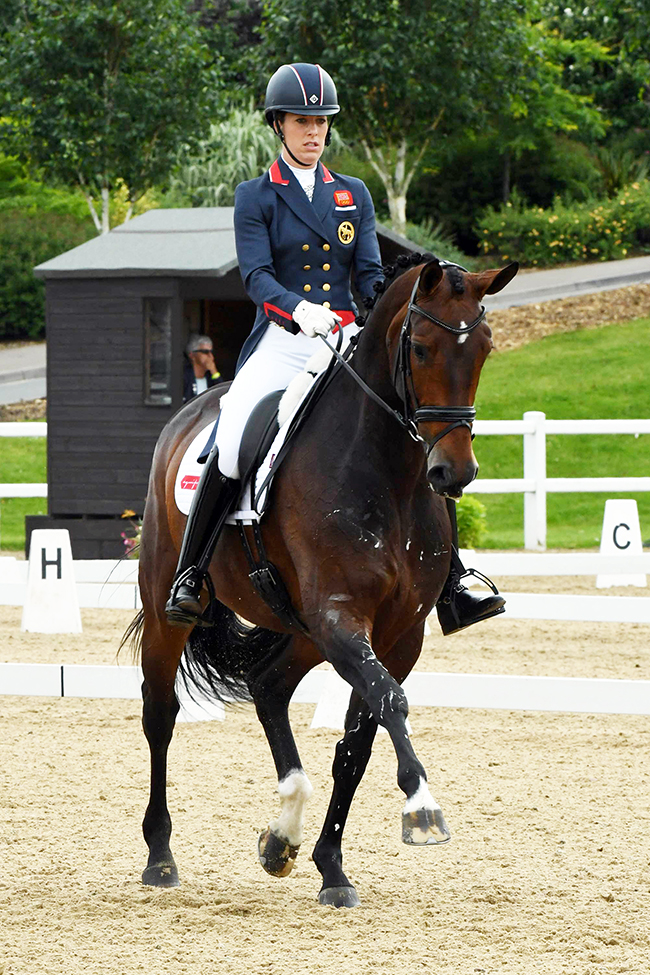 Charlotte and Mount Saint John Freestyle, the mare Carl believes will be her next star
Charlotte currently has eight mares in training so clearly she believes that the females are the better option. Charlotte works her young horses for no more than 20 minutes in a session with a focus on building a solid foundation whereby the horse must go from the leg, come back from the rein. She uses 100's of transitions and also uses her voice a lot to reinforce the aids.
Rob Roy was slightly against the hand in the transition to walk so Charlotte instructed Tori to just rise slower and massage her fingers on the reins. "Stay off his back – don't do sitting trot" she asked "then use your voice" and Roy melted into a balanced walk without any hint of resistance. Charlotte wanted Tori's leg to be loose with very slight pressure but Roy had to go forward to that pressure. Charlotte also wanted hands lower with shorter reins and stressed to Tori not to ride deep in the corners with a young horse. Roy had a brief rest and it was the turn of Deb Oliver and Bella Vita.
Bella tended to go quite deep and was pretty awestruck by the big atmosphere in the arena. Deb was another rider who came in with a whip. "Do you need your whip on her?" Charlotte asked, and of course Deb didn't. Charlotte stated this is an international problem – her arena at home is also littered with the whips of riders who carry them into the arena but actually don't need them and have had Charlotte remove them. "You watch – I'll have taken every rider's whip by the end of today" and she pretty well had. Charlotte used serpentines and changes of bend to get Bella's attention and encouraged Deb to think of the reins moving rather than holding. She stressed that the half halt was a re-balancing aid, not a slowing down aid. Slowly Bella settled and Deb was able to lengthen the frame. "Build the muscles you want to keep – don't build muscles that you'll be fighting against later on," and at that Bella was allowed to take a walk break.
Read on, Charlotte works with more horses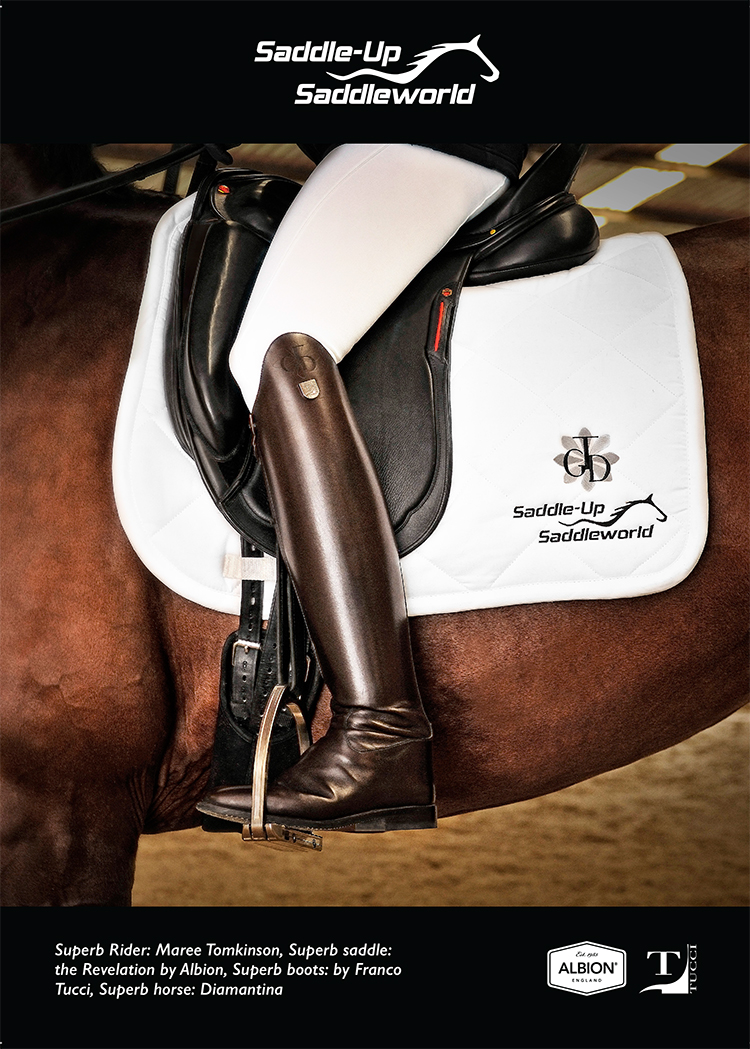 Ring Saddle-Up now – 03 9727 4000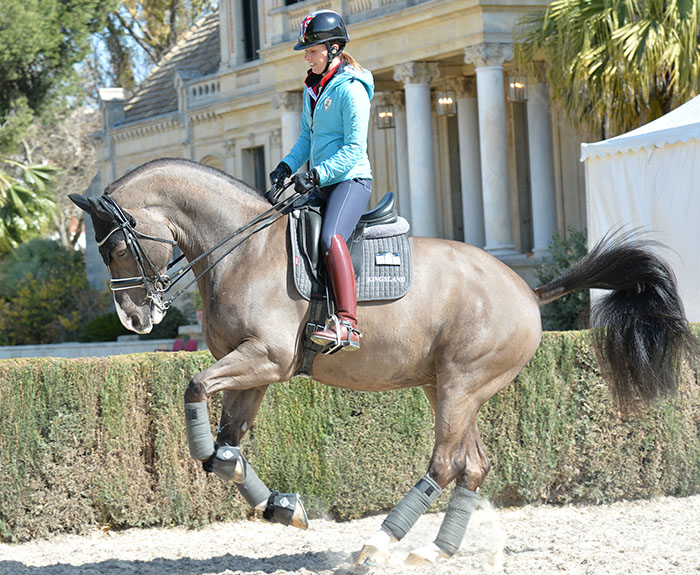 Valegro giving Charlotte a positive sign
Roy was asked to canter at which he gave an enthusiastic hump which Charlotte liked. This was interpreted as a positive sign that the horse wanted to go forwards and was certainly not a negative. Charlotte thought Roy was a "bit stampy" in the canter, which needed to be fixed by going forwards. When Charlotte says "Go" you'd better go and this really highlighted the difference between Charlotte and other clinicians I've watched. Charlotte instructed as though she was on the horse, not as if she was on the ground. She instructed as a rider rides. "GO" – short, direct, decisive – just like the aid needs to be. None of this "try to get the horse more in front of the leg" or "more forwards" it was just "Go"! When Tori responded with a slightly forward canter she was quickly told "Go" 4 or 5 more times until Roy was really covering ground and very forwards. "Now take your legs off and ride him forwards to a contact," instructed Charlotte and Roy looked as though he'd been doing this for months rather than a few minutes. Now, "pat him like you love him" as a reward. Even at this level Charlotte wanted every transition to be a good one – keep repeating until it is a good one. By this stage Roy was doing a transition to walk with the reins on the buckle. A great experience for a young horse.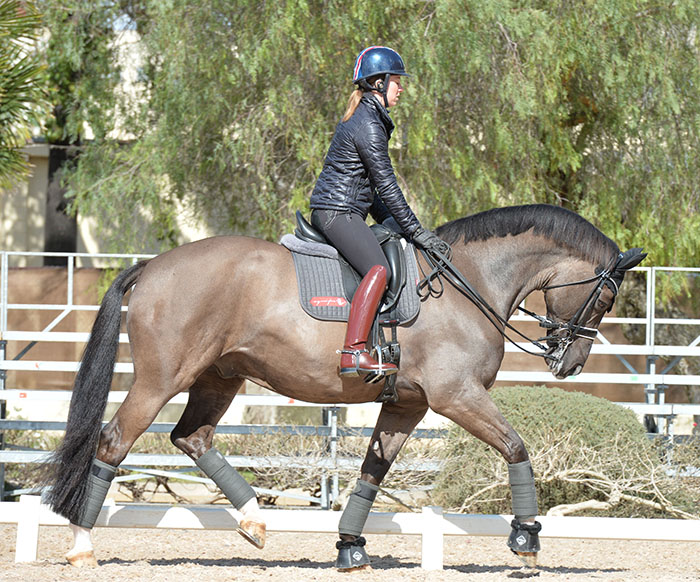 Pat him like you love him…
Bella was not so convinced that this arena experience was for her. Charlotte stated that she preferred to work her horses in canter first as it improved the trot and got them more over the back. She also believed that very forward going young horses should not do too many straight lines, but rather use the circles to back them off if required. Deb was one of many riders for the day that was told to keep her thumbs on top. "You've been carrying too many handbags" said Charlotte as a way of convincing Deb to avoid the flat hand. When the mare takes over again Charlotte helps Deb to keep giving the rein. "She has better balance when you don't hold her." The need for endless attention to detail is apparent when Charlotte says: "Right bending – disgusting, do it again." Deb is doing a great job getting Bella to focus so there is not much room for fine tuning today but there is no doubt the mare has a tonne of ability. Some other memorable Charlotte comments from this session include:
" Sit on your bum – hold her with your seat and your leg, not your reins."
" Short reins win Gold Medals."
" If you can't see the top of her poll, then she is too low and you have to fix it."
more follows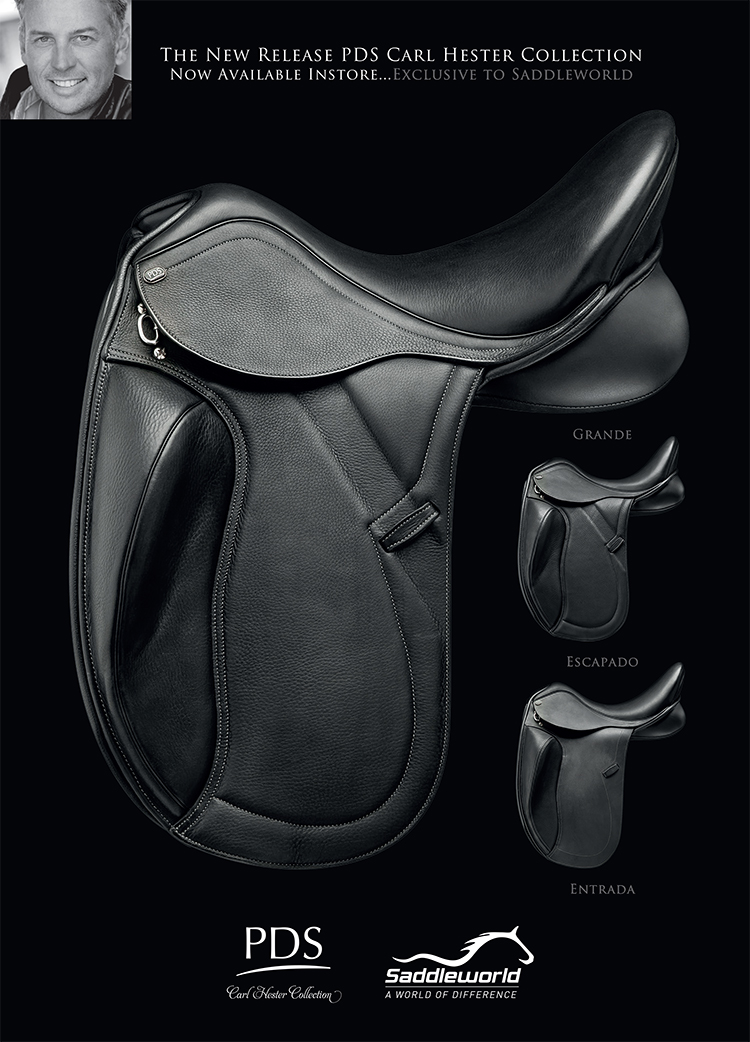 Bella finished on a long rein in a free, open trot, which is testament to the great work completed in this session.
The Riders XOXO Masterclass then continued with the Elementary/Medium horse, Irish bred Courtlands Cadman ridden by Steffi Stevens.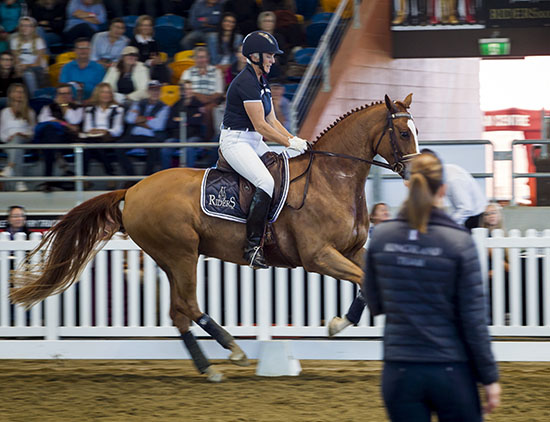 This is a seven-year-old, so Charlotte is expecting clear development of self carriage and engagement. Steffi is another one that finds she doesn't actually need her whip after all. The session starts with Charlotte asking Steffi for leg yield in trot and canter. The horse is clearly more supple to the left than the right so Charlotte is using lateral work to help loosen the stiffer side. Charlotte is quick to pick up on the fact that Steffi, like most riders that followed her, failed to keep the shoulders in advance in half pass work in both trot and canter. Steffi was also directed Steffi to clearly look at the target marker in her half pass work. And at this point Charlotte stressed the need for attention to detail in how corners, half halts and movements are ridden. "Don't settle for a 7 – what do you have to do to get a 9 and 10?… Be brave – attack the movement!" And here is a clear difference to what most Australian riders settle for. Most would say that they ride for a 7 or 8 and would be delighted with either result. Charlotte clearly rides, and coaches, for a 9 or 10. While thinking it doesn't guarantee it, surely thinking it is the logical starting point!

In canter Cadman is encouraged to "Go". When the Go button seems stuck Charlotte implores "don't you go galloping?" and I am guessing many in the audience will now go home and gallop or closer to it than they ever have. "Walk with the reins, canter with the legs" in order to achieve collection is the direction. As a seven-year-old, Cadman should be able to sit in a regular canter at the speed at which Charlotte might walk. This is a work in progress and I'm sure Steffi will be reliving this experience for a long time.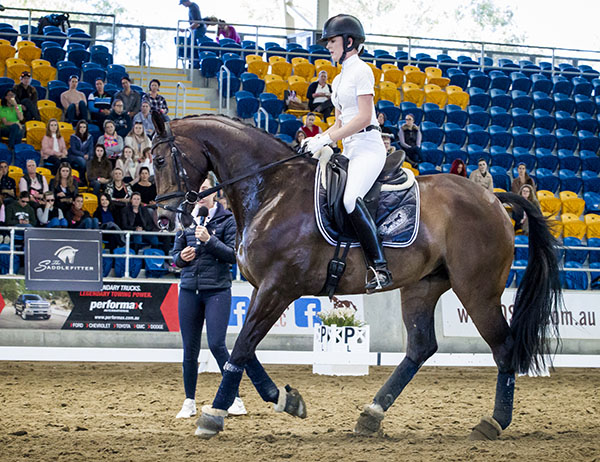 Next in before lunch is Kaitlin Dooney on Remi Frangelica, a Fisherman's Friend mare owned by Tor Van Den Berge. This horse has a very successful competition history and is also now seven years of age but established at Advanced level. Kaitlin elects to begin in trot but when asked "what sort of trot is that?" is caught off guard. I am sure she could produce whatever sort of trot Charlotte required but there has been precious little time for rider and coach to become familiar and Kaitlin is not sure yet what Charlotte wants to see. Bottom line, Charlotte expects the rider to know exactly what they are trying to achieve from every second in the saddle. And the first lesson has been learned.
From there Charlotte asks for canter to improve the trot and suppleness. Frangelica is a talented, forward moving horse and Charlotte immediately likes her saying "this is the sort of horse I want to ride." "When the horse is hot – keep the leg on, when the horse is lazy keep the leg off," instructs Charlotte is helping Kaitlin manage the mare's obvious talent. "Lighten your seat to go forward, close your seat to come back." "Softer hand" was a constant message to all riders. Charlotte did not want to see the riders pushing with legs and restraining with hands. "You don't have your foot on the accelerator and the brake at the same time – don't do it with the horse" she said. Kaitlin needed encouraging to use the mare's power and not be afraid of it and produced some wonderful work in both trot and canter.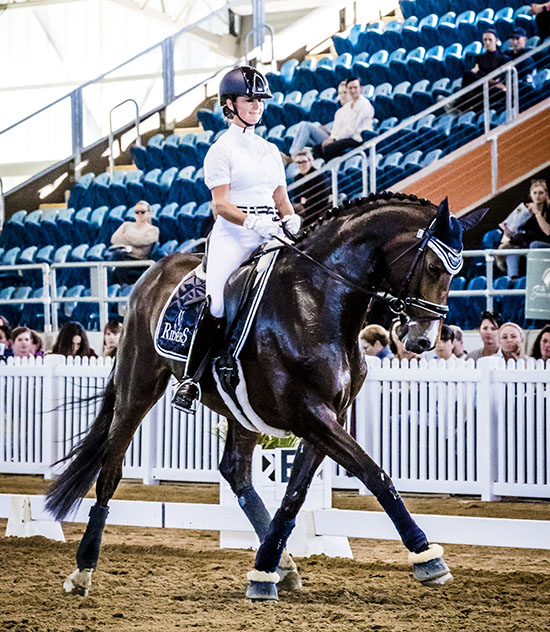 Emma Flavelle-Watts and Cabaret C
Charlotte was allowed a lunch break and then we returned for the Small and Big Tour horses. First in was the ever elegant Emma Flavelle-Watts and the mega talented Cabaret C, an imported mare by the jumping sire Canto with Contender on the mare line. Charlotte immediately picked up on the quality of this combination, stating that this was a really beautiful, super talented mare but with some lady issues (according to Emma). They started in canter – easy lines with leg yield. Charlotte wants the mare quite straight in her body and for Emma to make the sideways direction steeper to increase the difficulty. When they started on the sequence changes (a particular talent of this wonderful mare) Charlotte was not completely satisfied. "Bounce her with your heel in between the changes" "flick her with your heel" "don't sit there like a fairy on a Christmas tree". Knowing Cabaret C as we do, we know how electric that Christmas tree can be which makes Emma one brave fairy! Charlotte prefers to do the sequence changes down the long side rather than on the diagonal – taking advantage of the wall to contain straightness.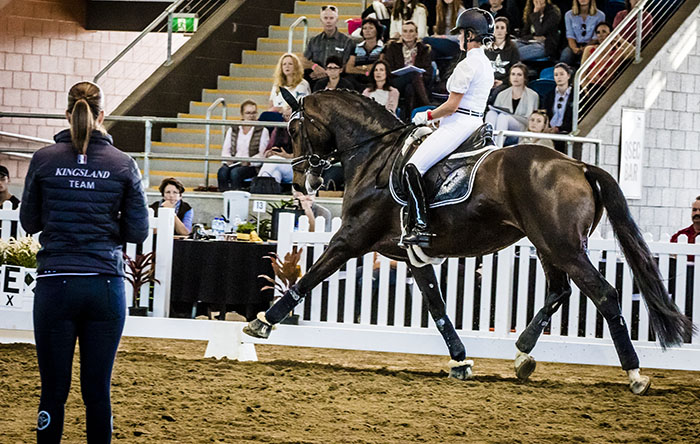 The development of pirouettes follows, with the mare completing small circles alternating between shoulder in and travers. Charlotte takes pains to explain that this is a very tiring exercise for the horse and so care must be taken in its execution. Charlotte wants Emma to keep shoulder fore before the pirouette and to think of the pirouette in two halves – the first half is small, the second half is bigger.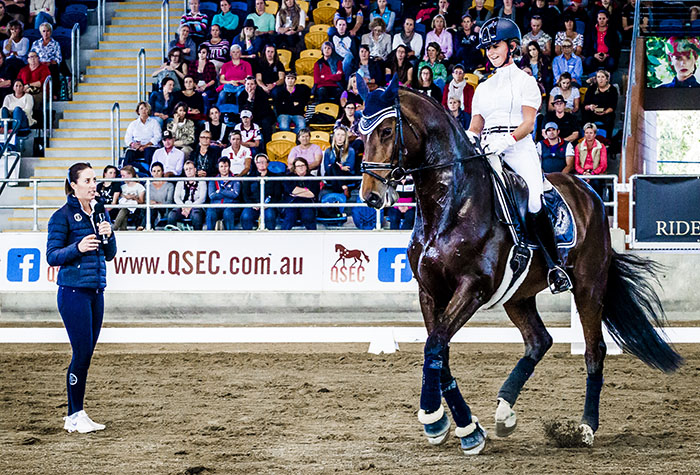 Cabaret C has one of her mare moments and carts Emma out of the arena on several occasions. "Pat her, don't slap her," calls Charlotte – (just quietly we all want to slap the mare for taking advantage of such a carefully managed session but Charlotte is not fazed). She believed that the mare was not yet strong or brave enough in her mind to cope with what her body is capable of. Charlotte criticised Emma every time she let the mare "drop" backwards into a downward transition, believing this sets the mare up for the elevated resistance demonstrated on several occasions during the lesson. Once again the message was that every transition MUST be done as well as could be, with the mare thinking honestly forward and through her body. It was a delight to watch the three individuals work together. Horse and rider deserved a break but there was no such opportunity for Charlotte who moved straight on to the Big Tour session, albeit with some serious encouragement from the MC.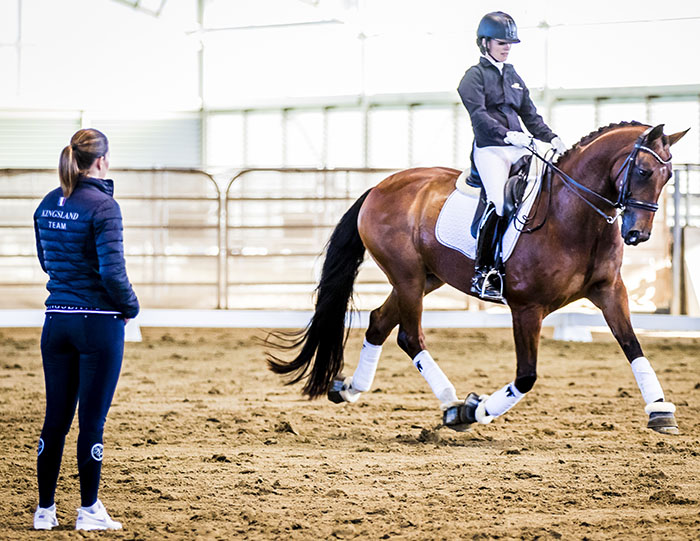 Last in the arena was Shannan Goodwin and Aristede. Once again canter was the pace of choice to start the session. Shannan had identified that the counter change of hand in canter was her challenge, as it is for most Grand Prix riders, so that became the early focus. Starting on the long side Shannan had the very rare benefit of the current World and Olympic Gold medallist on hand to do the counting for her. "1,2,3,4, straight, change, over" it was as though Charlotte was riding the horse from the centre of the arena. Shannan has developed the most wonderful partnership with Aristede and so it was a delight to watch the quality and accuracy of the movement improve so dramatically with technical help from a champion. "You must sweep across the arena – don't just ride sideways," encouraged Charlotte. When the team started on piaffe and passage Charlotte commented that while Aristede was naturally a little croup high, he showed such a generous nature and willingness to try that when Shannan remembered to keep his ears up higher at every stride the quality of the movements improved exponentially. Charlotte reminded the audience that while it takes five years to train a Grand Prix horse, it takes two to three years to develop the Grand Prix and she congratulated Shannan on the wonderful job she had done on Aristede, her first Grand Prix horse.
Next Liz takes a break with Charlotte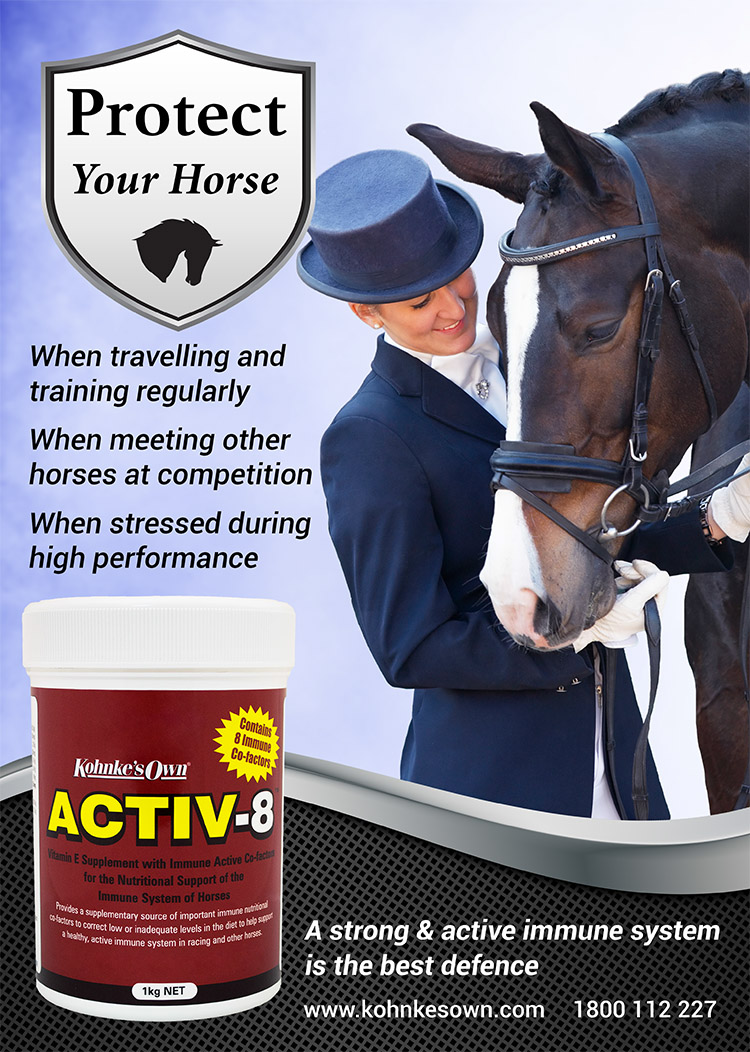 During the lunch break I was treated to 15 minutes with Charlotte to ask some questions. There was so much to learn from this generous lady but I wanted to try to capture her thoughts on how the recent growth and success of British Dressage could be applied to a big, dry island in the Southern Hemisphere.
How much would you attribute the success of British Dressage to the money delivered through funding and how much is Carl Hester?
There is no doubt that the funding is very important – it ensures that we have access to the best vets, farriers, physio's and doctors. We get funding to travel and compete and we just couldn't afford to do it otherwise. There has been a flow on to breeding with Mount St John now producing world class horses and attracting buyers from all over Europe. Ten years ago there was no way that buyers from Germany and Holland would come to England to buy young horses but now, it is common. Carl's next Grand Prix horse is British Bred and is an exciting prospect.
And the importance of the partnership with Carl?
It is crucial. We ride and train together everyday. I shout at him, he shouts at me. When he says he maybe doesn't want to do it today, I shame him into riding and visa versa. I sometimes call him "excuse.com" because he likes to think of reasons why not, but he motivates me as well. There are always eyes on the ground for each of us, we ride each other's horses and help each other every day. I don't know how you do it without that. The money is very important but it is that constant mutual motivation that delivers results.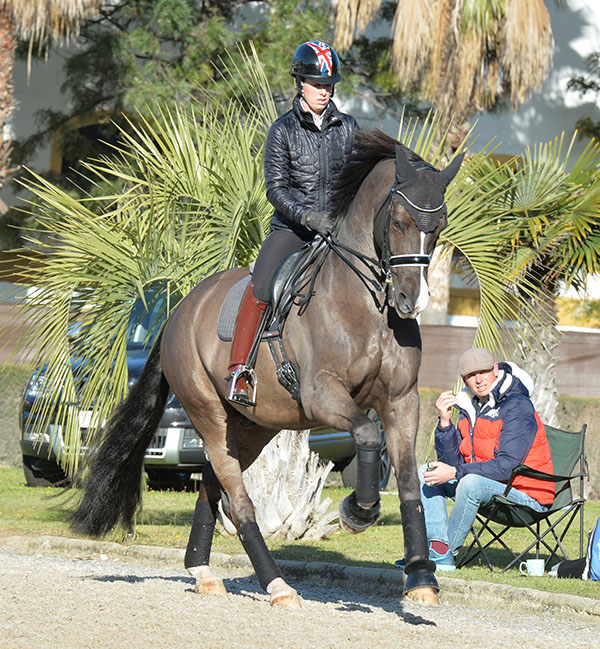 The essential 'eyes on the ground'
You have had a small taste of the Australian competition environment and horses, what would say are the greatest challenges to Australian based riders seeking international competitiveness?
The horses and riders are good, but Australia needs access to really good trainers. You have riders trying to make each other better – you need good trainers to do that. And a variety of trainers, not just a single team coach. When I go to international events I watch at the warmup arena and see what the different federations are doing, how they are riding and training, always learning. You can learn from everyone. Carl and I have judges come to our yard and judge our horses, getting their feedback on how our training is going. Having access to consistently good competition is also really important.
And young riders – how important are they to sport development.
There is a trickledown effect – both Carl and I coach young riders so the better we are, the better they are.
Australia is probably at 10% behind where it needs to be in terms of international competitiveness. Is this an impossible target?
Not impossible, but you need access to good coaches and a really good support network. We use the team physios, vets – we can call them anytime for advice. We use horse and rider physios. The team focus is important and continues between events with support from all involved, Chef d'Equipe, other riders, British Dressage and each other. That is essential. There is no substitute though for being constantly pushed in competitions, you need that constant exposure. From Australia you could make use of video recordings, send them to someone you respect for feedback.
Charlotte could not have been more generous with her time and expertise. What a treat to have a rider and coach of her calibre here in Brisbane. Thanks must go to Leesa Murray and her team for making this dream a reality. Judging by the line up of young and older riders to get Charlotte's autograph at the end of the Masterclass, there is no shortage of Charlotte Dujardin fans here in Queensland.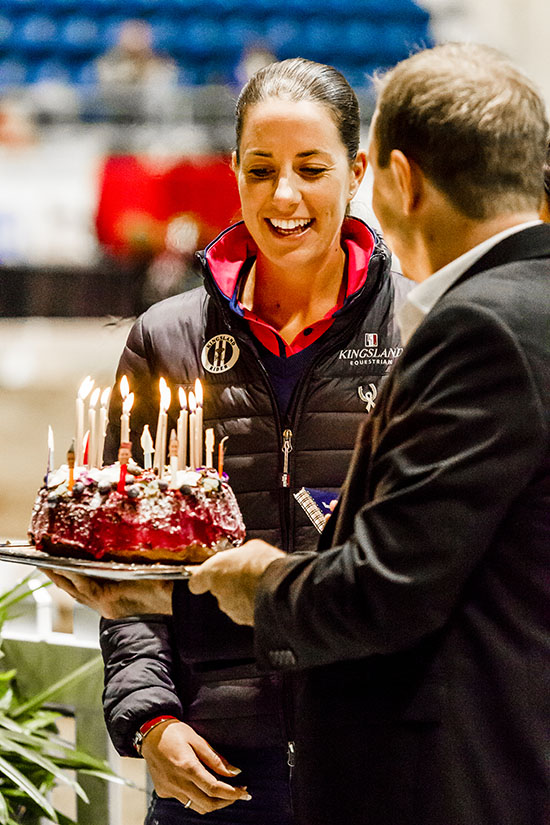 Charlotte and her blueberry birthday cake
Back to the Brisbane CDI competition next
Meanwhile it's back to the competition. Two weeks of sunshine state dressage immersion commenced with the Australian Youth National Championships, which attracted many young riders from southern states. The CDI followed bringing riders from NSW and Victoria. The incorporation of para, young horse, prelim and novice classes ensured that local riders also got a taste of a high level dressage event – watching and learning from some of Australia's leading riders.
Day 1 started with Intermediate II CDN, Medium and Advanced classes. The latter classes were dominated by local rider Emma Flavelle-Watts on the Arnage Warmblood Stud imported stallion Fiderfurst by Fidertanz. Emma is not long back in the saddle after the birth of her daughter but the time out has not hindered her talent at all. If fellow competitors care to learn how a test should be ridden, they could do no better that to watch Emma produce a winning test. Justine Greer from Victoria is another accurate rider and her attention to detail was rewarded with places in the Advanced and PSG classes with both her Jaybee horses. After watching many of the classes one is tempted to suggest that awarding marks for correctly ridden corners would do more to improve dressage performance than scoring movements ever would. It is often a case of "guess the line" and "pick your marker, any marker" with each rider creating a slightly different pattern on the raked sand.
There is so much quality and potential in the horse flesh on display that it seems almost shameful for the riders of these talented horses to throw marks away with sloppy arena craft. The successful riders were not those on the most expensive or talented horses, but those that ensured that not a single mark was forfeited. Nowhere was this clearer than during the Team Van Den Berge Grand Prix CDI on Day 2 with Sue Hearn putting on a display of accurate and effective riding. Remmington (by Riverdance) was full of expression and rightly deserved the over 70% score. Shannan Goodwin is another rider who has learned to maximize every point awarded to the Aachimedes gelding Aristede, not only with precision riding but by making sure that every transition was the best she could make it. Aristede is also awarded above the magic 69% mark – the minimum score required at 2 CDI's in order for combinations to be eligible for consideration for the 2018 World Games.
In the Prix St Georges, only Justine Greer on Jaybee Angelina (by Alabaster) succeeded in scoring above 70% and Justine was the only rider above 69% on her other Jaybee horse Cavalier by Carbine.

The Pryde's Easifeed Grand Prix freestyle CDI was the highlight of Day 3. The venue became a buzz during the preceding Grand Prix freestyle CDN when spectators and riders realized that Charlotte Dujardin had arrived and was now watching proceedings. Unfortunately jet lag meant that Charlotte could not stay for the whole CDI class but it certainly made many riders night to know they were in the company of dressage royalty. Charlotte showed her approachability and warmth by not hesitating to leap up from her table to join the Park Ridge Adult Riding Group on the main arena as an honorary member in order for that club to reach the required minimum number of 10 members in attendance in order to be eligible for the saddle raffle. The saddle went to another club but I have a feeling the Park Ridge team were too awestruck to notice! The visit corresponded with Charlotte's birthday and Leesa Murray had the foresight to have a birthday book signing during the day and presented Charlotte with this and a beautifully decorated "Blueberry" cake to celebrate her birthday.
Once again Sue Hearn and Remmington showed their experience by finishing with a clean sweep of the GP classes and winning the freestyle accompanied by Irish music in recognition of Remmington's sire Riverdance. This is a horse that really knows his job and tries very hard to please. He was completely unfazed by the atmosphere as you would expect of such an experienced campaigner.
Treat yourself to some quality time with Carl Hester – there's a whole little library of stories waiting here
---
There is a wide range of top European stallions available from International Horse Breeders – go to www.ihb.com.au