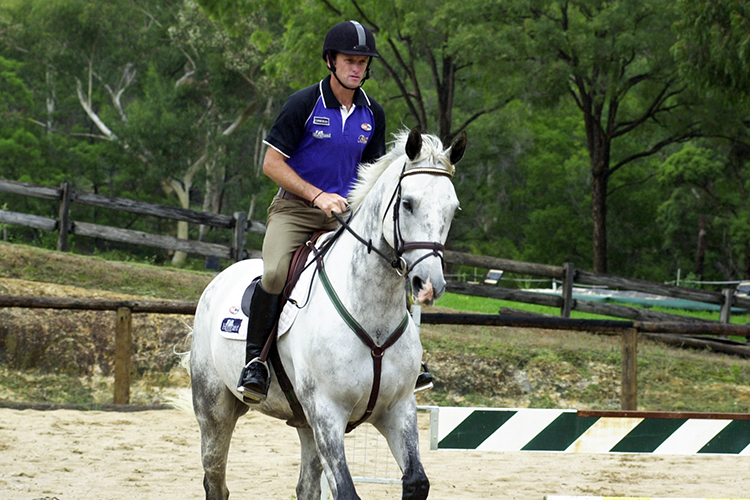 Join Stuart Tinney back in 2004 talking about training eventers, and his secrets to riding Cross Country, successfully. Stuart is still competing at the top, and was a member of our Rio Bronze Medal winning team.
Back to 2004
So where did you discover that 're-balance' was the magic word that unlocked the secrets of cross country?
"Trial and error. I'd ridden to two-star level before I moved from Queensland, where I was born, down to NSW and became involved with Wayne and Vicki Roycroft. A lot of the stuff I did was not too bad, but it was done subconsciously. The biggest thing about working with Wayne was making everything conscious. Where do you take off from? I didn't know. Obviously I took off from a reasonable spot, or my horses wouldn't have left the ground. After working with Wayne, everything became a lot more conscious."
"Then the next thing was to realise what makes a fence work. Why did that one work, and not this one? It's about thinking, about concentrating. Every jump I jump on cross-country, I analyse. That didn't feel too good – why not? Canter – was the canter good enough? Was the spot bad? Did I rebalance enough? Was I coming down a hill and I tried to re-balance but I failed. All that happens when I am riding, and it is just a matter of realising over time, what works and what doesn't."
Are you consciously doing that as you come to a fence – re-balance, re- balance, where's my take off point?
"No, that becomes a feel. Once you've practiced it enough. What I am trying to do is show riders a way to try and feel it themselves. It is a bit like driving a car, you don't say 'oh I'd better brake now', it becomes a feel but you have to drive a fair bit to get the feel happening."
"You keep refining it. for example, I took a few young horses out at Sydney, it's a bit undulating, and it is noticeable when you hit a few hills, on a downhill slope things are not as easy as they are on an uphill slope. It's all about balancing them, and you want to keep the balance when you run downhill. As they become more experienced themselves they won't just run down the hill, because at the bottom of that hill will be a double of arrowheads. They start to listen to you more, and they stay better balanced all the time. That happens through training as well, even the horses start to do it themselves."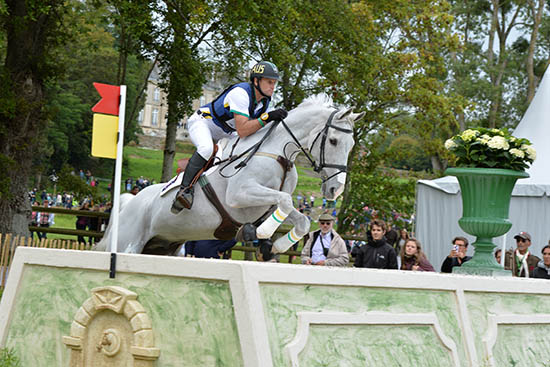 Stuart representing Australia at the WEG in 2014 in Normandy
So is the secret more boring flatwork?
"Definitely. If you can't do a half halt on the flat, you are going to struggle to do one cross country. It does change. You can do a lot of flatwork, but when you go out to jump them for the first time, you notice there is a huge difference between jumping and flatwork. Everything needs to happen quicker, they have to react straight away, whereas on the flat, you actually want your half halt to be a little smooth and nice – not abrupt. Then when you go to jump a fence you find you are way too close to the next one, and you go, 'quick, wait' and their reaction is that nice slow flatwork half halt… too late. It is related to your flatwork, but you have to speed everything up. Your reactions have to be much quicker. Again that is influenced by the horse – a good intelligent horse will react much quicker."

Can you get those reactions happening with poles in a jumping arena, or do you need to get out in the adrenalin powered environment of a real cross country competition run? Or doesn't the horse know the difference?
"You can certainly get them half way there with the stuff you do on the arena. From dressage to what you do on the jumping arena is quite a big step, quicker reactions. When you take them out on the cross-country, they get better the more they do. I've found with my young ones that when I first take them out cross-country, they spook on maybe logs on the ground. You can't do that on the arena – and that spook might happen right in front of the fence you are about to jump. You do need to get out and do that type of stuff, see new things and different types of jumps."
"My new grey horse, Dettori, finds logs the most offensive thing, he finds them quite scary. They've just got to get used to cantering past a log on the ground, they've got to get used to going up and down gullies. Once they've got out and done a little bit of that, then the events pretty well do the rest. A different sort of jump here, a different sort of jump there, water jumps … "
Once that starts to happen do you back off on the amount off jumping you do at home?
"I probably only jump them twice a week at home, and that would move down to once or twice as they get more experienced. When they are at Jeepster's level then I don't jump them very much, towards a three day event, Jeepster would jump once a week, but at the moment for instance, it's dressage every day."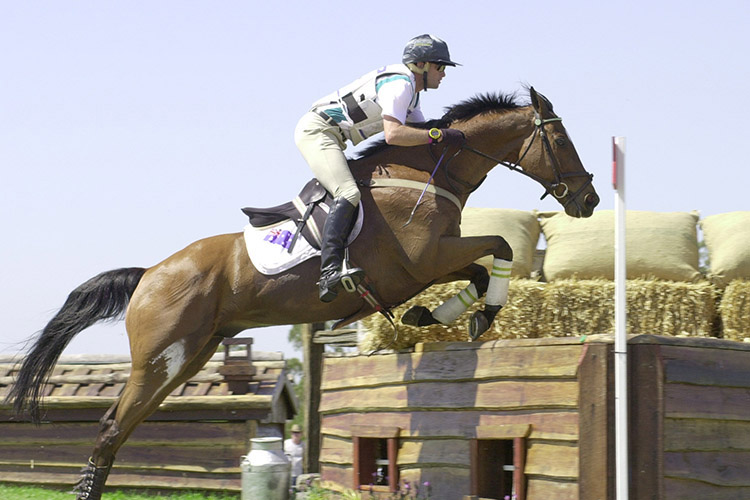 Stuart and Jeepster on their Gold Medal winning round at Sydney in 2000
Do they need the jumping to develop certain muscles?
"At the start of a fitness program, it is all dressage, just getting all their muscles working. When you do high enough level dressage they are using quite a few of their muscles. Then they start jumping, which will be really low; we'll jump twice a week because the jumps are tiny. I'll work up to jumping two or three times a week at a reasonable level, then I'll go to an event. It's gradual with the jumping. Then if I find anything faulty, I'll work on that."
"When you walk up to some of those Olympic Games fences they look so enormous that you don't think it is physically possible for horses to jump them. But that is you looking down into the ditch – on a good horse, when you canter in, they don't take their eye off the top of the fence, yes they see the ditch, but they don't look in to see how deep it is, neither do I when I am on course. That's how I try to train them. It's the same with showjumpers, they put amazing distractions all over the showjumping courses, to make the horse's eye go away from the top rail, but the good horses don't fall into the trap. Think of a showjumping course like Seoul; first just watch the horses jump and they are all focussed on the fences, then after a while you start to look around and see what the wings are made of, and that is amazing, beautiful and stunning, but they don't look at them. It is the same at the Games with some of those beautiful cross-country jumps, honestly I see them on the video now but I didn't see them when I walked the course because I was too busy focussing on where the horse should focus. That is what you are trying to teach the horse."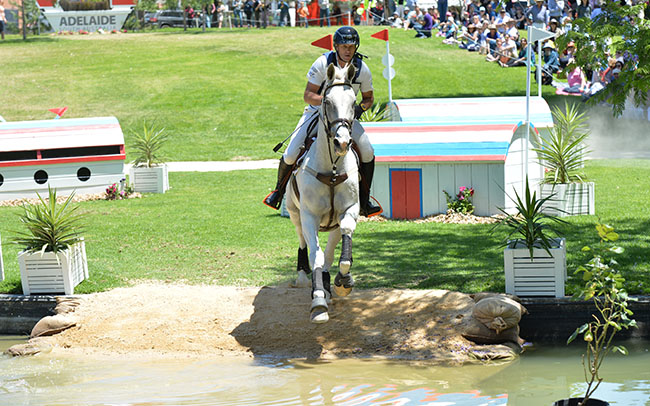 Stuart and Pluto Mio competing at Adelaide 4*
"These fences can look quite complicated at times, but it is not that difficult, if you look at it as a fence and a distance and a fence, that's all anything ever is, and then it is quite simple. Sometimes when you are walking a course and you come round the corner and from 30 metres away you think what's THAT! It will be a house, literally a house; you have to jump up to the top of it and off it."
"Think about it, if I cantered my horse up the drive to my house would he try to jump on the roof – yet they just look at it as a fence, jump it and go on. That's what it is all about because they do make them quite spectacular looking sometimes. It is amazing how you can spend half an hour at a fence, examining the angles, the flags are here, the flags are there, we try to work out how to do it and we eventually do – then we come down to the fence with the horse – sure we get them there in a nice distance and a nice pace – but the horse has it sorted out straight away and just jumps through it."
Has the nature of the game changed with the greater emphasis on showjumping – once upon a time there were those legendary cross country horses that bashed fences all over the cross country track?
"I don't ride horses that hit cross-country fences, that would make me too nervous. I think if they are hitting cross-country fences they are certainly not going to be very good showjumpers. I think now that we are aiming to get better jumpers, they are going to be more watchful, more careful, and then it is a matter of keeping them confident."
"In cross country, to some degree there are fences that they have to hit, drag their hind legs over – they certainly don't have to hit them in front. It's very hard to jump some of the combinations down into the water, without tapping your back fetlock on something, and if horses are genuinely quite careful, they find that a little bit offensive. It does come down to riding them well, and keeping them confident so that when they do see something big and difficult, they want to have a good look at it. I've always tried to ride them as well as I can, if they are seriously uncareful, they are not going to be in the sport for long."
Are you doing more showjumping now than you did in the past?
"It depends on the horses. The horses I've got now are green so they'll do quite a bit of showjumping. It is difficult to fit it all in. I do take them out to jump club, or take them to friend's places and jump them there – to simulate going out to compete. I'm happy going to showjumping shows."
Do you get help with your showjumping?
"All the time. At the squad schools I've had help from Alexa Bell, I get help from George Sanna, and Vicki Roycroft's influence is always there."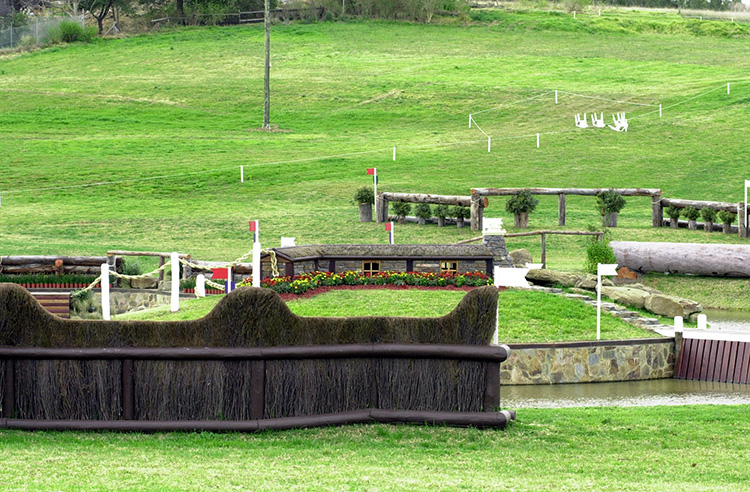 Tell me about the grey horse, Vettori. You're not worried about him being by the Warmblood stallion, Voltaire II?
"Not at the moment I'm not, he's a nice mover – he is also out of the Field's Grand Prix dressage mare, Silver Fern – and he is a lovely horse to ride. He is a nice jumper, and he has just had his first two starts, and he won them both. It all comes down to talent. We went there, looked at the horse – how does it move, how does it jump? How does it gallop? He gallops fine, the speed is fine. Has he got the stamina? He has to gallop for ten eleven minutes … he did six at the weekend."
You think that with the new CIC format will place more emphasis on rideability?
"Look at something like the Sydney Games cross country track, then take two or three minutes off that, but with the same amount of jumping efforts – that's the new format- and that just means that you lose all that galloping after the second water. All the jumps are still there, you come round the corner and there is the next one and the next one – there's no galloping in between, that is the only way to shorten the course. The courses will just become more busy, straight away the horse has to be on the ball, focussed, they can't have little rests between them. You could catch up at Sydney, if you were on a fit horse you could just gallop that last stretch. The horses you take more time on are generally horses that you have to set up more, get them more organized, they might be the ones with a big bit on – so if you've got a snaffle mouthed, easy to balance rideable horse, just gallop down to a fence, set up in two strides, jump the fence and go to the next one. That is the horse that is going to be quicker, that is going to be the horse for the new format."
Are you worried that the new format will mean that eventing will become more like showjumping and dressage, you are going to need the super freaky horse to win – and that means the good horses will get very expensive and it will be hard to keep them in Australia?
"Probably there is going to be less of a spread of horses competing. Look now, the horses go all the way from Megan's big horse (Hallmark) to … Megan's little horse (Jester). You can see lots of different horses in eventing now, with lots of different qualities, or weaknesses. With the new format I think it is going to narrow it down. They are going to have to be fancy horses on the flat, talented showjumpers, and nice rideable horses cross country, I think that takes that variety of horses away, they will still be out there competing, but the big ones won't be able to gallop fast enough or be manoeuvrable so they'll lose a few marks on the cross country, horses that are good jumpers but don't move, are going to be left behind in the dressage."
"Then you would think that a specific horse that looks very very good for the job is going to be expensive, and some of those overseas riders have huge budgets. When you look back at the successfu I horses over the years, some of them have had a weak phase – there haven't been a lot of horses in the world that are fancy at all three. It is a tough sport and for a horse to be good at all three phases is very rare – and they are going to be worth a lot of money when you find one."
EXERCISE 1: THE BARRELS
"The way the cross country is going is that it is getting more and more technical. It still surprises me, you walk a course and see something difficult or technical, narrow… and you'll think, wow that is really difficult. You seem to get surprised by it every time. An arrowhead used to be four feet wide, now they can be much less – what does that mean, they are going to end up being four inches wide? So you need to teach our horses to be focussed and straight. When they see a narrow fence they should aim at it and take you over it, that's very important."
"Once they are jumping confidently over normal fences, then start introducing narrower ones making sure they stay straight."
"With green horses start with two barrels side by side. I'll put two wings on either side. With some horses unless there are wings on either side of the jump, it is great drama for them. If there are two wings, they go between those, no problem. Take the wings away and some of them just go 'I have no idea of what you are asking: They just get so drilled into what they are doing, so if they can't cope with the two-barrel thing, then I'll put wings on either side and then it looks like a jump. Then I'll move the wings further away, so they are still there but there is a big gap between the drums and the wings. Once they have got that down pat, then replace the wings with rails, then down to a single drum lying down."
"It is a step from a lying down barrel to standing up barrel. I start with a big rail on top of the barrel so once again it is like a jump without wings. Then reduce the rail until you are just jumping the drum. When it turns from a narrow rail to a drum, it becomes difficult. You can't steer them over a drum. If they are crooked or want to drift a bit, the drum is too narrow; they actually have to be aiming for the drum. It is just a process to teach them when the fence is there, they jump it. It is like a normal width fence – you don't have to steer them between the wings, you come round the corner, and they take you to the centre of the fence, that's what you teach them. You try to do the same thing with this exercise – you turn around the corner and they take you down to the drum."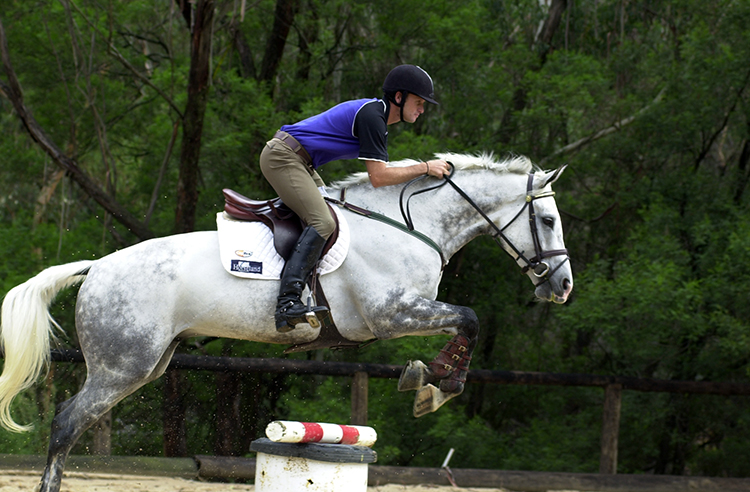 "If they are confident about jumping three foot three, which is the barrel height, then on average after two or three sessions they should be jumping something reasonably skinny. You'll get the odd one that will always try to cheat- it will l jump the barrel twice, and then it will run out."
more arena exercises below
---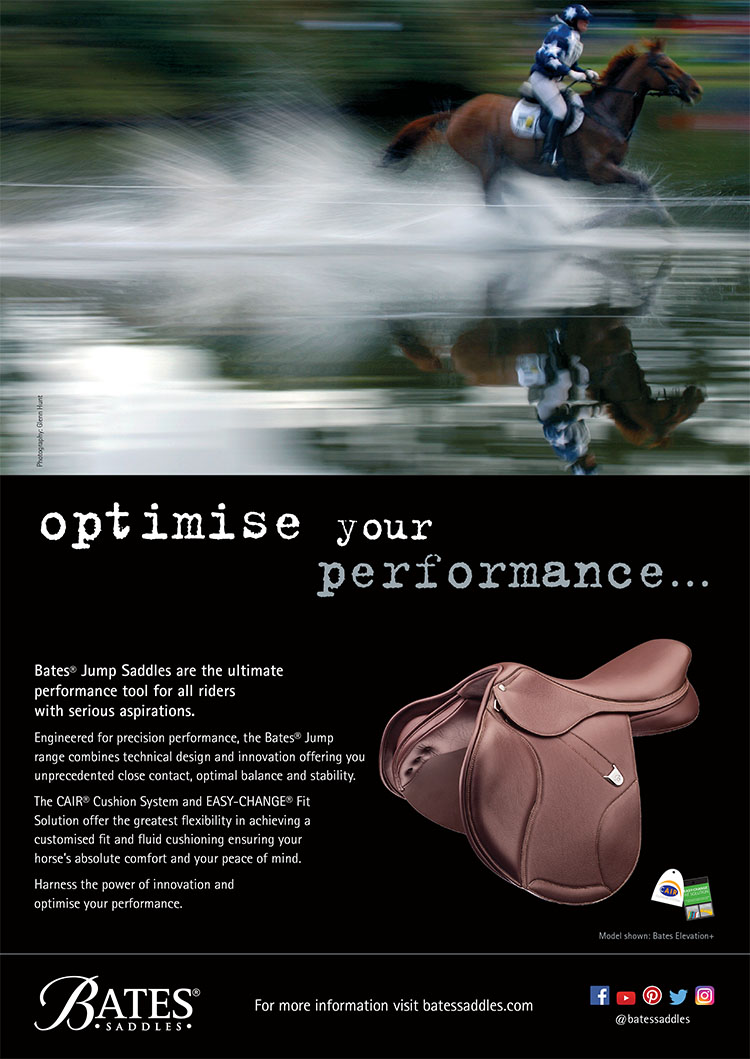 EXERCISE 2: THE SUNKEN ROAD
This is another one you need to work on at home because we don't get many … I guess we aren't supposed to call them 'coffins' any more, rail- ditch- rails. It is a fence you will find on course, where you jump a fence with something behind it, through a road, over a ditch, any of those sorts of things, but you don't see a lot of them on our courses. I've had a horse that has been eventing for 12 months and he hasn't seen one.
Whereas in England, if you go Pre Novice, you 'll get a sunken road, a rail -ditch – rail two water jumps- not at a big height, but you will always get them on a Pre Novice track. That's why you need to do it at home. You don't want to get to your first serious event and find there is some sunken road type thing, and the horse has never seen one before. We like to start them early here; we try to jump a fence with something behind it, so they work out how to focus. Some of the green ones, because you've got something behind the fence, they can't work out how to jump the fence properly, they muck up the fence because they are just looking at the ditch behind it, or they jump the first fence then have a heart attack because there is a ditch behind it that wasn't there a minute ago.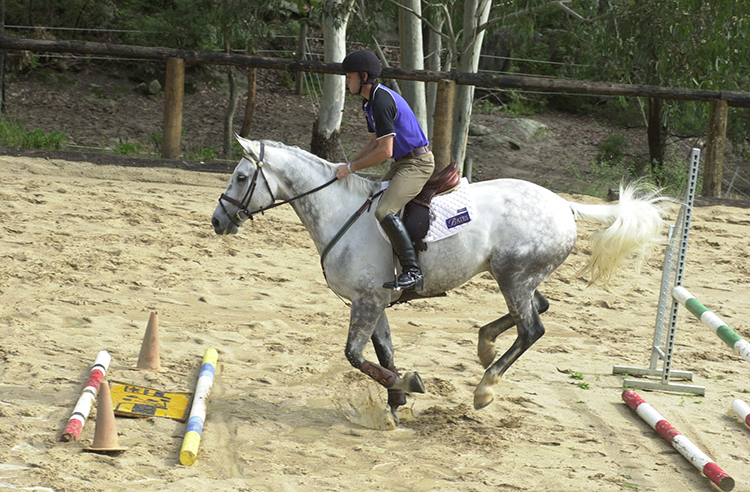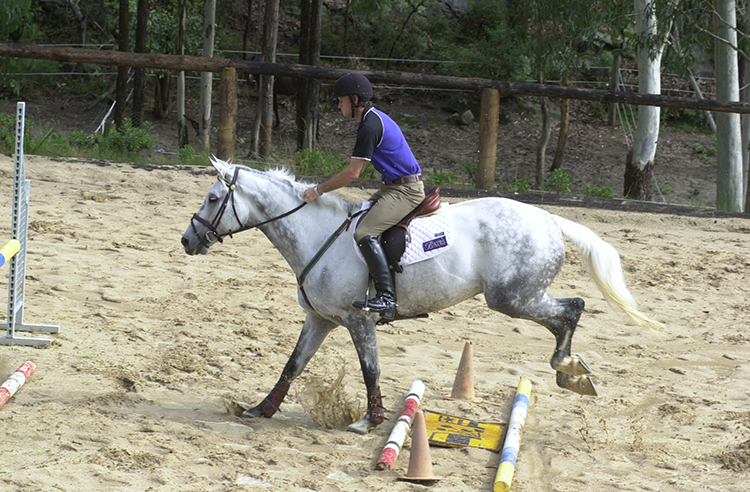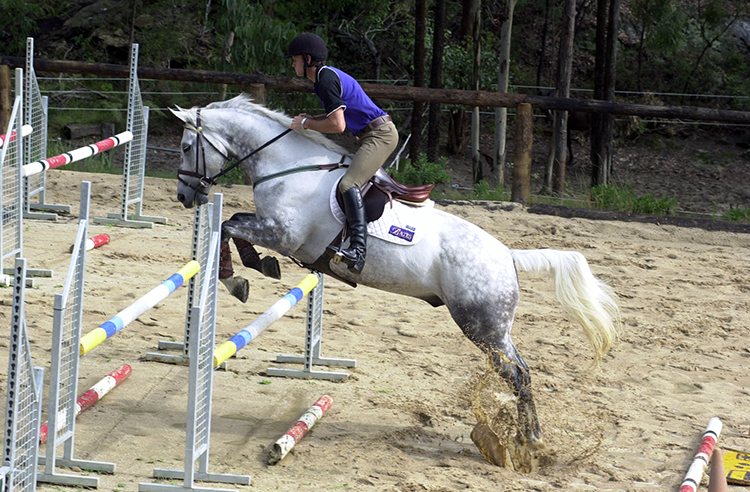 The more you do that sort of thing, the less they react when you take them out on a cross-country course. They jump a fence, and there is a ditch, it appears as they take off or while they are over the fence and you don't want them to have a heart attack and throw their legs down and stifle themselves. You just want them to use their brains and concentrate.
When you first teach them this exercise, the distance has to be reasonably correct, later you can start playing around making it a bit shorter and longer. Quite often the distances on cross country are normal, but the fences might happen on a seriously downhill slope which will make the distance long, or short, so that makes it different. I don't ever tax the horses too much with difficult distances. A little bit long or a little bit short. You've always got to keep them confident.
---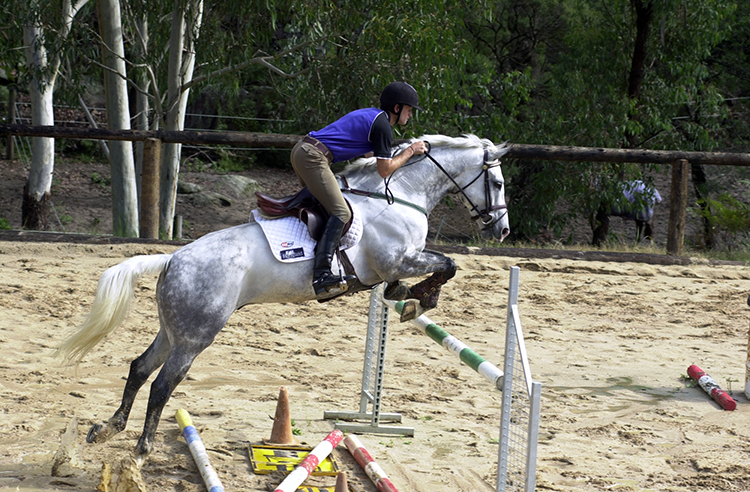 EXERCISE 3: DITCHES
You can try to replicate a ditch on the arena but there is nothing more impressive than a seriously big ditch. You can build a fake ditch with a tarpaulin, colourful rugs, put a rug over a fence so it looks a bit like a palisade, just something that is going to draw their eye down a little, then they learn not to bother drawing their eye down, they keep their eye on the top of the fence. That's what you want.
This article first appeared in the May 2004 issue of THM.