Christopher Hector reports from Aachen, Roslyn Neave took the photos….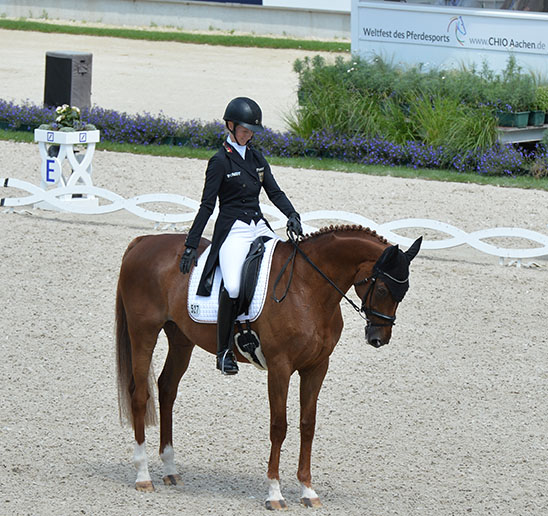 Sandra Auffahrth and Opguns Louvo, start out with a square halt and go on from there
Judge bashing is a cheap way to get a story, but every now and then, a judge is so way out of line, that you just have to comment. From where I sat, the best test of the day in the CIC*** at Aachen, came from Ingrid Klimke and Horseware Hale Bob – although she was hotly pressed by some top horse / rider combinations: Sandra Auffarth, Michael Jung and our own two Aussie stars, Shane Rose and Emma McNab.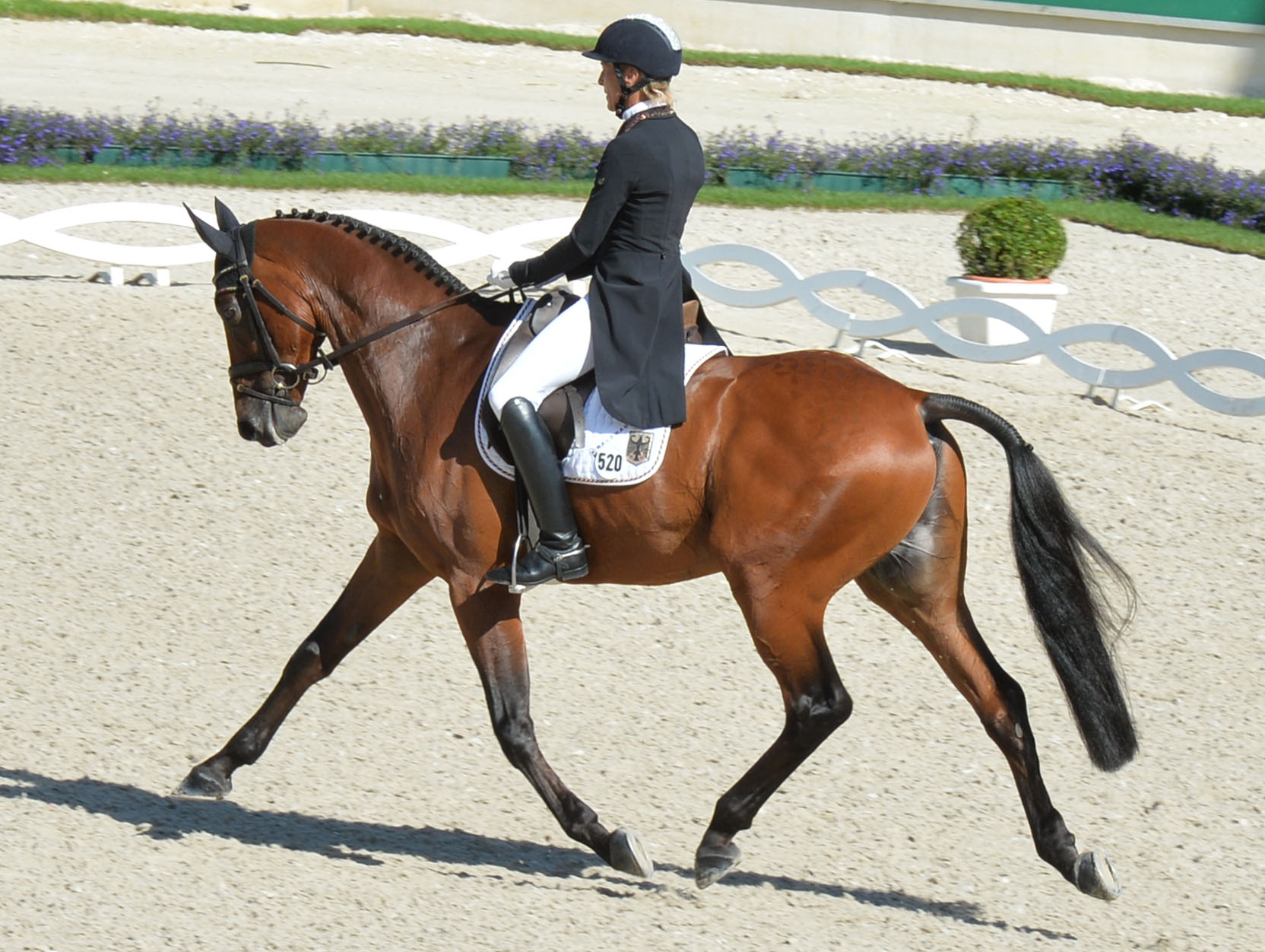 Ingrid Klimke and Hale Bob finished in second
Yet while Dr Ernst Topp – the German at C, and Professor Slawomir Pietrzak, from Poland, had Bobbi 1 and 2, Britain's Sue Baxter, had him 9th! It was much the same with Magical Michi, Ms Baxter who has a history of low scoring Michael Jung, had La Biosthetique-Sam FBW on 11, while he was first with the Pole, third with the German.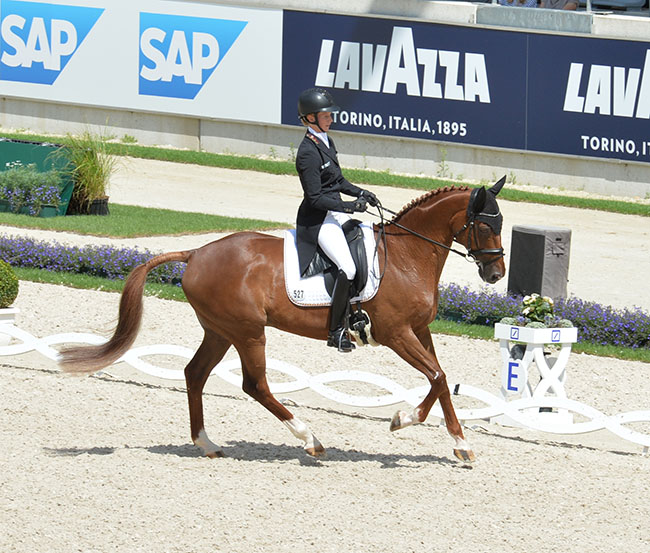 Sandra and Louvo first
In the end, Sandra Auffarth was first on a score of 31.8, 2nd with Topp, 3rd with Pietrzak and 1st with Baxter. And yes it was a nice clean athletic test, it just lacked – to my mind – the polish that Hale Bob brought to the act. Second – Hale Bob on 34.5, and third, Sam on 34.7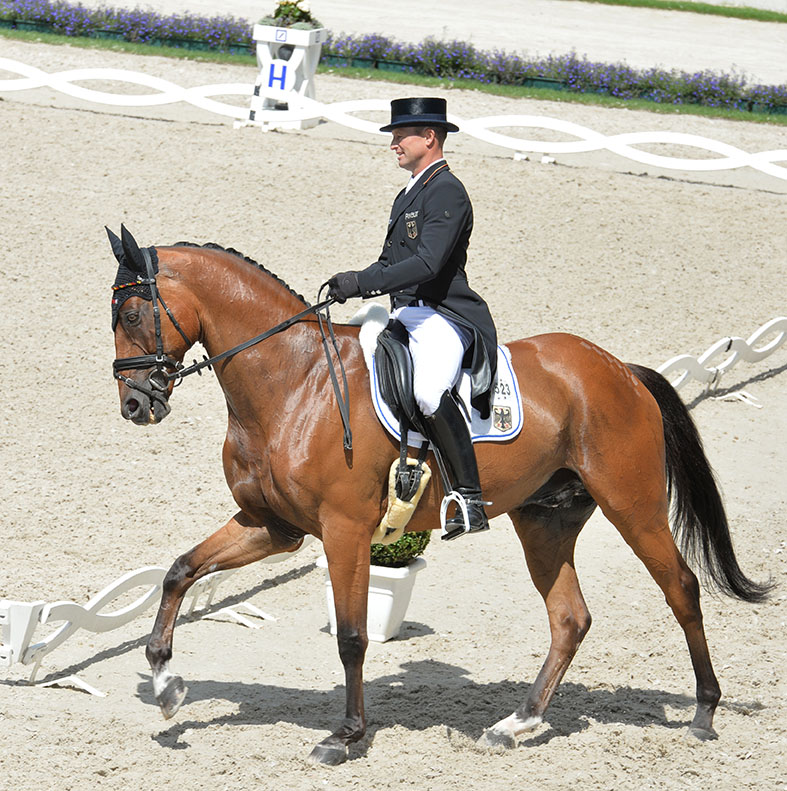 Michael Jung and Sam, third for the German team
As has become something of an instant tradition in the CIC at Aachen, it is a battle between the Aussies and the Germans. Shane Rose was sitting in fourth place on CP Qualified on 36.7 for a test that showed power, cadence and self carriage. He too suffered the vagaries of judging. Second with Ms Baxter (we like her now) and 15th with the German. Ms Baxter also appreciated the timeless seamless quality of Mark Todd and Leonidas II, he was 4th with her, and 8th with Topp, = 37.1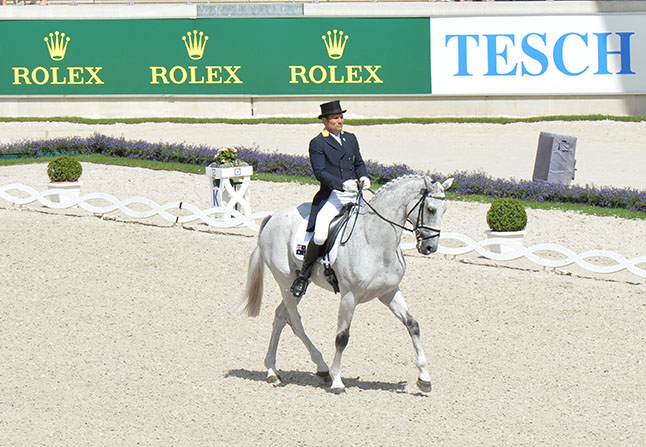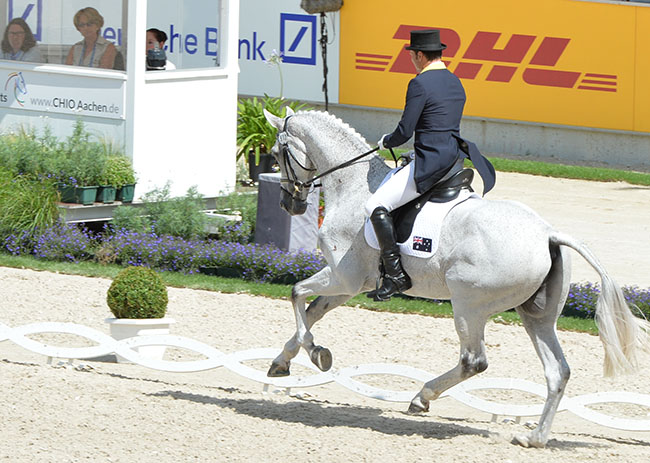 Shane Rose and Qualified, power, strength and cadence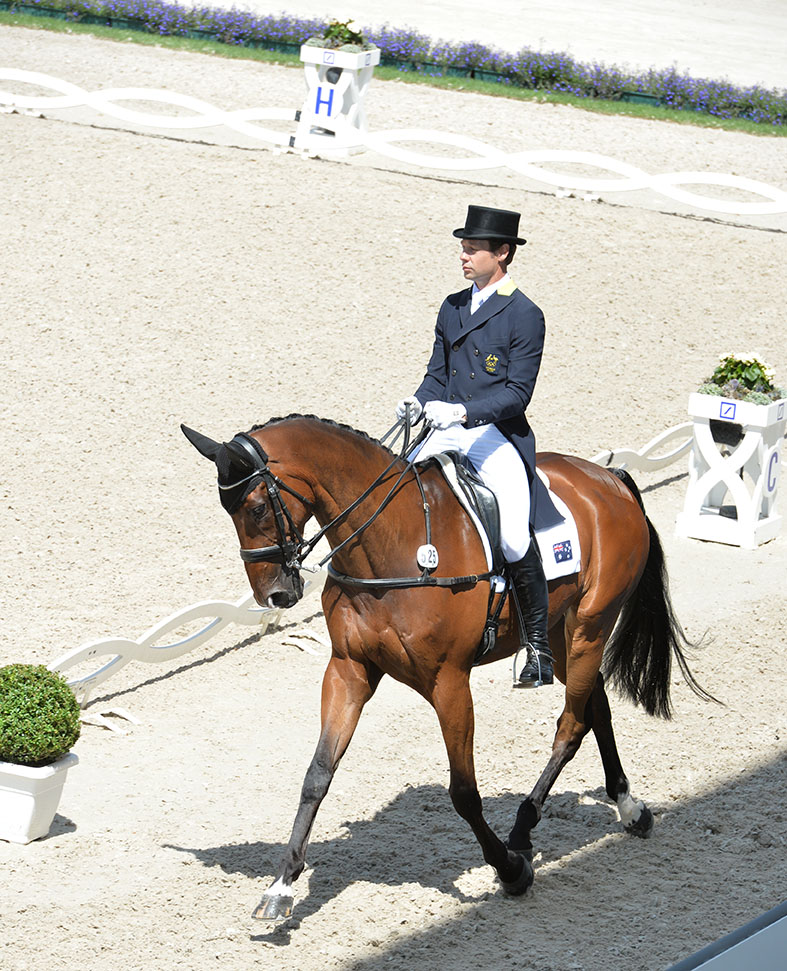 Christopher Burton in 11th, scored 4th, 19th and 9th, enough said.
One of the most delightful tests of the day came from our own, Emma McNab, riding Fernhill Tabasco. It was a fabulous test, rhythmic, harmonious and well deserved the 37.4 but again, the spread was from 3rd (Baxter) to 14th (Topp).
Emma's horse is an interesting mix. Bred in Ireland, he is by Tabasco van Erpekpom, the Belgian bred son of the great Darco, out of a coloured mare by Samber. Tabasco is out of an Irish mare, by the Thoroughbred, Porter Rhodes, out of a mare by another Thoroughbred, Political Merger. On paper he's 55.27% 'blood' but in type he had thrown to the Thoroughbred.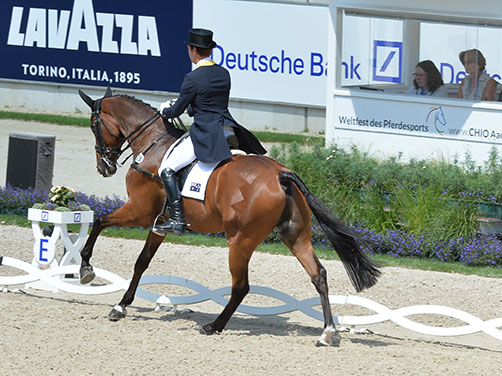 Christopher Burton and Nobilis, winners at Burghley
I guess Christopher Burton was expected to lead our dressage charge on his Burghley winner, Nobilis, but little hiccups, a step of canter going into trot half pass, losing balance in the counter canter, dragged the mark down. But was it 4th (Topp), 19th (Pietrzak) or 9th (Baxter)? The result sheet says 11th on 40.6.
Our first to go, Katja Weimann and BP Cosmopolitan, had their problems and finished up as our discard score, on 58.5.
The Germans are leading the teams on 101, with Australia on 114.7 second and the Kiwis (Todd, Paget, Price and Tait) third on 126.8, closely followed by the Poms (Funnell, French, Townend, McEwen) on 128.3.
Rider Profile: Emma McNab
Some years ago, the THM cover featured our Australian team of the future: Julia Hargreaves who carried the flag at the London Games, Briana Burgess who will be flying the flag next week at the World Young horse championships – and Emma McNab (she was Dougall then) who has had such a great start to this Nations' Cup at Aachen.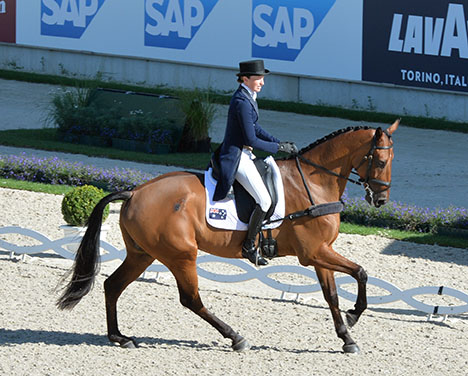 How did you find your glorious horse?
"When we first moved over from Australia, we met Carol Gee from the Fernhill yard, and Kevin (McNab) bought him as a four year old. He was quite quirky, he'd had nearly everyone who had ever ridden him, off. Kevin liked everything about him, he was a nice type, everything was there, so he thought we'll grab that one and see how he goes."
"I started riding him – I think the plan was for me to ride him as a young horse and then for Kevin to have him, but it has worked out that I have kept him."
That was a bit stressy?
"It is now," Emma giggles, "I'm sure Kevin would like to ride him now."
Who rode the quirk out of him?
"Kevin rode him for the first couple of months and when he was quieter, I started with him and I've done all the competing with him."
What are his strengths?
"Lovely mover, he's beautiful to ride on the flat. He's only nine, so he's got a great brain. He's very clever, he's got a really good front end. Cross country he's really smart and he's really scopey. The only thing that needs a bit of improving is the galloping – he's a good galloper, but not a great galloper, but he's actually pretty good in all three phases."
What are you guys doing now – what are the plans?
"We're based in Surrey, we've been there for the last three years and hopefully that will be our permanent base. We haven't really got a deadline as to how long we want to be based over there, it's working out really well, we'll see how it goes but we want to do most of our competing, and reach our goals over here. It's amazing being over here, you compete against the best people all the time and there's so many of them. There's hundreds of them, whereas in Australia, the good guys are great but there is just not the depth. Living here forces you to be a better competitor… but it's harder to win, that's for sure!"