Shane Rose has had a horrible year – his dad died, his horse was killed at Badminton, he had a couple of very ordinary shows, when I caught up with him before the cross country at Aachen, I asked… is there a point at which you stop bouncing?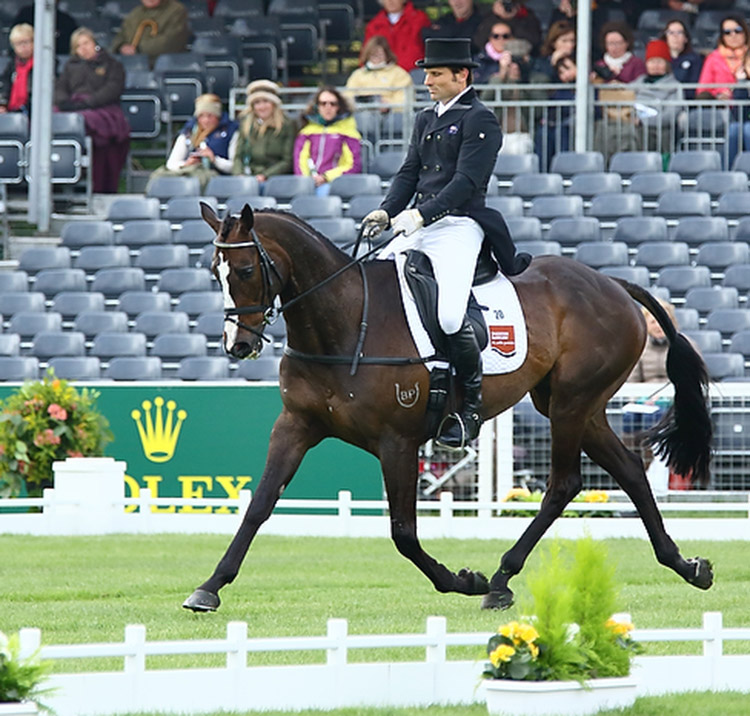 Shane and Shanghai Joe, the horse he bred and competed at Badminton who died as the result of a freak accident at the 2017 competition
"Look I'm sure there will be. I guess the year didn't start off quite the way I thought it was going to be, not just Badminton, but with my father passing, that was really sad. The good thing was that I had a really good week with him before we came away, and he, in his typical fashion told me to go on and do the things I do – and it was really easy for me – I wouldn't say put behind me, or move on – but give me a forward focus. My immediate family, my wife and kids are all great and supportive and you start to think about other things in life, and things that make you happy, and you go back to the horses that you have got."
"It's a good thing Virgil was going great and gave me a new focus. His last event before Luhmühlen was Chatsworth, and I think he probably did the best test he's done, showjumped really well, unlucky to tap a back rail and then cross country he knocked up really severely after four minutes and I was slashing my wrists again. Fortunately we found that he'd had a pollen infection in his lungs, with the grasses over here, the pollen gets in their lung and acts like an asthma."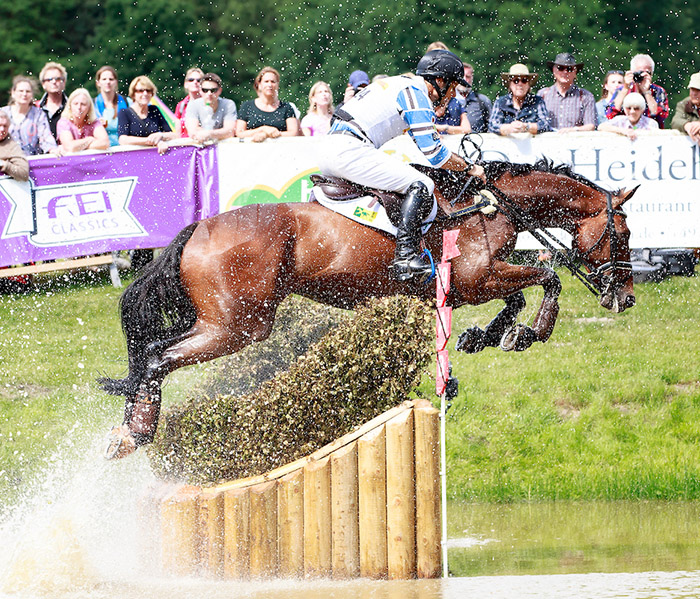 Shane and Virgil at Luhmühlen (Libby Law Photo)
"We treated that and we were set for Luhmühlen. The dressage didn't quite make it, and he got a little flat in the canter and moved from a 40 to a 48. I hadn't finished a cross country the way I wanted for a while and as confident as you might be in your own ability, you start to doubt yourself, and remembering that last time out he'd only got four minutes into the course… But it was super, for him to gallop so effortlessly and jump so beautifully at Luhmühlen really was a confidence booster."
"Then it was off to Barbary with Darcy (CP Qualified), his last two competitions didn't go very well for him. He had a really tough run at the Olympic Games, he was so close to winning a gold medal with the team. With hindsight there are things we could have changed. We had a plan and we stuck with the plan, but it didn't quite come off. I felt as though I'd had a go. I was actually more proud of that performance than the one in Beijing. This one was my own performance…"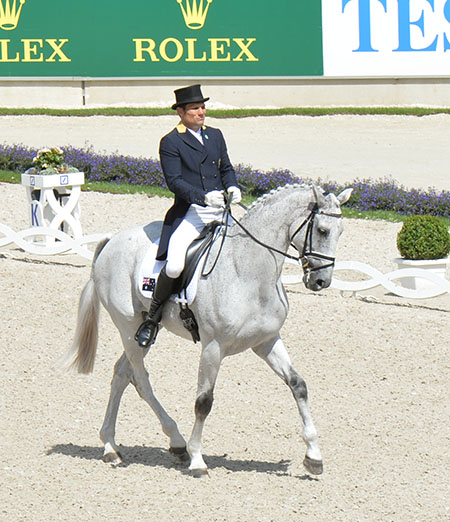 "Moving on, we decided to do a couple of things at the end of the Games which didn't go well. I had a fall from the horse at Blenheim and he'd just fallen into a bit of a hole. So we gave him a long rest. At Barbary, he had a hairy moment, he was trending 35 in the trot, he was working really well, but a little anticipation before the pirouette and he had one of his stallion moments and waved to the crowd a few times, then carried on and did some lovely canter work to claw back into the low 40's."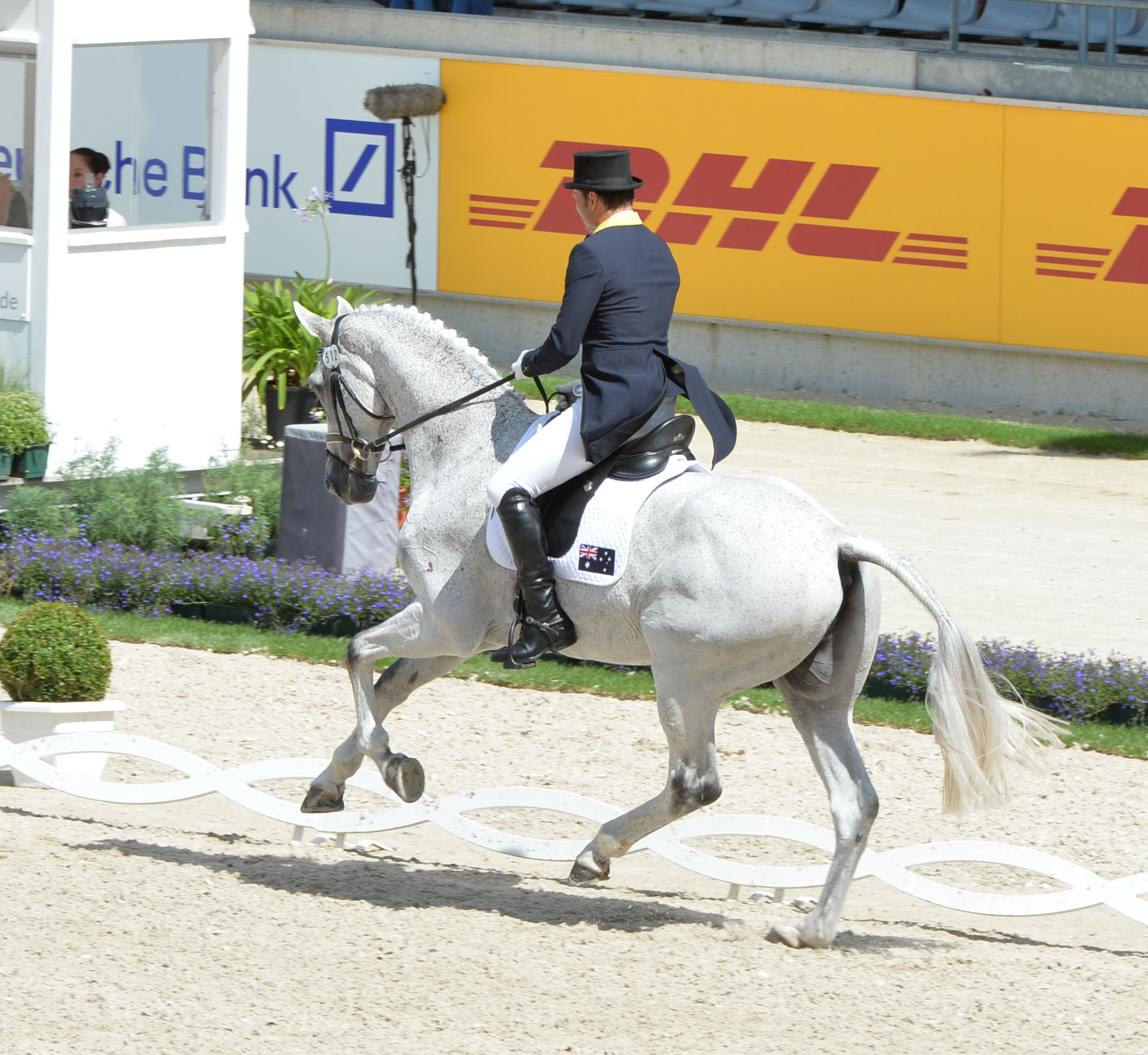 At Aachen, Shane and Qualified finished the dressage in fourth place on a score of 36.7 to be behind the star German trio, Auffarth, Jung and Klimke.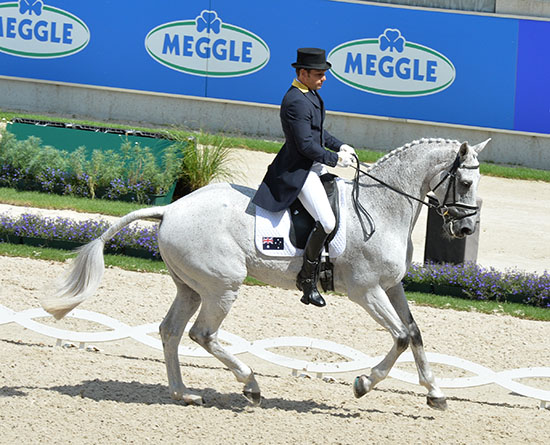 "So coming here to Aachen, I knew he was capable of a good test. A little apprehensive in the walk when I was coming back for the second pirouette – because the horse really know this test – but he worked as well as he has worked, and I was really happy with his test."
But there was more drama for Shane at the showjumping warm up…
"Warming up for the showjumping was a little interesting, canter around to a little vertical, metre ten, jumped it really nicely and stumbled and tripped, and twenty metres later both of us were sprawled on the ground and we were surrounded by vets and doctors. In a very Aachen fashion. the stewards came up all relaxed, just take your time and we'll re-slot you. The vets will look at your horse, the doctor will look at you, when you are ready, you go in. And he jumped super."
The cross county course?
"Rüdiger has built a really tough, nice track. I'm really looking forward to having a go. Time is going to be tight, I didn't think you could angle fences that much and horses still be able to jump them – hopefully we can!"
As it turned out, Shane had a super cross country to finish the event in 3rd place, just behind Michael Jung and Ingrid Klimke… and proceeded to take over the press conference held after the event and pointed out that this year's Australian team was an interesting mixture: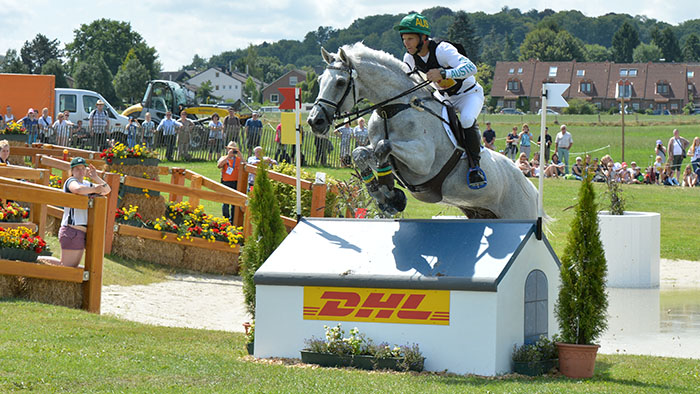 "Chris (Burton) and I are reasonably experienced, then we had a couple of girls who hadn't been to Aachen before – Emma McNab and Katja Weimann – and we are really happy with how they have coped with the experience, and it is great to finish second behind this German team. We beat them last year and I think they got a bit angry."
"I'm really happy with my horse, CP Qualified, he's had a pretty short lead in. He didn't have a great result at the Olympic Games, and I gave him a good break over winter and set him for Aachen. Of course I would have liked to finish one or two places higher, but his dressage was really really good. He's getting a bit older now, and I am starting to learn how to ride him. Cross country, he's a good old horse and he really wants to do it, there were a couple of lines where he was a bit rusty but he really tried to get between the flags for me. A couple seconds over, just one second in front of Sandra Auffarth to stay in third place, I'm happy."