Christopher Hector wrote the words
Roslyn Neave and Thomas Hartwig took the photos
It's been a tough year for the horse breeding fraternity in Westfalia. The director of the State Stud in Warendorf, Susanne Schmitt-Rimkus and two other officials of the state stud, have been suspended for 12 months while on corruption charges, but life goes on, mares are inseminated, foals born. Obviously I am not in a position to comment on the charges, but I will say that Susanne has been a friend and valued source of information ever since she was appointed.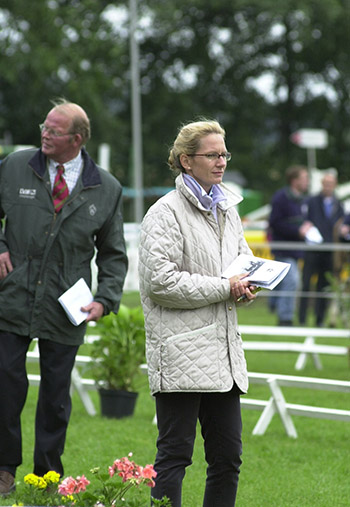 When she was appointed in 1996 Susanne was a rarity – a VOMAN in what was very much a man's world, when you could identify the stud director by looking for the largest person in the room. Susanne was seen as an inappropriate appointment by a feminist state minister for agriculture and there were plenty sitting back, ready to cheer when she fell. But she didn't, under her leadership, Westfalia went from strength to strength. Admittedly she was building on the impressive legacy of her predecessor, Dr Gerd Lehmann who oversaw the transformation of the Westfalien from all-round agricultural to cutting edge modern sporthorse in his thirty years at the helm.
Still Susanne was an innovator. She actually got on and rode the horses (the mind boggles at the thought of some of the more traditional directors in the saddle) and she made sure that the State Stud stallions got out and into the competition arena. The Westfalen Week that has just finished in the last week of July  at Münster Hahndorf provided plenty of evidence of how successful Susanne has been…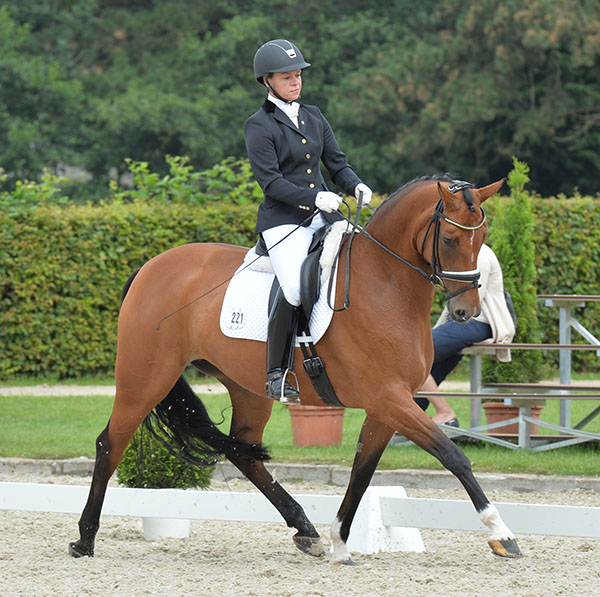 Brianna and Kira Wulferding
Nowhere more so than in the six-year-old Qualifier for the Dressage at the Bundeschampionate. The winner, the Westfalen bred, Brianna, was ridden by one of Germany's most stylish and tactful riders, Kira Wulferding. The mare is by Bvlgari, a nice mix of Westfalia, Hanover and Rheinland, by Belissimo, out of a mare by World Magic (Warkant out of a Cardinal mare, and briefly touted as Ulla Salzgeber's next big thing after Rusty) and then out of a mare by the stallion, Susanne Rimkus dubbed her 'milk cow' – Florestan. Brianna is out of a mare by the best son of Rubinstein, Rohdiamant. With 8.6 Brianna and Kira  are on their way to the Bundeschampionate, which is, in truth, just half an hour down the road.

It was great to see the judging panel coming down hard on flash-and-trash, there were a couple of (un)gentleman riders who bounced their horses between spur and (hard) hand, who found that the success they had enjoyed in the past was just a fading memory. Sadly, I feel one of the nicest horses in the class, the Johnson son, Jackpot HS was collateral damage in the war on 'spectacular'. Okay, the stallion was behind the eight ball, being ridden by a Portuguese (Antonio Do Vale) and by a Dutch sire – although his dam sire is the perfectly respectable Baden Wurttemberger, Dr Jackson (Dream of Glory / Rubinstein).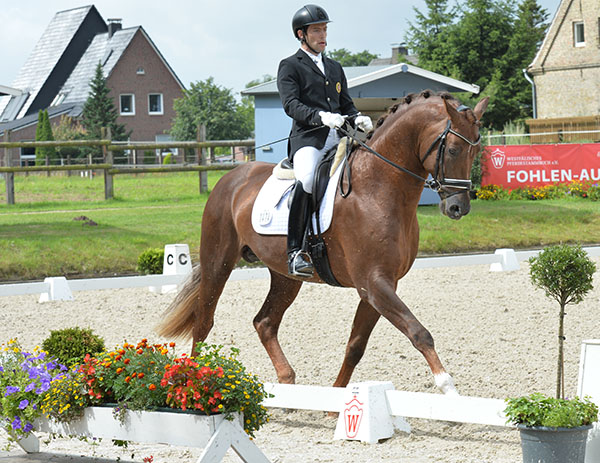 Jackpot, well not at this show….
The chestnut stallion had all his sire's presence, and while he was spectacular, I thought it was spectacular natural, not spectacular tricked up. The judges thought he wasn't really coming from behind with correct impulsion. Still it was sad to see a score of 7.8, .2 short of a ticket to the Bundeschampionate.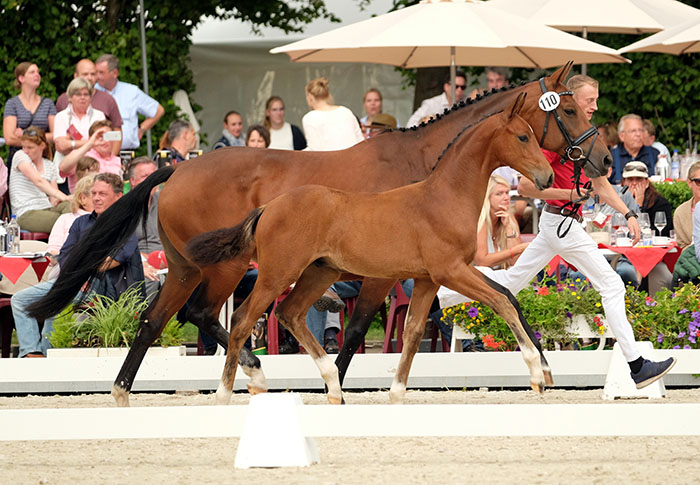 Top selling foal, by Sir Heinrich
The foal auction was another vindication of Susanne Schmitt-Rimkus' leadership. The highest selling foal at €100,000 (to a mystery Austrian buyer, rumour has it Sissi Max Theurer) was a colt by Sir Heinrich out of an Ehrenstolz mare, and Sir Heinrich was very much Susanne's project. When I interviewed her back in 2014, she was enthusiastic about her new star:
"The foals that have made our commission most enthusiastic, have been the foals of Sir Heinrich, a son of Sir Donnerhall from a Fürst Heinrich mother. Sir Heinrich is six years old now, and he has really really exciting foals, out of different mares. The gaits, walk, trot and canter, everything… conformation. The stallion himself is quite a small, tiny stallion, and when I bought him, the breeding commission at the licensing said, 'oh what do you want with this pony?' But they gave him the chance. He won the performance test, second from all over Germany, then he was vice champion at the Bundeschampionate at the age of five, and went on to the world championship. This year, he also qualified for the six-year-old championship at the Bundeschampionate, and he is the first reserve for the World Championship."
After this interview, Sir Heinrich went to the 2014 Bundeschampionate and was the Six Year Old Champion…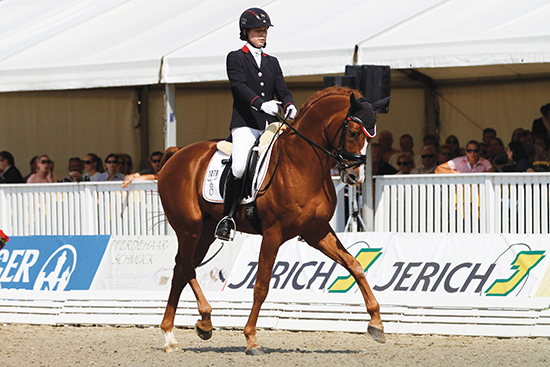 Sir Heinrich and Anja Wilimzig, winners of the 2014 Bundeschampionate.
Photo: Kenneth Braddick
"I found him at the stable of Heinrich Ramsbrock. The breeder is Paul Wendeln, I think many people know him – he is a well known breeder in Oldenburg. The mother family was the winner of the German championship of breeding mares, some years ago, and it is a really good mother line. Paul Wendeln did not prepare the stallion for the licensing because he was so tiny, and Heinrich Ramsbrock saw this colt and he fell in love with him. When we came to his place to select stallions for our stud, Sir Heinrich had been there just one day. After we'd seen a lot of stallions, he said, 'oh I have another one, I will show you' and Sir Heinrich came in and immediately we were taken with this horse. He was cantering, he was trotting, he stood there, and we said 'we want to buy this stallion. And at once!"
"Mr Ramsbrock was so happy that there was another person who would fall in love with this horse – he's a very emotional person, so we could buy him for a very good price."
And he's crossing well over a lot of different mares…
"This is really interesting. You know in former times, when we had breeders who might have been beginners, and they didn't know much about their mares, we could always say 'use Florestan', because Florestan is very safe and produced  really a high percentage of foals that were similar to Florestan. Now unfortunately Florestan is dead – okay he had a good long life – and Sir Heinrich may step into his hooves, because we again can tell the breeder, if you use this stallion for your mare, you have a very sure prediction that the foal will be in this or that conformation…"
And not small?
"No, not small. The first thing the breeders noticed when the foals were born, was, wow, they are not small!"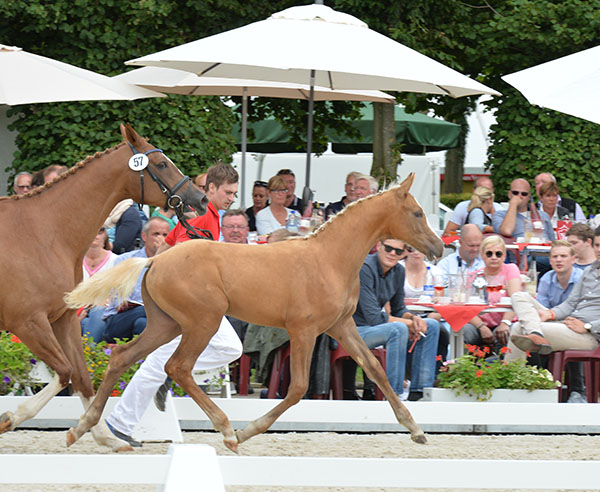 Colour wins the day…
Auctions are funny beasts with a logic of their own. It was comforting to see that even in Germany, there are people who will buy a horse with a second rate pedigree for lots of money, if it is a pretty colour. Thus the palomino colt, Quebec (Qaside MD / Fürst Piccolo) sold for €18,000 – way more than a score of better bred, better moving foals.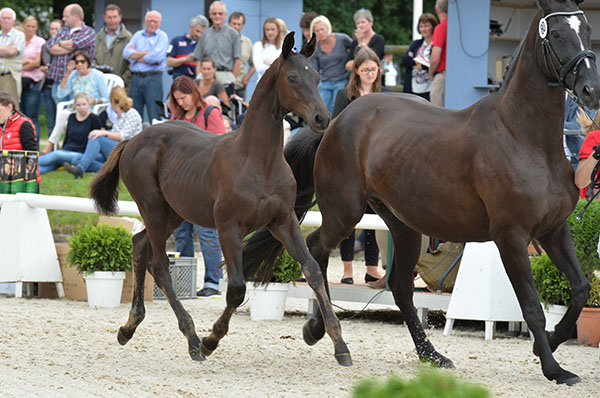 No need for ground control, I'll take this one…
Indeed the one I liked the very best, Major Tom, went for a mere €6,000. Now I didn't go out back to look at the foal up close, or get it walked out, or do all those things you do if you are serious about bidding, but I loved the colt on paper and was blown away when I saw him in the flesh. He is by Morricone who was the champion colt at the 2014 Oldenburg stallion licensing, selling at the auction for €755,000 to Gestüt Bonhomme after a bidding duel with Paul Schockemöhle. In June of this year, Morricone won the Bundeschampionate 5 year old qualifier – yes, at the stud where he lives – with a score of 8.2, with 8.5s for walk, canter and submission.
Morricone is by the Trakehner stallion, Millenium. In 2014 when Millenium sons won two licencings, Trakehner and Oldenburg, my pal the breeding expert (under guarantee of anomnimity) expressed the opinion:
"Millenium is not too calm, but by far not as awful as his sire, just a little cheeky, a young stallion, and he was by far the most beautiful of all the stallions at the licensing."
"From a breeding point of view I think you need an active mare that lacks a bit of that sought after flamboyant front (face, neck, shoulder, front leg). And of course for all Warmblood breeds, it is interesting to have a stallion that has no Sandro Hit or Florestan or Donnerhall blood."
I loved the fact that the Trakehner was balanced on Major Tom's pedigree with Rubin-Royal and De Niro on his sire's side, and De Niro, Rubinstein and Weltmeyer on the dam's side, and I promise you, if I lived in Germany, he would not have gone for €6000.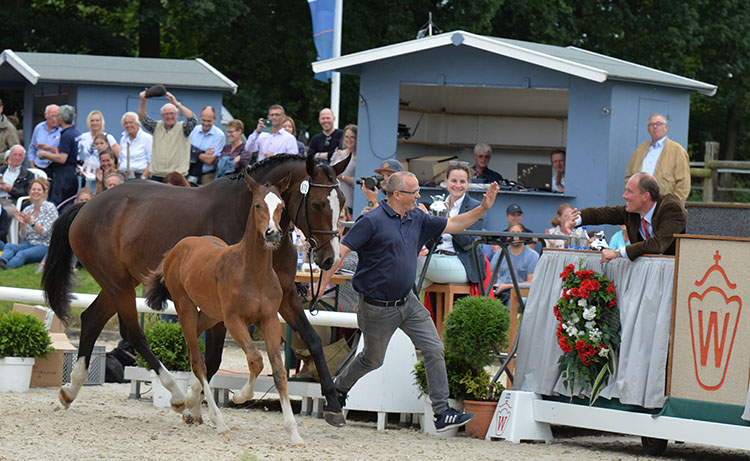 Sir Elton sells for 52k, high fives from breeder, Dirk Lohmann and
Westfalien CEO, Wilken Treu
The hero of the first half of the dressage foal auction was another Sir Heinrich, this time out of a Foundation / Lord Lancer / Circus mare, sold for €52,000.
There were glum faces as the breeders drowned their sorrows with a schnapps or three. It was a buyer's auction – if you'd had between 5 and 10,000 euros, you could have had your choice of a number of seriously nice foals. The trick is to have your spending limit before the auction starts, and a list of foals you want to buy. First time you bid, the breeders pals will scent Auslander dollars, and bid you up, when you quit on your pre-determined limit, they are left high and dry with the foal plus the auction fees. Do it twice and you have a good chance of being left alone on subsequent bids.
Jumping bred foals follow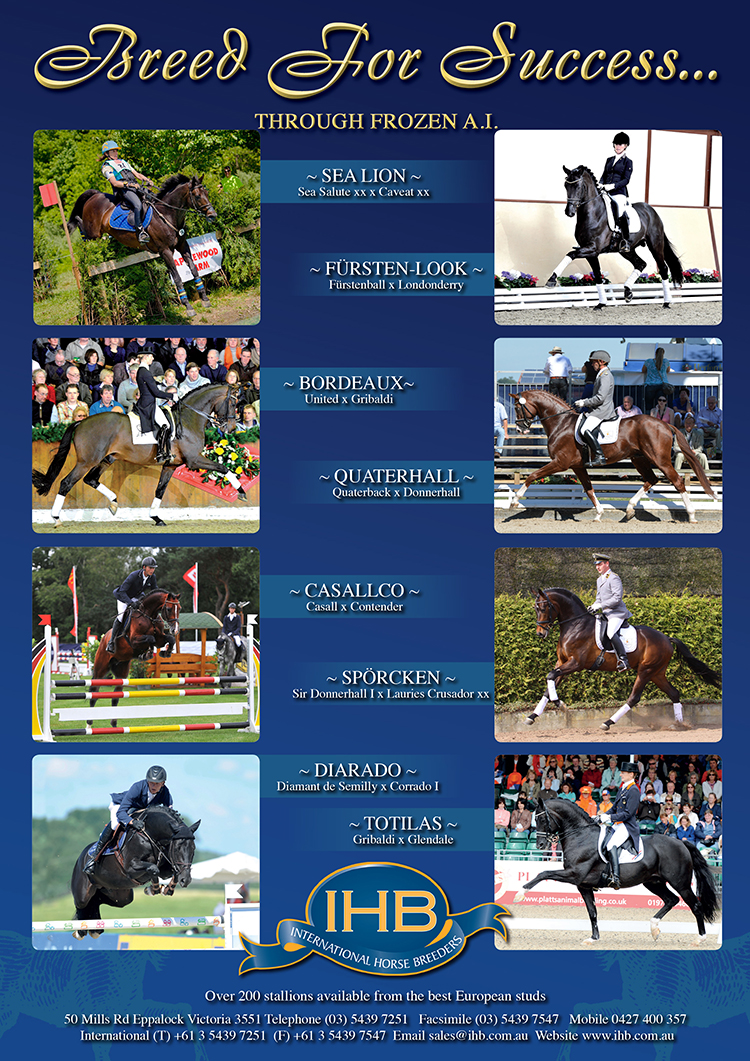 Westfalia is home – in a spiritual sense – to of one of the world's megastar stallions, Cornet Obolensky. Okay, he was born in Belgium, but he was the second reserve champion of the Westfalien licencing and starred at his 30 day test at Münster-Handorf – scoring the maximum 10 for loose jumping.
The Ukrainian showjumping fans, and would-be jumping horse breeders, Victor Timoschenko and Valentin Nychyporenko came to Westfalia looking for assistance to find a foundation stallion. The advice was very good, there was a Belgian bred colt, Windows van het Costerveld (by the Holsteiner jumping and breeding star, Clinton, out of a Heartbreaker mare) that topped the Westfalien stallion testing, and he was duly purchased by the Ukrainians and renamed, Cornet Obolensky.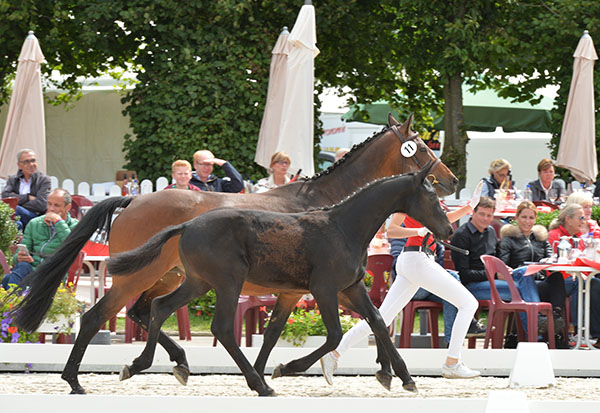 Top price in the jumping foals, Calgary
There was a quality draft by Cornet in the sale, including the top priced jumping foal, Calgary. The colt is out of a C-Indoctro / Quite Easy I / Carthago mare with a list of successful jumpers and licensed stallions in her background. At €12,000, Calgary is dead cheap. The average price for the five by Cornet was €9600.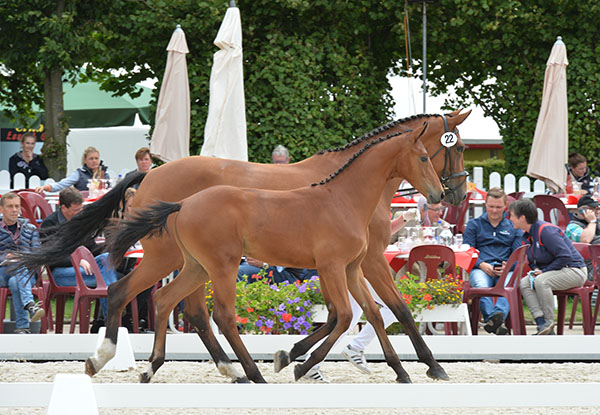 Atout, by A la Carte out of a Balou's Bellini mare – €6000
Aside from Cornet, Westfalia is home to a couple of exciting younger stallions. A la Carte (Abke / Lux / Polydor) was champion of the Westfalien licensing in 2010. He won the Bundeschampionate as a seven year old with Kendra Claricia Brinkop, and this year, the pair have had good international placings in classes from 1.45 to 1.55. The average price for the three by A la Carte was €4500.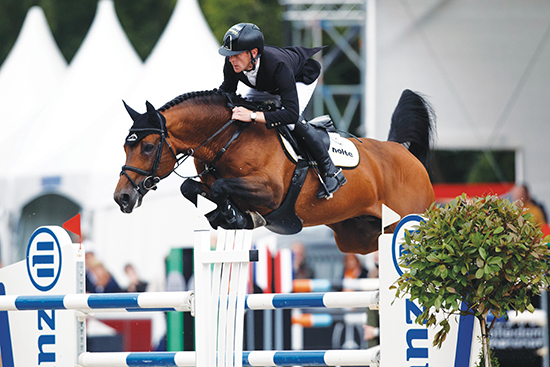 Comme il Faut in action…
When they came to Westfalia, those Ukranians were masters of the deal, not only did they walk away with arguably the best stallion in the world, they had an agreement, that he would be bred to the most famous mare in the world, Ratina Z. Comme il Faut was the result. The stallion has already placed in some of the world's top competitions with Marcus Ehning. His colt foal, Cavallo, out of a Libero H / Don Carlos / Der Löwe xx mare, went for $9000. I'd call that a bargain.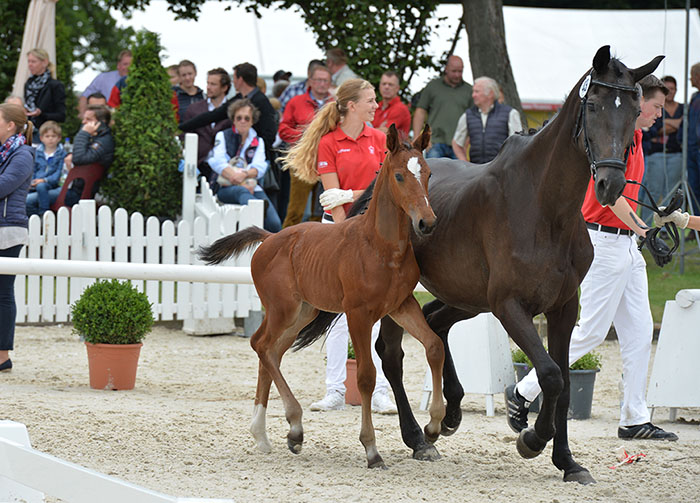 Cavallo – a bargain…
Really you could take your pick: Kannan, Diarado, Quickly de Kreisker (best performing son of Diamant de Sémilly), Plot Blue, Quasimodo van de Molendreef, even one by the only licensed son of Hickstead – Hickstead White.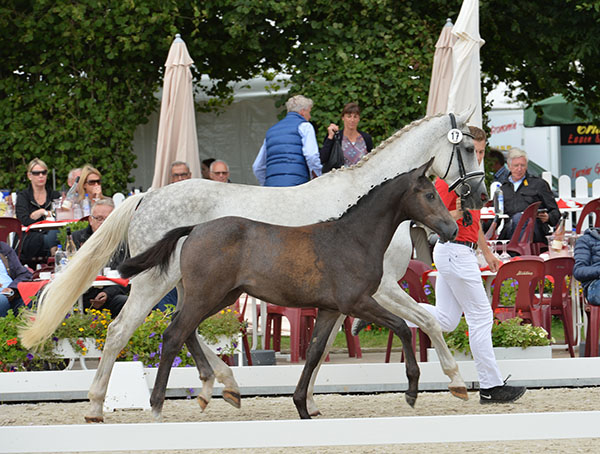 Hollywood Rock H – by Hickstead White out of a Cornado / Pilot mare – €6000!
Beautiful foals and well presented and sadly for the breeders, not expensive. The average price of the foals: 8.607 Euro (9.626 dressage foals, 6.479 show jumping foals).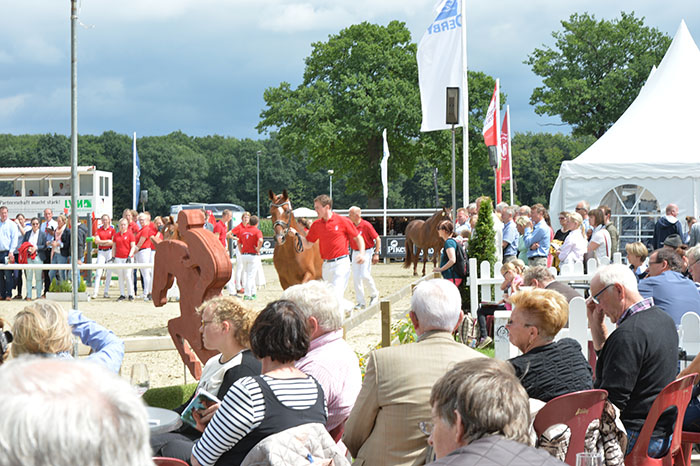 I am not sure just how much trotting out mares on a triangle tells us about their ability to jump, or breed foals that will jump, still it is an opportunity to enjoy some superb horse flesh. The champion jumping bred mare was Berlinale, by Balou's Bellini (who is by Balou du Rouet of a Lord Incipit / Calypso II mare) out of a Friedenstraum I / Dinard / Polydor mare.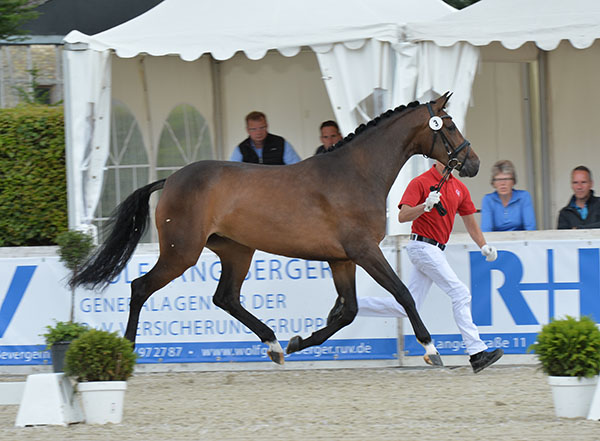 Champion jumping mare, Berlinale
There were so many glorious dressage mares that it was lucky there was a highly trained panel there to judge them – I was reduced to the formula, the one with the darkest colour. The champion mare, I was prepared to dislike on the basis of her pedigree, but she was in truth an enchanting creature. Ratina B, by Rock Forever out of a Contini / Lancer III / Weinberg mare. Dr Lehmann was sitting over the other side of the arena, a keen spectator, and doubtless remembering telling the world that you needed jumping blood in dressage horses, at a time when this was very unfashionable and very 'wrong'. Time and a look at the pedigrees of the world's top dressage horses, proves just how right the man was.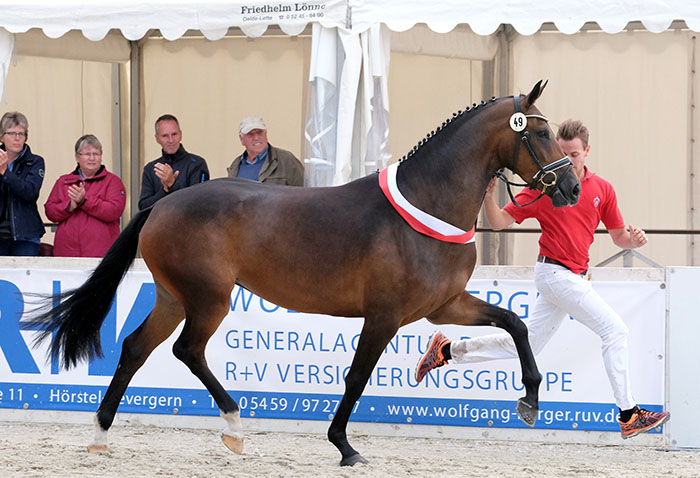 Champion dressage mare, Ratina B, but have a look at this…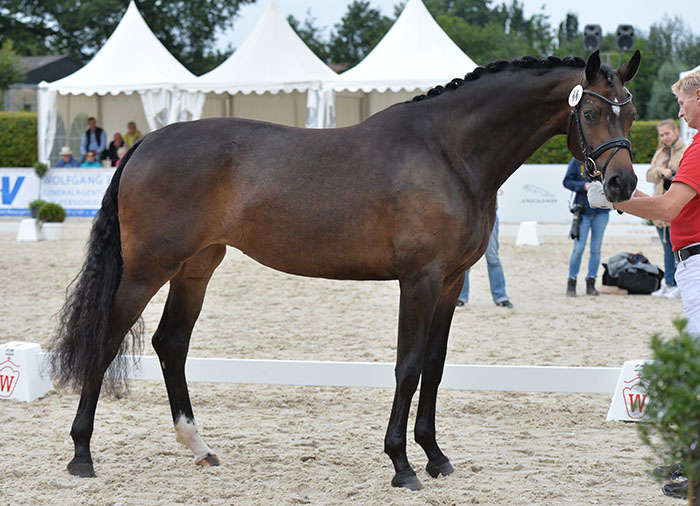 Fayola by Ingrid Klimke's new Grand Prix horse, Franziskus, out of a Sir Donnerhall / Caprimond mare, and owned by the Family Rothenberger… now who gets the ride?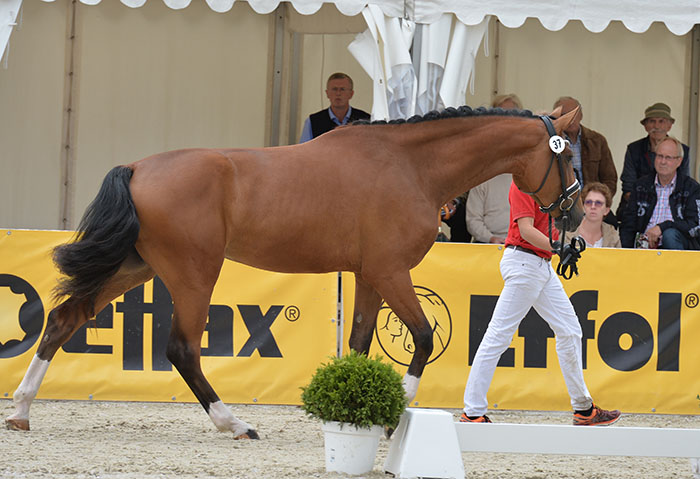 Estelle – by Escolar out of a Rock Forever I / Florestan mare, there were a number of athletic looking Escolars in the line-up, are we about to see a return of the E line?
Our thanks to all the people at the show who helped us get this story…