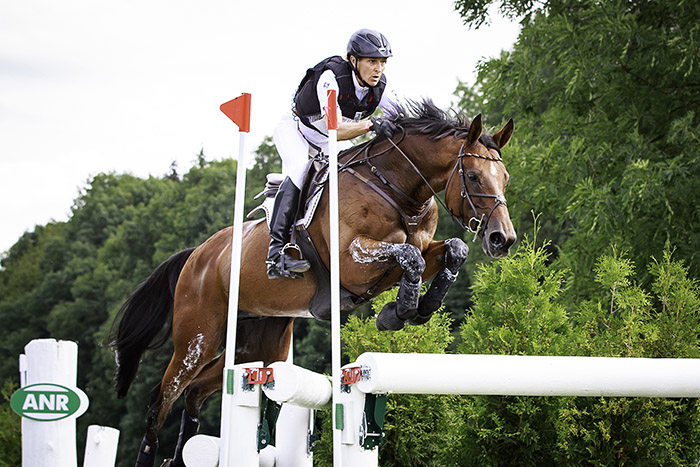 The new European Eventing Champions, Ingrid Klimke and Horseware Hale Bob conquer the cross country track at Strzegom, Poland, to take the individual gold medal!
Photo -FEI/ Libby Law Photography
Gold to Ingrid and the horse she tried to give away…
Christopher Hector interviewed the multi-talented Ingrid at Aachen, just a few weeks before her triumph at the Euro Champs.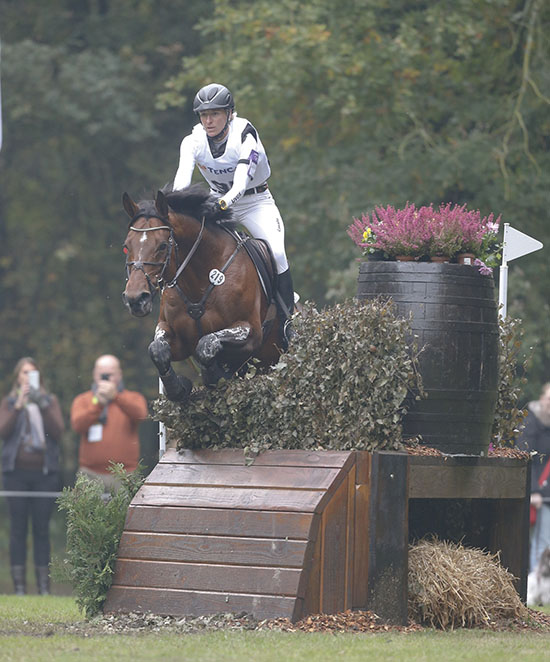 Ingrid and Bobby in the early days, Boekelo in 2013 ( Foto: Julia Rau)
It was lucky that when you finished the cross country at the World Young Eventing Horse Championships with Horseware Hale Bob, and he had been so out of control that you said, does anyone want this horse? You can have him! Lucky no-one took you up on the offer…
"Yes, that's very good. Bobby was always the second choice, and there was a time when I said I would really like to sell him, but there was no-one willing to buy him, but he is a horse that showed his qualities later in his life. He has so much stamina, he is such a fighter, so fast and so bold, and so good in cross country. Now his dressage has really developed. Every year he is getting a little bit better and his jumping is neat. I think he has all the talent he needs."

Have you another one coming on?
"I have Weisse Duene, who won at the World Young Horse Championships in Lion d'Angers last year. Now she has placed twice in CIC*** – the aim is that I will take her to Blenheim for the young horse CIC, and then in Boekelo she will have a CCI*** start, so next year she will have the qualifications."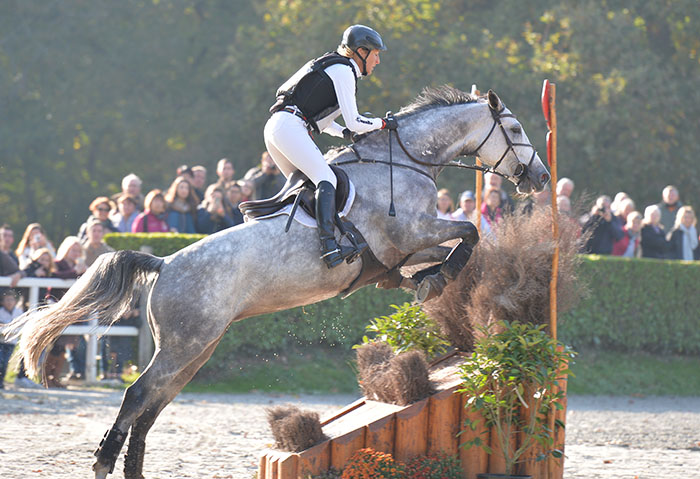 Weisse Duene wins a World Championship
"She has also placed in M level, two star, dressage and M** jumping. She is a good girl, easy to ride in the dressage, a neat jumper – she is a real fun horse because she has such personality, she's cute, I like her a lot."
It must have been a huge wrench to lose Escada?
"Yes, that really broke my heart…"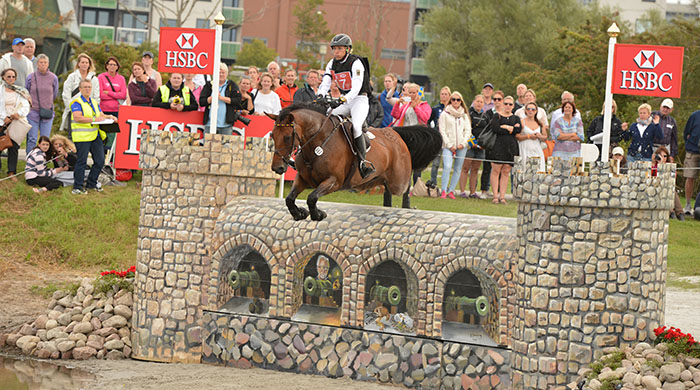 Escada at Malmo, the European Championships, 2013
And you never really had the chance to show how good she was…
"Yes, from the quality, I always said she was a world class horse, because she was such a wonderful jumper, super mover, so clever in cross country, but unfortunately her health was not strong enough. She was injured once, and we gave her such a long time to recover, then she was injured again and couldn't keep going. Now she is thirteen and many years of training have gone, and she is a breeding mare now. She has a happy life, it's more unfortunate for me than her, because she is out in the paddock where she will have wonderful foals."
Ingrid talks about the FEI changes to eventing at Olympic level below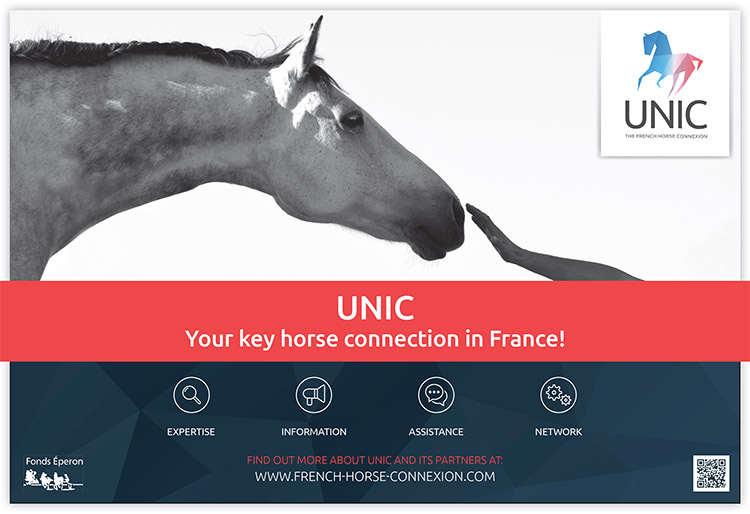 Are you worried by what the FEI has done to Eventing at an Olympic level?
"Yes! I don't know who is sitting at the FEI, but they must not know how the real sport is, otherwise you would not set up such rules. Rules that have nothing to do with what the riders wish, the trainers wish. I don't know."
It's so dangerous for the horses because if there are only three in the team, there is such pressure on the rider to keep going when you know in your heart, you should stop…
"Who has done this? What can we do to change it again? I think we must stand up and say, hey, whoever decided this, this is not good for the welfare of the horses, the riders, or the sport – so how can we change it again?"
The other thing is that they are saying, oh we want more countries to take part, but you remember at Sydney where they forced us to have the individual competition, and all the countries that were not able to make a team, sent individuals, and the result was such horrible photos of crashes, and there were hurt horses, that you said when you went back to Germany you didn't want to say you were an eventer… This is really scary, they could kill eventing at the Olympic Games if they have some bad accidents…
"You are totally right. In Sydney they made this mistake, and then they changed it again and it was going in a good direction, now they change it again. Why? For what reason? More flags from more countries, what does that mean? People who want to do it, but don't have the qualification to do it – it's not good for the sport, not good for the horses, not good for the countries."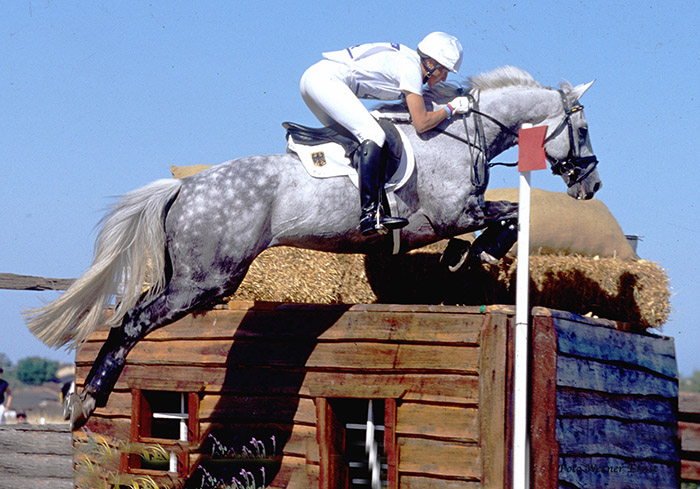 Ingrid and Sleep Late at Sydney
And now they are saying that the WEG has to be at a three-star level, everywhere they want to dumb equestrian sport down…
"Taking the sport down, doesn't mean more quality – you have more quantity, but the quality is losing. There is no reason not to stick to the level that shows what we can do, the capabilities and abilities that are in the sport and are necessary."
Yet only eight countries – including Germany, Holland and New Zealand – voted against the changes, and a lot of countries that don't even run one international event, voted for them. It's crazy…
"It's really out of control, and this is again, politics. You see how politics influence sport in a negative way that no-one really wants."
It was also a good time to talk to Ingrid about her latest publishing project: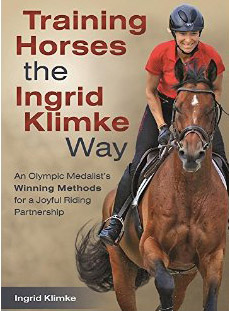 What have you tried to do with your new book, Training horses the Ingrid Klimke Way, that you haven't done in your books in the past?
"I was asked not to write about distances or cavalletti or education, more about my philosophy, my horses, my life. Who has influenced me, and in what ways. At first I thought is it really worth writing a book? But more and more people encouraged me to provide more information about what goes on behind the scenes – so more about the family, the people I learnt from. I think they are wonderful photos, a big hello to the photographer, Horst Streiferdt!"
"It's a fun book I would say – it's fun to read it."
How did you find time to fit writing a book into your amazingly busy life?
"Hectically, but somehow I always find some free time to do things that I want to do. The year when we wrote the book we had long travels with the lorry, to places like Blair Castle, so I had time to read and write. Reading it again, and organizing some picture days, the photographer would come while we were training anyway, so it was not a big deal. Alexandra Haungs from the publishers, is a wonderful writer, without her it wouldn't have been done, for sure. We did it as a team. Every year, we have a project. This year we re-did the cavalletti pictures for the new edition of that book."
You are a whole little industry all by yourselves…
"Yes, if you run a stable and want to compete, then you have to look for some financial support to be able to do it – you can't live from just riding. We look for things that are fun to do, and interesting to the public, and also make some money. Something that you want to do, and when you have done it, you are proud."
At the moment is dressage on the back burner, and eventing your main focus?
"No, I wouldn't say so, dressage is always my love, always what I enjoy, and luckily I have Franziskus and Geraldine, both are nine years old, and after the Nurnberger Burg Pokal they are qualified for the final in December and I am schooling them at home for the real Grand Prix and the real Special. Franziskus, last weekend won a Grand Prix and a Special. Geraldine will go in Münster, and next year hopefully, they will be able to keep up with the really good ones."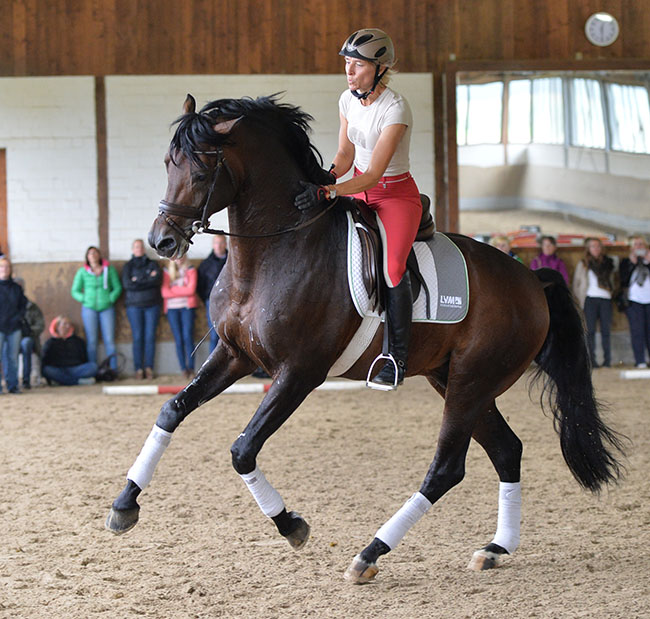 Franziskus, Ingrid's macho male…
I remember at the beginning with Franziskus, you were not sure who was going to win the argument….
"That's true because he is very full of himself. He knows exactly what a wonderful, big, tall, macho, man he is, so it took a while before he realised that I can hold my breath longer than he can! At some stages, I had to insist on some things, but I must say he is really sensitive and sensible, and he really listens."
"But he is still a breeding stallion and he is breeding a lot, and that is his first important job. The second is me being able to ride him, but breeding first because his stud, Holkenbrink, depends on it. I'm happy to have him in his second job."
"Geraldine is a very wonderful mare, who always tries her very best. She is very elegant and she has a lot of talent for piaffe / passage and she is wonderful to ride and school because she is very sensitive. She's really a lady's horse. She needs a little more self-confidence, that's why I always have to encourage her to show what she can do in the ring, but more and more, she really grows into it. We had some wonderful rides where I was really proud of her."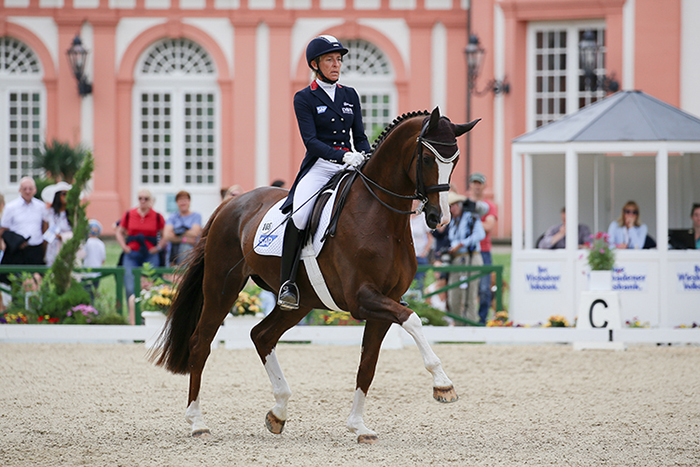 Geraldine – ready to go Grand Prix
---
Fidertanz is one of the top stallions available from International Horse Breeders – go to www.ihb.com.au