In 2011 Ingrid Klimke was the judge, and conducted the Saddleworld Masterclass at DJWTS. People who were there for the event remember Ingrid working with the clinic participants before the Masterclass, and introducing some of them – to cavalletti work, which was a bit of a surprise to some riders.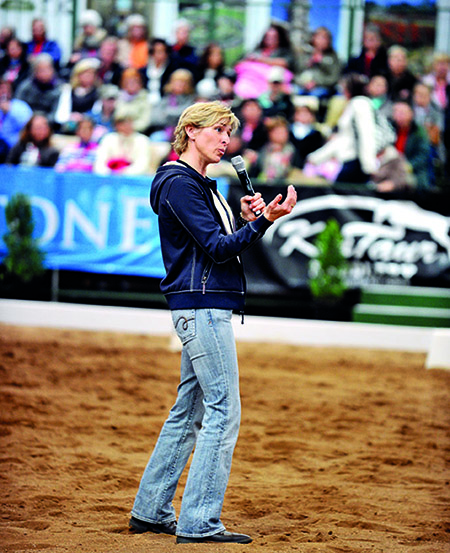 If the spectators enjoyed watching Ingrid ride the young horse finalists, and they were in raptures over her masterclass.
There were two very nice horses in the first session: Bianca Barnes and a previous DJWTS winner, the grey gelding, Belcam Cadell, and Deon Stokes and the imported stallion, Royal Oak. As always, Ingrid was anxious to present the progressive horse friendly essence of her system:
"I asked the riders to only walk their horses before they came in because the warm-up is so important that I wanted you to see that phase. I like to use cavalletti. I grew up with cavalletti, they were always in our indoor arena, and on the outdoor arena. If you position them beside E, they don't get in the way. You can even ride a Grand Prix test with them there – and you only have to make the circle bigger for the Prix St Georges."

"In the beginning we start forward and downward, I don't want to see a spectacular trot, just active hind legs and the movement going over the back to the rider's hand. Deon is riding in a snaffle. I like to use the snaffle at home and save the double bridle for the show, but we also have to get the horses used to the double, so Bianca is riding her seven-year-old horse in a double to show that we can warm-up in a double."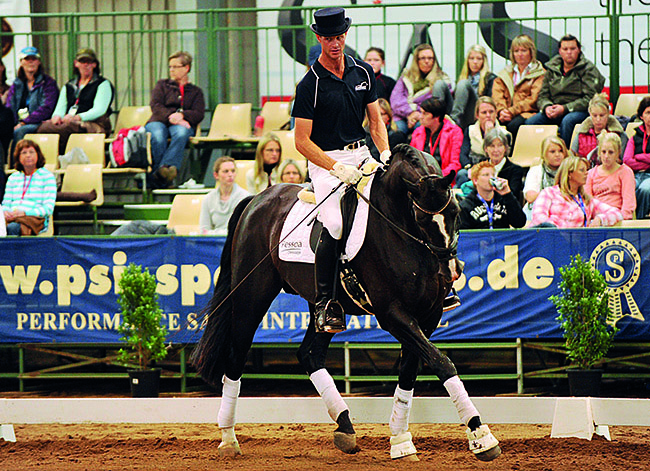 "Deon's horse takes a while to stretch, so he is riding a figure eight, getting both ribs supple. Offer the way down – some horses don't search for the contact, then you just offer and hope.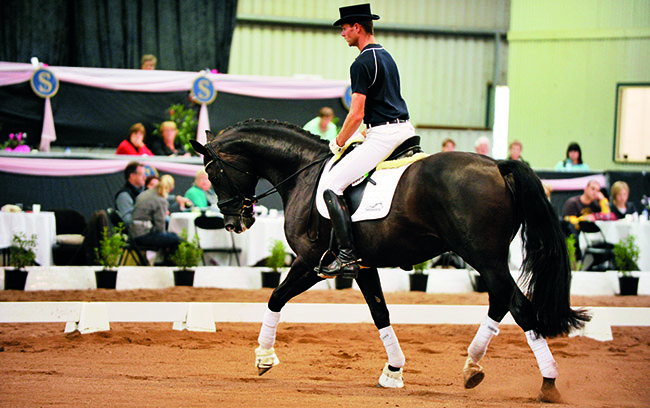 There he has stretched, pat him, tell him it was right – and you can throw your whip away. You have to be independent of the whip, the horse can feel a fly, they can feel your leg and spur, you don't need to always ride with the whip. The hands together, near the withers. The horse needs to know where you are, so he can be between your leg and hand, and you can give him support. You work on canter for a while, while I work with Bianca."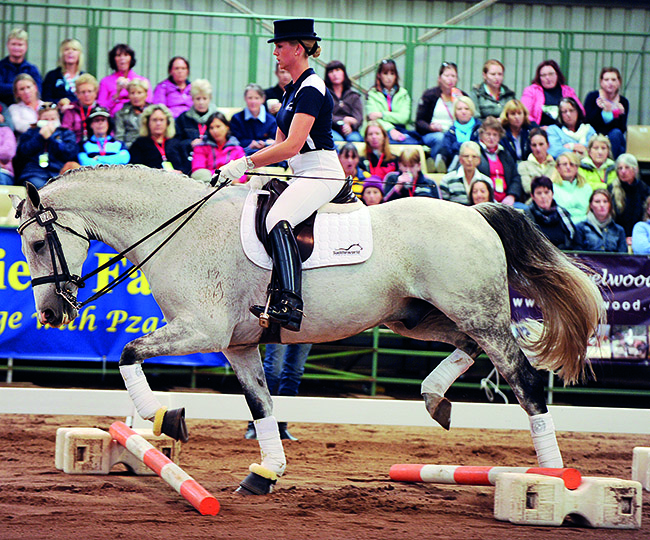 "Now the poles are straight, it is easier for the horse than a circle. Aim the nose forward and downwards, think it will go all the way to the sand. Often people, especially dressage people, are afraid of rails on the ground, and of paddocks. Stallions must go out in paddocks like all horses, dressage horses should do poles. Let him stretch, give the rein, good pat him, let him see, I can take my freedom, I can even take more. Okay a break Bianca, and Deon canter in light seat."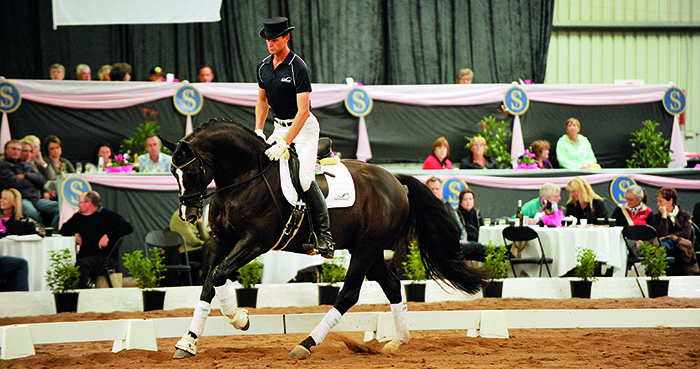 "If dressage horses hold themselves and won't stretch, stand in the stirrups and go for a gallop, allow them to be a horse. Get rid of the freshness, then back to work. This horse is quite short in the back and if we are not careful, he can look loose but we see from the hindlegs that he is not."
The stallion makes that brrrrrr sound through his nose. "Great, he is letting something go. Now he is not running, he is on your very quiet leg, now go to long rein walk. Each horse when he starts should look like a four-year-old."
"Now you can pick up the reins and we can start the working phase…"
"Bianca, think, every time I want this poll up – sit, close the leg, then take the energy out. What you do – do perfect, or don't do it. Come back, a few half steps, and out. You don't need to think piaffe, but the hind legs must come under."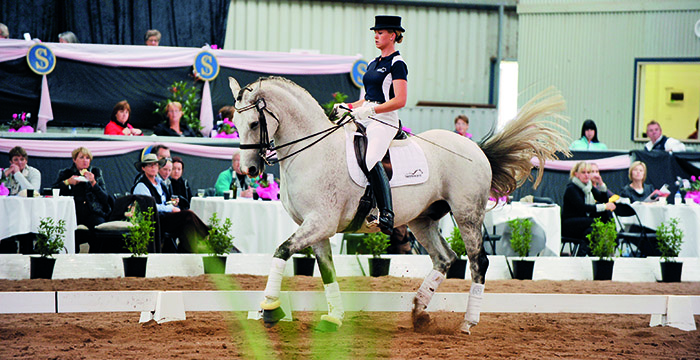 "Yesterday, as a judge, I realised how important the first halt is. It's not a miracle, it's something that comes from daily practice. I learnt that from my father – every Sunday when there wasn't a show to go to, we did test riding. Halt, again, and again, and again. All these basic exercises are important, try to do them sooner rather than later, it's really a shame when you haven't started them early enough."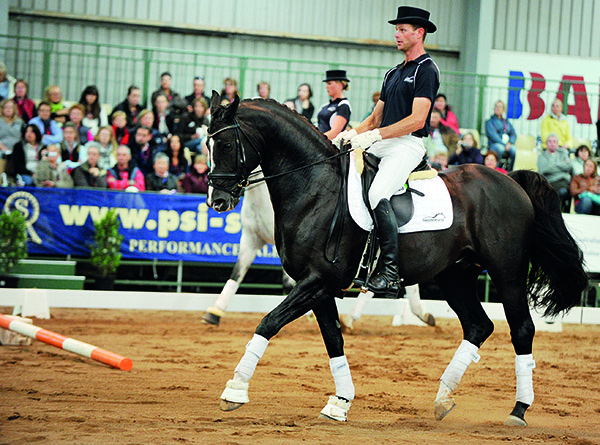 next horse is competing at Prix St George level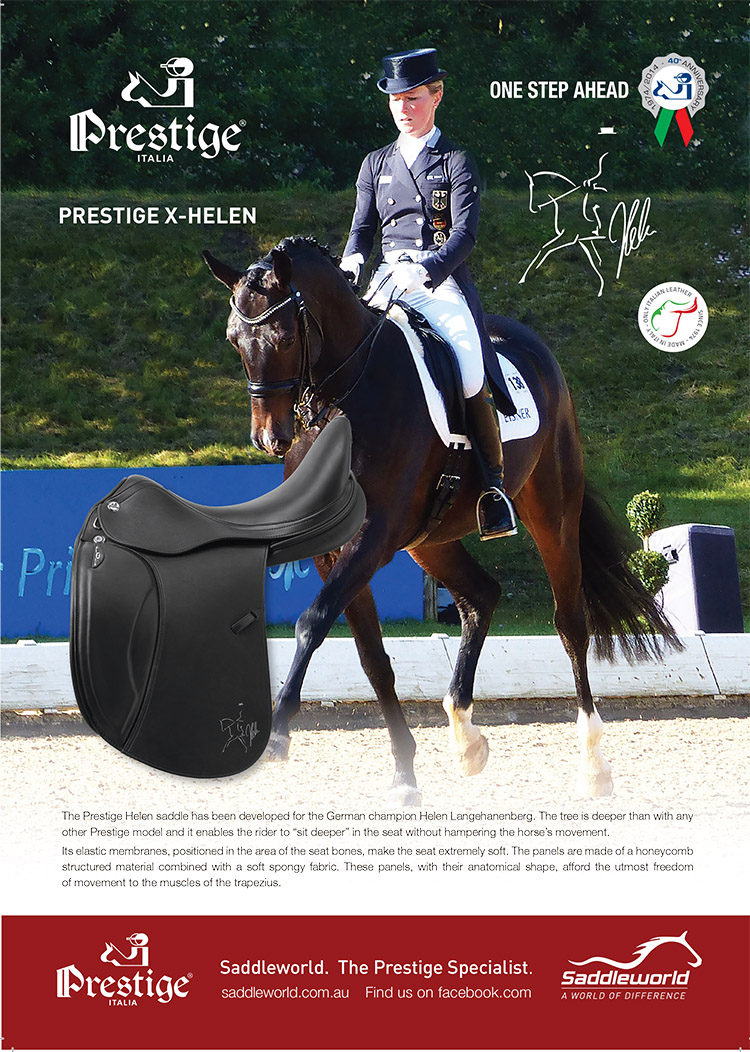 The next pair to work with Ingrid was the nine-year-old mare, Adlanta Rose and Sarah McDonald. The pair have been starring recently, with a second in the Prix St Georges at Boneo Park, and a third at DJWTS.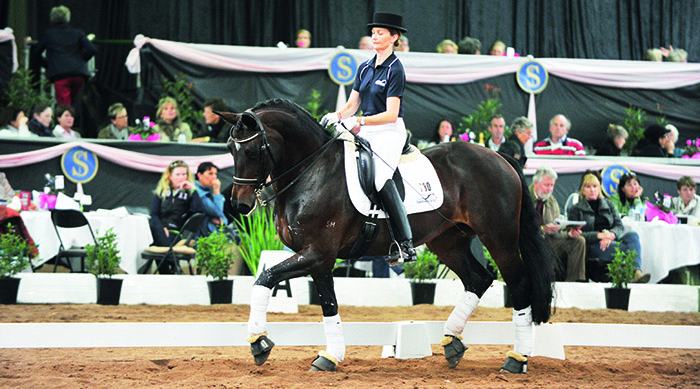 "When I see a new pupil, I start with the seat, it is the most important thing. You work on it all your life, I promise I'm working on mine. The first thing I said to Sarah was shorten your stirrups. The heel must be down so your weight is always with her and you can support her. I like Sarah's very quiet hands, they are nicely together, she can give with her fist or her arm."
"This horse looks longer behind the saddle, so you have to try and have her up in front, two thirds in front of the saddle – sit, close your leg and move her out. If she comes short again, do half halts in every corner, before every movement."
"When I see these two, I am thrilled, the mare always has her ears pricked, they work in such a soft, supple way."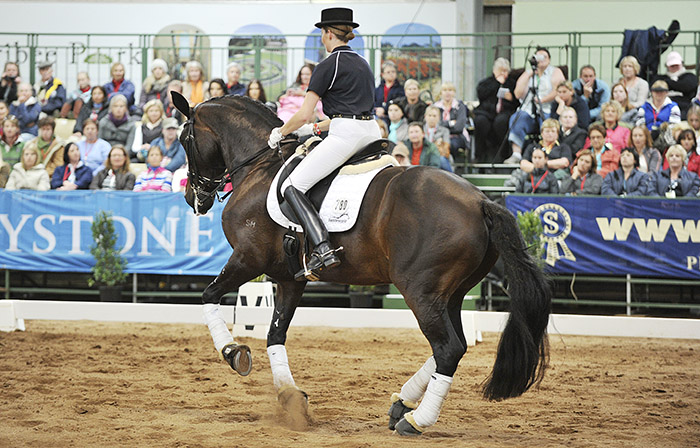 Time to work on the pirouettes: "Now ride a half pirouette left. Keep it easy and relaxed, sit on your left seat bone and press the left stirrup. It's important not to say too early 'collect, pirouette coming' – ride out of the corner, then sit collect, then prepare the pirouette."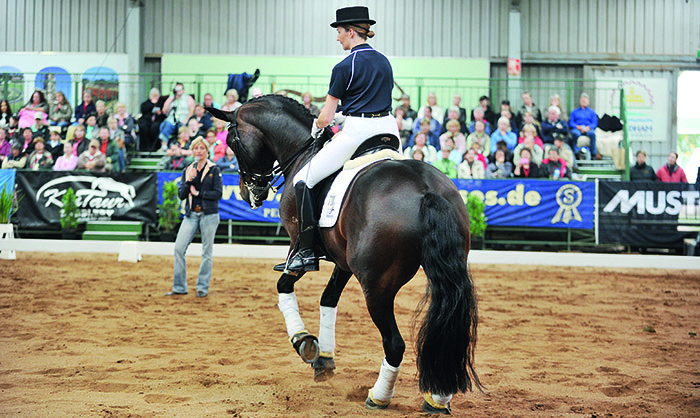 "That was a beautiful pirouette but you were not looking at the letter and rode a bent line. Do it again and look at the marker…"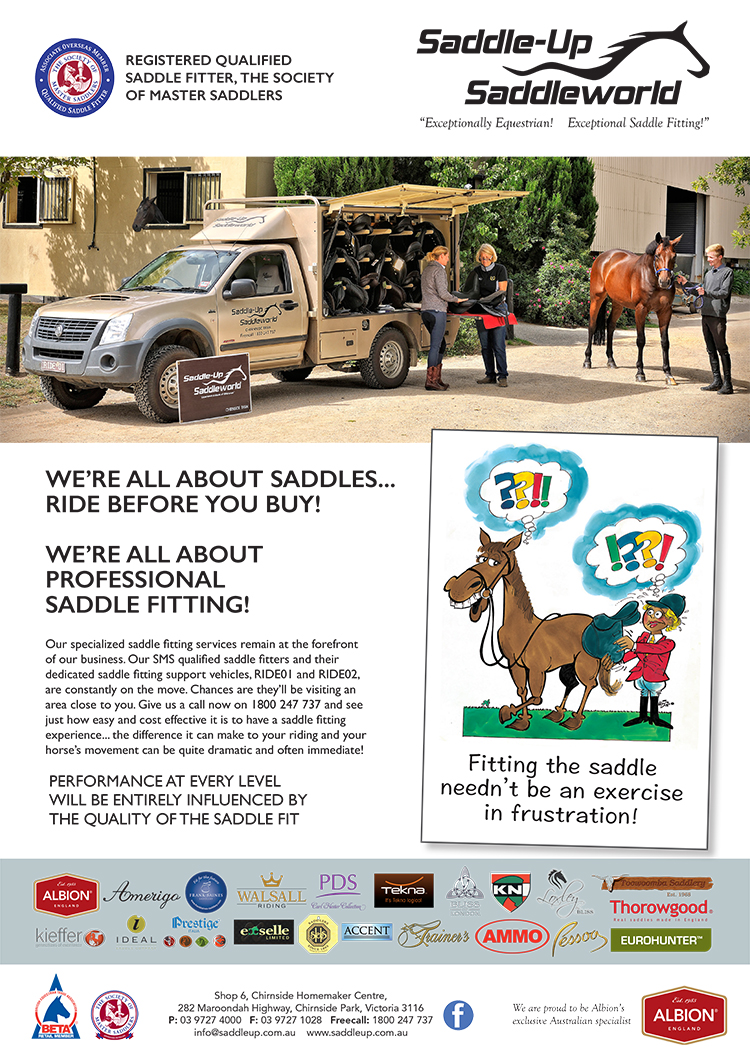 Ring Saddle-Up now and talk about a new saddle just for you: 03 9727 4000 
The next horse was the Falsterbo gelding, Falstermeyer, ridden by Matthew Dowsley. The horse has been getting mid-70s scores in Advanced and has won its first Prix St Georges. Ingrid is worried about its trot: "You have to watch this wonderful trot is not too passagey, you have to get the hind leg under and quicker out."
"We'd better start with the canter otherwise we will only get to do trot then the commentator will say 'time out'. Ride a smaller circle in travers, then a bigger circle in shoulder in. He has to really carry – give the inside rein, the horse should be totally on the outside rein. Get him really sitting then open out again."
Ingrid has the flexibility that comes with all good trainers. "Yesterday, for the half pirouette, we played with travers and shoulder in, today, I feel that straight is better. Start with the good side, make it easier, then try the weak side."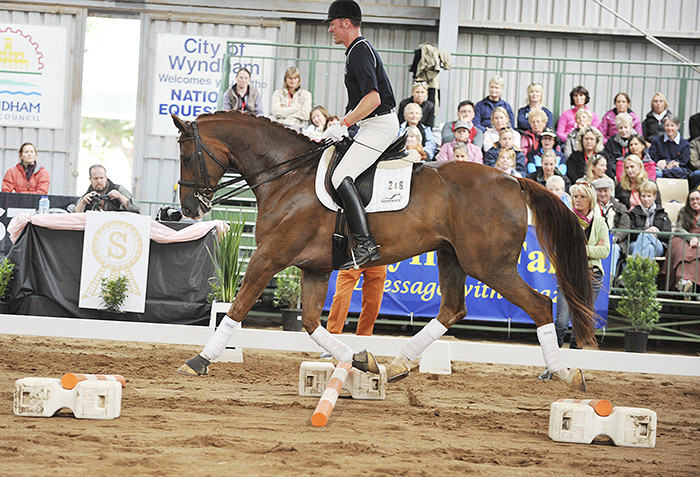 The story has been doing the rounds of the show, about the somewhat astonished look on Matthew's face when Ingrid asked him did he ride cavalletti often, and she was determined he was going to finish the training session, trotting over the poles: "Very relaxed trot, have his nose a little more forward, there…"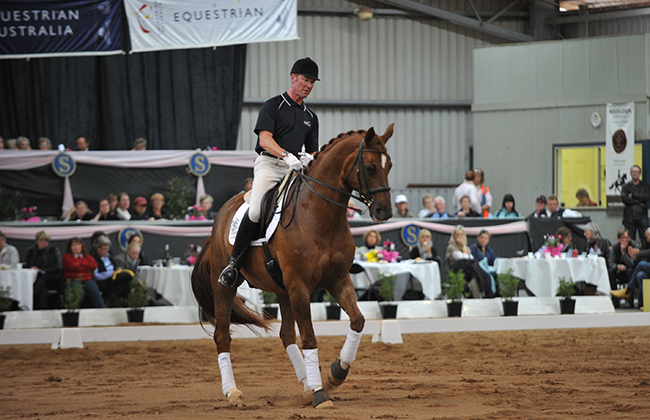 And sure enough, when they return to the two times changes that had been giving them grief before the cavalletti work, they come up perfectly. "Often we keep trying and things get worse…"
In comes Charlotte Pedersen and the grey Danish gelding, Dunkirk. Charlotte is looking down as they go through the cavalletti: "Dressage riders! Jumping riders have to look up. The rider has two responsibilities, the correct line, and the correct speed. With him, we need more engagement from behind. Keep your hands in front of the withers so you can give a quick half halt – if the reins are in your tummy, it is too far from the horse's mouth."
"This is a Grand Prix horse, but the first thing I would do is take him out on the race track and lose half that tummy. I really believe that. My dressage horses look like eventers. Dressage horses have to work really hard, harder than eventers. Now let him stretch so he takes a positive feeling to the stable and works again tomorrow."
One of the spectators wanted to know how soon Ingrid started her horses over the cavallettis: "When my four-year-old is on the aids and in rhythm, then it is time for poles. Start with one, then two, three, four. Never more than four, if there is a problem they can jump over four, they can't jump over eight. Start with them on the ground, then stand them up – it is always good to have a professor horse lead the young ones through."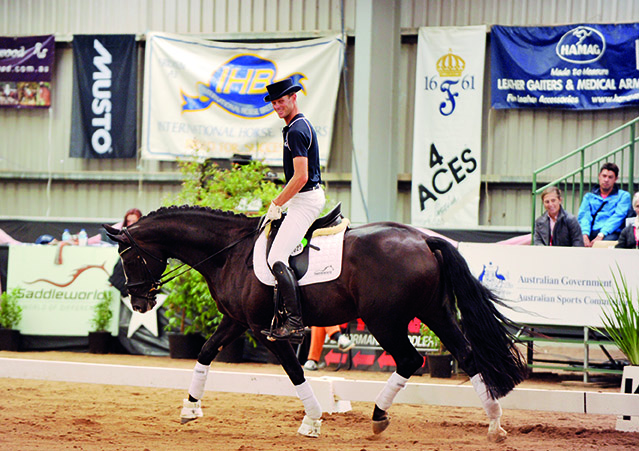 ---
Breeding a dressage horse? Choose from the best Bloodlines in the World, available in Australia  go to www.ihb.com.au Stallions like Foundation, a winner himself and producing winners already, like Ferrari a winner at the 2017 World Young Horse Championships.