By Christopher Hector
The stallion has been retired at the age of 18, after a career that has included:
2010
7th in the World Cup final in Geneva with Chris Chugg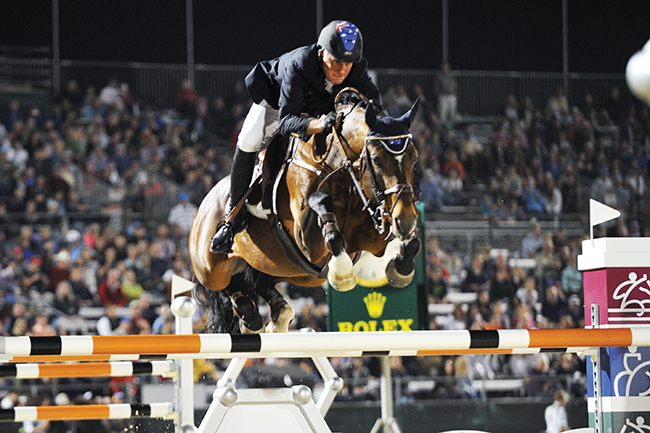 2010
7th at the WEG in Kentucky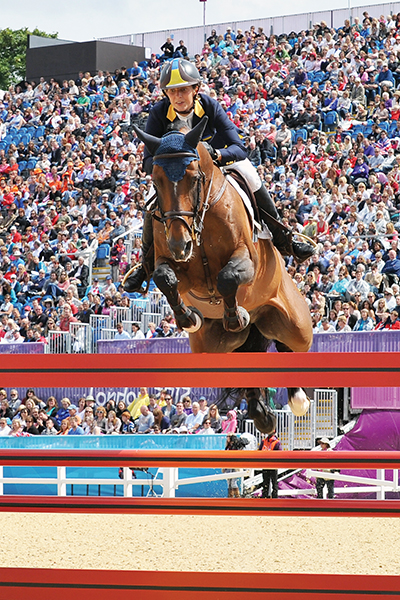 2012
Olympic Games London with Katharina Offel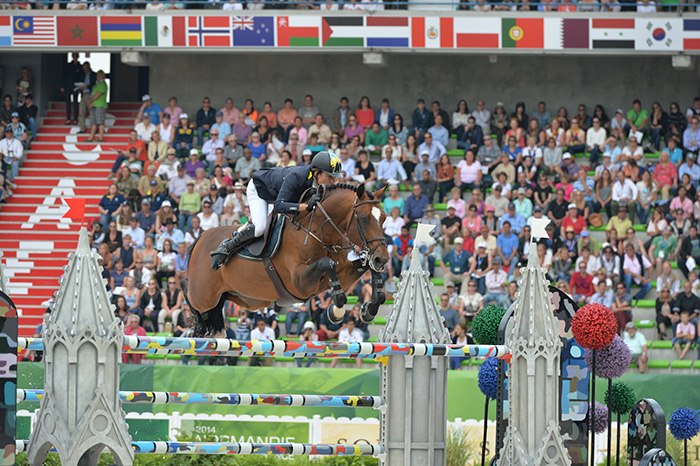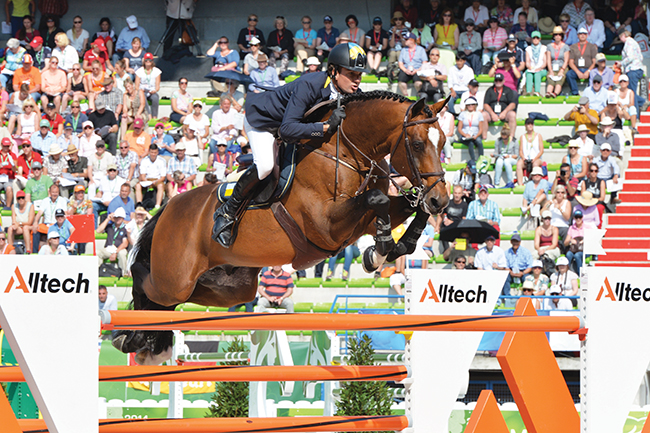 2014
9th at the WEG in Caen with Cassio Rivetti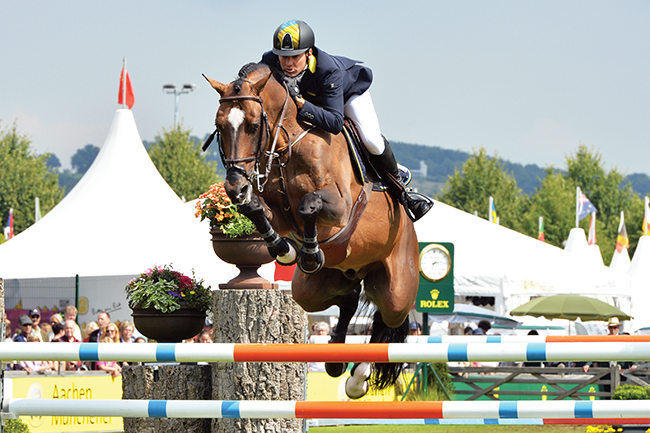 2015
26th at the European Championships in Aachen
All this after a career in Australia that saw Chris and the stallion, dominate the World Cup circuit…
I asked Helen Chugg, who found the colt in Belgium if she had the faintest inkling that she was looking at a horse that would change the course of Australian showjumping, and then go on and star at the highest level in Europe…
"Of course I did, absolutely! (She is laughing) In reality what you hope to find is a nice young colt that would be good for Australian showjumping. Whether the stars were aligned, whether it was sheer luck, for whatever reason, he was the first colt we looked at. I think we were very lucky in that it was the year when foot and mouth had broken out, so Europe was basically closed down. I think that probably helped us in that things were very quiet, the first round of the stallion classification had been done, but not the second round. I think we probably got to see some colts that probably would not have been shown to us."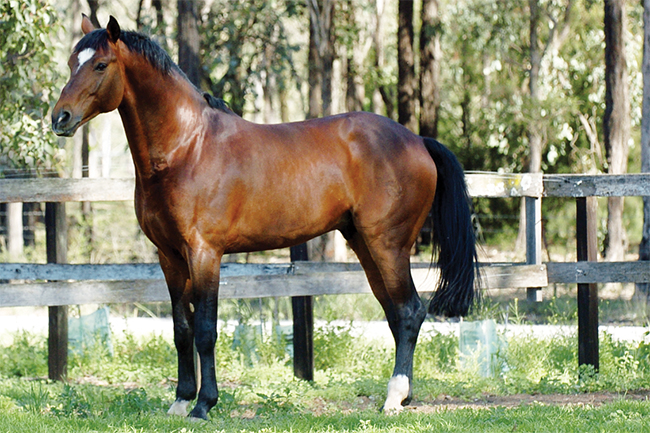 At home at Diamond B as a three-year-old
"Anyway, he was the first horse we looked at on our trip, he was lead out and honestly he stood up, he looked at me, and that was it. I said, wow, this is exactly what I wanted to find – an elegant horse of a good medium height that looks like a Thoroughbred but obviously with Warmblood characteristics. I knew in my mind exactly what sort of a colt I wanted to buy, and he absolutely filled the bill."
Is it rude to ask how much you paid?
"I can't say that because we bought him on behalf of clients but he wasn't a fortune, he wasn't a ridiculous amount of money. He was value for money."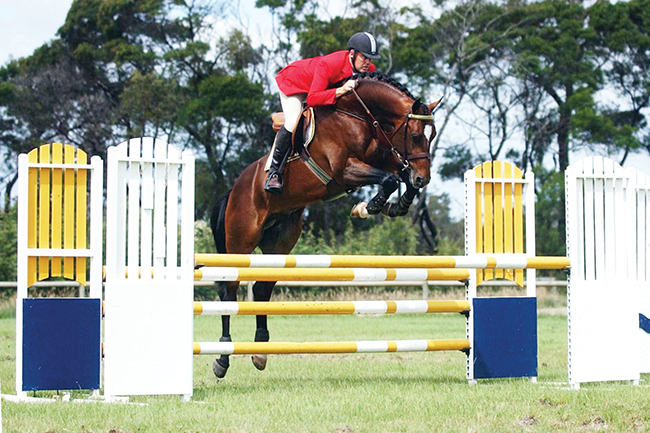 Winning at JWTS as a four-year-old
You've had a lot of experience with him as a breeding stallion, you must know by now what works and what doesn't work…
"He's an interesting horse in that… I would be nice to say, the best thing for Vivant is a 'C' line mare, however having said that, he's produced some really great stock out of Thoroughbred mares – Diamond B Vegas, who is now in Japan, okay she is not a Grand Prix horse but she is an absolutely 1.40 metre 1.50 horse. Clean, careful, fantastic attitude – and her mother is a 16 hand McGinty mare. Virgil, who will hopefully either win Burghley or go to Rio, he is also out of a Thoroughbred. Vivant really is a horse for a lot of different mares."
It is nice that his Ukranian owner Oleksandr Onischenko has given him a dignified retirement…
"When the horse was going to go to a new home, it was very important to us that he went to a good home. Obviously people who spend a lot of money, are generally good homes, but it was a great home for him. Oleksandr did buy him for himself to ride, but we also knew that if that didn't work out, he had a team of really great riders – Katharina Offel rode him super, Cassio Rivetti rode him super, and they have all loved the horse. He is a pretty adorable horse, he's got a huge personality. He is not a horse that you could ignore. He has been very lucky that he has had good people working with him."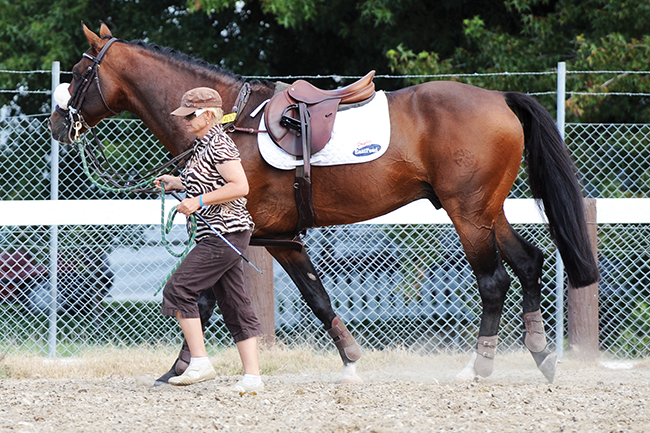 Helen and Vivant in New Zealand
Do you still miss him?
"Absolutely. You really do miss him, but I can walk out every day and look around the horses here, and see him – his influence is so strong. People say to me, do you use the Vivant semen yourself? Well I can't, every mare I have, has his blood in it – I actually have been going outside my breeding program to find mares I can use him on. I think as a brood mare sire he is going to be absolutely brilliant as well, because I think he brings so much heart to the table. Regardless of what they are out of, whether they are little or big, easy ride or a bit more difficult, the one thing that they all have is an incredible heart to do the job, they all want to start and finish a showjumping course, and that particularly in the Warmblood breeding, is incredibly important because a lot of horses, they are scopey, they are careful, but sometimes they are so careful they lack heart, or so scopey that they are a bit dumb scopey, they are not careful enough."
"Vivant is that really rare creature that is scopey, careful but brave."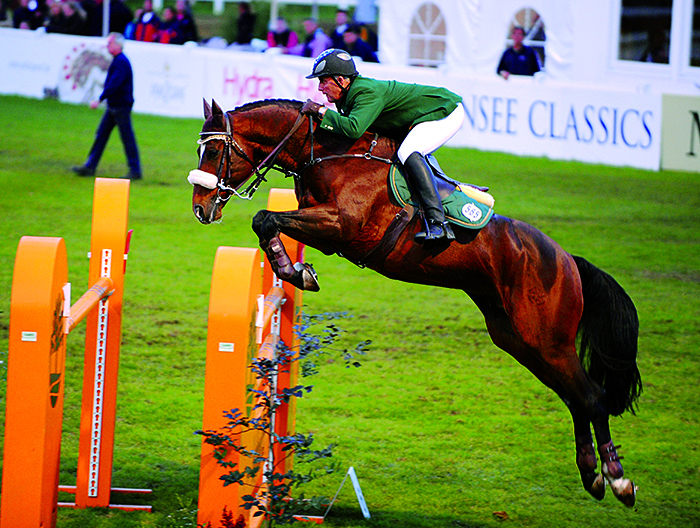 Competing in Germany
Vivant is by Fuego de Prelet, one of the scores of stallions that have passed through the hands of French stallion whiz, Arnaud Evain:
"We bought Fuego from our Italian partner Bassetta who had him with Nijhof and Hamerlinck, when he was 15 or 16 years old and had him in France for one year. We sent him after one year to Argentina to our partner José Ortelli and he bred there for 3 years and we finally sold him to a breeder. I think he is still alive… He is a Jalisco with blood (thanks to Starter who brings the blood of Rantzau!) He passes generally good length and range in the gaits and elegant head…"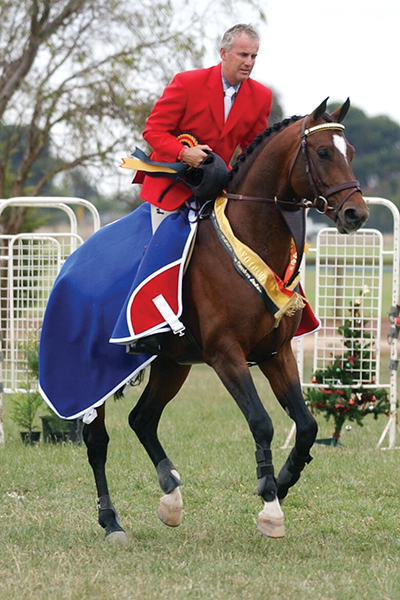 Champion of Champions at JWTS
Vivant comes from one of Belgium's most famous studs founded by Hubert Hamerlink.
"Vivant's mother, Scalini v/d Heffinck wasn't with us for long," Hubert's daughter, Melanie told me: "We sold her when she was five years old, she gave Vivant, and then the full-sister of Vivant, who is in Germany now, then she was sold to a junior, and she jumped well in 1.40 classes."
"Scalini had a good mentality and she was careful too."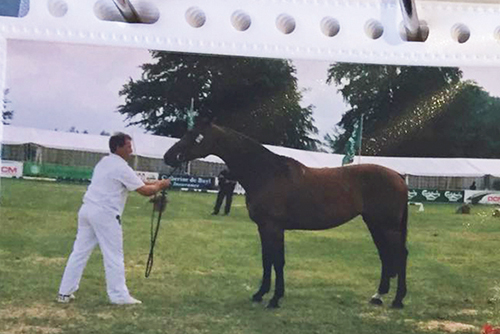 Vivant's mother, Scalini v/d Heffinck
Do you remember Vivant as a foal?
"He was a nice type, he had a good character, he was a 'bloody' type. As a three year old, we presented him at the stallion approval. He was approved and then Chris came and bought him."
"His sire, Fuego was one of our stallions, he was here at the same time as we had Clinton. Fuego was a son of Jalisco, a really well-bred French stallion, he jumped well, by the time he was seven he was winning big classes with Dirk Demeesman in Rome and Gijon. He was an interesting stallion to use, the French bloodline in combination with the German blood, it always interesting."
"The dam of Scalini, Isis, she had six or seven foals. One of them, L'Etoile Filante, by Ramiro, produced the stallions, Urbanus by Heartbreaker, who jumped 1.60 in the USA."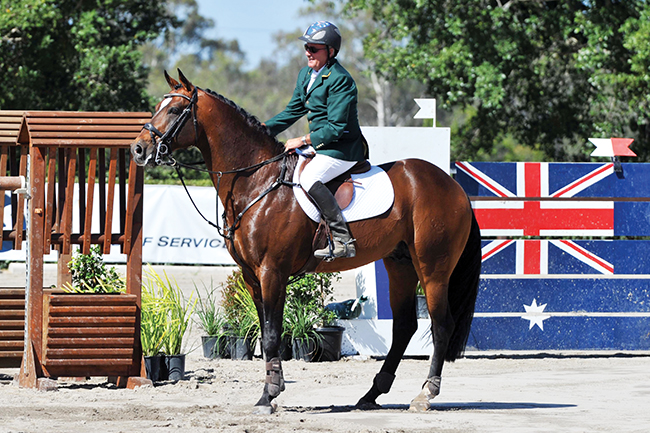 Vivant and Chris, soulmates
Your father has been breeding horses for a long time?
"Yes, yes. His father was a farmer, but with no horses. My father started breeding horses at a young age, always jumping horses. Each year we breed around 30 foals, we raise them up until three, four, five or six years old, and then we sell them. We also have some stallion, for example Cabrio is one of our stallions, he is jumping well with Olivier Phillippaerts, they were 6th in the Grand Prix of Wiesbaden recently."
"Heartbreaker was here, Clinton was here, a lot of good stallions were here when they were young."
Did you expect that Vivant would become such a good horse?
"You cannot tell when they are three years old if they will compete at 1.60 level, you never know this. The mentality is also really important when they become older and have to go to all the shows – and this mentality you cannot see when they are three, you have to see how they develop."
"He was careful, he was a smart horse, that was for sure but Chris is a real horseman, he made the horse as well."
It was truly one of the great partnerships, two macho guys in full swing, with each clear round finishing with a triumphant canter pirouette.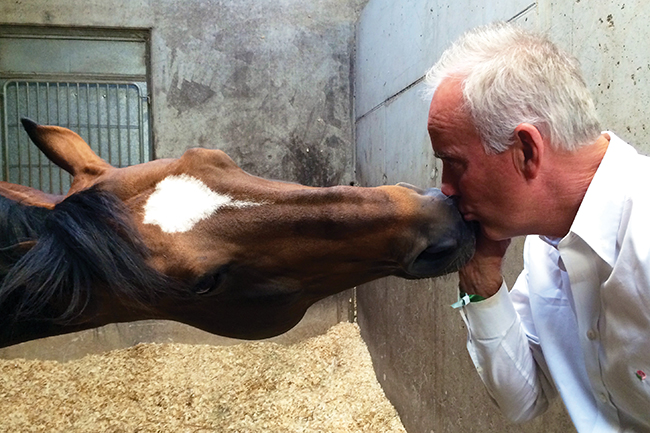 Last words from Chris:
"Vivant from day one was like a V10 Audi. He had natural instinct to jump and allowed me to mould his concentration and his energy in to the athlete he was. He was a modern day athlete, which is still to this day rare to find in Europe. He had the blood, the intelligence, the beauty and was a 5-star horse, because come Sunday of a World Championships or World Cup Final, he was full of running and still wanting to jump clean rounds where most other horses were empty. He took me around the world twice and I still go to visit him at Cassio's stable every time I'm in Europe. He is my best friend and definitely the horse that was, and still is, my soul mate. When you spend 9 years building a partnership with a horse, he becomes a part of you, and you a part of him."
---
ADVERTISEMENT

Want to breed your own Vivant? The good news is you can! Contact Helen Chugg : 0438 274 170, or email for details helenchugg@gmail.com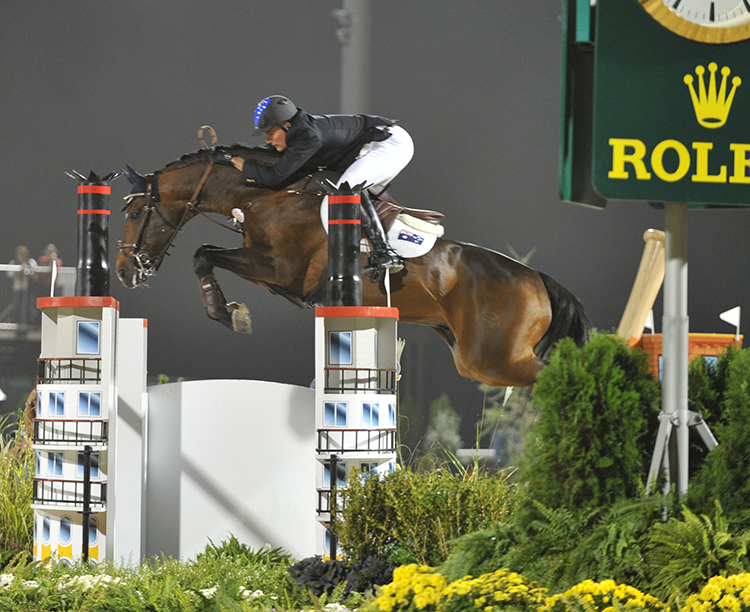 This article originally appeared in the July 2016 issue of THM.