The new Australian Showjumping Champion – Jamie Kermond
 Rebecca Ashton interviews Jamie – and took the portrait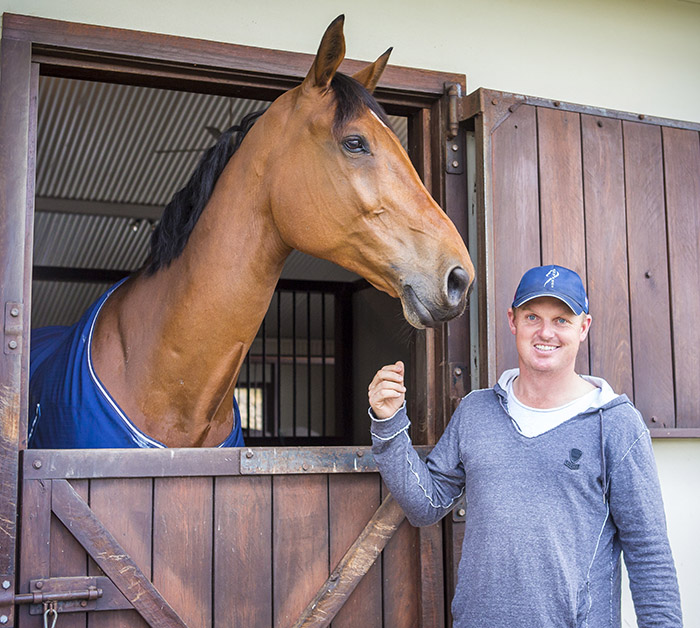 Three National titles under your belt….and you're up there with some big names!
It is great when you go to Werribee and you see all the names on the board. It does get you motivated. Dave Cameron and myself have had it for the last five years so if I'm not there next year, he has to win it. I think his horse is coming back into work now.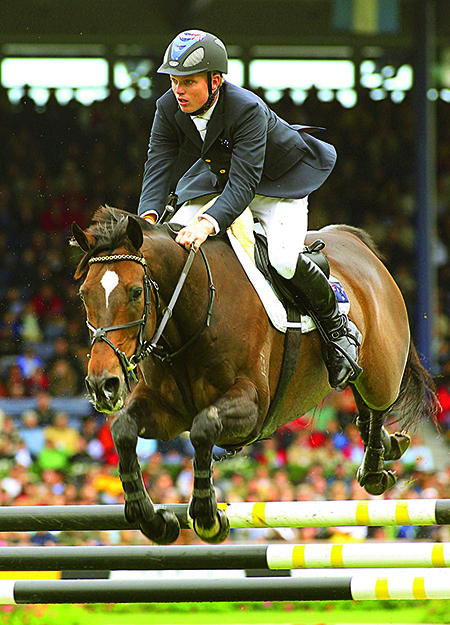 Jamie and Stylish King at the 2006 WEG
 I sort of tried a few times before I won the first one. I think I finished fourth on Stylish King and then I had Valhalla and Colthaga and I was in contention a lot coming into the last day, but I just couldn't get the job done. I was feeling more and more pressure so to get the first one with Caracas in 2013 was great. He's now being ridden by Jos Verlooy overseas and pretty well jumps all the GCT comps and he's had some high placings. It's great for me to have produced a horse that's jumping around all the top classes in the world.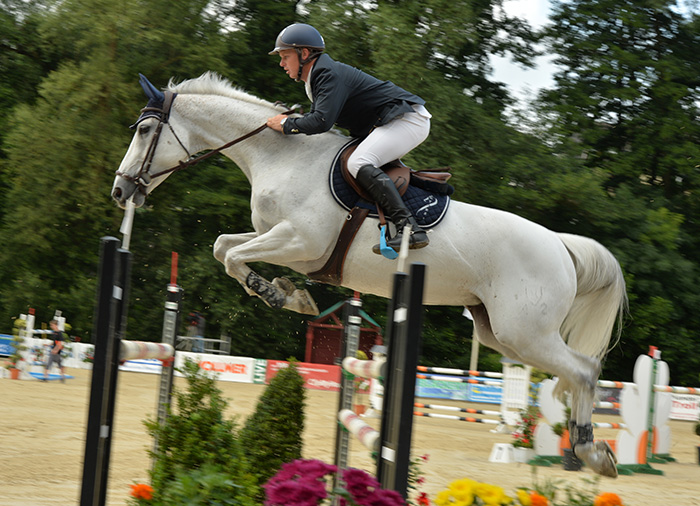 Jamie and Colthaga
 Then to win the Australian Champs again last year with Yandoo Oaks Constellation, when he'd just got back from overseas was amazing. He'd had a big prep in Europe and he was a bit spent when he got back but we got him right enough to go to the Nationals and it was great that he could still win. This year I thought I had him pretty good; he was in good condition and really fit and feeling well and it was nice for him to jump three days without a pole down. It was good that we had a plan going in, the horse was healthy and he performed really well for us. Nappa (Yandoo Oaks Constellation) is 11 now and was bred by Alice Cameron from Oaks. He's by Conquistador who was Helen and Chris Chugg's horse and he's out of Galaxie Piereville who is a Jalsico B mare. It's had a few nice foals.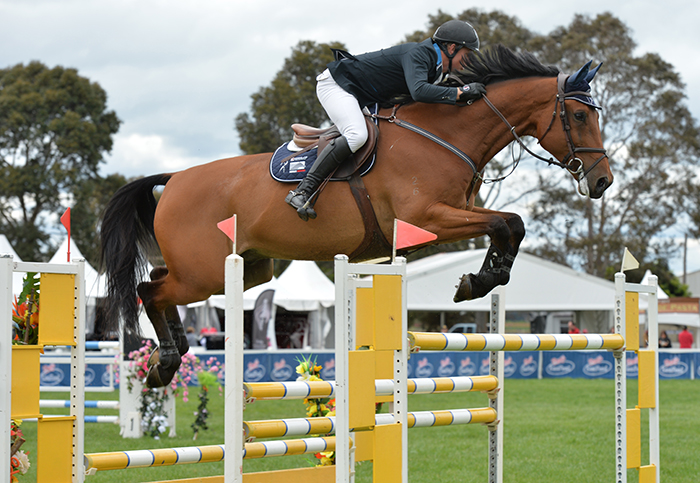 A national title for Jamie and Constellation
 He keeps getting better. He went really well at Hagen in the 4* show when we were in Europe, he jumped clear with a time fault. I was hoping he'd hold that form and perhaps get a little bit better but he got a bit of a virus in the stable and he just went off a little bit going into the selections for Rio. When he's not feeling great, he's often not that easy to ride, he gets a bit stiff, a bit difficult and it was just a pity that happened before the selections. My main horse Quite Cassini ended up getting sold and Constellation was a back up but we thought while we're there and he's jumping well we'd try to short track him into the Olympic Team. He was probably six months off but I still think he should have gone.
Now we're back in Australia and we have him in a bit of a programme, he's definitely getting better and better. He's a really big horse and he's got a really big stride and he's not that great at compacting his stride, but he's getting better at it. I think if I can get him 10-15% better in terms of rideability, I think he's good enough to jump any course in the world.
And he won a couple of Six Bars in Europe…
Yeah we started at Rotterdam 5*. Yves Houtackers, who I was training with, he's a great guy and he runs Rotterdam CSIO 5* and they didn't have enough horses for the Six Bar so Jamie (Jamie's other half) and her parents bought me the spot in the 5* show for my 30th birthday so we were there. I said to Yves, if I go into the Six Bar and win it, then you have to give me an invitation for next year. I didn't know how it would go, but he won it jumping 2 metres. Edwina Alexander Tops was really good to us and a spot came up for the GCT in Paris so with the prize money from Rotterdam, we bought the spot in Paris and won the Six Bar there. With that prize money we ended up going to Dinade in France. It was great. The horse really helped us get to a few big shows.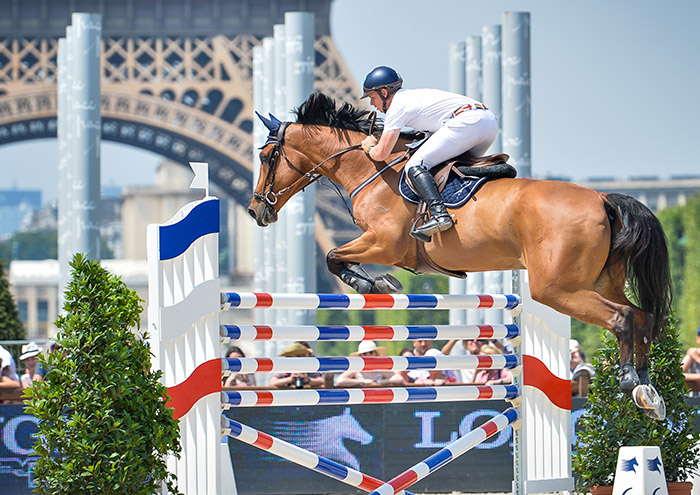 A win in Paris in the Six Bar
What are the plans heading into the end of the year, WEG next year ?
We jumped a World Cup this weekend at SIEC. I had one down in the second round after a clean first round. John Vallance built a really big track. I don't think a lot of the World Cup courses have been true tests, but this one was a really good track with some tricky lines and big oxers which was a great test and the horse jumped nearly a perfect first round then I made a mistake in the second round and we had a rail down. But it was a good show and the idea of a pop up World Cup was great.
Moving forward, I might go the Adelaide World Cup in a month, and perhaps New Zealand for Equitana.
When you only have one Grand Prix horse going around, you just have to be a little bit more careful and pick your shows. I think Billy (Raymont) is nearly out of reach now so I think he'll win the series and I think he's planning to go to the final, which is good. I'd really like to go again but I'm not sure if this is quite the right horse for the indoor shows. It really depends on the size of the arena.
WEG's the big one. I've been a couple of times, but Woody, Kerry, Jamie (Winning) and I haven't owned one of the horses that have been there, so that's sort of what we'd like to do. Jamie and Brooke Campbell bought him as a yearling but he got too big for the girls, however he's been here his whole life so it would be great to get him into a Championships, but he is only a 10-year-old so if we don't take him to WEG, we could just look after him for the next 18 months and have a go at the Olympics. I've never made an Olympic team so that's something I'd really like to do. We'll make our minds up after Christmas I think.
We haven't really heard what the selection process for WEG will be yet but possibly they want us to all go to Europe. I don't really want to go and base myself there for a long period this time. There's too much going on here, and we just spent three years there which is a big chunk of life. So if we have to, I'll go over maybe for a shorter spell.
We're more interested now staying in Australia and developing the sport here. Jamie's parents are really keen to do that too. It's a long way behind Europe and it's always going to be but if we could bridge the gap a little bit and get the sport more popular in this country, that's our aim. It's a good sport, it's entertaining, I just think people don't know about it.
You're content to train in Australia then?
I feel like in any profession, you need to do an apprenticeship and I feel I've done my apprenticeship now, I know what it takes. When you go to Europe, it's fine if you can buy your own property and have your own place, you can do what you want, but when you go over there and you're renting stables, working at someone else's place and renting a house, it costs a fortune and you never really feel at home. I feel like we can produce horses better here because we have the facilities, it's ours, and it's a lot easier for us to do it here.
Any special horses coming up?
Nappa's the only Grand Prix horse I have at the moment but I've got a nice six year old coming along and we have some really nice young ones.
(Actually the Yandoo paddocks look quite full of youngsters…there's nothing nicer than driving into the property with all those young heads poking over paddock rails).
We brought a few over from Europe with us. We have a colt out in the paddock who's really young but he's pretty fancy when he free jumps. There are plenty of young ones to keep us busy over the next few years.
And a baby for you and Jamie!
 Yeah…only two weeks to go! We're excited and looking forward to that change.