---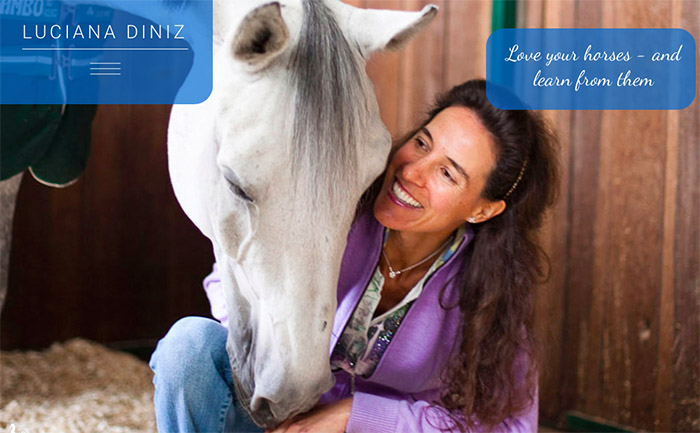 Story – Rebecca Ashton
Photos – Rebecca Ashton, Roslyn Neave and courtesy of Luciana Diniz
International showjumper Luciana Diniz just does things differently. She's one of the most mindful equestrians I've interviewed and is incredibly thankful for the life she gets to lead….and for all her horses, who she views as equal partners. She enters the ring of the biggest competitions at a walk on the loose rein, like she's heading out for a trail ride; relaxed, unflustered, before finishing her round with a look to the heavens and a hug for her horse accompanied by the widest smile you'll see and a big wave to the crowd. It's genuine gratitude.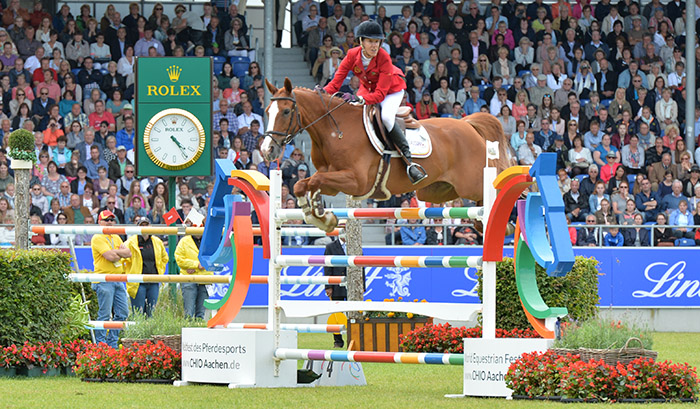 At Aachen this year with Fit for Fun
Her website is scattered with positive affirmations and pictures of her meditating amongst trees and she's almost obsessive about emotional intelligence, self-development and the interplay of body/mind/spirit. She expounds balance, flow, mindfulness, focus and discipline and likes to keep things simple, including the training of her horses… and even their tack. Through her "G.R.O.W. 2 Ride Great" programme, Luciana aims to help riders learn more about their life through riding and help them interact with their horses in more mindful ways. She sees it as her way of giving back.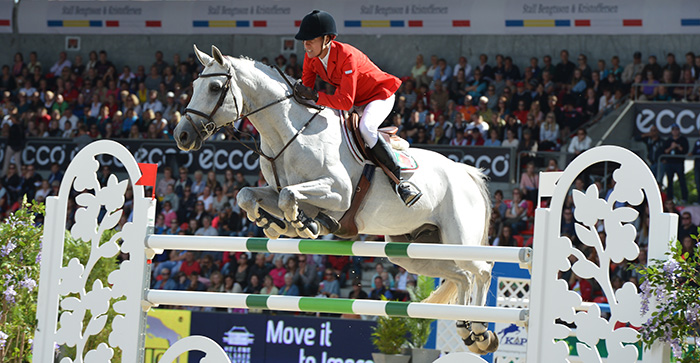 With Winningmood at the Europeans in 2013
Having grown up in Brazil, Luciana lives in Germany, but rides for her grandfather's Portugal. After competing at the Olympics in her beloved Brazil last year, where she finished 9th on her charismatic little mare Fit For Fun, she has continued her success this year with Grand Prix podium finishes in Aachen, Chantilly and Sopot as well as representing Portugal at the Europeans, where I caught up with her.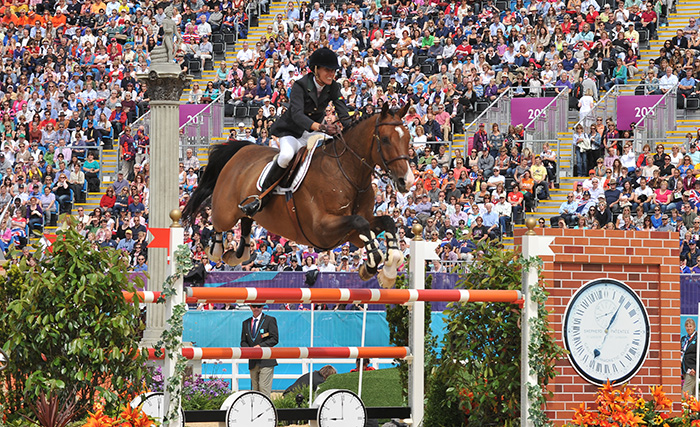 The London Games in 2012 with Lennox
You always seem to be smiling. Do you ever get stressed at the big competitions?
I think I used to get more stressed in the early times than now. Then I learned there are two kinds of stress; the positive and the negative. If you transform this negative stress of being nervous at a big competition for a positive one, then you feel you are happy to do it; you feel the joy of doing it. Then it's a good stress. So if we say we have no stress, is this a lie? But we have positive stress.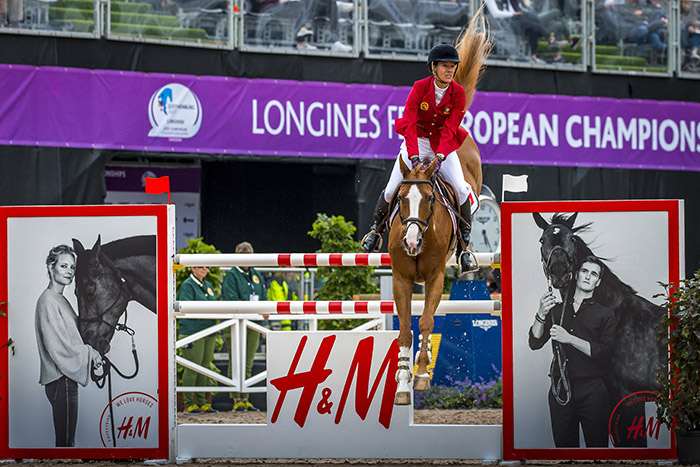 At the Europeans with Fit for Fun, where Rebecca interviewed Luciana
How did you get to that point? Did you have any tools?
I learned a lot from many different mental trainers. I read a lot and I'm a hobby writer, so I've written a lot of books. I have one printed now, "Fit For Gold", my own story of the Olympic Games in Rio and now I'm writing my next one which is a philosophy on life which I've developed over the last few years.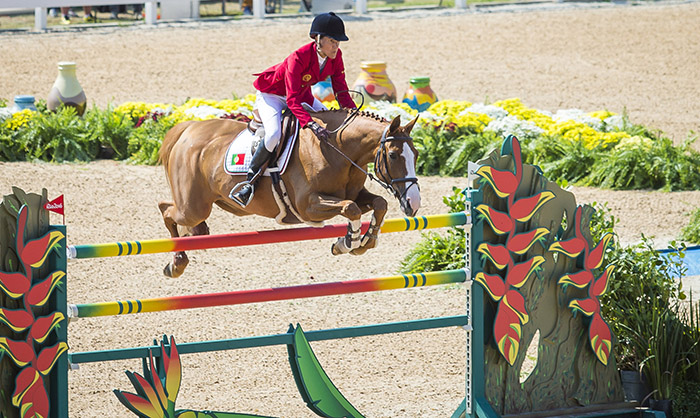 At the Rio Games, Luciana wrote a story of her Games experience.
Is writing a meditative process for you?
Yeah writing is something that has surprised me in a way, because if I say I'm going to write today and I have no inspiration, then I can't write. So, when I feel inspiration, I do it. I let it come to me instead of forcing myself to write. It is a hobby, it brings me joy when I'm doing it and to share my message with other people.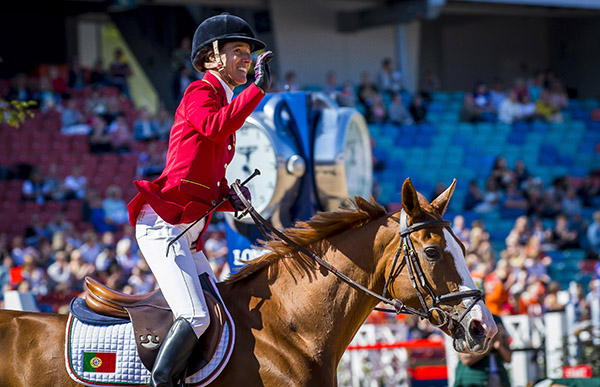 Who's been a big inspiration in your life? It sounds like there have possibly been many.
I have a lot of friends, I wrote about that in my book. It's very important to have idols, and it's also important sometimes to get to know them, and see what is their secret. For me one of my biggest idols is Roger Federer. I watch him when he plays tennis and my children also play tennis so they watch every game as well. Some of the riders are also for sure great. I look sometimes to people who have nothing to do with horses to inspire me. There is a writer in Brazil, Augusto Cury who has a great philosophy on life, so I would say he is an inspiration. He writes about emotional intelligence. Everyone can be an inspiration; everyone has something to share.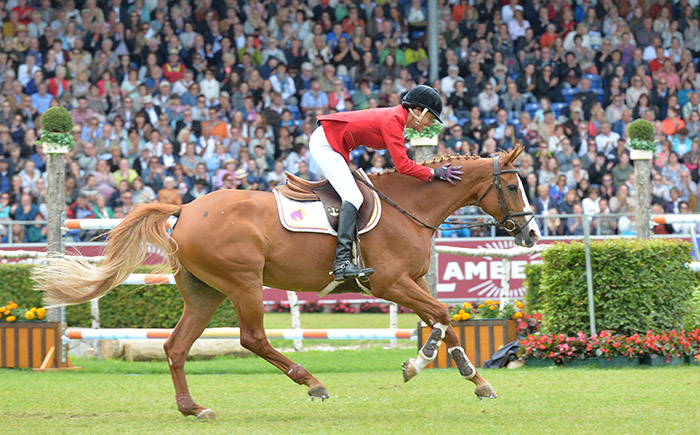 Happy with a good round at Aachen this year…
Have you ever met any of your idols?
Yes all of them. I met Roger twice. That was my dream. And I still have more on my list. Idols are also normal people. They have strengths and weaknesses and it's nice to know that as well.
What was it about Roger that you found inspiring?
For me he is a genius. There is no player like him in the world, especially now when he's older and the way he's winning after an injury. I see a lot about myself. I had a big injury, and I was six months not riding. It took me a long time to get back to this level and he is the one that told me when I met him in December last year to just go slow. Don't try to go over your injury because I was getting nervous already, it was the second, third, fourth, fifth month and still I could not ride. My foot was not getting better. It was very nice to meet him at that time, because he said he was injured, and wanted to come back too quick, but he waited and now he's at his best. So I then tried to follow him.
What other things got you through that six months… physically and mentally?
Again, I wrote my book "Fit For Gold" because I had the time. It was kind of like therapy for me.
I couldn't do much physically, but I had to go for hours in the rehabilitation centre, so there were a lot of other things I could do there.
Looking at your website, you seem really open minded about different therapies… you used leeches on your horse when he was injured.
Yes and I used the leeches on me as well! Two years ago I had a shoulder injury, like a frozen shoulder. For me it did not help, but I still tried them on my horses for a while, and I think it's good. It's an old therapy and I think sometimes old things are good.
What's the daily management of your horses look like?
I like them to go in the paddock and I like them to go in the forest. We have a big forest at home. I have a racetrack, so some days it's condition work, some days dressage work, so I try to make every day different for them, so they don't get bored. It's important to me that they stay happy.
I do gymnastics with them twice a week if they are not showing, but not much jumping. I just really like them to have fun; they're working, but they're also playing. I like it when they play. When they're happy, you can see it in their eyes. That's how I know how they feel.
Tell us a bit about Fit For Fun
She's so amazing. I call her Fit For Love because she's a lovely horse. She has everything; she knows what to do, and I follow her! I've had her since she was eight so five years. She found me. It's a love story. I was told she wasn't for sale, but I could sit on her. I met the owner, Ralf Jünger, he's still a half owner and we made an agreement that I have her for sport, but that she goes back to him afterwards for breeding.
Already she has two sons. One is already with me and I ride him, and Ralf is also my half owner with the young horses. It's really a family story.
 To find out about Fit for Fun's famous sire, click
And you do a lot of things away from horses?
Yes, like writing books, I really love it and I'm a mother. My children play tennis so I follow them, and support them. My son just won a tennis tournament yesterday after seven days of playing. It was a long week for him and he won his final yesterday, so I was really proud. And then I have my business, and a foundation as well which deals with emotional intelligence and how you deal with your emotions and coaching with horses, and getting to know yourself through horses. We're going to go to South Africa and Switzerland in October; it's my way of giving.
And G.R.O.W.?
It's the name of my company because it's inspired in my coaching method. I developed a coaching method called Growing, so my company is Grow because it inspires me in everything I do in life. I find it's an empowering name so I use it in a lot of things that I do. I can only share what I've learned from my own experience, so for example, the philosophy I wrote, it's because I believe in that.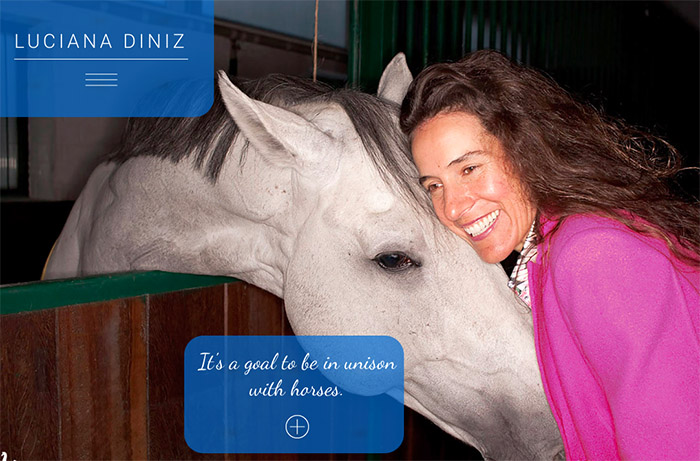 Where do you get the time to do all that you do?
Good question. I think the only thing I really need to do in life is time management! Somehow we manage, but if I don't find the time, somehow life stops me, like what happened with my injury. So, everything is perfect.
Who do you train with?
With myself. I've been doing that for a long time. I also observe a lot of riders, but I've been training on my own for a long time and it works.
How do you recover after a big event?
I keep going… which is why for instance after Rio that I had the injury, because I got tired and didn't stop! Sometimes when you don't make the time, life gives you the break for you. However, after here (The Europeans) I go to Calgary, but next week I am off with my children hanging about at home.
You're very much into balance and keeping everything calm and quiet, but to be as good as you are, you have to be a bit of a fighter….
I always believe in the opposites; the fire and the water, the beauty and the beast, the good and the bad, the happy and the unhappy, because we all have this in ourselves. We have both. You have to water the good way of being. Plant good seeds, and give them water to grow.