Christopher Hector interviews one of the great Belgian Jumping breeders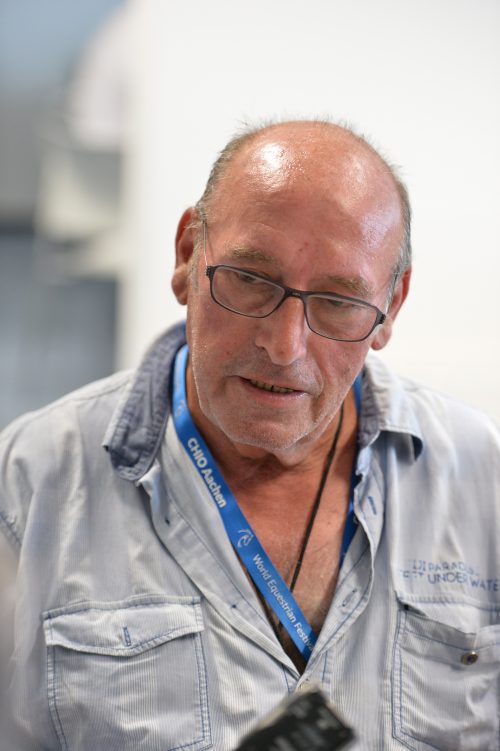 It annoys me when I read articles about 'breeders' and when I get to the end of the article, I've heard lots of self-promotion but I discover there is not one single product of this 'breeder's' program that has done anything of real note. I am reminded of Bernard le Courtois' distinction between stallions and un-castrated males, perhaps the same distinction would be between breeders and the owners of horses that produce foals?
It's certainly not the case with Belgian jumping horse breeder, André Leemans. I met André at Aachen where his stallion, Iron Man was looking great. The young stallion has already been named 'Elite' by the BWP as he sets out on his international career with Gregory Wathlet. This is real breeding – Iron Man van de Padenborre, by Darco out of a mare by Chin Chin, traces to the original foundation mare of the Padenborre Stud, Draisienne.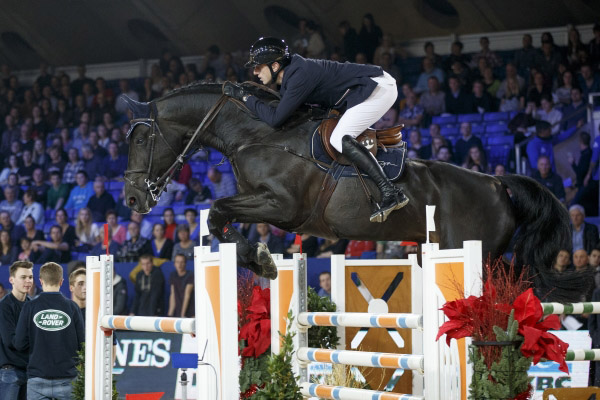 Iron Man van de Padenborre – the new star
Iron Man's full brother, Ho Go vd Padenborre, is a 1.60m international with Denis Lynch (2nd at the CSI5* in Los Angeles, last year) while Cevo Socrates (who was Socrates vd Padenborre) is a full brother in blood to Iron Man. Iron Man is out of Dirka vd Padenborre (Chin Chin / Jessica vd Padenbore) while Socrates is out of Dirka's full-sister, Pin Chin.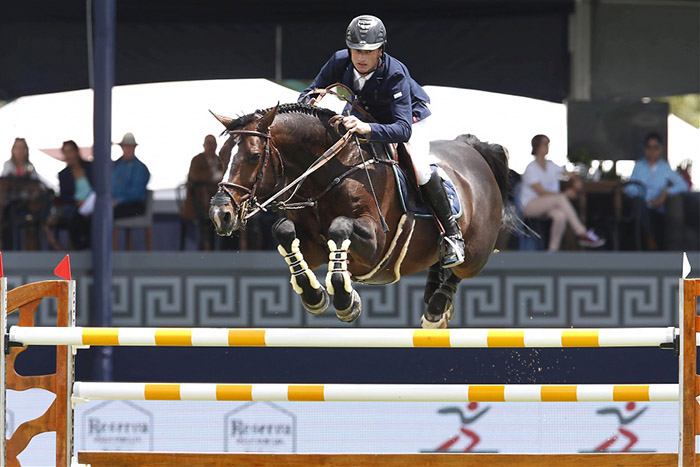 Ho Go vd Padenborre
Then there is Ohio vd Padenborre who was ridden by Stanny van Paesschen in the five-star Nations Cup in Dublin and in the Nations Cups of Drammen and Helsinki by Nicolas Leemans. Ohio is by Quidam de Revel out of Himalaya VDP by Fleuri du Manoir, out of Draisienne. Not only was Ohio Andre's first top competitor, but since then Andre has used Ohio successfully in his breeding program.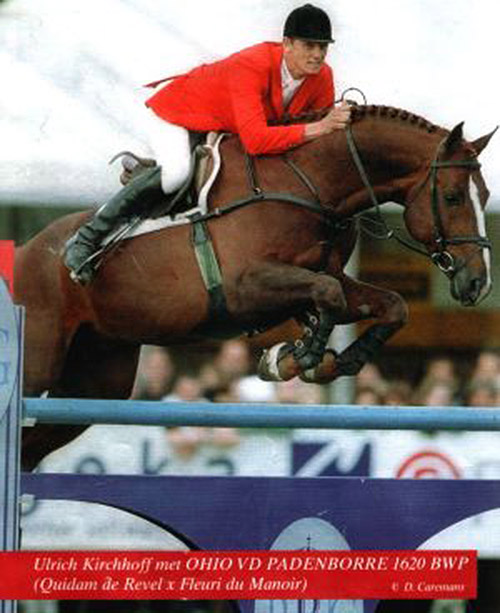 Ohio vd Padenborre
You get my drift, we are dealing with a breeder who has the score on the board. The mare that started it all, Draisienne was bred in France, by the Thoroughbred, Noe out of a daughter of Laurier Thym, a son of Ultimate xx.
Here we have another example of a dynasty based on a less than brilliantly bred base. French bloodline expert, Arnaud Evain, did not include the family in his definitive work on the French mare lines, and comments:
"Draisienne by the Thoroughbred Noe is the only product of Dragonne by Laurier Thym (warmblood). Dragonne had one sister Lauzelle by Avranchin (heavy   warmblood), born in 1955. Lauzelle had two fillies, including Ranville (by the Thoroughbred, Valesco) born in 1961. Ranville is the mother of Grandval born in 1972, by Bengali (warmblood). Grandval was a very succesfull CSI winner with Philippe Marie in the north of France, his jumping index was 165."
"Ranville has also four other good winners, with indices between 120 and 141."
"Besides that, its a 'normal family' for the rest of the French branch…"
I asked Mr Leemans why he went looking for Thoroughbred blood…
"I was working as a butcher and riding horses for a cattle dealer. Draisienne caught my eye with her extremely strong character and high amount of blood. So I bought her, my very first horse."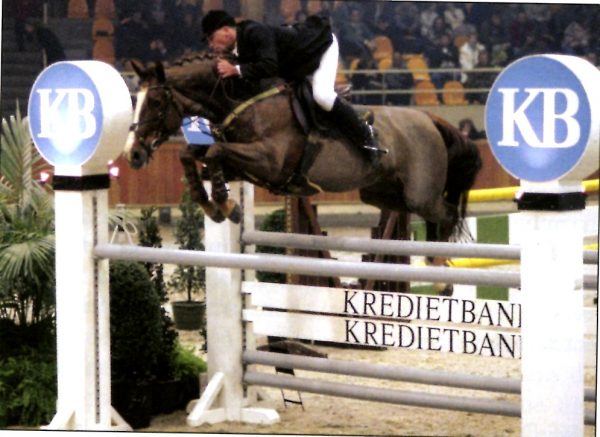 Himalaya vd Padenborre
Some first horse! Draisienne bred to Fleuri du Manoir produced in 1984, Himalaya vd Padenborre. Himalaya bred to Pachet II, produced My Way vd Padenborre, the dam of the 1.60m showjumping stallion, Riot Gun vd Padenborre (by Chin Chin). Bred to Quidam de Revel, Himalaya produced Ohio vd Padenborre, another stallion who competed 1.60m with Dominique Hendrix and Stanny Van Paesschen. Another stallion, Val T'Horens vd Padenborre (by Grandeur) was a 1.50m competitor with Michel Robert, Kim and Nico Leemans. (Nico Leemans won the five-year-old young horse Belgian championship with Val T'Horens.) Winchester vd Padenborre (Quidam de Revel) jumped 1.50m with Rossen Raitchev, while Fape Fox Trot vd Padenborre, a chestnut stallion by Chin Chin, was a 1.60m competitor with Fabio Leivas Da Costa. All told Himalaya produced 16 foals – four in 2003 alone.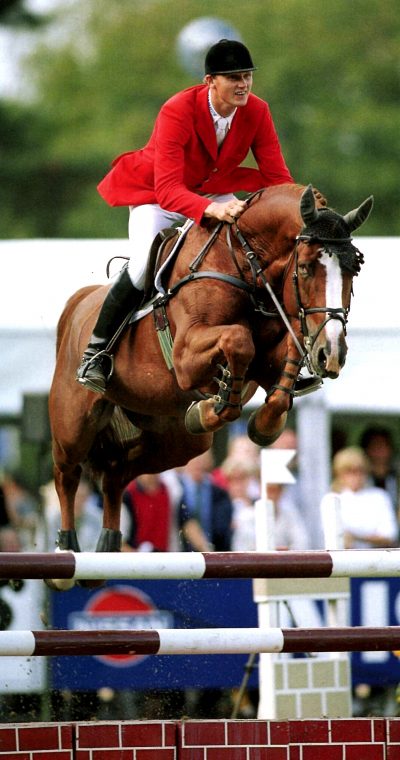 Ohio vd Padenborre
In 1985, bred to Fantastique, Himalaya produced India vd Padenborre, who bred to Voltaire, produced Rapide 'h', the dam of Etoile Chin Van Seven Oaks (by Chin Chin), another 1.60m competitor.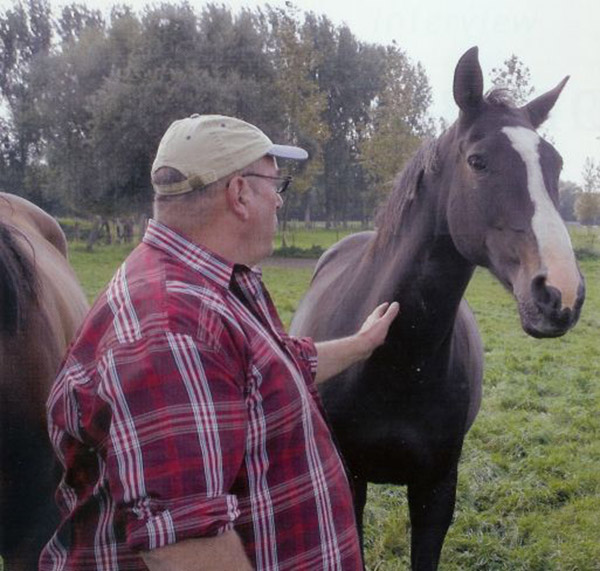 André Leemans and Jessica
The next year, 1986, Draisienne was bred to Fantastique again, and produced Jessica vd Padenborre. Mr Leemans had struck gold again! Jessica's first foal, the filly, Miss de Mai vd Padenborre (Quidam de Revel) proved a decent broodmare producer. Her first daughter, Palerma vd Padenborre (Quidam de Revel) was the dam of Big Red (Cartani 4), who jumped 1.45m. Another daughter, Ramona vd Padenborre (Quidam de Revel) produced two 1.45m / 1.50m competitors, Umona du Temple (Calvaro) and Ulhan du Temple (Kannan).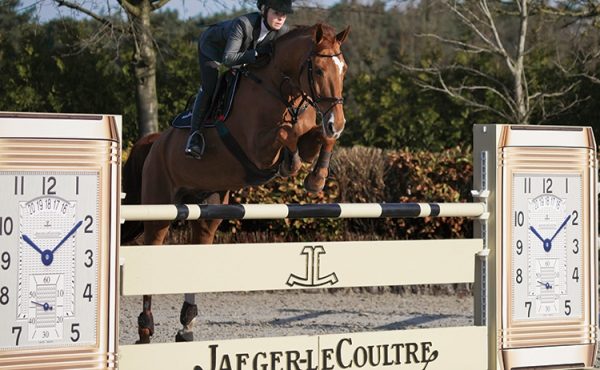 Socrates vd Padenborre
Jessica's third foal, another filly by Chin Chin, Pin Chin produced Socrates vd Padenborre (Darco), who as Cevo Socrates, jumped 1.60 with Edwina Tops and Steve Guerdat, winning World Cups in Vigo, Göteborg and Zurich. Pin Chin's second foal, was the stallion, Up and Down vd Padenborre (by Ohio vd Padenborre – now we are getting a double cross of Draisienne) who as BMC Up and Down, was a superstar with Jeroen Dubbeldam at the Aachen WEG.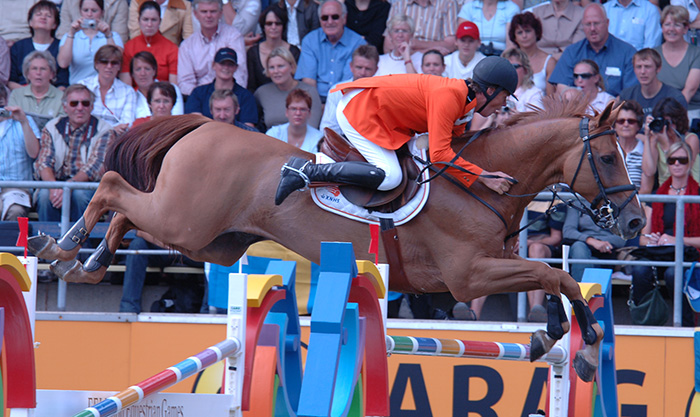 Up and Down vd Padenborre 
In 1996, Jessica produced the stallion, Toronto vd Padenborre (Ohio vd Padenborre) who jumped 1.60m with the Italian, Juan Carlos Garcia.
In 2003, she gave birth to Dirka vd Padenborre (Chin Chin) another superstar broodmare. Dirka is the dam of 11 foals, including Ho Go and Iron Man, as well as Houston vd Padenborre (Argentinus) who jumped 1.45 with Nicholas Dello Joio and Gillian Billbrough. She is also the dam of Mike vd Padenborre (5-year-old by Quidam) who is ridden by Logan, Leemans, Andre's grandson. André likes to take it easy with his youngsters and builds them up with all necessary patience. Hacking out and enjoying their stay at the farm gives the youngsters a lovely youth before their career takes off.
Right now André has three three-year-olds out of Dirka, one by Quidam and two by Baloubet. Two two-year-olds, one by Quidam and one by Baloubet. And four yearlings, one by Quidam, one by Tangelo v/d Zuuthoeve and two by Cornet Obolensky. This year he has two Tangelos from Dirka. "I now have twelve young horses from Dirka," Mr Leemans tells me proudly.
The stud has grown, from that one mare to fifty horses today.
When you started breeding with Draisienne, did you have another job?
"We worked all the time because we had no money, there were nine children in my family and my mother and father were not rich. For thirteen years I was a butcher, and I was riding for a cattle dealer, and he sold me the first mare, and then I started to produce good horses, and I could concentrate on being a horse breeder. I always wanted to breed jumping horses. I was a jumping rider myself and I competed at international level and cleared my highest jump at 2m20. I had my best results with my horse Ohio. So I called my first big talent from my own breeding after him. Ohio the stallion was born in 1991."
"In 2005, I was the BWP breeder of the year after I had three horses at Aachen during that period: Riot Gun, Socrates and Ohio.
more follows
Let's talk about stallion selection – why did you go to Quidam de Revel?
"Quidam was six or seven, and I saw him on the television, he always had the jump. I like Quidam because he produces offsprings with a good character and a strong will to jump. I also bred with Chin Chin who gives lots of power and blood"
Why did you go to Darco?
"I bred a lot to Chin Chin, and he had a lot of blood, so Darco was a good match with the horses by Chin Chin. Darco gives tough horses with good bone."
Iron Man has been a good competitor, but will he be a good breeding stallion?
"He is a very good breeding stallion, he gives his foals strength, beautiful horses, big horses. The oldest are now five years old – this year I am exporting two to England, and I am selling the semen in France. He's only nine years old, and look at how he jumped here at Aachen, he is a super jumper. My daughter Kim is totally in love with her own Iron Man offspring which turns 5 next year."
more follows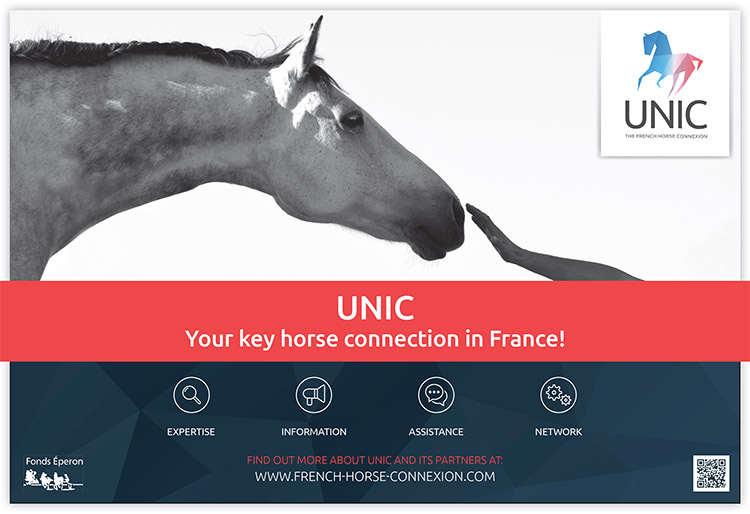 Another who believes in the future of the young stallion is his rider Grégory Wathelet:
"I have a few of Iron Man's offspring at home. I think they are really good. I have to admit I am not really a specialist for foals, but I had three foals this year. I have also purchased two of his offspring that are two years old. We did free jumping with them that looked really good. A bit massive like Iron Man, but really careful with a lot of blood. Iron Man himself does also have a lot of blood. I haven't seen his oldest offspring yet. I think they are five now, I have been told that there are a few very nice four-year-olds."
"I think you can use for him all kinds of mares. Some people say that you need blood for him, but then I say no, he doesn't need blood because he has a lot of blood himself. I ride him every morning one hour before the class, because he has so much blood. He doesn't look like he has so much blood when you see him, but he has. That is his quality in the end and for sure the mares shouldn't be too massive."
"Iron Man himself has an amazing mind and is really brave. He is sensitive in a way, for example if he sees something on the floor and he doesn't know it, he will spook a bit. In the ring he doesn't spook for anything. To work with him is easy."
André has no intention of slowing down just yet…
Looking to the future, what stallions are you going to use?
"Tangelo, Quidam, Cornet Obolensky, Casall, Kannan – my best horse is yet to be born! I never give up trying."
And it would seem that the Leemans' legacy will live on, with him at Aachen was his grand-son Logan Leemans.
"I am very happy that my grandson, will continue with the horses. At the moment school is more important, but he is still working with the horses, and when school is finished, the horses are waiting."
I was greatly assisted in writing this article by the amazing Huub van Aert, who is a walking encyclopedia of Belgian Breeding. It was Huub who introduced me to André and helped with the translation during the interview. Thanks again…
---
Looking for a stallion to breed show jumpers or eventers? There's a range of the world's top bloodlines available from International Horse Breeders – stallions like Balou du Rouet. Go to www.ihb.com.au