Words by Christopher Hector and photos by Roz Neave and Dirk Caremans
The Eventers
The conventional wisdom is that you can breed a dressage horse out of jumper lines but you can't breed a jumper using dressage blood. Sönke Rothenberger's Cosmo (Van Gogh / Landjonker) proved the first proposition decisively enough in the dressage arena, but there was an interesting development in the eventing field where a couple of dressage bred horses shone.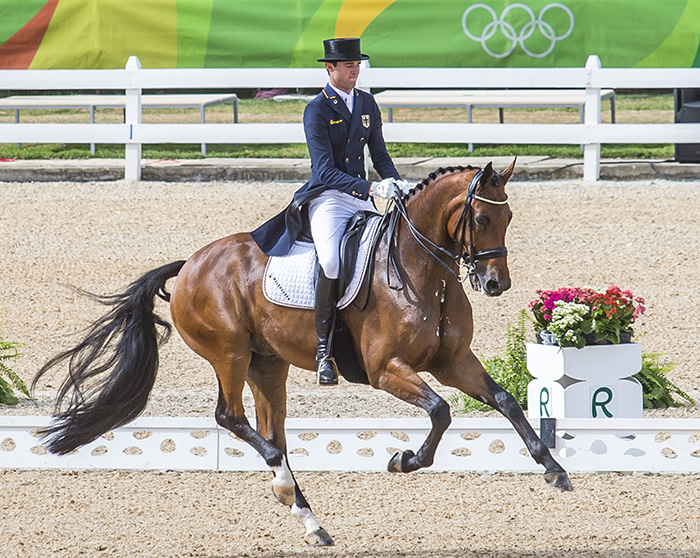 Cosmo and Sönke Rothenberger, and below his sire showing us where his canter came from, with assistance from Sonke too…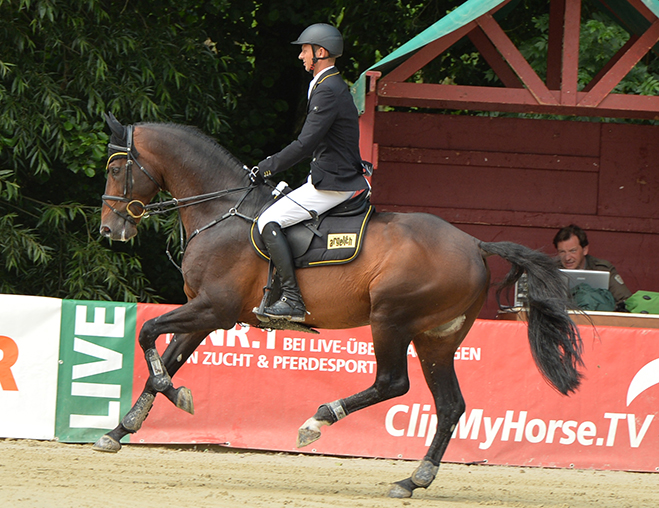 Marco Kutcher and Van Gogh
Australia's Christopher Burton wowed them with his nine-year-old 'dressage' horse, Santano II, who is by Sandro Hit out of a Brentano / Weltmeyer mare. Okay he gets a dose of Thoroughbred from Sandro Hit's great grandsire, Sacramento Song xx, and more on his dam's side, Brentano was by Black Sky xx, out of a Bleep xx mare. Still, just 36.72 blood.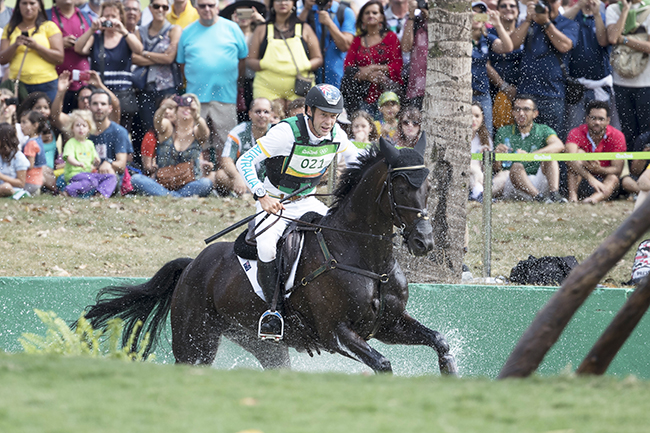 Santano II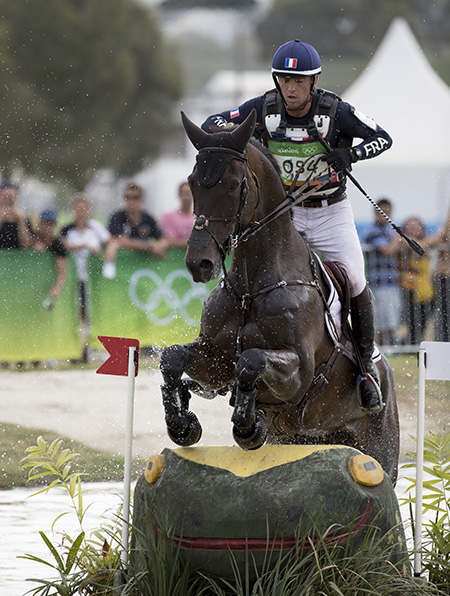 Dutch dressage horse in the French team, Bart L
The other dressage candidate turned eventer was Mathieu Lemoine's Bart L in the gold medal winning French team. The black gelding is essence of Dutch Dressage – by United – pic below – who is by one of Anky van Grunsven's Grand Prix rides, Krack C, out of a mare by another, Partout) out of a mare by Edward Gal's Grand Prix ride, Gribaldi, out of a mare by another Trakehner, Michelangelo, that's 36.72% blood.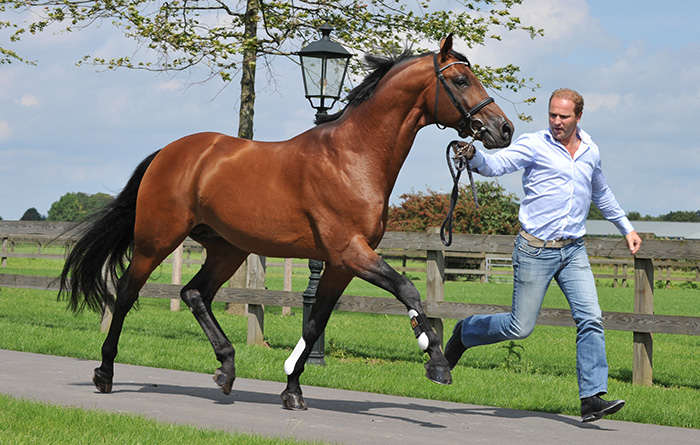 United, Dutch dressage stallion, sire of a French Gold medal winning eventer
Looking at the actual entries, the horses that made it to Rio, as distinct from the earlier list of possibles, once again the stallion with the most entries – three – is the Holsteiner, Courage II, by Capitol out of Vamara (Cor de la Bryère / Liguster). Vamara was the full-sister to Cavalier Royale, another Holsteiner that was for many years ranked in the top three of eventing sires on the WBHSH list. Courage II stood at Kedrah House, for several seasons until his death in 2006.
No other stallion has more than one representative.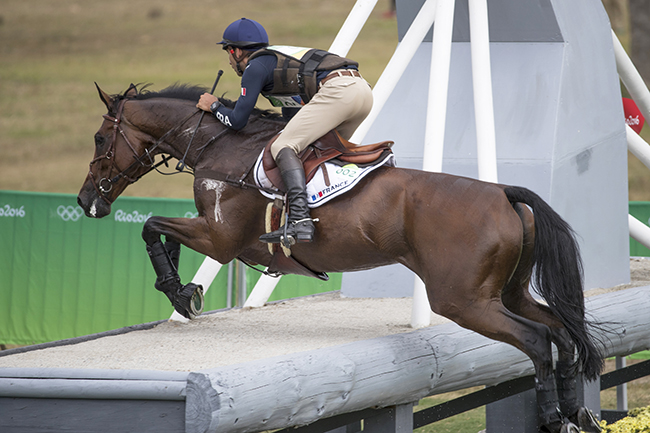 Piaf de b'Neville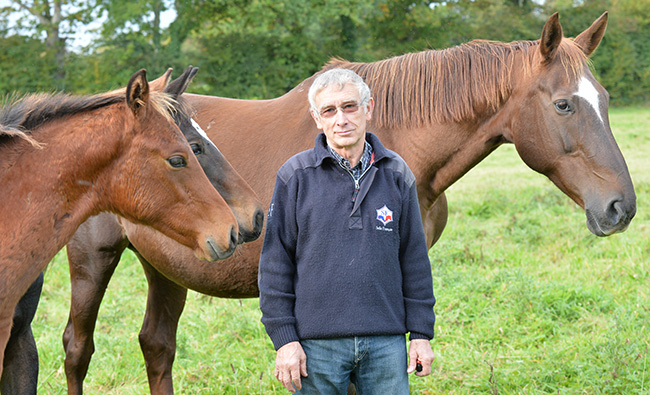 Jean-Baptiste Thiebot shows off one of his broodmares – Oceane de B'Néville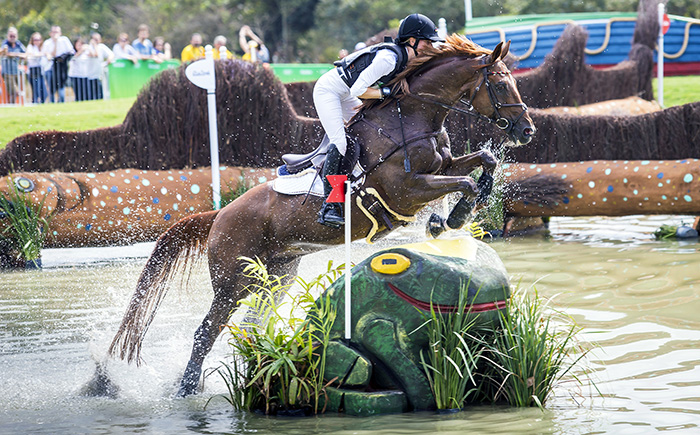 Sandra Auffarth and Opgun Louvo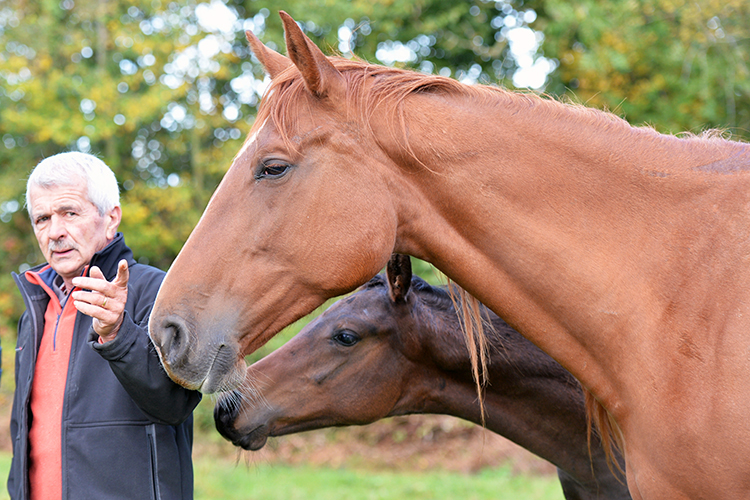 Yves Berlioz and Santa Louvo, sister to Opgun Louvo
---
For more about French Breeding and the system that produced the Gold Medal Team: http://www.horsemagazine.com/thm/2016/12/french-eventing-what-made-france-great-part-one-the-breeders/http://www.horsemagazine.com/thm/2016/12/french-eventing-what-made-france-great-part-one-the-breeders/
More follows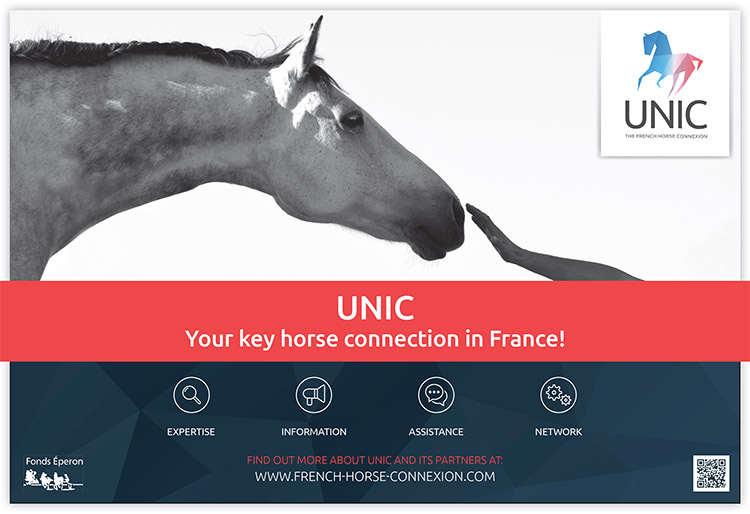 With half the German Silver medal winning team riding Selle Français – Sandra Auffarth (Opgun Louvo – Shogun II / J'T'Adore) – and Julia Krejewski (Samourai du Thot – Milor Landais / Flipper d'Elle, that's Double Espoir on both sides of the pedigree) –  and of course, two of the four in the Gold Medal French team –  Piaf de b'Neville (by Cap de b'Neville, a grandson of Rantzau xx out of a mare by the Jalisco son, Rêve d'Elle. That's three crosses of the great Ibrahim) and Qing du Briot (by Eolien II out of an Etalon Or mare) honors would have seemed have gone to the French book, although it is interesting to note that half their team were 'foreigners' (something that used not be allowed):  the Hanoverian stallion, Entebbe de Hus (Embassy I / Carbid), although there is a French touch on the bottom line thanks to Matcho, the French Anglo Arab that was imported to Hanover) and the aforementioned Dutchman, Bart L.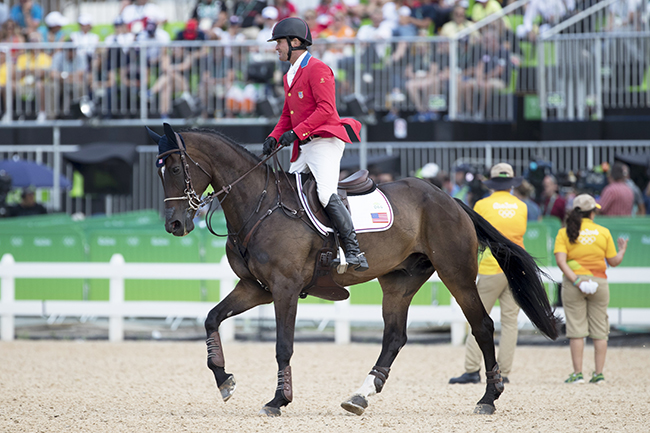 Mighty Nice
The Selle Français  were only the second most represented studbook at Rio, with seven representatives, numerical superiority went to the Irish with 11 and they ended with three of the top ten: Mighty Nice (bronze individual with Phillip Dutton, by the Dutch bred, Ard Ohio, out of an Irish mare of unknown breeding), Paulank Brockagh (just a smidge away in fourth, by the Galoubet son, Touchdown out of a Triggerero xx mare) and Cooley Rorkes Drift (Courage II out of a Rachelle Comet xx mare), ninth. Irish hmmm, one by a Dutchman, the second by a half French stallion and the third by a Holsteiner…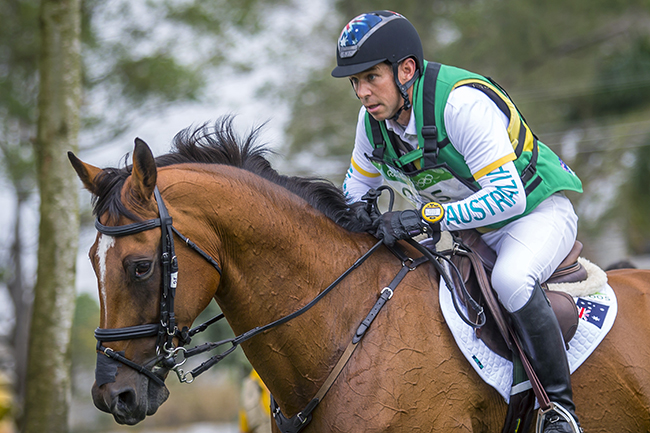 Paulank Brockagh
There were six from Holstein, four Hanoverians, and four from the German Sport Horse book – there were even four recognized as Thoroughbreds that made it to the starting line.
---
Dressage
As we might have expected in the Dressage, as the field gets smaller, the hold the D line of Donnerhall exerts on modern dressage becomes more obvious. Donnerhall himself has one son who makes it through to the Special, while his best son, De Niro, has four. Then there are individual representatives for Diamond Hit, Don Davidhoff, Don Ruto, Dimaggio and Don Schufro.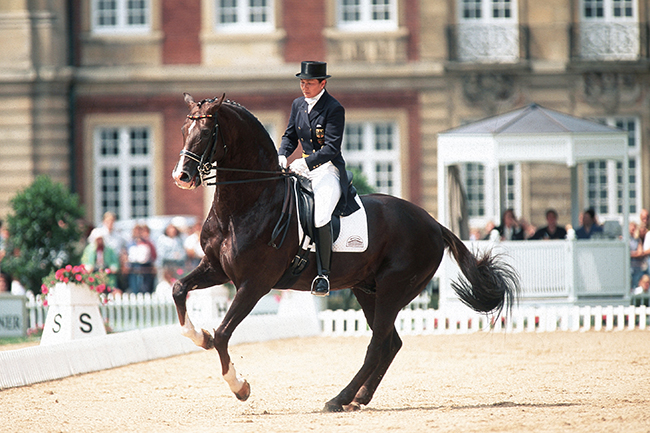 Donnerhall and his sons…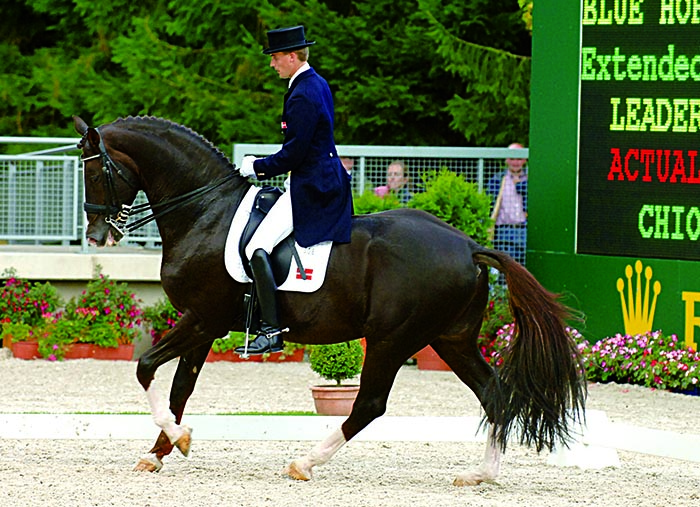 Don Schufro and Andreas Helgstrand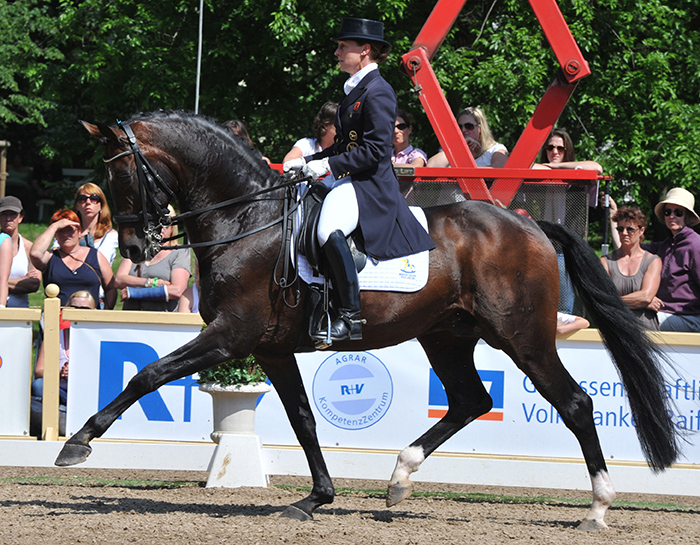 Diamond Hit and Emma Hindle
The Sandro Hit contingent has shrunk to three, but that includes one of, if not the, star of the Special, Showtime FRH (Rotspon mare). The Dutch champion, Jazz is down to two, and there are no more stallions with more than one representative in the field.
Looking at the dam sires, the D line is again well represented. Don Schufro has two, Donnerhall and Donnerschlag, one each. The W line is represented by Weltmeyer himself with two, and one each for White Star and Wolkenstein.
The R line is represented by one each for Rubinstein, Rohdiamant, Rubin Royal, and Rotspon – who was the only R line stallion represented in the sires list with Rosevelt for the USA with Allison Brock.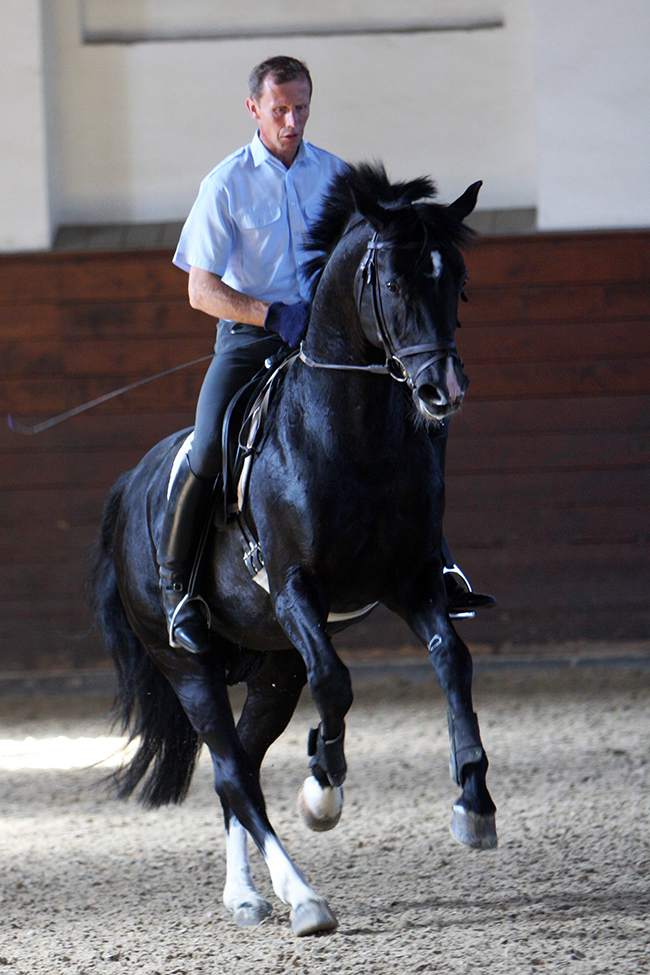 Rotspon
In terms of the studbooks, the KWPN is out in front with 9, followed by the Hanoverians with 6, the Danish Warmbloods, 4, Oldenburg, 3 and Westfalien, 2.
When we look at the top ten placings in the Special, the D Dominance is more complete: the winner Weihegold is by Don Schufro out of a Sandro Hit mare, Desperados in 4th is by De Niro out of a Wolkenstein II mare, while Don Aurelio is by the Donnerhall grandson, Don Davidhoff out of a mare by the Weltmeyer son, White Star. Delgado in 8th is by De Niro out of a Weltmeyer mare.
In the Individual final results, I guess we see two things. One is if you want go with the stats, think Donnerhall. With 50% of the top ten from the D line, that's where you might look if you want a Grand Prix horse. The other is to beware of one-hit-wonders. Sure Valegro is a super star, but his sire Negro has had every chance since he has been heavily promoted and covered many mares, yet aside from Valegro, he has produced nothing of great note. After Valegro the next most successful Negro on the last WBFSH rankings was Nintendo ranked 69th.
Again the influence of jumping blood in the successful (as distinct from the prettiest, most modern looking) dressage horse, is apparent. Valegro's dam sire, Gershwin is pure jump, Voltaire / Nimmerdor, and the final line is more jump than anything else.
The breeding of the fourth placed Verdades is seriously whacko. His dad is a perfectly respectable son of Florestan, Florett As, but his mum is bred to pull a cart (even if it is a fancy show buggy). She even has two crosses of the Hackney stallion, Cambridge Cole. I guess if you knew anything about Dutch dressage lines, you wouldn't have gone near it – lucky Laura's mum did.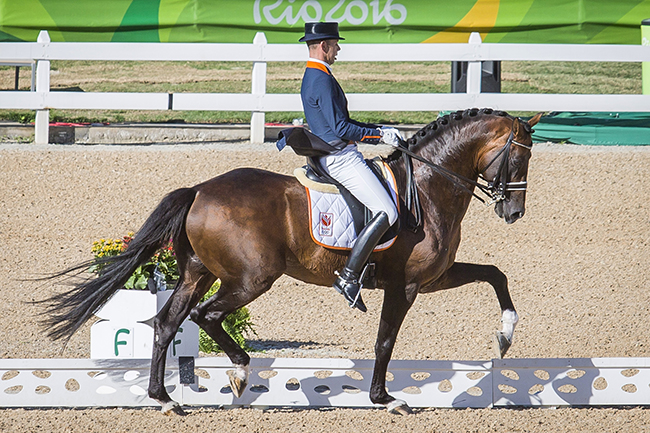 Johnson
The KWPN book had four in the top ten individual results, besides Valegro and Verdades, there was  Nip Tuck (Don Ruto / Animo) and Johnson (Jazz / Flemmingh), with a couple more just out of the ten, Legolas (Laemedon / Florestan II) in 11th, and Arlando (Paddox / Mytens xx) 12th.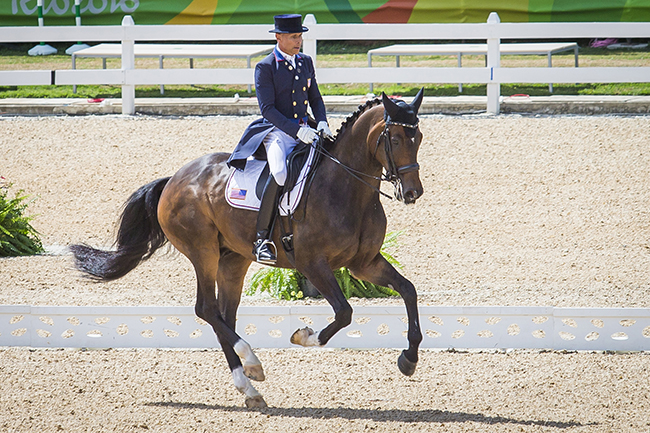 Leoglas
---
Showjumping
Looking at the start list, the KWPN leads the field with 17 followed by the Belgian BWP book with 12.There are 10 Selle Français and six each from the other Belgian book, sBs and Holstein (although as usual, the progeny registered with the other books are rich in Holstein blood). There are five Westfaliens, and four each from Hannover and Zangersheide, with three from the Oldenburg Jumping book.
The sire stars of these Games are For Pleasure and Cornet Obolensky. Cornet has five, Cornetto K ( Calido), Cannavaro 9 (Florestan I), Clooney (Ferragamo), Cornet 36 (Ars Vivendi), Cornet du Lys (Champion du Lys).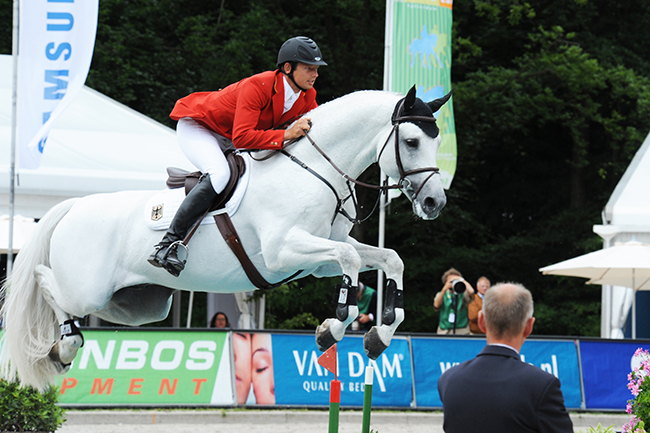 Cornet Obolensky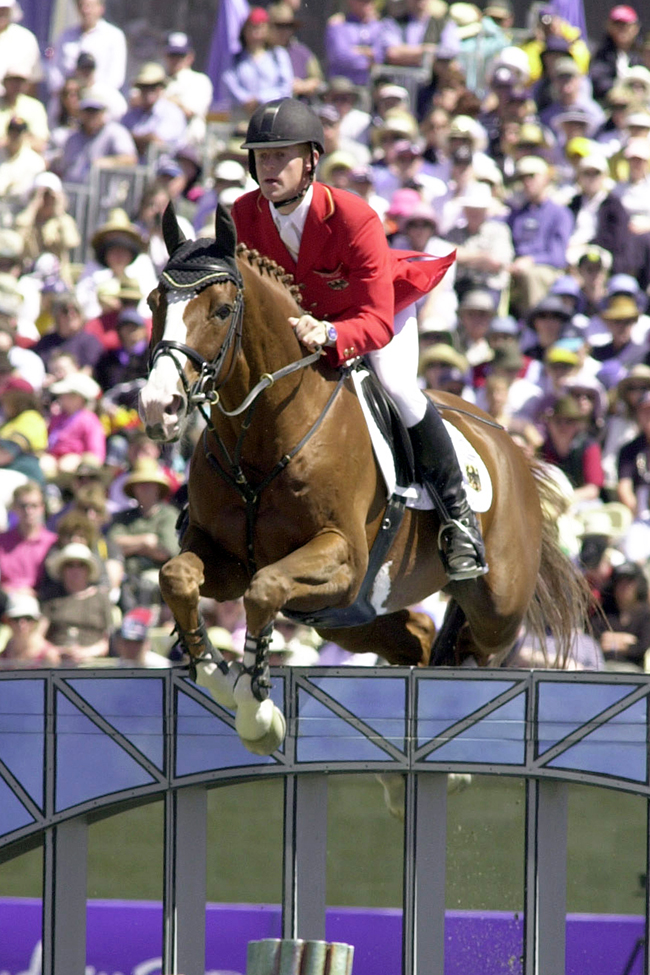 For Pleasure
For Pleasure has two of his own, Fit for Fun (Fabriano) and Barron (Nabab de Rêve), and three of his sons are represented: For Keeps, For Feeling and Forsyth, the sire of the leading horse going into the individual final, Eric Lamaze's Hanoverian mare, Fine Lady (out of a Drosselklang / Grannus mare. Fine Lady finished the go rounds with zero penalties..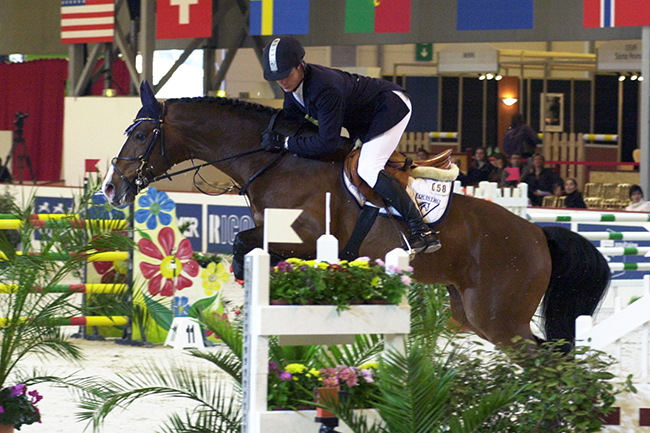 Forsyth
Kashmir van't Schuttershof  has two, but they are both in the top ten – All In  (out of an Andiamo mare, just one penalty) and Reveur de Hurtebise (Capricieux des Six Censes) with 4 penalties. The third horse on just one penalty is the Nijhof stallion, Verdi (Quidam de Revel / Landgraf). Kannan has three: the stallion, Quorida de Treho (Tolbiac des Forets), Quabri de l'Isle (Socrate de Chivre) and London star, Nino des Buissonnets (Narcos II).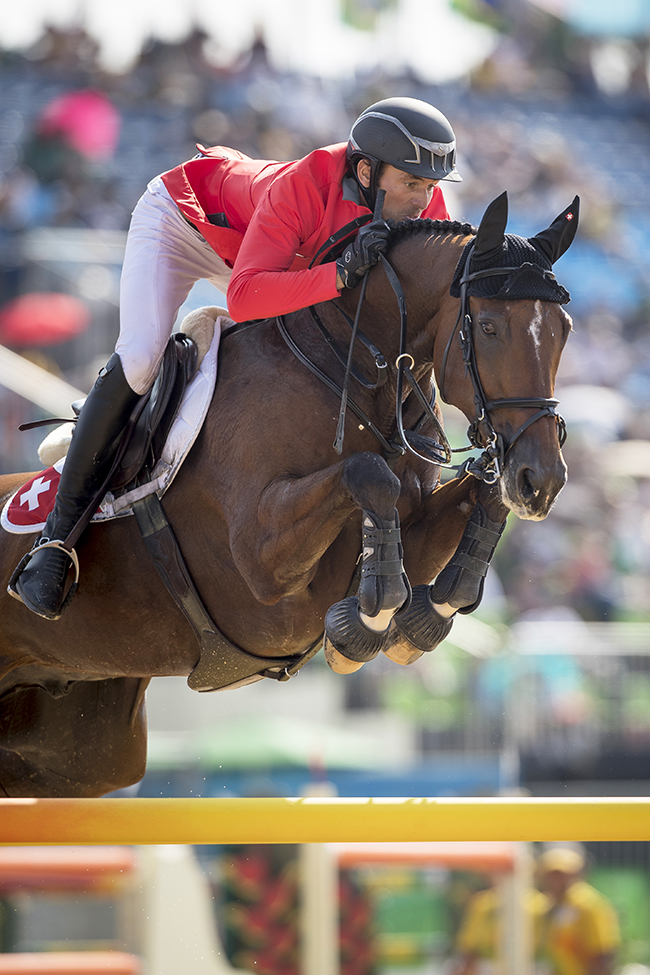 Nino des Buissonnets
At the London Games, Quick Star was well represented with two sons, Big Star and Star Power, and a grandson, Castlefield Eclipse into the individual round. At Rio, he had only one representative, but what a horse! Nick Skelton's Big Star  coming back from injury, went first in an unprecedented six horse jump off, jumped fast and clear to hold the lead right to the end.
The six in the jump off, more or less represented the breeding trends at Rio. Peder Fredericson's silver medallist, All In is by Kashmir van t'Schuttershof, who has been a bit of a sire star all show. Unfortunately Kashmir went infertile five years ago, but his breeder, Willy van Impe still has a small quantity of his frozen semen.
Eric Lamaze on Fine Lady was faster than Nick and Big Star, but they had a rail and had to settle for bronze. Still it underlines the influence that For Pleasure is having in modern Sport Horse breeding.
Steve Guerdat's Nino des Buissonets had the first fence, but that won't stop the stampede  of breeders using Kannan, and the Brazilian stallion, Quabri de l'Isle proved that you can fluke a pretty one.
First Devision, ridden by Sheik Ali Al Thani of Qatar, had no rails all week going into the jump off, but put two down in the final. He is by Andiamo, a grand son of Almé out of an Anglo Arab mare, out of a grand daughter of Atlanta Gold Medallist, Jus de Pomme.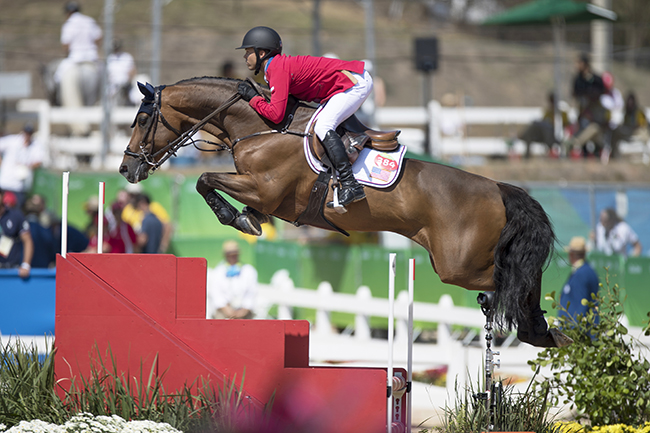 Voyeur
American Kent Farrington at his first Games, on Voyeur, also made the jump off. Voyeur is by the less-than-famous Tolano van't Reithhof ,who is by Chin Chin, and out of a Landgraf grand daughter.
That's the breeding at Rio, no surprises, but super sport.