Michael Farwick riding the Westfalian State Stud stallion, Laurentianer, Jo Hinnemann looks on…
Story – Christopher Hector
Photos – Roslyn Neave and archives
I'm not sure what I expected to find at Jo Hinnnemann's training stables at Voerde  when I visited them in 2001, in the west of Germany, not far from the Dutch border. I knew that Jo's pupils were a Who's Who of European and International dressage riders. I also knew that for the past couple of years he had joined up with the Westfalian State Stud, putting into practice the new director, Dr Susanne Rimkus' policy of taking the stallions out of the breeding barn and into the competition arena. The truth is, I had no idea how explosively brilliant this combination was…
Put simply, I have never ever anywhere seen so many stunning horses working so brilliantly. And they just kept coming. One after another, horses left the stables, went for a loosen-up around the outdoor track, and re-appeared in the outdoor school. At any one time there were upwards of half a dozen horses all working at once. I suppose the standard was set by the first combination we saw in the school, Coby van Baalan riding the Weltmeyer son, Welt Hit II.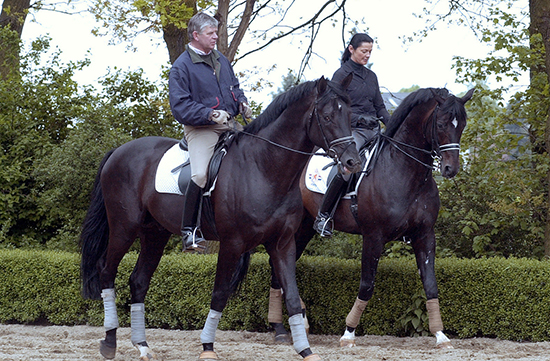 That's Coby on Welt Hit II – Jo on Weltino
Welt Hit II is a super horse, and well, the rider, Coby van Baalen needs no introduction. Jo is confident that the pair will make it:
"When you look at Welt Hit II, he looks to my eyes like the Russian Trakehner horses. Like Dr Klimke's Biotop. A bit straight behind and not so round and compact like all the other horses I have. But he has such a good mind, and he is such an intelligent horse. He wants to work for the rider. People tell me that of all the Welt Hits – 1 to 6 – he is the best producing stallion."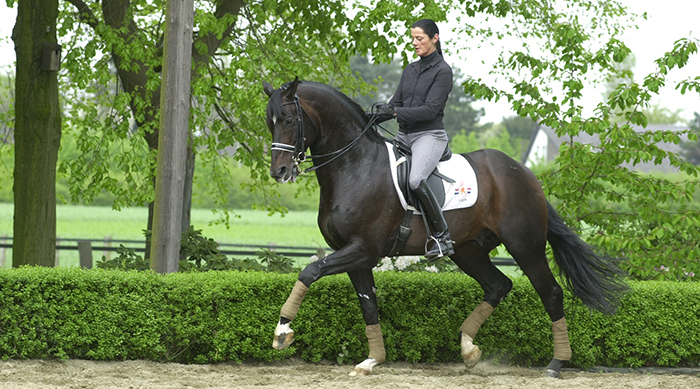 "He has a lot of talent for piaffe / passage, he starts to dance now, he is still not strong enough, but in half a year he will be. He is doing his ones. He can do 70-72% in Prix St Georges and if you have that as a base, and the horse is talented for piaffe and passage, there is no question he will be a good Grand Prix horse."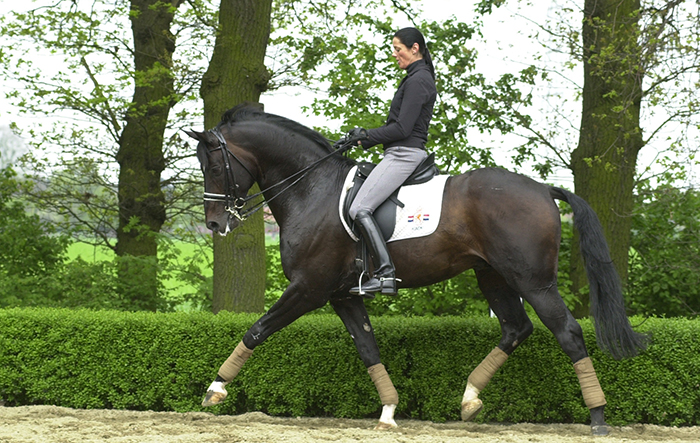 Next Jo talks about what he scored Weltmeyer as a young stallion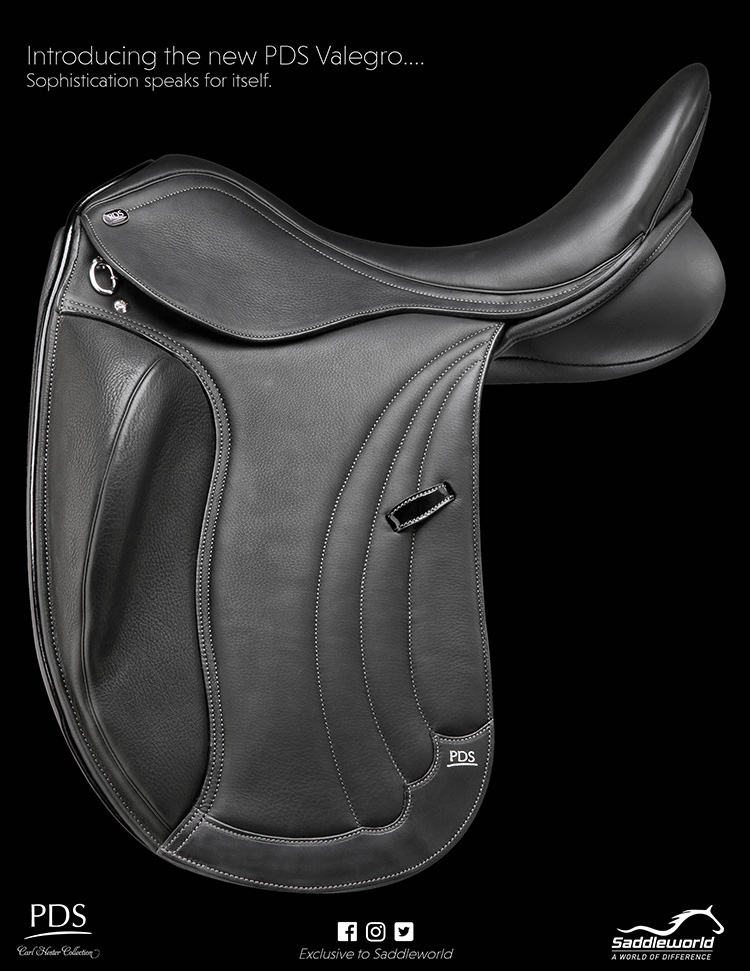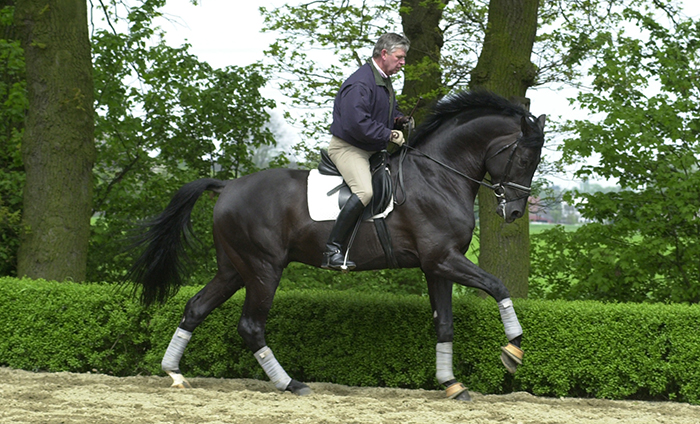 Jo himself is riding a striking black youngster, and he laughs when you ask the breeding because this is a grandson of Weltmeyer – and Jo Hinnemann is not known as a great fan of the famous chestnut Hanoverian. Indeed when Jo rode him as the test rider for the ride off at the Bundeschampionate, he awarded Weltmeyer a score so low that the announcer declined to read it out, suggesting that the rider could reveal his score – and the reasoning behind it:
"I have still not changed my mind. The director of the Hanoverian Stud, Dr Bade was very angry when we gave Weltmeyer low marks after riding him, but we had to judge a riding horse competition and not a stallion competition. Weltmeyer is a monument of a horse, and he will produce – especially I think in the second generation – very good riding horses, which will bring breeding a step forward."
"But when I rode him at the Bundeschampionate, in my opinion, he was a horse that was uncomfortable to ride, He had a 15 walk, a 15 trot and a canter for 15, you couldn't handle that. He gave a lot of energy and perfect basic gaits to his offspring, and they were very successful at the Bundeschampionate, and now I have some horses here that have Weltmeyer as a grandfather and I am enthusiastic about that. Like this one I am riding."
"His name is Weltino, he is by Weltfeuer, and Weltfeuer is Weltmeyer and out of a Swedish mare that goes back to Chagall who produced Gaugin du Lully, and some very interesting Grand Prix horses. The grandmother goes to the gold medal winner, Piaff which is also very interesting. He is out of a mare by Polany, which is jumping blood, by Polydor with Foxtrot on the bottom side, and then some Thoroughbred blood. Feuerfunke goes back to a very famous breeding farm in Westfalia."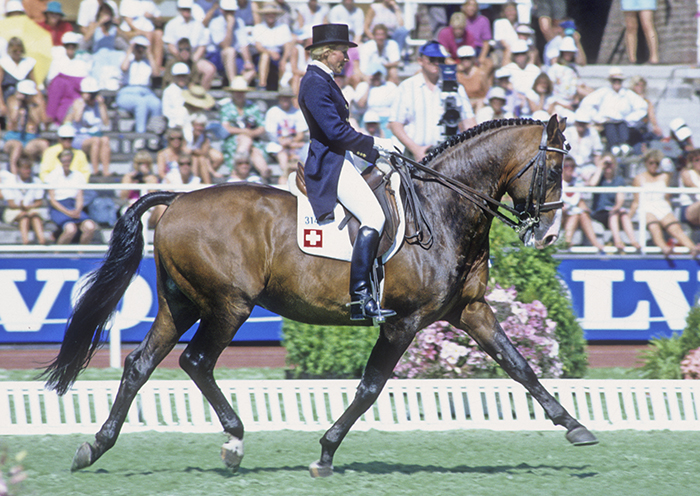 Gaugin de Lully and Christine Stuckelberger at the WEG in 1990
"I think Weltino is one of the most perfect horses I've ever had, and everybody likes this horse – black, long legged and elastic."

Next Jo talks about in hand work – it's not only about teaching short steps leading to piaffe.
There is another quite well-known face in the arena, and another Westfalien state stallion, Delphi (by Diamantino) and this time Jo is helping the rider, Martin Stamkötter do a bit of work on the ground. The horse gets a bit upset at times, but Jo keeps on working through the situation:
"You have to watch them really carefully for this sort of work and they must be ready for it – that means they have to be trained so that they are strong enough to do what you are asking, otherwise it hurts. It is the same if we had to lift weights. So I start quite early after the horse is really balanced – when they are coming to the end of their four-year-old year – I start with the beginning of the collected work. Collected work includes the simple change, canter to walk, walk to canter. You can start the in hand work earlier than four, but not doing half steps or trying to do piaffe, just to get them used to the whip so they are not afraid of it, then when you do a little bit more work it is much easier for them to understand."
"For example, when you start to do rein back, then the steps backwards have to be exactly diagonal, when you help by standing behind the horse with a whip just to keep them together – that means reminding them that they have to carry weight on their hind legs. Then when you do two or three steps of rein back it is a help for this work from the ground, already. Walk and a full halt and you can correct them from the ground so that they stand square, that's what I mean by the beginning of in hand work. Then when they know from the rider to do walk to trot, full halt to trot, then you can help them so the horse starts working behind. That is the beginning of in hand work and it has nothing to do with piaffe or passage work."
"Sometimes they get a little bit nervous, but when you do it carefully and work together with the rider, it is not a problem. They need a little bit of excitement for piaffe and passage."
"With Delphi we are are not teaching piaffe or passage, just short steps forward, diagonal strides forward so he understands when we collect him a little bit more he knows that he still has to do it in a very nice diagonal rhythm."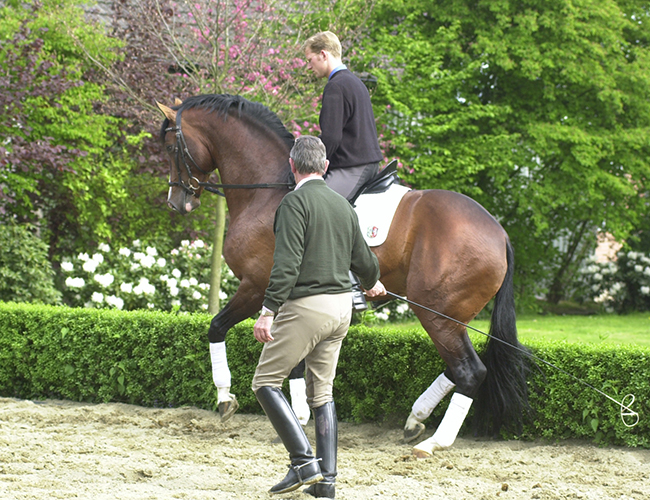 This is Rilke, showing good lowering behind, note the rider's position and contact…
more below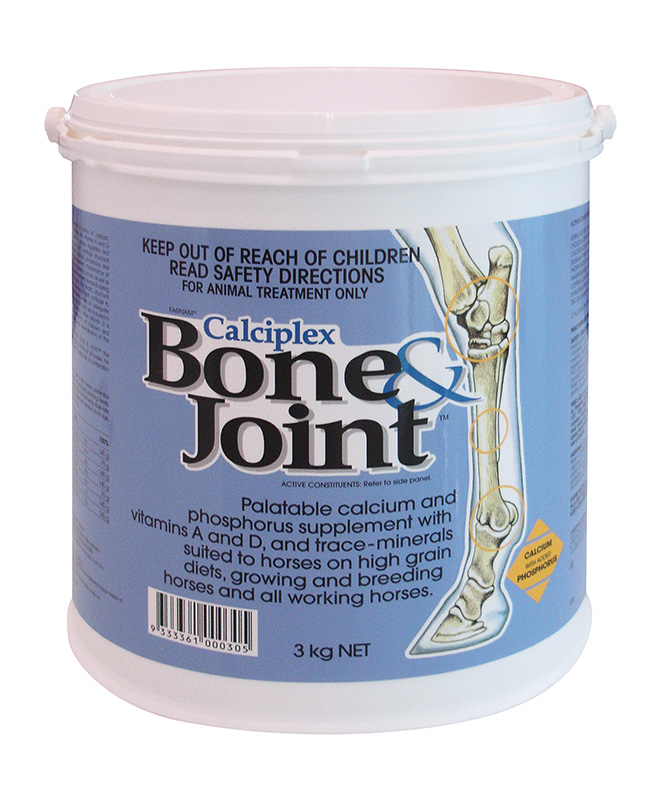 Michael and Laurentianer
"We are in the lucky situation where we don't have to take them out of the breeding barn. We can do both here. We can train the stallions for the sport, which was one idea of Dr Rimkus and the Agriculture Minister here in Nordrhein-Westfalia. It is also training the riders. Riders like Martin Stamkötter and Michael Farwick, they become involved in the training so that they can bring the knowledge back to the stallion farm in a couple of years. I can train seven or eight horses here for Warendorf, but they have nearly 100 stallions, and they need to be trained too. They have to do the stallion testing there, the 30 and 70 days tests, and for this they need good riders."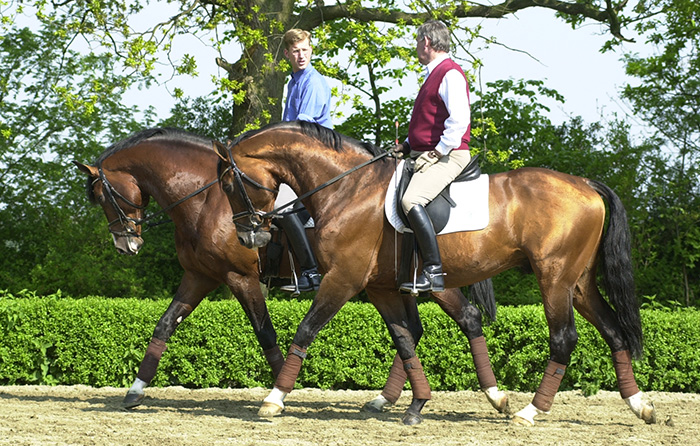 Martin and Jo, the riders are learning…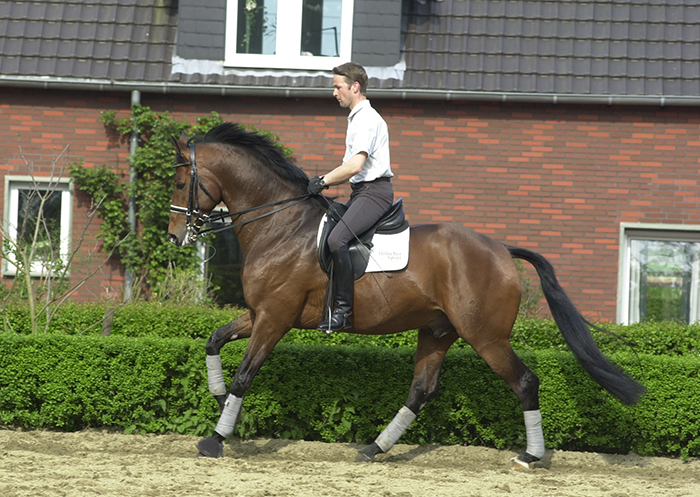 Do you think that is another change at the Westfalien stud, that the stallions are now genuine competition horses?
"We have to produce riding horses. Horses which are comfortable to ride and easy to handle. This is what everybody needs – for people who want to do just pleasure riding, and also for the sport. To use the stallions in sport is another testing above the 30 days test, and the 100 days test. It's testing them the whole time – if they are good enough, if they are strong enough, are they sound enough, and and and…"
"They become more well-known, we can show the breeders how good the stallions are. In former times they were used only for breeding, and if they were good for breeding they could stay for ten, fifteen years, and if they were not good they went into the Riding School (attached to the state stud), and they were lost. Now the Government says they have to think a little more about the economic situation – by training the stallions we keep the value, or make them more valuable. If they are not good for breeding then they can be sold for competition."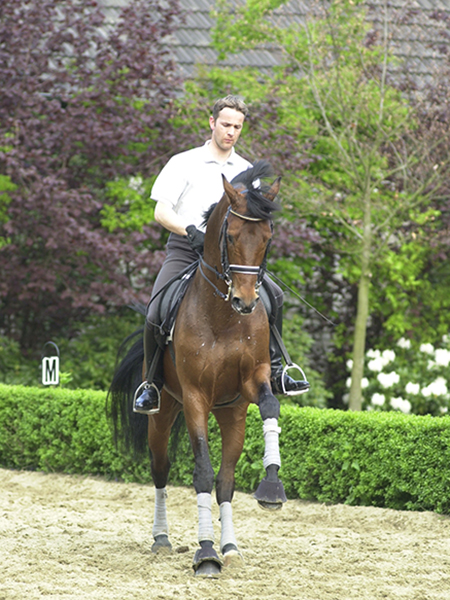 A powerful change for Laurentianer
Certainly there didn't seem any likelihood of the stallions we saw not making the grade. Laurentianer has always been one of my favourites, but he has built up into such a strong powerful looking horse – with a trot that is as big as Farbenfroh's, but a little more connected behind.
Rilke is another in the same style, wonderfully up in front and so strong looking.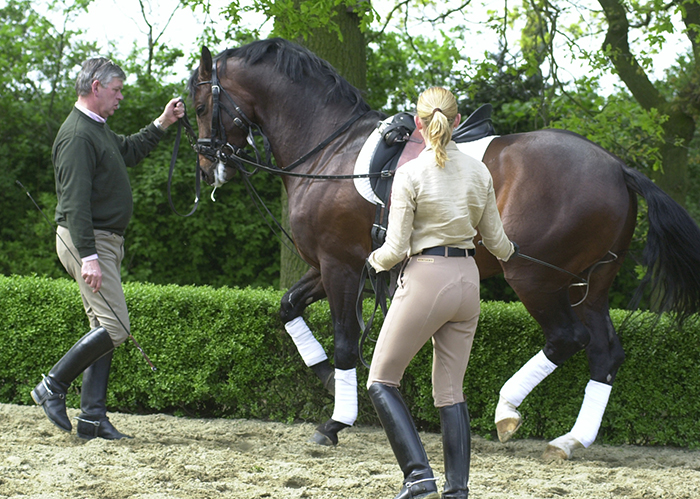 Roman Nature is smaller, much cuter and equally talented, and here showing some relaxed piaffe in hand.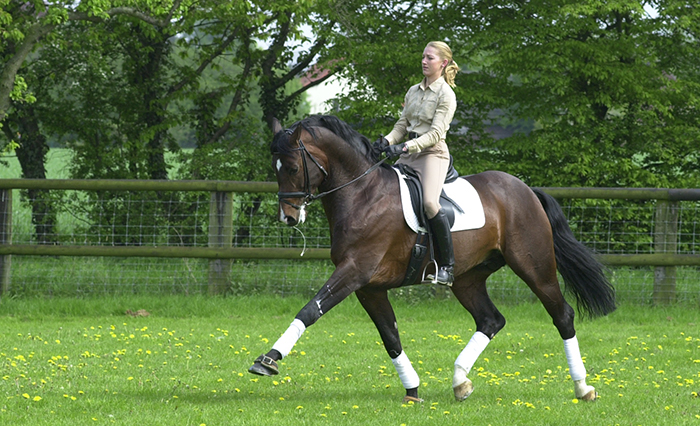 Extended trot in the field for Roman Nature and Marlies. There was also a walking track, near the trot and canter track around the Jo's place, where the horses walked around and stepped over logs placed around the track.

And Fidermark… Fidermark takes your breath away.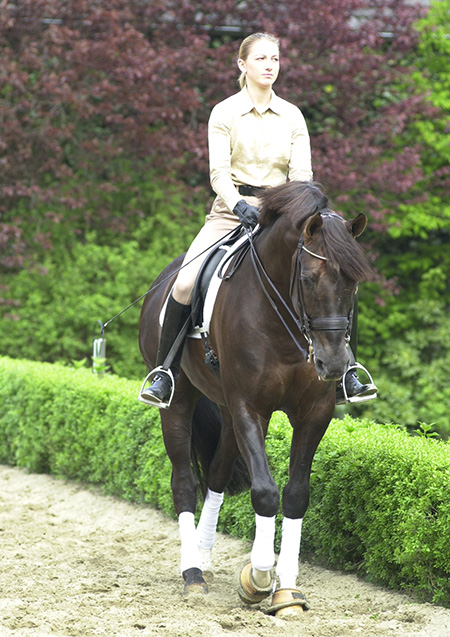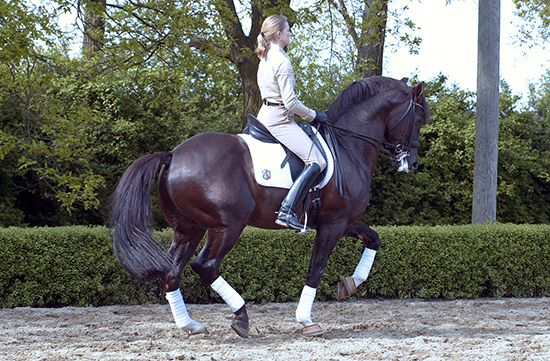 Fidermark with Marlies van Baalen
It is such a privilege just to sit and watch such lovely horses and such super riders, and the amazing thing is Jo Hinnemann's energy and involvement. He must have given a couple of million lessons in his time, but he is still so enthusiastic, yelling instructions, as focused for the last lesson, that finishes just on 7 pm, as he was for the first that morning.

Jo calls it quits for the day, and over a glass or two of good Australian red wine (a souvenir from his trip to Sydney for the Games) answers some of our questions. Once again, the thoughtfulness and the complexity reflects Jo's unique ability to bridge the two worlds of competition and breeding:
Do you think there is a new modern Westfalien dressage type? Roman Nature and Fidermark are very similar types – as are Laurentianer and Rilke – but they are very different from each other??
"They are different types but they are all good movers. They look pretty. You can't make a standard – one is a smaller horse, one is more Thoroughbred, as long as they are good enough in their gaits and in their character and their conformation. I think we have some perfect horses."
next Jo talks about bloodlines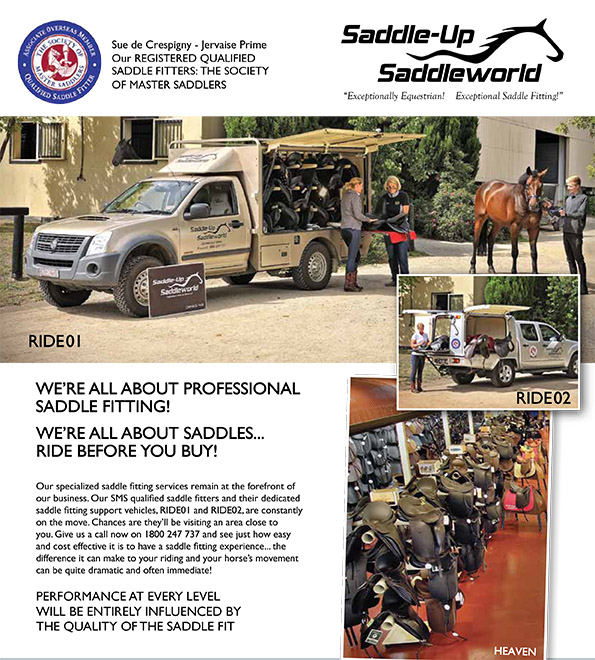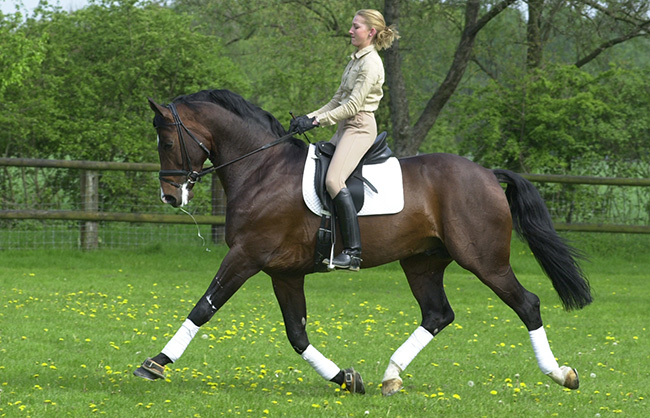 Do you personally have any preferences in bloodlines?
"My favourite is exactly the blood we have now – Roman Nature (above) by Rubinstein especially with Ehrentusch behind it, which is one of the most well-known stallions for really big strong powerful gaits in Westfalia. Laurentianer with a Thoroughbred father, Lauries Crusador, really sensitive and working all the time. Rilke, I like because of Ramiro, and again Thoroughbred behind it, Wiesenbaum. Fidermark – that for me is the perfect horse. He is pretty, you saw him ridden by a twenty year old girl, doing all the Grand Prix movements, and he produces really good offspring."
How did you come to the horse world, were you always a dressage enthusiast?
"I come from three-day eventing, like every boy who is born in the countryside. Then I came to Reiner Klimke, and found out if you want to be a professional the only way to make your living and to survive with horses is to do dressage. There are just a couple of jumping riders who can make their living with jumping and showing, but as a dressage trainer there are many people who want training, and this is the way you can make your living."
"I was with Dr Klimke for almost four years, and after that I had to start my own place. My grand-father said you must come home and start something at home, so I did that."
"I started my farm in 1972. At that time as a professional you were not allowed to ride internationally. In 84, I started to fight for the right to compete internationally. Under the FEI rules then, if you were a professional jumping rider then you could ride internationally but if you were a dressage rider you could not. I said that can't be true, it's like if you swim freestyle you are a professional, if you swim backstroke you are an amateur. I was the first one who was first a bereiter, and then through the riding instructor system, and still allowed to ride internationally. They had to change the rule. I was lucky to have Ideaal at the time – but before that I had won over a dozen medals in German championships but I wasn't allowed to ride internationally."
How did you end up riding a Dutch horse?
"Volker Moritz was riding Ideaal, just 30 kilometres from my home. We bought him at the time as a horse we can sell again but I found out he was that good I said I'll keep him and compete with him in international competition."
I find it amazing to watch you teaching this morning – you must have given millions of lessons but when you teach, you seem so involved and enthusiastic?
"Each day is exciting. To train a horse up to any level is exciting but to make a combination. Coby is here from the beginning of her career, for sixteen years, and now I have her daughter, and now her niece with a fantastic pony, and it is really exciting. I love every day. I come out of the house and go into the stables and the arena."
Which riders that you have taught stand out?
"Amongst the riders that are well known now in the sport. Ulla (Salzgeber) with Rusty was here for five years, Alexandra Simons-de Ridder with Chacomo, I had Rubinstein and Rohdiament, all of Heike Kemmer's horses, Americans like Stefan Peters, Christianne Traurig, Kathleen Raine, Anna Merveldt-Steffen, there are many people who have been here."
Can you tell immediately which riders are going to be good, and who is just here for a holiday?
"No-one who stayed here was here for a holiday. The ones that came for a holiday stayed for maybe one week."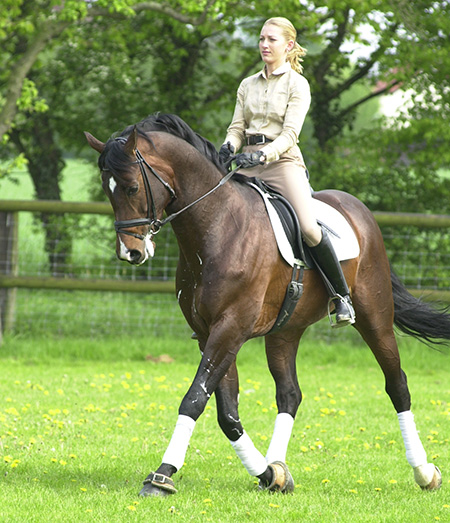 Is there something special about the character, or the riding, of the ones who really make it?
"They are all really horsemen or horsewomen, and they really want to learn, really want to work together with the horses, and are focussed towards the competitions. It's not only learning how to ride a test, they want to know everything about the horse. That's why it is such fun here now, it includes breeding and it includes sport and it includes training, and that makes it really interesting. I have no time to travel and do clinics. When I go away for a couple of days I always think 'oh what is going to happen at home with the horses' – I want to see every day. It important to know how the horses are feeling in the stable, it is important to watch their feed, to see that they are well groomed. I have to live with my horses. I can't change that."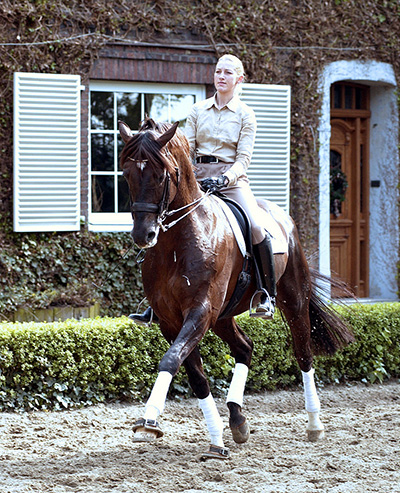 Marlies and Fidermark in extended trot
When you see a young horse, can you immediately tell the ones that are going to be great – or sometimes do they surprise you?
"Sometimes it is a surprise. The person who never bought a wrong one, never bought a horse. OK, every day you get more and more experienced, and it becomes more and more difficult to buy a correct horse because you have so much experience that you see things that some people don't see, or some people never experience. Still every week I am looking, trying to find good horses. I don't drive for thousands of kilometres, there are so many good horses in Westfalia around here. There are enough good horses in the 200 kilometre radius around my house."
What counts first – bloodlines?
"No, not first. First is to look at the horse: how it moves, its conformation, the character and the temperament – then I think of the bloodlines."
You don't mind if there is a jumping stallion – like Pilot – in the bloodline?
"No, I really think that some jumping blood in the background is quite good because it gives the horses a little bit more strength in the hind legs – but the conformation has to be correct. If you have the wrong jumping line with a little bit of a straight back and straight hind legs, which makes them powerful to jump, but uncomfortable to ride, and hard to produce movement."
You were saying that you never managed to produce a dressage horse by Ramiro?
"I don't know why. It just happened. I never found a dressage horse with that bloodline, and I like that bloodline a lot. We ourselves bred about 20 Ramiros, but we never had a dressage horse. I think it is because there was never enough movement in the horses. Good canter but not enough trot – not supple or expressive enough."
Where does Donnerhall fit into your world view?
"Donnerhall produced a lot of good stallions. You see a lot of very good performing riding horses by Donnerhall. He makes them pretty – sometimes I think that in his time, like Rubinstein, it was a very very good generation, but when you see horses like Roman Nature or Fidermark, or Laurentianer, it is a step further on in the breeding. They are always a little more pretty and more elastic. The breeding becomes again a little bit better – but if you didn't have a Rubinstein or a Donnerhall, there is no going further in the breeding. These stallions were good in their time – perfect – but I think the three stallions I have named are a step further on in the breeding already."
Let's talk about Rilke, this is a horse you selected for a demonstration at the Bundeschampionate to show that horses did not have to be over-trained to come to the Young Horse classes?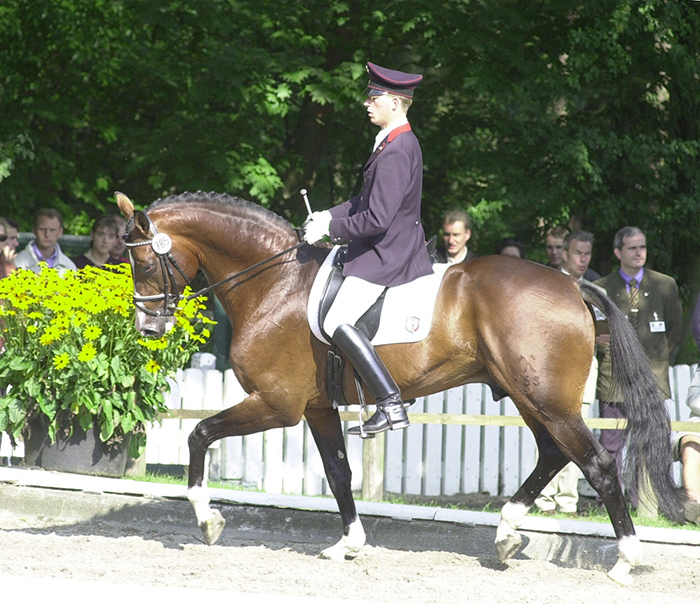 Rilke at the Bundeschampionate demonstration of correct young horse training conducted by Jo Hinnemann in 1999
"That was two years ago. I hope we have a change now. Ten years ago, we had no real rules for our 'material' classes, the competition for three and four-year-olds. I personally think we started to over train them so they really looked like big powerful horses, and especially the auction riders of that time presented them a little too powerful, too trained, especially in trot. Most of these horses weren't very successful later in the sport because of that 'special Bundeschampionate training'. It was not really good for the horses."
"At that time we started to discuss the role of the trainer and the role of the rider, and that it should be more in the order of correct training – and that the horses should be presented in their natural way as three and four-year-olds. We did a lot of seminars on this topic, and in this demonstration we tried to show how the horses ought to be. In my opinion they are much prettier, much more comfortable to ride when they are trained in a natural correct way. Rhythm and suppleness, these are the most important things. And that is the correct order of training. Rhythm, suppleness, contact and then impulsion – not forced impulsion."
Is that the responsibility of the judge or the test riders to say this horse is false, artificial and over trained?
"Firstly I think it is the responsibility of the trainers. Second if the judges feel responsible and know how they want the horses presented, then if they tell the riders two or three times, then they will do it. The riders do what the judges want, and you get high marks. The responsibility that the rules get through is with the judges but we as trainers are responsible for the correct training. If you look at Rilke now he still moves in a natural way, but now he is much more expressive. He is happy with it and he has grown the right muscles."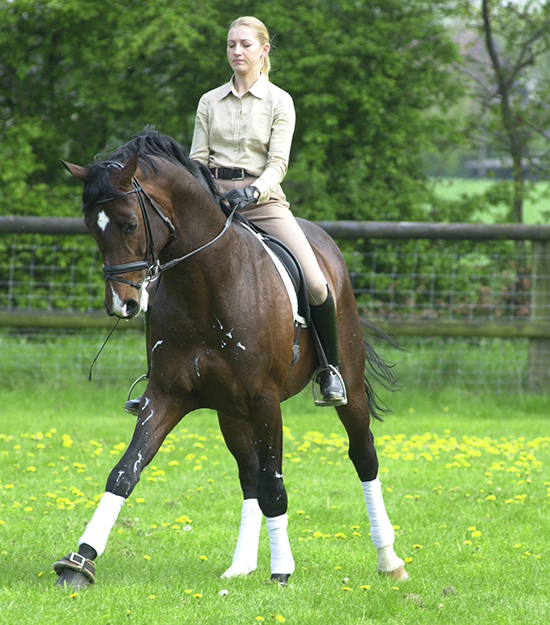 The next horse was Roman Nature?
"You saw Roman Nature with Marlies. You saw how it is possible to start with the more difficult work, the work in hand a little bit to teach him to get more under and active – he gets a bit nervous right now but that excitement you need anyway to get expressive movement. For me it is a perfect match, Marlies and Roman Nature. She has been successful in competition with him. She loves that horse. I dream of another Grand Prix horse with a van Baalen."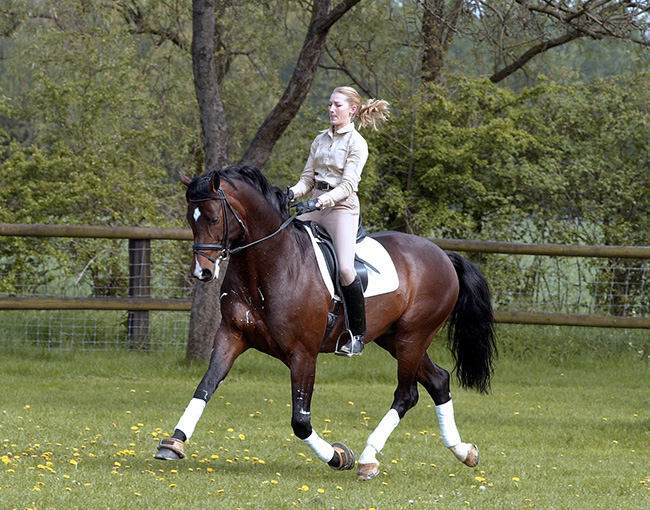 You were saying earlier that you thought Weltmeyer, Donnerhall and Rubinstein were good, but that the next generation was better still – is Rohdiamant then a more attractive stallion than Rubinstein?
"I think so. In some ways Royal Diamond and Rohdiamant are already a little bit better than Rubinstein was. A little more 'blood' in it, more powerful and with the same talent and the same good basic gaits. Rubinstein was a talented horse for piaffe and passage, his basic gaits were good but not exciting like Rohdiamant."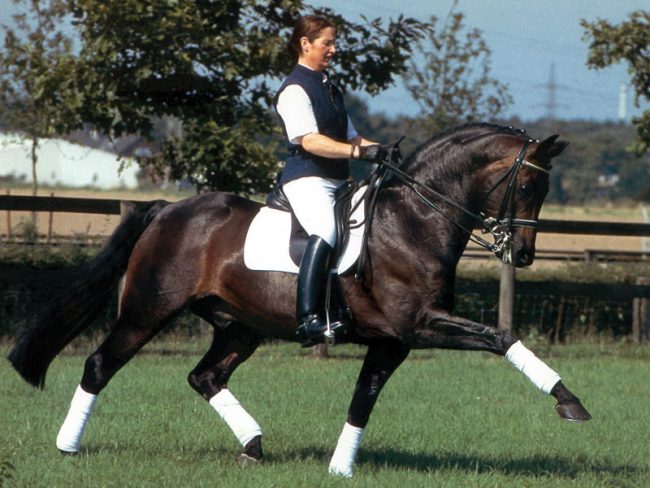 Rohdiamant ridden by long-term Hinnemann pupil, Leonie Bramall
"Rohdiamant has much more trot, much more walk, and he produces really good offspring and has a little more 'go' than Rubinstein had. But as I said, to get a Rohdiamant, you had to have a Rubinstein first."
But then with Roman Nature on the bottom side, you go to the family that produced Florestan?
"Florestan does not only produce dressage horses. Franke Sloothaak has a jumping horse by Florestan, that I think has the talent to become a really good Olympic horse. So both sides of Roman Nature are producing sport horses, sport horses the way I like them. When you look at Roman Nature the only thing you could say is that he could be two or three centimetres bigger. He is perfectly constructed, absolutely straight in his legs, and because he is bred the way we like it, from pure sport horses with correct conformation, I think he will have a big future as a breeding stallion."
"His dam is a full sister to Florestan's mother – Rohdiamant and then Ehrentush, it is pure Warmblood breeding that we have used for years over here. With Roman Nature, I think he is as good a jumping horse as he is a dressage horse. Just six weeks ago we took him to Verden to have him recognized in the Hannoverian studbook. I took Holger Hetzel the jumping rider because we had to show him under saddle in dressage and in jumping. The judges were really really astonished that he is such a good jumper. He had a very bad jumping score in his 100 day test but the only reason was at that time he couldn't concentrate in the freejumping – under saddle he is absolutely perfect."
You look for a slightly smaller horse for a rider like Marlies – she would look silly on something eighteen hands high?
"My personal experience as a trainer is that 95% of the riders who come here to be trained are girls, so what I like is a 'handy' horse – the horse can be big, 1.70 or so, but it must be handy. Compact, light and flexible, and you find that much easier in a horse that is 1.66 than in one that is 1.75. This combination of Marlies and Roman Nature is perfect, the horse suits her, and Marlies suits the horse. They are just a perfect match in my eyes."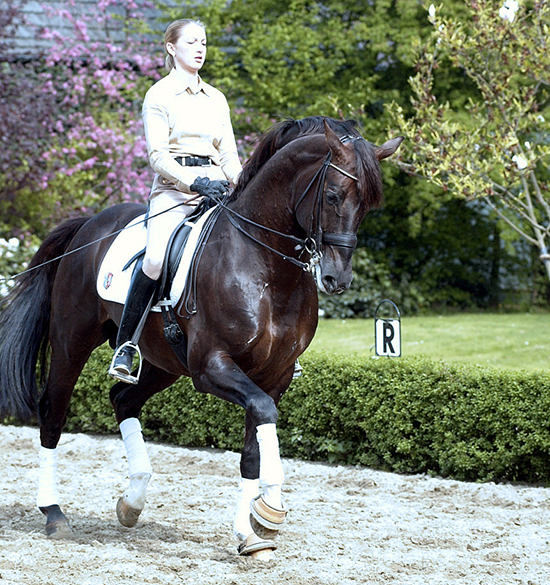 And Fidermark – a horse that takes your breath away?
"A dream horse. This horse has everything you need, I have to thank God every day that I have this horse. He has everything. A Werther mother – Werther is very successful in Hanover – and crossed with Florestan has worked out wonderfully. He is successful as a dressage horse. He has won around 20 Prix St Georges / Intermediaire tests with a 20 year old girl – Marlies – riding him, which shows what an absolutely perfect character he has, and how light and sensitive he is to ride, and how connected he is to people and how he wants to show himself. The basic gaits are fantastic. He won the Bundeschampionate as a four-year-old, and now he shows fantastic piaffe."
Laurentianer, a world champion as a six-year-old… and different bloodlines?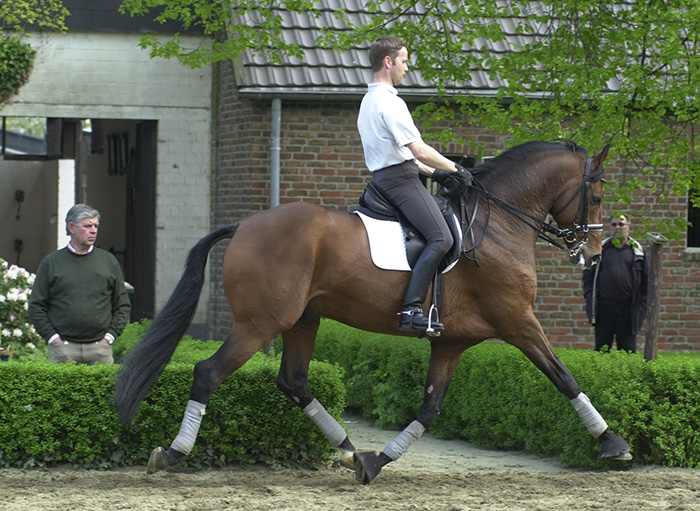 "He is by a Thoroughbred, and he is the best chance we have now to get some Thoroughbred blood into our breeding. We have only one Thoroughbred stallion left in Warendorf, and only through horses like Laurentianer can we improve that. Larentianer is a fantastic dressage horse. Because he is not here all the time, I haven't tried to see what his talent is for piaffe and passage, but it looks as if he will be able to handle them. His basic gaits are easy and light, his trot and canter are fantastic, the freedom of his shoulders, he can just play with his front legs, and that is what you need to create impressive movement."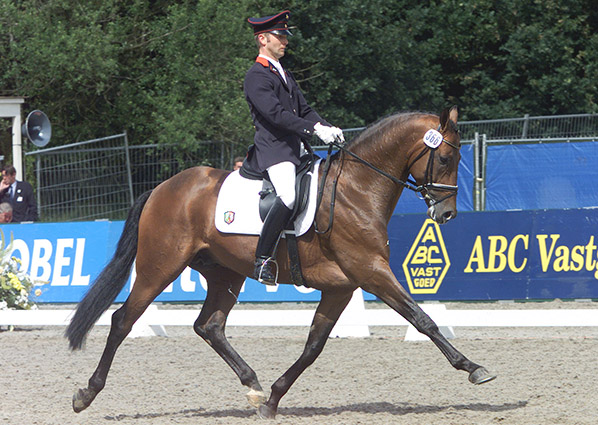 Laurentianer winning at the World Young Horse Championships in 2000
At the last Bundeschampionate he made a couple of mistakes – is he more nervous because of his Thoroughbred breeding?
"I don't know if I should say what I am thinking. My opinion was that he shouldn't do the Bundeschampionate. Not because of the horse, but the management shouldn't have put the rider into this situation after he has won the World Young Horse Championship. Michael Farwick and the other riders at the Westfalien stud are only starting to get enough competition experience, but he hadn't enough experience to have the nerve to go to Warendorf. I knew exactly what was going to happen, the television and the press were all asking about the horse, all his eighty workmates were going to be there, and he got more and more nervous. I said it was not fair to put Michael in such a situation."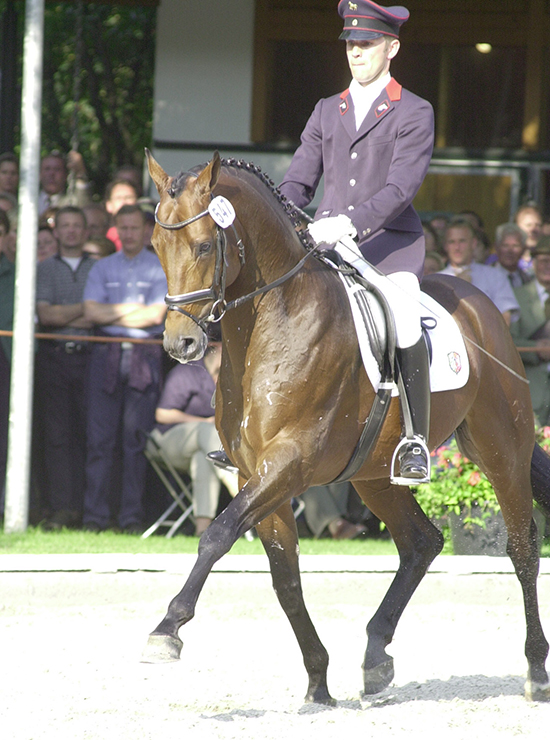 And too much pressure at the Bundeschampionate
"We should have done a demonstration there – but not the competition. It was not the horse, it was my personal fault that I didn't say 'he is not going'. I agreed to it, but I was wrong so it comes back to my bad management. He was World Champion and to come back to the Bundeschampionate with everyone expecting… If he rode ten years in competition, then he could deal with this pressure, but Michael is hardly a year in competition and suddenly this kind of competition comes up!"
Today, you brought back some of the horses and worked them later in the day – you obviously like to do that?
"I like to work them twice a day. We do walk in the afternoon just to get more condition, and then in the afternoon we repeat some of the difficult exercises. Bring them back into the stable so that they think, 'oh I've done that – I can do it' – and walk a little bit."
You started out as eventing rider and then became a dressage rider to make a living, but you obviously love dressage horses…
"I love good horses, not only dressage horses. It has changed here, ten years ago we always had three or four jumping horses that we trained. We produced some quite good horses – Aramis for example with Franke Sloothaak won a World Cup qualifier. Now I am a  older and the jumping is not my favourite any more. Ten years ago I did the training myself and it was fun."
You still look forward to each day – even though you start early in the morning and finish at 7 at night?
"Sometimes I am a bit tired, but you have to go for it all the time. Every day is fun, every day you look forward to seeing the horses – especially with all these good stallions. It is a responsibility, and you are more in the eye of the public than with normal horses in training. You have ten stallions that are owned by the government, owned by the people who pay tax, and all the breeders are interested. They come around the corner and they ask, 'how is he?' and they have the right to do that. It brings much more connection from the breeders to the sport, which in former times we didn't have. The breeders weren't interested in the sport, and the riders weren't interested in the breeding. Now we can do a lot to bring these two scenes together, and it is more interesting for everyone."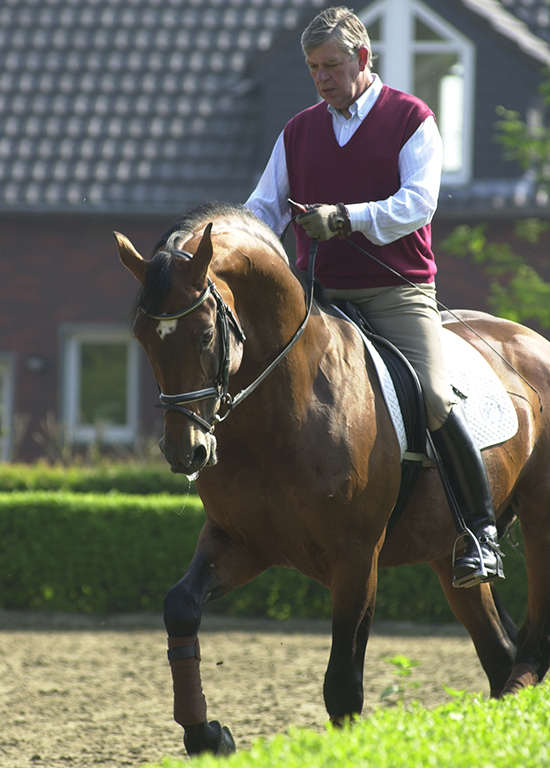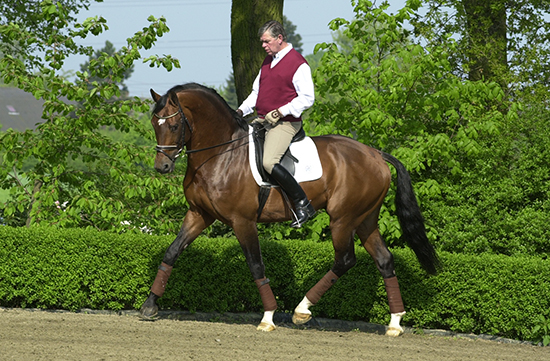 Jo riding Idocus
At the moment of highest collection, in the piaffe on Idocus you seem to break the connection and sit there with a relatively loose rein?
"Yes, but that is wrong. I can't get the contact now with him, he is a little too easy in his mouth. My problem is to get a little more contact, light but steady, and with this horse, he is only here for 14 days, and his impulsion is not good enough so I can get contact with his mouth."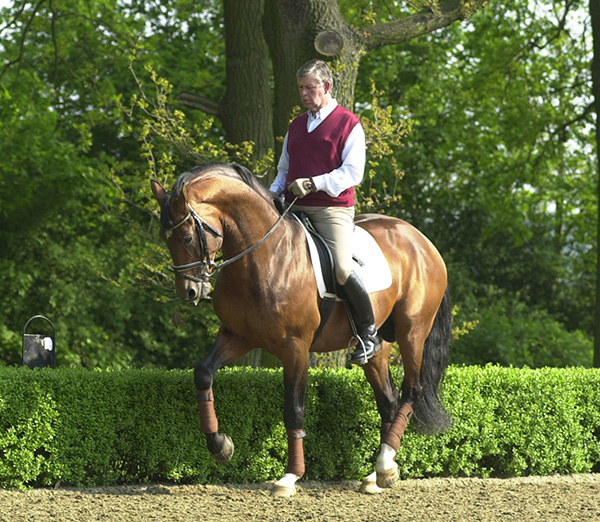 Jo demonstrates riding the stallion Idocus. We were shown several of the stallions unsaddled, all had fantastic back muscle development. The top line you can see in his neck and hindquarters continued along his back.
Even in piaffe, you don't want a loose rein?
"Exactly. But that was my problem all my life – with other horses too, even Ideaal."
But there is the famous photo of Dr Klimke and Ahlerich in piaffe, with a loop in the rein…
"Sure, if the horse is really trained, and you are able to push them out of that, into the rein, it's ok, and it happens sometimes when the horse is really well balanced and working for itself, but basically, it is wrong."
"You have to have a little contact so the circle from the pushing aids to the steady contact to the mouth is correct. Even in halt, you still have to have the feeling that the horse wants to go forward – without pulling. You do a full halt and you stand there absolutely square, the feeling has to be of going forward from behind into your hand. The ears in front looking straight to the judge at C, and you sit there, the reins in one hand, with a good contact and the feeling that if you open the reins, the horse goes forward."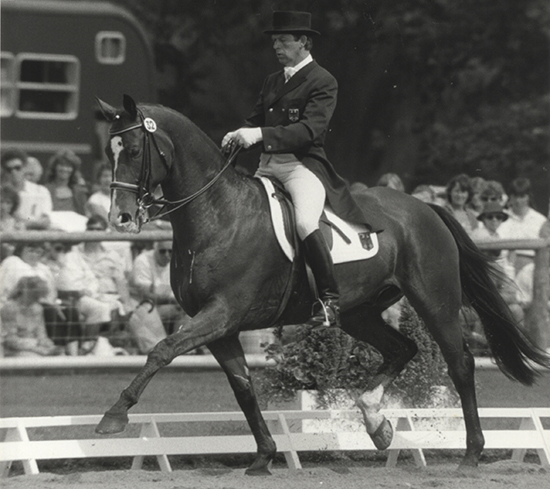 Jo and Ideall
This article originally appeared in The Horse Magazine, August 2001
---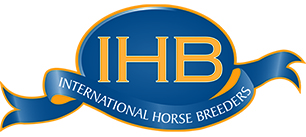 International Horse Breeders has stallions representing  the bloodlines Mr Hinnemann discusses – go to www.ihb.com.au