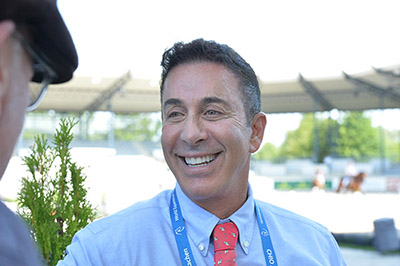 An interview with Christopher Hector
Robert Dover is one of those equestrian identities who journalists soon learn to love – not only is he a bubbling fountain of witty quotable quotes, but he is also a thinker, an astute analyser of the equestrian scene, and happy to speak his mind. It was my good fortune to catch up with him at Aachen this year, where he was mentoring the US dressage team.
To quickly re-cap on Robert's stellar career (you will find more information in Pegotty Henriques' profile at the end of this interview) – Robert Dover first competed in an Olympic Games with Lectron at the age of 28 in 1992, and then competed in every Games until 2004, usually retiring and the un-retiring during the intervening four years. During that time he won four Team Bronze medals, and was also part of the bronze team at the 1994 WEG.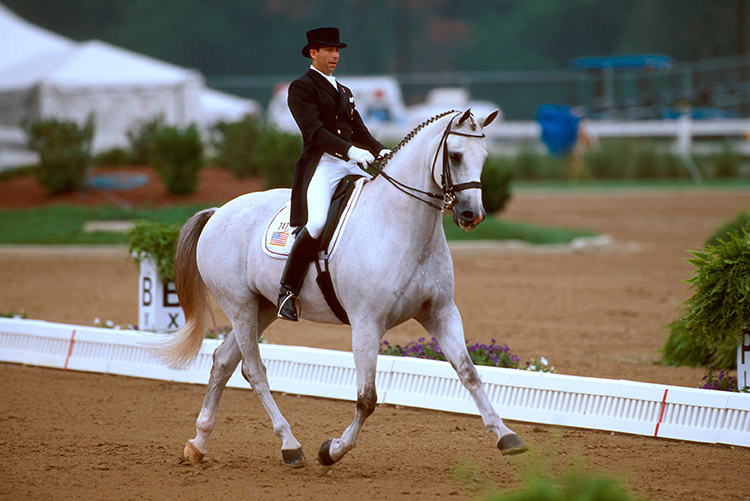 Robert riding Metallic at the Atlanta Games
In 1987, he burst upon the European scene, beating Reiner Klimke in the freestyle at Aachen, becoming the first American to win there in 27 years.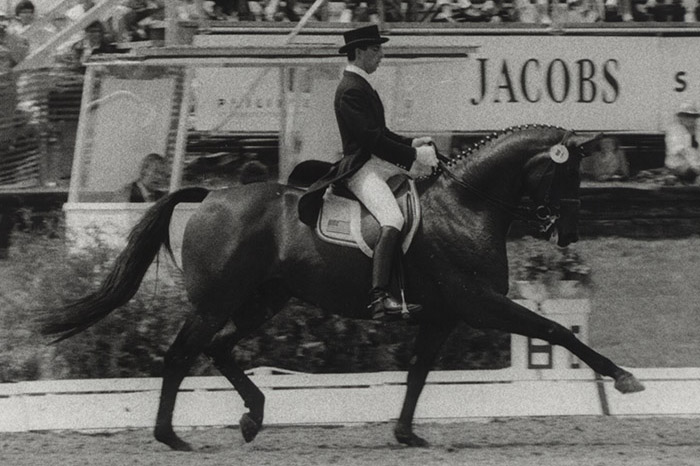 In 1988, Robert was 4th in the World Cup Final with Federlicht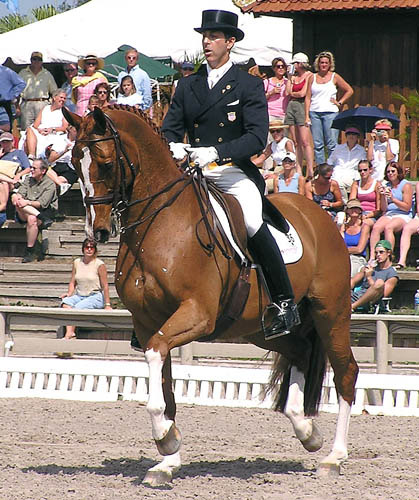 The Final Games – with Kennedy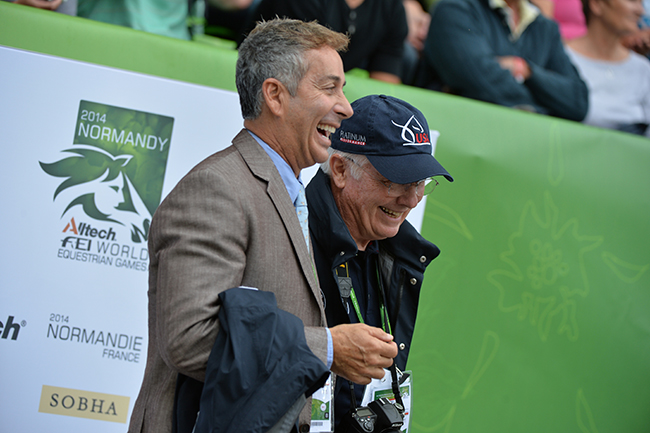 WEG in Normandy in 2014
Since 2013 Robert has been the technical advisor to the US team. At Aachen this year, there was much discussion of the proposed changes in the format for the judges, and it was natural to start with the question:
There have been a number of suggestions on how to 'improve' dressage judging – do you like the discard top and bottom score format?
"It's been done before and it won't change anything, it won't help the sport as far as I can see. They did it, they tried it, it's been put in other sports and then taken back out of them. The same as the move back to three riders in a team – this isn't something that is new. We've done it in my sport before , not in the jumping sport and certainly not in the three-day eventing sport, those two sports are up in arms about that. But in my sport, dressage, the first time I competed at the Games, in 1988, we had a three-man team and a reserve. In Beijing, they had a three-man team and a reserve. Look at the results of it – where it's happened – when one horse falls out, there's no team. Some people think that's an awesome thing, I say, it's a pity."                                more follows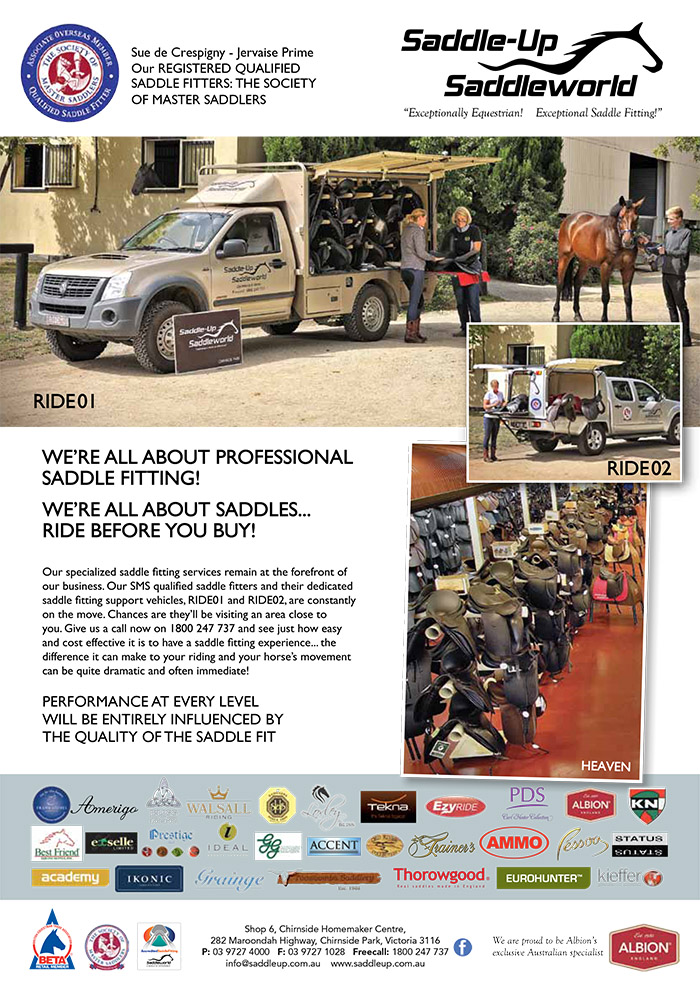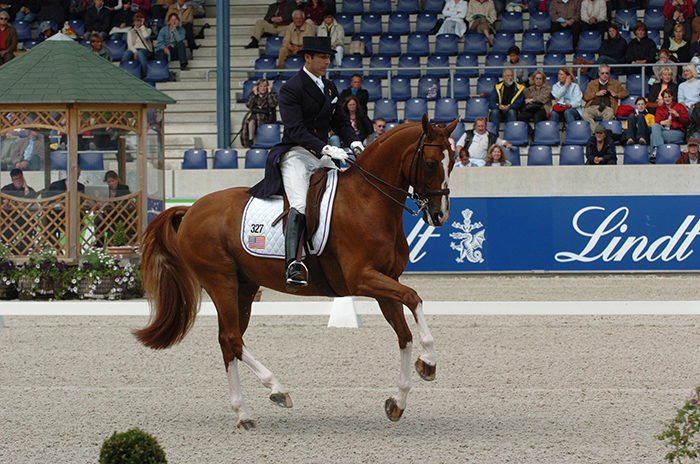 "The other part of it is, for countries that have wonderful horses in great numbers, sadly for the sport, when you go to the Olympics and expect to see the top horses and riders of the world, you are going to see one combination less from countries such as the United States, Germany, Holland, Sweden, Denmark, Britain, countries that can possibly produce two teams. They are down to three riders, and again, one thing goes wrong and the team is out. They are thinking, now we'll see more flags, but will we see top quality? And will the more flags be that easy to create because the new countries still have to get over the minimum score thresholds to even qualify."
"I wish we were, as a group, heard a little stronger, before measures are taken by the FEI, measures that could have a detrimental effect on our sport. Most of the huge changes happen when we are told that if these changes are not made, then we are going to be out of the Olympic family, and that goes back a long time. But I remember after the London Olympics, suddenly we were really good children again because the tickets sold so well and it was such a great result in so many different ways. Then you go four more years and suddenly we are in serious trouble again with the IOC, and then the FEI comes to us and says, we've got to make huge changes because there are so many sports waiting to take our place."
And we should dumb it down and make it quicker by getting rid of boring stuff like halts and rein backs…
"Exactly! Make changes that are not necessarily in the best interests of our art, and our sport, and at the same time, produce more globalization, but less quality."
Do you like the idea of submitting the choreography of the freestyle in advance so that the degree of difficulty can be determined?
"I actually have no problem with that. I think having a floor plan go in before is a good idea. The other thing I'd like to see, is the people doing the commentary on television doing a better job than what they do, and make it more exciting by the way they handle themselves – if you look at American football for instance. Those commentators were football players, football coaches – it is fun to watch even if you are not a huge fan of the sport. Mostly when you watch equestrian sport, the commentating is so quiet, and so boring, that unless you are already a big fan, you are not going to be entertained, not in the jumping, not in the dressage."                        more follows below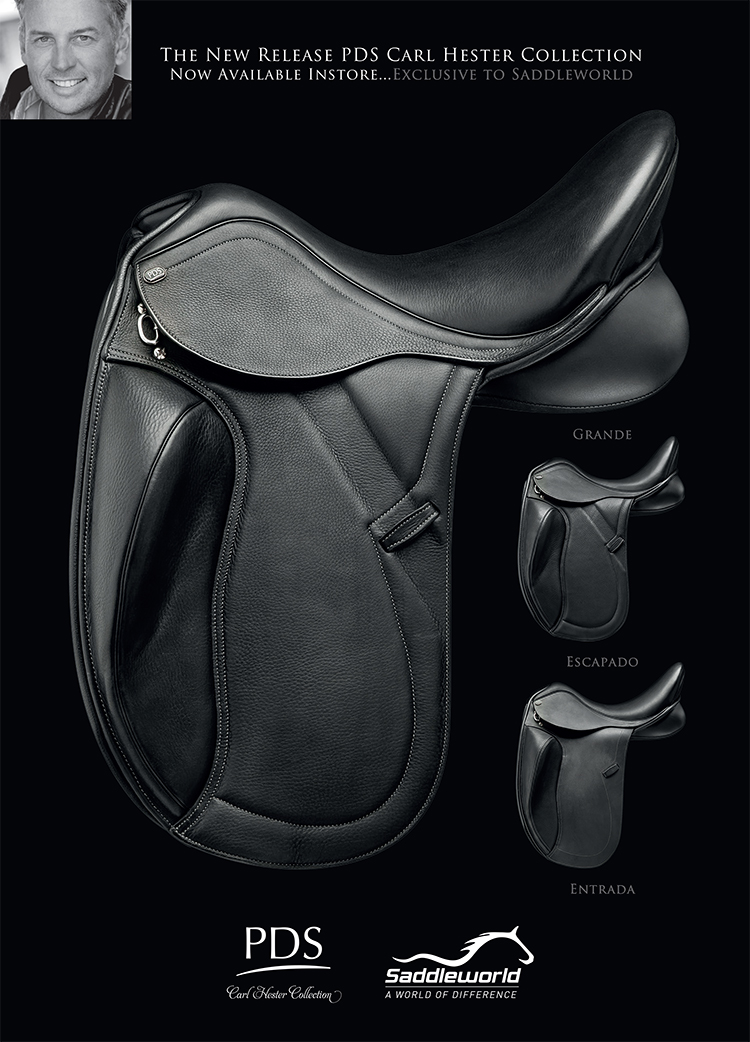 What happens if the rider changes the choreography at the last minute? I remember the first World Cup Final in Las Vegas and Carl Hester's Escapado was sneezing because of all the smoke in the arena after the 'entertainment', and Carl decided to switch to the easier routine…
"You can still make these decisions when you are in the ride. It's the same when a skater is in the middle of their skate, and they decide in the air, that they are not going to be able to pull off a triple, and they do a single – sorry, guess what, there is a deduction there. For me, that is a part of the excitement and fun of it, you have to live up to what you say you are going to do in the arena. And stuff happens but that's the exact same stuff that happens to a skater while doing their freestyle – whatever causes the loss the concentration, in our case, between the rider and the horse, in theirs the skater and their skates, that's part of the fun and excitement. I don't have a problem with that, I actually like it."
My feeling is that the sport is in a much nicer place than it was five or ten years ago…
"Without a doubt, and I think the judging at an international level, has been part of that. I'd have to think back to Lexington, Kentucky, that was the last time I saw some really poor judging. I had real difficulties with the judging back at Lexington."
Maybe Laura (Graves) could have got a few more marks than Isabell (Werth) in the Kür at Rio…
"Our sport, no matter how you break it down, is a who-beats-who, whereabouts, sport. So when a rider does extremely well, but has never beaten a top combination in the shows leading up, then it is going to be very difficult to over-take that leading combination. Should it be that way? Probably not. I was very proud of the result in Rio and very excited, Laura is getting closer, and certainly the World Cup Final in Omaha provided her with a chance to overtake Isabell, but Laura had certain technical things that Isabell just does not make. Isabell does not leave a line out, she doesn't veer one centimetre off the centre line when she turns left or right at C. These are points and they make up the same number of points as some other fantastic trick. But Laura has really been on her game, and we'll see how it pans out next year at the World Equestrian Games."
You were always a quiet, classical style of rider…
"I had great trainers! I had Colonel Bengt Ljunguist, who was our Olympic Coach, since I was fifteen years old – then I had Willi Schultheis, Reiner Klimke, Herbert Rehbein, Georg Theodorescu, and of course, Klaus Balkenhol. I've had very few trainers in my life, they just happen to be the best trainers of the last hundred years."
Yours was kind of a long career…
"A long career. I don't know how many Grand Prix I rode over the decades… When you do six Olympics in a row, seven World Cups and all those World Championships, so many Nations Cups, and so many different horses. I wish I had been a rider who took a young horse to Grand Prix… Federlicht was the one I took from three years old to twelve years old, and then sold him to Ireland. Most of the others I rode were horses that people were not working out with at like a Medium or St Georg level, and they'd say, hey can you just take him and see what happens? Okay, and next year I would be on a team with it. I'd be on the team for that year, and then they'd say, can we have it back? That was my career though."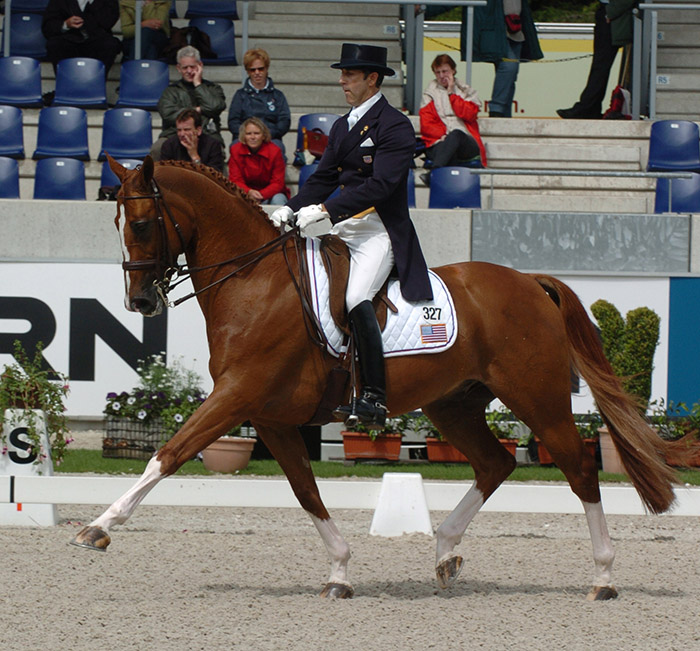 The United States seems to have really developed some depth of talent…
"I think we and the British are very similar. As a matter of fact, we may have been ahead of the British by about a decade as far as getting into the medals, and that was back at Sydney. Then you have great fabulous people like Carl (Hester) and Emile (Faurie), who have had wonderful careers, and they found their style, and their winning style, in the next decade and went to the top. How long you stay there depends upon having enough depth. Being in it as long as I have, I know exactly what the formula is for winning a medal, now for the past five years my job with the American team is to create the opportunities to produce a pipeline of constantly rising stars to back up Laura and help her achieve that next medal. So now we have Olivia who has come on and was third in Rotterdam, Adriane back on another young horse, just nine years old but a superstar horse for the future. And we have quite a few others, we have twenty combinations in Europe this summer."

That's an amazing development, for a while there your team was 50% German imports…
"Now we are bringing our own young riders along, and I've been so fortunate to have Debbie McDonald with me, and she's just an awesome, awesome trainer and coach. Most of the time, if Deb and I are within six metres of each other, one of us is about to say something, the other is saying it! That's how close we are tied to each other both in our brains and in our hearts. She's amazing, and all the other coaching staff, going down to the coaches of the littlest kids, have all been friends and colleagues, all the way through to the Olympic level. This is how we've done it, we are a very tight knit group creating a strong pipeline. Next year will be my last year doing my job, someone else will move into that job and keep the strong momentum going."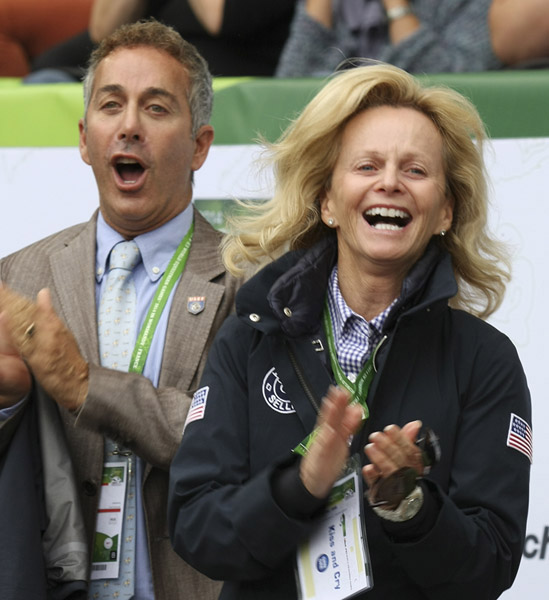 Working together, Debbie and Robert
You don't expect me to believe that, how many times did you retire from the Team?
"I know, I know, the only people with more retirements are like Bob Hope and Cher but next year will be my last year doing this job. Then I will still have a sort of foot-in-the-door with things I want to do with kids. I want to help a lot of kids, to give them possibilities that they might not normally have. I intend to do that privately."
But you always had a sense that the whole of life is not encompassed in a sixty by twenty arena – I can remember at the first Los Angeles World Cup final, your horse was hurt and you announced you couldn't compete and the American press were getting ready to commit collective suicide, and you said, 'hey guys get real, three hundred people died in the Oklahoma bombing, there are thousands of people with AIDS, and Bobby Dover can't go to a horse show…'
"That's absolutely right. We are not curing cancer, let's have some perspective. I have a whole different life as well as the equestrian one. My partner Robert and I have been together for thirty years, we have a life that is filled with friends from New York and all over the world and we do so many things. This summer we sold our summer home and because of that, Robert wanted to make it up to me because he knew I loved that house, so he said, we're going to go on vacations, we're going to go to Tel Aviv, we are going to Mykonos, and we are going to go back to New York to the Island and stay with friends. I was home last week and I said, you know what Robert, I know they are great trips, but all I really want to do is stay home in Florida, with the dog between my feet, and you. I don't really need to go on another trip any place! So we cancelled – now I get to stay at home."
more about Robert follows below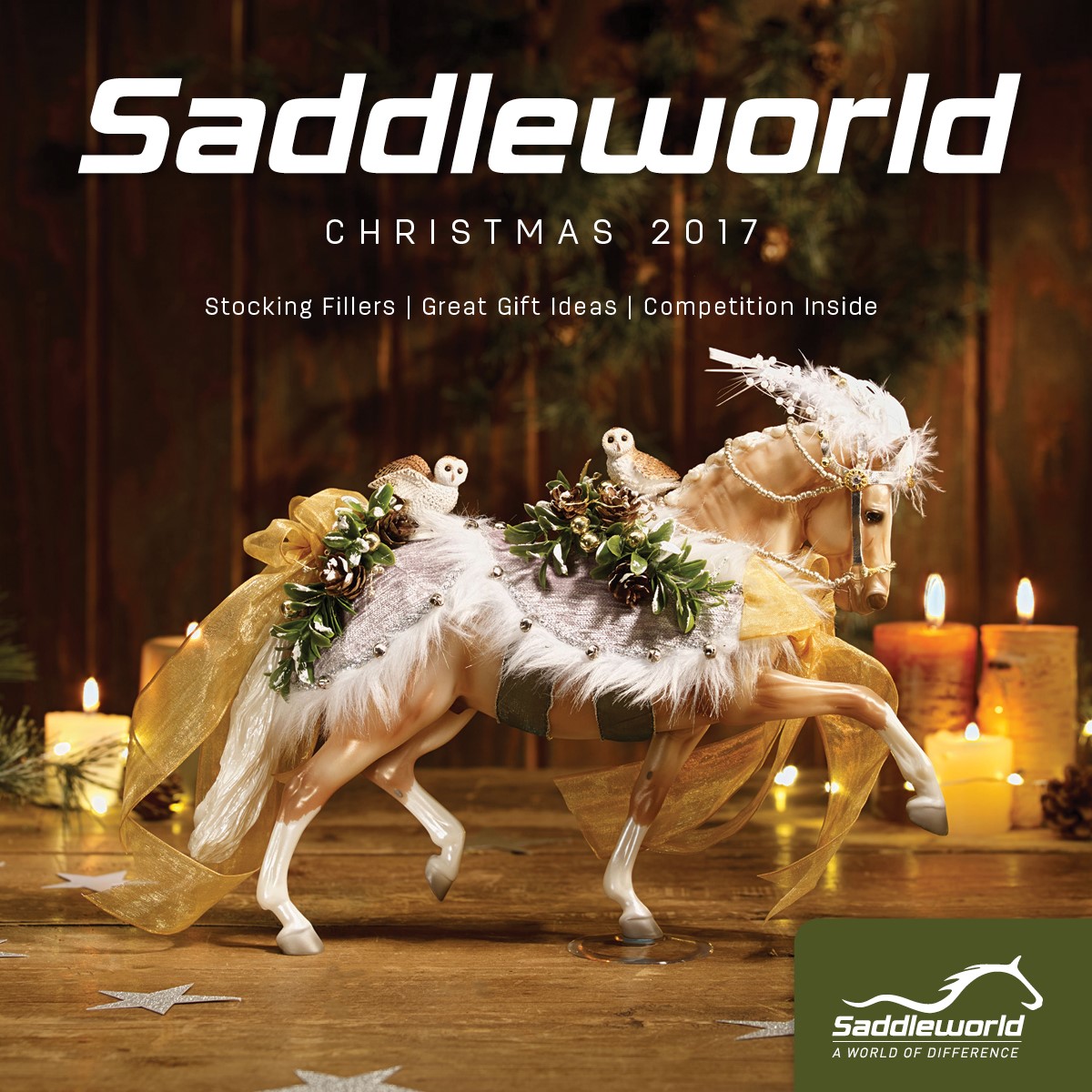 Robert has been charming journalists for at least 30 years, and you get the feeling that British dressage expert, Pegotty Henriques may have been just a touch swept away by him when she penned this profile back in 1988.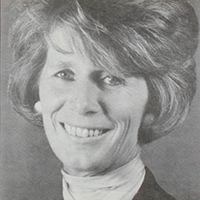 Robert Dover the rider is no contradiction to Rover Dover the man. The flamboyant Freestyle he rode at the 1988 World Cup final in s'-Hertogenbosch to earn him fourth place was typical of his own personality.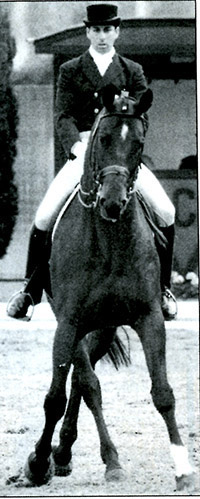 Fourth at den Bosch
He clearly enjoys being the centre of attention and is a smooth, fluent talker with his own definite opinions. Not only a rider who is content to merely train and compete, instead he seems keen to take an active role in all aspects of the dressage world ~ and is full of positive opinions.
Born in Chicago, Illinois, he led a somewhat itinerant childhood, possibly partly due to the fact that his family background was theatrical. Canada and the Bahamas were where he spent most of his formative years.
When the family then moved to Florida, he had a 'British accent' and couldn't even understand what they were saying. He went to the University of Georgia with the intention of becoming a veterinary surgeon, but changed direction and finally majored in philosophy.
"I have received tremendous emotional support from my family, but because of their circumstances, no financial assistance at all."
I asked him how, in that case, his riding all began and he told me how at around the age of thirteen, when they were living in Canada, he accepted an invitation to go riding 'almost by accident'. By some happy chance he was taken by a friend to the farm where the Trakehnen horses were first introduced to North America and there met Gerda Fredericks who set about teaching him to ride the classically correct way.
Robert rode only on the lunge for about nine months until his seat was sufficiently established – during this period he also learned to vault. He considers this a great advantage and fairly rare at that time in America to find such classical concepts.
The British Pony Club branch in the Bahamas became his next source of learning, and there his teacher was Myra Wagner. The Pony Club couldn't have provided a more different approach.
"We rode a great deal bareback," Robert told me, "It may have not been very classical yet it was a fantastic help for a young rider. To be able to move without a saddle, truly with the movement of the animal, you really feel what the horse's back is doing and what is happening underneath you."
During this time he also played polo, so his equestrian education was getting a fairly broad base. On returning to America, endurance riding was also added to his curriculum, yet right from the very beginning dressage was his real love and he has never once faltered in his devotion.
After taking his Pony Club A Test and then becoming a National Examiner, he trained with Elizabeth Lewis. A rising star in 1979/80, Elizabeth was the 'new type' of dressage rider. Trained herself by Ljungquist (Colonel Bengt Ljungquist coach of the American dressage team from 1974 – 78)) her philosophy of riding belonged with the forerunners of the harmonious, willing, elegant style, rather than the tough dominance over the horse school of thought.
Robert trained his first two horses to 4th level and Prix St George respectively. At the age of only seventeen he brought his third horse to Grand Prix.
The horse had been named Jonathan Livingston-Seagull by Elizabeth, and for those who have read the book, it gives some insight into her personality. She has clearly been a strong influence both on Robert's riding and his philosophies. He likes to feel that the free flowing, unfettered, happy, enjoying style she epitomized for him is becoming 'the American way of dressage'.
During the formative equestrian years Robert groomed for, and learned from, Elizabeth, and naturally enough progressed to training himself with Col. Ljungquist. I asked if this great trainer had opened new doors for him:
"From Col. Ljungquist I learned at an early age what classical dressage was all about and what it was meant to be like. I so well remember my first real lesson with him. I just walked… I walked for an hour and a half… I was grey with fatigue and dripping with sweat… the horse was dripping with sweat, but every step had to be correct. First extended, then collected, every bend through every corner had to be correct. From that time on I trained with him until he died in 1979. He was my mentor. He understood that I had very little money and he made it possible for me to train five days a week with him."
Since then Dover has trained with Willi Schultheis, and also spent some time with Georg Theodorescu when he was the American team trainer. About his time with Theodorescu he explains:
"From him I learned things I will never forget, though that does not mean that all those things I learned I would necessarily repeat. One can also learn by errors and I must admit it was not an absolutely happy time for me. Somehow the results of the training never quite took place when they were meant to. The good results were always after the fact – the bad results happened exactly on time… in other words in the dressage arena during a test. The good things so often only happened in training."
"The truth is I learned things about the art of riding that are absolutely invaluable. He is a complete genius and this is perhaps his greatest problem, for things are so easy for him that he can't take into consideration what the horse and the rider of the normal world are going through. He was not empathic, that was the major problem."
It was during this perhaps difficult time for Robert that he came to realise that every single horse has to be treated like an individual; warmed up in a different way and asked to do different exercises that might be good for one horse yet bad for another. He learned from Georg Theodorescu that there is a key that brings out the potential of every horse.
Robert has now spent a year in Europe. He realised if he was really to get to the top of the sport he must take that step. It has not been easy for him, nor could he have managed without the generosity of the Grillo family. He is immensely grateful for the support he has had from them and has been based while in Europe at Gabriella Grillo's stable, benefitting from the experience of one of the first of the Freestyle stars. He firmly believes that the route he has taken is the one that should be followed by fellow Americans with similar aspirations.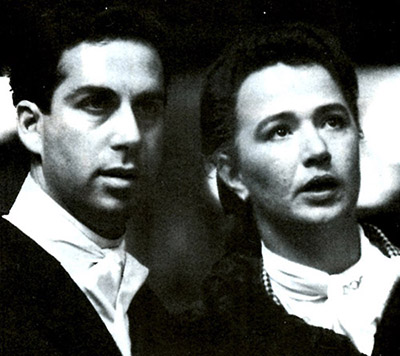 Robert and Gabriella
"It would be excellent if six riders a year could take a three month tour in Europe in the way our showjumpers do. Anyone who has the chance should take the extra time, as I have."
Robert is well aware however that those riders must be well advised and know which shows to go to and which judges to present themselves in front of.
'You have to present yourself well over a period of time. These problems are the same in the States and everyone knows how to handle them there, but once they get to Europe it is important that they have good advice."
Robert very much hopes that on his return to America he will be able to help direct riders on how and when to show in Europe, how to concentrate on which circuit they should do. Quite recently he received a letter of encouragement from a fellow countryman saying 'thanks for breaking the ice, you have now made it possible for us to go over there without having to keep our heads down'.
Robert has indeed broken the ice, and had a highly successful season by any standards. Bit by bit he has improved his standing, has listened and learned. It would seem to me that his knowledge will be of great benefit when he gets back home. His knowledge, not only of training horses, but also of handling the other side of competitions as well. Perhaps his degree in philosophy has something to do with his expert handling of judges, fellow riders, and the press. He is as happy leading a press conference as he is performing in the arena, and is only stating the very obvious when he says: "No, I don't suffer from nerves, excitement maybe, but I just love being in front of a lot of people and showing them my horse."
Robert now has several very good horses to ride, headed of course, by Federlicht. It has been a struggle and he has principally got where he is by selling one horse to buy another better one. He does a certain amount of teaching and has had a lot of support from 'good friends'.
He believes that his string of horses, some owned by clients and others jointly by himself and clients, to be the best group in the world. They are all Warmbloods. Though of course he would love to have a corporate sponsor, he recognizes that .in the field of dressage they are few and far between. He certainly promotes the right image to attract a major sponsor with his charm and good looks, careful frankness, wonderful string of horses and a highly extrovert personality. Currently in Europe he is getting a lot of attention and loves it.
He does however have a real desire to go back home and help his country get somewhere in dressage. Asked whether he thinks an American style of dressage, as recognizable as their jumping style, is likely to emerge, he is positive:
"Yes, I would hope so. The US style just used to be bad. We couldn't ride and we couldn't sit. Now that is changing. We have a love for horses and for our own horses in particular, so when we are doing dressage we want them to enjoy it too. We want them to do it as happily as we do it because we both enjoy and want to do the same thing. What I like to project in an arena is not only that I have learned in a classical way, and that my horses too are classically trained – even more I want them to seem to have a smile on their faces. I hope that is what is going to happen to all American dressage. Just as American jumpers have a softness, so I hope the same softness will come into dressage riding."
When he speaks of his horses, Dover expresses utter devotion to them.
"When I'm tired and people say 'You need a holiday or a rest' I just say I can't. I have my horses. When I ride I don't feel tired or pain, something just takes over and I ride naturally."
Robert spends a lot of time with his horses and personally does everything for Federlicht grooming, tacking up, everything. He wants to touch his flanks, his legs and see what his eyes are looking like. Robert feels that when he is asking his horse for the ultimate, he in return must do everything himself for that horse.
While Dover has established a strong reputation for himself in straight dressage, his standing has been lifted to greater heights thanks to his flair and expertise in the freestyle. His mother was a singer and dancer and it therefore seemed elementary to him to love to perform to music. The very idea of dancing with his horse is magic to him.
Robert's thoughts on the Kür are based on three principal points.
The choreography must suit both the horse and the rider's personalities.
The music must have points where there can be emphasis.
The choreography must have symmetry and be based on the whole arena. Three of the five judges are at the short end of the arena at C, and despite the fact that the Freestyle is intended to attract spectators, it cannot be forgotten where the bulk of the judges are sitting. There is also the enclosing element of the letters – unlike the situation in the closely related sport of freestyle ice skating. Dover is adamant that the freestyle remains classical, and therefore it must retain its discipline. He personally chooses to ride towards the focal point of the three judges.
Robert Dover is one of the several riders who feel that the freestyle should be judged by separate judges for the artistic and for the technical. "How can a judge," he asks, "sit back and enjoy the beauty and the music when he is saying all the time to his secretary 'a six for the piaffe' or a 'seven for the passage' and so on."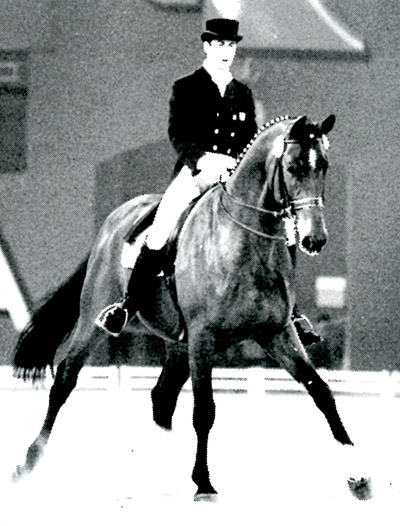 With Federlicht at the 1988 World Cup Final
When Robert designs a Kür it has to tell a story, a fairy story that leads the viewer into it through some quiet moments, through the dramatic ones and on to a wonderful finale. "How can the judge enjoy the story if he's concentrating on marks all the time?" he demands.
If the essence of the man were easily visible, I think the picture would be a complex one. There is more here than the confident, charming, elegant horseman who smoothly talks his path through the equestrian world. He is also a sensitive, artistic, creative person backed by considerable intelligence and a knowledge of how people function best on his behalf.
Perhaps he is a little less sure of himself than first impressions imply. Practically every great rider has a tough determined streak. I don't believe this man is any exception, but he fully realises that overt politeness and charm usually achieve more than aggressive behaviour, and this is the way Dover has chosen.
A small, amusing story he told me makes the point. He was riding his Kür in Essen and then a few weeks later in Lipica. One judge who was officiating at both came up to him at Lipica and said 'Robert I want to tell you how much better this new Kür and music is than the old one. It's far less hectic and just much nicer altogether!' Robert reports that he happily said 'Thank you sir' and left it at that, despite knowing full well that it was precisely the same in all respects.
But Robert Dover is not just concerned with superficial appearance. When he spoke of choosing horses, I asked him if it was essential that, in order to please his personal aesthetic demands, they had to be beautiful, I should not have been surprised by his answer: "If a horse has three beautiful paces and wonderful balance, even if he is not beautiful, I will take that horse and make him beautiful. Training makes dressage horses more beautiful, if it doesn't then it is being wrongly done."
It is the conclusion reached by every great Riding Master since Xenophon.
This story,  was written by the late Pegotty Henriques, and first appeared in the November 1988 edition of The Horse Magazine.
The world's largest archive of articles on dressage is only a click away
– and it's free!
---
Want to use the stallions who are siring winners at the top level? Go to: www.ihb.com.au and select the right stallion for your mare  – Foundation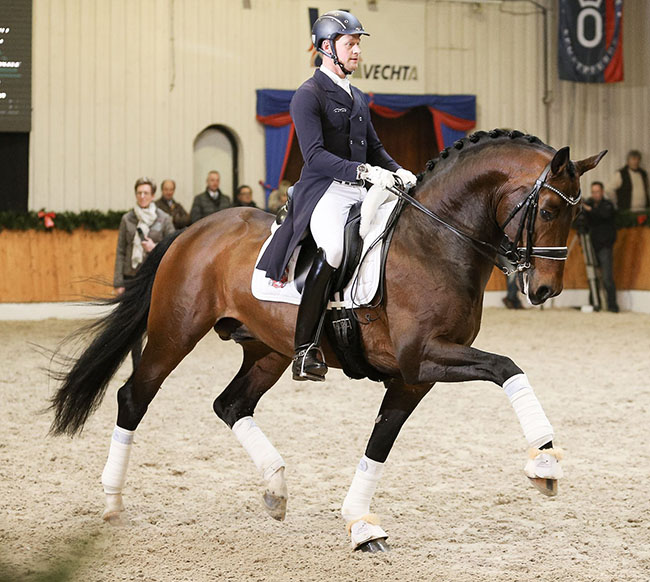 Or Breitling the leading producing sire for the second year…