Christopher Hector analyses the bloodlines
Photos – Roslyn Neave and archives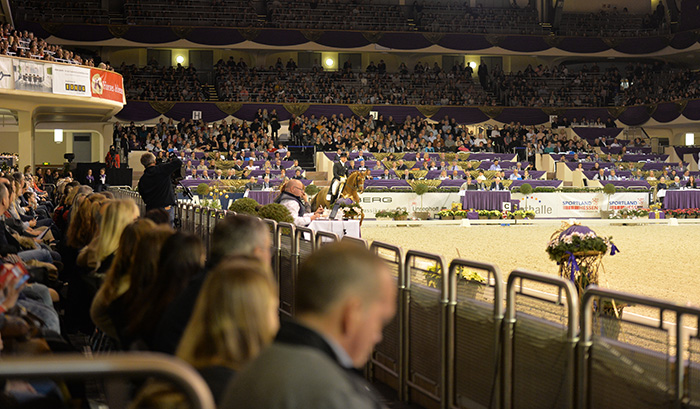 The Nürnberger Burg-Pokal is a class for 7 to 9 year old horses, and was devised by Reiner Klimke as a bridge to the Big Tour. Over the years, the class – held every year in December at Frankfurt Horse Show – has produced an astonishing number of international stars (go to the history of the Burg-Pokal to learn more.)The entries in this year's represented a vintage crop.
Two stallions had more than one representative in the Burg-Pokal. San Amour and Fidertanz – and Fidertanz was  the only stallion with more than one representative in the Louisdor-Preis – another prestige class at Frankfurt show for 9 and 10 year olds making the transition to Grand Prix.
Fidertanz was the premium stallion at the Westphalian stallion licensing in 2004. His breeding is essence of Westfalien.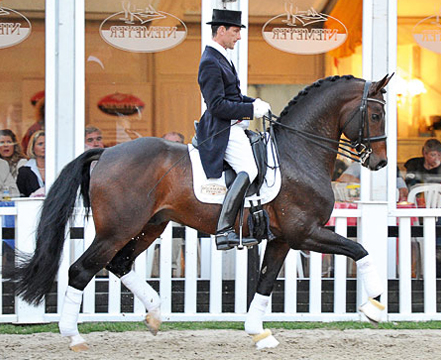 Fidertanz – two horses into the final

His sire, Fidermark, was perhaps the best son of the great Florestan, and his death at the age of 11 cut short a brilliant career at stud. His dam sire Ravallo won his stallion performance test. Ravallo is a grandson of the Holsteiner, Ramiro, with a bit more jump in the form of Gotthard on the dam side. His dam is by Frühlingstraum II one of the pillars of the Westphalian breeding and out of a mare by Romadour II, one of the first of the dressage sires. Officially Romadour II is by Romulus, a grandson of Ramzes aa, but there is good reason to believe that he was in fact sired by the Duellant son, Duft II. Romadour II's son, Rosenkavalier was the sire of Rubinstein.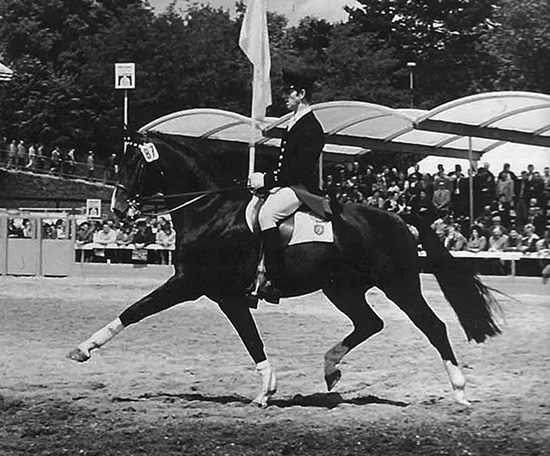 Romadour II
Fidertanz was the sire of the Nürnberger Burg-Pokal champion, QC Flamboyant OLD (out of a De Niro mare) although even his rider, Isabel Werth confessed at the press conference that she thought Hubertus Schmidt's Escolar should have won. Certainly the spectators through their judging app clearly had Hubertus winning, and they emphasised the point with jeers and whistles for the judges when they scored otherwise. The other Fidertanz, Foundation (De Vito), finished in sixth place.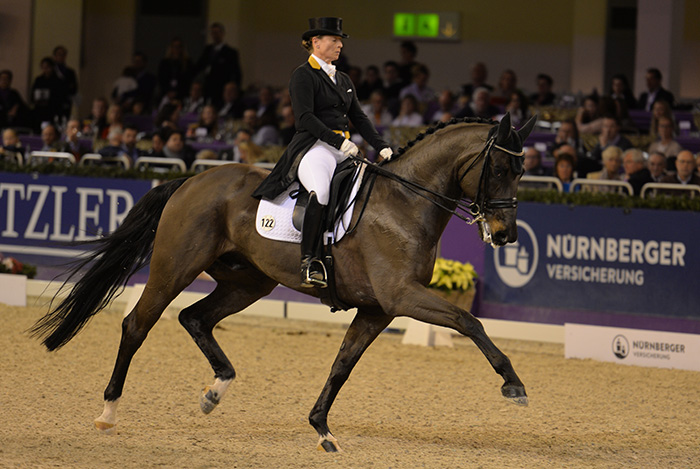 Isabell and Flamboyant
more follows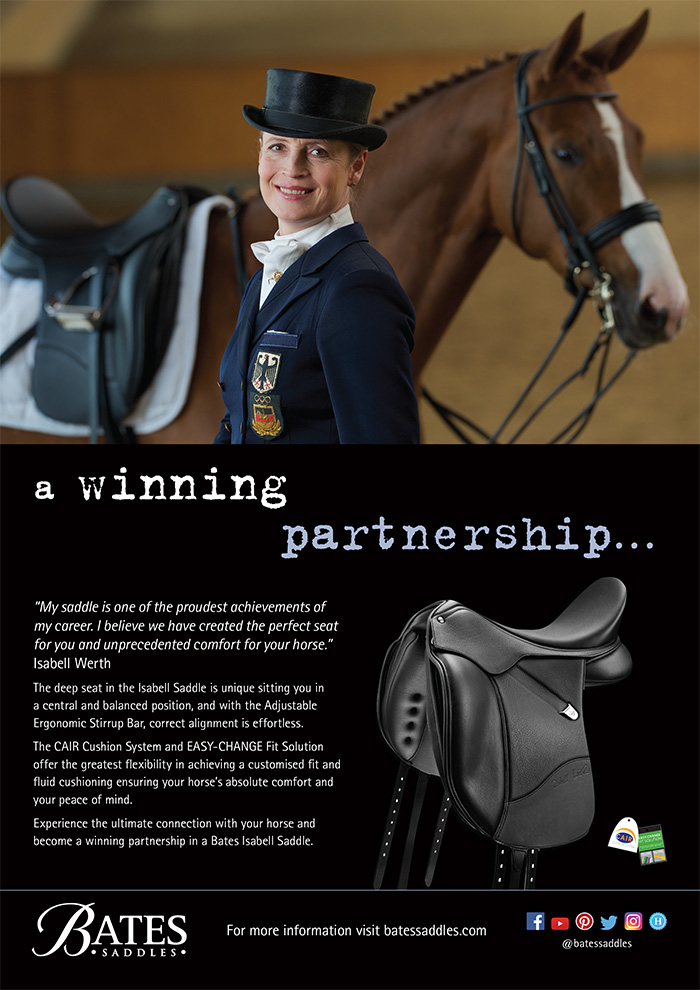 There was more representation for Florestan in the form of Fürst Levantino (out of a Sandro Hit mare) who finished 8th. Fürst Levantino is by Fürst Romancier by Fürst Heinrich  by Florestan.
All these horses descend from the half Thoroughbred French stallion, Furioso II, 56.25% 'blood' to be exact. We see once again how important the Thoroughbred has  been in making the modern dressage horse…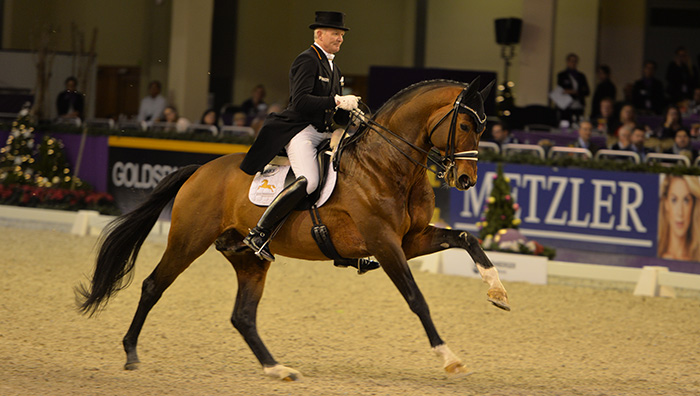 Escolar – what a mover!
Escolar (Estobar NRW / Fürst Piccolo) is the product of the Borgmann family stud, Hof Borgmann. They are amongst the most successful breeders in Westfalia with a special knack for stallions, having produced no fewer than 25 approved stallions. One of their biggest success stories is Escolar's sire Estobar NRW, the champion of the 2006 Westfalien licensing. He then sold at the Stallion Auction for a record €535,000.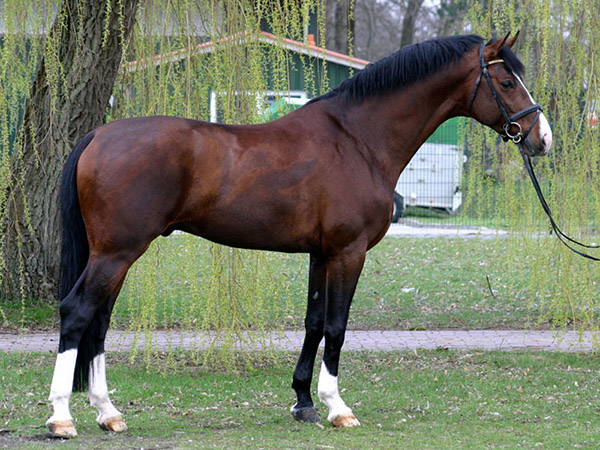 Estobar NRW
I asked his breeder, Stephan Borgmann –What do you think Estobar put on his foals?
"I think Estobar gives a good character, very friendly foals, they are interested in people. When they are three or four years old, they are good to work with, and make fantastic dressage horses."
Estobar competed up to Inter II with Hubertus Schmidt, who rode his son, Escolar at the 2017 Burg-Pokal.
For more about the breeding program of Thomas Borgmann click
Next more on the 'E' line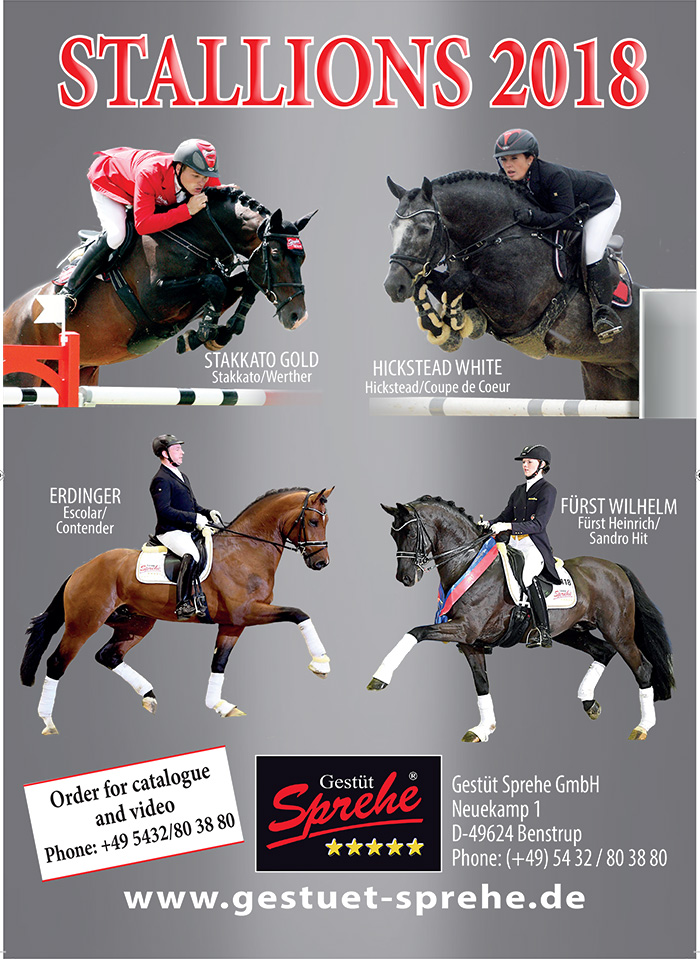 The return of the 'E' line
The first thing we've got to get our head around is that the E line actually starts with the A line, founded by the Thoroughbred, Adeptus, who stood in Celle from 1984 to 1904. His Hanoverian A line became not one, but two E lines, the one we are interested in is the line from Eindruck II (who on his dam's side carries the blood of another early source of dressage talent, Detektiv (1926 – 43) grand sire of Duellant (1946 – 1965) whose most influential son was Duft II).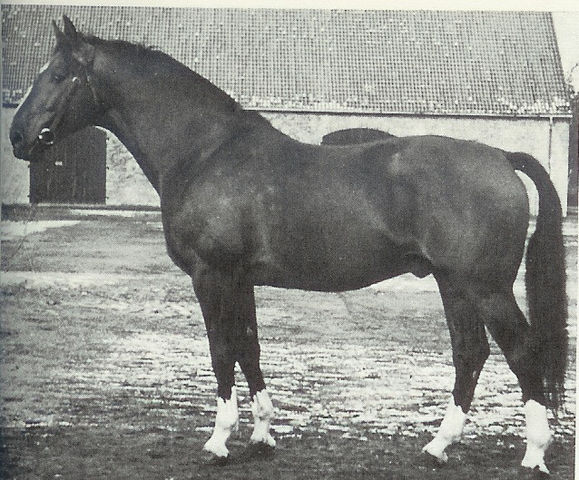 Eindruck II
Eindruck II's best known son was Einblick, in his time a performance test winner and very good in dressage and jumping. His progeny are considered mainly to be dressage horses, although Einblick himself was also very good in jumping.
And, luckily for dressage – and Westfalien breeding – another Eindruck II son, Ehrenschild (out of an Adlerschild mare) was stationed very close to Westfalia.
Once again, I draw on my friend Thomas Hartwig and his encyclopaedic knowledge of Westfalien breeding:
"We have seen in the last two or three years a very interesting comeback of the famous E line. The founder of the E line in Westfalia was Ehrenschild, a stallion from the Hanoverian State Stud in Celle, who came in 1960 to the town of Melle which is right on the border of Westfalia and Hanover, and the Westfalian breeders used him. He was a big, heavy horse but typical of his time, remember he was born in 1956 and came to Melle in 1960 – for this time he was a typical horse."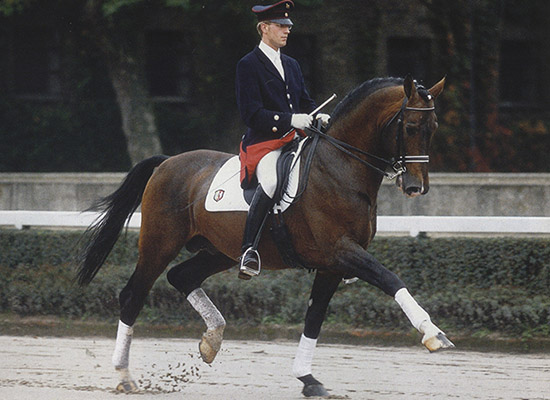 Ehrentusch
"He sired the Westfalian stallion, Ehrensold, whose son was the very famous Ehrentusch. We saw a lot of very good children of Ehrentusch, and a lot of them have the same characteristics, they all want to work, they had all very good hind legs. They were not beauty queens – or kings – but perfectly usable, and not only dressage horses but also showjumpers. You might remember El Paso from Paul Schockemöhle and later Eddie Macken. In the 80s and early 90s, Ehrentusch was very favoured but then a lot of people said, oh Ehrentusch's children, they are not beautiful enough, and his popularity slipped down."
"Then one of the most famous breeders, Norbert Borgmann, the father of Stephan who runs the stud today, he used Ehrentusch with his very perfect mare, Florence (Ferragamo / Florestan) they produced Estobar, later Estobar NRW. He sold at the auction is 2006 for the unbelievable price of over half a million euros."
"From Estobar we saw his really best son, Escolar, two times winner at the Bundeschampionate as a three and four year old stallion where he received several tens for canter and trot. Now we can see the first children of Escolar. The oldest are four, but in the first season he covered only a handful of mares. The first crop we can really see are the three-year-olds and they have had a lot of success in Westfalia, and in the Bundeschampionate. The champion of the three-year-old geldings and mares is an Escolar, Eternity who was shown by the stable of Andreas Helgstrand."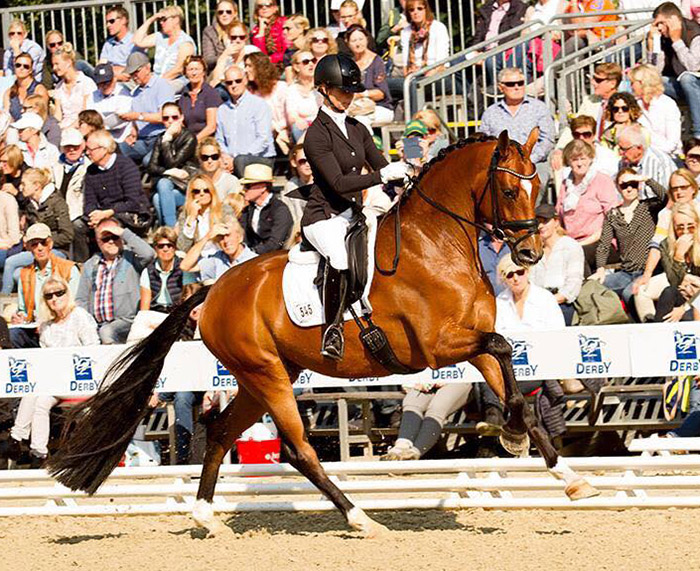 Eternity by Escolar
"This story is a good example of two things. The first is, how great the danger is that a very valuable line can be forgotten – because if Norbert Borgmann hadn't done his own thing with Florence, we would have had no Estobar, no Escolar, and no one would today speak about the E line. The second is that a lot of the strengths that were first seen with Ehrenschild, we can see three, four, five generations later. The very good hind legs, they all want to work, mostly not such beautiful horses but really horses you can use for working and working at a higher level, because they want to work."
It is a quality that Escolar's rider, Hubertus Schmidt enjoys: "Escolar is a spectacular mover, spectacular in a nice way, the basic trot and canter is unbelievable. I know no other horse that can canter like he does, he is fantastic to ride."
Escolar had a mistake in the collected walk in the first round, but Hubertus says that it is only that he gets scared by himself in the ring:
"When you are on the horse, he is really focussed on you, he is never spooky – it's not the atmosphere, if you have a big indoor or a small indoor, it doesn't matter, it is the moment when he is alone, it's the moment I leave the other horses and he is alone that is the problem. He feels lonely, but he is really the best mover I have ever had."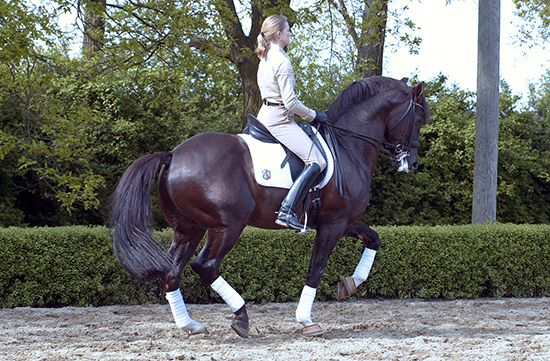 Fidermark
Escolar's dam sire, Fürst Piccolo is by Fidermark, out of a mare of solid NRW breeding. Escolar looks like he could go all the way – and there is no one better to take him to the top than the master, Hubertus Schmidt. I am also hearing rave reviews for Escolar's progeny…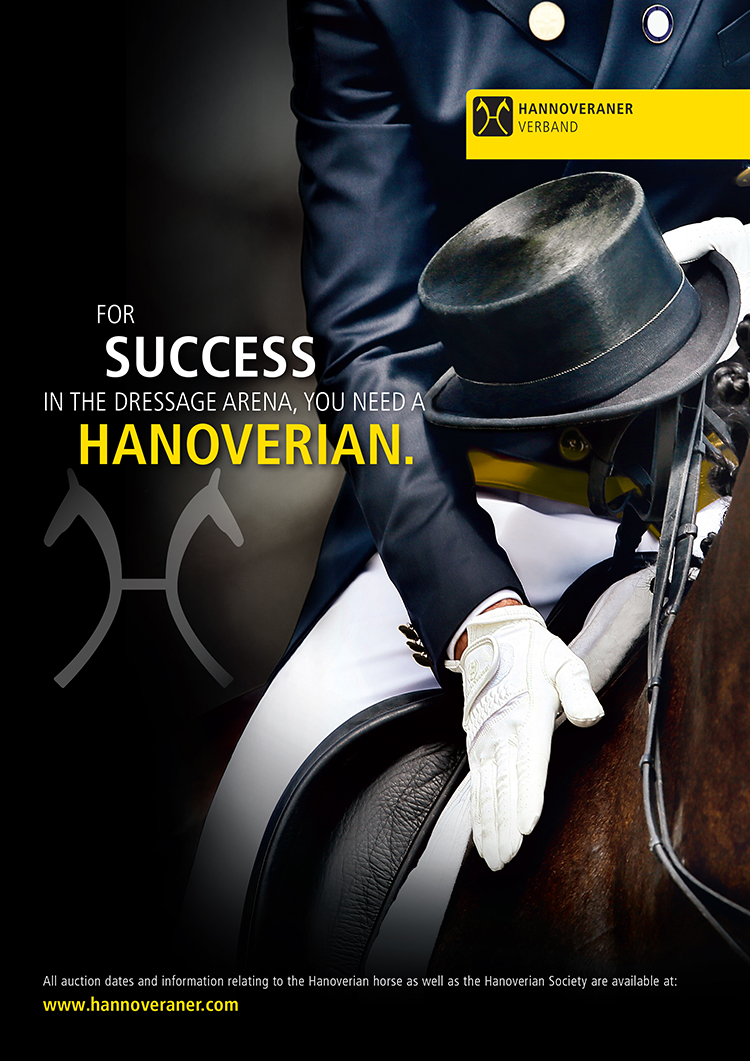 The line-up also demonstrates the re-emergence of the 'B' line of the three-quarter blood Hanoverian sire, Bolero. Bolero was one of the important transmitters of Thoroughbred blood at the time when the breeding goal was moving from the traditional all-round horse in the direction of specialist dressage breeding. Bolero was technically not eligible to be licensed in Hanover at the time, since he had too much Thoroughbred blood – by the Thoroughbred, Black Sky, out of a mare by another Thoroughbred, Bleep – still luckily for the breed, some rules are made to be broken…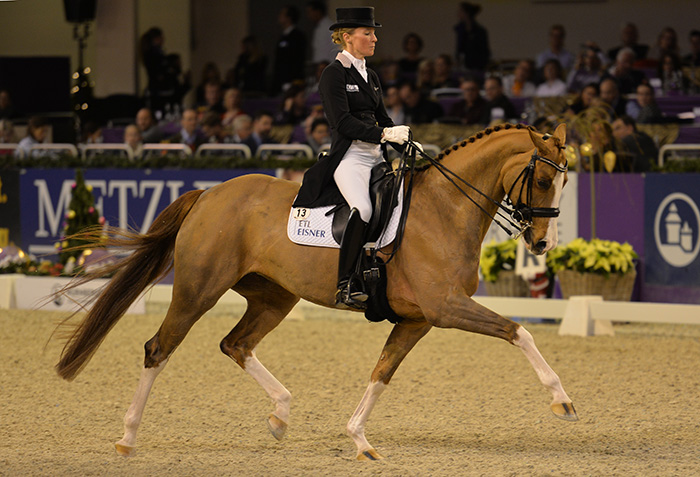 Brisbane by Belissimo by Beltain by Bolero – 5th with Helen Langehanenberg
more on the Thoroughbred influence follows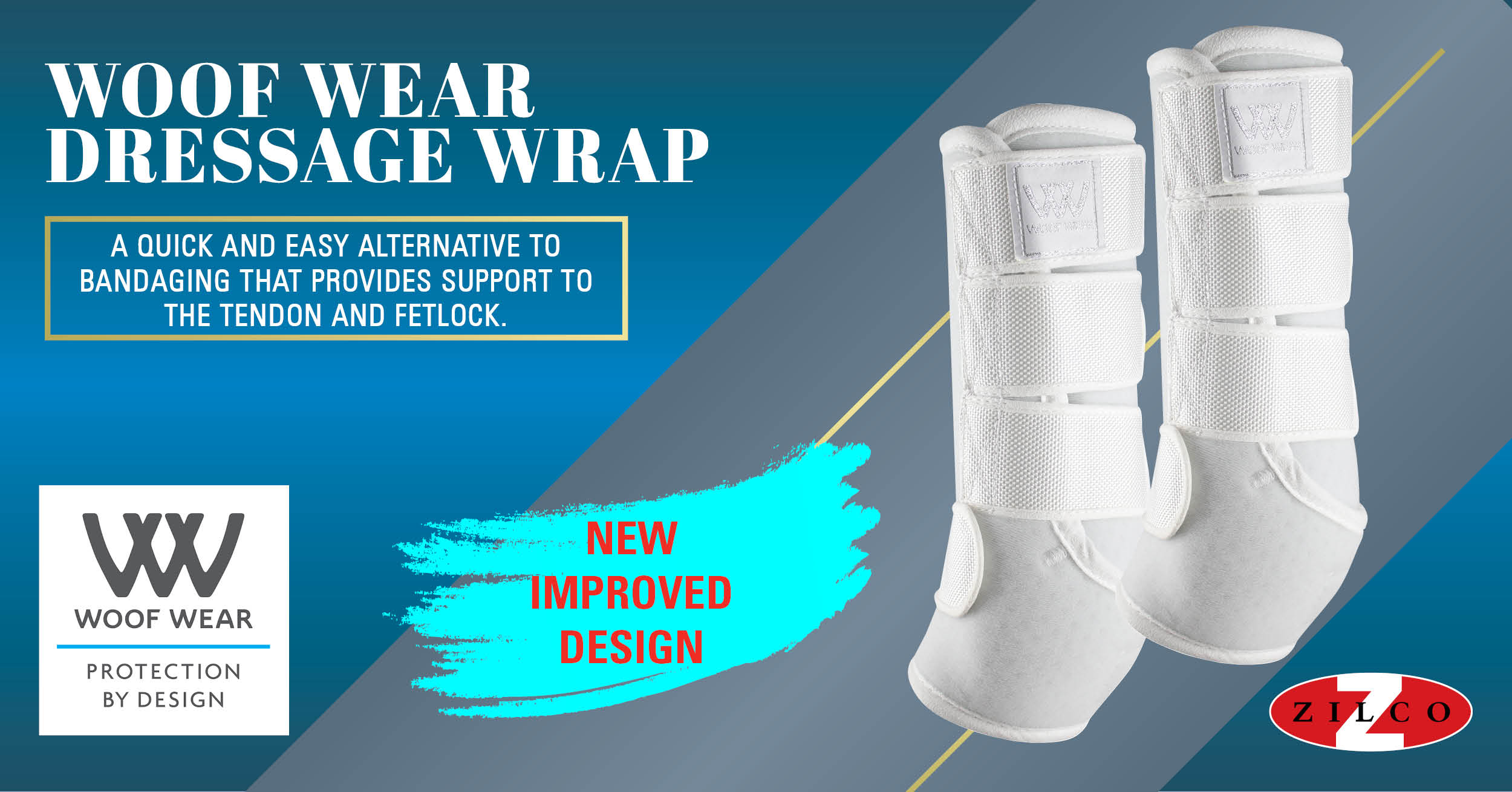 In a ground breaking piece of research, Florian Sitzenstock from the University of Goettingen looked at the influence of the Thoroughbred in the Hanoverian studbook since 1985 and comes to the paradoxical conclusion that while the percentage of horses by full-blood or half-blood sires has diminished, the percentage of Thoroughbred blood in the Hanoverian population has increased!
The study examined the pedigrees of a total of 217,475 Hanoverian foals from 1980 until 2006 and found that the average proportion of Thoroughbred blood in the foals was 23%, with an increase from 20% in 1980 to 25% in 2006. During that period, the percentage of horses with no Thoroughbred blood, dropped from 40% to 4%!
The FN breeding values show an increased proportion of Thoroughbred blood positively influences the dressage breed value.
The results of Florian Sitzenstock's researches were published in the July 2009 edition of Der Hannoveraner (once again, thanks to the Hanoverian Verband for providing the translation) along with a comment from Dr Ludwig Christmann:
"Florian Sitzenstock established in his dissertation that today's Hanoverian population has a Thoroughbred share of 25 percent.  He researched the past thirty years, a time frame during which a lot happened in the breed.  Overall the types have improved, meaning: more hot-blooded horses with longer legs, equipped with the desired, so-called riding horse points."
"The need for refinement appears not as high as 30 years ago.  That does, however, not mean that we want, or can abandon Thoroughbreds, as a refining breed.  It means that we can approach the use of Thoroughbreds with a certain calmness, but also with a necessary consequence.  Calmness means that only those Thoroughbreds are to be used, which are equipped with moving ability, rideability, and/or jumping talent; consequence means that we continue to carefully search for such Thoroughbreds."
"Differences became clear between the use of Thoroughbred blood in the breeding of dressage horses, and jumper horses.  The fact that an increasing share of Thoroughbred blood positively influenced the breed value for dressage is certainly closely connected to the unique situation in Hannover.  During the research period, such exceptional Thoroughbreds like Lauries Crusador xx, Prince Thatch xx, and Sunlight xx – all three more dressage oriented – were in breeding service in Hannover.  The influence of Lauries Crusador xx continues to grow."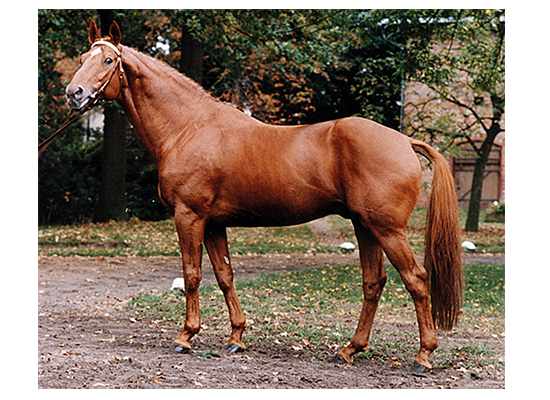 Bolero
Hubertus Schmidt's mare, Toscana OLD is by Bentley by Belissimo by Beltain by Bolero, while Helen Langehanenberg's mare, Brisbane is by Belissimo.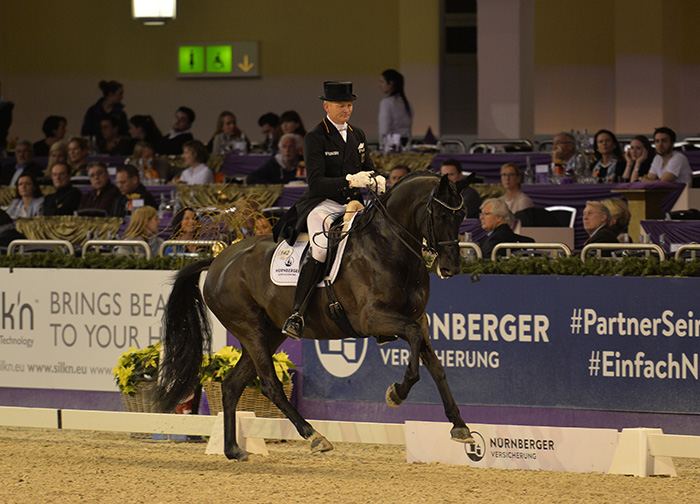 Toscana and Hubertus Schmidt – the B line again…
Matthias Bouten rides Bodyguard, out of a Pik L (Pik Bube II) mare by Burlington (Rohdiamant) by the grandson of Bolero – Breitling who has recently been crowned Germany's number one sire of horses in open competition, sadly he died two years ago. Breitling was by Bismark by Bolero,  but his breeder, Wolfram Wittig, always points to the influence of Bismark's dam sire, Duellant.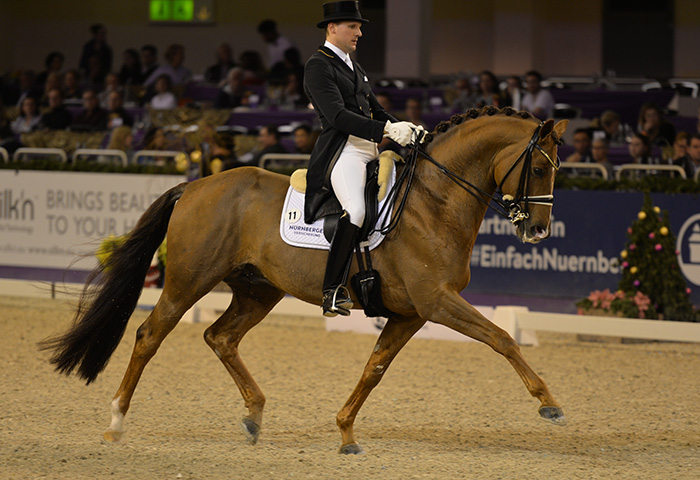 Bodyguard and Matthias Bouten
Bodyguard finished third in the final, just in front of Brisbane, while the fifth place went to Foundation and Mattthias Alexander Rath.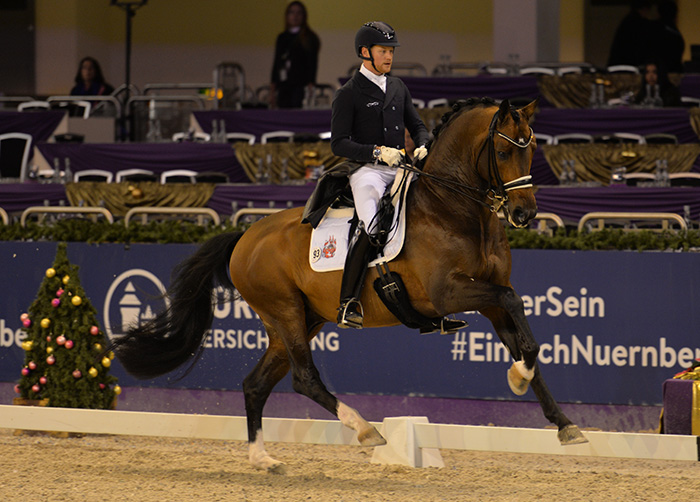 Foundation and Matthias Alexander Rath
The Sandro Hit son, San Amour (out of a Plaisir d'Amour mare) supplied two of the finalists, Soiree d'Amour OLD (7th place) and Saphira Royal 2 (out of mare by the Trakehner stallion, Monteverdi TSF). Having got to this 'baby' Big Tour stage they have already progressed further than their sire or grandsire, both of whom did not compete past young horse classes.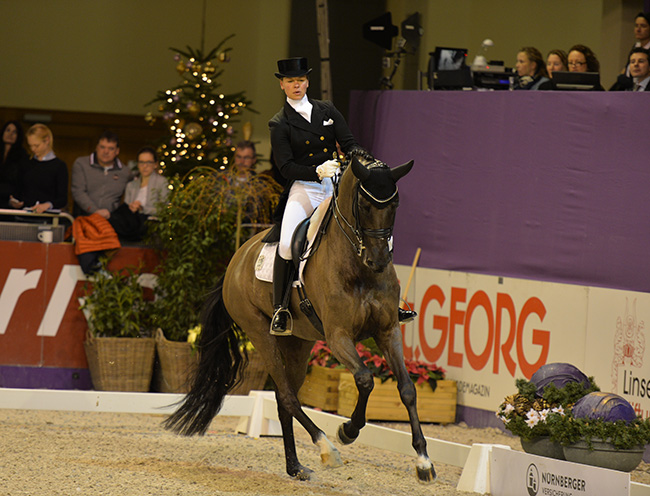 Soiree d'Amour OLD and Kira Wulferding
The threatened 'invasion' of Dutch blood has not really hit, there was just one finalist by a KWPN stallion. Abegglen FH is by Ampère out of a Carabas mare. The gelding finished 12th.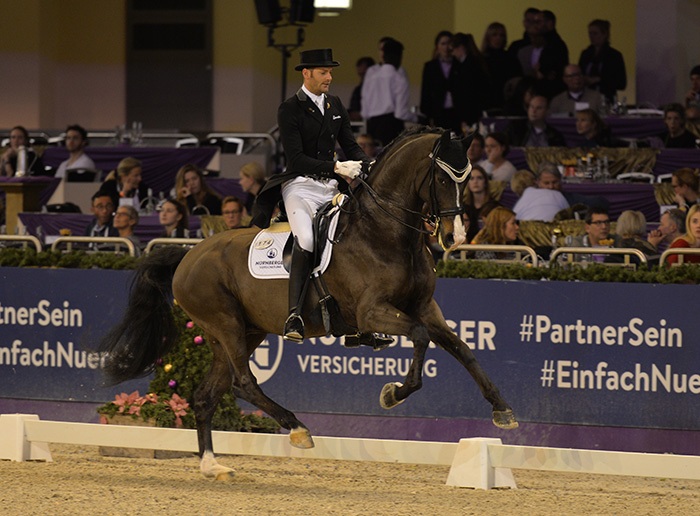 Not really a Dutch invasion yet – Abegglen FH and Marcus Hermes
It is interesting that the horses in this class are mainly by stallions that were themselves young horses stars – Dimaggio, San Amour, Ampère, Fürst Romancier and Quaterback – while the 'D' line that dominates the big, open Grand Prix classes is relatively absent…
Conclusion follows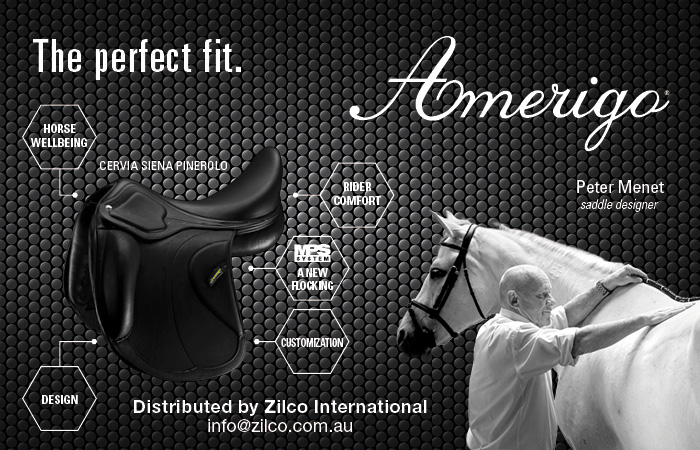 In terms of studbook representation Hanover  led the way with five of the twelve finalists. Oldenburg supplied four, Westfalia, two.
Given the history of the Nürnberger Burg-Pokal at least a couple of the graduates of this year's class should go on to Grand Prix fame and glory, Escolar, one hopes, is the horse that the Master, Hubertus Schmidt richly deserves…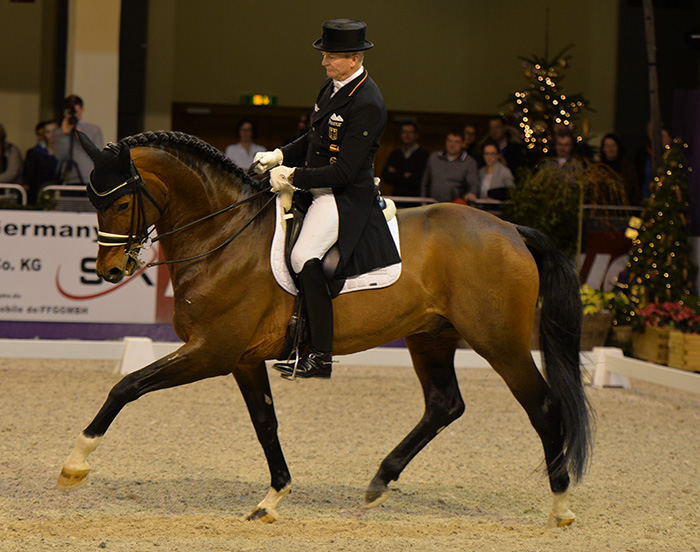 ---
Want to use these bloodlines in Australia? Go to www.ihb.com.au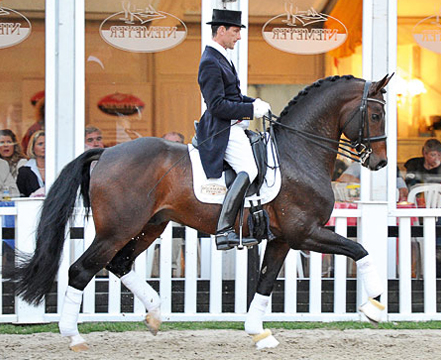 Fidertanz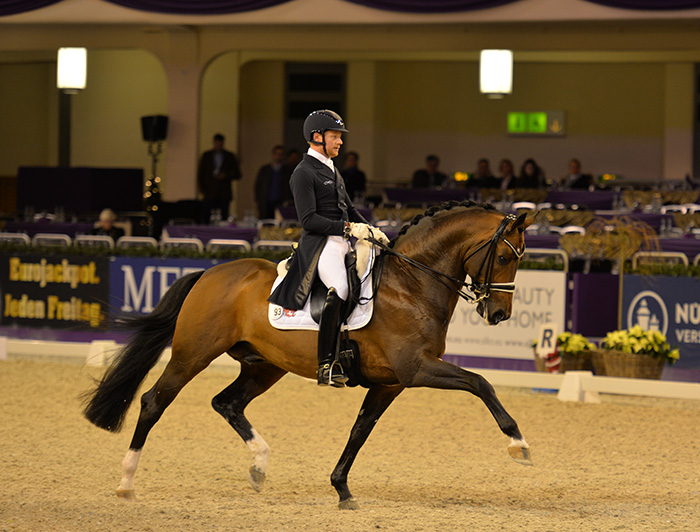 Foundation