Story by Christopher Hector and Photos by Roz Neave
If the role of the trainer is to re-state simple truths over and over again, there is no trainer in the universe who can do the job anywhere near as well as George Morris. The most amazing thing is that even if you are a serial GM clinic attendee, I've been addicted since 1988, each time those timeless truths come packaged in a whole new set of startling sentences, each time with insights that are as fresh as tomorrow's dawn…
So it was yet again at the 2011 Clinics at SIEC. At the age of 72, George shows no signs of losing the cutting edge of his wit, or the acuteness of his ability to read horse and rider.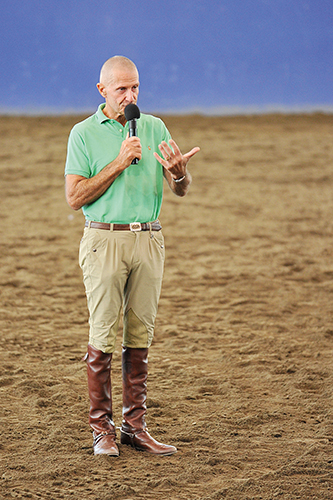 At last, it would seem that Australian riders are appreciating the unique opportunity that time with George represents, and clinic organizer, Vicki Roycroft was delighted with the flood of applications for this year's event, although the world wide wacko weather almost put an end to the whole thing when blizzards closed the Atlanta airport.
"I managed to get to Los Angeles and when I arrived there, I found they had erased my seat. I gave the young lady behind the counter first my decrepit old look, then my Hitlerian look, it's like training a horse, repeat, repeat, repeat, and I finally was upgraded and made it here…"
What a nice line-up of horses greeted the master in the first group: Hilary Scott and Pro Ratina (an imported mare bred top and bottom to Pilot), Jamie Kermond and BWP Lincoln (by the great Indoctro), Jamie Grant and Vedette (another imported mare, this time by Cassini I out of a grand-daughter of Lucky Boy), Vicki Roycroft and Kartoon (by another great, Quidam de Revel), Danielle Butcher and the amazing Anglo Arab, Twins Quantum and Amanda Madigan and an exciting daughter of Vivant, Vigo.
In case you missed any of the countless stories I have written on George and his teaching, he is a stickler for detail and hates lazy or slack behaviour. "It's a problem, jumping riders take short cuts, they can't be bothered adjusting their stirrup leathers. Most of them end up riding in a chair seat, and what causes a chair seat? Short stirrups. In my system we have three, four, five lengths, and now I want your leathers at least two holes longer in a riding length. We have a riding seat, a jumping seat, a dressage seat and a racing seat, and you have to acquire all four."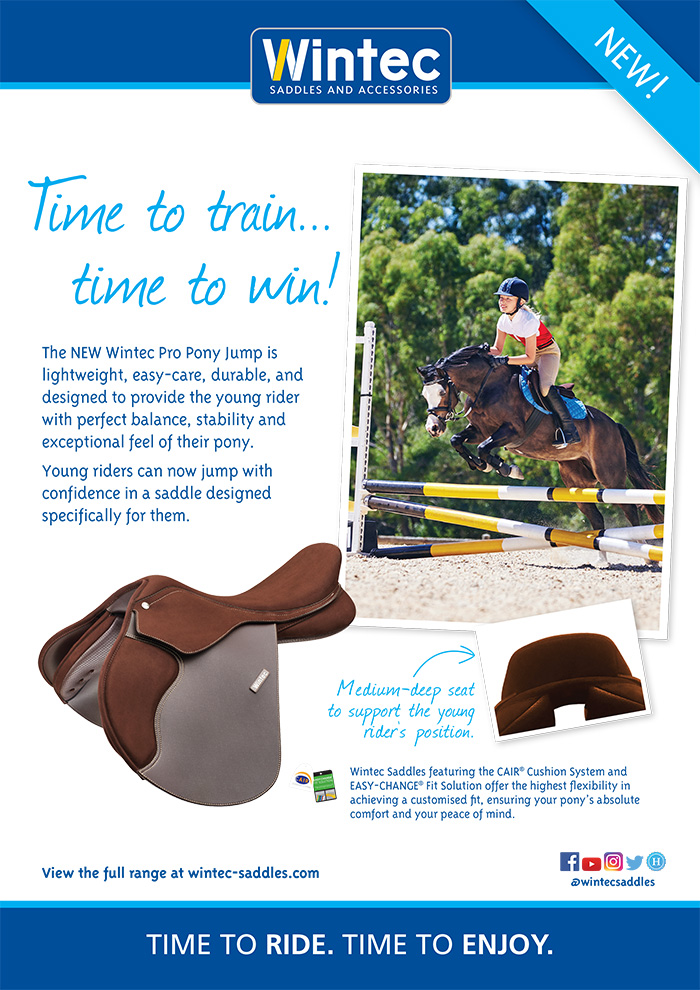 And of course, even in walk, there has to be total concentration: "I know you are only walking, but don't tap with your legs. One blow with both spurs if necessary, but don't tap, tap, tap, and raise your hands. I don't want low, fixed, dead hands – don't drop your hands. Your arm must be flexible with a supple elbow oscillating at the walk with the horse's mouth. The contact must be even on both sides, invite the horse to stretch to your hands, and if the horse raises its head, lift your hands and softly push the horse to the bit."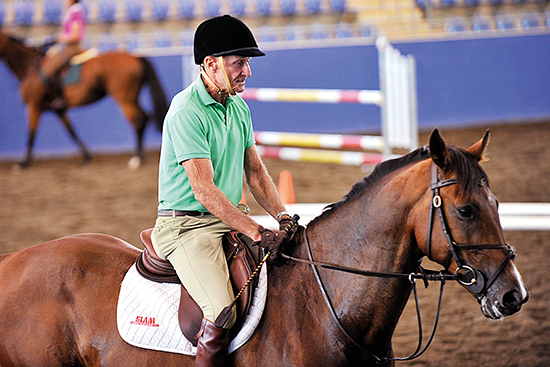 Don't drop your hands…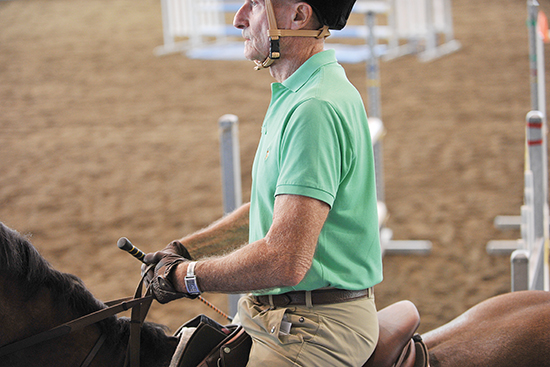 Supple elbow…
It was into trot and right from the first step, George wanted the riders to establish a rhythm. Trot eight to ten strides, transition to walk, three or four strides then back to trot, working all the time on making the horse light to the aids. George was concentrating on contact: "Close your hand, don't drop your hands. There should be a straight line to the horse's mouth, and none of this left / right pulling – I HATE THAT!"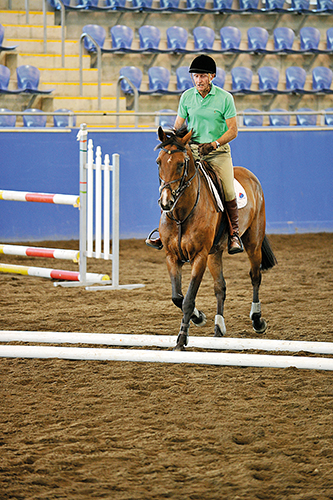 The contact must be even on both sides
If this feels like the most basic of dressage lessons, you are right, but consider this – this is an elite group of Australian riders who need basic dressage lessons. Is that scary?

But it is a very good basic dressage lesson, and if half a dozen of our top riders can benefit from it, I suspect we all can. And I suspect that lots of it has to do with being 'meticulous', one of George's favourite words:
"Ride deep into the corners, be meticulous about your dressage. Now come out in shoulder in, and remember that you fix the haunches and displace the shoulder. Think first about riding the hind legs, you are too busy riding the horse's neck."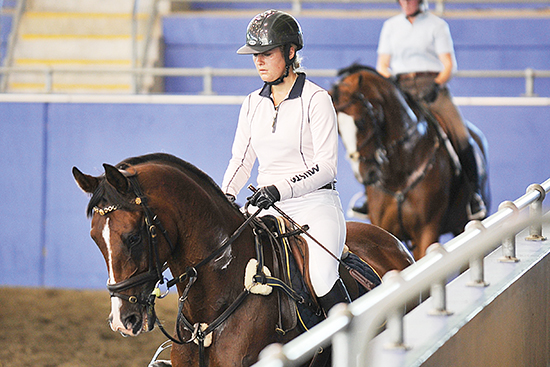 Danielle and Twins Quantum… shoulder in
Time to canter: "For the canter we want the horse on the outside rein, with the outside leg slightly back and we prompt with the inside leg. There is a slight flexion to the inside, and the inside leg gives the impulsion."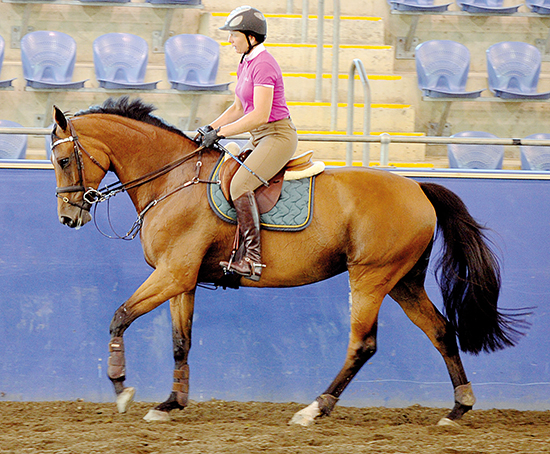 Amanda and Vigo
Cut to canter / walk / canter transitions – lots of them. Eight to ten strides canter, two or three strides walk, canter, walk, canter, walk, then a half turn in canter to proceed in counter canter. But still the riders had to work on contact:
"Take for two/three give, give, don't hold. Take and give, that will give you self-carriage. These are exercises to collect, collection not by draw reins, but by correct riding."
And it is not all contact: "Everything is legs, legs, legs, everything is bringing the horse to the head, not bringing the head to the body. You are all obsessed with seat, I'm obsessed with leg."
The spectators are speculating – which one will he pick to ride? It's Jamie Kermond's Lincoln, a horse that has shown a tendency to go above the bit and that is just why George has selected him…
"Don't pull the head down, drive the head down. Low open stiff hands affects your position, you need steady but supple contact…"
As always George is a horse appreciator (Riders, even spectators can sometimes feel the rough edge of his tongue, but I have never ever seen him put down a horse) and he likes the Indoctro gelding: "This is a lovely horse. Oh what a horse."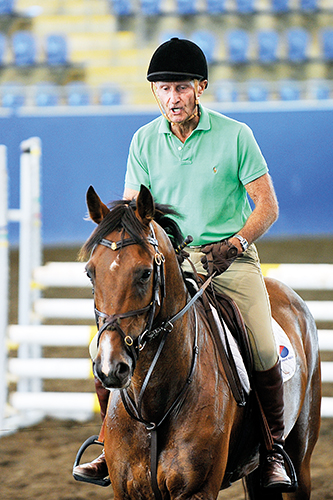 Oh what a horse… BSW Lincoln!
George is just sitting there, letting the horse find its own balance, riding tiny canter voltes: "I don't push the horse, I don't work – the horse works. The first thing is to get the horse in front of my legs. Watch my hands, it's not this zig zag garbage, that's cheap. I hate this current riding style, bringing the head to the body. Classical riding is to bring the body to the head. This is a leg based system with motion of the horse. This is a system to teach the horse to carry himself."
Sure enough, the horse is longer, stretching to the bit and looks so much more settled when George is finished with him, and Jamie is counselled to change his ways: "Don't set your hands on the wither, the hand belongs to the mouth, not the wither, don't fix your hands so stiff, copy what I did. Self-carriage is the Holy Grail of riding, it is not so popular today, with all this helping, helping, helping."
Over a jump, George is no fan of the famed American crest release: "Amanda, not that crest release, hold your hands alongside the neck."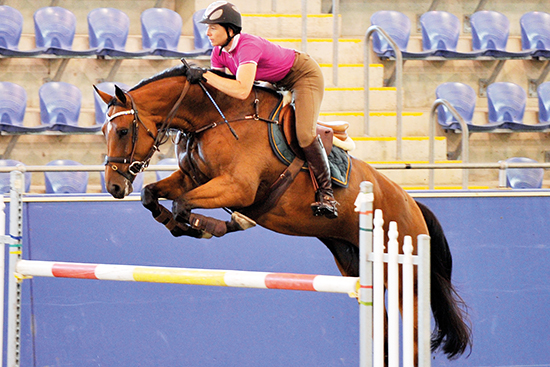 When you halt, you halt in precisely the right place: "Stop at a specific place, come to the second corner then halt. This is specific riding."
Specific riding but the horse is allowed the freedom to make mistakes… when a horse bungles its way over a jump, George is happy:
"Let the horse learn not to twist and hang, don't help the horse. Let the horse be awkward and teach himself not to be awkward."
And don't get the impression that George spends all his time abusing his students, he is equally quick to praise, so when Hilary Scott finishes her line with a lovely corner into a square halt, of her own initiative, "Hilary that is dressage…. Beautiful, she is a great student."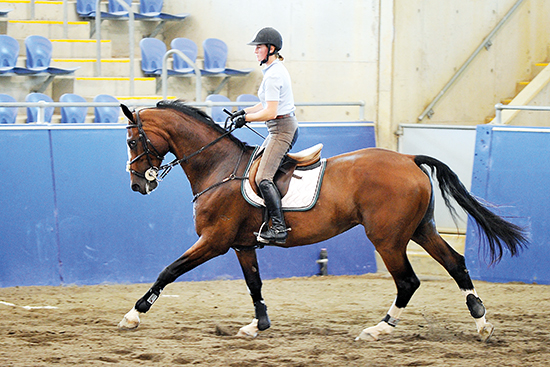 Hilary and Pro Ratina
"What we are doing is a combination of French and German dressage and Italian jumping and some people might think the light racing seat is old fashioned and out-of-date, but look at Eric Lamaze, look at Rodrigo Pessoa, and to ride like they do requires very good dressage, legs and stirrups not just seat."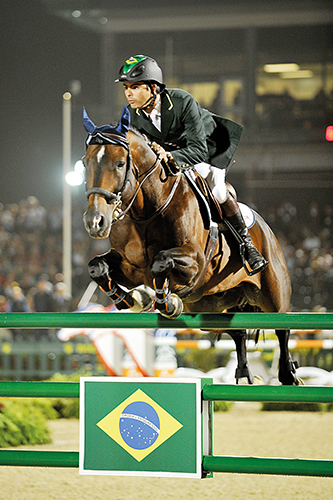 Rodrigo and Rebozo at Kentucky
As George points out on numerous occasions, the halt is the beginning and the end of the Grand Prix dressage test, and every halt should be a dressage exercise. "The horse stops in front of you, you should feel like he's walking (into the halt)."
The position of the rider's foot is critical at all times – the rider can be battling through the toughest of GM's tough lines and he doesn't care that you made it to the other side leaving all the rails in the cups, "Adjust your stirrup, drop your heel, this position displaces your weight to your feet."
And if you think all this is very complicated and hard to understand, you are wrong, as he tells Amanda Madigan: "Come on Amanda, don't be so complicated. You make riding complicated my dear."
Even when he likes what he sees, he wants more. Jamie Kermond turns super tight on the top of a Liverpool to make the seven stride distance George wants and is rewarded with a 'perfect', followed by "but repeat it, so I know it wasn't luck. You really have to be on the ball on the top of that Liverpool to get the seven – it is not as easy as it looks, you have to have conviction. It is not just the jumping – the riding is critical. The trick is to not rush the Liverpool."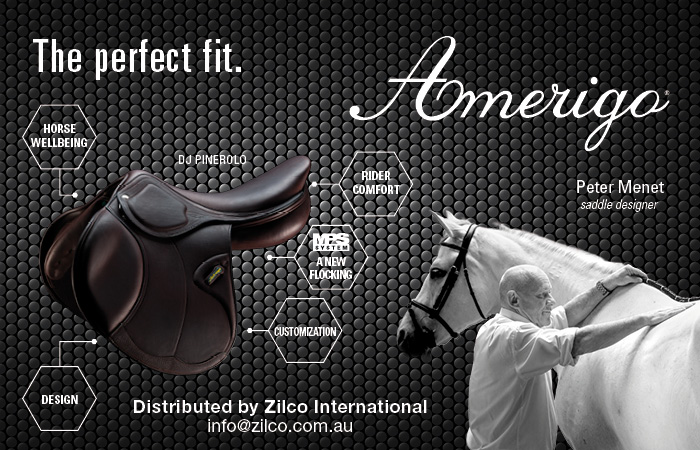 Each and every item of tack is critically evaluated, with the emphasis on the critical: "I don't like these white 'happy mouth' bits. If I see a 'happy mouth' bit, I can guarantee the horse has an unhappy mouth."
Every jumping exercise is related to a dressage exercise, thus George had the riders jumping a line of three jumps, but the second he dropped his hand, they were to stop – right in front of the last jump. It was an exercise to shorten the horse – to illustrate the range of responses associated with the half halt: first half halt, halt, then rein back.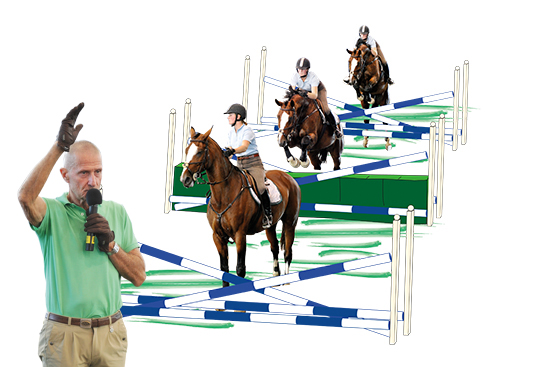 EXERCISE ONE
"This is an exercise to teach the horse to shorten by full halts. When you halt, stretch your spine, make sure your weight is in your heel and with the contact in both hands, elevate the poll. When you stop, don't grab with your legs, your leg should be just in contact, if you grab then you are using conflicting aids."
It was about halting, it was also about travelling fast: "This sport is half way to racing, especially today, in the jump off is always boils down to racing and that means you have to get off the horse's back and adopt the principles of Caprilli, much of the time."
The second group of riders was also an interesting lot. Hilary Scott and Danni Butcher must have been vying for the 'Chris Chugg – who can ride in the most sessions' award, since they both went out one door and came right back in again, this time Hilary was riding Oaks Miss Scarlett (another imported mare, by Papillon Rouge), while Danielle was riding the Thoroughbred ex-eventer, Twins Zenith, Stuart Tinney was riding Kinnordy Rubino, Emma Smith on the ginormous Ego Casablanca (by Camelot Ego Z out of an Aachen mare), Ian Hamilton was mounted on Corriegador (an interestingly bred gelding, a three quarter brother to Conquistador, out of the same mare and by a Clinton/Darco stallion) while Emma Scott is riding her up-and-coming and very talented young eventer, Jenbern Monyana.
As might be expected, the riders get a solid workout on the flat before they are let anywhere near a jump. Contact is once again a major issue, Corriegador is coming above the bit, but George does not want Ian to over-react. "Resist in exactly the same proportion as he resists."
In the flat work, George expects riders to know the correct terminology for manege riding, and woe betide the rider who confuses a half turn with a reverse half turn – and it is not pedantry since they will be using the reverse half turn as an integral part of the next exercise. Over two fences, reverse half turn back over the fences again. It is an exercise in loosening up and getting with the flow of the jumping: "Ride it loose, don't stop and start. Keep the pace, keep the position, don't sit down."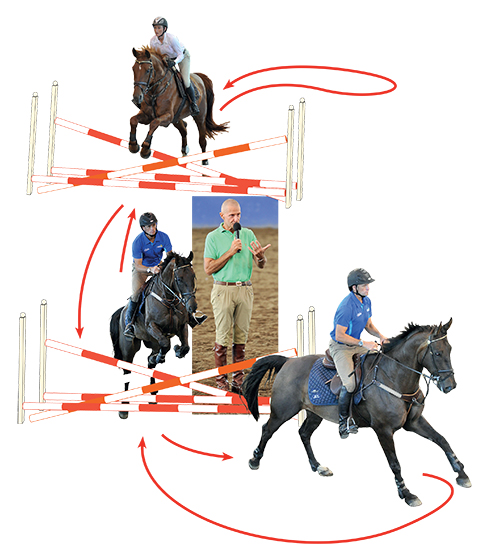 EXERCISE TWO
Then things start to get more interesting, over a triple bar (with the top two rails at the same height) cut between two on the jumps of the treble and over the water jump and then round over a wall.
"We'll start with you Stuart, when you see a stride, soften and drop your hands."
It is the other eventer, Emma Scott, who wins the most effusive praise, "you are an excellent pupil, not quite in the 'pet' category yet, but close. Repeat the exercise and progressively make it faster, tighten the line. On that tight turn from the water to the wall, don't chase it, just think it. Horses are built by these exercises, not by course jumping."
And as Emma rides the line, George bellows: "STOP." The angle of her stirrup iron is not perfect. "Now do it faster, faster. Yeah, there we go, don't protect this horse to death. Despite you, he was better."

EXERCISE THREE
If Emma's stirrup angle fails to pass muster, Danni has total melt down since she is once again using the red 'Disco' irons that incurred the master's displeasure last year. "You need heavier irons. Proper stainless steel traditional stirrups – if you lose one of those, it is easy to get it back. Plus they look beautiful."
Now there was another gymnastic – a line of three oxers:

"Horses have to be taught to be clever. After the quick stuff, now we have the triple of oxers to help shape them. Don't help the horse with your body, help with your voice, and keep the horse straight to get the bascule. This exercise gets their shape back."
Veteran GM watchers know that while it is okay – indeed desirable – to deliberately stop in front of a fence, circling is a real no no. "Don't circle in front of a fence, don't complicate it, it is called horse jumping, let the horse go to the jump."
Still George was worried about the quality of the contact: "When the horse resists, don't take your hands back behind your hip, shorten the rein and fix the hand. NEVER side to side NEVER. The first step to submission is a properly shortened rein. The next step is to fix the hand, and the third and most difficult is to wait for the horse. It might be 30 seconds, it might be three minutes, it might be eight minutes. How old are you Emma? Twenty-two. You are much too young to understand, it is impossible at twenty-two to wait."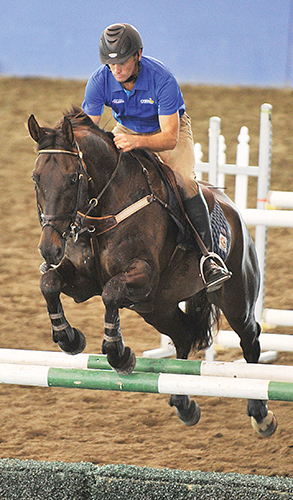 "Who is your teacher?"
"I've been working with Stuart."
"When the great Dr Neckermann came to the Los Angeles Olympics, we had a great jumping team, and he said to me, 'George, don't think I'm rude, but I think your students ride better than you.' You are good because you are aggressive and smart – smart and aggressive can conquer the world, aggressive and stupid can do nothing good. Stuart, it is great that even though you are a great rider, you come to this clinic, you are putting yourself subject to abuse, you are an inspiration to the other riders…"
(There was, I understand, a degree of cluck clucking in the web world at George's alleged rudeness to his students, with a few of the smaller minds vowing that they would never subject themselves to such treatment – they have no need to worry, George would not even acknowledge their existence, he only gets tough on students he respects…)
In part two, George Morris is back with more jumping magic – don't miss it…
---
Breed to the best bloodlines from Europe, go to www.ihb.com.au and make your choice, from stallions like Chacoon Blue, combining two top lines: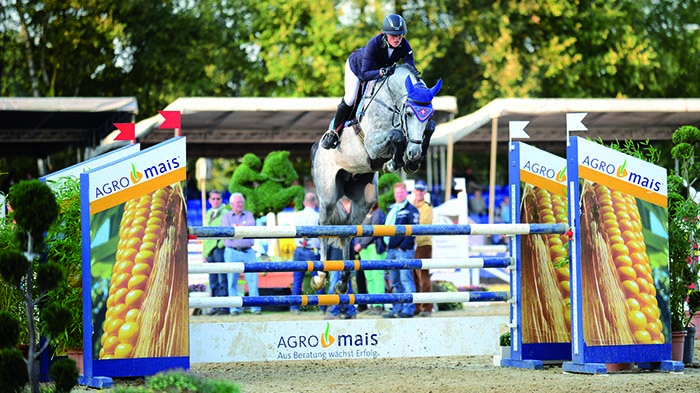 ---
INSIGHT: Jamie Kermond
I'd heard about his coaching and you can see his methods and his theories, I knew he knew all about horses and how they should be ridden, what I didn't know was how much he likes to get inside the riders' minds and work them out from the inside, out. He treats different riders in different ways and really tries to get you out of your comfort zone, to push you, to see what you've got, and what you can take."
It looked as if you don't do a lot of sitting trot at home?
"You can tell? (Jamie is laughing) It's something I have to work on… and stop eating so many pies!" (George was also somewhat rude about Jamie's shape)
What are the main things you'll take back into your own training at home?
"I think before I started riding the horses I am riding now, I did have good soft hands, but with some of the horses I've ridden lately, I think I've got quite stiff and rigid with my arms. That's one thing I've really got to work on. Then there's all the basics, the flat work at the start of the training session. He talked a lot about how the horse's neck should be, and that is something I'll take home…"
He certainly changed your horse's frame over the couple of days…
"Yeah, it was good to see him ride the horse and see the horse accept what he was doing, pretty much straight away. It was very nice of George to say that he thought it was a super horse, that made me feel good about what I've done so far, but there's still lots of improvement to come. You do a lesson like this, and it goes for two hours, and you get off your horse and you just wait to come back the next day and go again…"
This article first appeared in the March 2011 issue of THM.