story Christopher Hector   photos Roslyn Neave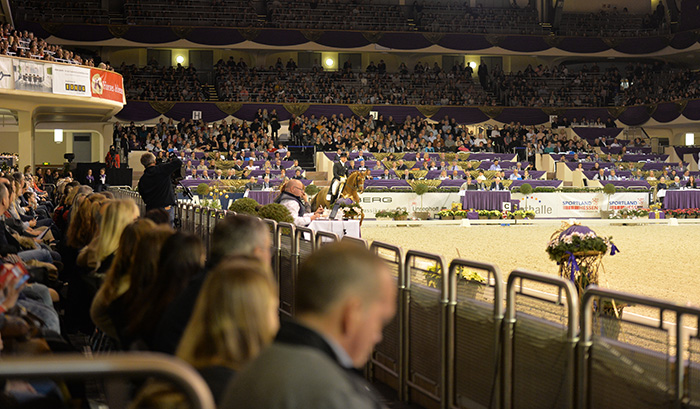 It's official, the spectators are better judges than the judges! Or that is the only conclusion one can draw after a thrilling final to the Nürnberger Burg-Pokal.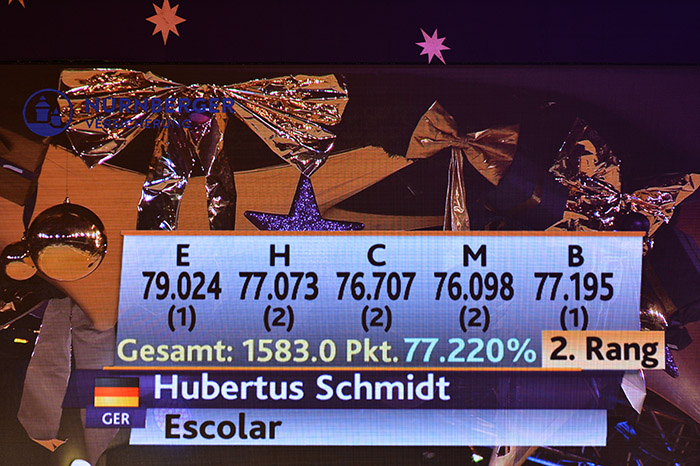 Official score for Hubertus Schmidt and Escolar…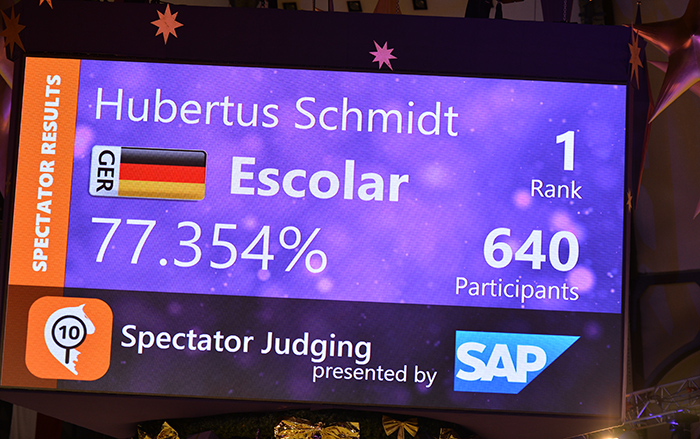 The crowd clearly crowned Hubert Schmidt and Escolar, not just with their spectator app scores, but with their jeers and whistles when the judges scored otherwise.
Escolar is like a giant cat, so supple through his body, so powerful behind while at the same time being so responsive, so with this master rider… which may come as something of a surprise who remember Escolar as a young riding horse stallion at the Bundeschampionate where he was wild verging on dangerous in the presentation.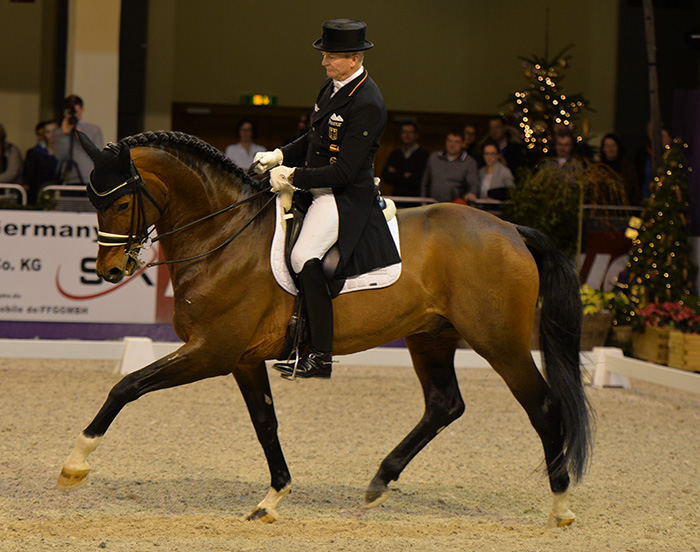 The big bay stallion was one of the few to show a real bend through his body in the half passes AND on both reins. The transitions were a highlight, seamless perfect flowing from a huge canter to collected to walk, and the horse was so clear in his collected walk – and the demi pirouettes were beautiful.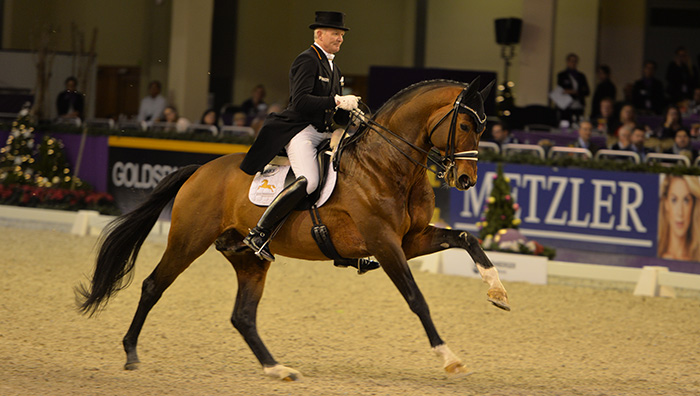 Everything about the test was breath-taking – okay at the end of one canter diagonal the horse swapped lead for a stride but was back on the correct lead instantly without losing rhythm, who cares! A hard bitten German pro journalist confessed to goose bumps. Seems everyone had them except Peter Holler at H, Katrina Würst at C and Dieter Schüle at M.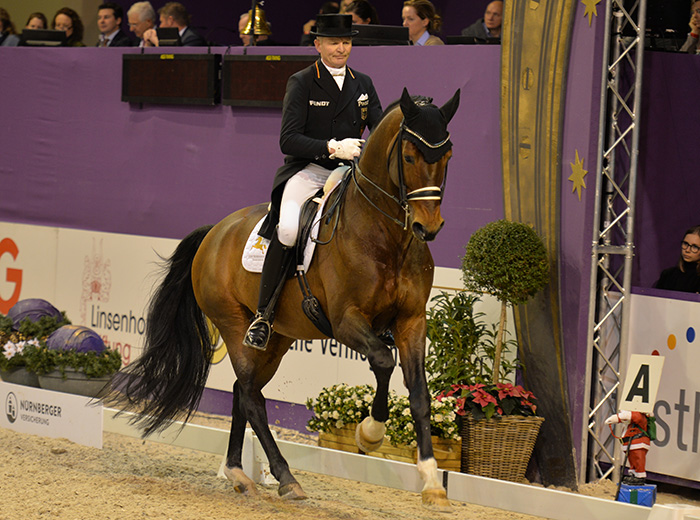 Dietrich Plewa, who was the only one who rewarded Escolar's quality in the first round, when the others massacred him for a whoopsy in the collected walk, was – along with the crowd – the one who got it right. He had Escolar first on 77.195, Evi Eisenhardt also had him first with a 78.171.
next comes Isabell Werth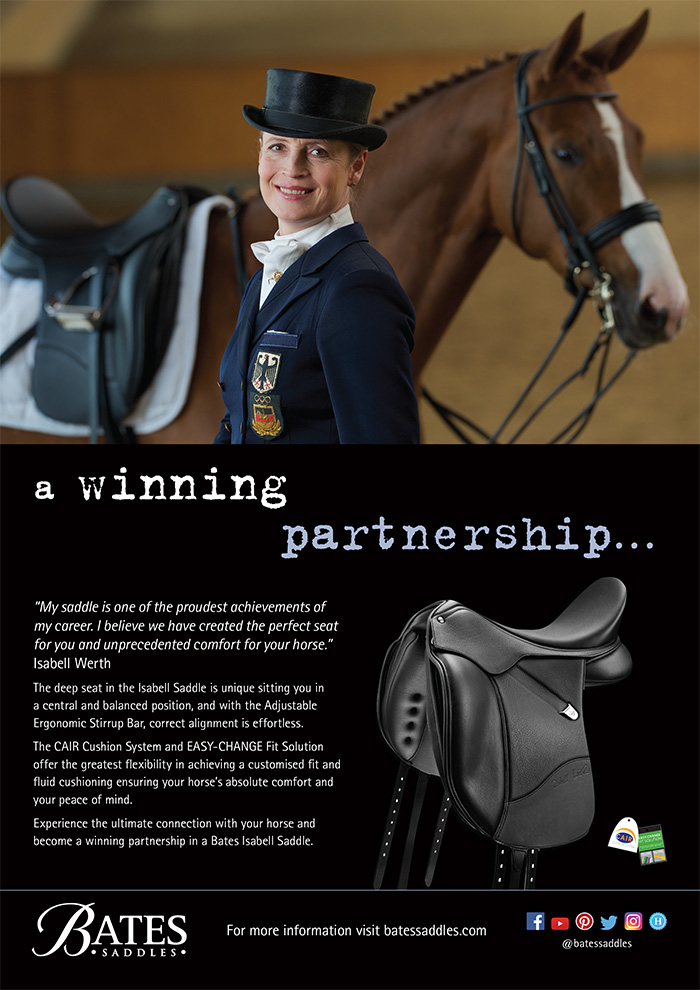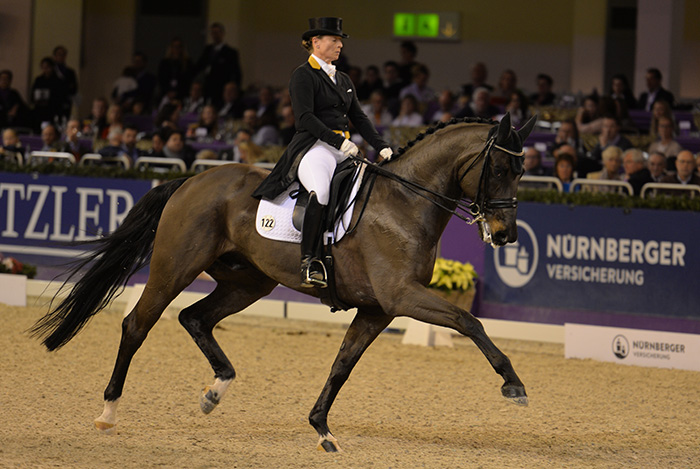 Isabell and Flamboyant
Not only did Plewa get it right with Escolar, the rest of his placings were spot on. Today Isabell Werth's QC Flamboyant MV looked stiff and tight, right from the less-than-good halt that began the test. The canter half pirouettes were hoppy, and there was a bit of a tail swish in the changes, and the gelding didn't really track up in the big trot as the instant replay clearly showed.
Still they are this year's champions with a score of 77.781, since while Plewa had Flamboyant 4th, he was second with Eisenhardt, and first with the aforementioned trio at H, C, and M.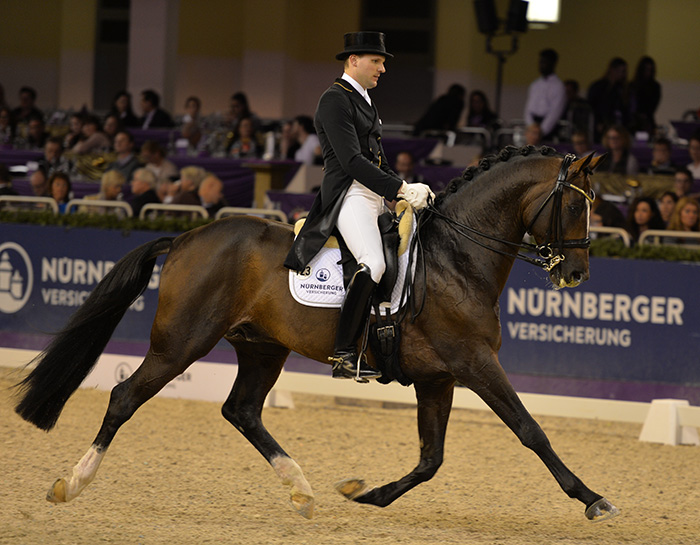 Matthias and Quantum (Quaterback/Gloster)
Plewa had Matthias Bouton's Quantum Vis MW second (so did Holler, but yee gods, that meant he had Escolar in third!!!). Bouton rode both his horses, Quantum and Bodyguard, beautifully. Quantum has super impulsion in a frame that is spot on (half a centimetre shorter might not be so nice), a great trot and a wonderful uphill canter. Third on 76.342.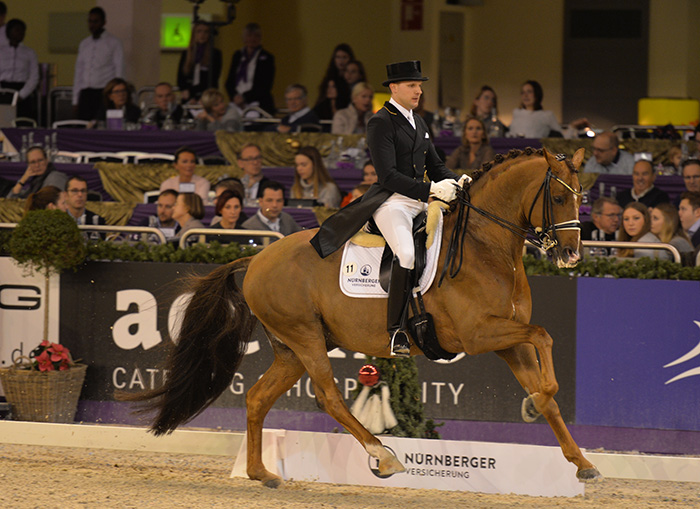 Bodyguard, very correct
Actually, I would have had Bodyguard third and Quantum fourth. Bodyguard has such a fabulous NATURAL way of going, the compact chestnut Hanoverian stallion is genetically engineered to go Grand Prix. He is by a Grand Prix competitor – and Burg-Pokal winner – Burlington, who was by a Grand Prix competitor, Breitling. I love his trot, always tracking up, always the pasterns absolutely parallel, and the canter has such balance that, of course, the changes are big and expressive.
more follows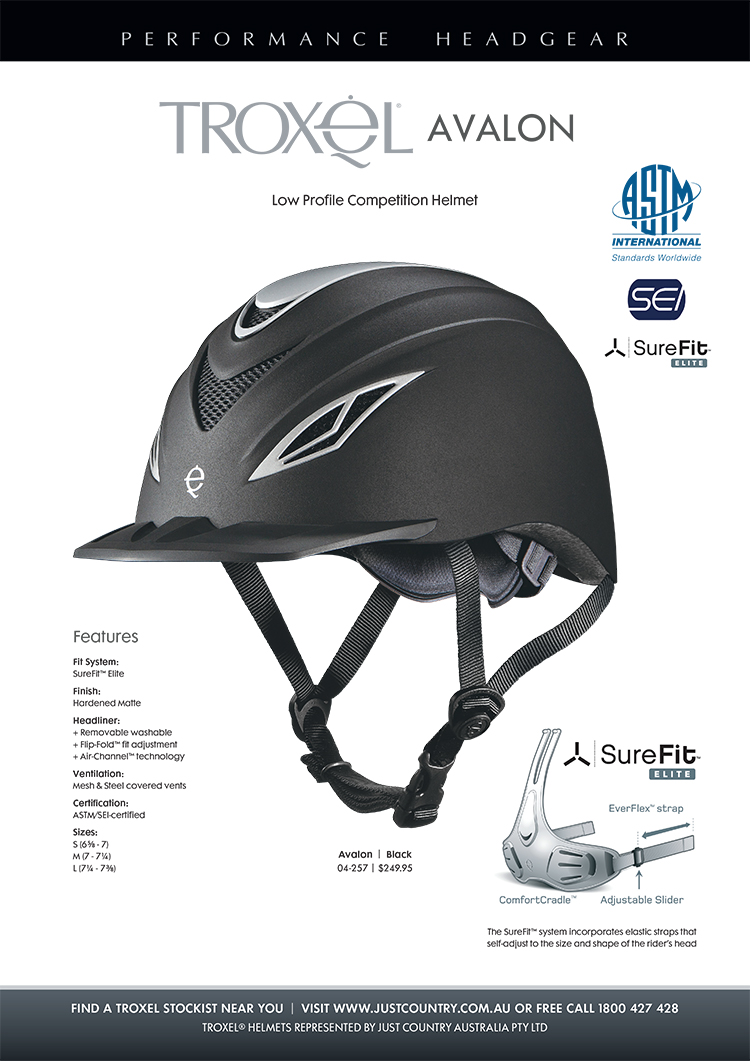 After a very hairy, and embarrassing, set of scores in the warm up class, the judges were trying very hard to sing out of the same book, but there was no disguising that some were finding it hard to hold the tune. Plewa had Bodyguard 3rd, Holler had it 8th.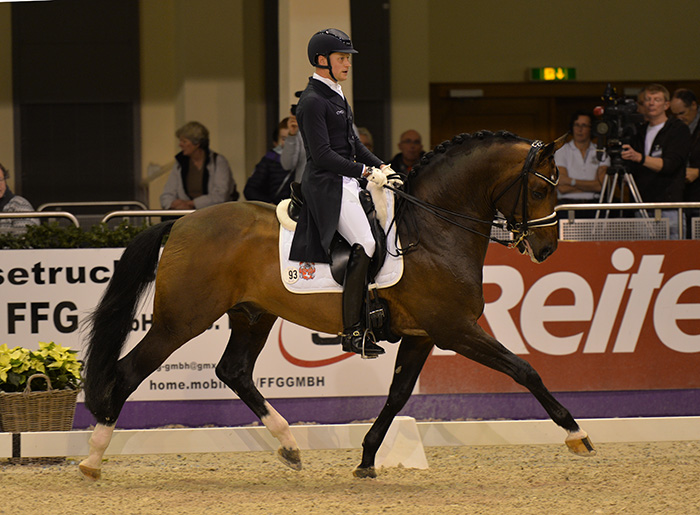 Of the rest, I thought Matthias Rath rode Foundation better today, and if I was one of the many breeders with mares in foal to the big boy, I'd be quite happy.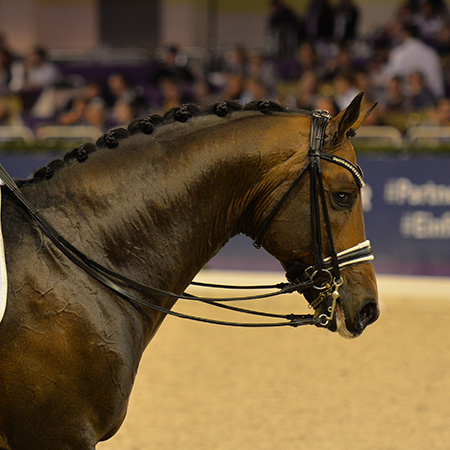 Foundation has such cadence in the trot and for all his bulk, he is light to the ground. He powers from his hind end, and really reaches in the trot half passes.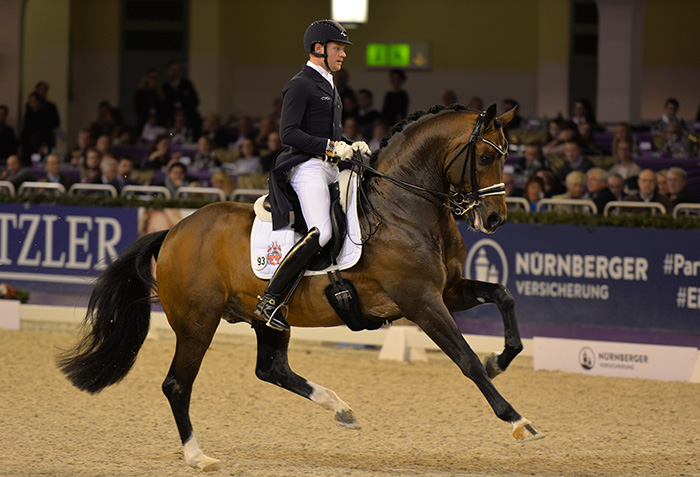 The canter is huge and the changes expressive. He scored 73.927 to finish in sixth, unlucky I thought to finish behind Helen Langehanenberg's Brisbane, who may look spectacular in the trot but is not really free and over the back, while the canter is a bit flat and choppy. Score 74.49.
---
Like to breed to Foundation in Australia? Go to www.ihb.com.au
---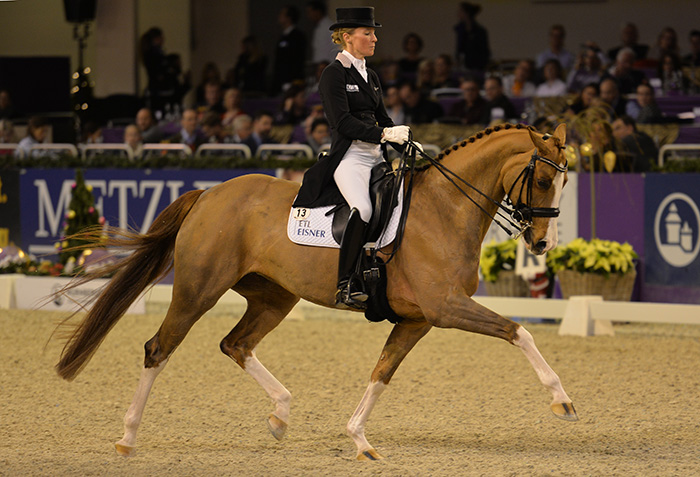 Brisbane, looks tight over the back…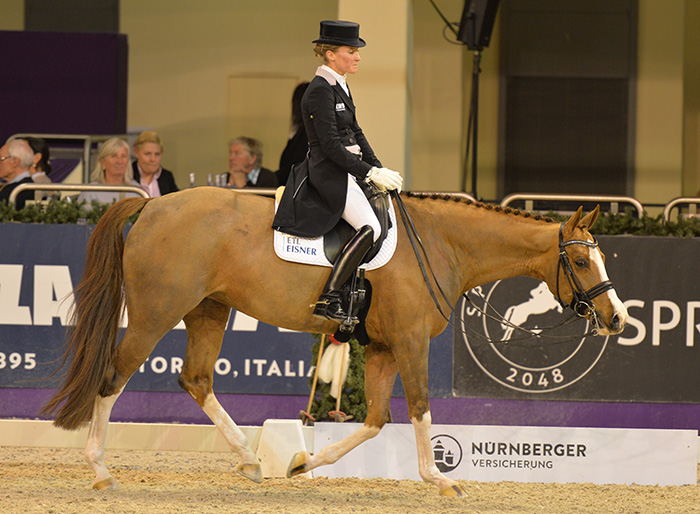 and in case you wondered, she can put her ears forward…
It was a final that thoroughly justified the 35 hours in airports and planes that it took to get to it…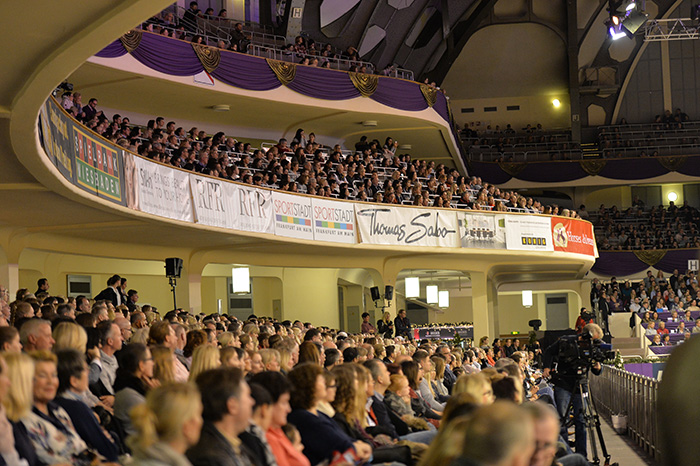 Just in case you missed them:
and