Story by Chris Hector and photos by Roz Neave
Really the absolute highlight of the Summer Meeting was the visit to the farm of Georg Sieverding. Forget the politics, the BLUP indices, the bling of modern breeding – here is what it is all about. You walk directly from the historic barn, through the door, and you are in the house – open one of the stable doors and out comes one of the most beautiful mares you have ever seen in your Life, not one mare, but one after another. This was a Line up of mares the Like of which I have never ever seen anywhere! You know immediately that the man who put this collection together is a thinker and a horseman with a wonderful eye… and it is no surprise to Learn from him that his mentor was the great Georg Vorwerk.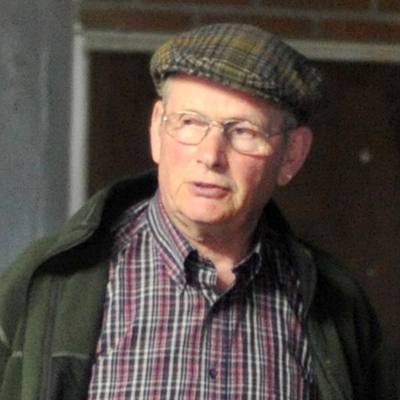 "Georg Vorwerk was my friend, we travelled a lot together. I spoke with many breeders, but Georg Vorwerk was my main advisor. What was important for him was to see a foal at the age of three days, three weeks, three months. For Georg Vorwerk the correctness of the gaits and the bones was very important. You must have a sound horse with a very good temperament and character. The hind leg was always very important, the engine has to be correct."
You can also see the influence of Vorwerk in the Lines of the mares – the first mare we see is from the grey mare Line which traces to another of Vorwerk's influential imports, the French Anglo-Arab stallion, lnschallah. The mare's name is Starlet, and she really is a star. She is by the Dream of Heidelburg son, Dormello, whose dam Line goes to Furioso II , and is out of Silka by Feingau by Furioso II , out of the lnschallah daughter, Silke II. As Mr Sieverding explains, there was really no choice:
"When Georg Vorwerk was alive, it wasn't allowed to use a stallion from another stallion station, but he always had a lot of stallions so it wasn't necessary to go to another stallion owner. It was not a matter of always saying 'yes' to everything Georg said, we had our arguments, but Georg was very honest, he went a very strict way and you could trust him."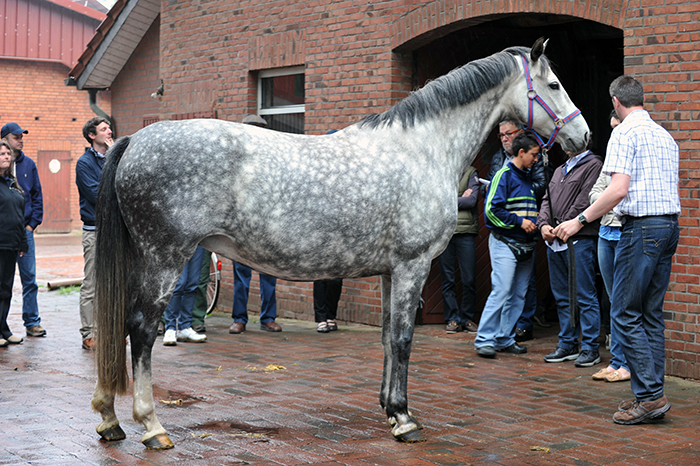 Starlet
The grey mare Line has produced four Licensed stallions, including Starlet's son, Floricello, the reserve champion of the Oldenburg Licensing in 2010. Floricello currently stands in Sweden, and a half share in him has recently been acquired by Andreas Helgstrand, who will campaign the young stallion in the future.
We also saw Starlet's yearling daughter by Furstenball, and she too was stunning, and as we saw when she was allowed to strut her stuff in the little outdoor arena, a great mover.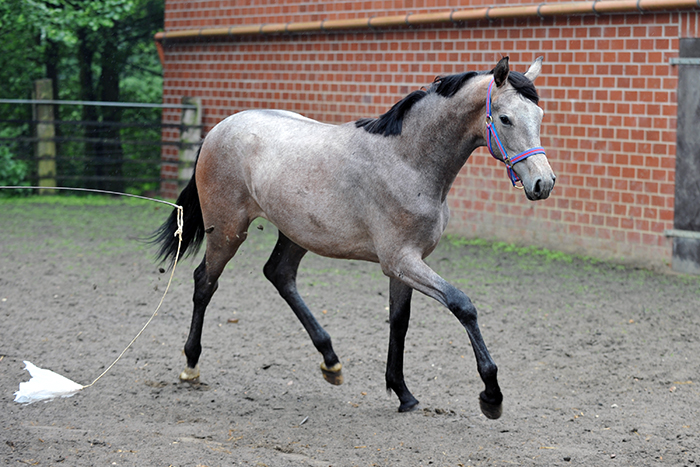 What an exceptionally pretty filly – Starlet's daughter by Fürstenball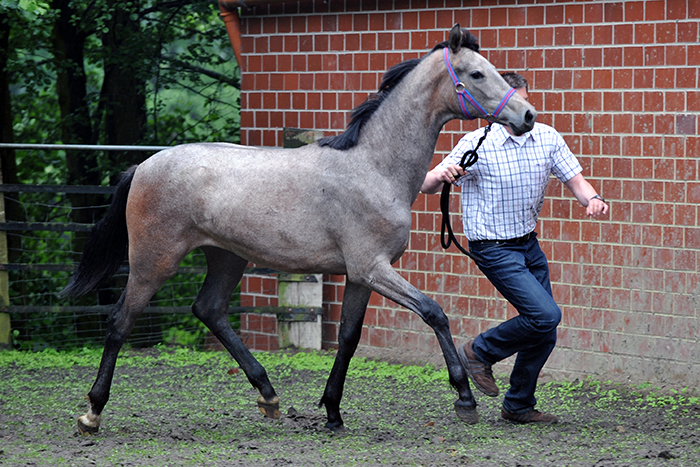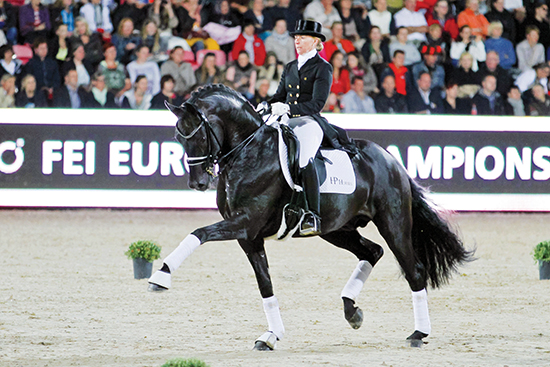 Heading the 2015 FN Breeding Values, Fürstenball ( Fürst Heinrich / Donnerhall)
The other great mare Line at Mr Sieverding's farm, is the chestnut Line which descends from a Selle Français mare, Mexicane by Mexico (the full brother to Furioso II) purchased in France by Mr Sieverding while travelling with Georg Vorwerk. Mexicane was bred to the Thoroughbred, Shikampur, and the daughter, Mon Amour, to Weltmeister, an influential Hanoverian stallion – sire of Robert Dover's Grand Prix dressage representative, Walzertakt and Gerd Wiltfang's showjumper, Warum 10.
Weltmeister's sire, Wedekind was the best son of the famous Ferdinand, which produced Maureen, who was then bred to the Holstein stallion, Classiker, a son of Calypso II to produce Marella … If using blood from all over the world is an exciting novelty in some studbooks, it has always been the bread-and-butter of Oldenburg breeding, and one of the areas great strengths.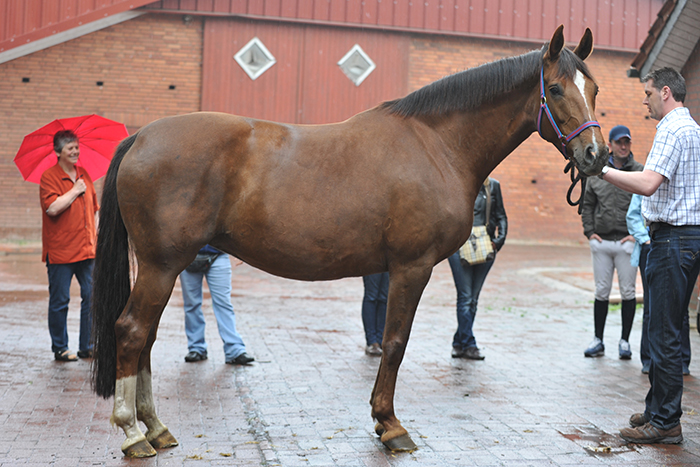 Maradita
Marella bred to Donnerhall produced Maradita, who was brought out of the barn for us to see. Maradita is the dam of Sieger Hit (by Sandro Hit) who – ridden by Andreas Helgstrand – won the 5 and 6-year-old stallion championship at the 2011 Danish Licensing. Sieger Hit's full-sister was the next mare we saw, she had a filly foal at foot by the Dutch Stallion, Desperado (Vivaldi / Havidoff / Ferro). Later Mr Sieverding told me that this one he was keeping for his brood mare band: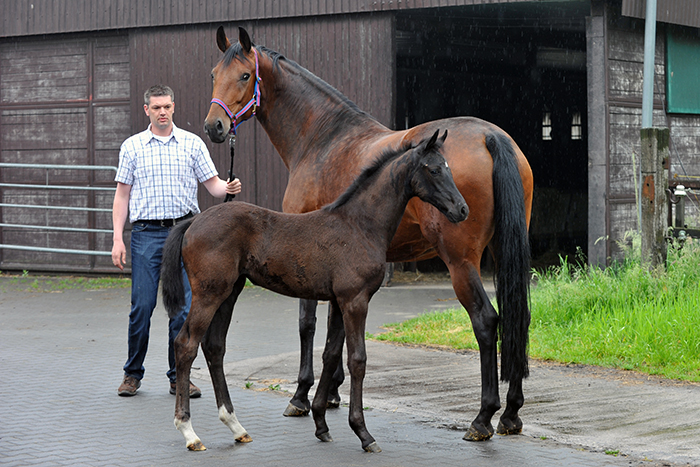 Sieger Hit and her Desperado foal
"It is just a feeling, the black filly, she is not for sale, maybe I will sell the mother, but the foal has something special. I can't explain why, but it is a special feeling . The foal is not in the best shape now, but I feel she is a new brood mare for me. I have to believe in the foals that will become mares. This is what Georg Vorwerk taught me, to have your own mind, to think, to reflect on things, and then be steady and go straight."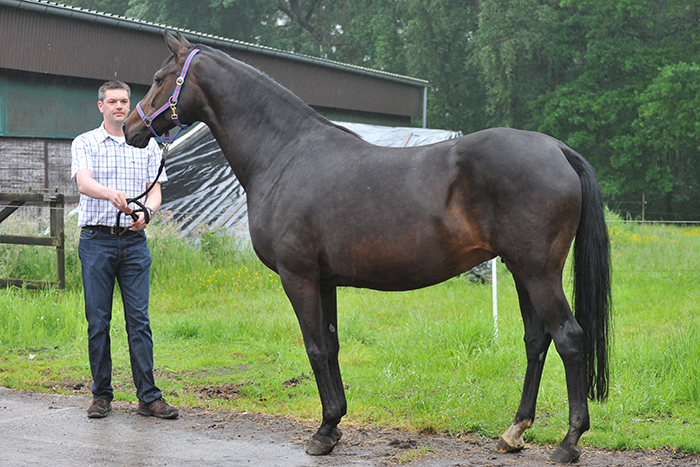 Maradonna
Maradita's full-sister, Maradonna, is the dam of one of Germany's hottest stallions, Fürstenball (by Furst Heinrich). This 13-year-old mare was simply exquisite – she had a Bretton Woods foal at foot, and was in foal to Fürst Romancier.
Two pictures of Maradonna and her Bretton Woods foal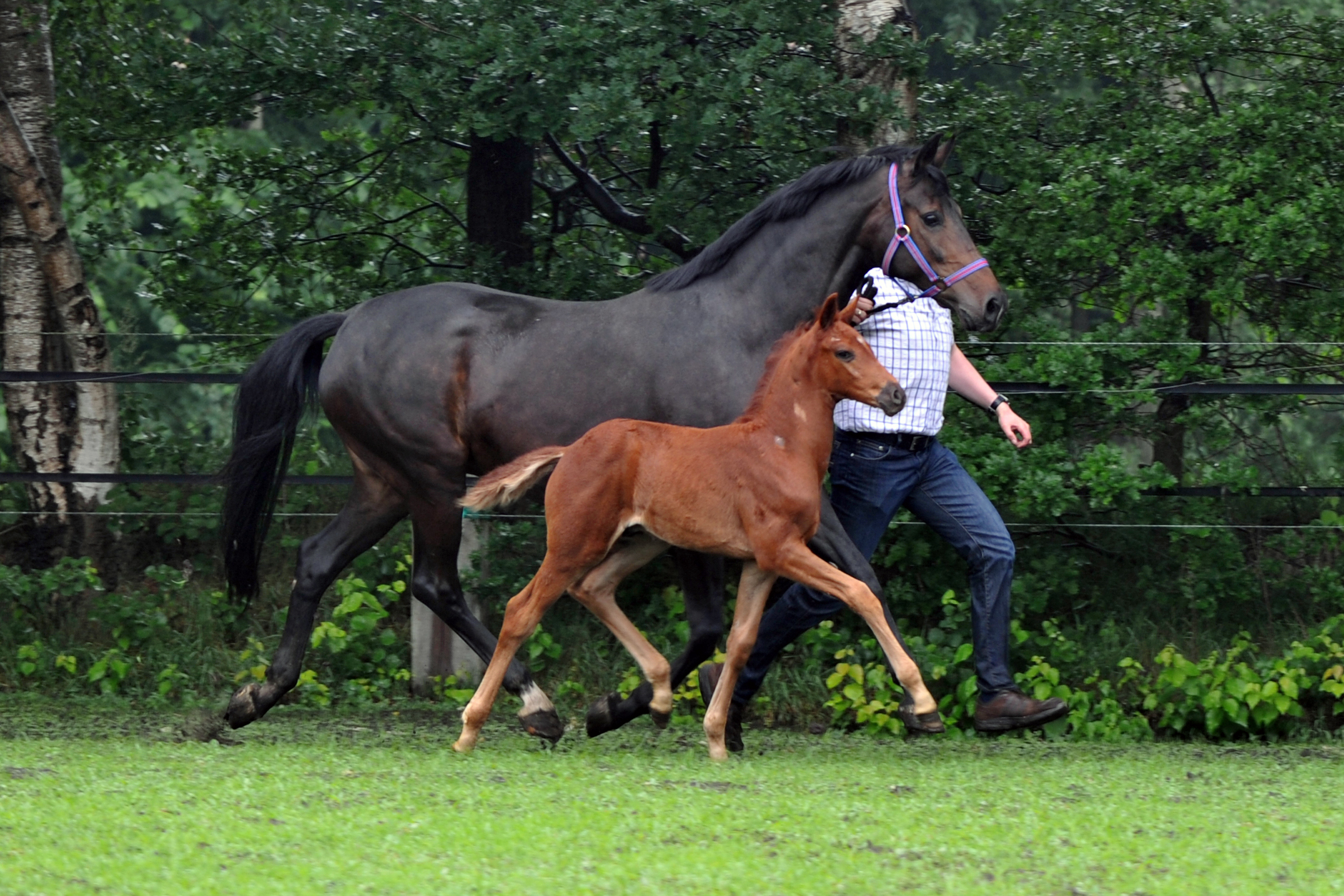 Next we saw one of the stand-out foals of the collection, out of Marella II, who is by the Blue Hors stallion, Don Romantic out of Marella – the foal is by the Danish-based Dutch sire, Blue Hors Zack (Rousseau I Jazz) and the movement was so brilliant that our little group broke into spontaneous applause.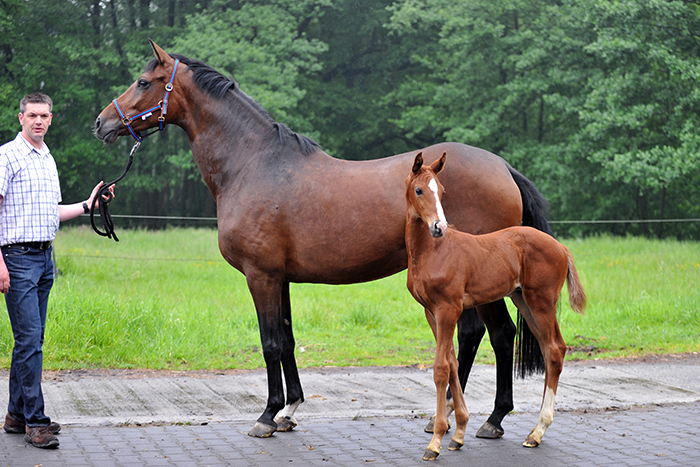 Marella II and her Blue Hors Zack foal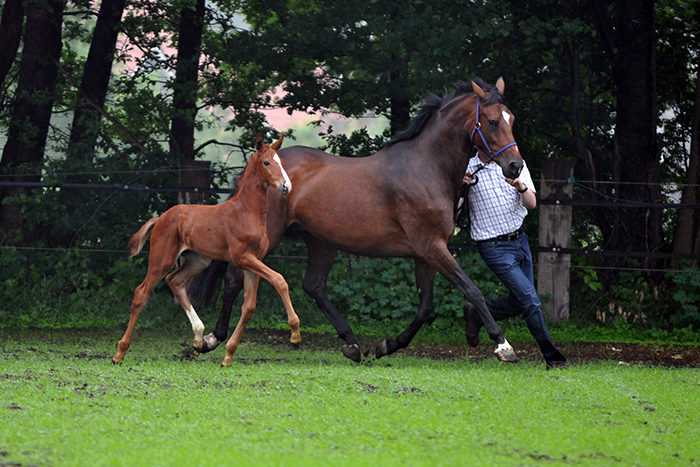 It was truly a privilege to see such a collection of mares, and to meet a breeder who reminds you that in amongst all the hype and the megabucks, there are some breeders who passionately care about what they are doing, not that Mr Sieverding is stuck in the past. When I ask 'is it a sad world now, without the great Oldenburg breeding stations – like Vorwerk?' He is looking to the future:
"It's not a problem we have to move forward. Today if Georg Vorwerk was alive, he wouldn't be operating the same way, if he had the chance to get semen from The Netherlands or Denmark, he would go those new ways. The transport of the semen, with the Dutch for example, is fantastic, it is wonderful to be able to get semen from abroad."
"You have to learn every day, to focus every day again. I travel a lot, to Herning in Denmark, to den Bosch in Holland, to see the stallions, to see their first crops, then I make my decision. Sometimes I use young unproven stallions but only to mares that are very safe."
Safe is not really the word you think of when you see mares like this – brilliant, stunning, exquisite … 
This article first appeared in the November 2012 issue of THM.
---
Breed to Fürstenball,  or choose from the wide range of stallions selected by International Horse Breeders: www.ihb.com.au