The annual top of the pops competition for German Breeding Stallions is in full swing, enlivened this year, as it was last year, by the division of the FN breeding values into two sections – one for the sires of young horse stars, and one for the sires of competitors in open competition, and as we will see once again, it makes for four almost entirely unrelated leader boards.
The Dressage Sires
Back in 2006, the Dutch beat the Germans to recognizing two distinct breeding streams – dressage and jumping – within the KWPN book, it would now seem that the Germans have leap frogged their neighbours, and are now recognizing two streams within their dressage population, and why not? The young horse market is a lucrative one and is easier to breed for than trying to breed Grand Prix horses for the 'big sport'. There will always be a market for pretty horses to be ridden walk/trot/canter by pretty girls, and they are up and running as three and four-year-olds, without all those years of training it takes to go Grand Prix.
Across the border, the Dutch seem to still trying to combine the two goals – Young Horse success with Grand Prix potential. At the 2017 World Championships at Ermelo, I talked with Arie Hamoen, who was chair of the KWPN stallion committee from 2003 to 2012, and I put the question to him: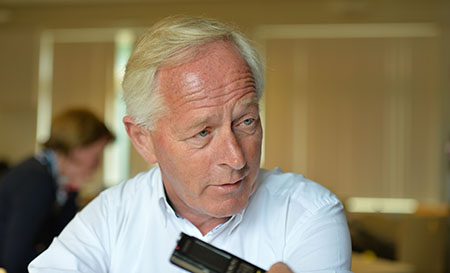 Do you think that it is almost as if we are breeding two streams of horses, you breed to a Grand Prix stallion like De Niro  or Gribaldi, and you get a good chance of a Grand Prix horse, or you breed to a horse that has never done anything but young horse classes and you get a young horse class result…
"The judges have to realise that they should ask themselves – is this a potential Grand Prix horse? I hope in the future that the young horse judges give a little more attention to the breeding goal, which is to breed a Grand Prix horse. It is hard to look at a five or six-year-old horse and say how it will go in top sport, but in my opinion there should be more attention to the power behind. And the activity and clarity in the walk, not just the over-step – over-step is one point, but the other point is activity and clearness."
One of the problems of the old all-in-one rankings was the shooting star effect – a young stallion on the basis of his own competition results with no progeny to speak of, could rocket to the top of the rankings, only – in most cases – to disappear just as rapidly. As a long term guide to breeding it had little value, the saving grace was that most mare owners ignore 'the numbers'.
The rankings for the Sires of Dressage Young Horses will always have its shooting stars, maybe even more under the new structure than in the past. One early candidate for the shooting star of the year title is the equal top ranked stallion for 2017, Follow Me (Fürstenball / Donnerschwee) with a breeding value of 169 (admittedly this is qualified by the stallion's low predictability percentage – 75%).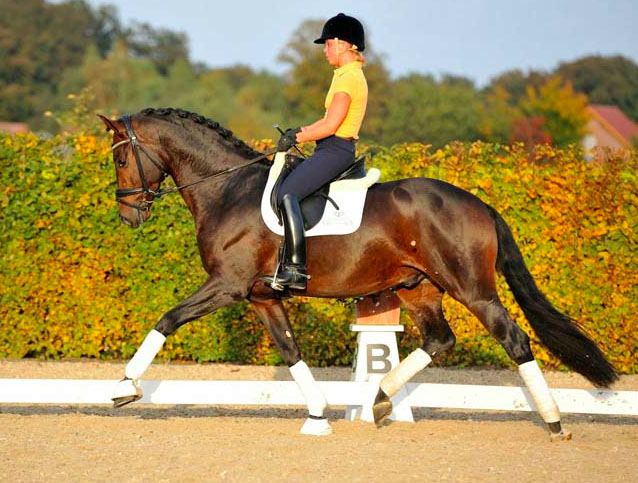 Follow Me, equal first on the Young Horse Sires rankings…
There is no denying that Follow Me has a snappy pedigree, there's three crosses of Donnerhall, and three of Furioso II, plus, thanks to Marella, Fürstenball's grand-mother, a dollop of straight Thoroughbred, and some jump from the great Cor de la Bryère. The seven-year-old stallion was the champion Four Year Old Dressage Stallion at the 2014 Bundeschampionate, and since then?
Follow Me stands at Lodbergen, a stallion station set up by a circle of friends of the breeder, Harli Seifert, to keep her breeding operation going. On their website they record that he is has 'proved to be extremely rideable in his first tests under saddle', but like most of the successful sires of young horse stars, he does not go on to serious competition. Nor does he have competition progeny to boast. At least the new two part system quarantines this kind of foolishness in the young horse sire rankings when once it dominated the entire rankings and lead to some truly bizarre, number one German dressage stallions.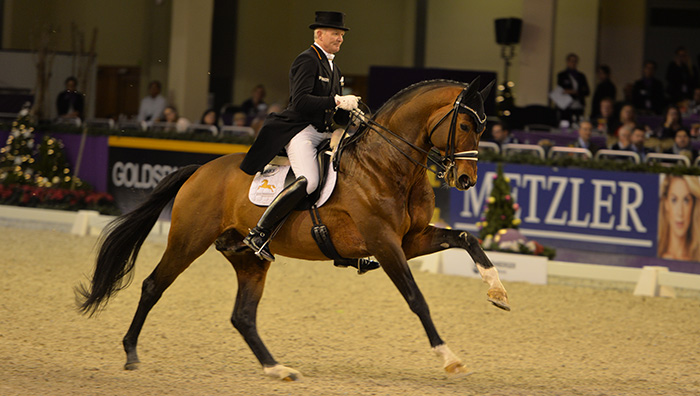 Escolar shines in the Burg-Pokal
Equal first on 169 is a stallion who has certainly on his way to proving himself – Escolar (Estobar / Fürst Piccolo). He too was a Bundeschampion (twice!) but since then has gone on to place second at the 2017 Nürnberger Burg-Pokal, although in the opinion of pretty well everyone who saw the class (including the rider of the winning horse, Isabel Werth) Escolar should have won! Escolar is already the sire of Bundeschampionate winners, so there is no doubt he can sire young horse winners (if you make sure the mare has a pretty head) but will he progress to the rankings for sires of open competition progeny? I guess in the best of all possible worlds, you would like to see more Grand Prix on his pedigree. His sire, Estobar retired after peaking at Intermediate although Estobar's full-sister, Eichendorf was quite a Grand Prix star with Victoria Max-Theurer.
I interviewed Escolar's rider, Hubertus Schmidt at Frankfurt where he was second in the Berg-Pokal, and he feels the bay will go Grand Prix and stresses that while Escolar has huge movement, he can also collect:
"When he was three and four and winning at the Bundeschampionate, he got like a ten for his canter but everybody said, this horse will not be able to really collect, he is so huge in the canter that you never will collect him. But even when I first got him as a four-year-old, you could immediately feel that it was easy for him, and now you can see it in his pirouettes. He is really close to Grand Prix, so he is doing super nice small pirouettes and zig zag. Yesterday he got only one ten – for extended canter – and for me that can't be better. The important thing is that he can do both – huge, big but he can also do really nice pirouette, really sitting, taking weight and still getting really up in front, so you can hear it, I am really enthusiastic. It's a fantastic and wonderful horse."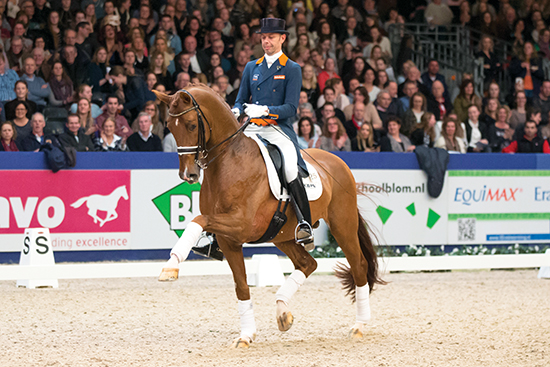 Vivaldi – essence of Dutch…
There are two tied on 168, the KWPN stallion, Vivaldi (essence of Dutch breeding: Krack C / Jazz / Ulft) with a reliability of 90%, and the late Don Juan de Hus – Dutch again, but this time: Jazz / Krack C / Damiro – although the KWPN has steadfastly refused to admit him into their approved stallion ranks. He has a reliability of 91%.
Vivaldi stands at Paul Schockemöhle's PSI. He's another whose career seems to have peaked as a youngster, first in the 5-year-old Parvo Cup in 2007, so it is perhaps not surprising that he's been a good sire of young horse class competitors. His son, Eye Catcher was 3rd in the 6-year-olds at the 2014 World Champs, while in 2016, Vivaldi had the treble, first, second and third in the 6-year-olds at the Parvo Cup. He has, however a decent Grand Prix competitor in the shape of Madeleine Witte-Vrees' Cennin (Donnerhall) although I am not sure if this is a plus or a minus on these young dressage horse rankings.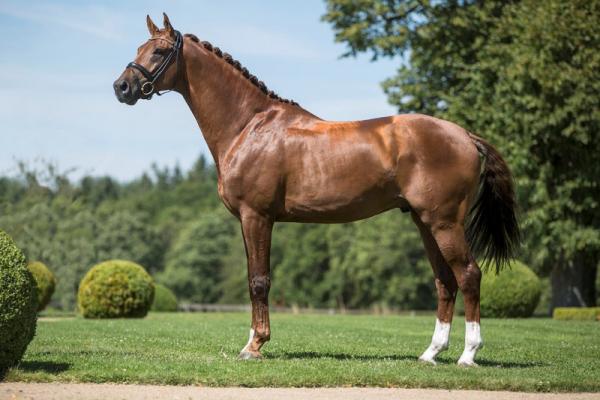 Don Juan de Hus – young horse sire
Don Juan de Hus died in August of 2017, not long after his son, Don Martillo (Benetton Dream) took out the 5-year-old World Young horse title in Ermelo. He was himself a successful young horse competitor, winning the French title as a 4-year-old with Jessica Michel-Botton, before the pair went on to place 6th at the 2013 World Championships.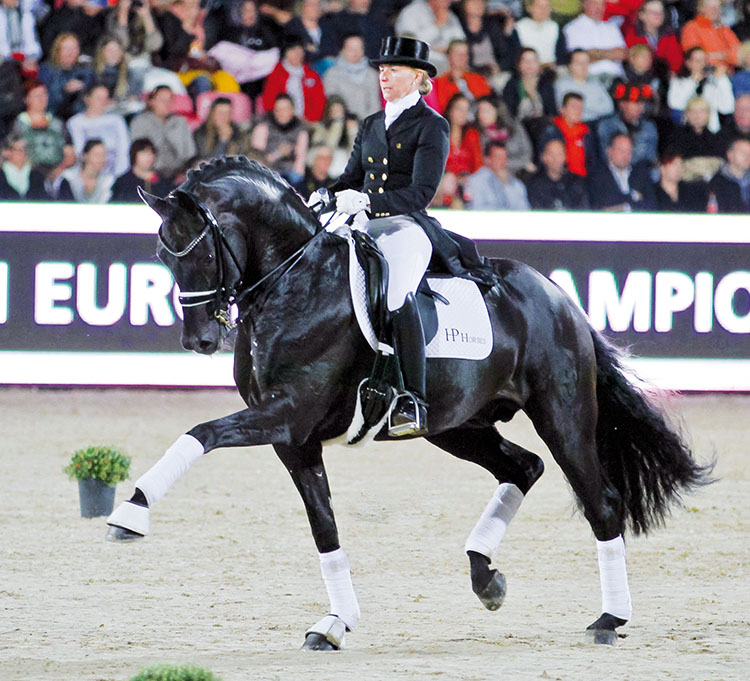 Fürstenball – young horse star, young horse sire…
Next, with a breeding value of 164 (98%!!) comes Fürstenball (Fürst Heinrich / Donnerhall). Once again he was a young horse star, a winner in the 5-year-old class at the 2011 Bundeschampionate, and while he competed at the World Championships, he was not so successful as his sire, Fürst Heinrich who was champion of the 5-year-olds in 2003. Fürstenball was 13th in the 5-year-old championship, and 11th in the 6-year-olds. Still he has produced very expensive foals and young horses. Out of his first crop came Follow Me, champion stallion and top price at €400,000 at the 2012 Oldenburg Stallion Days. He has 43 licensed sons and produced numerous champion mares, foals, and young horse competitors. It is intriguing to speculate how he finishes 5th on the values, while his son, Follow Me, who has produced nothing of note, is in 1st place. Curious.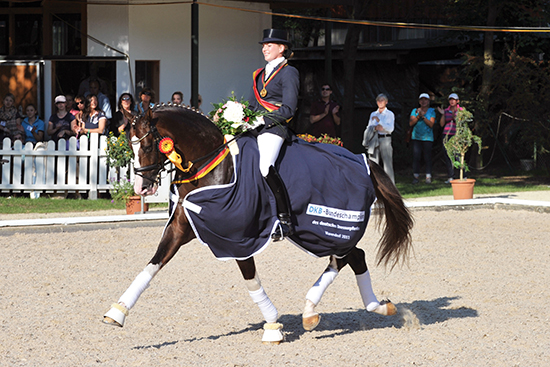 Benico – star at the Bundeschampionate
Also on 164 we have Benicio (Belissimo / Velten Third) who was a sensation at the 2011 Bundeschampionate, where he won with a whopping score of 9.4. In a good sign for his worth as a young horse sire, that was really it. He came out with Jessica Andersson in 2015 to win the Inter 1, and place second in the St Georges at Hagen and shoot his competition earnings up to €520, but he appears a classic young horse sire. He is a successful sire of stallions, his son Ben Benicio (Hochadel) topped the 14 day test at Adelheidsdorf in 2016, while Bonds (Sir Donnerhall) had the high score at the Stallion Sport Test in Münster in February 2017.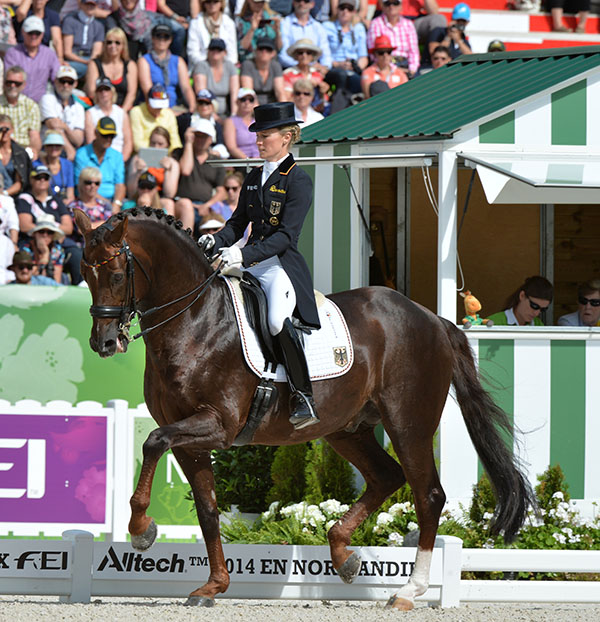 Damon Hill – young horse sire? Or a sire for the big sport?
Damon Hill (Donnerhall / Rubinstein) is the odd man out in this lineup in that he not only competed Grand Prix but was a genuine international Grand Prix star, but he does seem to fit, in that he hasn't produced any horses for the big sport and has had his success with nice looking youngsters that quietly fade away after their early fame. The publicity blurb for the stallion points to Uta Graf's Damon Jerome (Guy Laroche) who won a silver medal at the 2011 World Young Dressage horse champs. The next year the pair won a Nürnberger Burg-Pokal qualifier at Mannheim, and seemingly, that's it. Current lifetime earnings = €400. Damon Hill's breeding value is 163 (95%) as is the value for the immensely popular Foundation (Fidertanz 2 / De Vito), reliability 94%.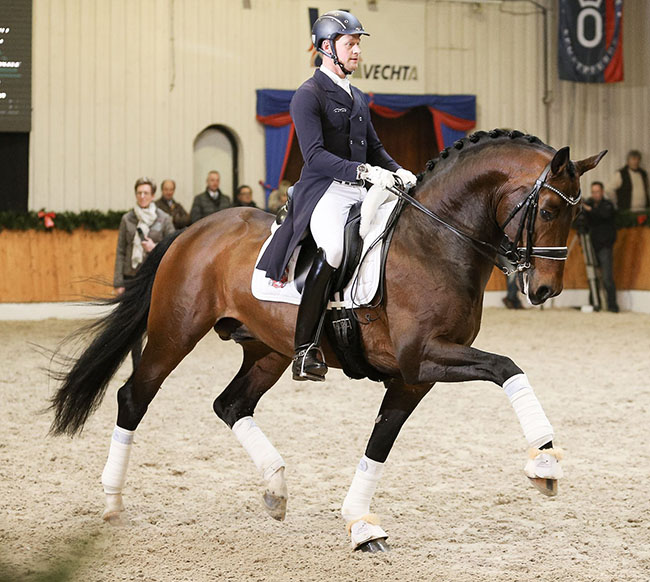 Foundation – the mare owners love him…
Foundation finished 2017 with a sixth in the Burg-Pokal, still he looked every inch a stallion and probably didn't lose any pals in the mare owning population. Will he be a proper Young Horse sire, or will he break the mould and produce Grand Prix horses? Seems he has the right pedigree for the young horse scene. His sire, Fidertanz 2's best Grand Prix score was a 64.706 to finish 10th in the GP Special at Roosendaal in 2015 with Antonio do Vale – although his sire, Fidermark was shaping as a goodish Grand Prix horse before his early death. Still Fidertanz's record is better than that of the dam sire, Ravallo (Raphael / Frühlingstraum II) who seemingly has no international results at all. Interestingly the canny breeder who 'made' Breitling, Wolfram Wittig, is using Foundation in his breeding program, over his Breitling mares.
I guess the embarrassment occasioned by the announcement in 2015 that Lissaro (Lissabon / Matcho aa) was Germany's number one dressage stallion was partly responsible for the new duo of breeding values. Lissaro was the classic young horse star, three wins at the Bundeschampionate, silver at the 2010 World Champs but despite the best efforts of Edward Gal and Celle rider, Wolfhard Witte, the stallion never made it in open competition and has now disappeared into junior rider ranks. You might think Lissaro a perfect sire for this young horse division, but the ones I saw were a bit plain and lacked young horse sparkle. I always thought that concentrating on him as a dressage stallion obscured what might have been a more successful path – eventing sire. Lissaro was bred to jump, and indeed jumped quite well as a young horse. I suggest eventers hang around the young dressage horse rings and wait till the Lissaros finish down the line and then make an offer… Breeding value 160 (94%).
Rounding out my top ten (eleven actually) there are two more tied on 160: Don Darius (Don Frederico / Markus Deak xx, 87%), looks promising as a young horse sire: three times qualified for the Bundeschampionate, and one performer that I can find, Darius (Boss) with placings in young horse classes in the USA.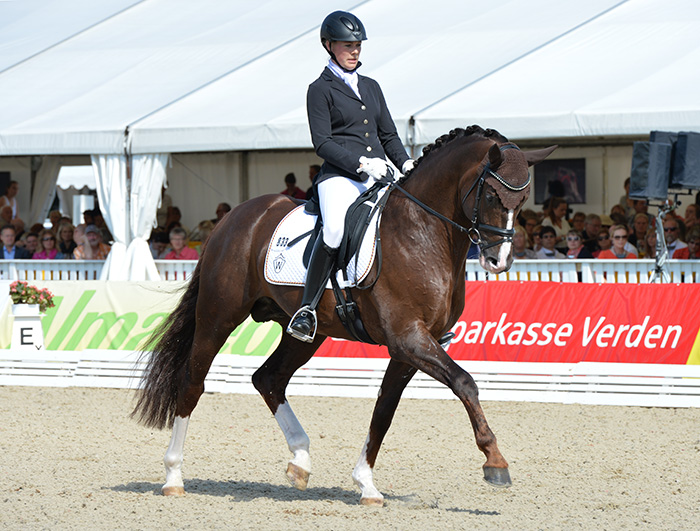 Quontenkönig, classic young horse star
Quontenkönig (79%) rounds the list out. He is by a classic young horse star, Quaterback (Quaterman / Brandenburger) out of Fleet Street (Fürst Piccolo / Sandro Hit, two young horse stars, indeed Sandro Hit was THE original young horse star). Quontenkönig had placings at the 2015 World Champs at Verden, and the 2016 Champs at Ermelo.
So there you are, if you want to breed horses for young horse classes, take your pick…
Name
Vater
Dressur
ZW
Sicherheit (%)
All Inclusive
Gribaldi
147
92
Bailamos Biolley
Sir Donnerhall I
150
79
Basic
Belissimo M
148
89
Belantis
Benetton Dream
152
82
Beltoni
Belissimo M
146
89
Benicio
Belissimo M
164
88
Bon Bravour
Painted Black
146
84
Bordeaux (NLD)
United
152
93
Burlington
Breitling W
146
85
Daley Thompson
Damon Hill
156
76
Damon Hill
Donnerhall
163
95
Danciano
Dancier
151
77
Dancing Dynamite
Don Bedo I
148
93
Decurio
Desperados
150
88
Don Darius
Don Frederico
160
87
Don Frederic
Don Frederico
158
87
Don Juan de Hus
Jazz
168
91
Don Schufro
Donnerhall
154
97
Escolar
Estobar NRW
169
82
Follow Me
Fürstenball
169
75
For Romadour
Fürst Heinrich
148
77
For Romance I
Fürst Romancier
154
89
Foundation
Fidertanz
163
94
Friedensritter
Fürst Piccolo
146
89
Fürst Fugger
Fürst Heinrich
147
88
Fürst Romancier
Fürst Heinrich
147
98
Fürstenball
Fürst Heinrich
164
98
Krack C
Flemmingh
151
89
Lemony's Nicket
Londonderry
147
82
L'Espoir
Lord Loxley I
152
88
Lissaro
Lissabon
160
94
Livaldon
Vivaldi
152
83
Londontime
Londonderry
153
97
Lord Carnaby
Lord Loxley I
152
81
Lord Loxley I
Lord Sinclair I
150
97
Quantensprung
Quando-Quando
154
76
Quasar de Charry
Quaterback
155
91
Quotenkönig
Quaterback
160
79
Real Diamond
Rohdiamant
157
91
Rock Forever I
Rockwell
154
96
Rosandro
Rosario
150
82
Royal Classic
Royal Highness
146
94
San Francisco
Sandro Hit
152
75
Schumacher
Stedinger
149
87
Scuderia
Sir Donnerhall I
152
77
Sezuan
Zack
155
77
Sir Donnerhall I
Sandro Hit
149
99
Sir Heinrich
Sir Donnerhall I
154
90
Spörcken
Sir Donnerhall I
146
94
Vitalis
Vivaldi
149
96
Vivaldi
Krack C
168
90
Welt Hit VI
Weltmeyer
151
76
If however you want to breed something that will take you to the Olympic Games, then this next list is for you…
The big kids – sires of open dressage competition competitors…
Number one on this list is a triumph for horsemanship over fashion, for integrity over pandering to the market, for a breeder who is also a rider: Wolfram Wittig and his stallion, Breitling W (Bismark / Maat I) on a breeding value of 169 (85%).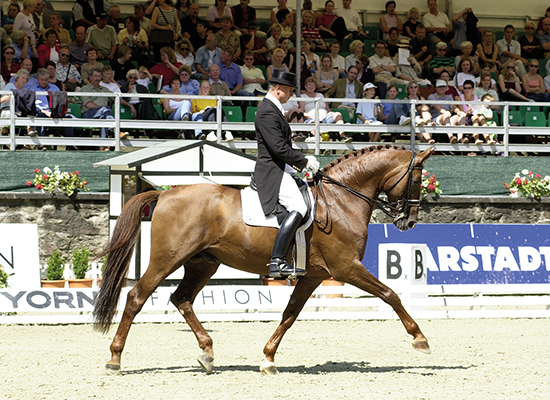 The Team – Breitling and Wolfram…
"I started because I had always been interested in young horses, and especially the gaits and the movement. Then everyone was saying to me, if you try to breed, you will not have success, because it is not possible to breed your own sporthorses. And I asked myself, why not? Why shouldn't it be possible – and now we are doing it."
"What was very important to me was Bismark. Bismark was Bolero / Duellant, and the most important bloodline for me in dressage was Duellant. But it is very difficult to find stallions with Duellant. Bismark was a very old fashioned stallion, but the movement was unbelievable and he was totally balanced in all three gaits, so I used him for my breeding program."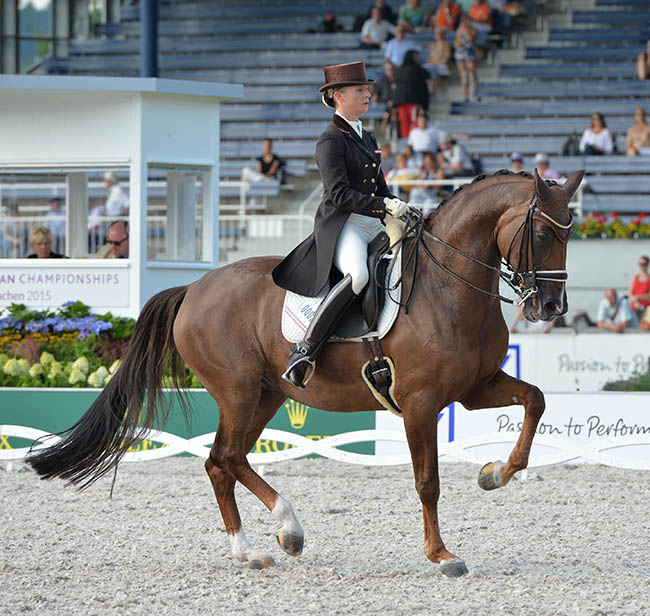 Blind Date – yet another Grand Prix competitor by Breitling
Breitling was a moderately successful Grand Prix horse with Wolfram, retiring early because he had a tendency to colic at competitions, but as a sire, he has been a sensation – even though he was a far from fashionable type, and largely covered just Wolfram's mares. When he was named Hanoverian Stallion of the Year in 2014, he had 79 registered progeny with 28 successful at S level or higher. According to the 2017 Hanoverian Stallion book, he sired ten dressage horses with winnings of over €10,000. Victoria Max-Theurer's mare, Blind Date (Donnerhall) was the most successful with €81,228 followed by the stallion, Burlington FRH (Rohdiamant) with €68,719. Breitling did produce numerous Bundeschampionate finalists, but they always looked like the best was yet to come, and it did.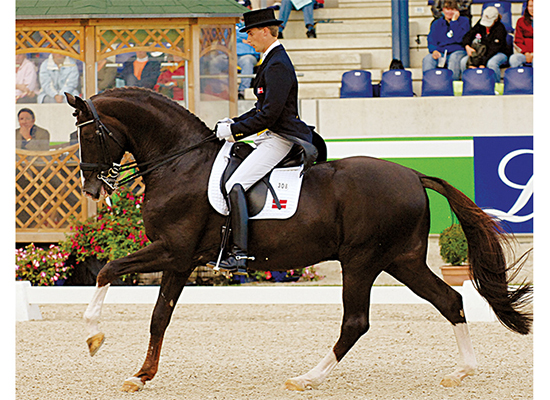 Don Schufro – still producing stars…
Two horses are tied on 164 – Don Schufro (Donnerhall / Pik Bube I, 93%) and Jazz (Cocktail / Ulster, 87%). Isn't it nice to be dealing with real horses rather than hype and hyperbole? Both these stallions competed internationally with distinction, and even in the twilight of their careers can still set the dressage world alight. In Don Schufro's case, it is his daughter, the Number 1 dressage horse in the world, Weihegold (Sandro Hit), while Jazz is richly represented by the gelding, Vancouver K (Ferro) and Ireland's Judy Reynolds.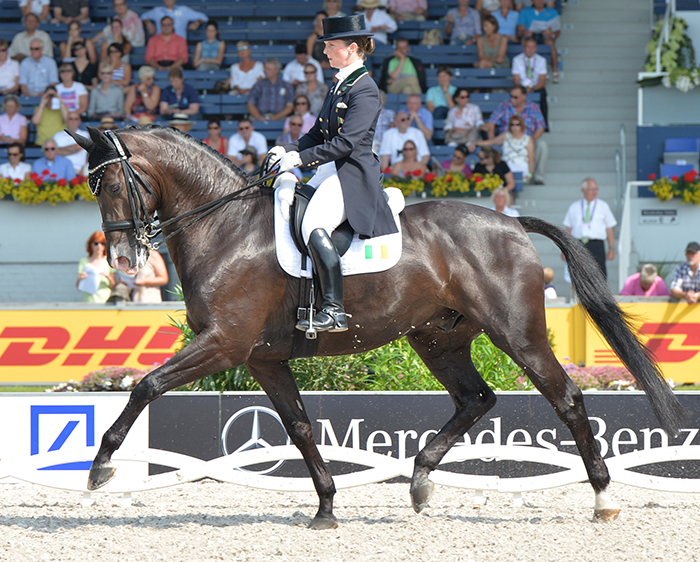 Yet another Jazz – Vancouver
Damon Hill comes in 4th on 160 (88%), although as I noted in the discussion of the Young Horse sires, that I'm not sure he doesn't fit more comfortably there. Actually it's a puzzle how he makes it into these rankings since looking at the WBFSH dressage rankings for the past twelve months, the highest placed Damon Hill I can find is Djamba Djokiba (Wessex) ranked number 421 in the world…
I do suspect that we are now discovering just how flimsy dressage sires rankings really are. While to make the top ten on the Jumping Sires (the real jumping sires, not the sires of young horse stars) requires many progeny in the sport, one or two moderate performers can get a ranking for a dressage stallion.
Lissaro is 5th (159 – 82%) and yet I cannot find ONE horse by him on last year's WBFSH dressage standings, not one out of 713. Enough said.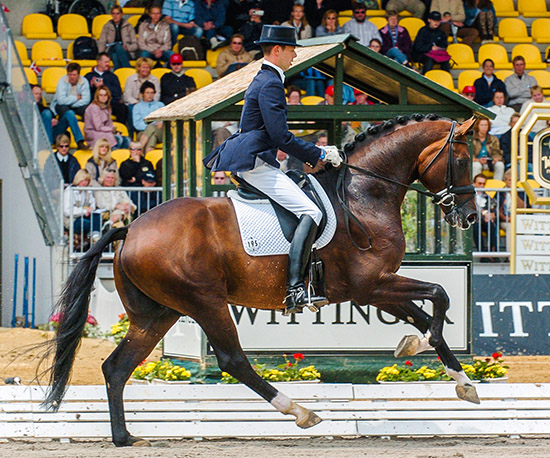 Florencio, still up there
Then comes four on 149: Donnerhall (Donnerwetter / Markus, 99%), Florencio (Florestan / Weltmeyer, 96%), Lord Loxley I (Lord Sinclair / Weltmeyer, 94%) and Welt Hit II (Weltmeyer / Hill Hawk xx, 92%) with his full-brother, Welt Hit 1O on 148 (79%) – these two are the last remnants of the once mighty Weltmeyer machine…
full list follows
---
Looking for the right stallion for your mare? Go to www.ihb.com.au
Fürstenball, producing winners in young horse classes and top sport.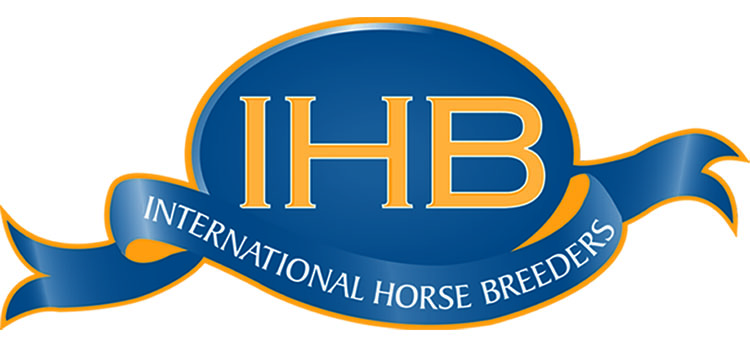 Name
Vater
Dressur
ZW
Sicherheit (%)
Basic
Belissimo M
147
74
Belissimo M
Beltain
139
97
Bordeaux (NLD)
United
141
72
Breitling W
Bismarck
169
85
Damon Hill
Donnerhall
160
88
Damsey
Dressage Royal
140
78
Dancing Dynamite
Don Bedo I
148
86
Danone I
De Niro
140
90
Dark Fire
Donnerhall
144
77
Diamond Hit
Don Schufro
141
97
Dimaggio
Don Primero
144
92
Disco-Tänzer
Disco-Star
139
87
Don Bedo I
Donnerhall
138
91
Don Primero
Donnerhall
142
97
Don Schufro
Donnerhall
164
93
Donnerbube I
Donnerhall
145
74
Donnerhall
Donnerwetter
149
99
Dr.Jackson D
Dream of Glory
142
86
Dream of Glory
Donnerhall
139
96
Dressage Royal
Donnerhall
151
86
Estobar NRW
Ehrentusch
145
82
Fidermark
Florestan I
142
97
Fidertanz
Fidermark
138
97
Flanagan
Fidertanz
148
80
Florencio I
Florestan I
149
96
Florestan I
Fidelio
143
99
Freudenprinz
Florestan I
146
81
Fürstenball
Fürst Heinrich
158
87
Gribaldi
Kostolany
143
92
Hofrat
Gribaldi
146
91
Insterburg
Hohenstein
140
85
Jazz
Cocktail
164
87
Johnson
Jazz
139
82
Krack C
Flemmingh
140
80
Lissaro
Lissabon
159
82
Lord Loxley I
Lord Sinclair I
149
94
Münchhausen
Hohenstein
142
91
Partout
Arogno
138
79
Real Diamond
Rohdiamant
145
75
Rivero II
Rautenstein
138
93
Rock Forever I
Rockwell
152
92
Rohdiamant
Rubinstein I
139
98
Romanov Blue Hors
Rohdiamant
141
83
Royal Classic
Royal Highness
138
76
Schwadroneur
Arogno
142
74
Sunday
Sandro Hit
140
71
Vitalis
Vivaldi
151
75
Welt Hit I O
Weltmeyer
148
79
Welt Hit II
Weltmeyer
149
92
Zack
Rousseau
138
75

The Jumping Sires
Let's quickly get the sires of Young Jumping Horses out of the way. As I see it, jumping breeders are not breeding for a young horse market, and indeed there are not the differences in what is being asked that we see in dressage, young jumping horse classes are just like open classes, with the difficulty increased rather than asking for a different set of skills.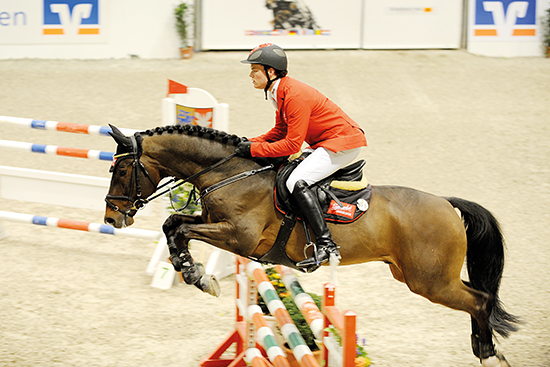 Stakkato Gold – No 1 for young horse jumpers
It's appropriate that the leader of this group is Stakatto Gold (Stakkato / Werther) whose career was finished – by injury – when he was nine years old. He is on a breeding value of 163 (91%).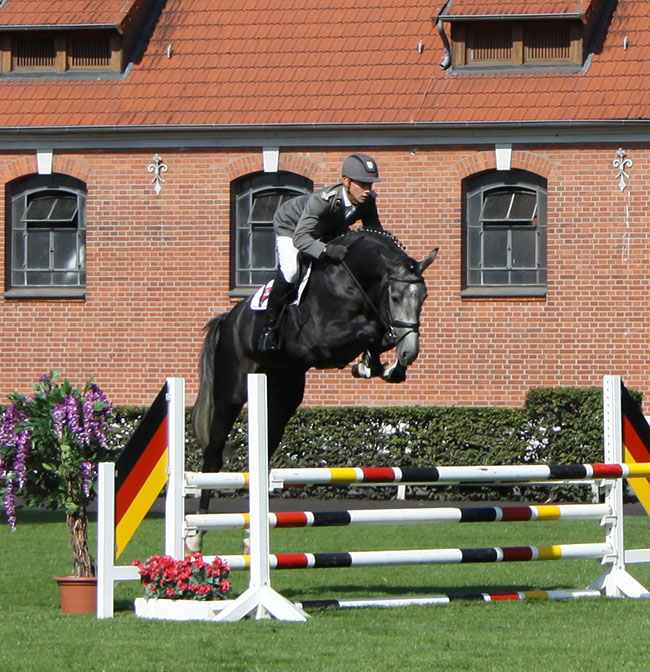 Diacontinus – shooting star?
In second place we have a real shooting star, Diacontinus (Diarado / Contender / Argentinus). His most recent placing was 28th in a 1.40m Seven Year old class at Verden in August 2017. His sire, Diarado was massively hyped but the actual performance fell way short of the propaganda. Diarado is 13 years old now, with lifetime earnings of €7,175, his most recent performance 49th in a 1.50 at Paderborn in September 2016.
Stakkato (Spartan / Pygmalion) is in equal third on 158 with a 98% reliability. For many years the bay stallion headed the German Jumping Values, but perhaps his niche is really in the young horse sire ranks, since he has produced more nice middle level jumpers than superstars  and yes, I know about Souvenir and Satisfaction who have earnings of €412,716 and €268,008 respectively but dear me, he did cover a lot of mares, and of the 22 horses with earnings over €15,000 in the 2017 Hanoverian Stallion book, none of the others look like stars, with the next top total €70,976 for Spartacus TN.
Stakkato's son, Stanley (Loredo / Graphit) is also on 158 (85%). The chestnut stallion is 12 years old but still hasn't an international placing.
Rounding out the third ranked stallions is Grey Top (by the Grannus great grandson, Graf Top out of a Singular / Calypso II mare). Born in 2007, he follows in the footsteps of his sire, no international results. In the 2017 Hanoverian book, he is listed with 46 progeny competing, for €3,703 between them, none of whom have made it to Advanced (S) level.
Here is the full list for what it is worth…
Name
Vater
Springen
ZW
Sicherheit (%)
Balous Bellini
Balou du Rouet
151
85
Cachas
Caretino
144
92
Cachassini
Cachas
157
73
Canstakko
Canturo
148
92
Canturat
Canturo
150
74
Capistrano
Cornet Obolensky
144
83
Captain Fire
Contendro I
144
93
Cartano
Carthago
147
75
Carthago
Capitol I
145
98
Cascadello I
Casall
148
85
Cassus
Cassini I
144
92
Catoki
Cambridge
152
96
Cellestial
Cantus
149
95
Cero I
Calido I
146
90
Chacco Chacco
Chacco-Blue
155
79
Chacco-Blue
Chambertin
150
97
Chalan
Chambertin
146
87
Cloney
Contender
152
84
Colestus
Cornet Obolensky
144
91
Comme il faut
Cornet Obolensky
148
91
Comte
Contendro I
151
90
Contendro I
Contender
147
99
Cornado I
Cornet Obolensky
146
90
Cornado II
Cornet Obolensky
146
77
Cornet Obolensky
Clinton
155
97
Cornet's Balou
Cornet Obolensky
151
77
Darco
Lugano van la Roche
144
92
Diacontinus
Diarado
162
72
Diamant de Semilly
Le Tot de Semilly
146
91
Diarado
Diamant de Semilly
146
97
Douglas (Rousseau)
Darco
149
82
For Fashion (Anklahoma VD
For Pleasure
144
84
Granturo
Graf Top
147
73
Grey Top
Graf Top
158
92
Heartbreaker
Nimmerdor
149
85
Levisto
Leandro
146
96
Messenger
Montender
156
70
Montender
Contender
148
85
Now Or Never M
Voltaire
147
92
Numero Uno
Achill-Libero H
145
93
Orlando
Heartbreaker
146
71
Perigueux
Perpignon
157
94
Quadam
Quite Easy I
151
74
Quiwi Dream
Quidam de Revel
147
79
Salito
Stakkato
149
90
Samorano
Stakkato
144
77
Sampres
Stakkato
155
70
Spartacus
Stakkato
146
82
Stakkato
Spartan
158
98
Stakkato Gold
Stakkato
163
91
Stakko
Stakkato
144
73
Stalypso
Stakkato
144
95
Stanley
Stakkato
158
85
Stolzenberg
Stakkato
148
96
Uriko (Clooney NLD)
Untouchable
152
79
Valentino
Now Or Never M
151
95
Jumping Sires – the real thing
Cleaning out the young horse sires to their own list and brought renewed sanity to the list of Sires of horses in open competition, some of the great old stallions that previously languished below jumped up pretenders, are now rehabilitated and accorded the respect they are due.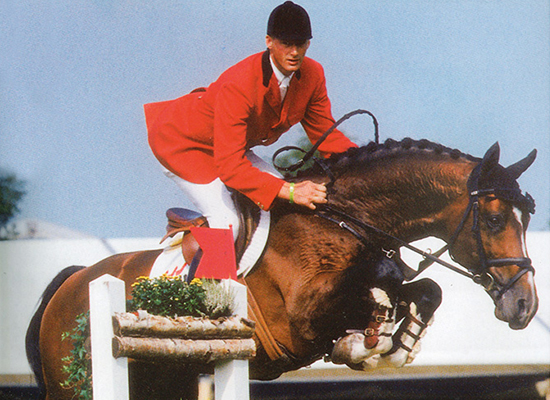 Heartbreaker – a real sire
There can be no arguing that this year's number one, Heartbreaker (Nimmerdor / Bacarole) has been a great sire. He was a fine Grand Prix competitor himself and according to the hippomundo data-base, the sire of an astonishing 78 horses that competed 1.60m! Including, of course, the World Number 1 for 2017, Halifax van der Kluizebos (Fetiche du Pas). Breeding value: 180 with a reliability of 92%.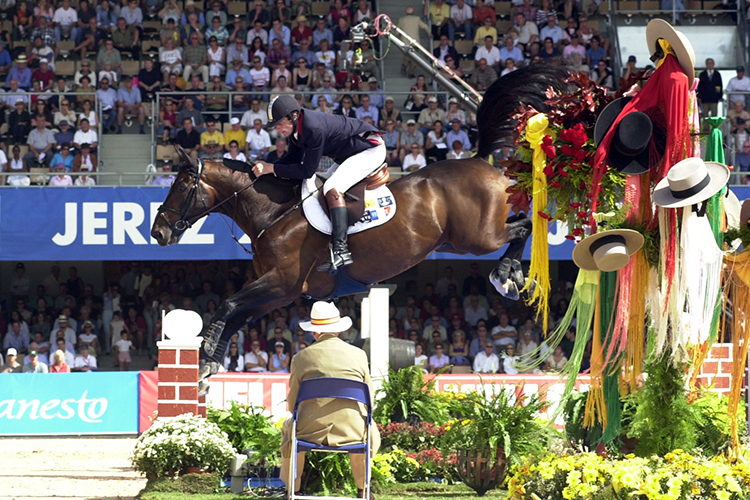 Diamant de Sémilly – what a stallion!
Equal second to another supersire, Diamant de Sémilly (Le Tot de Sémilly / Elf III). Breeding value – 171 (90%). Again a fine international competitor with Eric Levallois, he is credited by hippomundo with 77 metre sixty jumpers. His current flag bearer is the 2017 world number three, Don VHP Z (Voltaire).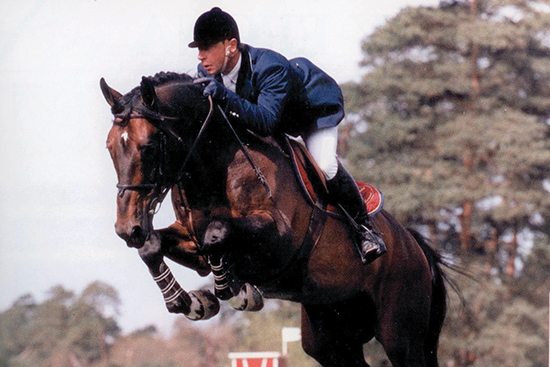 Kannan bred more than anyone else…
Also in second spot with a breeding value of 171 (89%) is Kannan (Voltaire / Nimmerdor) who again proves that the top sires have almost entirely come from the ranks of top competitors. The stallion is slightly controversial because a huge world wide marketing campaign has meant that he has far more progeny than any other current sire, and there is a suggestion that his get are solid rideable performers rather than super stars.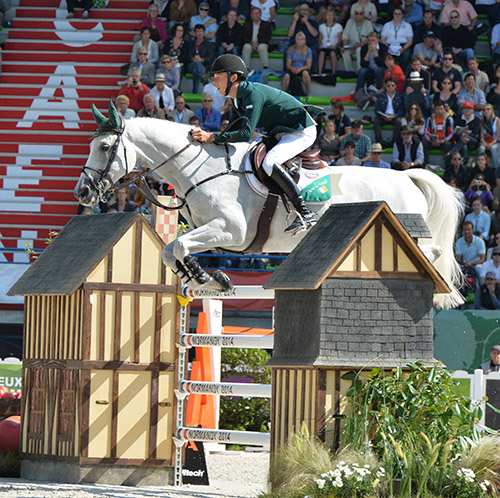 Molly Malone and Bertram Allen for Ireland
His best competitor on the 2017 standings was Molly Malone (Cavalier) in 27th place. Once again he produces lots at the top level: 87 metre sixty horses according to hippomundo.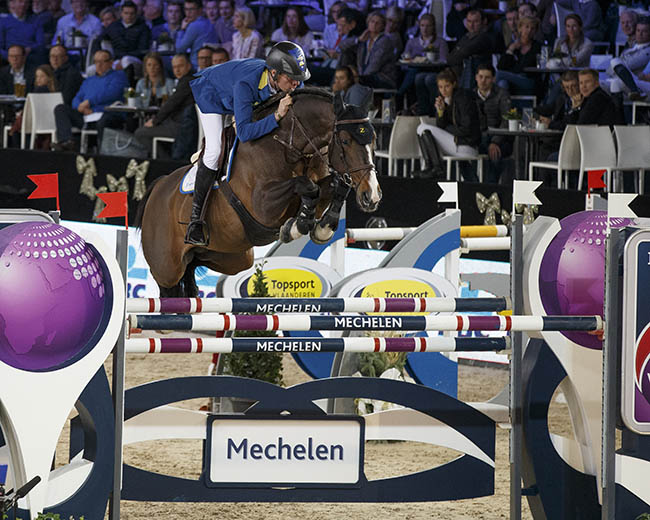 Taloubet leader for Galoubet
Fourth with 169 (81%) to the great French sire, Galoubet A (by Almé out of a Trotter mare by Nystag). He died in 2005 but continues to influence international competition even though his top competitor on the WBFSH 2017 list is Taloubet Z (Polydor) in 257th place… I puzzled over this but my friend, Ludwig Christmann of the Hanoverian Verband, was once again on hand to enlighten me.
"In the case of Galoubet, the data base for the FN BVs is a totally different one than the WBFSH ranking list. The FN system cumulates all horses, which ever competed in Germany or under a German rider abroad. The WBFSH rankings only look at the offspring of a stallion competing in one year in FEI competitions around the world. There is a very strong pre-selection for stallions like Galoubet. He stood in France, where he produced most of his offspring. Most of his horses in the FN data base were imported as older horses into Germany and probably the better ones got imported."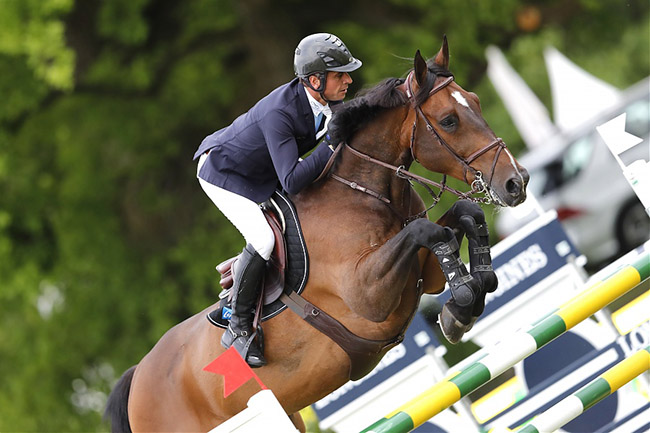 Quatrin de la Roque, another top jumper by Quick Star
Fifth (162, 95%) to his son, Quick Star (Nithard) – another jumping machine and the sire of stars like Big Star, but still how does he rate a breeding value of 162 (95%) when his best competitor on the 2017 rankings is Quatrin de la Roque LM (Kannan) in 128th place? To get there, I had to go past these jumpers by For Pleasure: Hello Forever (Nimmerdor) 27th, Ornellaia (Calato) 85th, Fit for Fun (Fabriano) 89th, Funky Fred (Pilot) 104th, VDL Groep Beauty (Contender) 110th and For Felicia (Espri) in 116th. Odd, although once again Ludwig was there to enlighten me:
"The press release of the FN lists the TOP one percent stallions. In the case of jumping stallions these are stallions with a BV of 146 and better. For Pleasure has a breeding value of 140 for open competitions."
Still there is a nagging question, is the WBFSH system of points being awarded on the basis of the progeny's performance in the year a system that produces a more accurate picture of which stallions are coming up with the goods than the complex statistical gymnastics that the FN uses?
Cardento (Capitol I / Lord/ Sacramento Song xx) in 6th with a breeding value of 158 (87%) is another proven competitor and jumper sire, credited with 52 competitors that have jumped 1.60. He is equal with Stakkato Gold who we discussed earlier, reliability 88%.
Three are tied in 8th on a value of 157. The Swiss bred Holsteiner, Carvallo BB (Carthago / Lavall II / Caletto II) with a reliability of 85%. No star in the ring, hippomundo credits him with a 26th in a 1.45 and 70th in a 1.50. Still he has produced five jumpers that have gone 1.60.
Then Lupicor (Lux Z out of a mare by the Westfalien mare maker, Pilot, reliability 91%), another who did not make it out of 1.45 ranks. Still he bred better than he jumped and sired 25 horses that jumped 1.60, none of them stars.
Rounding out our top ten we are back where we started with a son of Heartbreaker, Toulon (out of a mare by the Almé son, Jokinal de Bornival). The stallion was a solid international performer with Hubert Bourdy and Jonella Ligresti Bonomelli, his best win in the five star GP of Säo Paulo in 2007, although he was second in the GP at Spruce Meadows that same year. Toulon is the sire of 40 horses that jumped at 1.60, the most successful being Toulago (Carthago) who won the Zurich GP with Pius Schwizer, second in Madrid with Daniel Deusser before being exported to the USA where he was competed by Adrienne Sternlicht.

Perigueux – the new star sire?
The sires of open competition horses list is perhaps not the best place to go looking for the stallion star of tomorrow, the youngest stallion I can see is the handsome, Perigueux (by the Pilot son, Perpignon) who is out of a mare by Stakkato, and who has been partnered throughout his career by Eva Bitter, Stakkato's competition partner.
I asked Eva, what are the qualities Perigueux is giving to his progeny?
"They are so careful, they are so quick. Also they want to do good, they always want to work with you. They are interested not phlegmatic."
How did you get Perigueux?
"I got him from the Hanoverian Stud, and I think it was a little that the rider before me didn't believe in his scope. It was the end of the Young Horse classes for him, where they are just about style, and he had to go in the normal classes, like 1.30m and maybe they didn't believe he had enough scope. It was difficult in the beginning because he was so hectic and then his stride got smaller and smaller. But even then the horse wanted to do the best he could at a show and that made it easier to get him right."
Even though he jumped well enough at 1.60m, Eva says that is not really his class:
"I won a few Grand Prix. His level is up to 1.50m but there he does a perfect job. He is special, he always wants to give his best."
Here is the list:
Name
Vater
Springen
ZW
Sicherheit (%)
Animo
Alme
148
86
Baldini I
Bachus
143
86
Baloubet du Rouet
Galoubet A
152
95
Calvaro Z
Caletto I
142
90
Cardento
Capitol I
158
87
Caretino
Caletto II
142
98
Carthago
Capitol I
149
98
Carvallo BB
Carthago
157
85
Casco
Cascavelle
150
82
Cash
Cor de la Bryere
152
86
Catoki
Cambridge
141
95
Celentano
Celano
142
70
Chalan
Chambertin
144
84
Chellano Z
Contender
153
85
Chin Chin
Constant
145
87
C-Indoctro
Capitol I
150
96
Concerto II
Contender
146
91
Concorde
Voltaire
153
94
Cordobes II
Contender
142
82
Corland (DK: Corlando)
Cor de la Bryere
150
90
Cornet Obolensky
Clinton
145
97
Couleur-Rubin
Cordalme Z
144
92
Darco
Lugano van la Roche
155
95
Diamant de Semilly
Le Tot de Semilly
171
90
Ehrenwort
Ehrentusch
141
79
El Bundy I
Escudo I
146
94
Equest Carnute
Oberon Du Moulin
152
76
Escudo I
Espri
149
97
FAN Holland (ex Holland)
Concorde
145
88
Flipper D'Elle
Double Espoir
150
79
Galoubet A
Alme
169
81
Gambrinus
Grannus
143
80
Guidam (de Dartay)
Quidam de Revel
143
86
Heartbreaker
Nimmerdor
180
92
Jalisco B
Alme
153
84
Kannan
Voltaire
171
89
Larson
Lordanos
151
74
Levisto
Leandro
146
95
Limbus
Landgraf I
141
95
Lupicor
Lux
157
91
Lux
Lord Calando
145
92
Montendro I
Montender
141
78
Mr. Blue
Couperus
156
79
Nabab de Reve
Quidam de Revel
148
88
Namelus R
Concorde
145
75
Orlando
Heartbreaker
156
79
Perigueux
Perpignon
142
92
Quasimodo Z
Quidam de Revel
149
79
Quick Star
Galoubet A
162
95
Sable Rose (Calvados)
Uriel
145
88
Stakkato Gold
Stakkato
158
88
Toulon
Heartbreaker
157
83
If you are interested in Sporthorse Breeding, you are going to love all the articles in our Breeders Club section… just click
---
Are you coming to the Carl Hester Masterclass at the Brisbane CDI in July? Talk to your friends and start planning now!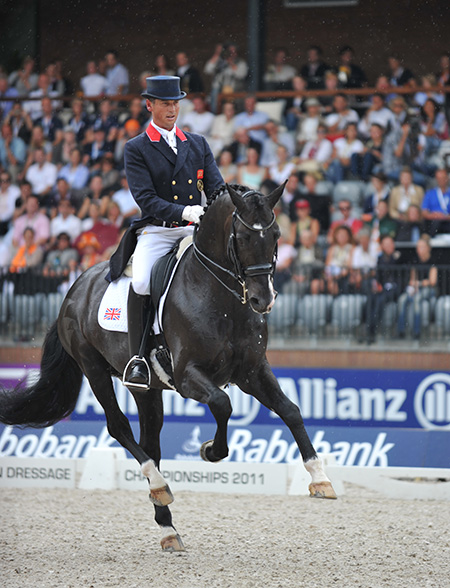 Information available soon – go to Brisbane CDI July 2018