Christopher Hector interviews one of the world's great dressage trainers…
Photos – Roslyn Neave and archives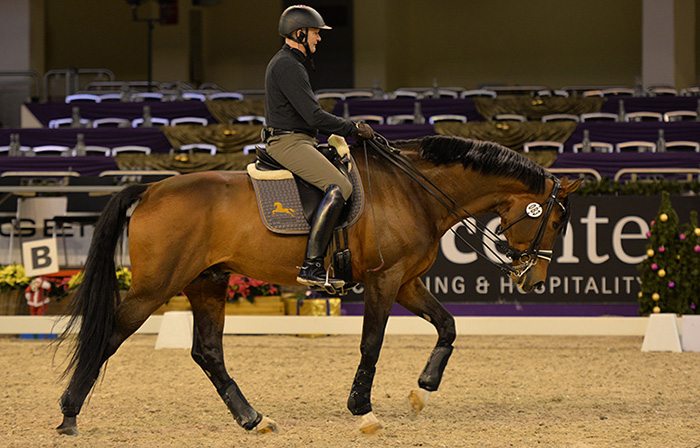 One of the great pleasures of this year's Frankfurt Horse Show, was to watch Hubertus Schmidt riding one of the most exciting horses to emerge in the past couple of years, the Westfalien stallion, Escolar. It was also a pleasure – and a privilege – to sit and chat with this great horseman… enjoy!
It was very interesting watching you warm up the stallion, Escolar, on the night before the first round of the Burg-Pokal, you have him in such a long long frame the whole time… I know that is how it is supposed to be, but we don't see it so often – what is the secret to being able to have your horse balanced, riding from behind and not just pulling the neck in?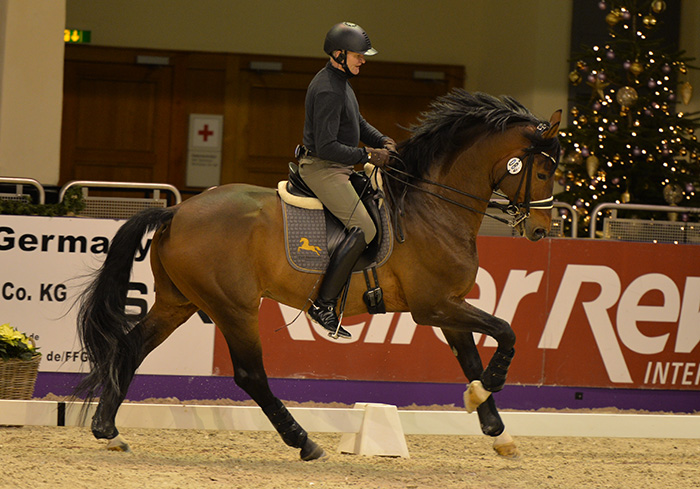 "I don't think it is a secret. You and I, we made an interview, what fifteen years ago, and then I was talking about my system, about the stretching and the warm ups. At the beginning, the horse should have a long neck, and be really going into the bit, and that I am able to always have steady contact with a willingness of the horse to go forward. They are a little down at the beginning when I do my warm up, it doesn't matter if it is a four-year-old or a Grand Prix horse, the first ten minutes are the same. Then when you go to collect, you try to keep them in exactly this position – in front of your leg so the horse is always willing to go forwards, and out."
more follows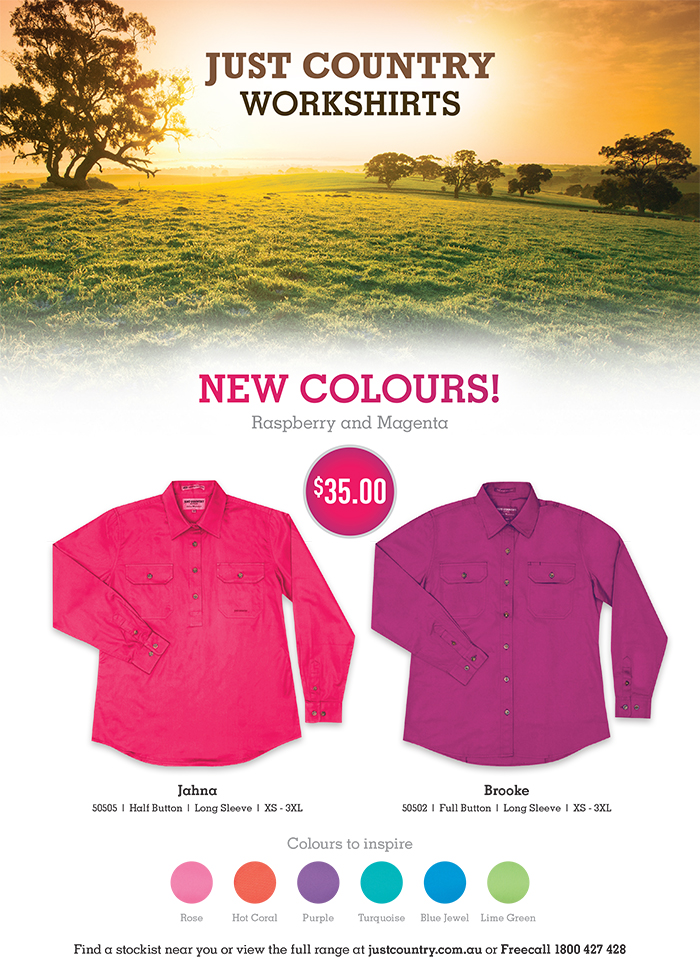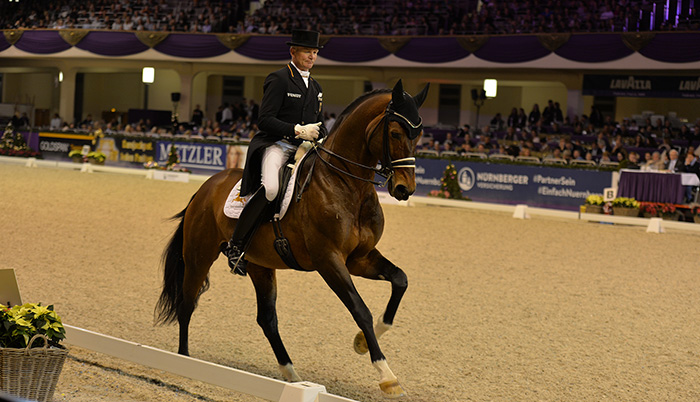 It is nothing like rolkur…
"We have had times when this very low and deep was popular, but I think it has changed a lot in the last couple of years. Very seldom now do you see pictures with the horse really short and down, or during the whole time of the work, held. If I watch the warm up areas now, I can't find so many people doing this extreme, hyper-flexion, not at the shows I've been to recently in Germany."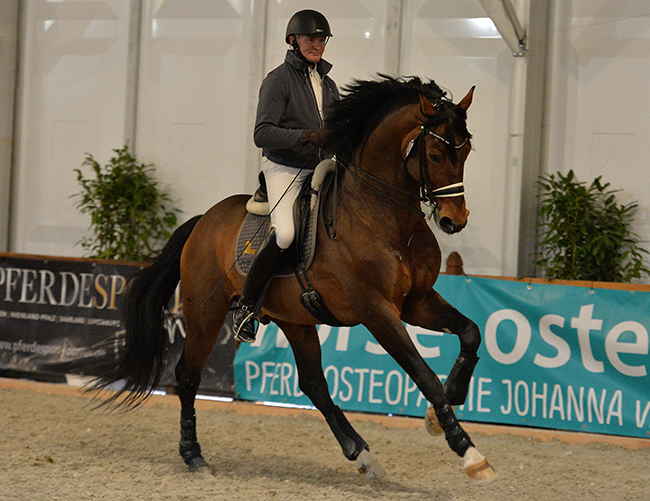 To keep that length in the neck, do you need to have the horse listening to your seat? I assume the reason riders get their horses short, is that using the reins is the only way to get them back…
"Exactly, to get them on their hind legs, that's the problem and that's why they end up with them shorter in the neck, the horses get shorter when they try to collect more and get them more on the hind legs. For me it is very important, if I have them a bit longer in the neck, if I can open the frame a bit more, it is easier for the horses to work in their body, and in their back. That's why normally all my horses are really good in half passes, in swinging sideways, and in extensions. If they are in a little bit longer frame, so it is easy for the horse to work through the body."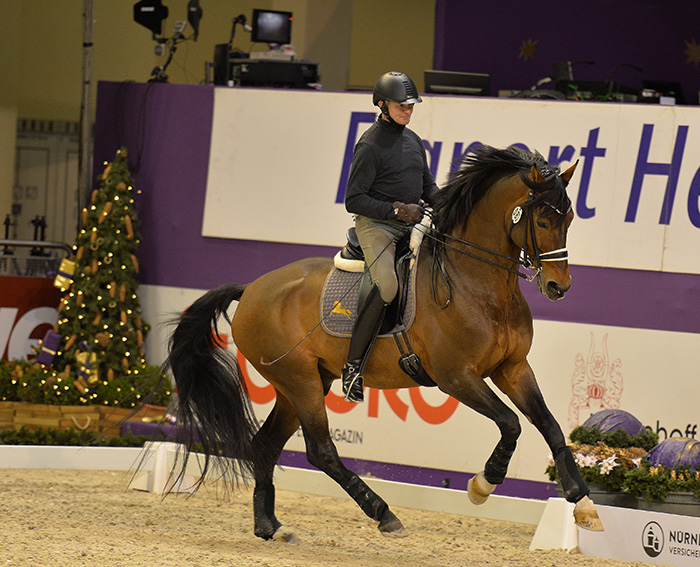 It amazes me because when you ride a horse correctly, it is so much easier – but when you ride in this aggressive way with the hands, then it cannot be very nice to sit on these horses…
"The problem was that we had a lot of riders who were very successful with this hyper-flexion or whatever you want to call it. Often, in the test, it looked quite nice, but I did not like the warm up. That's what made it so difficult, they are successful with this way of riding for a while – but now we see horses like Charlotte Dujardin's Valegro, Damon Hill, now I have to say, Isabel with Weihegold. When we were at the Olympics in Rio, it was really a fantastic show for the Germans, all the four riders – I was there as the reserve rider – and we could show in the correct way, or what we think is the correct way, you can be successful, and you don't need spectacular piaffe / passage, all you need is this way of working."
more follows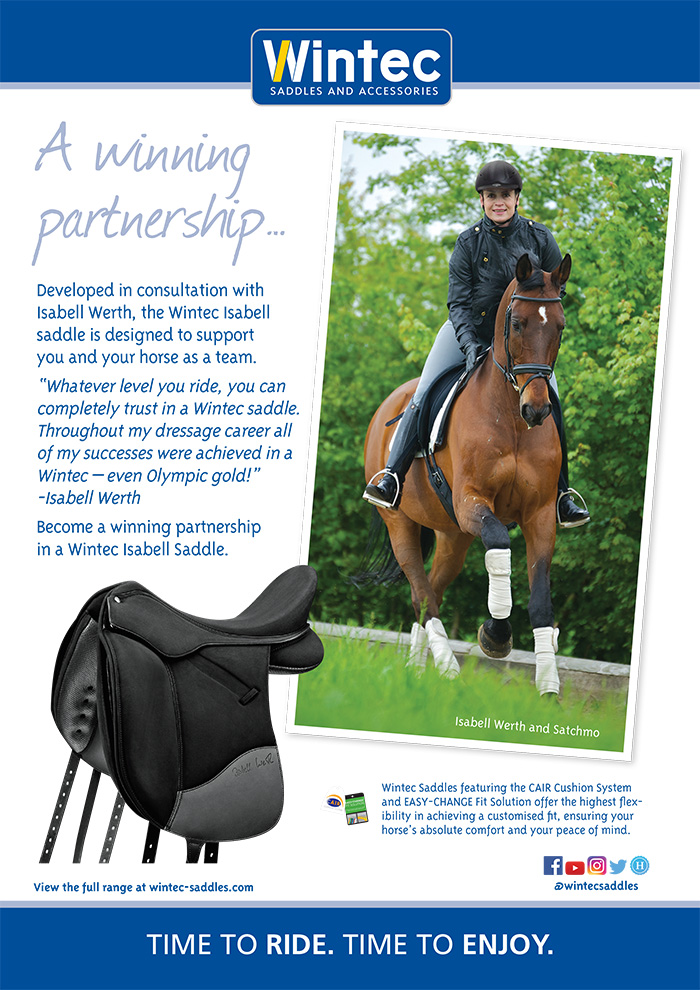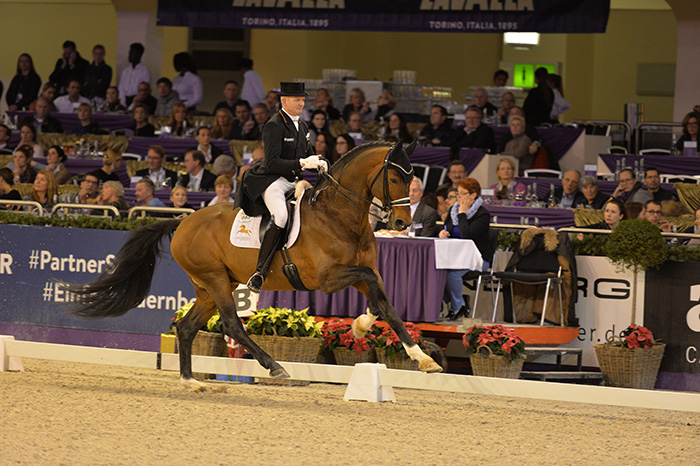 How do you train your horses to listen to your body?
"It's just our German way, the way in our book of Riding Principles: you start to collect, you push from behind and the horses learn to collect – if it is correct, it is the easy way. If you push and don't open your fingers and let the nose a bit forward, it is not going to work, they should go lower behind and come into collection when you do it properly. It started from working trot to collected trot, and the next is passage, and the next is piaffe. The same in the canter, you come from working canter to collected canter, and you can go back to the pirouette if you want. This whole complicated thing we are trying to explain in a few minutes, it is difficult, but in principle, it is nothing else, normally if the horse is really through, and you push a little more and open your fingers, the horse is moving forward and if I don't open my fingers, if I keep the contact and push against the hand, instead of the horse making the steps bigger, I make them shorter and more sitting. That, in principle, is the easiest way, that is how it should be."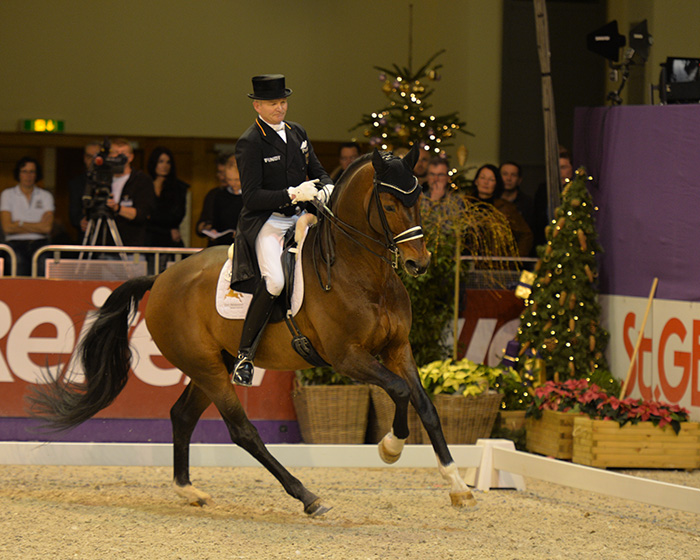 It was interesting watching you ride Escolar, that you could really open him out on the long side, but when you got to the corner…
"Collect him again, exactly, you do the transitions, and for me, every corner is a quarter volté and you know this is where you can really collect the horse. When you start with a five-year-old, you start with a ten-metre volté in trot or canter, especially in canter it is one of the best movements to collect a young horse and make them more sitting. It is the same with the corner, the corner is a quarter of a volté, if I ride it correctly. That is why in the test you are always happy if the short side is coming – the horse has got a little bit open in the extended canter or extended trot or the one tempis, then you can have the corner again to make them more sitting, more through again – work on the bending."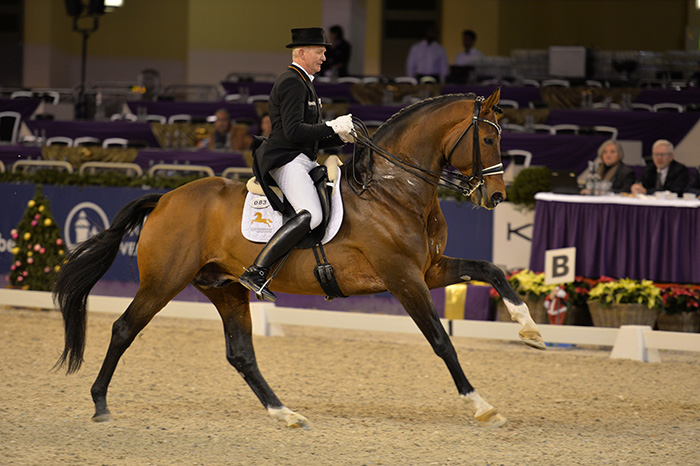 He's an exceptional horse, Escolar…
"Yes, Escolar is a spectacular horse, spectacular in a nice way. The basic trot and canter in unbelievable. Yesterday we had not the best day…"
(Hubertus was referring to a moment in the collected walk, between the walk pirouettes, when the stallion stopped for a moment and lost concentration…)
It was only one movement…
"It's because he is a stallion and he is still green, he is eight years old, but there were two times when we had to rest him a lot, and he was breeding a lot. So for eight years, he is still quite green, but I know no other horse that can canter like him, and he is fantastic to ride. When you are on the horse he is really really with you, and normally, focused on you. He is never spooky, it's not like the atmosphere affected him, it doesn't matter if it is a big indoor, small indoor but at the moment, it is when he is alone, when he has to go away from the other horses, and then he is alone. For sure, I've tried to train it. I took him to several smaller shows – to Stuttgart, to some stallion shows – but it is still the moment when I go from the other horses in the warm up, and go into the main arena, and he is alone. At the moment that is the problem – it is not the walk, normally he is very well behaved in the walk, and it is a good walk too. But at the moment, that is the problem, he gets a little tense and he feels lonely…"
next we ask Hubertus if Escolar is the most talented horse he has ridden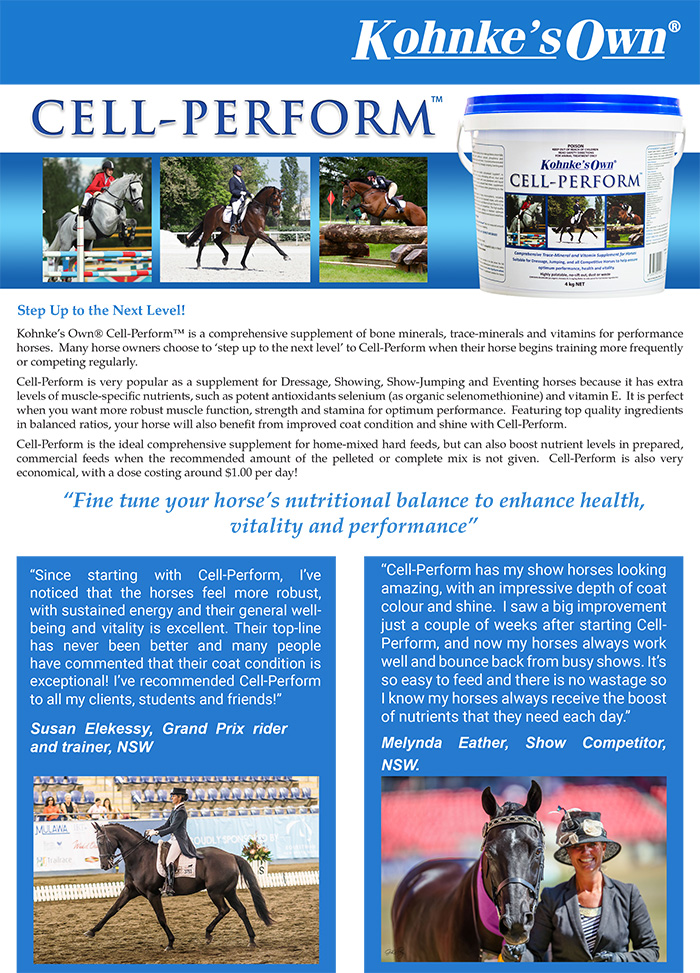 Do you think he is the most talented horse you have ridden?
"I have had a few talented horses, but he is really the best mover I have had. Imperio is also a nice mover, spectacular trot and canter, a little weak in the piaffe but a good mover, but Escolar is spectacular – I have never seen a horse cantering like him, doing changes and pirouettes and everything in the canter, it is not only big and forward, it is also the collection.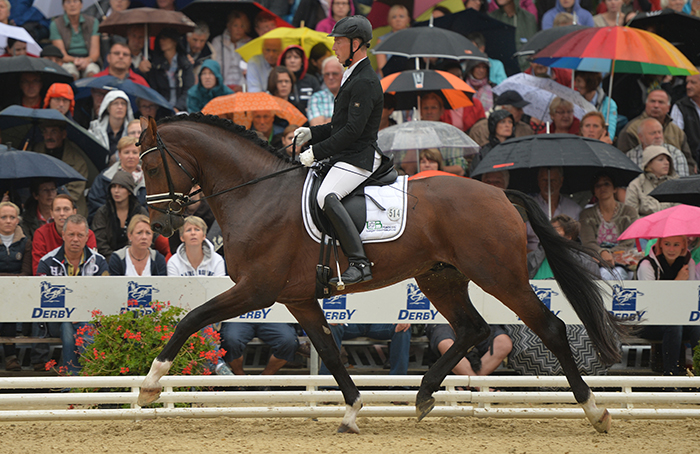 The test rider gives Escolar top score at the Bundeschampionate
When he was three and four and winning at the Bundeschampionate, he got like a ten for his canter, but everybody said, this horse will not be able to really collect, he is so huge in the canter that you never will collect him. But even when I first got him as a four-year-old, you could immediately feel that it was easy for him, and now you can see it in his pirouettes. He is really close to Grand Prix, so he is doing super nice small pirouettes and zig zag. Yesterday he got only one ten – for extended canter – and for me that can't be better. The important thing is that he can do both – huge, big, but he can also do really nice pirouette, really sitting, taking weight and still getting really up in front, so as you can hear, I am really enthusiastic. It's a fantastic and wonderful horse."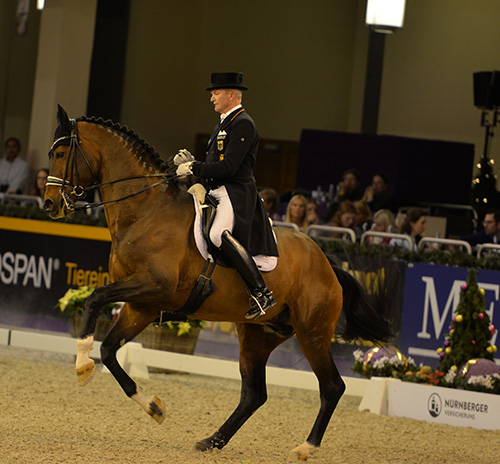 Is it too close to Tryon, for him to go to the WEG?
"I think this year will be too early because I've never shown him in Grand Prix, but he is ready. We will start with young horse Grand Prix in the Spring, and I am sure I will also do some long Grand Prix and maybe international Grand Prix, we will see. Let's wait."
What do you think has been the strength of German dressage?
"There are several reasons. First we have very good breeding in Germany – now Denmark and The Netherlands, they also have good breeding, but it started here in Germany and we have a lot of good horses. The next is really our training system – and also our professionals. For example, every year I have three working pupils learning with me, learning for three years to be a Bereiter, and then you make your Master. There is also a system for the horses – like the Nürnberger Burg-Pokal for young horses, then the Louisdor for the young Grand Prix horses – for a long time the step from Prix St Georges to Grand Prix was so big. And now with these classes, you keep the owners happy, and you don't have to start immediately after St Georges with the top Grand Prix class. So in the Louisdor, the eight to ten-year-old horses compete in their own group."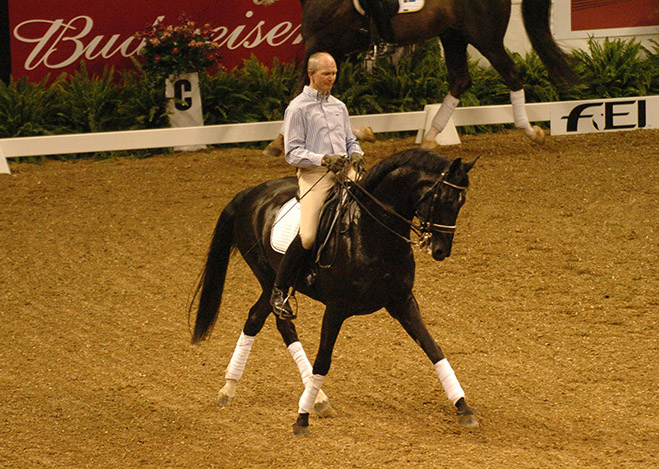 At the World Cup Final in Las Vegas in 2005 with Aramis
"So there are a number of reasons: breeding, the good training system and the good trainers we have. It's no surprise to find Jan Bemelmans training in France, Klaus Balkenhol in America, Jo Hinnemann in Canada – there are so many German trainers all around the world. And it's good for dressage, for a while Germany won all the team gold medals, but it is good that England could win. It is good that dressage all over the world comes more and more together."
Who was your master?
"I had a few. For one year as a learning student, my master was Hans Gerlach, he is not so famous, but he was a very good trainer, especially in theory. It meant that I really understood what was going on, and what I had to work on – I was not able to do it at the time, but I understood what I had to do for it to work. Then later, I trained with nearly all of the top trainers: Harry Boldt, Jo Hinnemann, a little bit, Klaus Balkenhol, Rudi Zeilinger – then all our team trainers: Holger Schmetzer, was not a famous name as a trainer, but he was a very good trainer for me, he had lots of good ideas. Now it is Monica (Theodorescu) and Jonny (Hilberath). So all the time I was working with different trainers. I had my philosophy of training, and the way I wanted to do it, but often you need a little bit here, do it a little bit different there. It is not that they are telling you totally new things, but from every good trainer, I took a little bit of this, a little bit of that. This way to prepare piaffe, this way to prepare pirouettes, I learned from a lot of people."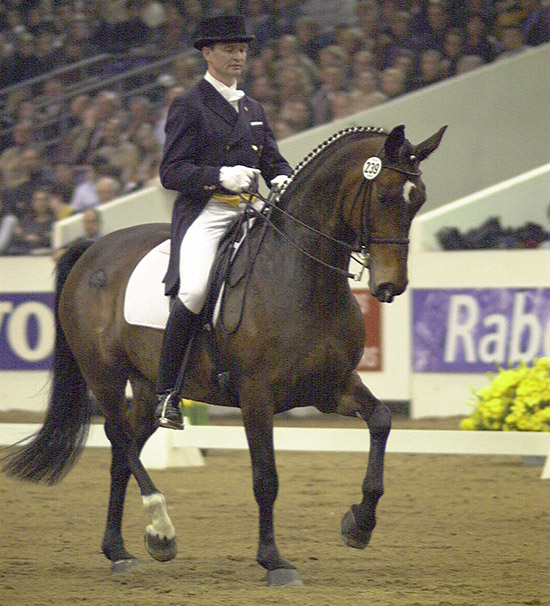 At the World Cup Final in Den Bosch in 2000 with My Fair Lady
When I first saw you ride, what struck me was that you were able to set your horses up, and ride on a lighter rein at a time when it was more forward forward forward, you were a little bit the odd man out, but now your style of riding has become 'the way'…
"I didn't change so much. It depends on the horses. You ride Wansuela Suerte, she was so fine, and so light, you can ride her a little different from this big stallion, but the principles of training are absolutely the same, but with one you need more engagement, more help here…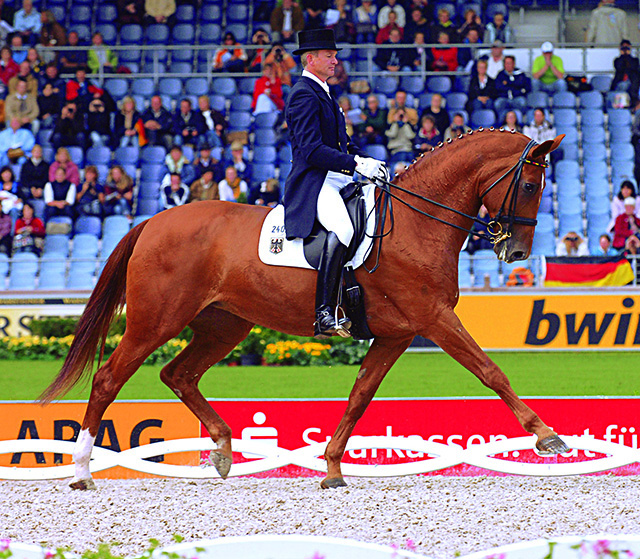 Hubertus and Wansuela Suerte, members of the German Gold Medal team at Athens in 2004, the Gold Medal team at the Euros in 2005 and the WEG Gold Medal team at Aachen in 2006
Wansuela was for me perfect, she was not the biggest mover, but she was a perfect, sensitive mare that you really could ride with two fingers, no spur and no whip. It is not with every horse that you can do it like that, but for me, always the goal of the training is that at the end it is as easy as possible and as light as possible – for me, this is absolutely the goal and it works like that. With the big stallion, you can ride really nicely. For me, the hyper-flexion was wrong because it looked always in the warm up like hard work. The five minutes in the test, it was nice, often it was really nice, but I didn't like it that even when a horse had been Grand Prix for a few years in international sport, that the rider still had to work so hard to get this result. It doesn't matter how successful they are, that for me is the wrong way, because at the end, good training should make it easier, and easier, for both, the rider and for the horse."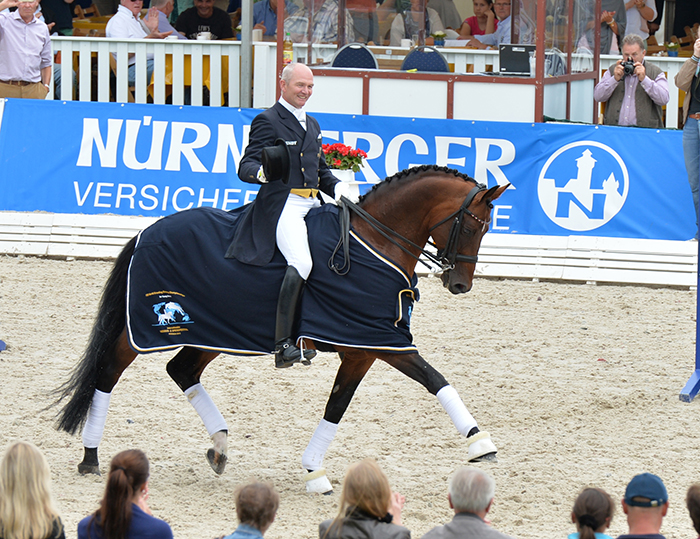 The Trakehner stallion Imperio
---
There's lots of stallions to choose from on the International Horse Breeders website, click the logo and go and see what's available…