Thomas Hartwig reports:
Warendorf/Germany. On February 1st, Kristina Ankerhold, the new director of the North Rhine Westphalian state stud in Warendorf made her first visit to her future work place. The 41-year-old lawyer from Nottuln in Westphalia met with Peter Hettlich from the North Rhine-Westphalia Ministry of the Environment and Agriculture, who has provisionally headed the state stud since the end of last year. From February 15th Ankerhold will take over the management of the more than 190-year-old horse breeding institution with its approximately 90 stallions, as well as its 80 employees and trainees. In the following weeks, Hettlich will be there to help her get involved in the various business processes.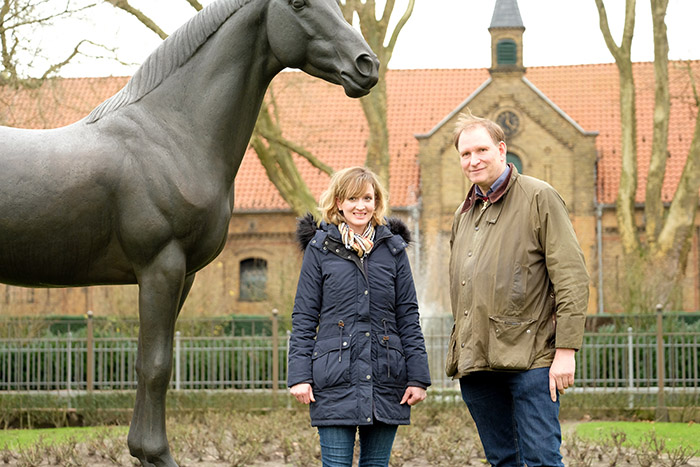 Kristina Ankerhold, the new director of the North Rhine-Westphalian State Stud in Warendorf, and Peter Hettlich in front of the sculpture of the legendary state stallion Paradox I. (photo – Hartwig)
Ankerhold has an interesting profile with regard to her new leadership role. Born in 1978 in Hannover, the capital of Lower Saxony, she grew up in a horse-riding and horse-breeding family and became familiar with horses from childhood. After graduating from high school, she completed an apprenticeship as a professional riding instructor (Pferdewirt) at the Lower Saxony state stud farm in Celle at the end of the 1990s, both with a focus on riding and breeding and horse keeping. Subsequently, she studied law and was then in various positions as a senior civil servant for the financial administration of the state of North Rhine-Westphalia, most recently in the tax office Bochum. In competition she can show success in dressage up to advanced class with different horses. When asked what motivated her to apply for the position of stud management, Ankerhold said succinctly: "I am a motivated person and the management of the state stud is an interesting task."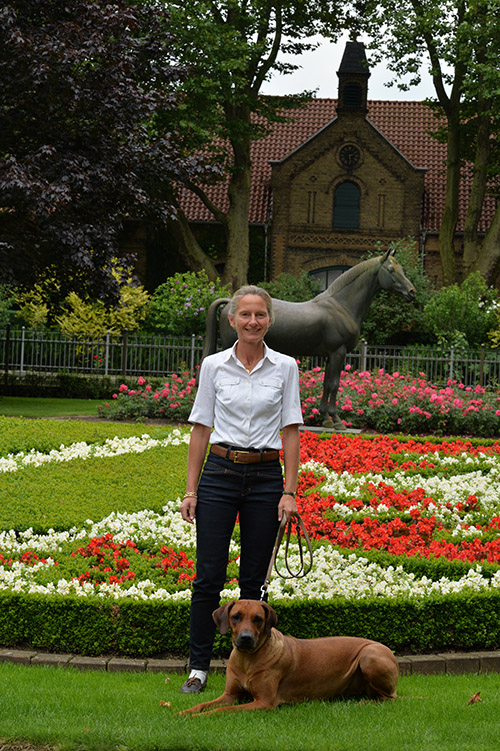 The dismissed director Susanne Schmitt-Rimkus in happier times
The replacement of the complete top management in the State Stud had become necessary because her predecessor, Susanne Schmitt-Rimkus was dismissed by the ministry in early March 2017 together with the former head of the state stud administration and the first Hauptberittmeister, after extensive investigation of the State Criminal Police Office on suspicion of acceptance of benefits. In addition, the three defendants are accused of various fraud and treachery offenses relating to traveling to Qatar and private horse sales in the sheikdom. Although the responsible ministry had banned outside employment, the three defendants had set up a private company to do various business with a large equestrian center in Qatar. The criminal trial against the three defendants, which began in January, will be continued in April in the district court in Warendorf.